THE BILL'S BACK IN TIME COLUMN PAGE
Copies of my column in Mark Thomas' "Racin' Paper"
Column #10 from Column 23
BILL'S BACK IN TIME
By Bill Ladabouche
WHO THE HECK DIDN'T DONNY WAYMAN DRIVE FOR ?
When I think of Fonda, one of the things that always comes to mind is the incredible instability of driver/car/owner combinations in the glory years of the 1960's. Today's fan considers Nextel Cup rosters to be unstable; but they cannot hold a candle to the way things changed around in the 12960's, down at that weird-shaped fairgrounds track near the Mohawk Barge Canal.
Not long ago, I did a column on Frank Trinkhaus, the owner who arguable hired on more drivers than any other in the history of the track – at least in the glory days. Trinkhaus turned wrenches, at one time or another, for Pete Corey, Ken Shoemaker, Steve Danish, Jeep Herbert, Lou Smith, himself, George Gallup, Lee Armstrong, Joe Ciganenko, Lee Millington, and – last but not least – Donny Wayman. It is appropriate that Wayman, from the small bucolic community of Cobleskill, should have driven for Frank, because that would mean the most traveled driver had driven for the most frequently – hiring owner.

Conde & Parry Website Photo
Donny Wayman drove for Frank Trinkhaus later on in both their careers.
But don't think that was Wayman's first or only ride. God no ! Think again. Don started racing about 1946 in the #44 a 34 Chevy sedan 6cyl. at Westerloo Speedway, according to the bio on the Conde and Parry racing website. The bio goes on to say "then Don and Harry McCoy built the #50 and then the #55 they raced this for about five years mainly at Sharon Speedway. Also raced the #555 for Bill Southard of Middlebury, N.Y. Don also raced the #48 for Clarence All in Fonda in the early 50's."

Conde & Parry Website Photo
Donny in a Fonda fixture, the Bernie Maruska #71.
After having several more temporary stints, Donny landed his first noteworthy ride at Fonda around 1961. I personally recall the Bernie Maruska #71, the "Bernie's Liquor Shop 1937 Ford. It was red and white, and it was the first Fonda car I ever laid eyes on. Donny did a good job with that car until he was approached in 1962 to start driving for the larger and probably more prestigious Wright/Zautner team out of Slingerlands, New York. He started in the main car, substituting for the injured legend, Howie Westervelt of Ravena.
Later, the team kept Wayman and put him in a second [and very similar] car, the #9 Toll Gate Ice Cream Ford. Apparently, Westervelt went to Lebanon Valley, and Wayman carried the team colors at Fonda in 1963. A year later, he remained with the team and drive a third car, numbered 24. This would go on to be the same 24 that Kenny Shoemaker raised such cain with at Fonda, Victoria, and elsewhere. By then, Wayman had moved on to driver the former Charland ride, the Smith 00. He would also drive the Godfrey Wenzel 03, which is generally associated with Maynard Forette. Gater Racing News once ran a photo in which it seemed as though you were seeing double. Both Forrette and Wayman had 03 sedans and were running side by side at Stafford.
Donny had a fairly long stint with Trinkhaus, once they crossed paths. According to the Conde and Parry bio, he ran with Frank in parts of 1967, 1968, and 1969. It was in 1970 that Donny Wayman might have made his mark on stock car history in his home region. He landed a ride in the Russ Betz car, the #59. Betz had some good years with a a coupe driven by Rene Charland, and Donny seemed to often fall into rides Charland had vacated.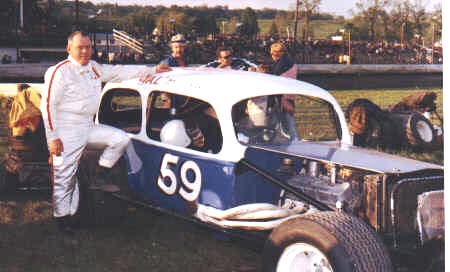 From the Otto Graham Website
The Russ Betz Coach brought success…. And controversy.
The most improbably happened that year, but once but twice. First on June 6, Wayman was running well in the feature and was fighting for the lead with an out-of-retirement Pete Corey, driving the Rose #93. When the two flashed across the line in close formation, the track management had no choice but to declare it a dead heat and pay both first place money. That didn't make the tight-fisted promoter Mr. Jim Gage all that happy. Then damned if it didn't re-occur on August 8, when Wayman's sedan had another dead heat victory against the Camaro – bodied modified of Dave Lape, from Canajoharie. These were Don's defining moments at the Track of Champions – well deserved and long fought-for defining moments, at that.
Otto Graham, former driver and current photographer and webmaster in the Fonda area, remembers Don best when they were both sitting on the bumpers of their cars, witing for the heat before them to finish. As the cars flew around turn one at Fonda, Don turned to Otto and said something like "Jeez, Otto, do we really go that fast ?" Wayman went on to drive various other coupes, in the final days of that kind of modified. At one time or another, he drove the Brauer 17, a Jay-Lin – sponsored car; two different #3's, Rosner – built cars; the Wally Albro 9NH out of Alstead, New Hampshire, and a few more cars I can't recall.
Don Wayman was living proof that, if you are determined to race, someone will hire you to drive. He also demonstrated a strong aptitude for adjusting to unfamilar equipment. When you consider guys like him often raced the same car for years, he sat in dozens of different one – and was a factor in most of them. Donny Wayman also holds the distinction of having one of the hairiest wrecks in the history of Fonda with the McCoy 55. He's no longer with us, but he is a topic of conversation whenever the old guys get together, and he earned that notoriety the hard way – one team at a time.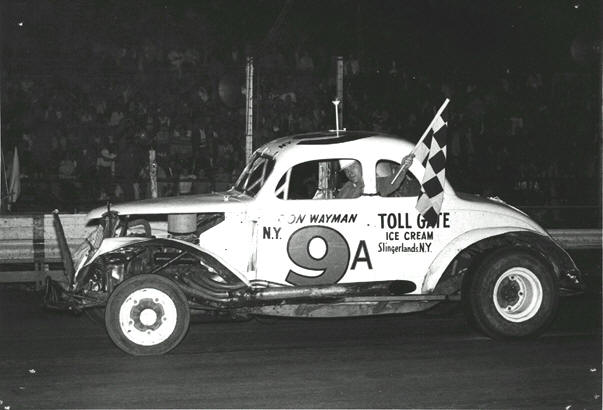 Ladabouche Photo Collection Russ Bergh Photo

Donny Wayman in the second Wright / Zautner Tollgate Ice Cream
car, around 1963.
For folks up my way, I came upon a photo of one of the most beloved cars to ever race at Catamount Stadium . It was so unique and so familiar to fans that – while you couldn't call a car "The Chevy" or "The Ford" – you could simply refer to "The Lark" and everyone knew to what you were referring. Lee Carpenter was from Colchester, Vermont, and he usually ran with the Barcombs at Catamount and Thunder Road. In fact, Lee sometimes ran the Ron Barcomb backup car, a 1963 Ford.
But Lee's secret passion was then – and still is – Studebaker Larks. He has one now. But, in 1970, he had taken a Lark [it might have been John and Marge Bourgeois' family car] and made it into one of the most unlikely limited sportsman cars you'd ever want to see. Well, maybe unlikely isn't totally fair because Studebaker could make some kickass engines. At any rate, part way through the season, Carpenter blossomed out with this plainly - colored, plainly- lettered little Lark and ran the rest of the season.

Courtesy of Rich Palmer

Lee, with the Lark. It was beginning to collect a few battle scars by then.
The Lark didn't win a whole lot, but it became a sentimental fan favorite. I think Lee's only win was a B feature late in the season. People cheered their heads off for the apparently – under – powered little #23. Heck, I even fashioned myself a Lark sweatshirt, with a drawing of the Lark, running for its life in front of the wheels of a large, menacing Chevy. The cartoon face on the Studebaker was pure desperation. The popularity of the car was very evident when Catamount would go through that most traditional of rites – the kiddie rides. Kids would pile into the car until it could scarcely be seen.

Courtesy of Jim Watson

The Lark would be swarmed during kiddie rides in 1970. Ahead of Carpenter are Clem Despault, Jimmy Gates, and George Horn.
One afternoon in October, I was up in Swanton, at a quick stop, probably grabbing a drink while doing one of my sign jobs up that way. As I was leaving, a dump truck came into the yard of the store with a trailer behind. I half-heartedly stole a glance at what was on the trailer and stopped dead in my tracks. It was the Lark – or what was left of it. It was in pretty dilapidated shape, and all of the graphics were painted off it. Knowing Lee, it was probably he, bringing the car to his place in Alburg for a final resting place. It made me very sad on the gray fall afternoon with the sun failing. I knew there would never be another car that popular at Catamount.
Lee drove some more in Barcomb cars, and he even produced a big Ford Torino – bodied sportsman; but he didn't have the budget for it and he didn't race for long. Lee knew that Ford had a place in the future at Catamount and Studebakers did not. With today's kind of sterile, business-like atmosphere at the race track, characters participating in strange cars are not very likely – unless it is in something like the junkyard warriors. But, back in 1970, it still was. Long live the Lark !

Burlington Free Press Photo Courtesy of Rich Palmer

The Lark had the knack [and size] to get through scrapes. Here you can see Ed Doggett's Chevelle – the first of its kind at Catamount.
Please email me at wladabou@comcast.net if you have any photos to lend me or information and corrections I could benefit from. Please do not submit anything you are not willing to allow me to use on my website - and thanks. For those who still don't like computers - my regular address is: Bill Ladabouche, 23 York Street, Swanton, Vermont 05488.
AS ALWAYS, DON'T FORGET TO CHECK OUT MY WEBSITE: www.catamountstadium.com
Return to the Main Page
Return to the Columns Link Page
Return to the Main News Page