THE BILL'S BACK IN TIME COLUMN PAGE
Copies of my column in Mark Thomas' "Racin' Paper"
BILL'S BACK IN TIME
By Bill Ladabouche
Column 65 - From Original Column 80
EVERYBODY WANTED DEXTER'S OLD CARS
By the time I met Don Ackner, he was already contemplating the purchase of a Dexter Dorr chassis. Having observed Dorr back at Devil's Bowl around 1982, I had taken an immediate liking to him because he could keep pace with a very glib, wisecracking Ackner – and that was hard to do. I recall he had stuck with Don with the handle "Hackner", which Don's crew very much enjoyed.
I was already familiar with the name Dexter Dorr from Fairmont and Devil's Bowls' earlier years, so I wasn't all that surprised to hear that he was, by the '80's, a well-regarded car builder, operating – by that time – out of Cohoes, New York. Closer to the action, as Dexter put it.Dorr, using the numerals 43, 44, or some variation of those, was running the Devil's Bowl or Lebanon Valley, sometimes using his "house driver", Rapid Ralph Palmer to do some of the chauffeuring.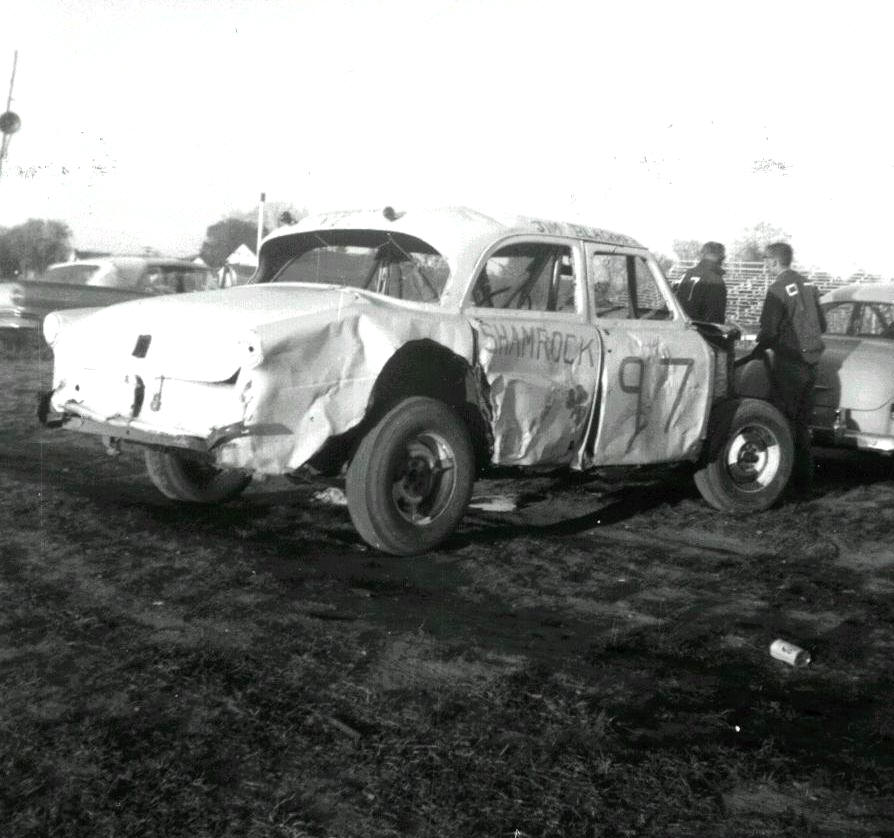 Jim Blackmer and his father hitch up the Shamrock 97 at Fairmont in 1963. [Ladabouche Photo]
The first time I saw Dorr's handiwork was around 1964 – at Fairmont Speedway. The track had initiated a new hobby division the year before. It was a new, low-cost, late model class with what I would call semi – late model cars with fairly strange restrictions to keep the costs down.
Jim Blackmer, running out of Brandon, Vermont, is generally considered to be the original Fairmont hobby division entry with his yellow 1953 Ford, the Shamrock #97. Towards the end of the 1963 season, some better – built, more attractive cars began to come out, in the hands of some more familiar names like the future CVRA official and former New York driver Hank Schmidt, of Gansevoort, New York, and Chuck Ely, the future photographer at the Valley. Another nicer – looking rig was Gene Hoard's massive blue Buick, out of Manchester, Vermont.

The Hank Schmidt Chevy was the first hobby car with anything approaching professional construction. [Ladabouche Photo]
The following year, the division was really beginning to beef up, with Schmidt, Hoard, Ronnie Wood, Charlie LaDuc, Vern Hall, and others. The area around Manchester was now producing Hoard, and two potent Fords in the hands of Charlie Towslee [the 7UP] and the 79Jr. of Tim Baker. Perhaps for this reason, another Manchester car appeared later that year. It was a beautifully – prepared burgundy 1955 Chevy coupe, sporting a plain but professionally – lettered number 29 and not many other graphics. The driver was indentified as "Dex" Dorr, from Manchester.
Even to an eighteen year old with positively no mechanical knowledge, it was clear that this was ad different car than the others. For one thing, the driver sat directly in the middle of the interior,; the car handled better than most; and the body work was fussier than all the rest. The new hobby attracted even more attention when Manchester racing legend Dave Brooks, who had driven at Fairmont, Pico, Granville, and Stateline in the 1950's, took a turn with the car and won the feature.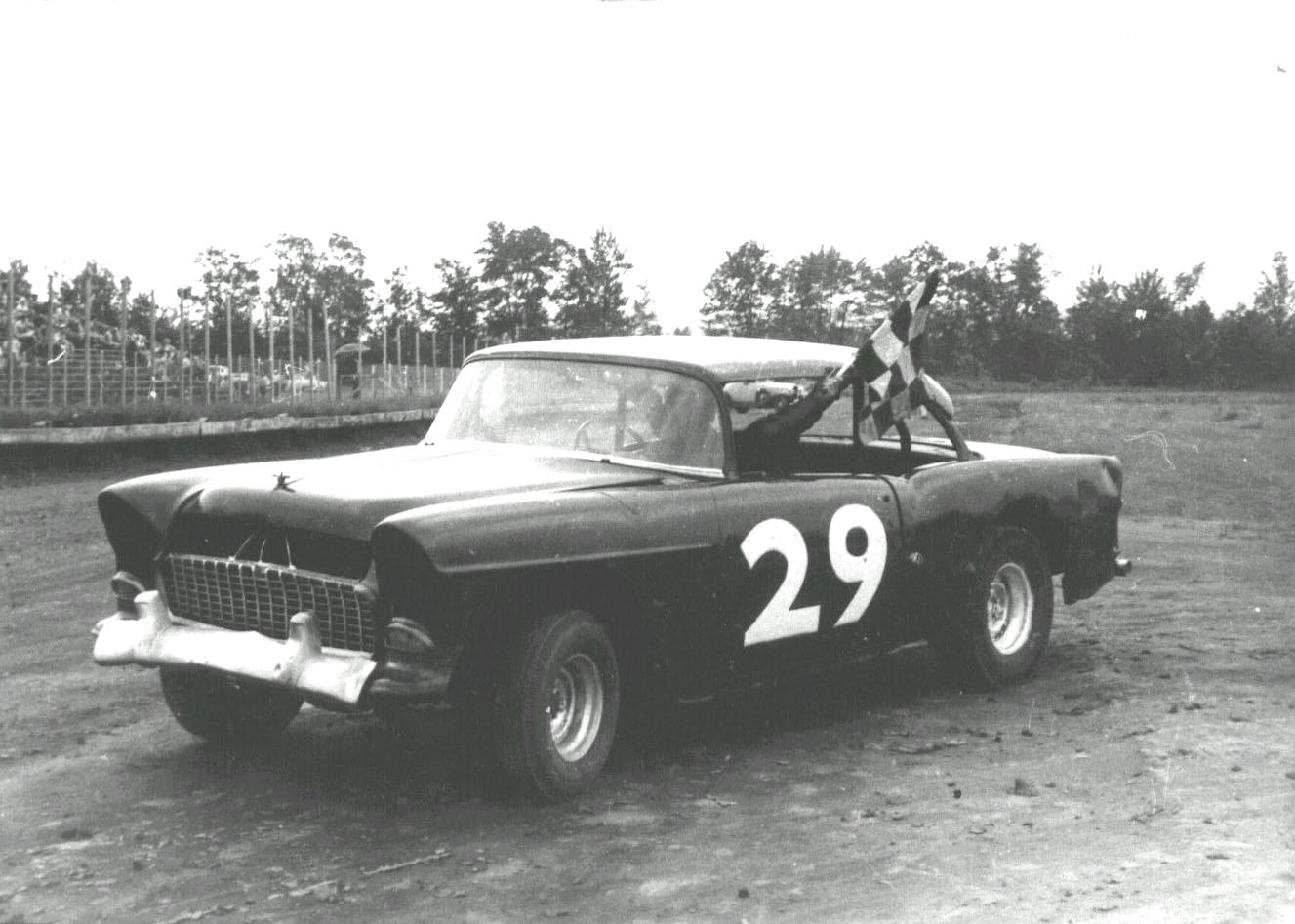 The Dorr Chevy was one of the best – built cars the hobby class had seen. [Bob Frazier Photo – Ladabouche Collection]
After that first, shortened year, Dorr sold the car to rookie Bob Ames of Proctor, Vermont so that he [Dorr] could turn his attention to the upgraded sportsman division Fairmont was going to for the 1965 season. Ames, an under-funded and totally inexperienced participant, struggled mightily with the car, which he had painted red and white and numbered P59 after the year he had graduated from Proctor High School. Proctor, not being even close to a mecca for stock car racing, Ames had little help or support to foster any improvement [like, perhaps someone from the Manchester area], so he was getting discouraged fast.
Meanwhile, in nearby Rutland, Ralph Soulia, postal worker, was having a banner year win the Fairmont hobby division and was close to winning a points title. He was leading the points through August when his #99 suffered a terminal wreck. The Soulia tour – de – force was at an end unless he and his mentor, the Rutland Rocket, Jerry King, could get another car fast, Enter the discouraged Bob Ames.
Enter, the discouraged Bob Ames. [Ladabouche Photo]
It just so happened that the frustrated Ames was ready to part with his treasured Dorr machine before his wife and his wallet deserted him, and Soulia was ready to get his hands on some competitive equipment [which seemed unlikely at that juncture of the season]. Whether a purchase was made or some other arrangement to run the remainder of the season, the P59 became the 99 and Soulia, along with the savvy little mechanic/driver King, enlisted some help from Dorr's future driver Ralph Palmer. They soon had the Dorr car humming again. Soulia cruised to the track championship.Tragically, Soulia was killed soon thereafter in the offseason, and I never did find out what happened to the Dorr 1955 Chevy after that. Even Jerry King did not know. In the 1965 season, however, Dexter Dorr did return to prominence.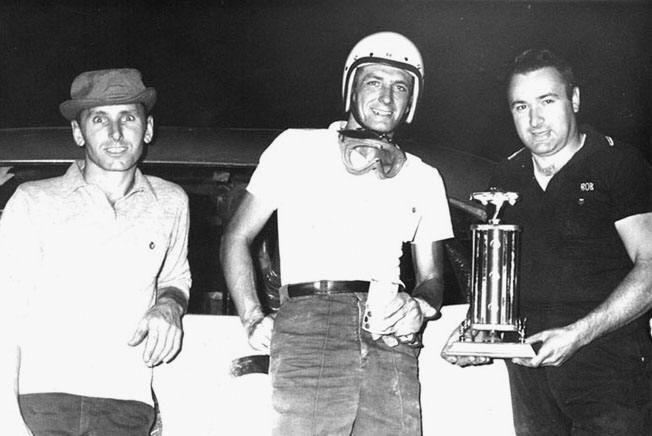 Bob Ames [right] shared in the celebration with Jerry King [left] and Soulia when the Dorr car
helped him win the championship in 1966. [King Collection]
Into the 1965 season, with Fairmont was now running V-8 sportsman coupes, intermixed with a few leftover flathead coupes. Dorr returned with a newly – built sportsman coupe, riding on a new slant-bed hauler, both with the moniker of "Super 29". The car , first primer and later burgundy and white, had been test run at Otter Creek Speedway in Vergennes the week before. It was clearly another well-built Dorr creation. The Super 29, perhaps named in deference to Dick Pennock's Super 38, was not another leftover from Fonda or Lebanon Valley. Like Gael Dundon's snazzy red and white #3 that Vince Quenneville drove, the Super 29 was Vermont – built and well built – to boot. It didn't take Dorr long to take some checkers with the potent car.
The car was used , on and off, the following year [which was Fairmont's last] and seemed to disappear for a while, as Dorr apparently began to build cars for other people. By the end of the 1966 season, Gael Dundon's beautiful 1937 Chevrolet had been highly successful at Fairmont and Saranac Lake, but it was pretty much beaten to a pulp. The Quenneville / Dundon combo would end, as Gael had a burgeoning business to tend. So Quenneville had to seek out another ride. Meanwhile, Norm Scarborough, his original car owner, had gone through an interesting three year stint without Vince. He had brought along the tempestuous rookie Russ "Rube" Shaw, winning some races and wrecking both a sedan and a newer coupe.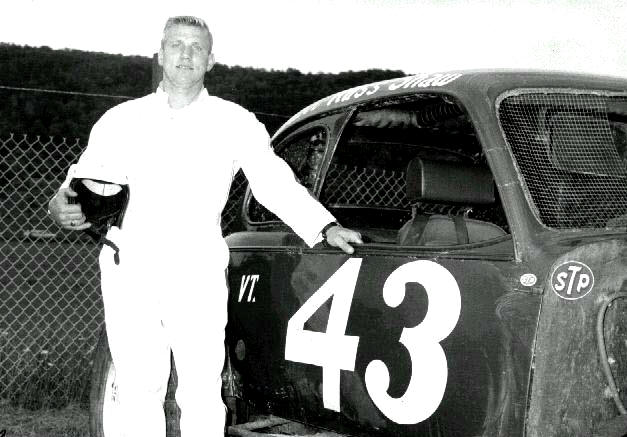 Russ Shaw went on to the Taggart 43, leaving Scarborough available to Quenneville. [Courtesy of Dragon Family]
When Scarborough fielded a nasty – looking Mustang for Devil's Bowl, he soon decided it would never survive with Shaw – so Russ ended up with the Taggart team, and later the Dooger Jones team, and Norm completed the 1967 season with veteran Roger Gauthier, from nearby Fort Edward, New York. Gauthier ended up breaking his neck in Canada, at season's end, and Norm was, once again, ready to field a car for his original driver. Scarborough and Quenneville would arrive at Devil's Bowl in 1968 with Dorr's former Super 29 and – unlike most teams who buy a proven winner – they actually enhanced the car. Scarborough re-numbered the car as 38 and added one of those Dutch Hoag periscope mirrors through the roof. He then sent Vince out to be a multi – race winner that year.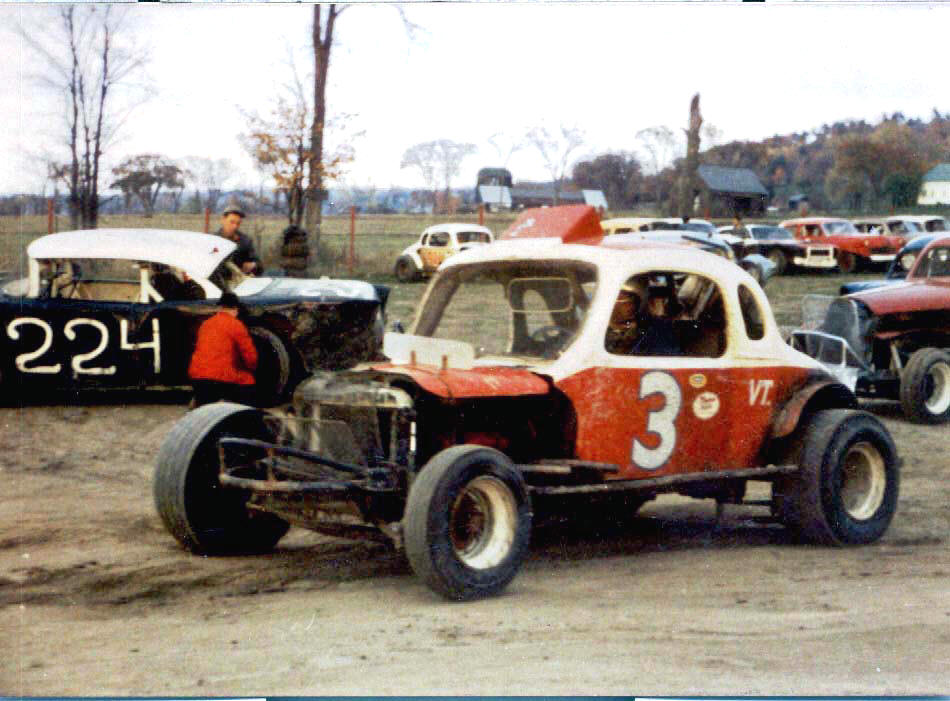 Vince, in the former Dorr car, heads out for practice at Devil's Bowl in 1967. [Ladabouche Collection]
Norm was already in the process of building his own creation, back home in Whiting, Vermont; but, they used the Dorr car the remainder of that year. The next year, the infamous, long – chassised red 38 coupe hit the Bowl and would become the scourge of the Bowl. So, the Dorr car had to go. They sold it to Bob Harrison, a racer who made a career out of buying other peoples' cars. He just started out the old ME2, an Ashland Park car owned by Wilbur Baker, and he had run George Rogers' second UP2 coupe during the Bowl's first season. After a year, the Harrison 117, that former Super 29, probably went out to permanent pasture somewhere in Harrison's home town.
Watching how long and how well Dexter Dorr's first cars went, it is not hard to understand why Dorr became a popular car building figure in the New York modified circles for several years. We lost Dexter Dorr a while back, but his reputation and his wit remain with us.

Dexter Dorr, with one of his creations, at the Valley. [A. Ainsworth Photo]
EXTRA PHOTO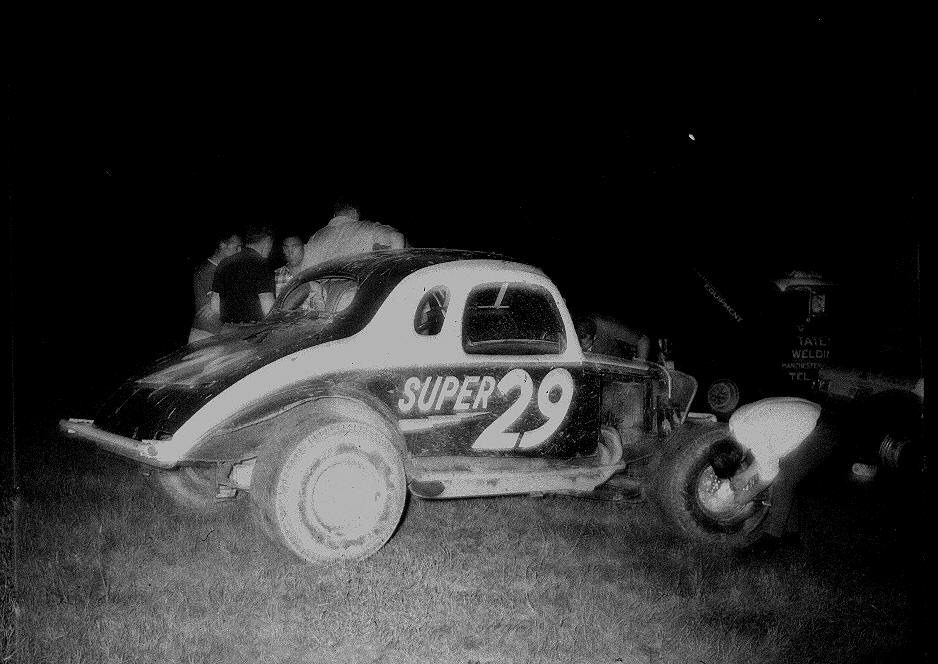 The original Super 29, being worked on at Fairmont around 1966. [Ladabouche Photo]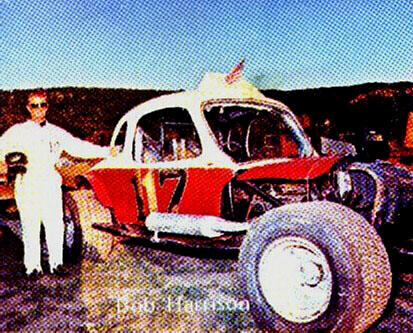 Bob Harrison, with the last version of the Super 29 [Courtesy of Norm Vadnais]
Return to the Main Page
Return to the Main News Page
Return to the Columns Link Page
Return to the All Links Page