THE BILL'S BACK IN TIME COLUMN PAGE
Copies of my column in Mark Thomas' "Racin' Paper"
Column #39 from Column 53
BILL'S BACK IN TIME
By Bill Ladabouche
A TIME WHEN TRAVEL DIDN'T COST $4.00 PER GALLON
I am not old enough to know much about the very early stock car racing in the 1950's, but – from what I hear – that is when a driver could actually make a living barnstorming around the East Coast, racing somewhere every night of the week. Wily Will Cagle may have been one of the last vestiges of that type of driver, doing pretty much the same thing in the 1960's and 1970's.
One of the reasons why drivers like Pappy Hough and Frankie Schneider are famous for making a good living on the bullrings of the era is that cars didn't cost much to build and personal, individual initiative would allow a guy to outperform his rivals [not like today with the crate motors, etc.] Secondly, many tracks actually paid better purses then than they do now. With all that having been said, let me point out that the Northeast had its own version of the barnstorming, highly-dominant, semi-professional type of racing team – the George Barber's Bradford Auto Supply #46 tour de force.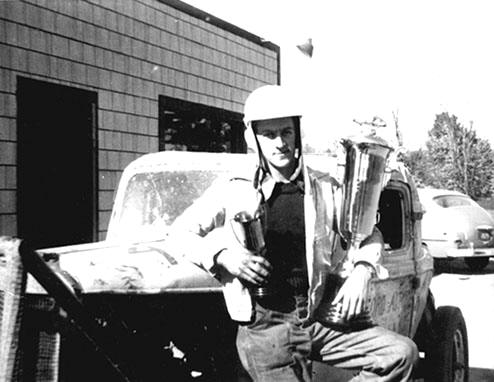 Stub Piper, shown here at Barber racing headquarters, was George's first driver. [Barber Family Photo]
Barber, who began with driver Stub Piper, had purchased a Ford coupe, painted it cream yellow, and lettered it with the famous ad for his car parts business and the numeral 46. Eventually, as Barber gained the services of noted veteran driver Roy "Pappy" Forsythe, the team began to race almost anywhere a race was being held – and, they won more than their share. Although Barber's cars were usually thought of as clean and respectably maintained, the first coupe got to be so wrecky – looking that once, after having won an upset victory over the local stars at Stafford Springs, Connecticut, Barber and Forsythe were told not to come back unless something was done to improve the appearance of the car.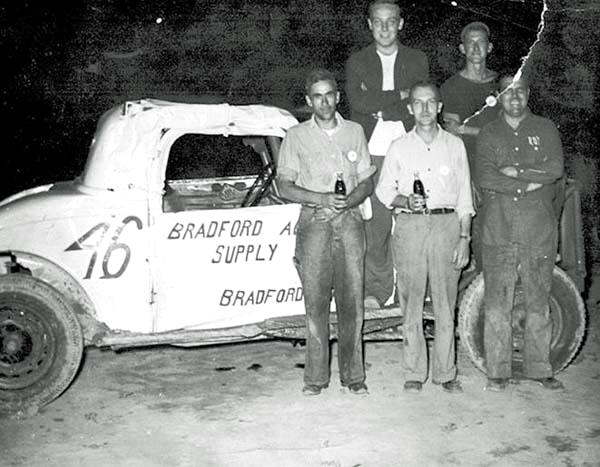 The victorious team poses after the upset win at Stafford around 1954. I don't see why they thought the car looked at all shabby. The sort of had to take their Cokes and not come back.[Les King Photo]
By the early mid 1950's, Forsythe and Barber were traveling far and wide to run races. I have seen evidence of their showing at Cheshire Fairgrounds, Keene, NH; West Brattleboro, VT; Stafford Springs, CT; Fairmont Speedway Phase I; Pico Raceway, Rutland, VT: Malletts Bay, Colchester, VT; Stateline Speedway, Bennington, VT; Mettawee Speedway, Granville, NY; Claremont, NH; and probably other tracks in Colchester, VT, as well. They very likely ran at Airborne Speedway, Plattsburgh, NY; Whites Beach, Ballston Lake, NY; Ashland Park, Warrensburgh, NY; Otter Creek Speedway, Waltham, VT; and others.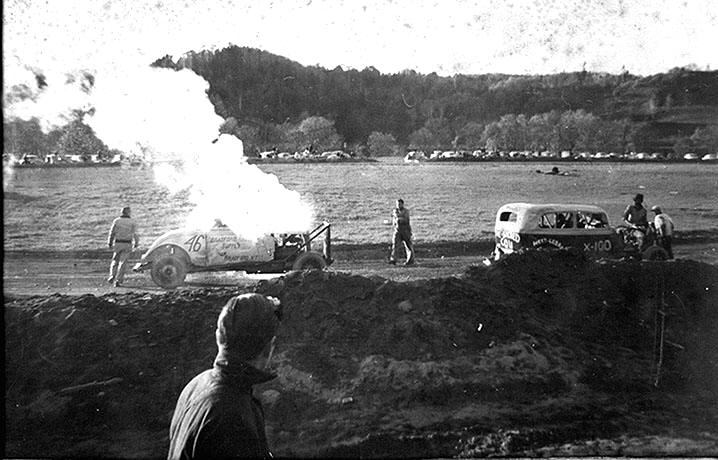 Running long periods on the road were not always easy. Here George Barber scrambles around the car as Forsythe
or Piper overheat at the old West Brattleboro Speedway. That's George trotting around the back
of the car. [Barber Family Photo]
From the late 1950's to 1960, the team had pretty much settled down to racing first at Northeastern Speedway in Lower Waterford, VT, at Dog River Speedway, Northfield, VT; and at the newly-built Thunder Road International Speedbowl, in Barre, VT. By now, the team was always crisp-looking and had added a second car #47 to the stable. Barber entered this era with Forsythe as the headliner, and New Hampshirite Leland Ingerson in the #47. Later, as the older Pappy bowed out, the 46 was run by one of the area's biggest stars, Larry Granger.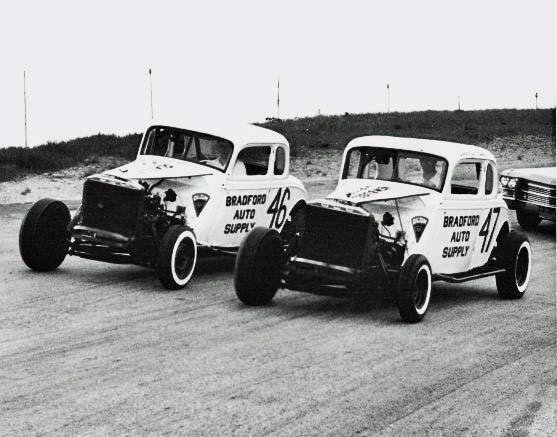 This shot of the squeaky – clean Barber cars at Thunder Road features Granger in the 46
and Ingerson in the 47. [Cavalcade of Racing Photo]
The success of the Barber team was legendary in the Thunder Road area. Forsythe was dominant and Ingerson and Granger did little to lower that standard. George also had a time when the 46 was driven by a driver with the unlikely name of Junior Coffin. When the flatheads were eliminated from T Road by NASCAR in 1965, Barber ran the cars at Northeastern – until the track closed around 1968. To save the fate of the flathead race car, he established Bear Ridge Speedway in his hometown of Bradford, Vermont around 1968 or 69. Getting along in years, he remained active at the track also as a car owner until a very advanced age. I have heard that we recently lost George, who was in his '90's. He could easily be called the Dean of Northeast Stock Car Racing. I have a nice photo of George at Bear Ridge, but the quality is so poor I doubt it could be recognizable on newsprint.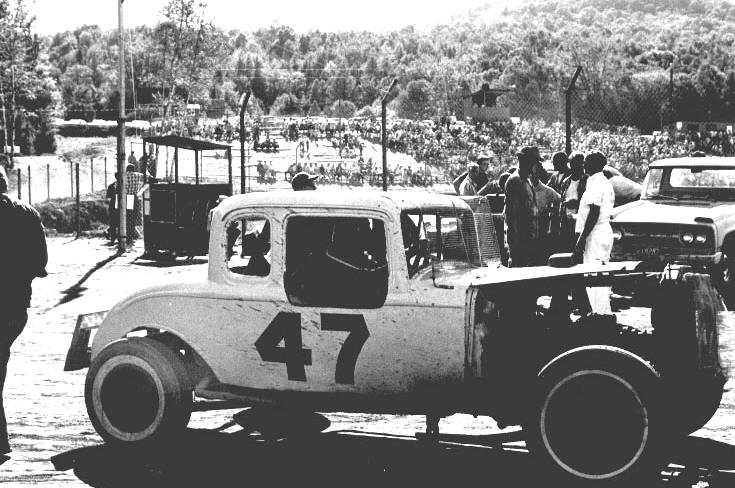 This is supposedly the former Barber 47, with Allen Whipple, at Bear Ridge around 1969. [racersbored.com site photo]
The two Barber cars went on. East Barre's Lloyd Hutchins has restored the 46 and displays it frequently. Claremont area auto salvage kingpin Allen Whipple reportedly ended up with the 47, which he ran [with that numeral] at Bear Ridge. After the Ridge, I don't know what became of the 47. Maybe Whipple does. George was recently inducted into the NEAR Hall of Fame and it's about damned time. He got to leave the nursing home and see the 40th anniversary race program at Bear Ridge this past summer. Cho Lee drove the restored 46 right up to the cart Barber was sitting in. I am sure it made his night. And George, he made our sport !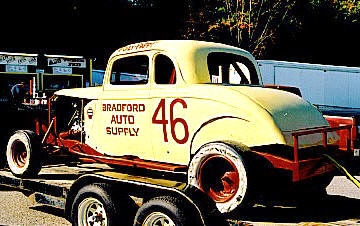 The restored 46, on Lloyd's trailer, appears at a special show at Shelburne Museum in 2005. [Ladabouche Photo]
Bear Ridge was famous as a sort of rein-car-nation because most of the remaining flathead coupes in the Northeast wound up there – in various stages of original condition. Stars of the flathead era like Buddy Bardwell, Sonny Rabideau, and Cecil Bosworth made their way from the Southern part of New Hampshire to lock horns with many of the former Northeastern and Thunder Road stars such as the late Henry Montandon, some of the Ingersons, and others. It would be truly impressive to know exactly how many old coupes actually ran through Bear Ridge in the old days. I know, for example, that at least one of Geoff Bodines's old cars ran there [perhaps in unrecognizable form].
Bud Messier's white #50 coupe used to be a headline at Thunder Road because Messier used a number of high – profile hired drivers in it. I know that the midget racing star King Carpenter stuffed his considerable bulk into the car, as well as Canadian super star Jean – Paul Cabana and Claremont legend Mike Cody. The Messier car ended up over at Bear Ridge where it enjoyed a second entire leg of its life.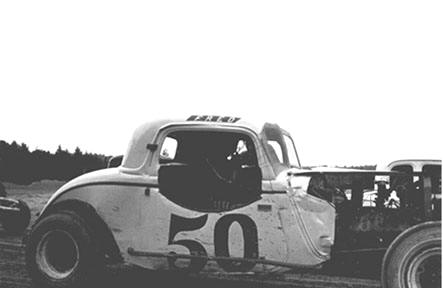 Fred Kidder enjoyed a great few years with the former Bud Messier 50, which had been the
ultimate "rent – a –car" at T Road in years past. [Courtesy of Cho Lee]
Return to the Columns Link Page
Return to the Main News Page