THE BILL'S BACK IN TIME COLUMN PAGE
Copies of my column in Mark Thomas' "Racin' Paper"
BILL'S BACK IN TIME
By Bill Ladabouche
Site Column #54 from My Column 69
THEY CALL HIM SLUGGER FOR SOME REASON:
REMINISCING ONE CRAZY CAREER
I have known Wes Moody longer than he has known me. When he raced at Devil's Bowl in the late 1960's, I was first at college , and then going down to the races from my first teaching job in Milton, Vermont - home of another famous track. I was always attracted to root for Moody, with his maroon and white #63 coupes and the petite blonde wife, Kathy, always in attendance. Wes had been competitive from the first time he arrived at the Bowl.
In a recent interview with Wes at their beautiful, renovated farm in Saranac Lake, New York, I learned that Wes got his toughness from his dad, who – among other things – was a steel worker and later a crane operator in a naval year. When the family ended up in the Saranac Lake region, someone began a business called a boat livery [most likely today's name is a marina].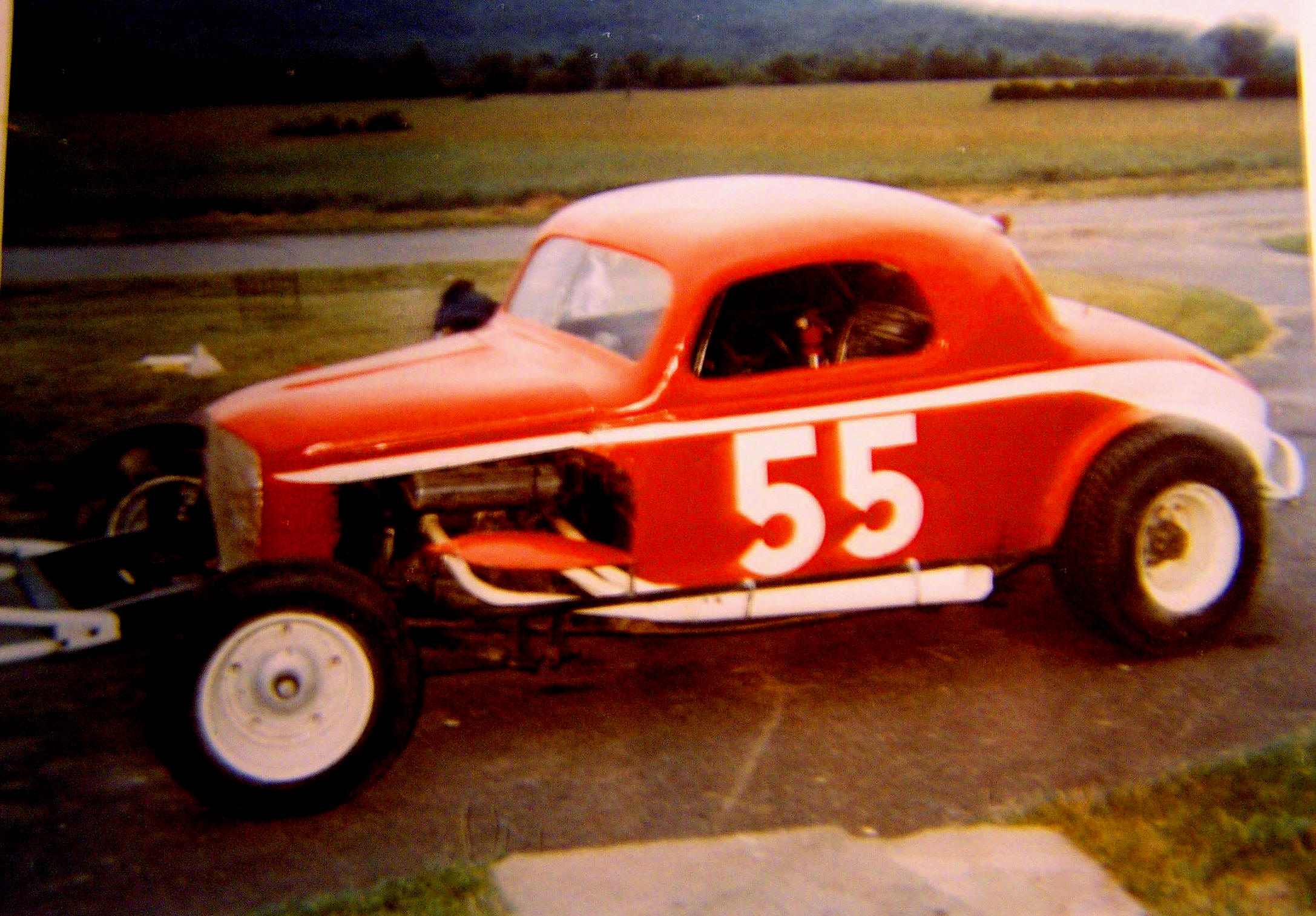 Jim Hoyts's red 55 which ended up in pieces at Fonda. [Moody Collection]
The Hoyt family, which ran the local Chrysler dealership in town, was trying to make a go with a bucolic little race track, carved out of Aaron Hoyt's farm north of town. Now Wes and Hoyt's son Jim had already turned the likeable old man's hair gray with various stunts at the dealership. Wes did small jobs there as a youth and he and Jim would get into all sorts of predicaments. One of the boys' particular delights was bringing in some of the spicier local teenaged girls to see how much the bold little tarts could fluster and embarrass poor old Aaron.
There was this one time when a man with considerable means in the area had gone to Aaron to order two brand new 1967 Dodge Chargers – production numbers 2 and 3. Imagine how rare these cars were. The cars arrived at the Hoyt Lakeside dealership and – before anyone could do anything, Jim and Wes had them out for a test drive. The cars ended up on the track up at the Hoyt farm. They ended up bending all the valves and push rods in the motors. The customer almost had a stroke and poor Aaron was left to sending them back to the factory.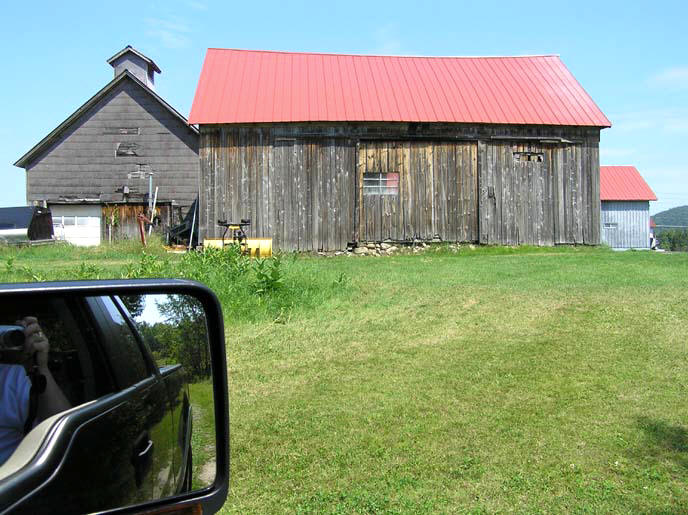 Drivers registered at Aaron Hoyt's barn fort he races at Saranac Lake. [Ladabouche Photo]
<![if !supportLineBreakNewLine]>
<![endif]>
Wes has to admit Hoyt was some sort of saint. He didn't try to kill either his son or his son's idiotic pal. Wes says when the Hoyt employees were hanging around , not working very hard, he would just say "Don't gang up, boys, lightning will strike you all at once." Hoyt did fairly well with the dealership, despite the boys, but the race track was another story. The family struggled to make keep it afloat for a number of years before giving up.
At 16, Wes was too young to driver [or at least Mr. Moody felt he was too young to drive]. At any rate, Wes had built an 1940 Ford coupe and numbered it #08. He brought the car up the road to Airborne Speedway, which was probably still dirt at the time. He got Shorty Carmichael, the old Hudson driver, to pilot the thing for a while. That definitely hooked Moody to a lifetime around stock cars.
Apparently, the Hoyt farm was also headquarters for much of the race car work for Wes and Jim. The Saranac Lake track, right on the farm, is where both Wes and Jim would cut their racing teeth – Jim with the #55 and Wes with his first car, #66. The first Moody car would sport the sponsorship of "Moody's Boat Livery". The 1937 Ford served Moody until he began to run a car associated with the Hoyts, a #55A. Running Saranac Lake was an adventure unto itself. The backstretch went downhill and – most likely – the front stretch went a bit uphill to compensate. One time, they were building someone's next racing engine in the basement of the Hoyt home. When finished, they had no idea whatsoever how they get it out, as there was no door to the outside except up the stairs and through the house.
<![if !supportLineBreakNewLine]>
<![endif]>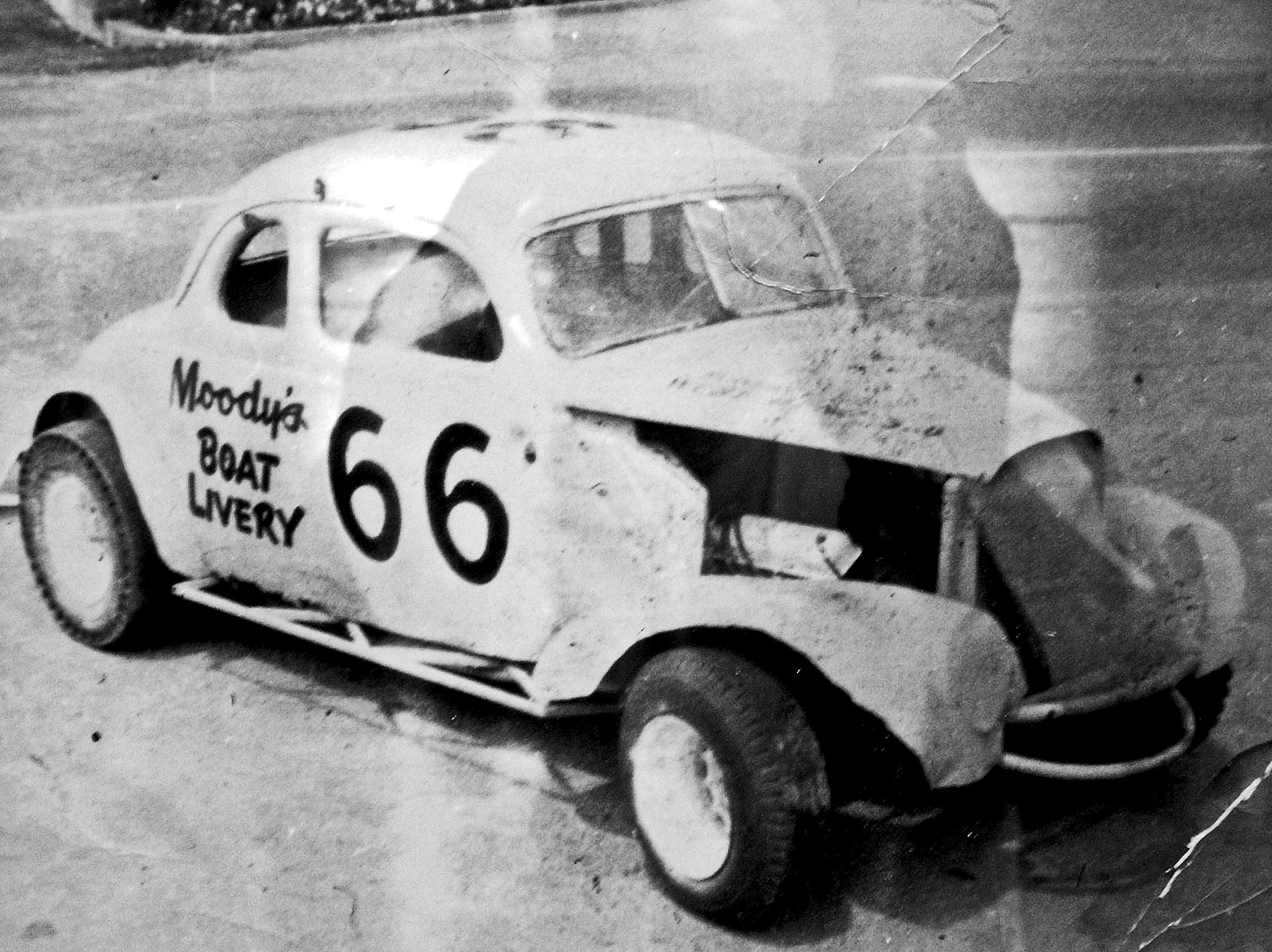 This early car bearing the Moody Livery ad raced at Saranac Lake [Moody Collection]
Eventually the two young drivers began to follow the veterans like Rod Ritchie to other racing venues, like Airborne Speedway, and even as far away as Fonda. About this time, their careers took sharp paths in opposite directions. Jimmy Hoyt was involved in a horrific crash at Fonda [which I witnessed]. The #55 literally came apart in pieces, all down the Fonda frontstretch. Why the wreck did not make the Fonda history book as one of the five worst wrecks in the speedway's history is beyond me. Hoyt received injuries that still bother him to this day. Obviously , his racing was curtailed after that.
The two Saranac Lakers were regarded with more than just a little suspicion at Fonda. 1.) the locals were not fond of the northern New York invaders like Moody, Hoyt, Nephew, Bruno, and all. 2.) There was the gas tank incident. Hoyt's gas tank was leaking and it was getting close to time for the consi at The Track of Champions. The boys filled the tank to absolutely full, without any air space. Then Moody proceeded to attack the filled tank with a torch. Fire and sparks flew off the tank, from the gas left on the outside surface. Fonda guys were running for their lives in all directions. Hoyt entered the consi; but, no one would go anywhere near either one of the Saranac boys after that.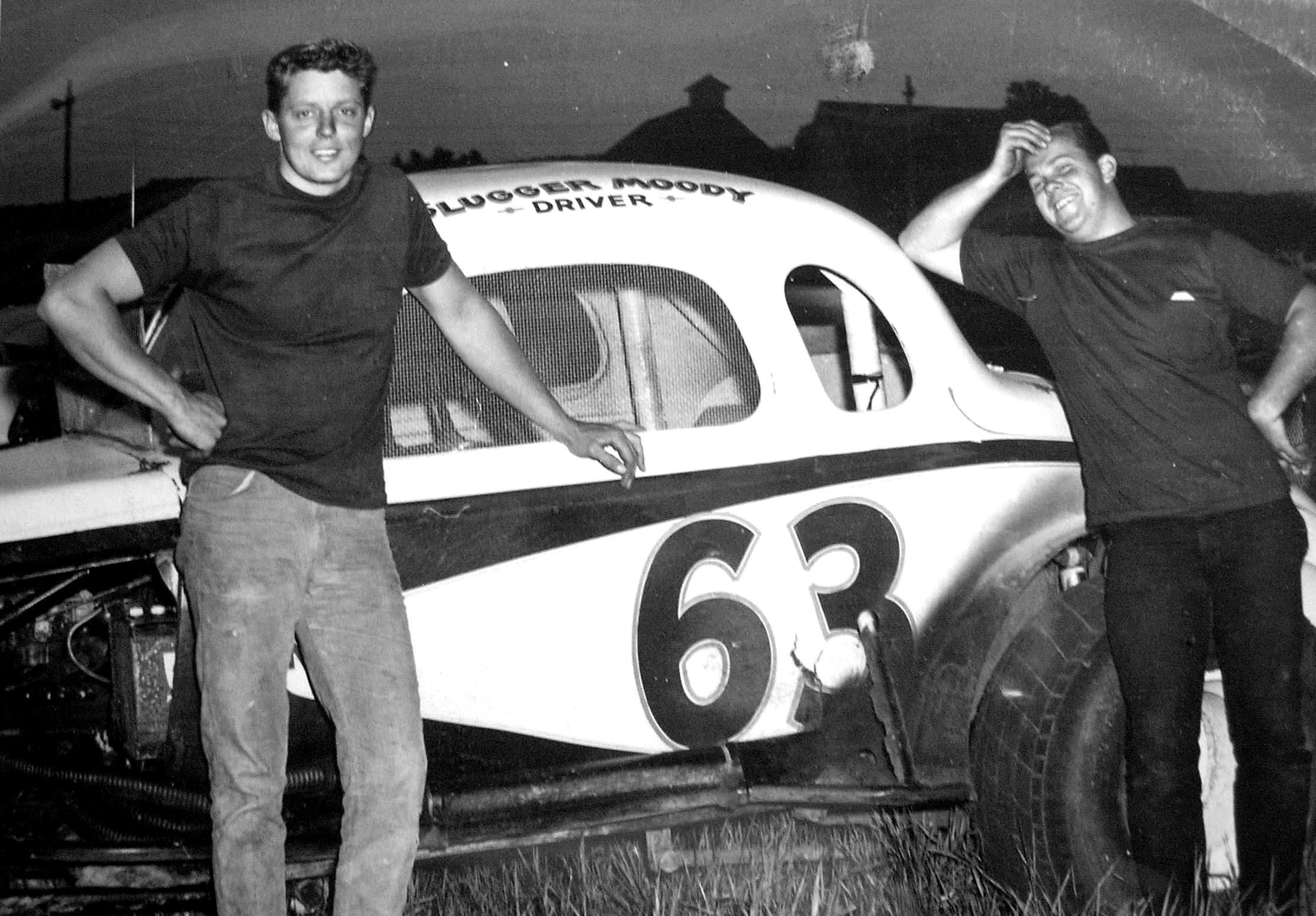 Wes and a crewman pose at Saranac Lake in the early 1960's. This was the typical Moody coupe
and you see the Hoyt barn in the background. [Moody Collection]
Moody was racing successfully at places like Fonda, Devil's Bowl, and Saranac Lake; but, this was all dirt. But, it was when he started racing on the paved tracks west of Fonda, that his career really took off. He was still a bear on dirt. As A matter of fact, he was the first driver to go over one hundred miles an hour at Syracuse. But he had begun to run against the Treichlers, Jim Hurtubise, Billy Rafter, and others. His stories of those long hauls out to tracks like Lancaster are the stuff of legend.
Wes tells my favorite story about coming down the new York Thruway late one night after a long and unsuccessful race at some track out there such as Lancaster or another out there. He was tired, in a foul mood, and probably not enjoying great wealth at the moment. Another thing to remember is that Wes frequently drove regularly with injuries that would have sidelined an ordinary man for weeks. He stopped at one of the thruway rest areas with the gas stations, and some local yokel was giving him a raft of grief about something. Moody literally chased the man around the yard, giving occasional squirts form the gas pump hose. Once the terrified wretch made it back into the aluminum cubicle, Wes raged outside the door squirting, throwing matches at the window, and alternately raging and laughing hysterically. Somewhere out in western New York, there is man in a mental hospital who is still afraid of gas pumps.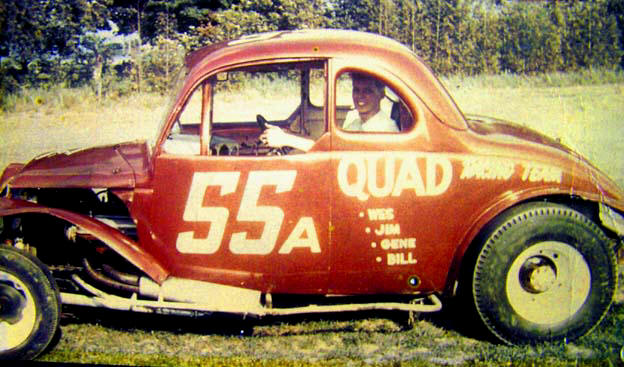 Wes, with an earlier car. This one was hooked in with the Hoyts. [Moody Collection]
Wes had a friend and sponsor for many of those white and maroon '36 Chevies he ran during that period – Dickie Dame. While I am not positive of this, I think they were friends enough for Wes and Kathy to name their son, Richard, after Dame. Dame was almost as hard – living as Wes. Dame, along with Moody's enormous crewman, Denton Dow, made a permanent impression on that Western part of New York [especially the gin joints]. A typical week for the 63 crew in those days began with Devil's Bowl on Sunday night, on the clay. Sometimes, there would be a special Thursday night show at someone's track somewhere in New York. Then they'd head out to Rolling Wheels, then Shangri-La, and finally Weedsport.
Now the big problem was that Weedsport paid off its drivers at a bar near the track. Moody says they often had used up the winnings before they left. Dame often carried most of the money for the team. Wes, Denton, and maybe Fran Kane were at a bar with Dame, one night after the races, waiting to start the long drive back to Saranac Lake. Dame, as Wes puts it, "got into some local girl" and disappeared entirely for the week, leaving the other three [and possibly Kathy] to fend for themselves without much of any cash.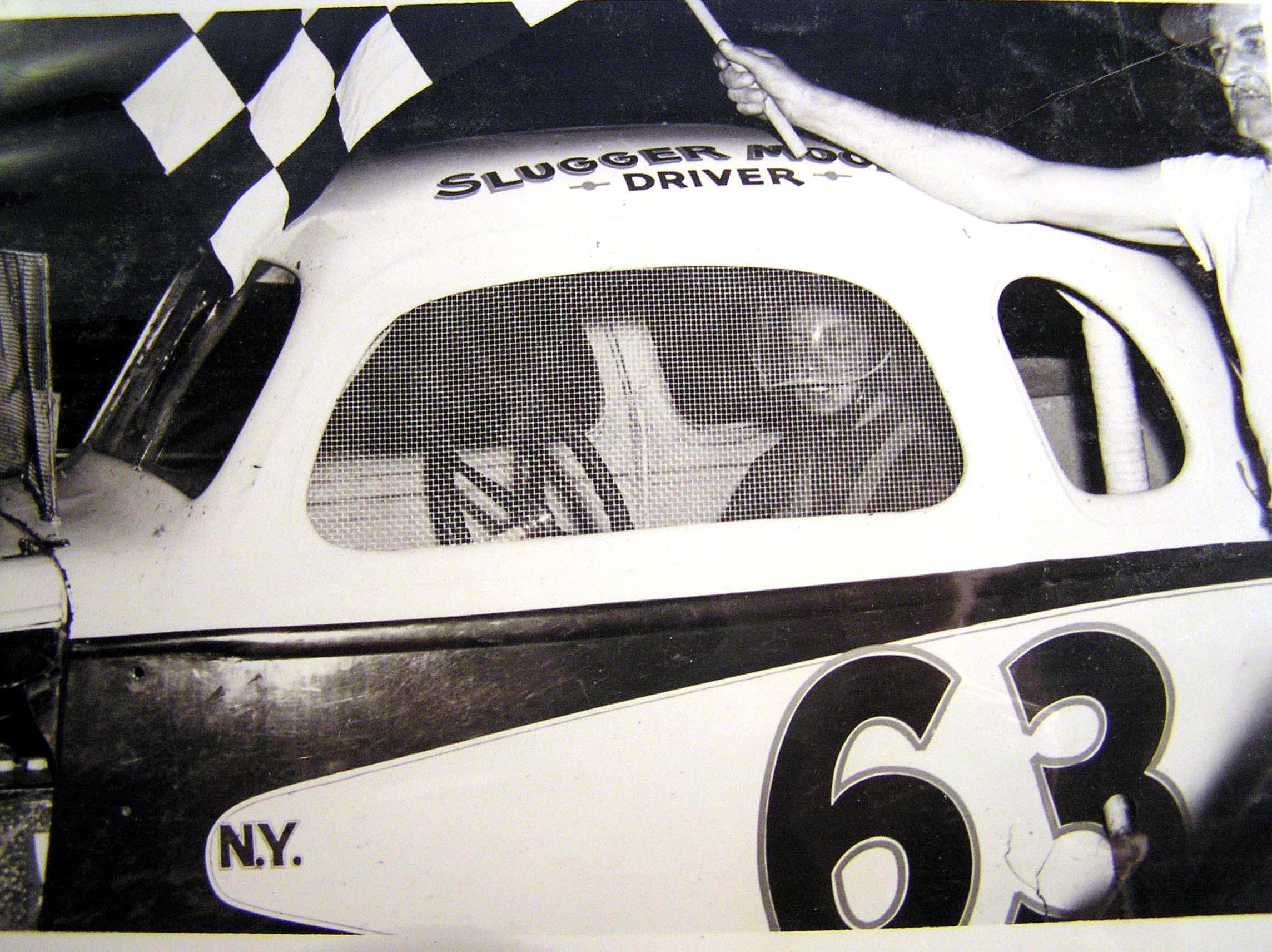 A picture that would repeat itself dozens of times over the years. Wes, in a coupe with the familiar white and maroon color scheme, in victory lane. Here the flagger is Art Prairie at Saranac Lake. [Moody Collection]
Wes relates that, with a schedule like they ran, "you had to do well at at least one track in a week's time or you literally didn't eat".
Like Junior Sabin, of Tupper Lake, and so many others in that neighborhood of New York, Wes also raced snowmobiles in the winter. A great number of the northern stock car racers did exactly that. Many of them, sometimes including Wes, did nothing else for a living except race [if they had a good enough sponsor].
Later on, when old enough a young Brian Ross began to travel a bit with the Moody tour de force. From a huge family near Saranac Lake, Ross had worked for the Hoyt family at the race track and was now poised to enter racing himself. While today's, more mature and reserved Brian gives you a distinctly different impression, Moody insists that the youngster he had with him in those days caused more uproar that Wes, himself or the gregarious Dickie Dame.
At Langhorne, one year, Ross was on the Moody crew and they were eating at some local beef restaurant. Ross thought it would be cute to go over to an unused table next to them and put a prophylactic in the relish. Then some nice young family with kids came in and the mother eventually used the relish. The rest was real pretty. She could tell someone in that band of racing ruffians had done it; and Wes is pretty sure it was lucky the management threw them out before that woman could get her hands on any of them.
Camping out at Syracuse one night during their speed weeks, Wes heard a loud rapping on the camper door at about three in the morning, There was Ross and about six of his equally – drunk buddies. They were all crying and sobbing, so he elected to go out and see what the damned fools had done now. The request was simple, according to a slurring Ross: "George's hat died, and we want you to say a few words before we bury it."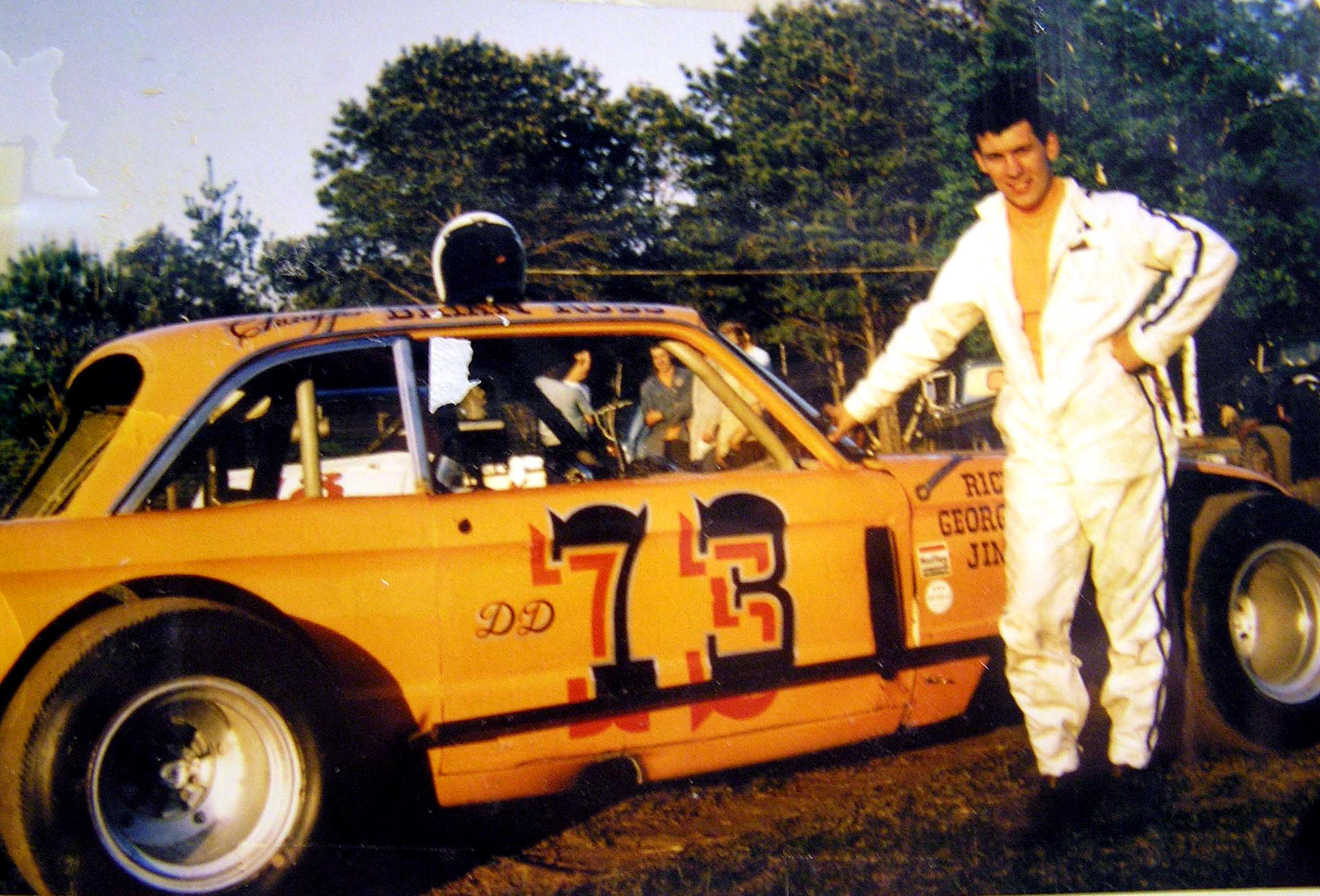 Brian Ross, in his earlier days of racing. [Moody Collection]

Wes apparently ran a heavy Dodge radiator in most of his sportsman and modifieds. At one of the Langhorne shows, they broke their radiator in a qualifier. Wes set about to try and repair it if he could. No problem. Brian disappeared and came back with a Dodge radiator. Later, Wes found out, Ross had just gone out in the parking lot and lifted one out of some spectator's truck. Ross did many other favors for the team, as well. At a strip bar in Albany there was a girl doing the usual writhing on a fenced – in stage with another girl rubbing oil all over her. All these tough local guys were enthralled. Brian threw a glass of beer on her "to cool her off" and Wes and the crew had to fight their way out of the bar.
Wes remembers knowing some of the most famous guys in the business. One time, while driving his car with a full leg cast at the Monroe County Fairgrounds, he was lined up in the second row, with Dutch Hoag, Jim Hurtubise, and as he puts it – some poor guy on the pole. Herk and Moody were running alcohol – injected cars and, when the green fell, they blasted up on the pole sitter, sandwiching him between them. A helluva accident ensued and Wes ended up struggling to get out of an overturned car with alcohol injecting out of the engine all over the place. Cars were idling last with flames coming out of the headers,.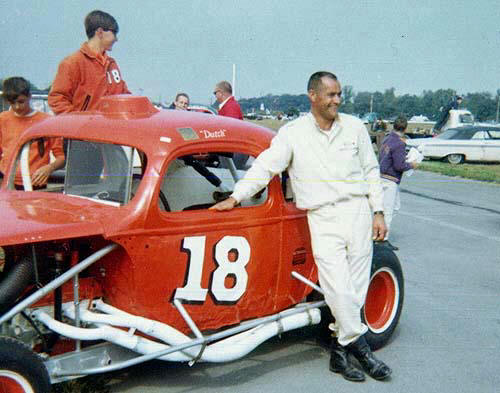 The legendary Dutch Hoag was only one of famous drivers who called Wes Moody a friend –
even though they may have wanted to kill him at one time or another. [Bill Farress Photo]
Wes figured [as he often did] he was simply going to die right there until a massive man reached in from somewhere and yanked him out. At the payoff window, he went over to Hurtubise and apologized. The legendary Herk was preparing to do the same to him, and they became good friends. Wes remembers the legendary Irish Jack Murphy at Langhorne one year. After qualifying, the officials said he had passed under caution and they weren't going to let him into the big race. The crowd went nuts, according a still – impressed Moody. "Let Murphy run ! Let Murphy Run" came the chant in unison from the shuddering grandstands. Murphy's crew ran out onto the track and orchestrated the cheer. Finally, the intimidated officials put the #6 in the feature, which had 53 cars for the only time in race history.
The best Moody story is from Lancaster Speedway. By now, Wes was very fast and had the best technology you could get at the time. Lancaster [which has some strange history that vaguely involves a mob hit] had a building on the premises built by a local tech college. This building –according to Wes – contained an engineered set of curved ramps that would allow a car, at a low speed, to go over them and completely rotate in the air to land on the wheels on the other side. Well, Wes was screaming around Lancaster one night, lost a wheel, went airborne through the fence, and through that tech building. He recalls "everything going slow motion". Splinters of wood were floating through air in the car, and he can't quite recall what the landing was like. The building was utterly destroyed. Chock up another track where the 63 may not have been eagerly awaited from then on. I'm sure the fans loved it.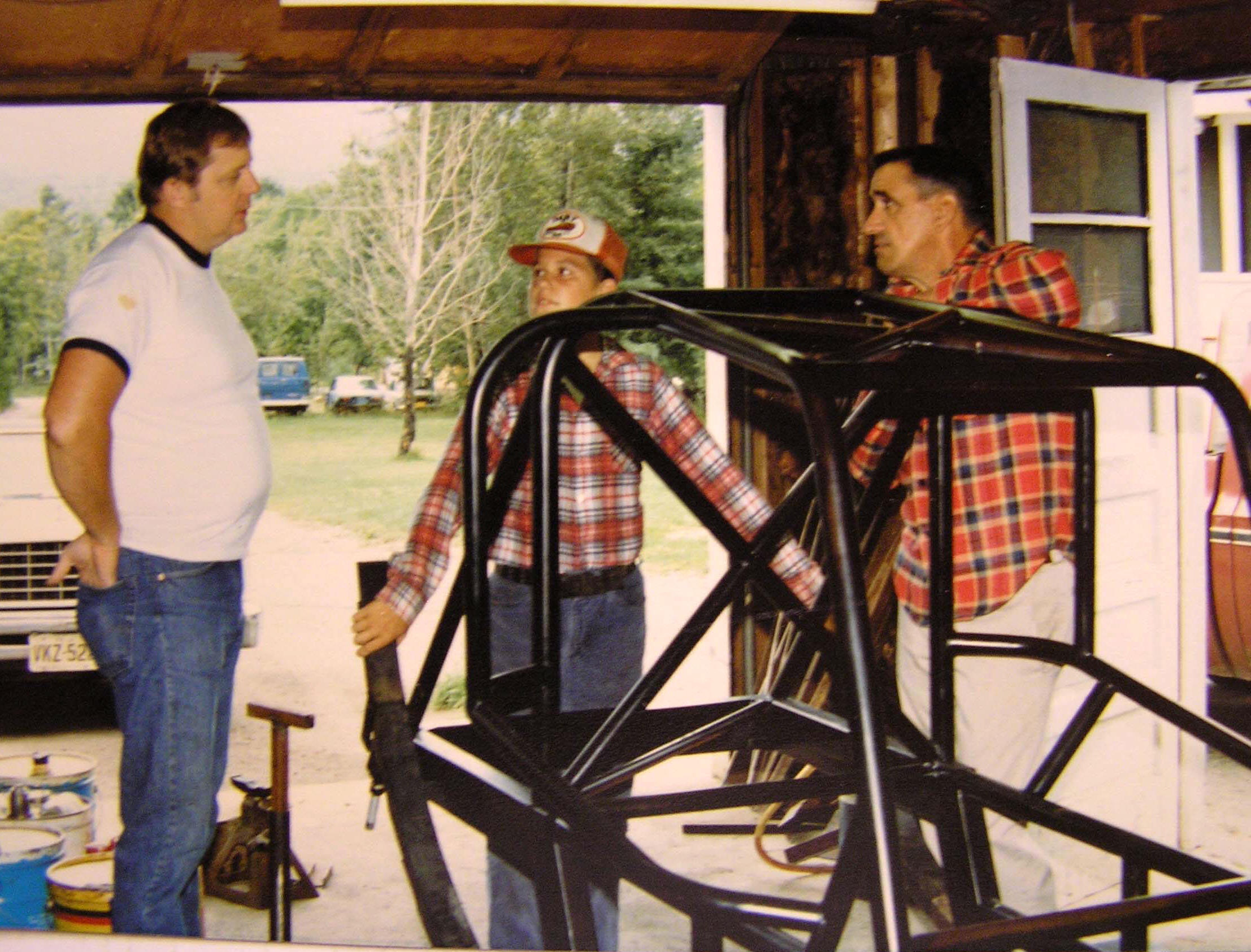 Wes, talks chassis with Fran Kane and Fran's son, Andy, who now races at Airborne. [Moody Collection]
After running the newer modifieds, like the Olsen Eagle, Wes tried a year of promoting the Airborne Speedway for C.J. Richards, when the CVRA hooked up briefly with DIRT. Donnelly and Richards at the same table did not last long, and neither did Wes' wanting to run a speedway. He had a knack, however. I recall, late in the race season, when CJ had called the Ithaca Gun race at Airborne on account of an approaching storm. That race had attracted a large number of DIRT stars who had traveled a considerable distance to get to Plattsburgh and there was another storm approaching if someone didn't do something to calm them down. The problem was that they weather had turned good and the cancellation looked like a setup.
When I arrived there, Wes had emptied every beer case the track had in its storerooms and was serving as the wandering bartender around the haulers. The teams were very happy by then and they couldn't have run a race if their lives depended on it. He looked at me briefly [I worked for him that year] and said out of the side of his mouth to get back to Vermont while I could before the drivers got surly again. Leave it to Wes to fall on his sword [ beer bottle in that case] for others.
Today, Moody fields cars for others, while running a very successful landscaping business. When Airborne went over to running dirt mods on pavement, he fielded cars, sponsored by Outback Steak House, for his stepson, Patrick Duprey, an up and coming driver. The first year, Moody also had a car for his son, Dickie, who was unfortunately along in stages of cancer. It was a nice thing for the younger Moody, something he had always wanted to do. Duprey and Moody just won the 2008 Airborne championship. They had tried Busch East racing, as well. The Busch car still sits in their immaculate shop on the farm in Saranac Lake; but, Wes says that expensive division is simply over their heads.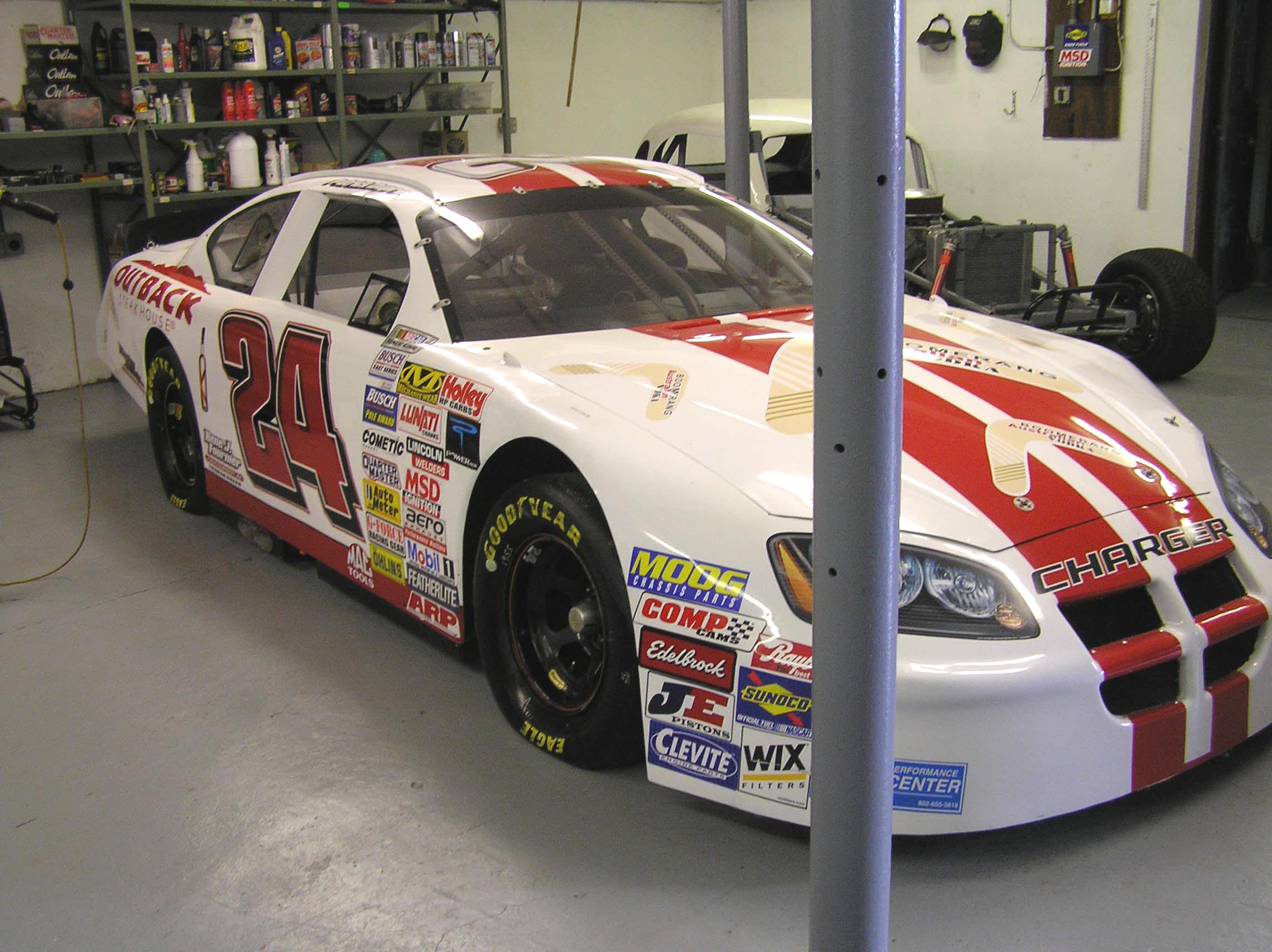 The Busch car sits in Wes' shop in Saranac Lake. To the right is one of his coupes, being restored. [Ladabouche Photo]
They just aren't making them like Wes Moody and his buddies any more. He still will not tell me where his famous nickname "Slugger" comes from, so it must be really bad. Besides his distinction of first to go 100 m.p.h. on the "Moody Mile" of Syracuse, he leaves an indelible mark on the history of New York stockcar racing. When the Johnsons all decide they are too old to run any more, that breed of driver will have vanished.
Today, you'll find Wes and wife, Deb on their beautiful farm near Saranac Lake, running Wesley Moody Landscaping. The couple also has a seasonal Christmas Shop on the farm, as well as raising horses, Christmas trees and other small enterprises. It doesn't hurt at all that the Foley family [another racing bunch] has a bar, The Shamrock, right across the road. Life is pretty good, and a whole lot calmer than it was about twenty years ago.
Return to the Main Page
Return to the Main News Page
Return to the Columns Link Page
Return to the All Links Page