JIM LECLAIRE PHOTO PAGE
Former North Country journeyman driver and mechanic Jim "Twelve Port" LeClaire managed to rescue some photos [many damaged already] from a home in the Plattsburgh area. These show some good subjects concerning Airborne Speedway - especially in view of the fact that they show some seldom - photographed people.
Jim. also sometimes called "Sapphire" during his driving days, drove for a number of area car builders. I remember him from his #C-37, a Floyd Geary C-38 look-alike that was reportedly built in the same Royce Tucker garage as the DuBrul 7 and the Tucker 14 VT. I recall LeClaire's car as a Pontiac, and I saw him run at Otter Creek Speedway.
I am quite certain Jim also ran at Saranac Lake, Airborne, Malletts Bay, and many more places. I thank him for these shots, many of which I was able to save. The photo quality will not be great.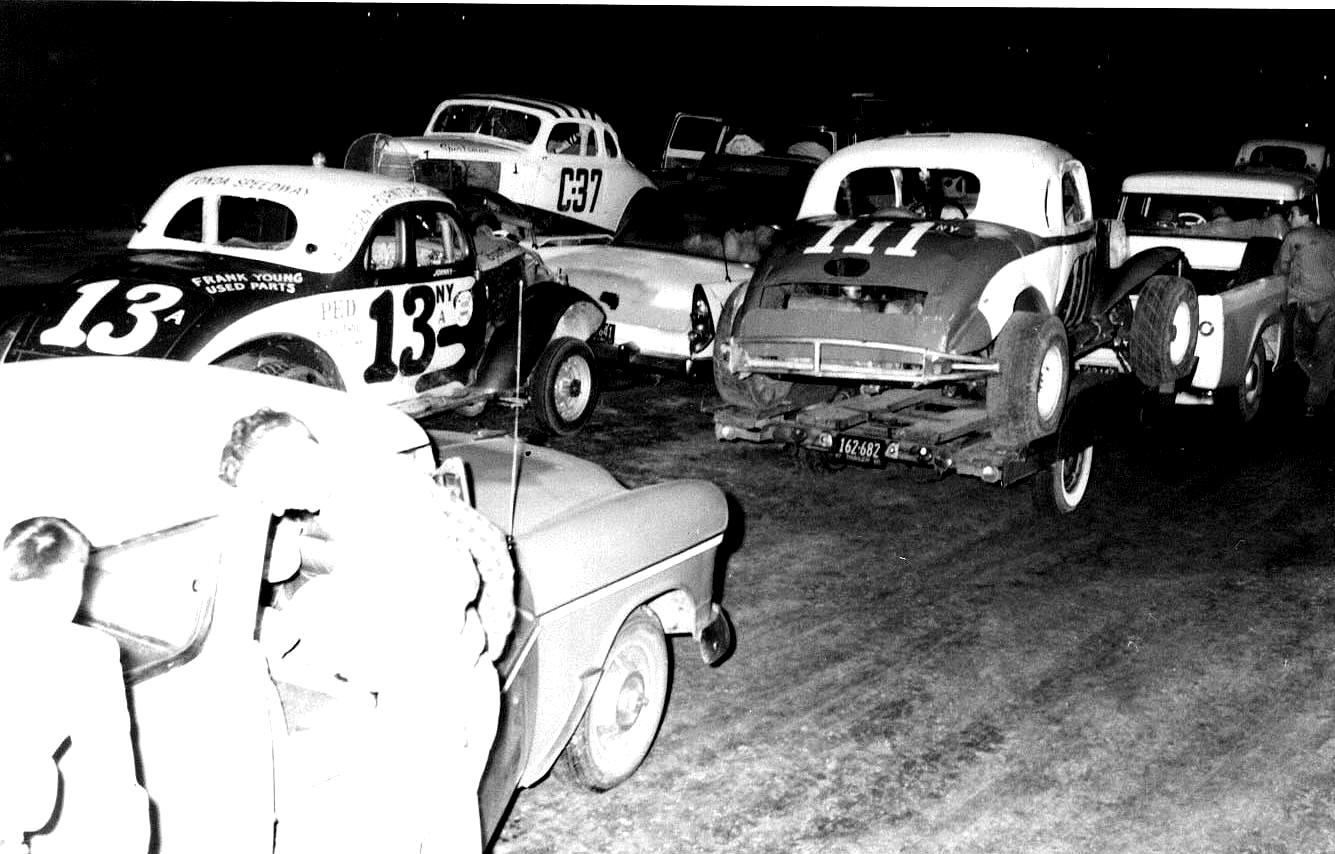 Courtesy of C.J. Richards
This 1960 photo of cars waiting for payoff at Airborne shows the only image I actually
have of Jim LeClaire's C37. Others include the Chris Drellos 111 of Ken Shomemaker,
and the Red Knoblach 13 of Johnny Perry.

Courtesy of Jim LeClaire
Bucko Branham's first
car at Airborne, 1984.


Courtesy of Jim LeClaire
Larry Delong's late
model Cougar.

Courtesy of Jim LeClaire
Bernie Griffith's
downsized LMS.

Courtesy of Jim LeClaire
Steve Frennier's
Chevelle.

Courtesy of Jim LeClaire
Leon Gonyo's
LMS Cougar.

Courtesy of Jim LeClaire
Roger Guynup,
Airborne regular
for many years.

Return to the Main Page
Return to the Main News Page
Return to the Airborne Page
Return to the New York Drivers' Link Page