BILL'S WEEKLY COLUMN/BLOG PAGE

BILL'S BACK IN TIME
By Bill Ladabouche
THERE WEREN'T MANY RAINBOWS ON RAINBOW RIDGE
One of the ways I interjected myself into the world of stock car racing [a world I always wanted to play some sort of significant role in] was by becoming a self – taught commercial sign painter who lettered dozens of cars for Catamount Stadium, mostly. After I realized that, during post – race trips to the pit areas of tracks we attended, I was more interested in the way the cars were lettered than in the cars or drivers themselves, it only stood to reason that I would begin to practice my own painting skills on anything that didn't get me killed by my parents.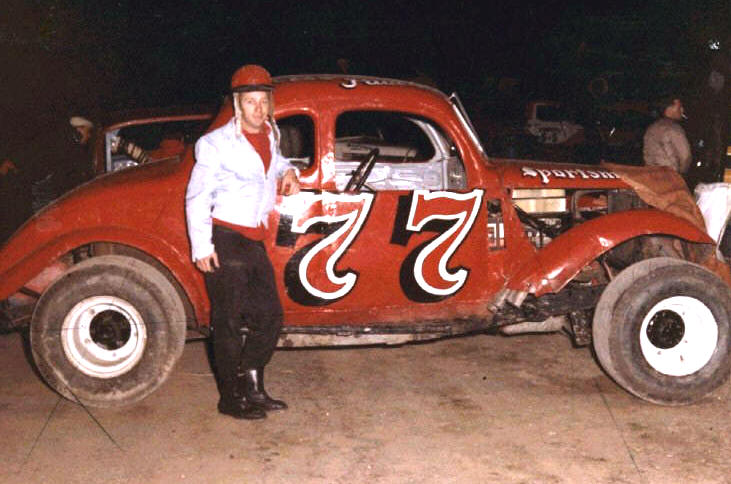 Ladabouche Collection
The Richard Welch 77 of George Baumgardner had great big 7's
that really appealed to me as a kid. Below – Charlie McMahon
patiently let me letter his first car at Fairmont.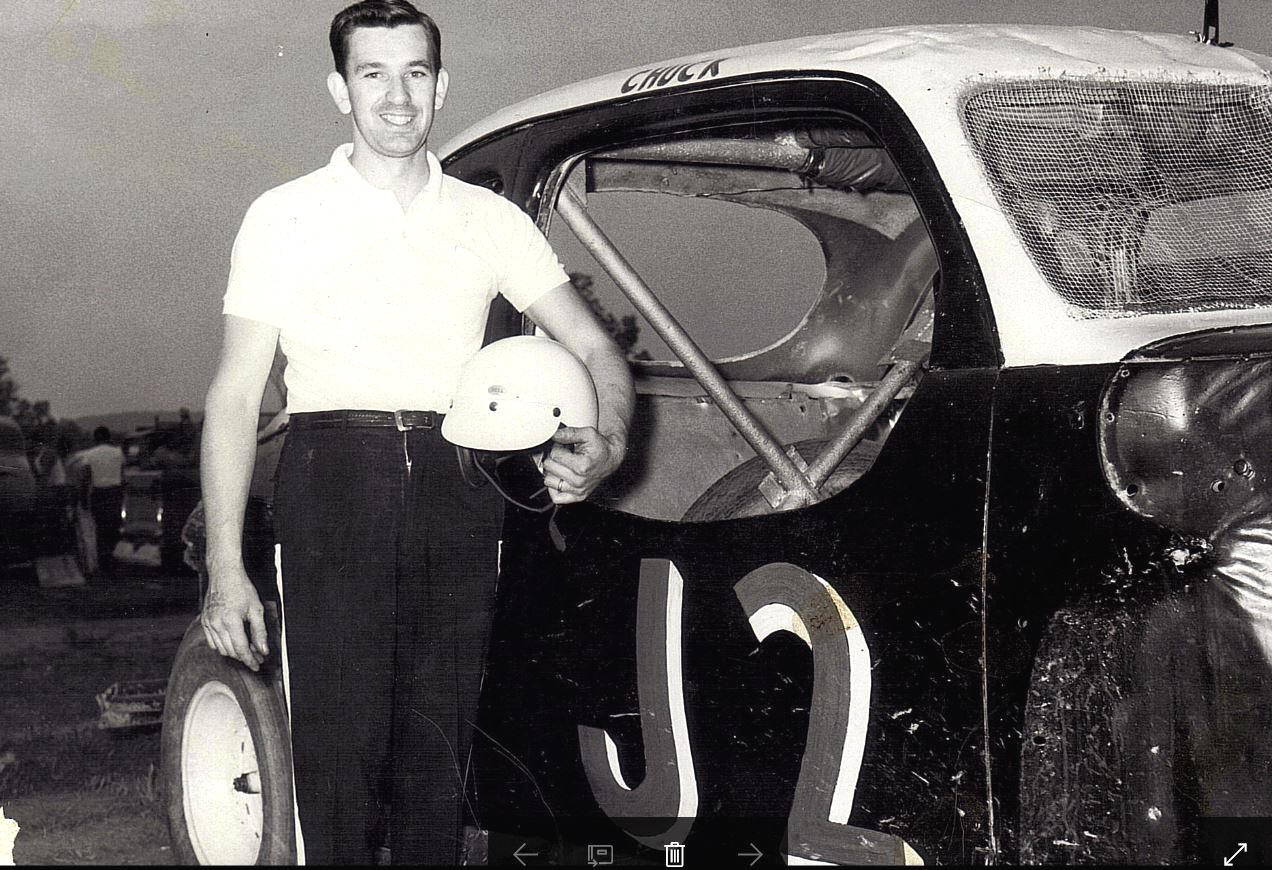 Ladabouche Collection
<![if !supportLineBreakNewLine]>
<![endif]>
About that time, I discovered that my home town of Proctor, VT was about to have a rare participant at Fairmont Speedway in the person of Louie Senecal, one of the local young adults living in town. What's more, the person filling me in with this information added that Senecal really didn't have time to do much with numbers on the 6 cylinder 1954 Plymouth he was going to be running.
To make a long story shorter, I biked down and did help out with some terrible lettering to go with the terrible lettering already on the car. That's how I got to sort of know Louie, who went on – in time – to be a pretty fair driver in C.J. Richard's Devil's Bowl late model division [along with his brother, Herb]. Around the end of the 1960's, as the Bowl was still developing its identity, Lou was at one of Richards' banquets when he got wind of CJ's plans to do the unimaginable: pave Devil's Bowl !
<![if !supportLineBreakNewLine]>
<![endif]>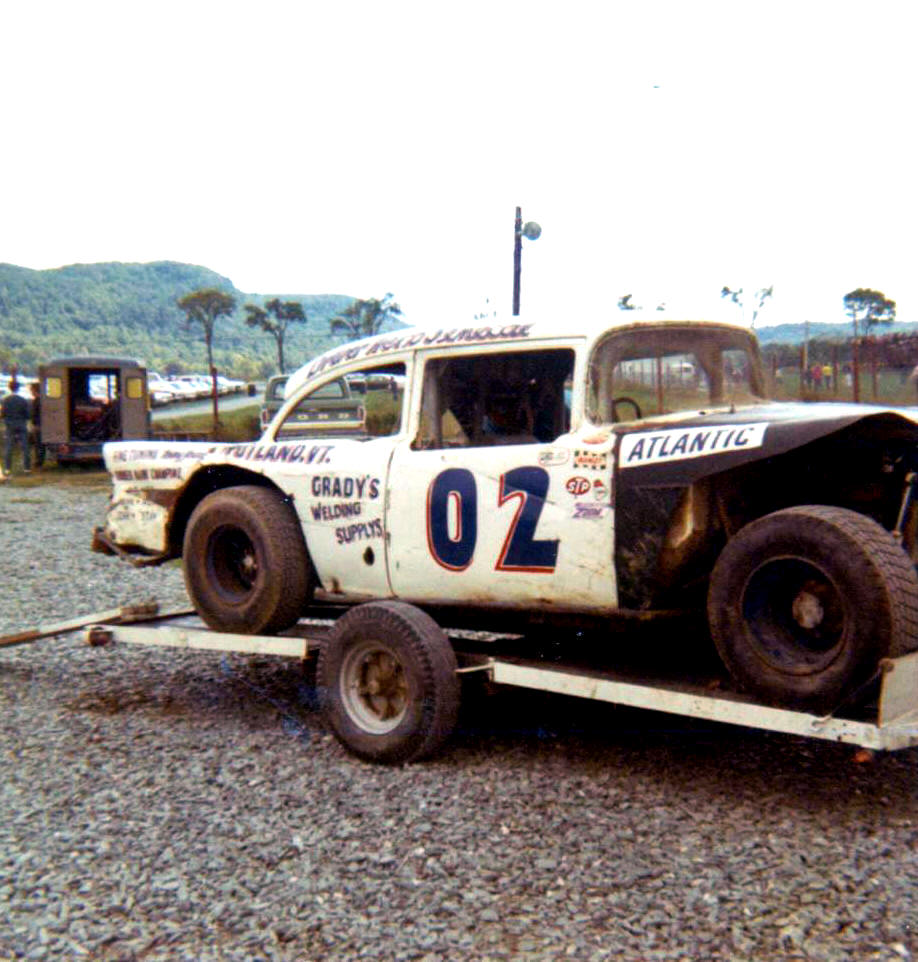 Courtesy of Lou Senecal via Diana Peters
Although Lou appearedon the scene first, Herb Senecal was attracting more attention in the Champine – owned
02 at Devil's Bowl. Below – Lou's Bowl late model, at home and under attack by the neighborhood kids.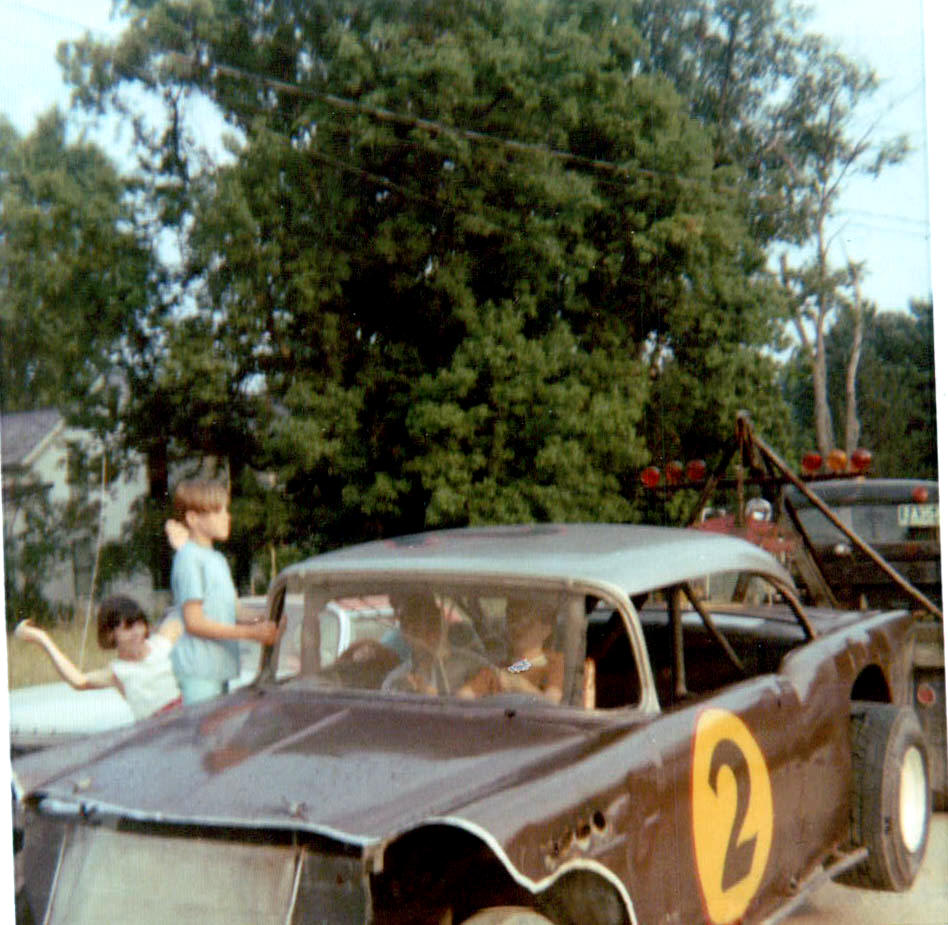 Courtesy of Lou Senecal via Diana Peters
Lou told me that Richards, knowing that Lou had some ambitions beyond driving for himself and Stosh Kaminski, had planted the idea in Lou's mind that someone could do OK re-opening the old Otter Creek Speedway [AKA Hillside Raceway] up near Vergennes, on the Waltham, VT farm pasture of Hi Monroe. The way Richards had put it, there wouldn't be another dirt track to run at in Vermont . Bear in mind few people even knew what Bear Ridge Speedway was; and that was a long way away.

<![if !supportLineBreakNewLine]>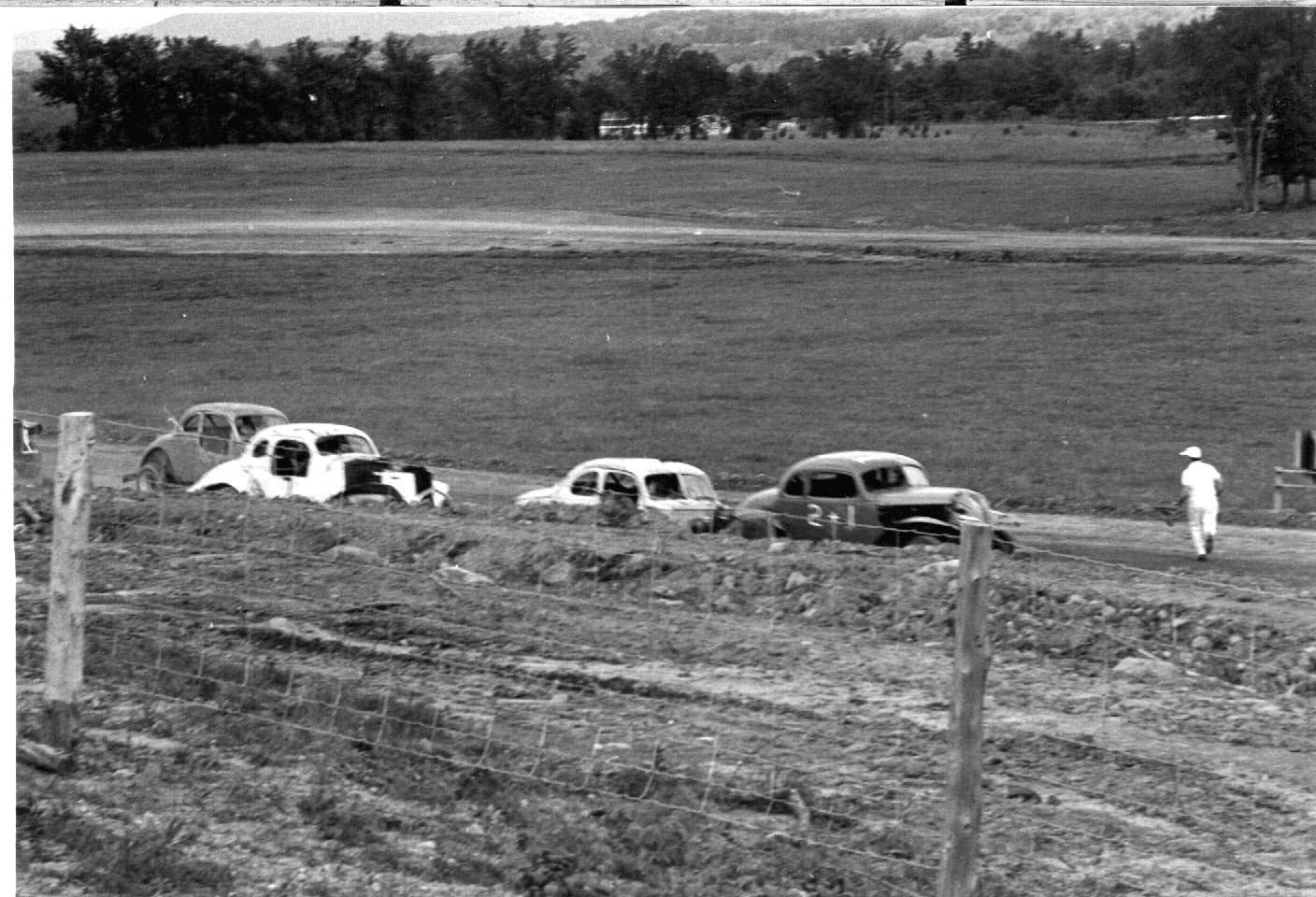 <![endif]> Courtesy of Cho Lee
Archie Blackadar flags off a heat early in the first season at Otter Creek Speedway. The field includes Jim Hampton's 2+1 Hudson, Ollie Wescott [2nd] and a young Beaver Dragon in the white coupe. Below –Hi Monroe and local merchants like the local
Pontiac dealer [pace car] gave the track a real effort for two years.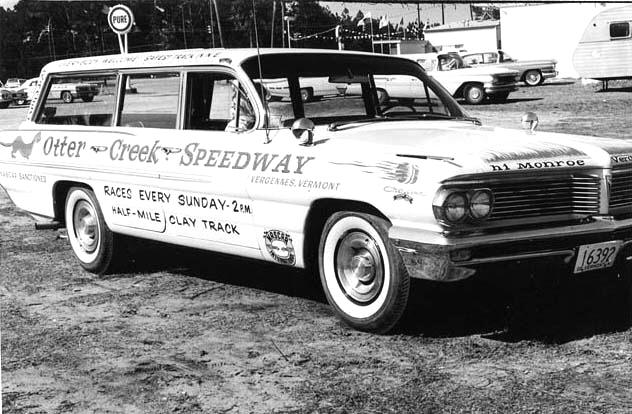 Bob Mackey Photo Courtesy of John Rock
The Vergennes track had been started as a crude, rustic half – mile + dirt track which happened to have a NASCAR sanction. So, the track would run along, for two years, in relative obscurity, while featuring several top names in the national standings of the NASCAR sportsman division. The points were easy pickings – especially in 1961, when two northern New York drivers [Dick Nephew and Bill Wimble] battled to a tie in the national standings. After two years of NASCAR sanction, C.J. Richards tried running the place as a sister track to his Fairmont Speedway in 1963.

The track lay dormant in 1964. In 1965, local driver Little Jo D'Avignon re – opened the track as Hillside Raceway. With every member of his large family working somewhere, D'Avignon ran the place for a season with Richards in the background.1965 was a very pivotal year in Vermont racing, with the creation of Catamount Stadium, with NASCAR re-entering the state via Catamount and Thunder Road, with the flatheads at Barre being given their notice to run for one more year, and with Richards introducing the overhead V-8 sportsman as his lead division at Fairmont.

<![if !supportLineBreakNewLine]>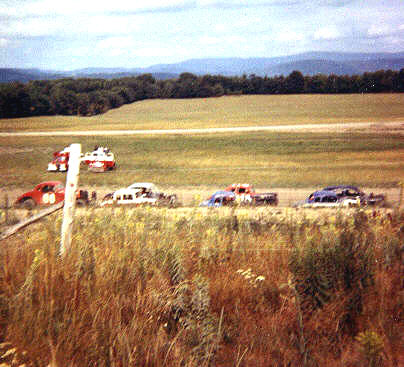 <![endif]> Ladabouche Photo
Above – The track sat quite a long distance from the bleachers during the Track's life. Here, a 1962 heat that
includes new driver Vince Quenneville (00) takes off. Below - D'Avignon added a few frills to the track in 1965. A field that includes several of Fairmont's overhead V-8's is seen in action on the backstretch.
<![if !supportLineBreakNewLine]>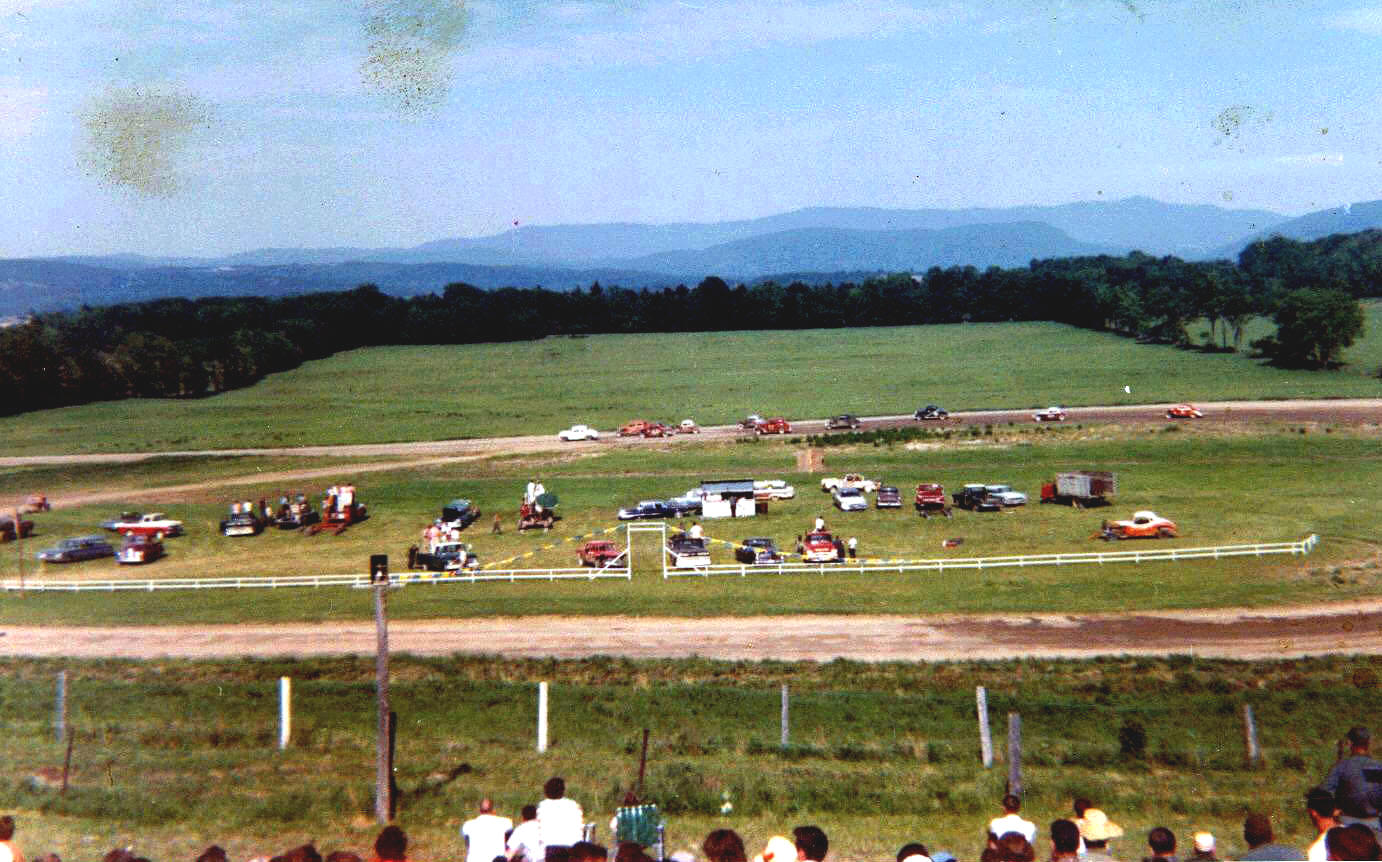 <![endif]>Val Blicarz Photo
After D'Avignon chose not to return for the 1966 season, the track would sit there, unused, through the 1966 through 69 seasons. Senecal, inspired by what Richards had suggested, sought to open the track as Rainbow Ridge Raceway in 1970. He was faced with a huge task just getting the place back to the rather primitive condition it used to be in: soft woods like sumac were growing tall through the area thaty once housed the bleachers; the track surface was ravaged by weather; new springs had risen out of the ground down near the track; and he had no one left to depend upon from the old concessionaires and officials.
<![if !supportLineBreakNewLine]><![endif]><![if !supportLineBreakNewLine]> <![endif]>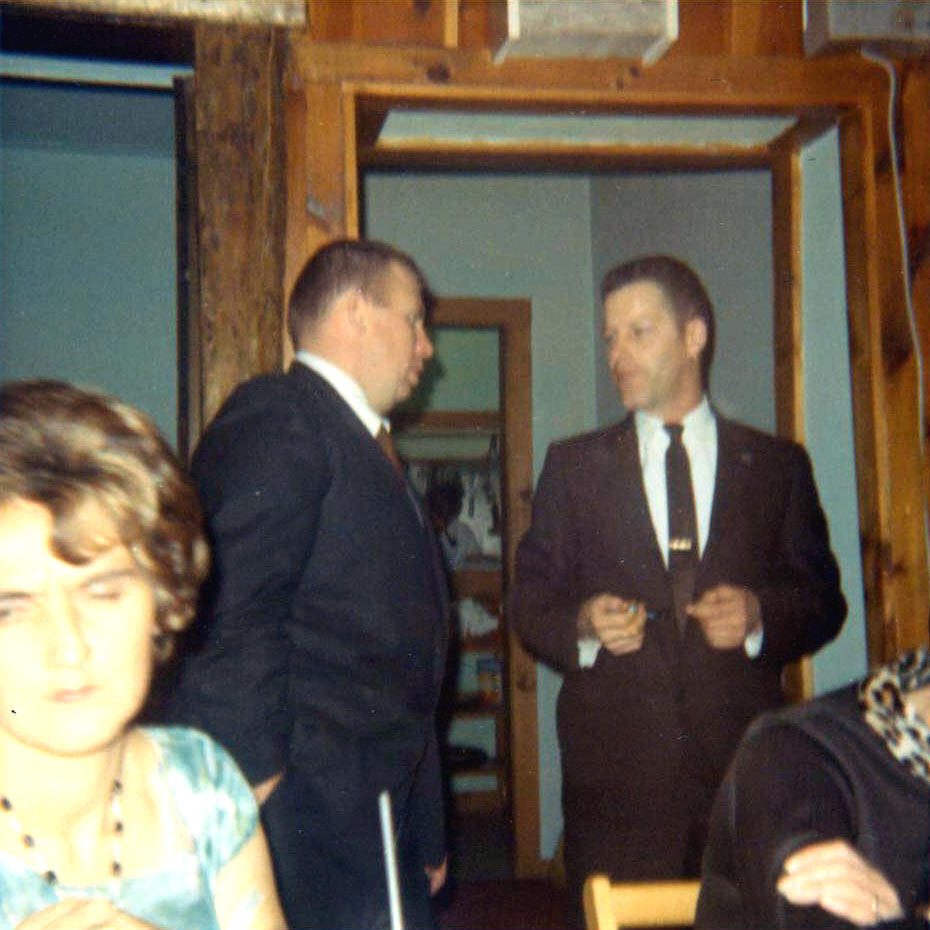 Courtesy of Lou Senecal via Diana Peters
Lou Senecal converses with C.J. Richards at the 1969 CVRA banquet. It is very likely that Senecal's
wife caught the conversation about the race track in Vergennes.
Senecal, brother – in – law Bill Herrick, and Roland Prouty set out to get the revitalization done, mostly by themselves. Prouty spent hours with a brush hog to clear out the pit area and to prepare the spectator area to receive new bleachers. Working full time for H.P. Hood dairy, Senecal used about every other waking hour either on the site or trying to line up competitors and officials. Whereas the old water problem on the track used to be just out of turn four – now, the water was flowing across the area from the flagstand to turn one [just where guys would be trying to set up the car to turn]. The track would be run in through the mud, and still be dusty everywhere else.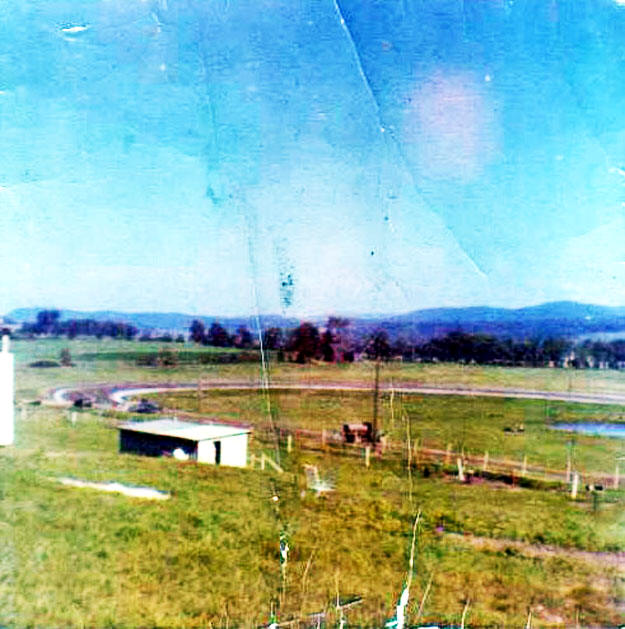 Courtesy of Lou Senecal via Diana Peters
In two remarkable similar views: Above - Work goes in preparing the Rainbow Ridge Raceway for opening day, in 1970.
Below – A shot taken of the same perspective, on the Fourth of July, around 1977. The tower is just out of view in the top shot.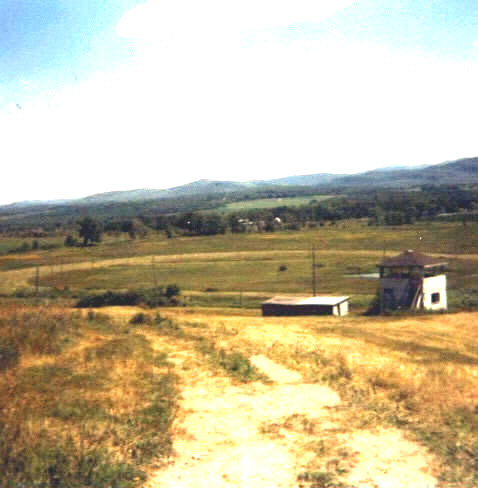 Ladabouche Photo

Senecal had managed to line up such names as Butch Jelley [driving for brother – in – law Chuck Ely];Jack Cottrell, son of City Falls paper company owner and former Fonda driver; Johnny Bruno and Jay Brown, Devil's Bowl dirt late model drivers; Cliff Dragon, brother of the infamous Bucky Dragon; Charlie and Phil Laduc; and a new name, Bob Bloomer, had purchased the last car of late model state champion, the late Ralph Soulia to run for Senecal. A man named ray Quenneville ran at the Ridge, but it unclear if he bore any relation to the more famous Vince.

<![if !supportLineBreakNewLine]>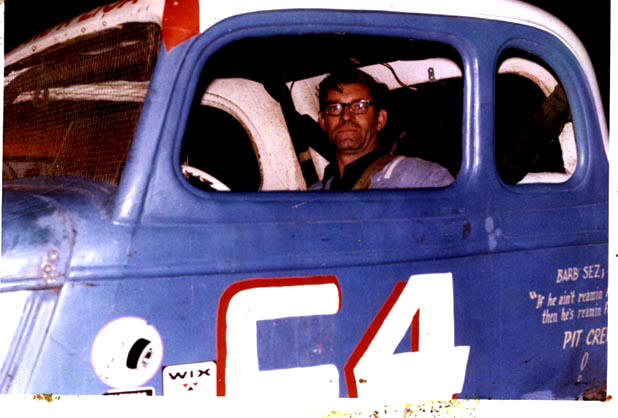 <![endif]> Laduc Family Photo Courtesy of Barb Laduc
Charlie Laduc took advantage of having a dirt track near his home to support Rainbow Ridge. This may or may not have been the car he ran that year. Below –Chuck Ely, shown here with his most famous car, put brother – in – law Butch Jelley in his car to run at Rainbow Ridge.
<![if !supportLineBreakNewLine]>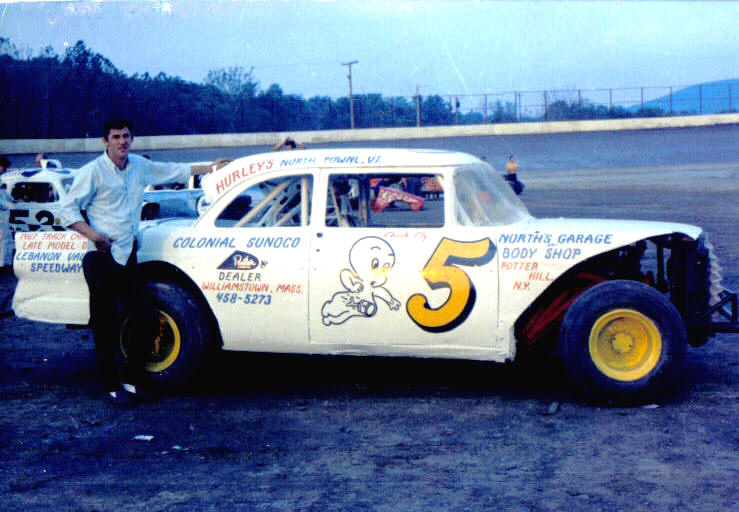 <![endif]>Courtesy of Arnie Ainsworth
Lou found a collection of support staff, including former Malletts Bay flagger and Catamount official, Pat McGrath, as starter. McGrath would have a flagstand and a warning light system to use [something no one else had ever installed at the site]. The annmouncer was someone named Bean, from New York. Already financially strapped, Senecal had to put up $3,000 to land owner Hi Monroe for their Memorial Day grand opening. It rained the entire weekend. Rainbow Ridge had secured concession services from "some guy named Frenchy", who eventually ran off with all of the money he collected and not paying Senecal a cent.
<![if !supportLineBreakNewLine]>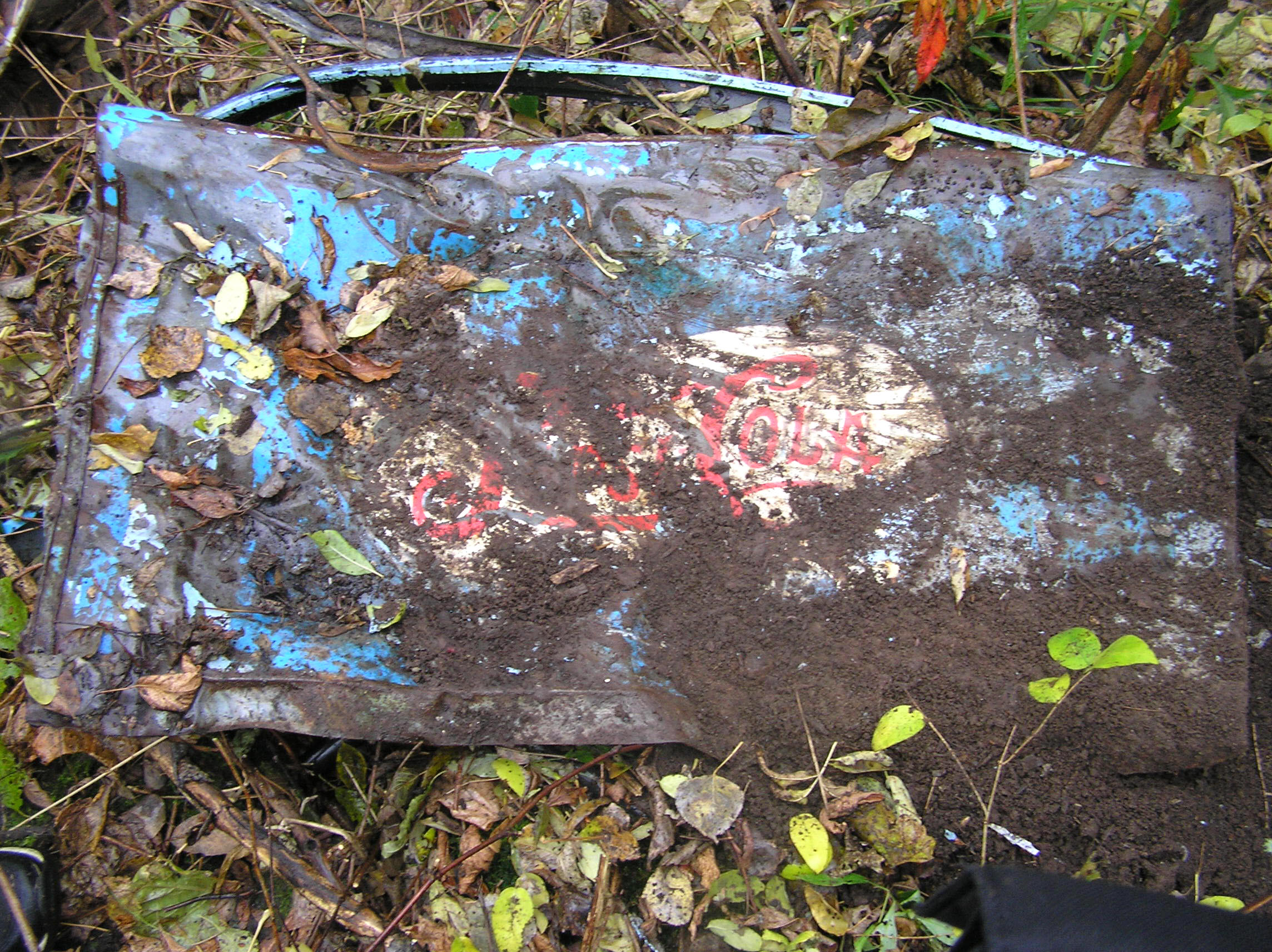 <![endif]> Ladabouche Photo
All that Frenchy left behind for Senecal was this Pepsi cooler yours truly found in the sumac woods at the track site in
2006. Below – Senecal and staff made do with low cost materials like this homemade track sign left out by Route 7.
<![if !supportLineBreakNewLine]>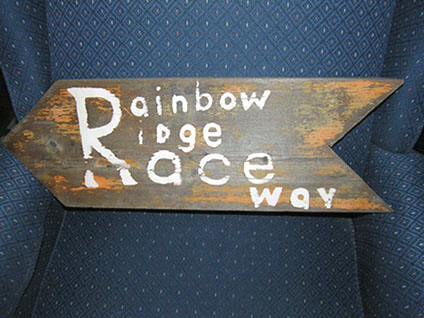 <![endif]>
The promoters struggled with track grooming, something none of them had any idea how to go about accomplishing. The wet area near turn one became so rough one week that Charlie Laduc had his transmission fall out entirely. He was absolutely livid. 1970 was the first year of the Hurricane division at Catamount Stadium. Being the low men on the totem pole there, some of the runners with better haulers tried taking their cars down to Senecal's track, where they were welcomed with open arms.
One of the better cars to make the trip down was Larry Caron and his Thunderbird. The automatic transmission Hurricane cars ran in with other late models much better suited to dirt. Caron recalls following a 1957 Chevy down the incredibly bumpy track. The Chevy first lost a header off in front of Caron, followed by the tranny. Needless to say, Caron then gained at least one spot.
<![if !supportLineBreakNewLine]><![endif]><![if !supportLineBreakNewLine]> <![endif]><![if !supportLineBreakNewLine]>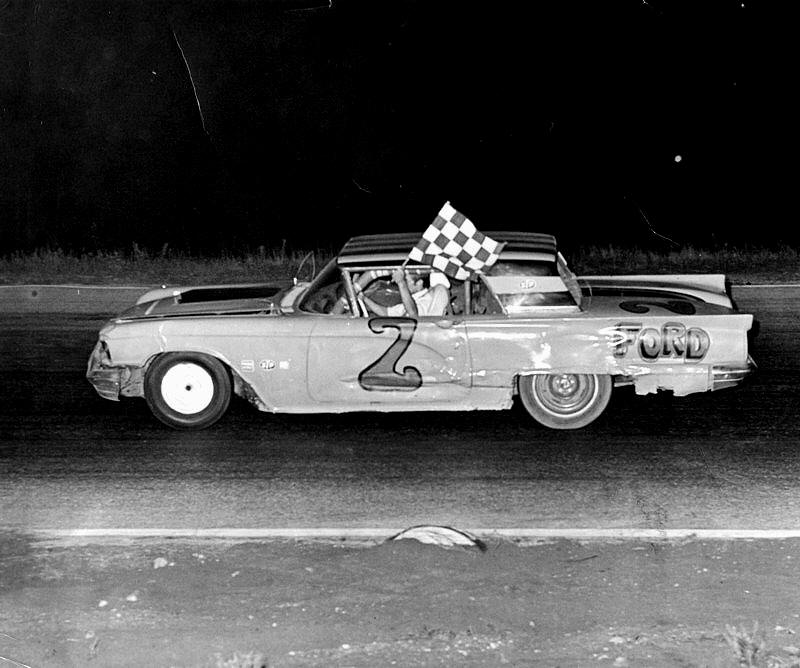 <![endif]>Caron Family Photo
Larry Caron, only his first year of racing, had quite an experience at Rainbow Ridge in 1970.
Senecal last race [other than a few snowmobile races in the winter] was a guaranteed $500 to win feature, and that was won by Butch Jelley. Louie Senecal [and probably the lovely Mrs. Senecal] had had enough. In a conversation held in April of 2012, he told me that promoting a race track was so much more difficult than he had imagined, he could not even describe it adequately. He went back to driving cars for a while before getting out of the sport entirely.

The stock car racing world of the 1950's through the 1970's was full of temporary promotions and lots of Louie Senecals. Most of them had the best intentions in the world and ran into a wall. A few did not have honorable intentions from the outset. Get some gate receipts and run. Most of Vermont would have to either travel all the way over and up to Bradford to see extremely rustic racing at Bear Ridge, or they would have to wait until the mid decade, when Richards tore up the pavement and went back to running dirt at Devil's Bowl.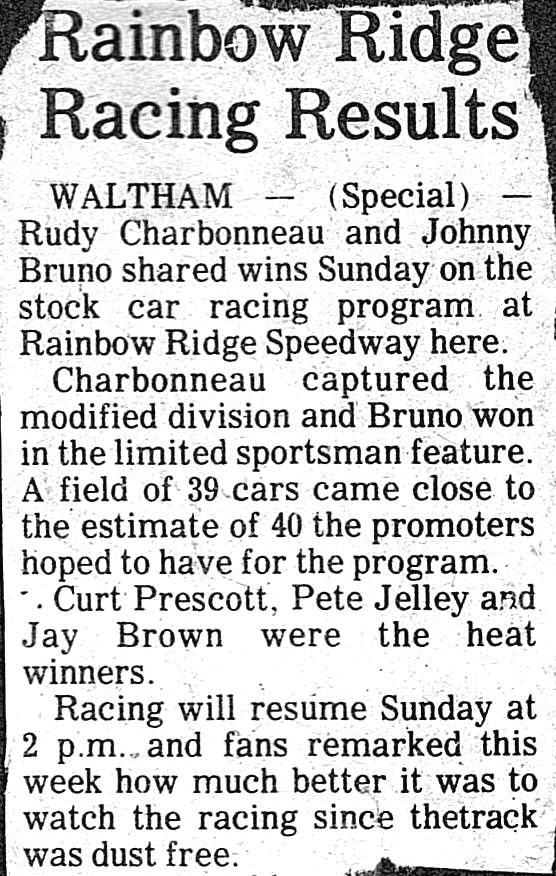 Courtesy of Mike Richards
This small article is about the best coverage Senecal could get in local papers. Curt Prescott was famous for buying the Will Cagle Devil's Bowl – dominating sedan only to find out it was completely legal. Below – The white sockets to the warning
lights Senecal had on the flag stand peek out in the woods in 2006 on the site.
<![if !supportLineBreakNewLine]>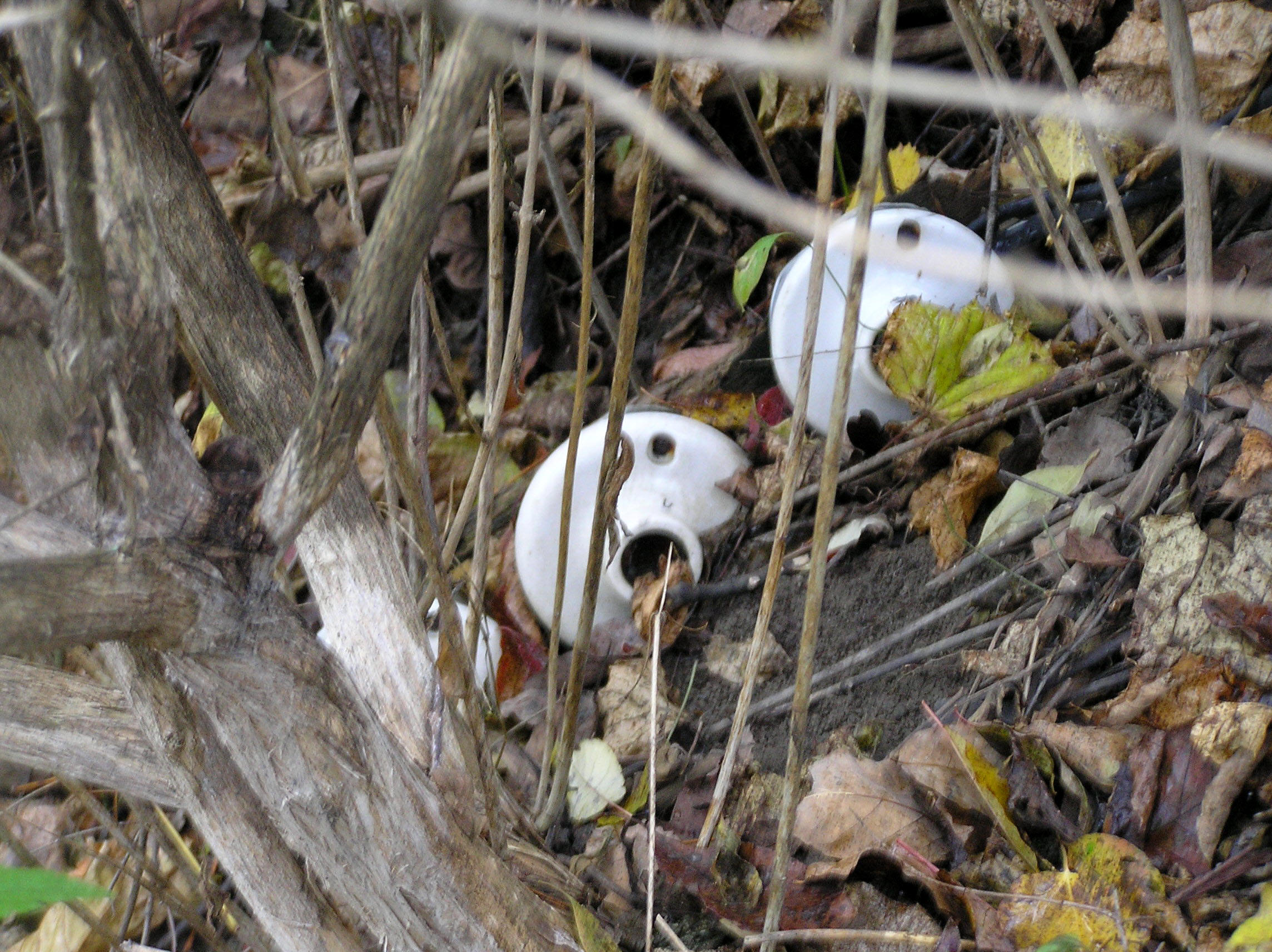 <![endif]>Ladabouche Photo
The Davis brothers and I met at the old Vergennes track site in November of 2006 and [in a sleet storm] walked the track and as much of its grounds as we could. There were remnants of Louie's operation. Both light sets were lying on the ground, the green, yellow, and red lenses gone; bits and pieces of the flagstands were still there, as was the announcers' tower, reduced to rotting wood and a metal ladder; and most of the track's contouring was still visible. Mysteriously, there was a property fence that actually bisected the former track area, making I apparent that the Monroe family finally began selling off the farm.

There will never again be a trail of cars bouncing up the North Middlebrook Road and turning onto the Monroe Road to watch cars race around, well below them, on the pasture track that lasted only six partial or complete seasons. But, few tracks were and are loved more than this one. Nice try, Lou !

Please email me if you have any photos to lend me or information and corrections I could benefit from. Please do not submit anything you are not willing to allow me to use on my website - and thanks. Email is: wladabou@comcast.net . For those who still don't like computers - my regular address is: Bill Ladabouche, 23 York Street, Swanton, Vermont 05488.
AS ALWAYS, DON'T FORGET TO CHECK OUT MY WEBSITE
www.catamountstadium.com
Return to the Main Page
Return to the Main News Page
Return to the All Links Page
Return to the Weekly Blog Links Page