BILL'S [Somewhat] WEEKLY COLUMN/BLOG PAGE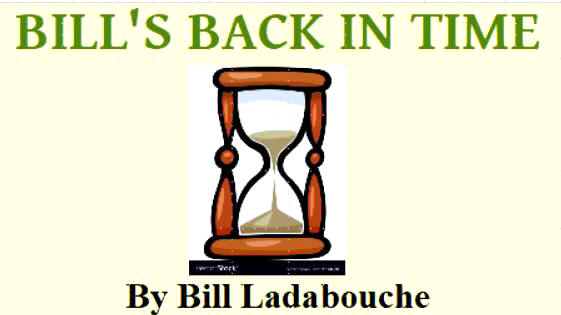 That Unbelievable, Improbable, Unexplainable 1961 Sportsman Season

The stage had already been set for the 1961 chase for the National Association for Stock Car Auto Racing's national sportsman title by he time the year ever started. The previous year, the domination of northern New York teams was in place, as Bill Wimble [still running out of Lisbon] and Dick Nephew of Mooers Forks had finished first and second in the national standings.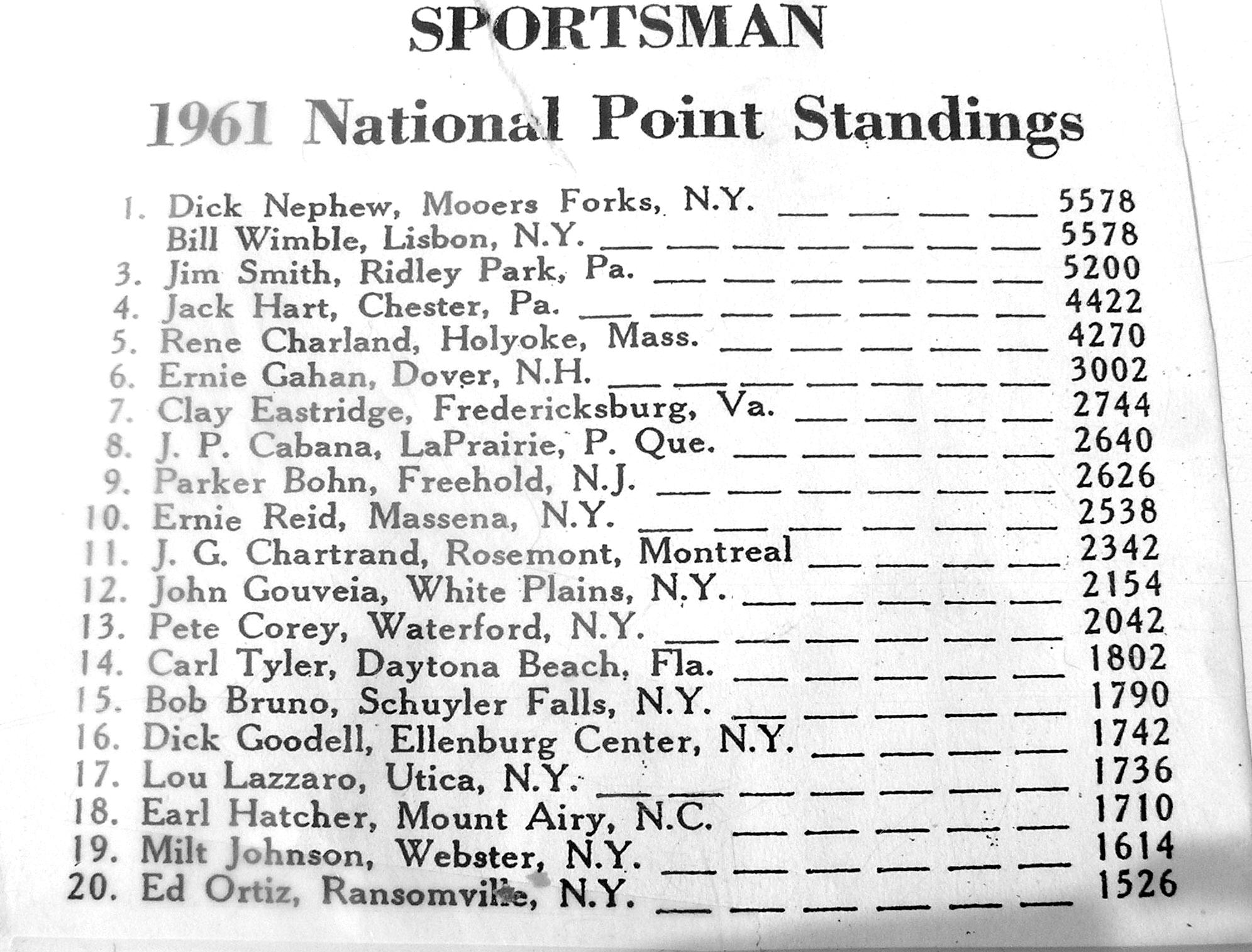 Courtesy of Gary Nephew
Here it is – the highly unlikely 1961 points finish.
Nephew said he learned a great deal about how to manage a national points campaign that year and where and how to gather up the most points. It didn't hurt that Nephew was self – employed; it was always harder to figure how Wimble managed his grueling campaigns for two years as a dairy farmer. In his book, he admits to waking up a few times and marveling at how he got home.
Both men talked about the travel that was necessary to achieve a national title. Wimble claimed in his book that, at the very end of the 1961 season, while battling tooth and nail with Nephew for points, his team made a trip to s southern track only to be told they weren't offering any more sportsman points there that season.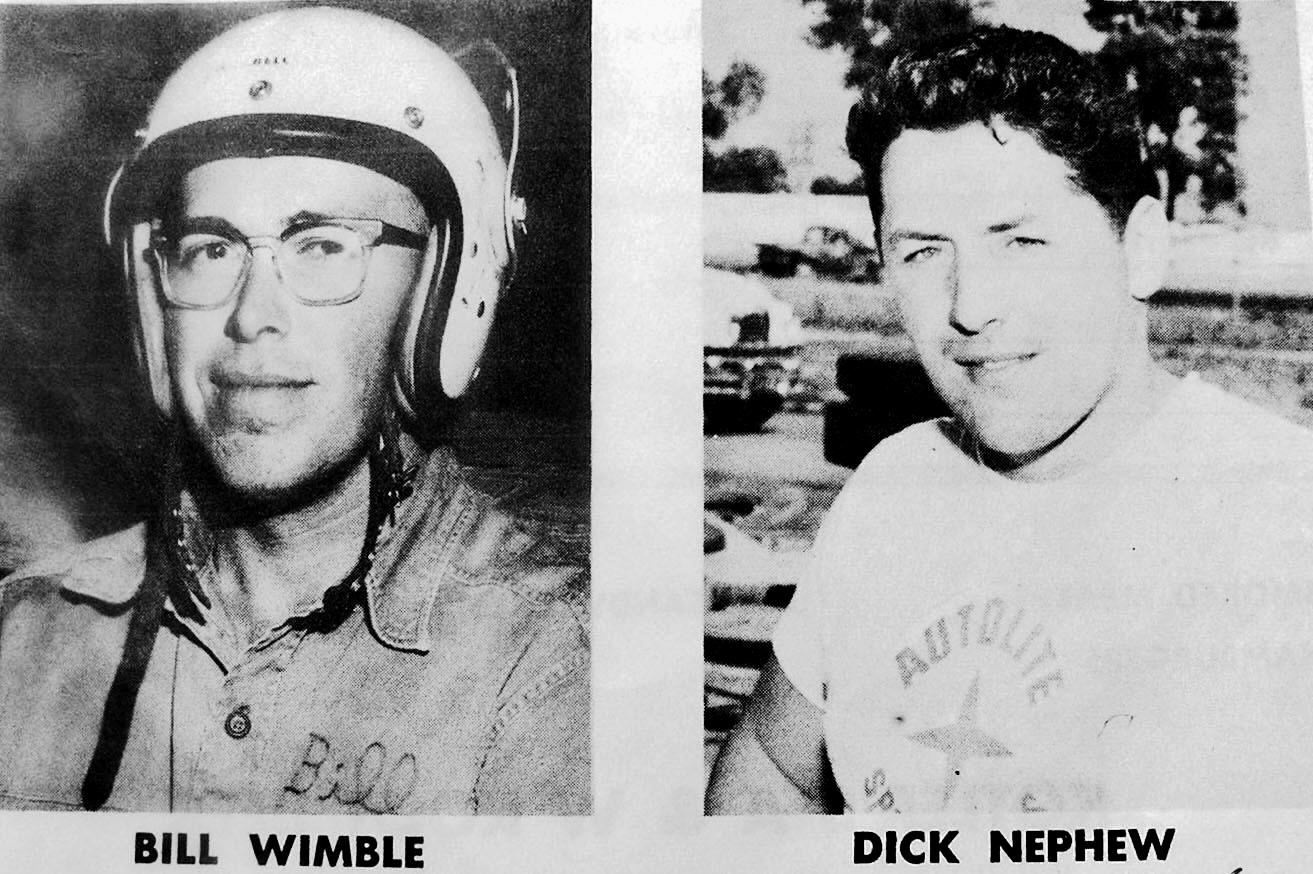 Courtesy of Gary Nephew
Portrait – type photos from around that 1961 season.
Wimble [top] and Nephew.
That fruitless trip ensured "the tie", wherein both Wimble and Nephew finished with exactly 5578 points. Wimble had intimated to me in a quiet conversation at Airborne Speedway around 2010 that he felt NASCAR manipulated that to make sure Nephew stayed tied with him. Nephew, in a 1984 interview with me, assured me that NASCAR had "monkeyed around" with the points to make sure HE didn't pass Wimble.
Ironically, after all of that travel, expense, strain and foofraw, the two were handed each other's trophies at the awards ceremony and didn't notice for quite a while. The Nephew national championship trophy is a treasured thing – first kept in Dick's basement trophy room and later carried to Airborne for public display by son, Gary Nephew. When asked about his, Wimble made some sort of offhand comment that led me to believe he had it somewhere and that was about it.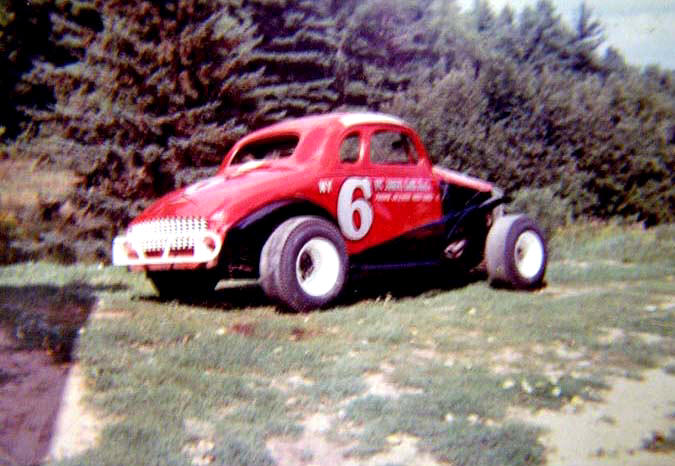 Courtesy of Wes Moody
The car Nephew used for his 1961 run at the title. Small sponsor and
not a very large crew. Below – Wimble with might be his 1961 entry
winning at Fonda.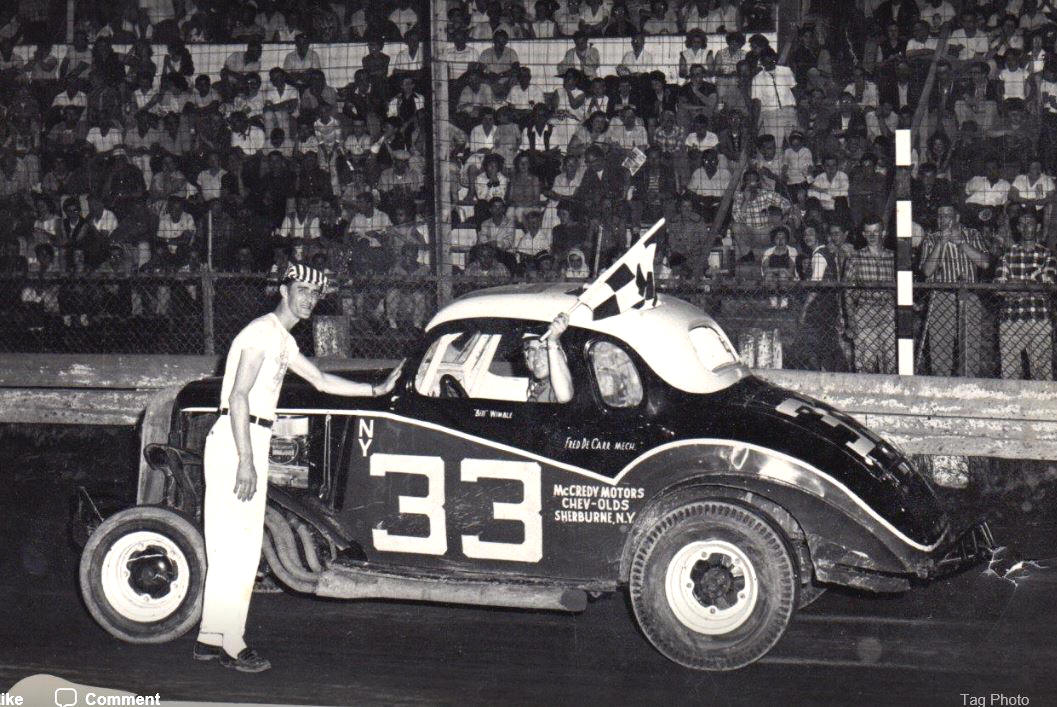 Russ Bergh Photo Courtesy of Keith Tesiero, Sr.
A season later, the practical joking, cigar chomping Massachusetts Frenchman Rene Charland would perfect the system for gathering huge quantities of national points and would win the title [sometimes by a mile] for the next four years. Wimble and Nephew would continue to be important sportsman drivers before both eventually drifted off to mostly asphalt racing – Wimble in the center of New York and Nephew mostly in the north.
A look at the statistics on the 1961 sportsman season is revealing although the many personal anecdotal stories both men have are far more appealing. Both men definitely got some points from running at Daytona during Speedweeks – Wimble, with some of his car owner, Dave McCredy's equipment and Nephew, running for Glens Falls, NY's lower budget owner Allie Swears.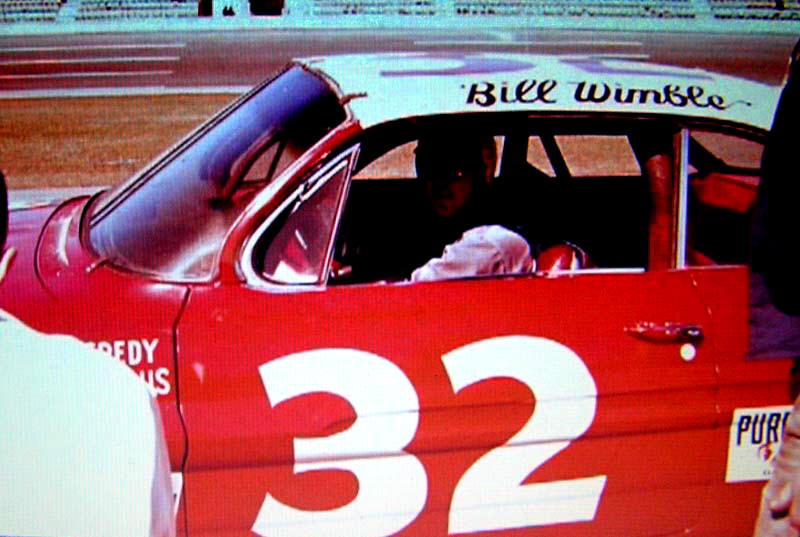 Bob Mackey photo via Mike Watts, Sr.
Wimble drove a number of cars at Daytona for McCredy and the
Cramer/Gagliardi team. This one's a McCredy. Below – Nephew
always drove Allie Swears' slim budget Chevies.

Courtesy of Gary Nephew
Both men made several trips to Southern tracks and others out of the New York area to run races for points, often using borrowed cars. However, a huge role in the both their campaigns centered around particular regional tracks: Airborne Park Speedway, Plattsburgh, NY; Victoria Speedway, Dunnsville, NY; Fonda Speedway, Fonda, NY; Utica – Rome Speedway, Vernon, NY; Monroe Country Speedway, Henrietta, NY, Canadaigua Speedway, Canadaigua, NY; Otter Creek Speedway, Vergennes, VT; and some Montreal, QU area tracks as well.
Airborne seemed to play the biggest role in the outcome of the race between the two principals. Running eighteen national championship points races in 1961, Nephew won six [finishing behind Bob Bruno's 8]. Wimble, while running there at times at his original home track, did not win there that year. The other big player was the rustic Victoria track, which ran on Friday nights with a mixture of Fonda regulars and a few from other locales. Wimble won twice there and Nephew once – behind 4 – race winner Pete Corey.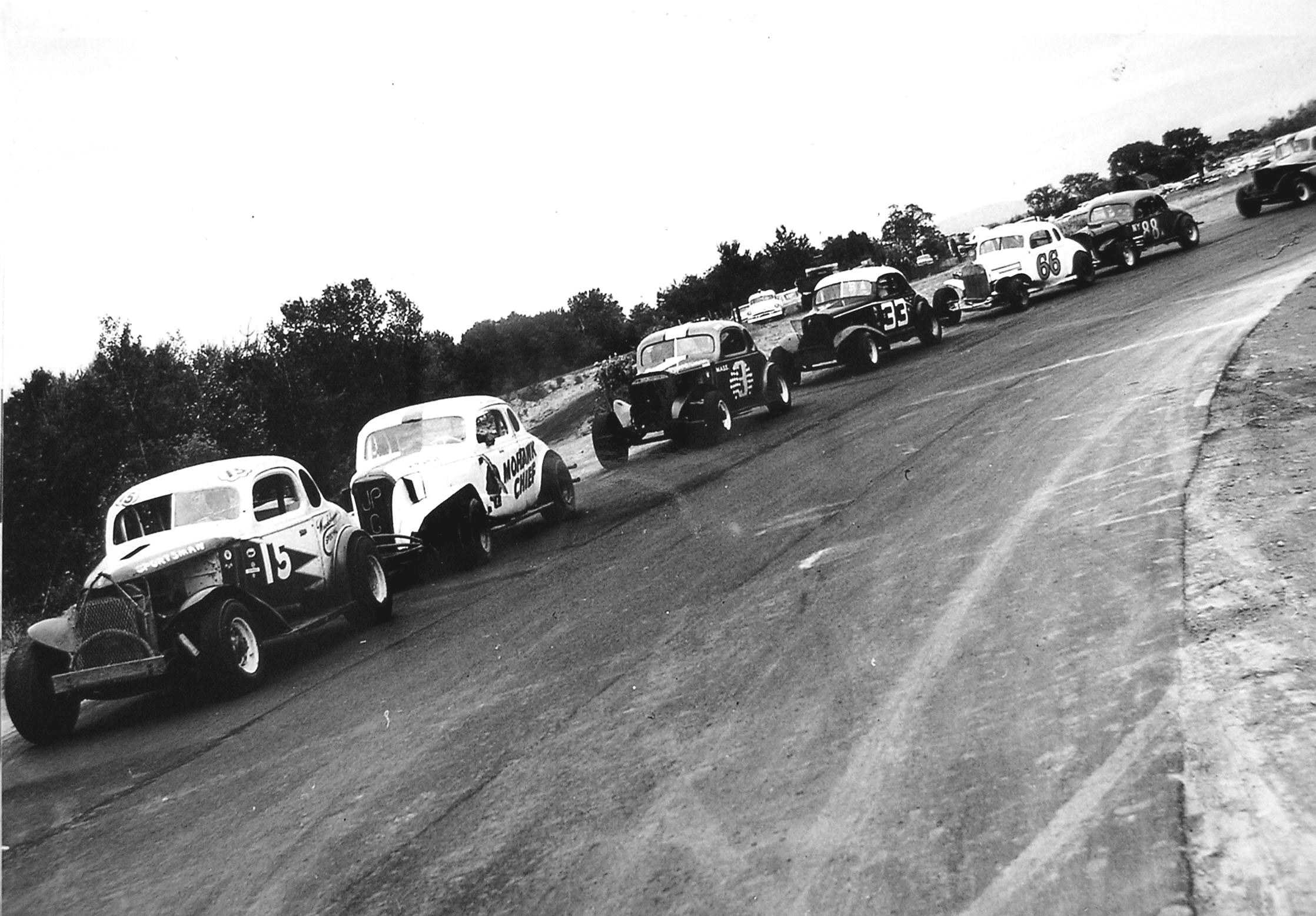 Bob Mackey Photo via John Rock
This photo speaks volumes about the importance of Airborne
Park Speedway in the 1961 points race. Visible are Gahan,
Cabana, Charland, Wimble, Bruno, and Reid. Nephew, Goodelle,
and Chartrand would be in the field, as well. All were in the
1961 top twenty.
Wimble also won two national points races at Monroe County and one each at Utica – Rome and at Fonda. Nephew apparently kept pace by finishing well in races where national points counted but he didn't seem to win any other of those races. It is not clear to me if running at other NASCAR – sanctioned tracks added to their points or not. For example, I know that both Wimble and Nephew ran a few times at Vermont's Otter Creek Speedway, a half – mile cow pasture deal that opened late in the 1961 season and ran as late as almost into November that year.
Some NASCAR – sanctioned tracks north of the border also played a big role if their regular race points counted for much. In this case, it would be Dick Nephew who had the advantage – running there much more. Autodrome de la Maorce, Riverside Speedway [Laval], Fury Speedway, and Kempton Park Speedway were tracks he ran at regularly. Wimble raced there when possible. I have to think that these regular races counted for something, otherwise why would other top 20 NASCAR sportsman drivers like Jack Hart [Pennsylvania] and Ed Ortiz [Western NY] go all the way there and drive borrowed cars ?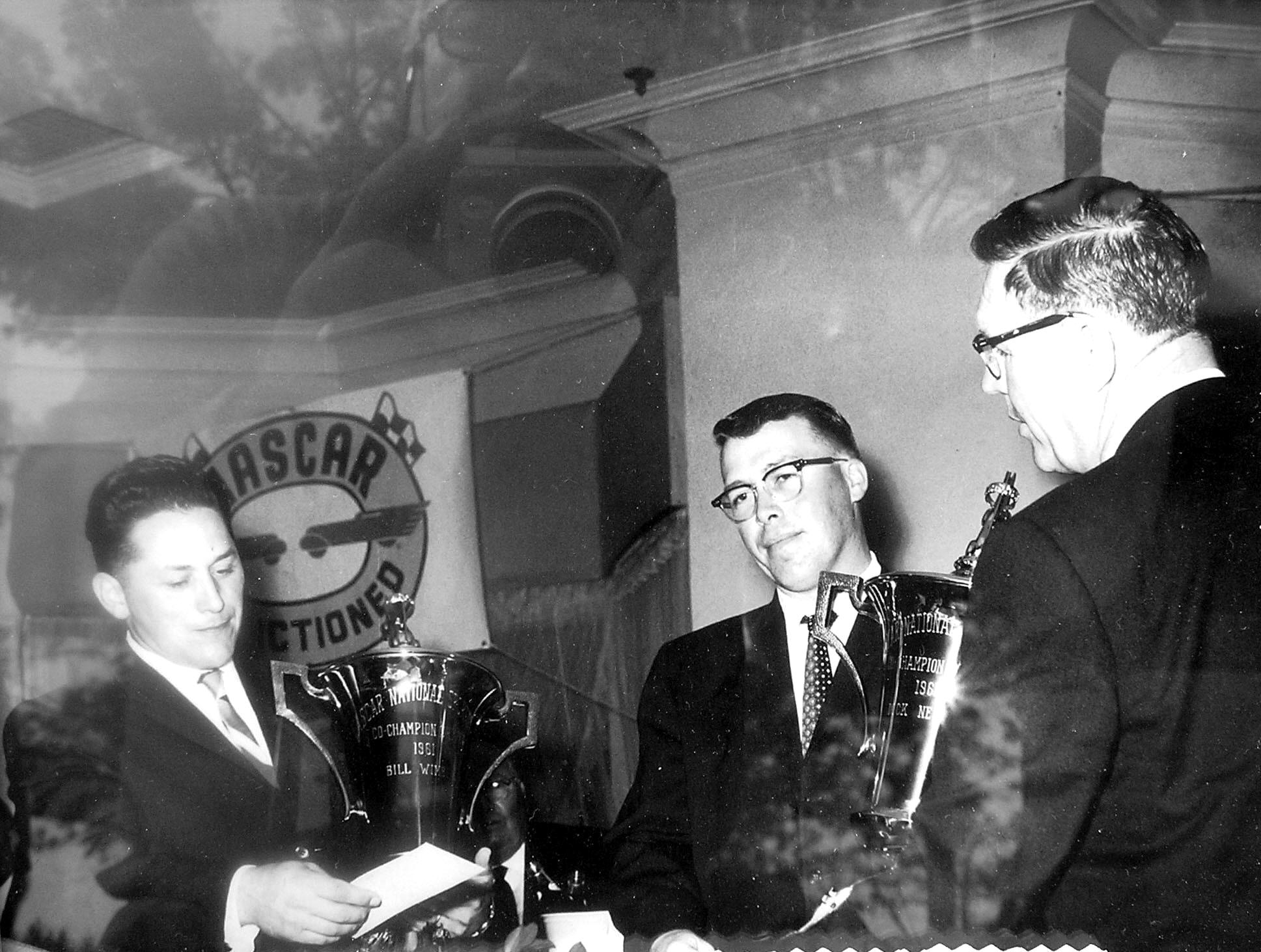 Images 8
Courtesy of Gary Nephew
After the longest of seasons chasing the title, Big Bill
has given each man the other's trophy and – as yet -
nobody noticed. Below – Although Nephew was closer to
the track, Wimble got more points out of the rustic
Otter Creek Speedway in Vermont [Shoemaker's
pet track].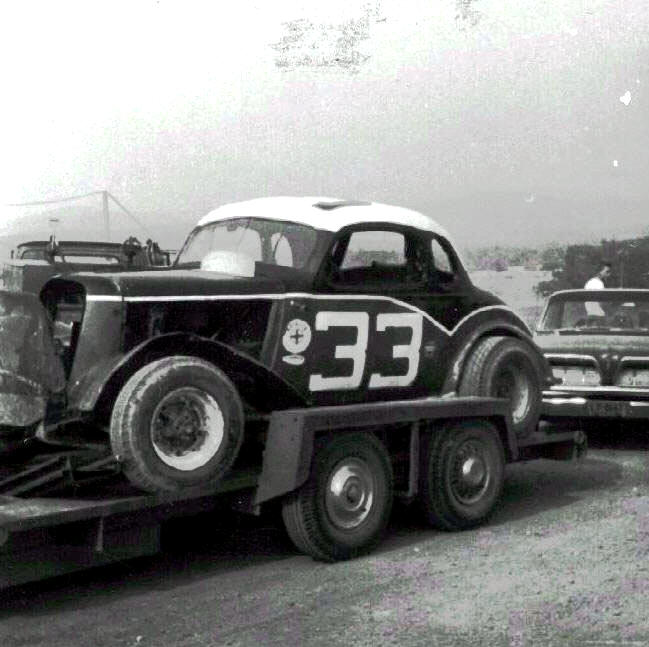 Ed Baccei Photo
Not only did Airborne run 18 races that were identified as national points races, but it also had 9 regular drivers who ended up in the top twenty in NASCAR national sportsman points that year: along with favorite son, Nephew, Wimble did driver there when he could, as did Dick Goodelle, Bob Bruno, Ernie Reid, Ernie Gahan, Rene Charland, Jean – Guy Chartrand, and Jean – Paul Cabana. It is a complete mystery to me how Airborne got 18 shows and the mighty Fonda had only one that season.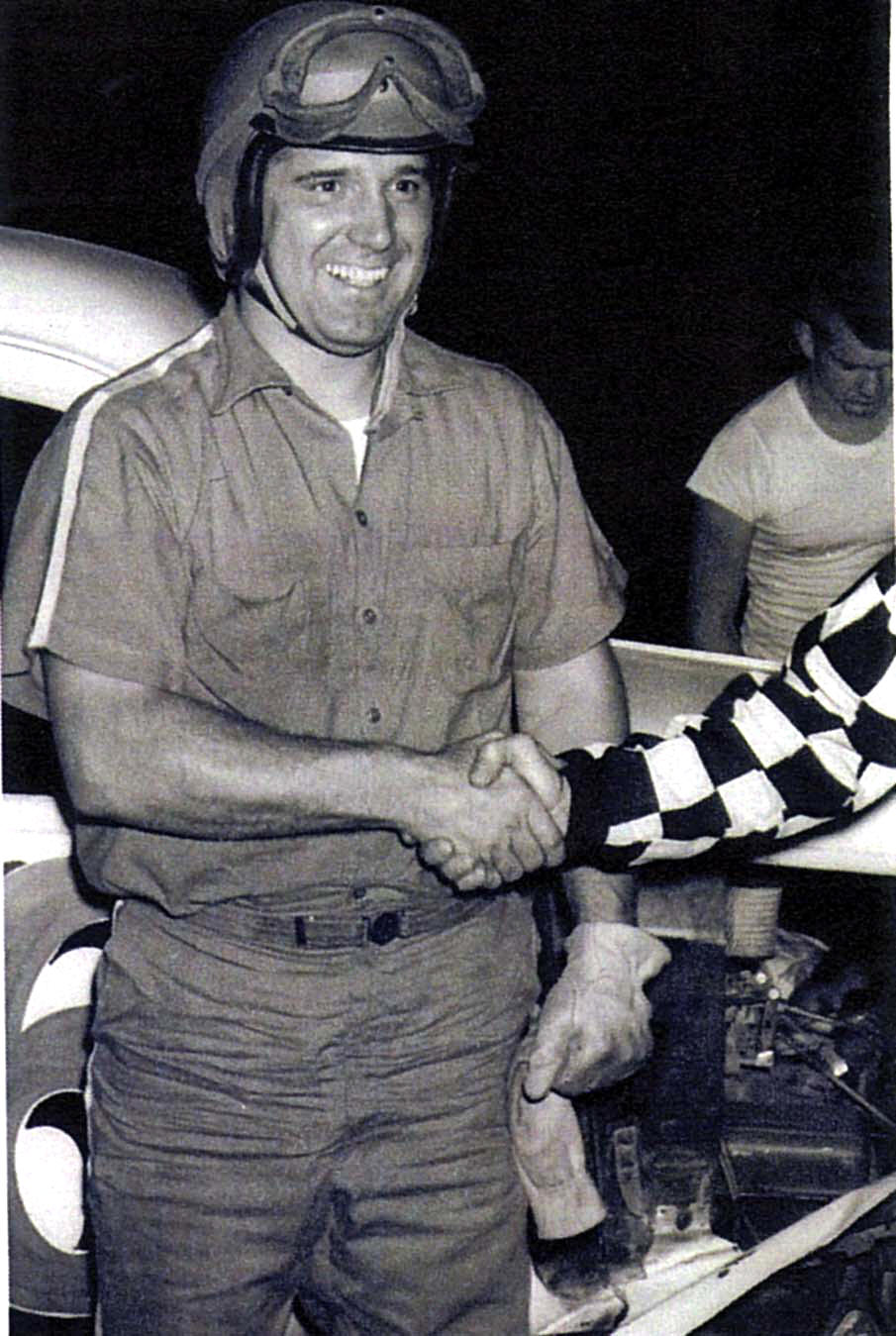 Bob Mackey Photo Bruno Collection Via John Rock
Airborne's winningest driver in 1961, Bob Bruno, once again
in Victory Lane. Below - Ernie Reid, in the Ratigan 88A.
Further Below – Dick Goodelle with the Rowe 80.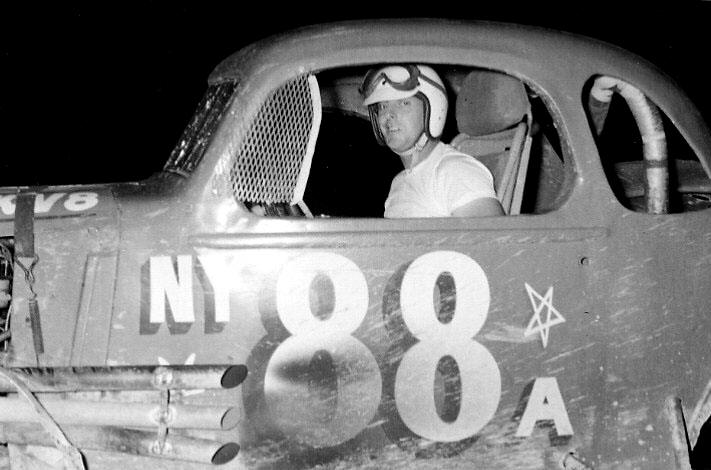 Bob Mackey Photo via John Rock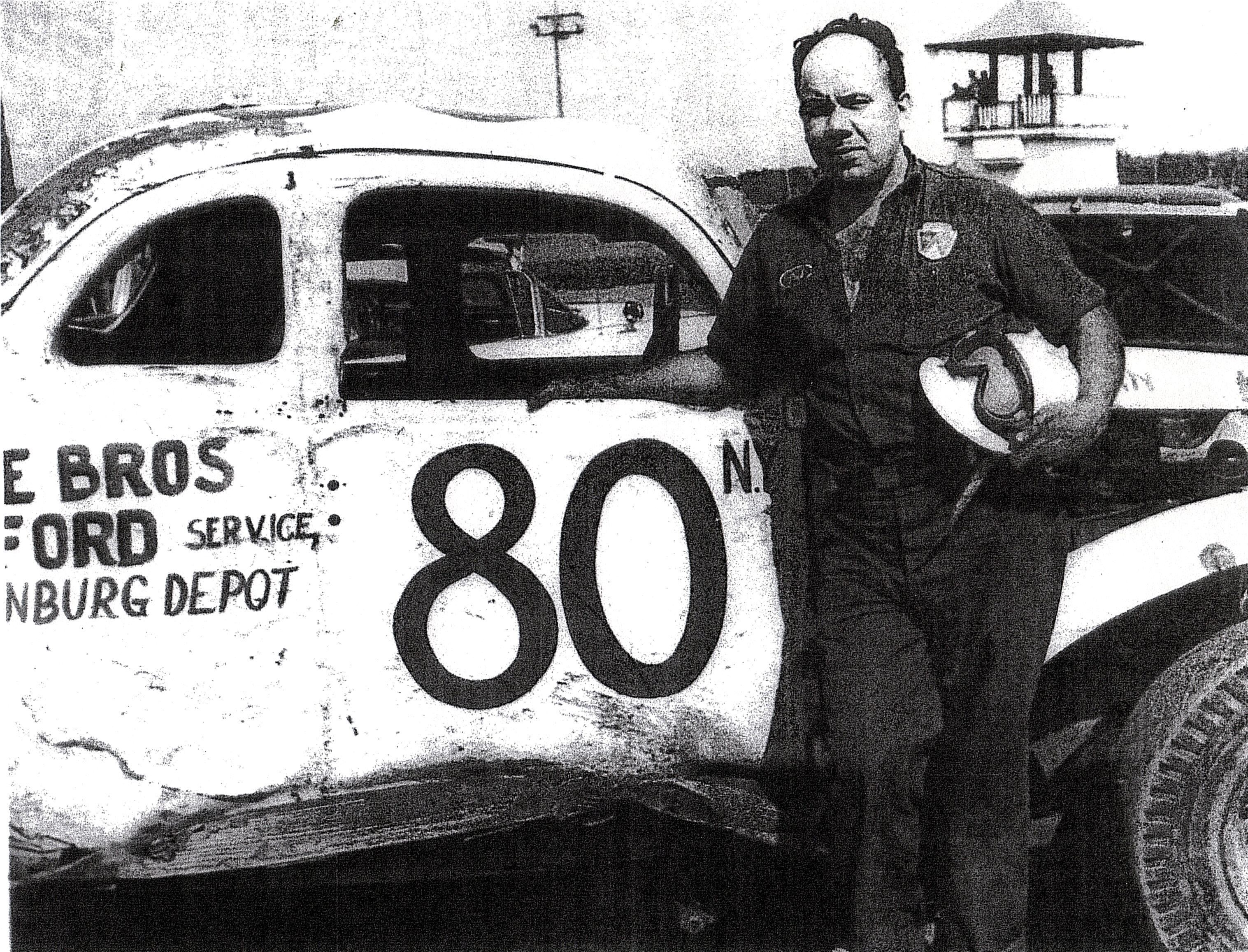 Bob Mackey Photo


After Airborne, Victoria had thirteen shows, Utica – Rome and Monroe County had four, and Canandaigua had three. Oddly, at least with the races shown on the web page I drew statistics from, the biggest winner of national points races was neither Wimble nor Nephew – it was Schuyler Falls, NY's Melvin "Bob " Bruno, a regular at Airborne and Saranac Lake speedways, as well as a frequent visitor to Quebec. He won them al at Airborne. Nephew won seven of the races that were listed, with Wimble winning six. These do not count the many "regular" features they ran that year.
Nephew won at Airborne and Victoria, while Wimble won national races at Victoria, Monroe County, Fonda, and Utica – Rome. It is very hard to ascertain if they had many good finishes in other Northeast venues or down South, with information very hard to come by. Oftentimes, these national points seekers [including Charland, Meahl, Hart, Ortiz, and others] would run a sportsman car in with Southern modifieds, hence collecting credit as a top – finishing sportsman in a race that was mostly mods.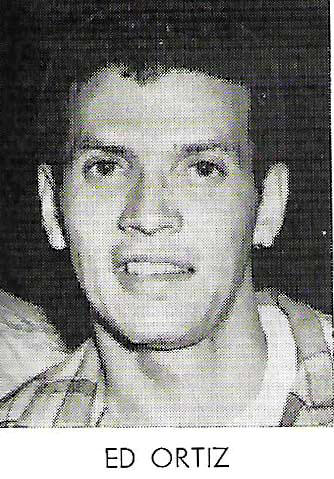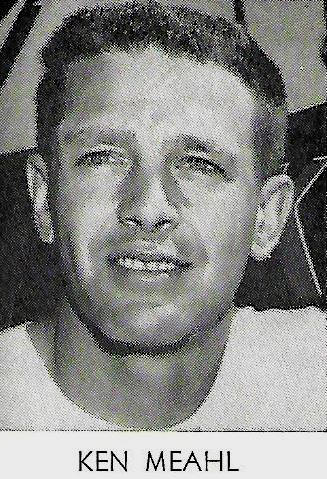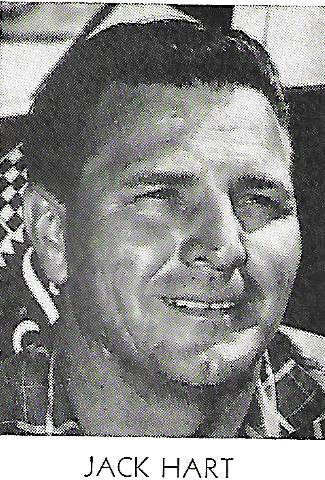 NASCAR Record Book Portraits via Gary Nephew
Western New Yorkers Ed Ortiz [far left] and Ken Meahl joined
Keystone Stater Jack Hart [right] in doing a lot of travel chasing
those championship points in 1961. Meahl even showed up in
Vermont, a year later, chasing points with Jerry Cook's 38.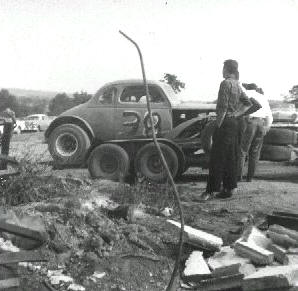 Ladabouche Photo
Incidentally, Fonda would end up with seven regular drivers who ended up in the top twenty in the NASCAR national sportsman points in 1961, while Victoria had five and both Utica – Rome and Monroe County had four. Some of the rest of the top ten points men that year were interesting. Third place went to a man named Jim Smith, a Pennsylania driver information for whom is nearly impossible to get. Fourth was Jack Hart, who does appear as champion at Wall Stadium and who seems to have traveled widely that season. The familiar Rene Charland pulled a fifth place finish, just getting warmed up for next four seasons.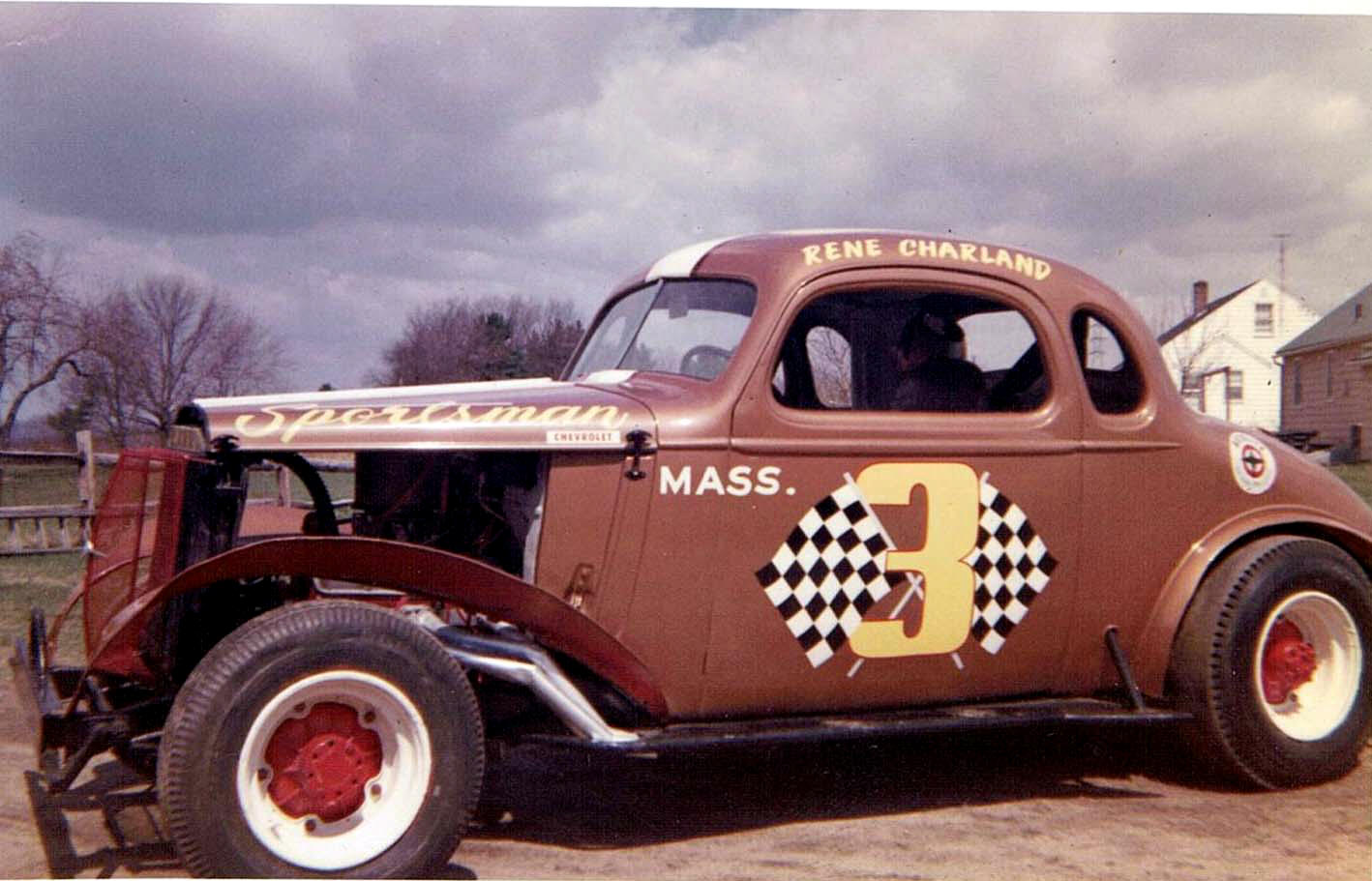 HAMB Message Site
Rene Charland was beginning to get the hang of that points
chasing thing by 1961, having brought on crew chief Bill Corrin.
Below – Ernie Gahan, the consummate short track racing
professional, was running cars like this Sonny Koszella 15 in 1961.
He alsocampaigned his own 50NH.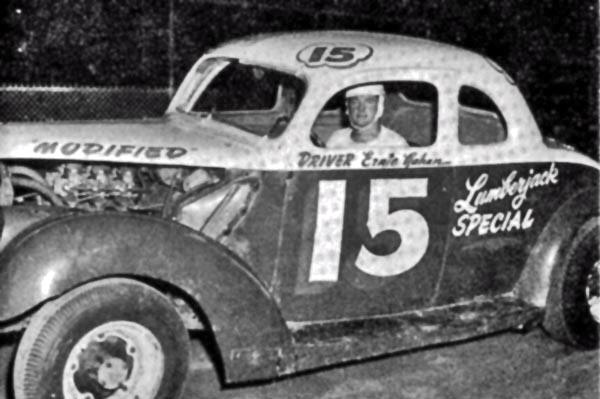 From Cavalcade of Auto Racing.
Sixth was Ernie Gahan, whose New Hampshire home made constant and extensive travel a thing of necessity not choice. This work ethic would translate into winning the 1966 NASCAR National Modified championship. Gahan finished ahead of Clay Eastridge, a Virginia driver who would go on to be a NASCAR Grand National car owner. Eighth was Canadian Jean – Paul Cabana who was very dominant in Quebec and who also managed enough travel [including Daytona] to make the top ten.
Ninth place man was the highly – interesting New Jersey driver Parker Bohn. Bohn also knew how to do well in his familiar stomping grounds and to travel enough to grab more points. But, the most interesting thing about Bohn was the fact he competed against overhead V-8 powered sportsman car with his #659 Tom Skinner car – a SIX CYLINDER rig. Rounding out the top ten was Ernie Reid, an Airborne Park Speedway regular who – like Nephew – took advantage of the pickings in Quebec and across the lake at Otter Creek Speedway in Vermont.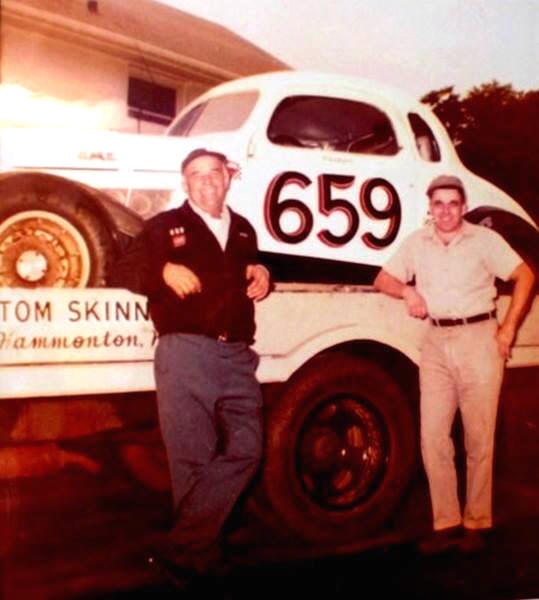 Via Edward B. Brown III
Parker Bohn [left] and owner Tom Skinner had that
remarkably competitive six banger in an era of the
327 Chevy. Below – A photo of Jean – Guy Chartrand
from around 1961.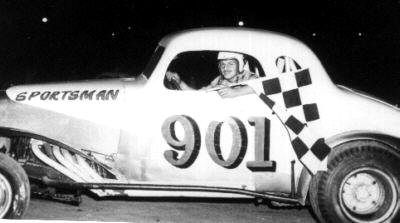 Ladabouche Collection
Eleventh was Jean – Guy Chartrand, later to be famed as the driver of Ed Cloce's Hemi – Cuda. The driving his own 901's, Chartrand [like Cabana] had picked up numerous points in Quebec while venturing out to Airborne, Fonda, and other US tracks as well. John Gouveia, from White Plains, NY, finished twelfth. How ? I don't know. I am not sure where he was running in 1961; I do know he was Old Bridge champion a year or so later.
Frequent winner Pete Corey was 13th, ahead of Carl Tyler, a Florida racer about whom I know nothing. The talented Corey was not necessarily a points chaser but he ran so well in New York he got the points anyway. Bob Bruno, the top winner of the "Championship points races" garnered most of his fifteenth place points against Nephew at Airborne but did venture often to Quebec, too.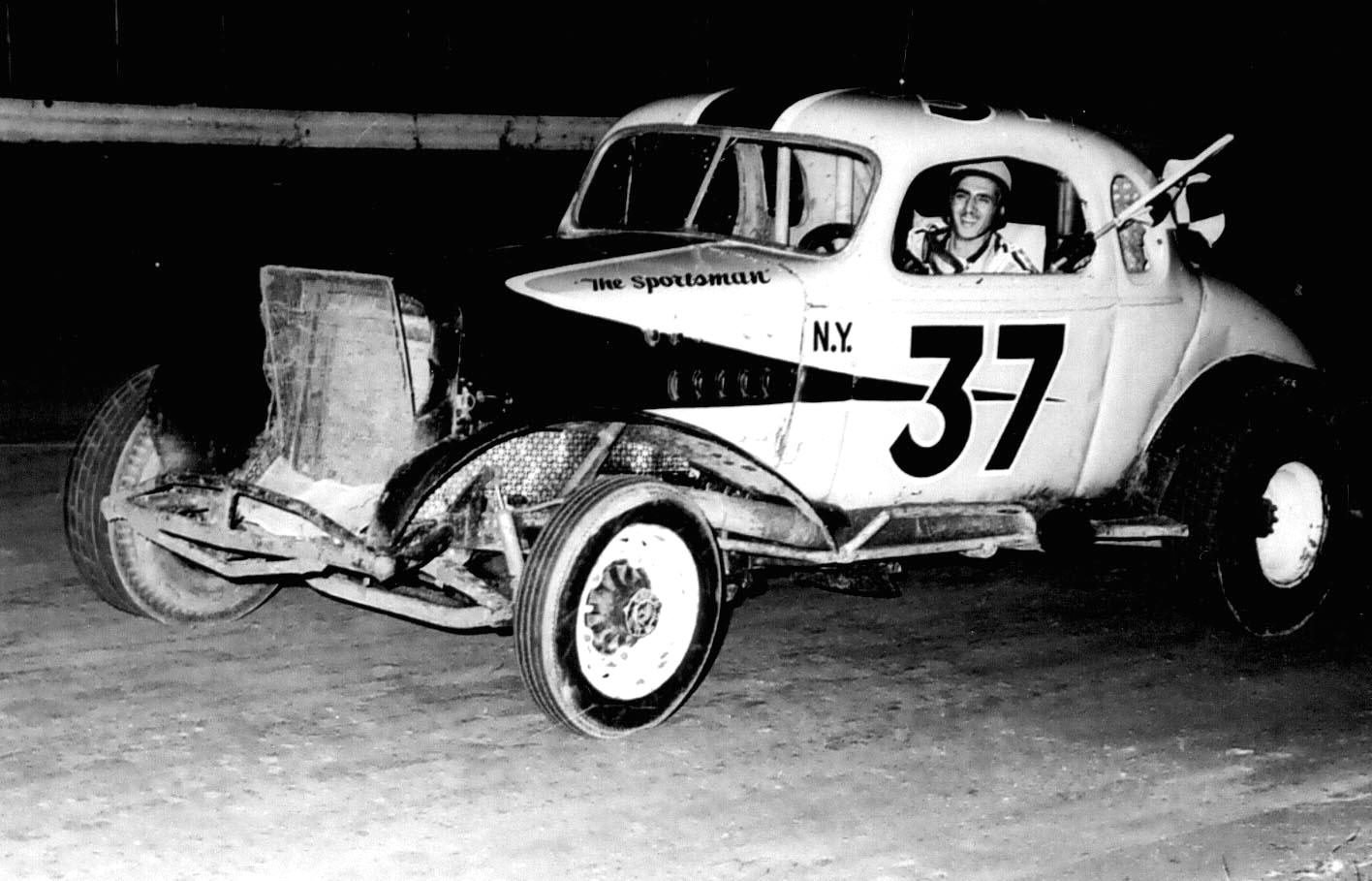 John Grady Photo
Pete Corey would have been driving this A.C. Caprara car
in 1961. Below – John Gouveia, who was racing at Old
Bridge Speedway, among other venues.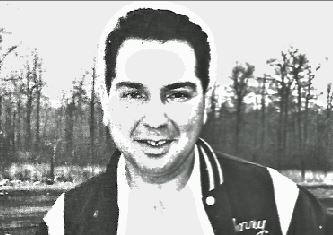 Cavalcade of Auto Racing Photo
Sixteenth was a little – know neighbor of Nephew's, Dick Goodelle [once Wimble's team mate at Airborne in 1955]. Following Dick was the legendary Lou Lazzaro. The only thing keeping Louuie from finishing higher was the fact he didn't have the budget to travel and points chase. 18th was Mt. Airy, NC;s Earl Hatcher.
Number 19 was New Yorker Milt Johnson, who gained most of his points further west in the Empire State. Milt is perhaps best known as the "M" in B&M racing engines, and he is father to Alan and Danny Johnson, too. Finishing out our top twenty drivers in the 1961 sportsman points race was one of the best – known beneficiaries of Milt Johnson and Bruce Fleischman's engine building expertise – Ed Ortiz, from out near Buffalo.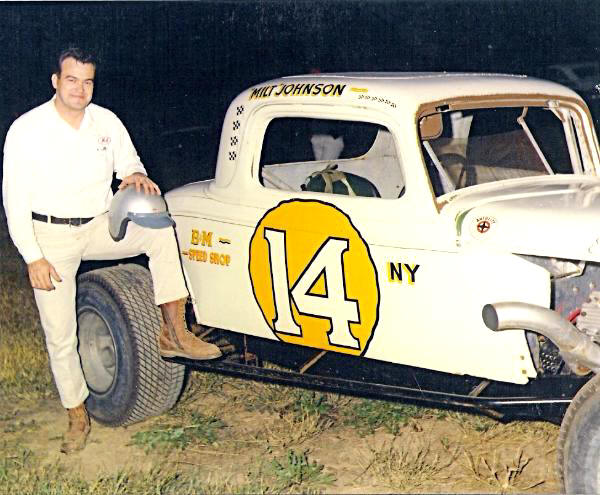 Dirt Track Digest Photo
The accomplished Milt Johnson with the car that gave
son, Alan inspiration for his number. Below – Dick Woodley,
with the Geary B29 in a rare Fonda Speedway visit.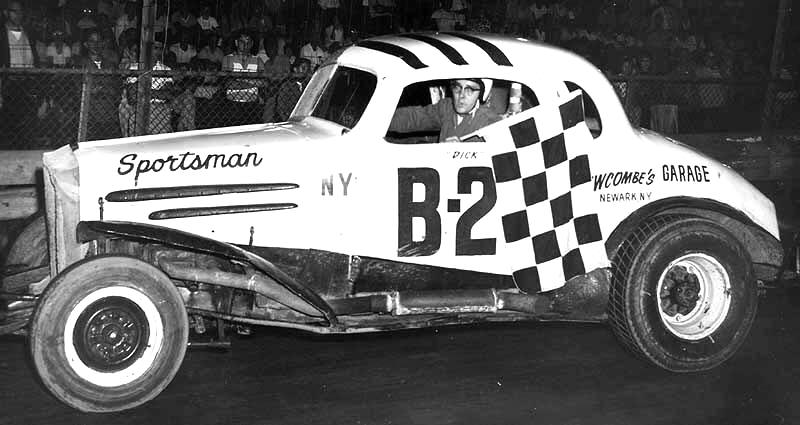 Courtesy of Mike Russo
Most of the winners of these so – called national points races were – as you might expect – guys who finished in the top portion of the national standings. However, there were few surprises and upset winners, too. The first of these was at Monroe County's June 30 race. Dick Woodley, who drove a Floyd Geary #B29 as a team car to Buck Holliday's C38, won that one over some notable competition. The great Al Tasnady, definitely out of his usual comfort zone, won the next race at Monroe, and venerable star Howie Westervelt took a Cliff Wright Ford to victory at Victoria the week before.
All in all, arguably, the 1961 NASCAR national sportsman points chase may have been the single most captivating chase in the history of that autocratic sanctioning body. Wimble speaks of feeling sheepish one night down South when the car he was borrowing "ran right over" the car Nephew had borrowed. Nephew, too, allowed as how once he had been at some far – off track and how he caused Wimble not to make the field because he simply was the last one to get to the track on time while Bill vainly waiting in line behind him. Despite Nephew's pleading for his northern NY neighbor, Wimble was a spectator that night.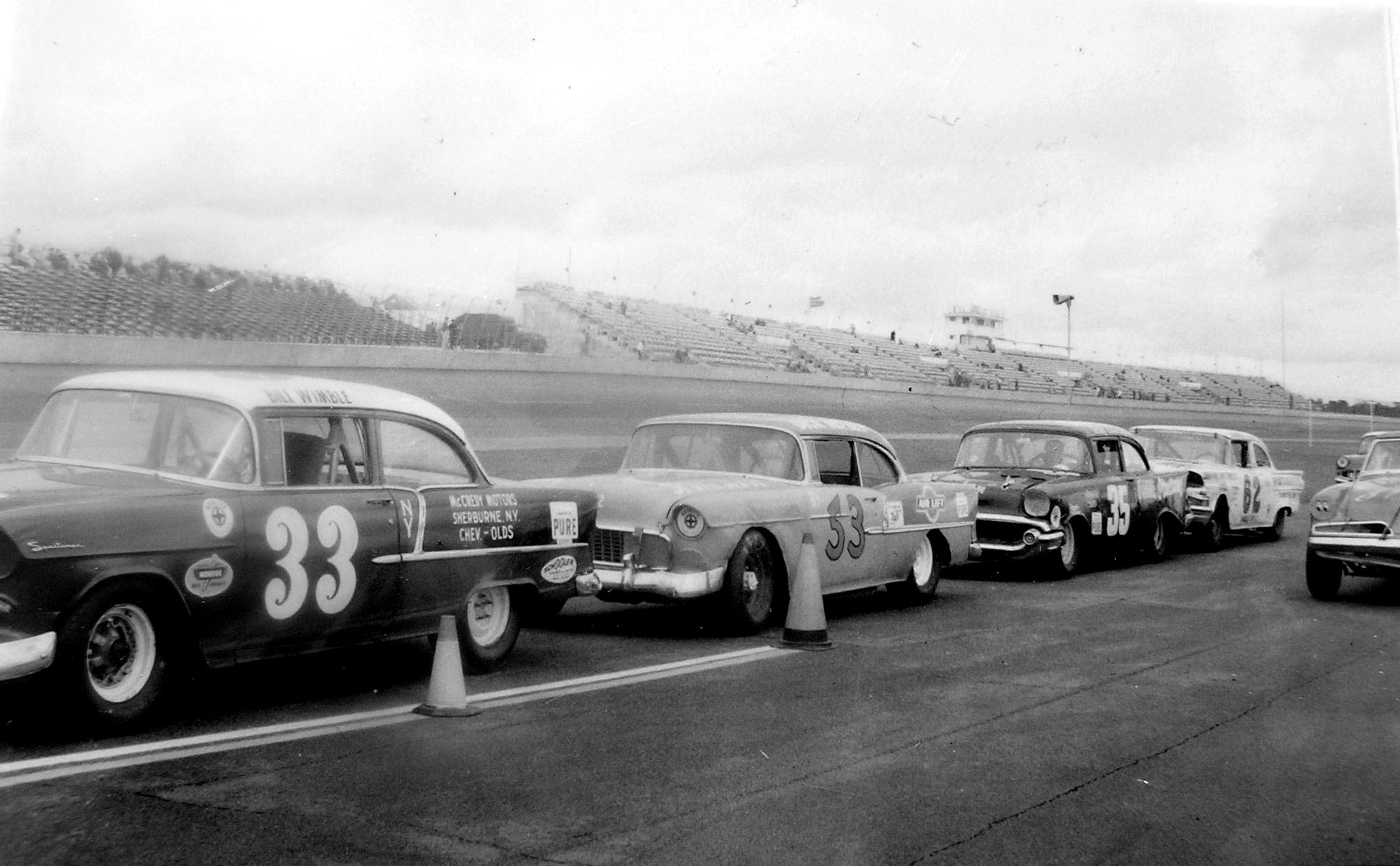 Courtesy of Gary Nephew
It's damn near impossible to get a shot of both Dick and
Bill on a track at the same time. This one has them in a lineup at
Daytona for practice. Bill has his McCredy car and Dick has
Allie Swears' Chevy #53. Below – In an early 1950's Airborne
photo, Wimble sits atop his red and white Rowe Bros 26 with a man
who is said to be Ben Nephew, Dick's uncle. Bill's former car, the
Darryl CLoce 21 is in the foreground.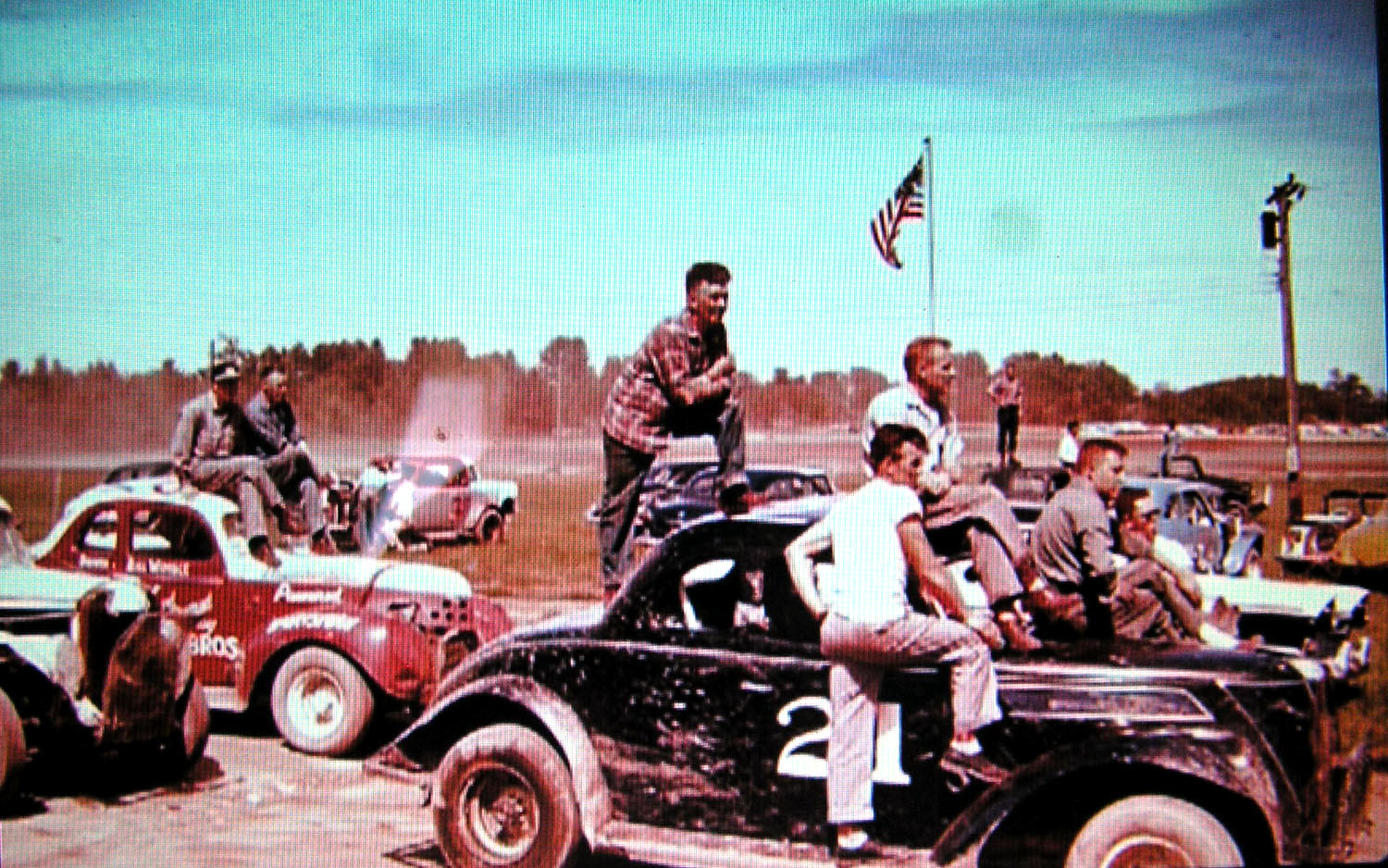 Bob Mackey Photo via Mike Watts, Sr.

It's too bad that a lot of things in racing are no longer on this grass roots level. It probably can't be counted how many trips Nephew [his own car owner and mechanic Ross Reil made to the junk yard to keep the effort going that year. Without a doubt Wimble owner Dave McCredy and mechanic Fred DeCarr were doing the same. Neither team had three extra cars or a double stack hauler. Both Wimble's McCredy Permatex car and Nephew's Allie Swears car were flat – towed to Florida.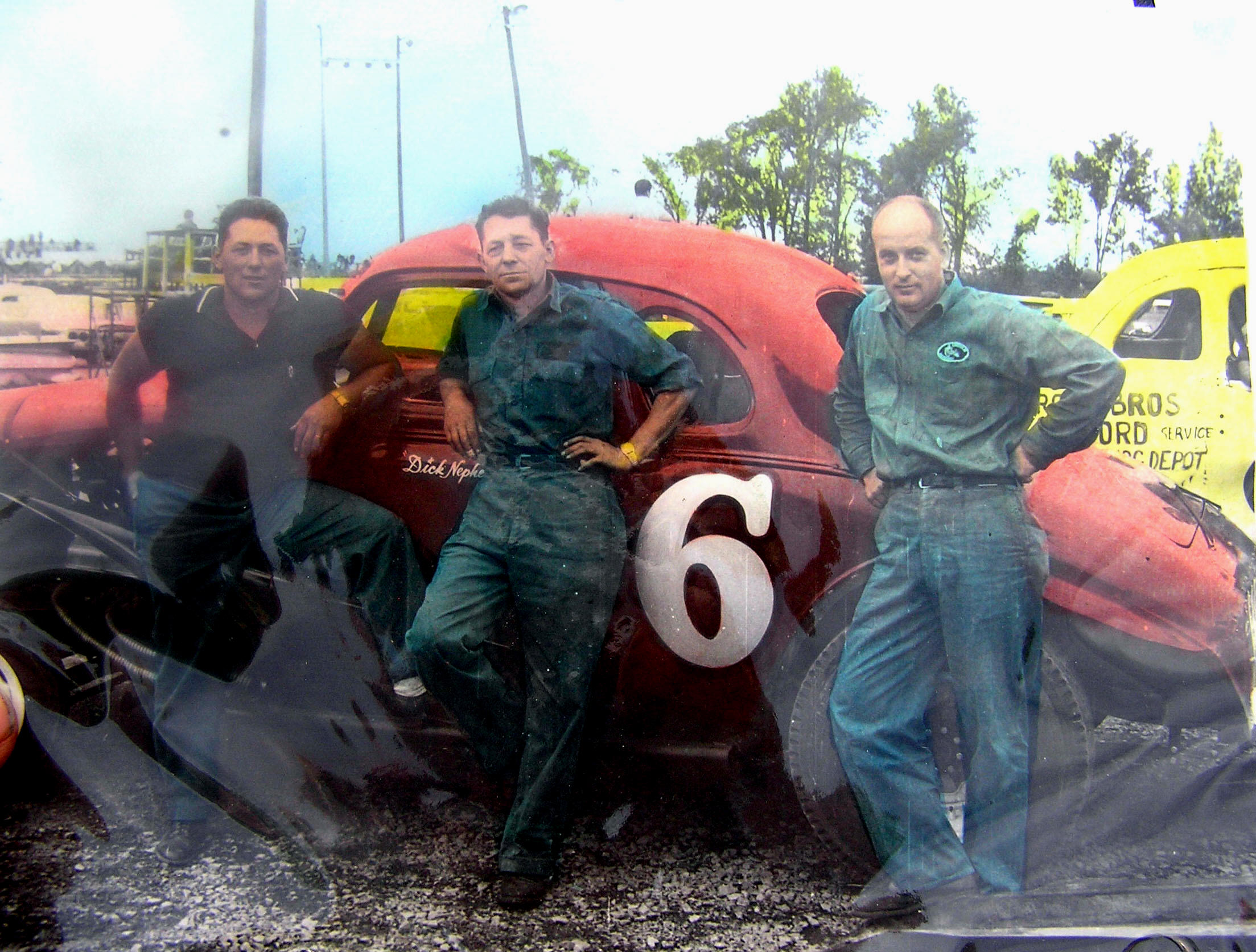 Courtesy of Gary Nephew
Dick Nephew with his crew, one of whom is very likely Ross Reil.
THe man in the center is probably a Nephew. Below – Fred DeCarr,
the wrench behind Bill Wimble.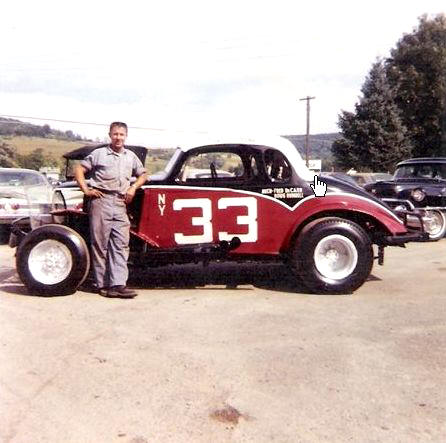 DeCarr Collection
And it all ended in a dead tie !
Please email me at wladabou@comcast.net if you have any photos to lend me or information and corrections I could benefit from. Please do not submit anything you are not willing to allow me to use on my website - and thanks. For those who still don't like computers - my regular address is: Bill Ladabouche, 23 York Street, Swanton, Vermont 05488.
AS ALWAYS, DON'T FORGET TO CHECK OUT THE REST OF MY WEBSITE:
www.catamountstadium.com
Return to the Main Page
Return to the Main News Page
Return to the All Links Page
Return to the Weekly Blog Links Page