DAVE DION
A Major Player on the Stock
Car Stage of Vermont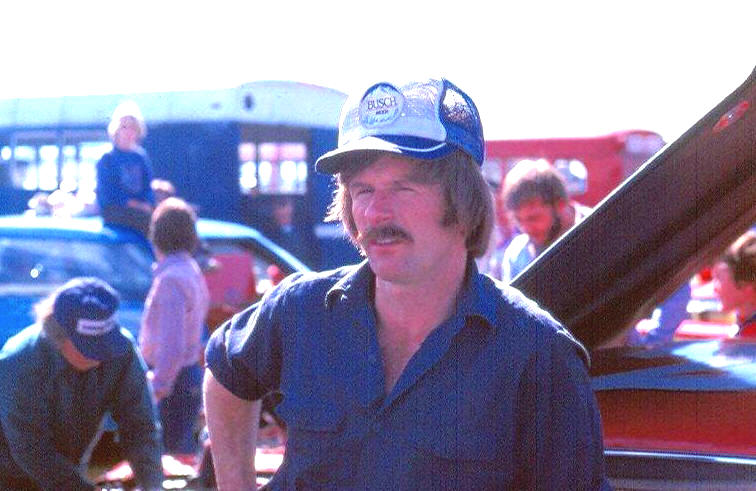 Norman Morley Photo
Ah Dave, wouldn't you love to be this age again ?

Photographer Unknown
Dave Dion at a Quebec track with photographer
Denis "Le Boy" LaChance - around 1986.
Dave Dion is easily one of the most beloved dd a Ford, and it was usually orange or reddish-orange.

Photographer Denis LaChance
The Dion car waiting to qualify 1980. Standing with his hand on his
leg, in the black shirt, is sponsor C.J. Stewart. of Cuttingsville, VT.
Because of his immediate popularity and his effectiveness [partic

Photographer Denis LaChance
Dave Dion entering the Catamount racing surface around 1978.
Dion found himself caught up in the mess in the 1980's when Catamount drivers were split into two camps: the drivers who went with promoter Tom Curle

Courtesy of Cho Lee
Dion chases Big Bad Ronnie Marvin.

Courtesy of Cho Lee
Dion's, with some of his legions of friends.

Courtesy of Ed Fabian
Dion's first car in Vermont, around 1972

Courtesy of Ed Fabian
Dion's familiar Stewart & Sons Ford


Courtesy of Andy Boright
Dion gets crumpled as John Peoples gets by - 1973

Courtesy of Dan Nolin
Dion leads the 1974 Milk Bowl, ahead of George Horn

Courtesy of Pascal Cote
Dion joins Kevin
Lepage and Jean - paul Cabana in a post - race conference.

From Outside
Groove Site
Early Dave, at Norwood.

Outside Groove
The Fairmont, sponsored by Green Mountain Ford Dealers

Courtesy of Dan Nolin
Same car, bravely smiling after some Oxford 250 "modifications"


Courtesy of Andy Boright
The Cougar. I swear they tried to make those cars ugly!

Glen Tavares Photo
The Torino, and
a misspelled name.

Courtesy of LA West
A very strange color for a Dion car.

Source Unknown
Busch GNN pit stop.


Courtesy of Andy Boright
The ACT plastic car


Source Unknown
One of the first Busch GNN cars



Alan Ward Photo
The ACT car


Courtesy of Andy Boright
The most recent car - at Thunder Road - 2005


Outside Groove
Over the 1st turn bank at Catamount.


Source Unknown
In the 29
days.

Justin St. Louis Photo
At the 2006
Oxford 250.

Karl Baitz Photo
2005 Milk Bowl

LA West Photo
A strange yellow 27 at Oxford.

Source Unknown
At Mt. Carmel
y when he broke with
NASCAR and went to smaller fiberglass-bodied cars, and the drivers who remained loyal to NASCAR and left the track to go race in the Busch Grand Nati
N

THE SOUTHERN LATE MODEL CAMPAIGN

Woody Delbridge Photo
Dave had a year when he ran tracks like South Boston, VA. Check out the car - it is attractive and has professional graphics.


Woody Delbridge Photo
South Boston, VA. II

Woody Delbridge Photo
South Boston, VA. III


Woody Delbridge Photo
South Boston, VA. IV



Woody Delbridge Photo
South Boston, VA. V



THE GRAND NATIONAL CAMPAIGN

Photo Source Unknown
Behind Petty
at Richmond.

Courtesy of LA West
Arrival at
Richmond.


Courtesy of LA West
At speed, at
Richmond.



Woody Delbridge Photo
South Boston, VA. V



Return to the Catamount History Page
Return to the Catamount Competitors' Page