BAUMIE


Saratoga's Unforgettable George Baumgardner

Russ Bergh Photo Button, Ladabouche Collection
This tired little half-smirk was typical of Baumie
George Baumgardner was clearly of the Old Guard in stock car racing. Having come from the open wheel circuits immediately after World War II, Baumie was there when stock car racing took its first tentative steps in New York state at tracks like Burden Lake, White's Beach, and the Hollywood Bowl. I can't intelligently discuss his really early rides yet, but I have clear information about gigs with Henry Caputo, Richard Welch, and the Jim Young / Ray Vine team.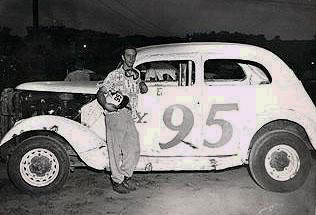 Vogel Family Collection
Baumgardner had some of his best seasons with Ted Vogel's cars at Stateline Speedway.
My clearest memories of George are both at Fonda and at the bucolic little cow pasture track near Vergennes, Vermont called Otter Creek Speedway. When Baumie was running the 75, they were regulars at the little Vermont track when it first opened. It was my first look at the New York sportsman cars that were definitely a step above our local cars and the New Hampshire flatheads.
Perhaps the best single performance at any track in his career was when George ran the Ted Vogel #95's at Stateline Speedway, near North Bennington, Vermont. He ran a variety of sedans and coupes in those days in the early to mid 1950's; and - from all appearances - had the track all figured out. Many different photos show him with Stateline checkers.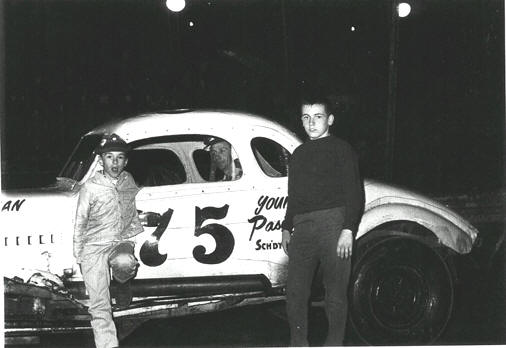 Courtesy of Bob Novak
Baumie poses with a couple of young fans with the 75, around 1960.
After the Ted Vogel rides at Stateline, George seemed to gravitate back to Fonda and Victoria. He hooked up with the team of Jim Young and Ray Vine, who had been using Irv Taylor as driver prior to Baumie. From the few photos I have seen, it looks like the 75 won at least some races. It was during this period that Otter Creek Speedway opened its dusty, NASCAR - sanctioned half mile in northern Vermont. Probably sensing a chance to run NASCAR without the stiff Fonda fields, the 75 team attended several of the early shows in Vermont.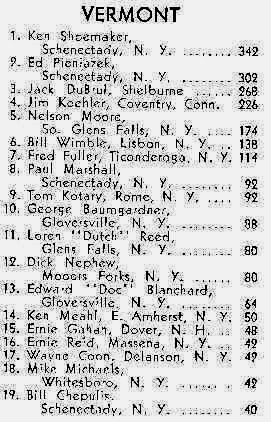 This clipping shows the second year [1962] the 75 attended Otter Creek, finishing in points ahead of feature winner Reed, National Champion Nephew, and landing a 10th place finish. Baumgardner had more points in 1961.
The last rides that I can recall for George were at Fonda. He got a ride in Richard Welch's nice little red Ford coupe, the 77, around 1963 - about the last they ran that car. He ran it at Fonda, Victoria, and even Stafford Springs. The only other ride I can accurately relate to Baumie was Red Cromer's 49, a 1950 Chevy coupe. I don't believe that lasted for long - and it may have been before the Welch and Young/Vine rides. After a fashion, I didn't hear any more about George Baumgardner. I would have to guess his fondness for liquid refreshment may have contributed to health problems.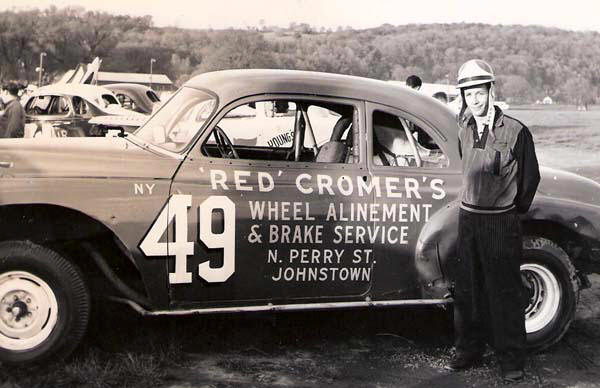 From the Schenectady Collection, Otto Graham Website
Apparently, Baumie worked for Red Cromer, in Johnstown. This was a car with which they tried to take advantage of NASCAR's offer
to allow bigger motors in these heavier, later - model sportsman versions. Most of them turned out to be beasts.

Vogel Family Photo
Another win at
Stateline

Herbert Family Photo
Crossing the line
ahead of Jeep at
Stateline

Photo Source Unknown
A pose at
Stateline


Bob Mackey Photo
Courtesy of John Rock
& Bobby Castine
Driving for Henry
Caputo- the Chevy



Vogel Family Photo
Yet another win
at Stateline

NE Vintage Mod Photo
Running the Welch
car at Stafford

LadaboucheCollection
Opening night,
Fonda, 1963


Herbert Family Coll.
George, awarding
friend Jeep Herbert
after a feature win
at Victoria in Jeep's
Barbuto era.


Vogel Family Photo
More Stateline

Schenectady Collection
Otto Graham Website
Driving for Henry
Caputo - the Plymouth


Source Unknown
A flag for Jim
and Ray

Courtesy of Don Rounds, Jr
Driving for the
Caputo team
at a 1950's
Langhorne race. Also
seen are 213, Bill Wimble
and the Rowe T-800.


Courtesy of Mike Russo
via Otto Graham
George, in the
Young/Vine 75. The
huge tires were to
make up for gears.


Source Unknown
Apparently, Baumie got a
ride in NASCAR's old
Short Track Division with
this '57 Ford convertible.
[See below]

Courtesy of Dan Ody
Driving for the
Young/Vine team
at the 1957
Langhorne race.

Ladabouche Collection
Baumie rides out
a tangle with Jeep,
in the Drellos back-up
car.

From ebay
A Victoria button
from the same company
as at the top of the
page.



Vogel Family Coll.
Baumie loses a wheel
in Ted Vogel's 95, as
an early Don Wayman car
pulls away.

Vogel Family Coll.
Baumie wins another
in Ted Vogel's 95, at
Stateline. It was the
best year of his career.

Courtesy of Starin Family
A battered newspaper
article features Baumie
in a Fonda story.

Dick Pennock Collection
One of his earliest rides, the
Elwin Pennock Super 38.

Dick Pennock Collection
Another Super 38 shot -
at Mettawee Speedway,
Granville, NY.

Dick Pennock Collection
This may have ended Baumie's relationship with the Super 38.

Frank Simek Photo
Baumie, at speed at Fonda
with Welch's 77.


Vogel Family Collection
Baumgardner, in the Vogel sedan tries out Richfield Springs Speedway in New York. I recognize 112, one of the Gero's,
Trinkhaus' 62, Jeep Herbert in Kittler's 37, Steve Danish [beside Baumie] and the Clark Bros 45 with an unknown driver.
A BRIEF STAB AT THE BIG LEAGUES
Baumgardner had two brief times in NASCAR's bigger leagues - one time with two cars from Henry Caputo
of Hudson Falls, NY...........

From Mark Reynolds
George had a ride in NASCAR's Grand National with this '54 Buick
bearing Caputo's number and colors.

From Bill Farress
The Captuo 11
Mopar coupe in action
on the Daytona Beach
Course. Driver is either
Baumie or Jeep Herbert.

From Mark Reynolds
Caputo's tire bill from
Firestone for the 1954
racing down South.



From Tom Herbert
The Caputo 11
on the beach
at Daytona.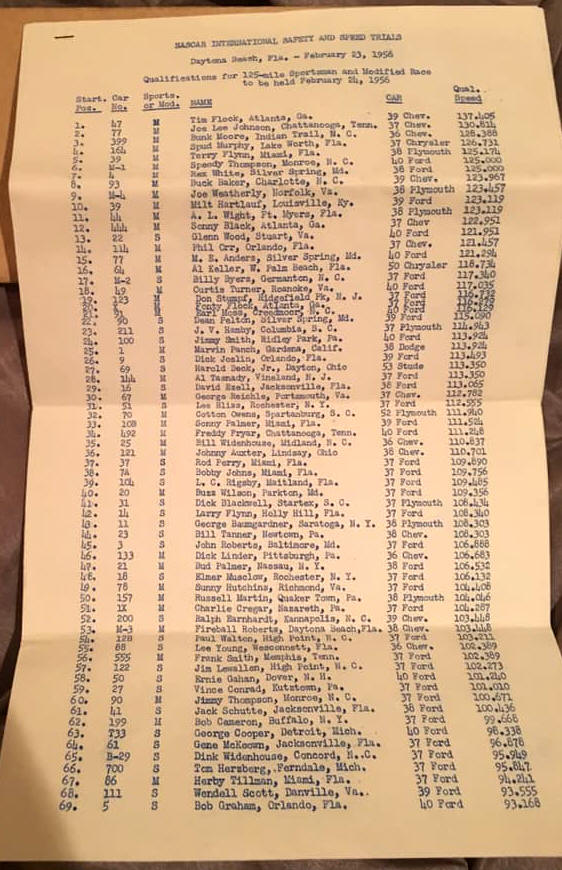 From Mark Reynolds
1956 results with Caputo's Plymouth.
.....and once with the Sokoll Chevy convertible.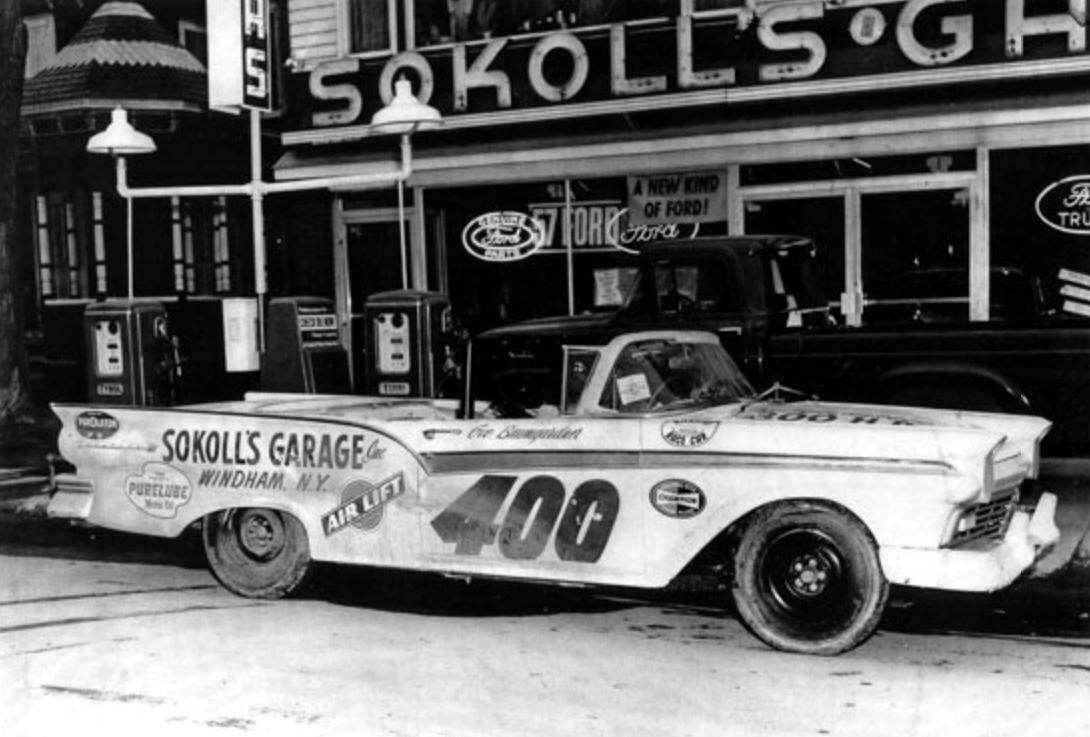 Source Unknown
George also had a ride in NASCAR's Convertible Division with this 1957 Ford from Sokoll's of Windham, NY.
Return to the Main Page
Return to the Main News Page
Return to the New York Drivers Link Page