THE BILL'S BACK IN TIME COLUMN PAGE
Copies of my column in Mark Thomas' "Racin' Paper"
Column #27 from Column 40
BILL'S BACK IN TIME
By Bill Ladabouche
THE CARON BOYS CONTINUE ON IN RACING
It is very rare to attend races at Thunder Road during their weekly Thursday night program and not see the Caron brothers there to support Gary Caron's #22 race effort. Last season, you might have happened upon two Carons in the same show – Gary and his nephew, Sam. But Sam has put the car in mothballs and gone off to help Barney McRae's Busch Grand National East operation, leaving only Gary Caron at T Road.
Time was when the track seemed to be teeming with Carons. I recall Catamount, in its last few years, when management had added a street stock division to its slate of late model sportsman and six cylinder Grand American pony cars. The street stocks immediately became the track's most colorful group, and at least three Carons joined elder brother Larry, who was already competing in a late model.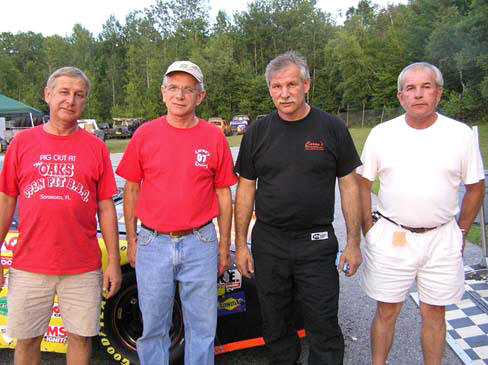 [Ladabouche Photo]
Today, the Caron boys are primarily on the scene in support of sons and nephews,
but Gary Caron [second from right] is still running. From left - Dennis, Larry, Gary, and Richard.
Joseph Caron, the family patriarch, had whetted his sons' appetites for the sport when he spent a lot of time around the little Winooski used car dealership garage of Ivanhoe "Smitty" Smith, a local character who had promoted a race track, himself, in addition to fielding numerous low buck stock cars at places like Malletts Bay Speedway and Otter Creek Speedway. Larry, the eldest Caron brother, recalls that Friday night was the time to start working on the Smith racing stable, and a few six packs would sit on the roof of the stockers as Joseph Caron and others turned the wrenches.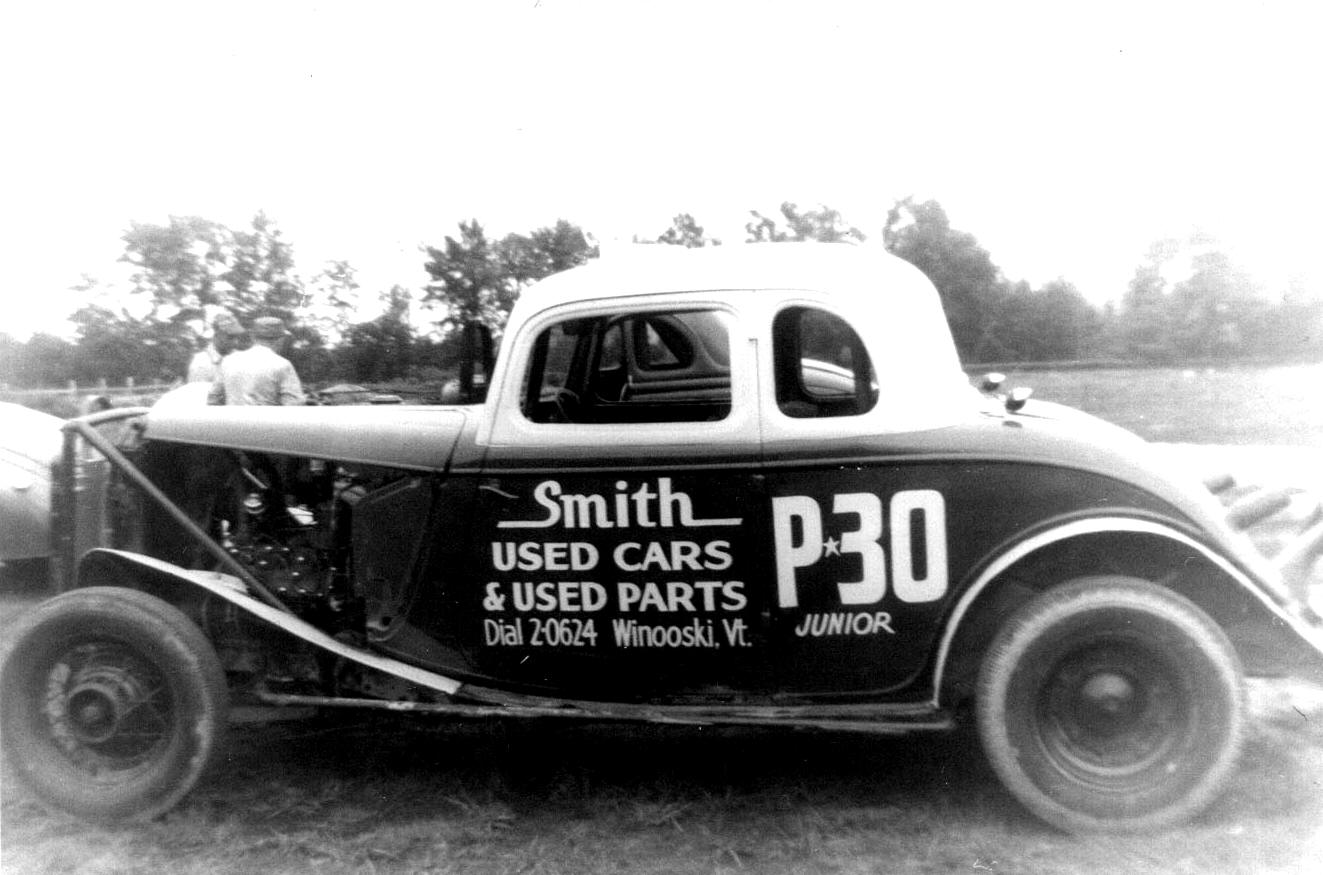 Courtesy of Mark LeFrancois
The P30 of Clarence Rock, [perhaps Smitty's best car ever, sits in the
pits at the old Fairmont Speedway around 1951.
By the time Catamount Stadium opened in 1965, some of the Caron boys were getting old enough to give serious thought to the sport. The first to arrive at the track with a car was Larry, who competed in the automatic transmission Hurricane Division in the early 1970's. Larry did not take long to show his talent, and the 1962 Chevy he ended up building was considered one of the best ever constructed for that division. Caron moved along to develop a six cylinder Nova, which successfully competed against the V-8's until the division finally converted over to all smaller cars.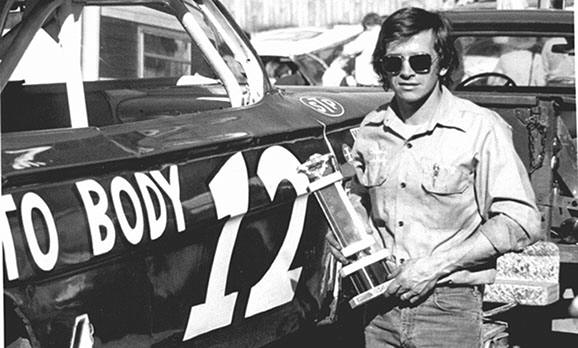 Courtesy of Cho Lee
Larry was the man to beat with the '62 Chevy, but he soon sold it to begin his efforts with
the six cylinder power plant.
But, the Caron '62 Chevy continued on to success with Milo Lockerby, who had bought the car after Larry had driven it about and year and half. By this time, Richard, Dennis, and Gary were all getting the racing bug; but, racing costs were still prohibitive. Larry went on to put a sleek Z28 Camaro in the Grand American division and he – along with Richard Buzzi, T. R. Waters, Ervine "Brother " Eastman [a hired gun from Bear Ridge Speedway], and Jay Yantz [the lonely Ford driver], proceeded to put on some of the most competitive racing that Catamount ever saw. The GA's were smooth handling little cars which seemed much like miniature late model sportsman cars; and their drivers were becoming stars in their own right.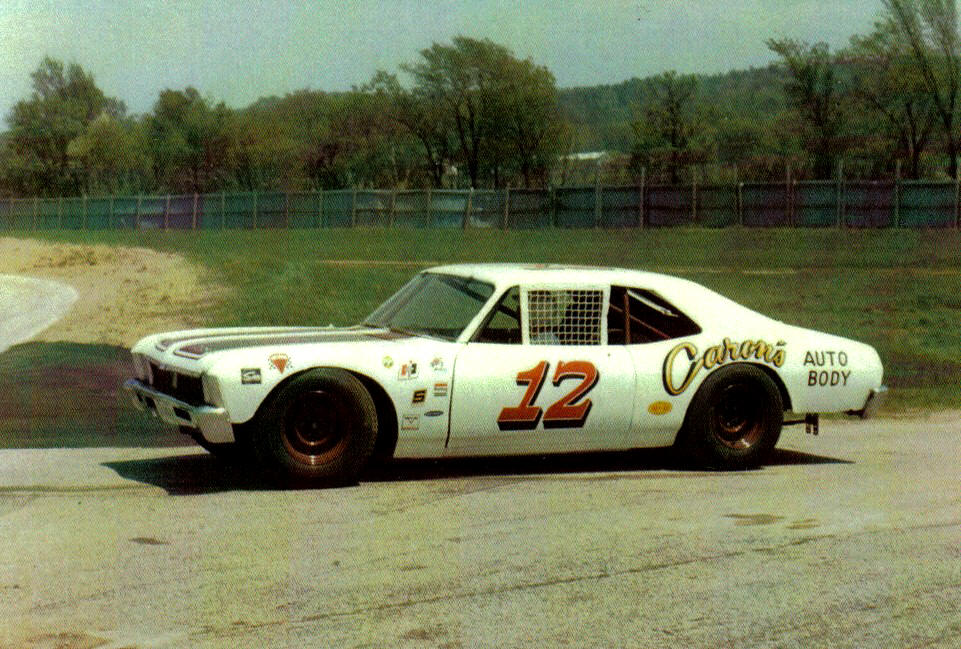 Courtesy of Andy Boright
Larry's #12 Nova raised a lot of eyebrows in a division characterized
by huge, thundering V-8 's.
During this period, Larry actually managed to field a six cylinder against the late model sportsman cars during Catamount's brief experiment with Friday night shows, in which mostly the less successful and lower budget late model teams competed. The red Nova, painted similar to his [Z]28 Camaro, was a precursor to the six bangers that were soon to come in the late models. Larry used a Dennis Frings chassis, somewhat unknown in Vermont at the time. Soon, however, with Bob Curtiss and Larry using the Frings product, that name was on the map in Catamount circles.He did experience some problems with this new effort, but everyone was very impressed with how competitive he was.

Caron Family Photo
The #28 Nova was the first of its kind, and it helped pave the way for all the
six bangers to soon follow.
About the time Larry was in full stride with his six bangers, the NASCAR North management decided it was time for a nearly-strictly-stock low - cost division; so they instituted the Street Stocks – and there was the opportunity the younger Carons were waiting for. All three would jump into the division after a short while; and, being body men by trade, their cars were a breath of fresh air in a division characterized by pretty rough-looking equipment. The division had some definite talent as – besides the Caron boys – it featured Owen Wimble, Sr., Jim Payea [father of Scott], and later, drivers like Cooper McRitchie.

Catamount Program Photo
Richard, posing as the Frito Bandito here, was the terror of the class with his Grand Prix.
The car went on to win a second title with Jim Barton.
Richard seemed to have the most success, with a huge, full-bodied Pontiac Grand Prix. He ended up as track champion in the first year he raced the full slate of races. Dennis and Gary also fielded good-looking cars. Dennis made a little more notoriety for himself when he sold his Chevelle to Lorraine Parsons, a Fairfax, Vt. grandmother who – inspired by neighbor Hector Leclair, decided to become the "Racing Grandmother" at Catamount. Dennis's red #14 lived on for a year or so later with Lorraine's adventures on the track.
But all good things come to an end and so did Catamount. Just before the demise of the Milton, Vermont track, they began to bag the street stocks in favor of a new Flying Tiger division to hearken back the days of the 1960's. By that time, none of the Carons were running in the streets anymore, anyway. The new Tigers started as a weird mixture of former street stocks, former Grand Americans, and a few newer cars built somewhere else and which fit the specs. When this division finally morphed into the Tiger Sportsman similar to today, some of Carons returned.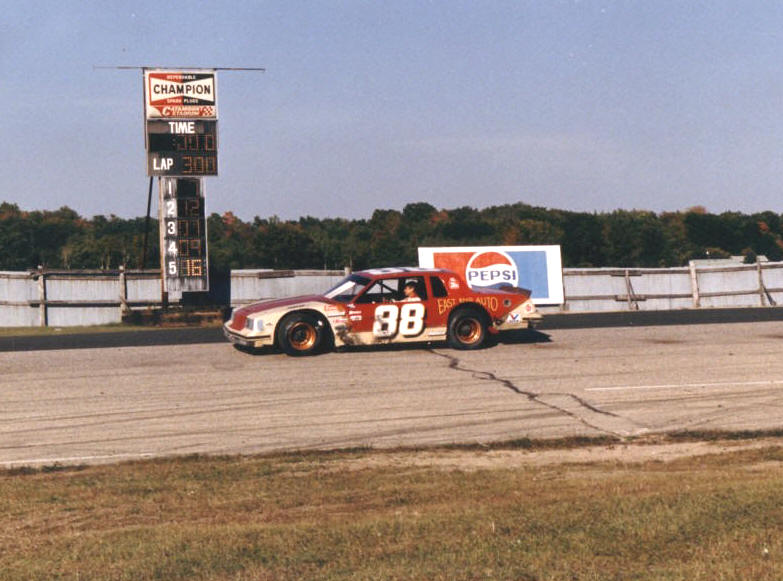 Caron Family Photo
Before the Robertson sponsorship, Larry managed some excellent finishes against much higher –
funded teams with only his own sponsorship support
Meanwhile, Larry had forged on in the late models. He had, at one point, picked up a pretty good sponsorship deal from flamboyant D.G. Robertson, who had a fleet of trucks that delivered burial vaults. Caron was, by then running full-bodied GM cars [a former Dragon Buick and a former Gerbode Oldsmobile] and had changed his numeral to #88. In the 1985 season he did not choose to run much, as he had to support the effort by himself through his Caron's East End Auto Body; but later, with Robertson, he gave the effort a good run. Results show that, when he was there, he did very respectably against some much more heavily-sponsored operations.
With the demise of Catamount in 1987, and the switch to the plastic cars of the new American-Canadian Tour, Larry scaled down again. Robertson had moved the sponsorship to another team, and Larry was not about to travel over half of the East Coast, chasing either ACT [for whom he had no legal car] or NASCAR Busch Grand National North tour. In the period between the end of Catamount and today, I was not around the tracks; but, the Carons were - and I have tried to piece together a rough idea of their continued race efforts in that time. I apologize for how much it is probably screwed up.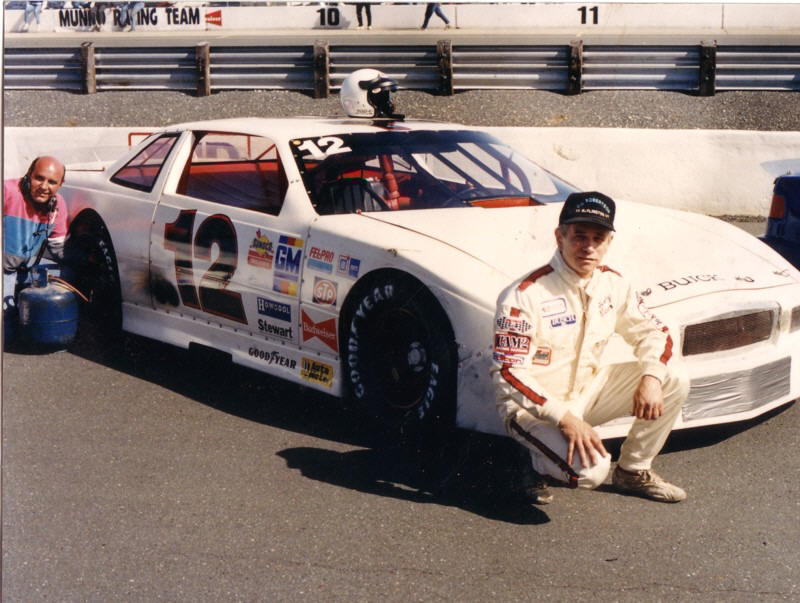 Caron Family Photo
One of the more recent Larry Caron cars. Larry poses with the Buick at Sanair.
Larry ran in the late models until recently, and son, Jay, ran at such places as Evans Mills – in north central New York. Larry had run a few ACT races with the plastic cars, and he did spend time in Busch North, as well. Jay relates a funny story about conscientious officals, magnets in hand, approaching his car at Evans Mills in 1997 to check the brake rotors. They were not prepared to find that the wheel they first intended to check had ended up having no brake at all !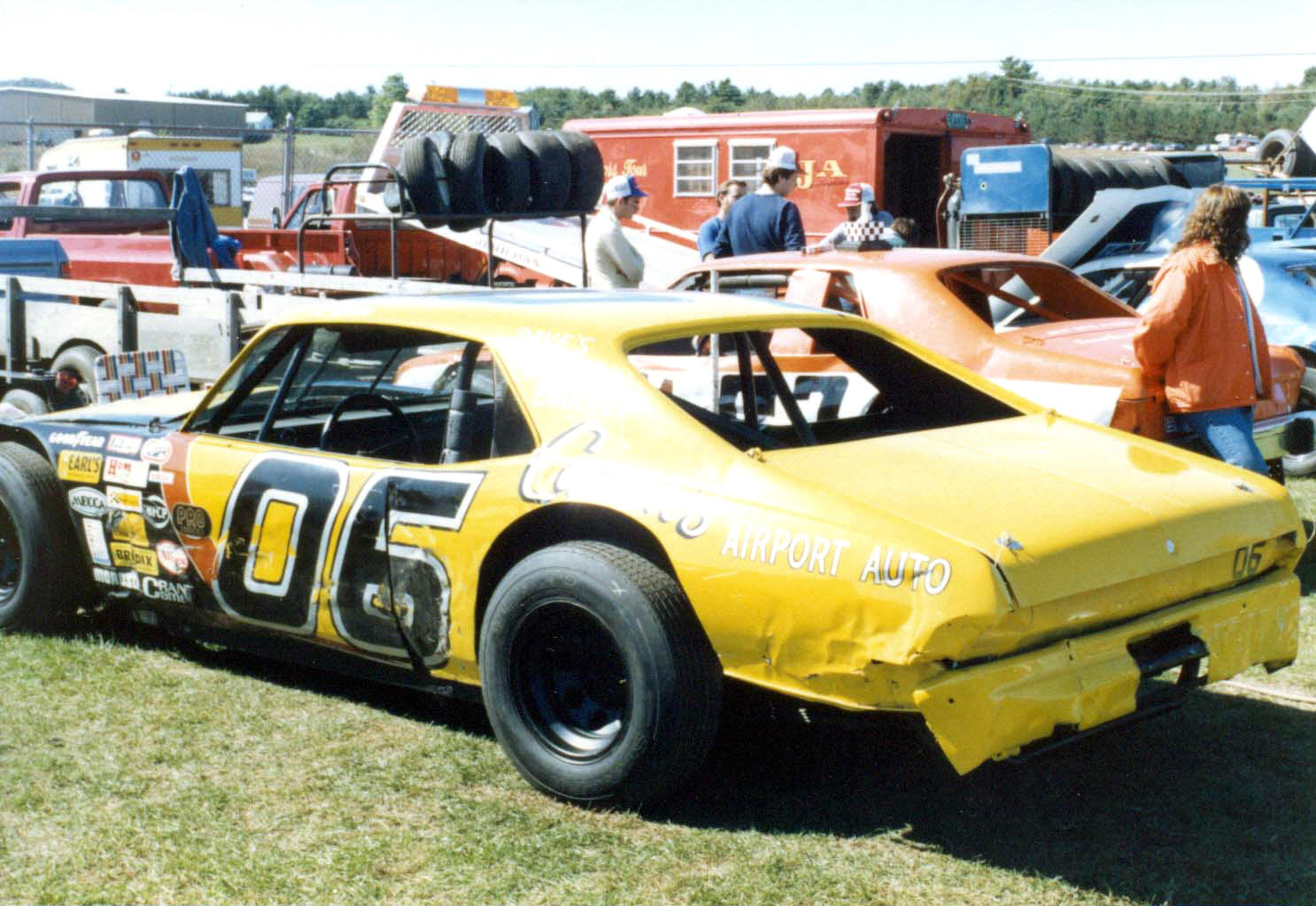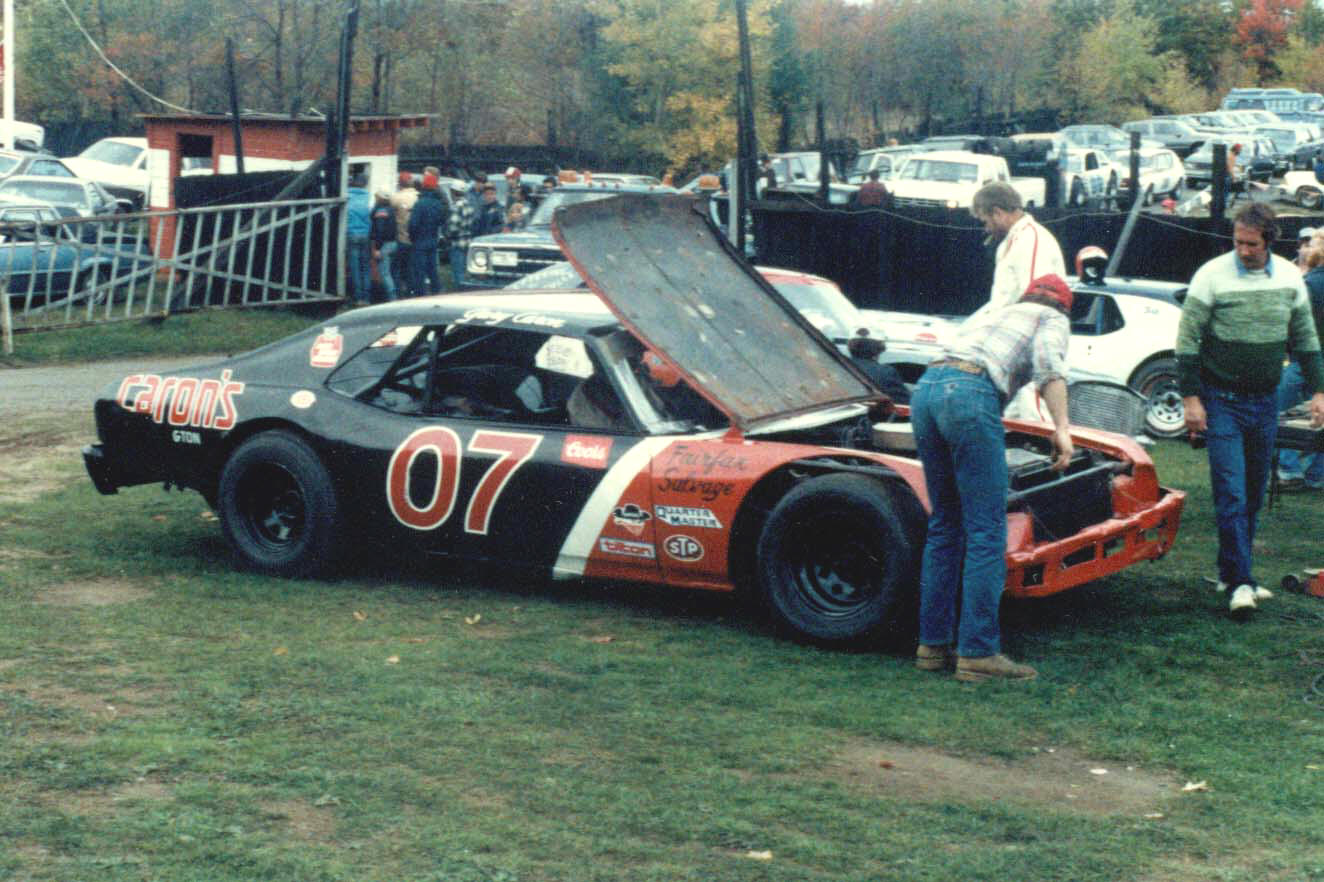 Gary Caron [right] with his Tiger Nova and Richard Caron at Thunder Road. Below, Dennis Caron, maybe at Catamount
[All Courtesy of Steve Pecor]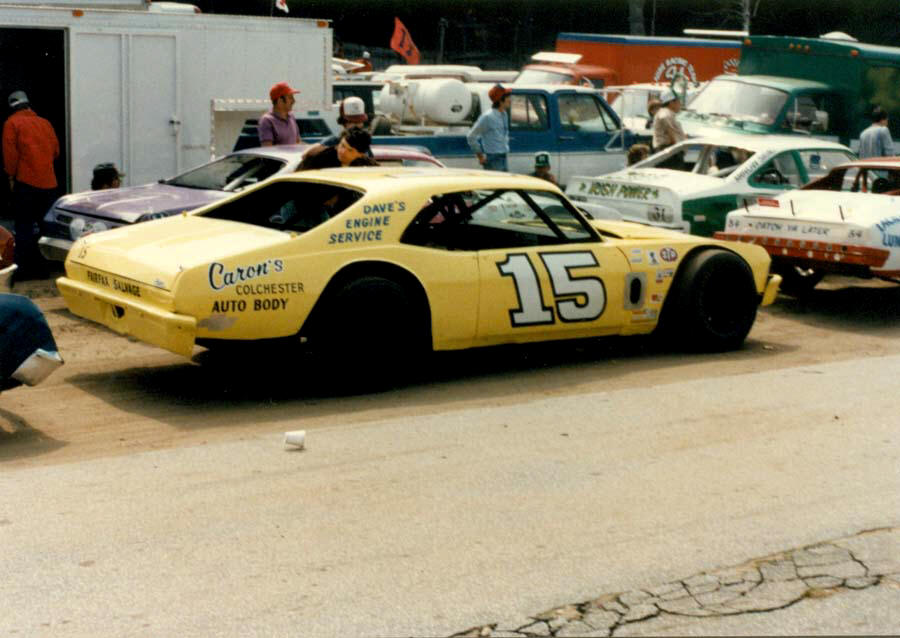 Richard Caron, the former Street Stock Champion of Catamount Stadium, ran Thunder Road in the headline division from 1987 to 1990. His cars were characteristically beautiful preparations, as were the street stocks before them. Today Richard is in the pits to support his brothers and nephews, but he doesn't drive any more.
Dennis ran in the Tiger Sportsman division at Thunder Road in the 1980's, with a red number 15, a Camaro. This was the prevailing car in the division in that era. I can recall Jim Gallison, Clem Despault, the Beede brothers, Owen Wimble, and many more running Camaros in the Tigers. Later, Dennis also ran a Nova #07. Dennis' son, Sam took over the family driving honors and drove in the late models until last season. Today, the blue and white #07 late model sits at the ready, but Sam is fully occupied with Barney McRae's race operation on the travel – heavy Busch East circuit.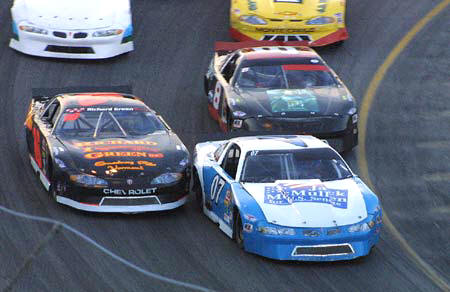 Outside Groove site photo by R. Gagne
Sam Caron in his familiar blue and white late model leads a pack of cars at T Road.
Gary Caron is the only one of the brothers still racing. He had taken a few years off from racing and then returned to run Evans Mills with some of the others in the family. He joined the Hooters Tour, running the #22 – a numeral he has gone back to this year. Now son, Kyle does almost all the work on the blue and yellow 22, a new car for Gary; and Gary is beginning to shake off the bad luck he had endured in the past few season. Probably some of that luck came from running very old equipment. Gary, who operates the Shelburne branch of Carons Auto Body, is very proud of the flawless workmanship done by his young son. One of the men who judged best-looking cars at the beginning of this season said that, if Caron had been at the car show, he would have been awarded best – looking car [at least by that judge].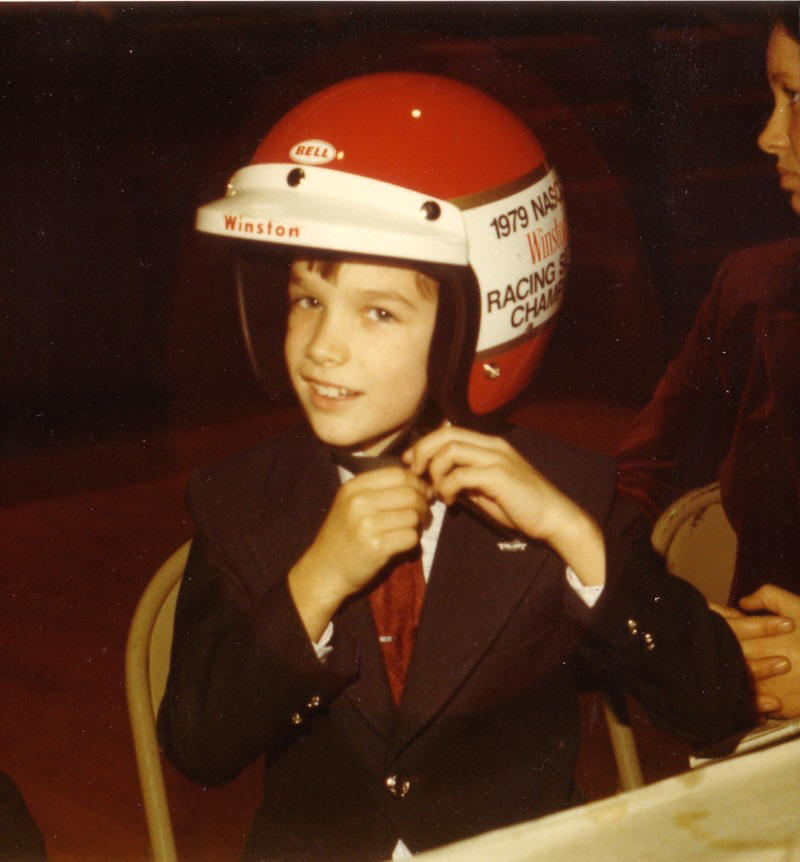 Caron Family Photo
Jay Caron mugs for the camera with his father's coveted championship helmet. He is now
trying out the wheel, himself, mostly at Groveton, thus far.
Regardless of whether the second - generation Carons field any more cars in the future, the name continues on through the third generation: Sam, Kyle, Jay, and Nick. You will always be able to tell them by the beautiful, meticulously – crafted cars they field. With limited budgets, they may not finish first very often, but the Caron family is the epitome of devotion to the sport.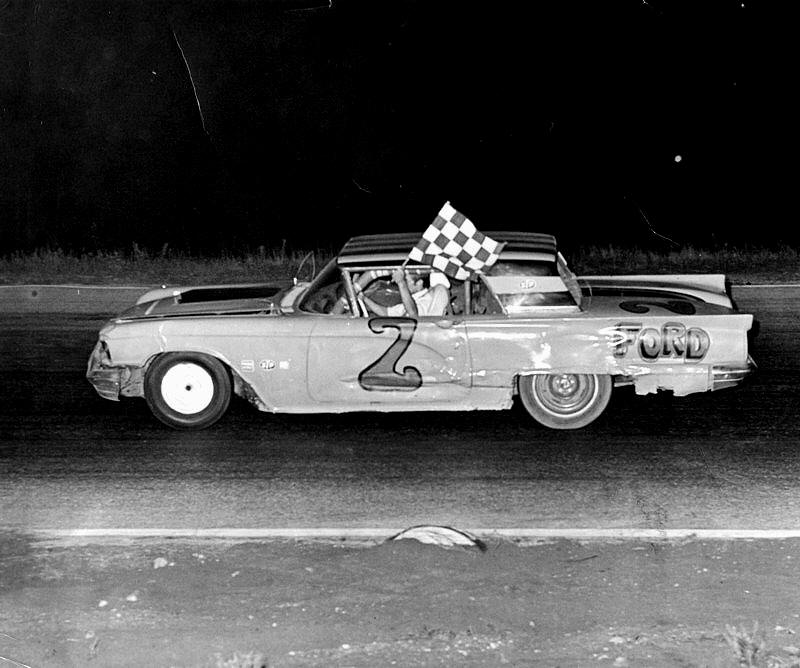 Caron Family Photo
It all seemed to start with this, Larry's early Hurricane.
Return to the Columns Link Page
Return to the Main News Page