CLARENCE "CORNFIELD" ROCK
There are not many conversations held about the early days of stock car racing in the northern part of Vermont that do not – one time or another – cross over the name of Clarence Rock. The racing community in those pioneering days of the early 1950's was closely – knit; and, in many cases, many of the participants were actually related to one another. Clarence and Willard Rock were two men who were integral in those formative racing circles – especially at many of the five tracks that came and went in the town of Colchester.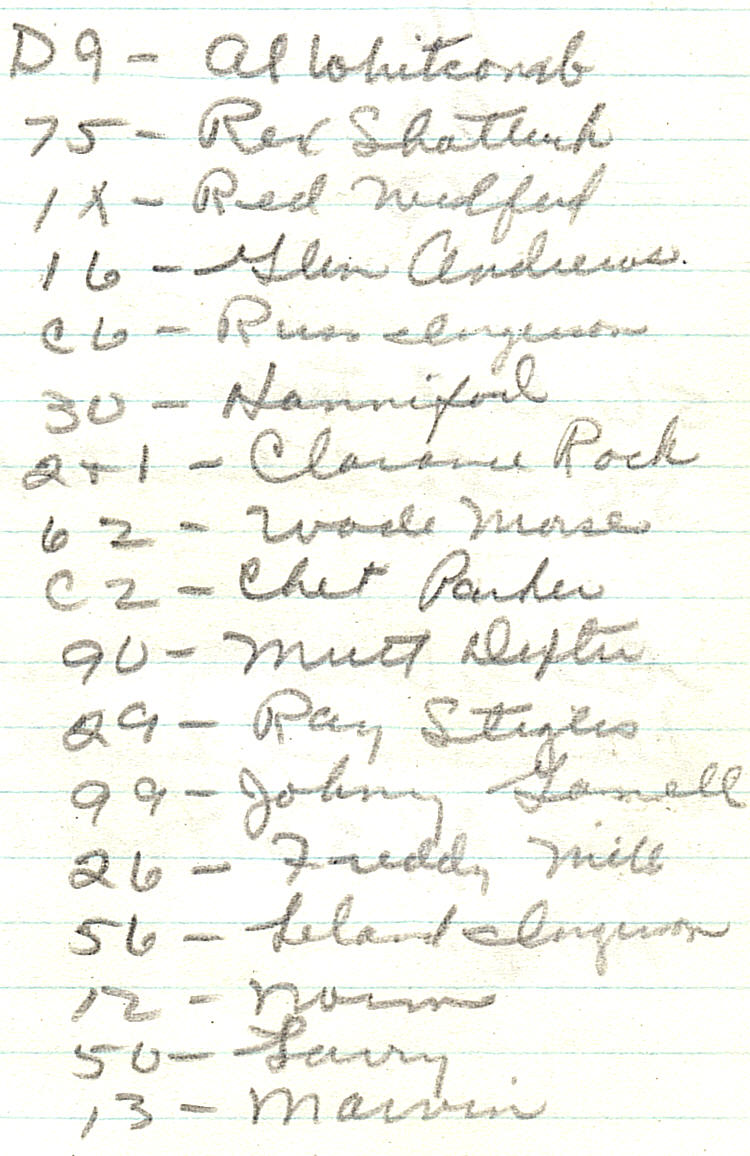 A hand written record of part of the field at a Thunder Road race in the inaugural year of 1960 shows Clarence Rock, with the Chittenden County – based 2+1 team, facing rivals who were almost exclusively from the Eastern VT/NH racing circuit. Below - One of the 2+1 cars, with Jim Hampton at the controls. The starter is Archie Blackadar, and the white coupe is
Beaver Dragon.



Courtesy of Cho Lee

Clarence Rock was known to not only drive the blue 1937 Chevy coupe numbered 2 + 1, but he also did some stints with the P – 30, a car associated with the colorful Winooski used car dealer and race track promoter, Ivanhoe Smith. Rock actually won a feature at Thunder Road, taking over the 2+1 car after a fairly long hiatus from racing. His name has come up in conversations with some of the early stock car pioneers who are still with us, such as Jackie "Speed" Peterson of South Burlington; Ed Charbonneau, of Colchester; and in indirect information coming in, second hand, from the likes of Bob Bushey and Gordy Owen.
This was a time when stock car tracks sprang up – sometimes at the rate of three per month. They also disappeared almost as fast. Safety was severely lacking; and insurance firms were very reticent to get involved with some of these operations. Early tracks ranged from a bunch of race car – many without adequate bracing – careening around bumpy oval scratched out of someone's vacant field. These tracks lacked fences and other basic infrastructure.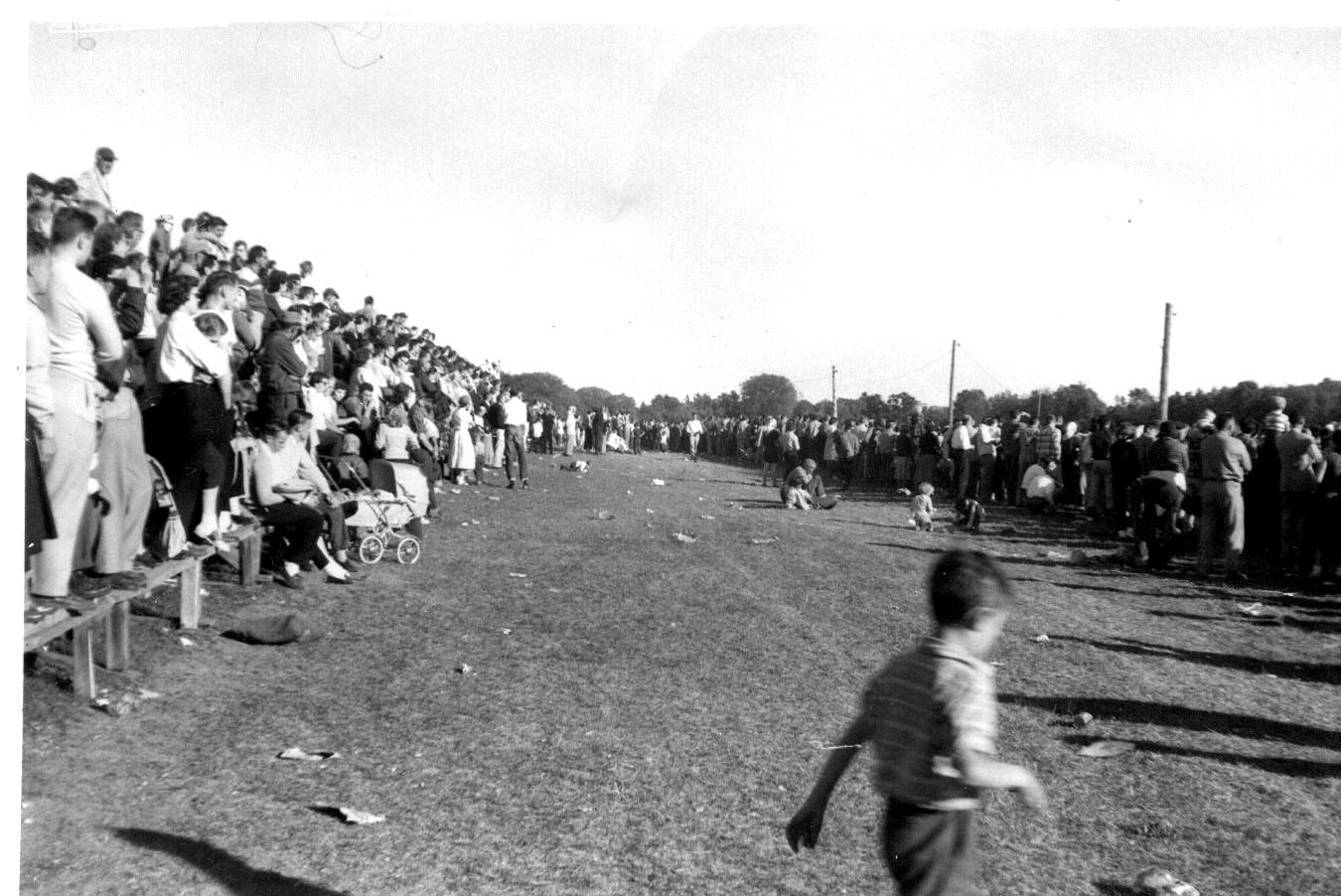 Courtesy of the Bob Bushey Family via Jack Anderson
The problem of crowds against barely adequate race barriers is well illustrated in this shot
at the Malletts Bay Raceway of Walter Barcomb.
Other early track, such as Ivanhoe Smith's Colchester Raceway and Walter Barcomb's Malletts Bay Raceway, did have grandstands protected by fencing and railroad ties [although keeping crowds back from the none – too – adequate fences was never well enforced]. The same basic cadre of teams used to travel around, running at whatever track seemed to be offering the most interesting purse package that week. Sometimes, the racing venue was determined by the settling of a personal score with some other offending party.
In the case of Clarence Rock and his cars, appearances were known to be made at such flash – in – the – pan race palaces as Enosburgh Falls' Davis Speedway; the Green Mountain Speedway, on a farm in Sheldon; the short – lived track near Morrisville; and the Sunset Speedway – probably the oldest of Colchester's five ovals.
Rock also appeared at the few races at the Champlain Valley Exposition fairgrounds track in Essex Junction. He ran the more – established Colchester tracks like Malletts Bay Raceway, Colchester Raceway, and even Harvey Moody's rustic 5/8 mile track on the Williams Road – another Green Mountain Speedway. One of the furthest places he raced at was the Fairmont Park Motor Speedway down in Fair Haven, VT; and he may have tried the Pico Raceway, outside of Rutland. Rock and the others attended some high – profile races put on at the paper clip – shaped race track in Northfield, as well.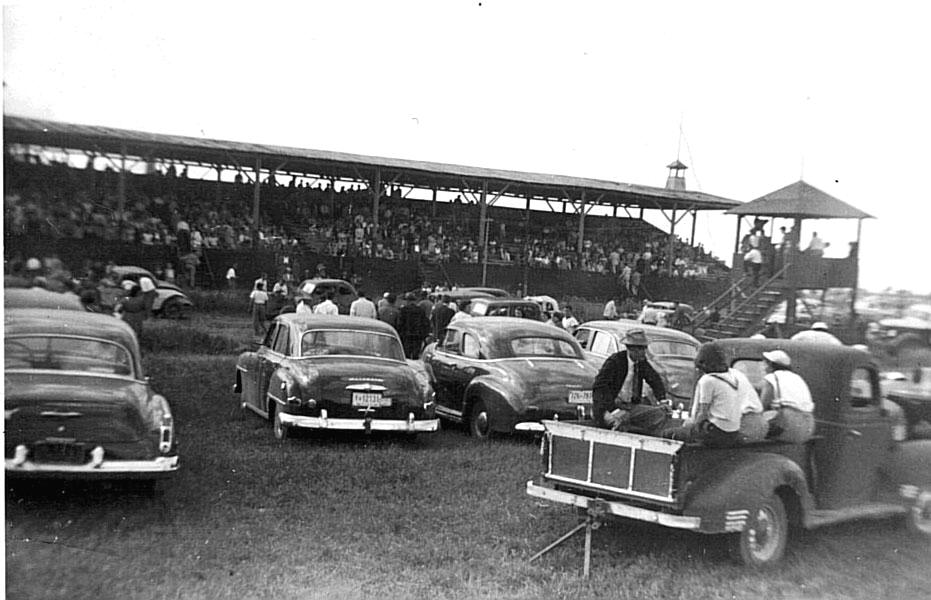 Courtesy of the Frank Hart Family via Arnie Hill
A racing family rests in the bed of an old pickup in the infield of a stock car event - possibly at the fairgrounds in Essex Junction, VT or maybe one of the horse tracks they ran on in Quebec. Clarence would likely have been in attendance.
Clarence Rock was a quiet, understated guy – according to his daughter – not a fighter like most of his buddies in that circuit. Perhaps this easy – going disposition did not serve him well as an early stock car driver. Peterson, speaking affectionately of Rock, saying "he wasn't much of a driver really". However, those closest to Clarence considered him to be an affective, hard - driving racer, One of Rock's daughters was married into one of the most rough and tumble racing families in Chittenden County – the Barcombs. Walter was the owner of Colchester's most successful race track; skinny and muscular Ernie was the fighter, Leonard [Little Leonard] was another aggressive driver; and huge – handed Herb had too poor eyesight to drive, but he raised son Ronny to be a star in following decades. Later on, one of Rock's nieces married another driver in the bunch, Sonny Godin, who had the nickname "Featherfoot".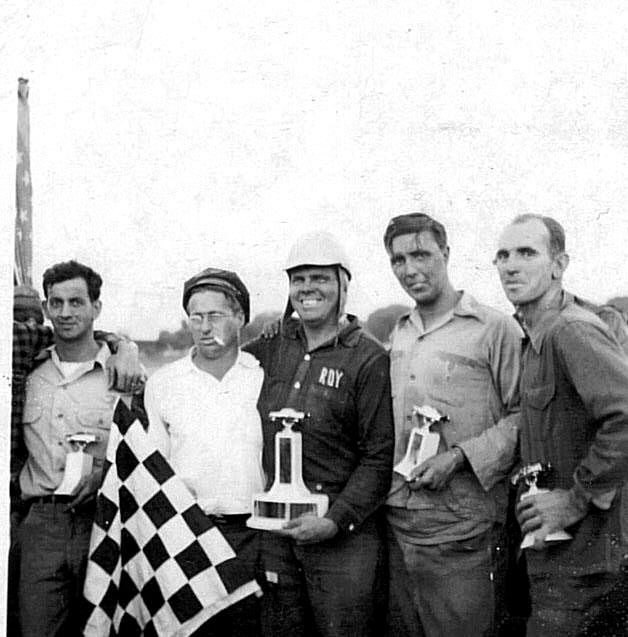 Courtesy of Frank Hart Family via Arnie Hill
This hardbitten bunch included a few of the guys Rock had to contend with – Sometimes several times a week:
Frank Hart, Henry LeClaire, Pappy Forsyth, Jackie Peterson, and Ernie Barcomb.
Perhaps the best – known nickname for the likable Rock was "Cornfield" because of his propensity for leaving the track and ending up out in some of Sam Brigante's truck field corn at the Green Mountain track. When Rock drove the P-30Jr., the car looked good enough that – when they invaded the unfamiliar Fairmont track, a young man named Don LeFrancoise thought enough of the car's appearance to photograph. The picture came to light during racing history of Rutland County – far from Clarence Rock's usual stomping grounds.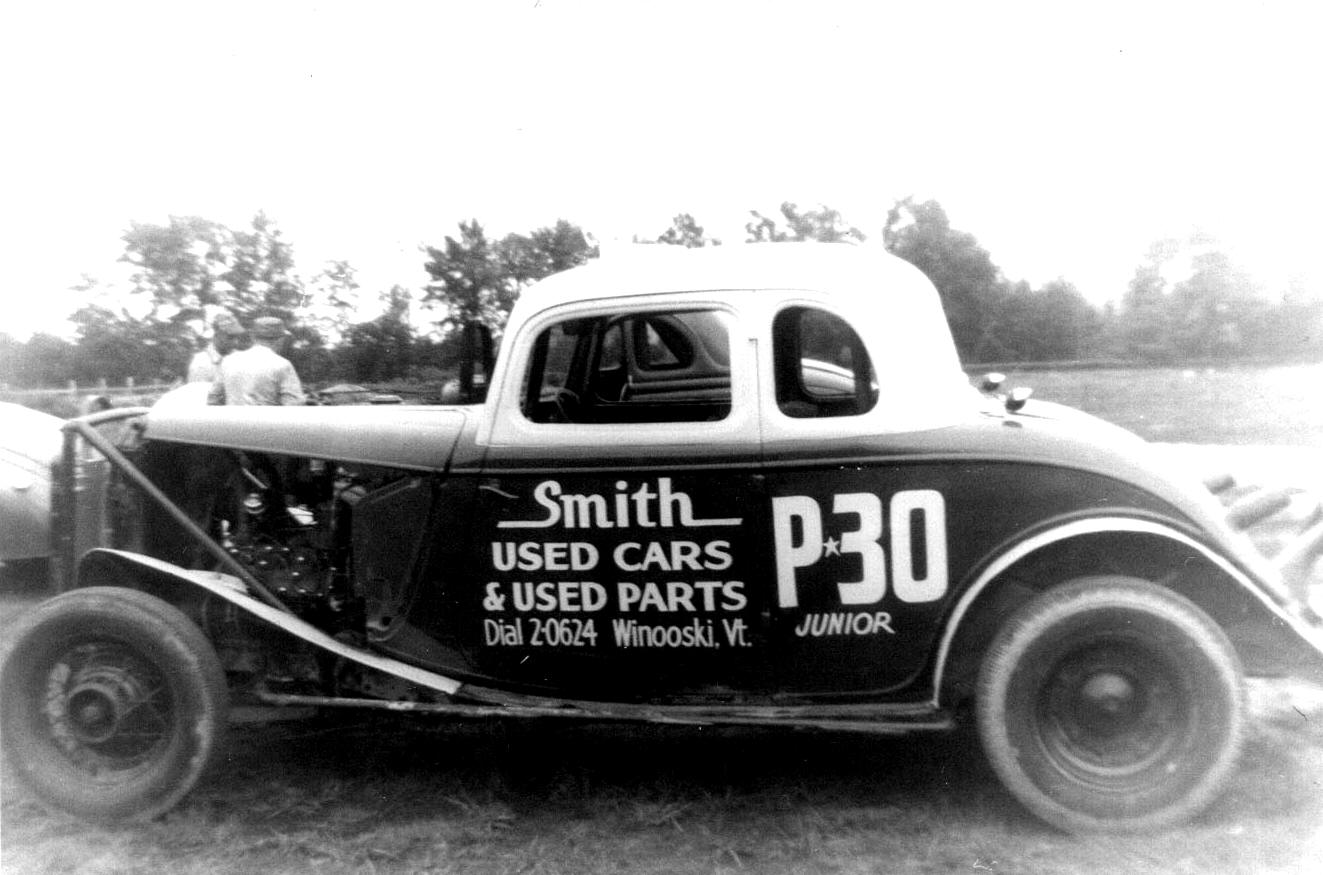 Courtesy of Mark LeFrancois
The Smith – sponsored P-30 of Clarence Rock made enough of
an impression for one of the Fairmont regulars to photograph it.
Any racing done around Ivanhoe Smith was a riotous affair. Smith, who spoke with a heavy French Canadian accent, used to push Ron Farnsworth, one of his employees, to roll his #13 Hudson over weekly at the Smith track near Essex. Another Smith car – driven by Bud Poirier, usually played the villain role to keep the crowd stoked. According to the Caron brothers, whose father, Joseph was usually around Smitty's garage, work on the Smith cars only began on Friday nights – and then with a number of six packs of beer sitting on the roofs of the cars. Most of the Smitty cars were field fillers; but the P-30 was a better – built car.

Bob Mackey Photo Courtesy of Mike Watts
Starter Archie Blackadar flags off a heat at the Walter Barcomb track - about
the time Clarence Rock would have been driving that #385. Below - This is
probably the 358 which looked a lot the car Rock once drove, with Bob
Bushey working around it.


Courtesy of the Bob Bushey Family via Jack Anderson
One particular Sunday afternoon late in the 1950's Malletts Bay Raceway [later, Colchester – Bayview Speedway] was featuring a powder puff race, something very common at stock car tracks in those days. So, of course, everybody's wife was there, along with [according to Jackie Peterson] "some hot woman' who was looking for one of the guys to lend her his car. The wives made it very clear that no one better give that trollop their cars or else.
Finally, the easy – going Clarence Rock said OK and off she went to race. Later on, the men had their races and Rock's car rolled into the infield. Leaving the car there [because it was the pit area], Clarence Rock made his way across the infield, crossed the track, and proceeded to enter the spectator area through a gate in the fence. Mrs. Rock met him there and punched him right in the face, in the full view of the assembled crowds who were howling with laughter.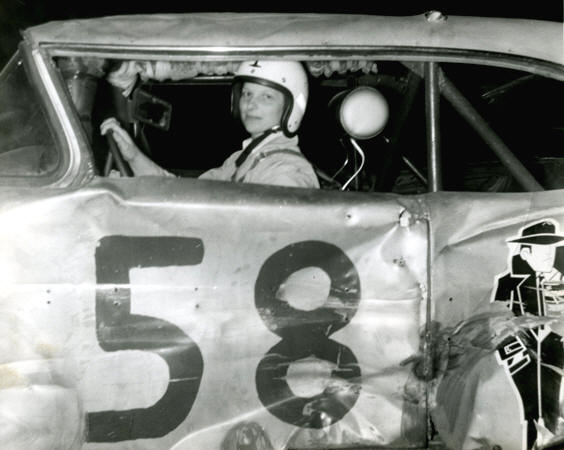 Courtesy of the Ernest Turner Family
Powder Puffs could occasionally be rough races, but usually not in the spectator area.
This is Margaret Turner in a Catamount Powder Puff race.
Rock clearly could drive, if he was sufficiently inspired. Some pay records from the "Bayside Raceway" [probably another temporary name for the Walter Barcomb track] show that Rock – while driving the Erwin Bettis – built #385, finished fifth in the feature events that day. Rock's teammate, Bob Bushey, drove the Ralph Bushey – owned car 358 to victory that day with a car that brought success to three different drivers in its lifetime.
Stock car racing would not have gotten off the ground without those loyal and well – travelled teams from northern and southern Vermont, from New Hampshire, from New York, and everywhere else in the Northeast. While he was not a superstar the level of Pappy Forsyth, Harold Hanaford, Jackie Peterson, Bob Bushey, Buddy Bardwell, or Steve Danish – Clarence Rock did his part – and then some – to build the foundation for the sport we know today. Hats off to Clarence "Cornfield" Rock and all the other "Cornfields" of that time, whatever their nicknames or driving records were.
Please email me if you have any photos to lend me or information and corrections I could benefit from. Please do not submit anything you are not willing to allow me to use on my website - and thanks. Email is: wladabou@comcast.net . For those who still don't like computers - my regular address is: Bill Ladabouche, 23 York Street, Swanton, Vermont 05488.