BILL'S SEMI-WEEKLY COLUMN/BLOG PAGE

BILL'S BACK IN TIME
AN INTERSTATE STOCK CAR STAR IN THE NORTHEAST: THERE WEREN'T MANY OF 'EM
In the 1950's , in the Northeast, stock drivers rarely conducted their craft in more than one state. Exceptions were the cases of western New Hampshire drivers entering eastern Vermont to drive at Northeastern Speedway, or eastern New Hampshire drivers and western Maine drivers invading one another's territory.
A few intrepid souls, such as Dover, New Hampshire's Ernie Gahan or Bob Bushley, from the Portland, Maine area did travel more widely in search ripe pickings at tracks like the Cheshire County [NH] fairgrounds near Keene or the Brattleboro Speedway in southern Vermont.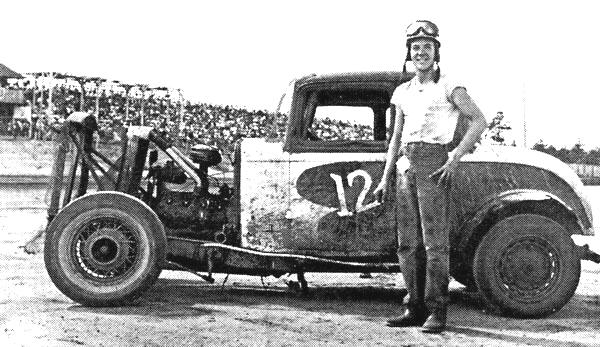 Maine Vintage Race Car Assoc. Site Photo
Glenn ran cars similar to this one throughout the 1950's in Maine.
Oxford, Maine native Glenn Andrews had a slightly different story. While beginning a promising career in his native territory – at the nearby Oxford Plains Speedway, Andrews later managed, somehow, to maintain a consistent and successful racing effort at the Northeastern Speedway near Lower Waterford, VT. This location – while in the northeastern corner of Vermont - was still a very long haul from Oxford. Seeing as the old Norway Fairgrounds track in Oxford County had featured some car racing, he may have been moved to climb into a race car at a young age watching these.
Andrews says his first stock car race was in 1950 at Oxford Plains Speedway, racing a 1932 Ford Model B.. He also ran at the old Arundel Speedway, at Unity Raceway, and other venues. This meant locking horns with the legends of that early period: Blackie Hilliard, Winfield "Wimpy" Millett, Charlie McKay, Si Parlin, Clyde Davis, Dave Darveau, Al Robinson, and Dick Boyce.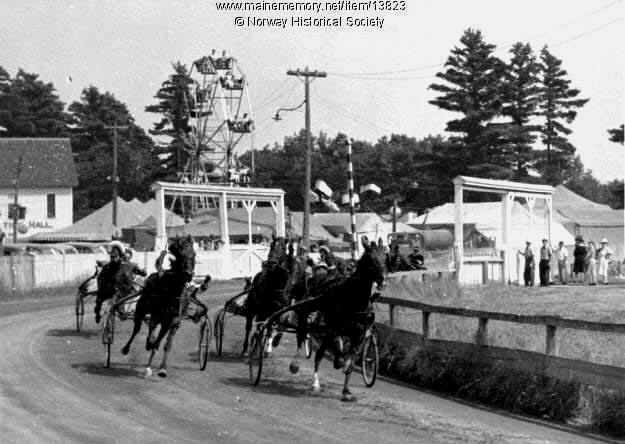 MaineMemories.Com Photo
Trotters fly around the old fair track that saw a little stock action before the advent of Oxford Plains Speedway.
[Below] – The fairgrounds show up faintly in 1953 in this aerial photo. Soon they disappeared entirely. Andrews probably saw
racing there and was inspired to race , himself.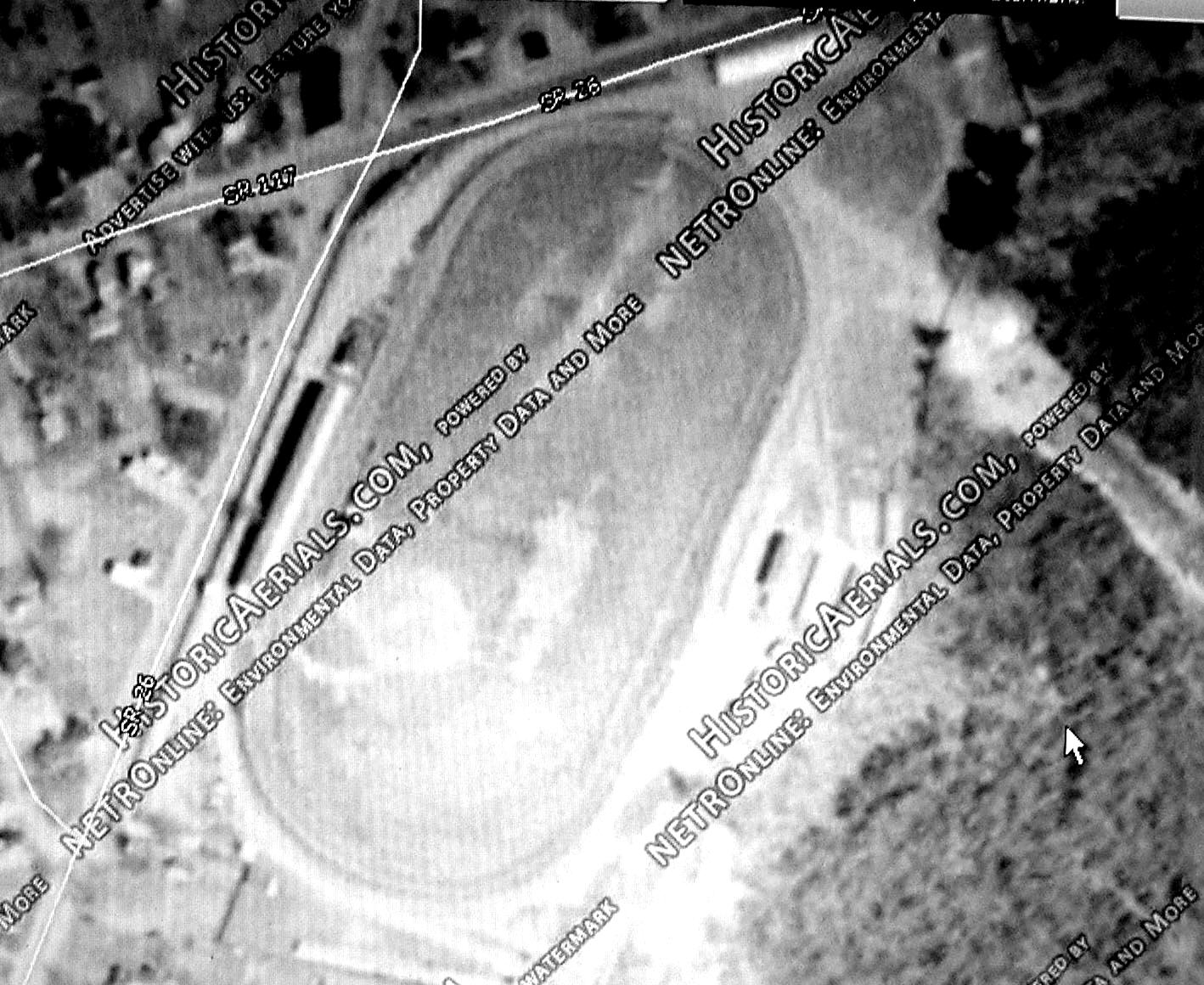 Historic Aerials. Com Photo
Racing first started at Oxford Plains Speedway in 1950. A man named George Damon purchased 200 acres of flat land and six weeks later it was changed into a race track, according to a local amateur historian who neglected to put a name to his work. Before that, racing that been held at the old fairgrounds whose oval track was partly in South Paris and partly in Norway, Maine [on Route 26 was likely overshadowed by Damon's new track, just east on Route 26.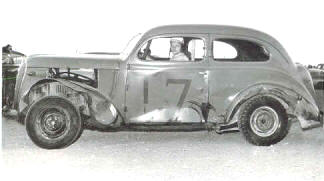 Maine Vintage Race Car Assoc. Site Photo
Charlie McKay and his sedan were among those waiting for ayoung Glenn Andrews at Oxford Plains Speedway.
Below – A whole new field of foes awaited him in Vermont. That is Glenn in the red car in row 3 at T Road.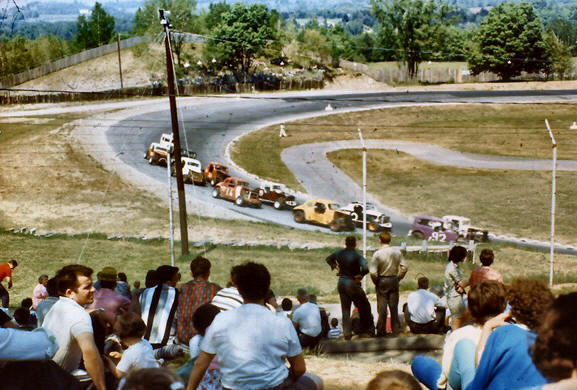 Courtesy of Troy Dodge
Andrews had raced in Maine, probably focusing most of his efforts at Oxford Plains Speedway, throughout the 1950's. Starting at only 15 years of age, Andrews was a heady driver from Day One. In his second season, he demonstrated this in spades, as an account from track announcer Zeke Trask testifies: : "He was only 16, but Glen Andrews had quick wits. At Oxford Plains (Maine) Speedway in 1951, Roger Eliot replaced Stan Dodge, the regular starter who missed only this date in three years. At the end of the feature, Eliot was a little too enthusiastic about waving the checkered. He stepped out into the path of fourth-place finisher, Buster Burt. Burt tried to swerve, but he clipped Eliot before crashing mightily into the grandstand wall. Andrews, who was coming off the fourth turn, saw the carnage and purposefully flipped his car to block the track. Unfortunately, Eliot was pretty beaten up. He died in the hospital that October. "
At the end of that decade – which saw stock car racing first explode and then pare down to a limited number of tracks – a new track was being announced in Lower Waterford, Vermont, about halfway between St. Johnsbury, VT and Littleton, NH. Both he and brother, Clyde, Jr. would run at the tiny Vermont oval.
The product of a carefully – planned committee from St. Johnsbury, the new track would be built safely, albeit very small at one – fifth mile. Everything at the track would be run by committees. It is not clear how Andrews was drawn into the new association from as far away as Oxford, but he soon had a car ready to run there and maintained in Vermont by some local supporters.
By 1960, Andrews was a weekly regular at the second – year track. The efficiently – run fifth – mile dirt oval so impressed a young track announcer named Ken Squier that he decided to draw to gather his own team and build a track in Barre, Vermont that year. Thunder Road International Speedbowl would be another racing venue in Vermont for Glenn Andrews in the early 1960's.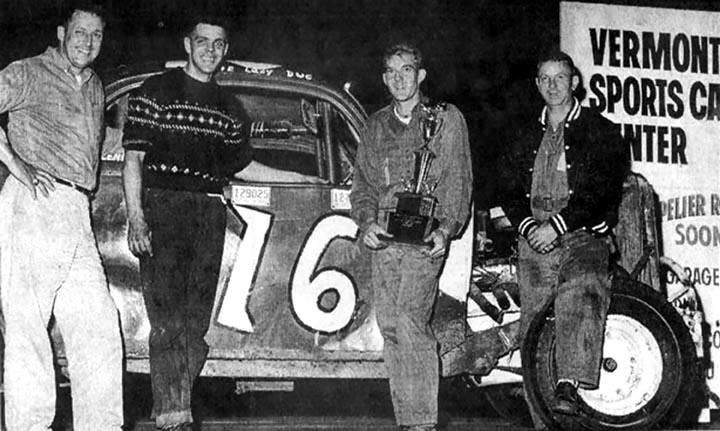 Courtesy of Scott Haskell
Glenn and team, in Victory Lane, at Thunder Road around 1960. The Vermont crew includes from left – Bernard Perkins,
Gene Remick, and [far right] Harold Bates. Below - The car carried a local sponsor – Green Mt. Tree Service. Here, Glenn wins at
Northeastern Speedway.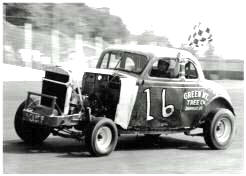 Courtesy of Scott Haskell
The 16 team was a tour de force at both Northeastern and Thunder Road. The crew, made up of local men, sent the Green Mt. Tree Service #16 at both tracks. Andrews was a multiple winner in Vermont and ended up winning the track championship at Northeastern in 1960. He also developed enormous popularity, which endured – for decades – and was later in evidence by the way people greeted him at the Northeastern Speedway reunion in 2009.
Andrews' devotion to that track was well illustrated by his extensive participation in the plans and work to take the long – dormant track hidden in the woods in Lower Waterford and bring it back as close to original shape as possible. The effort was spearheaded by landowner Paul Bellefeuille and local people like Pete Racine; but, from his home in Maine, Andrews did what he could to help, including hauling down memorabilia and actually attending meetings at a Vermont home.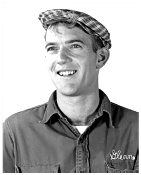 From the MVRCA Site
Andrews' 1960 portrait shot in the website of Maine Vintage Race Car Association strongly resembles a shot
of a young Ron Barcomb [below], who would star in Vermont racing soon after Glenn.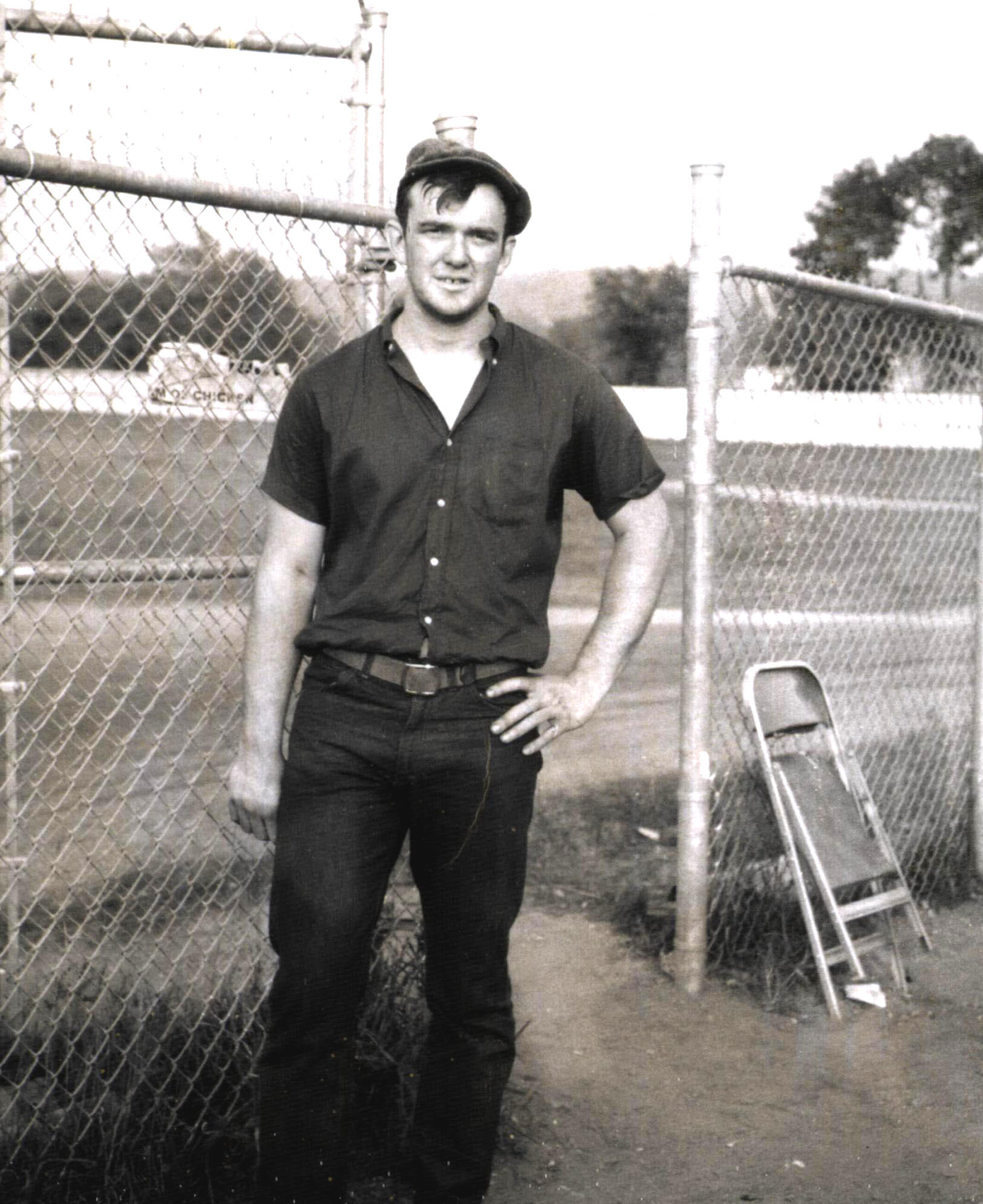 Courtesy of Steve McKnight
In this, the twenty – first century, Glenn Andrews is long since retired. He did return to run late models at Oxford Plains, running perhaps his favorite car – a 1955 Ford hard top convertible numbered, of course 16. During this period of his career, he extended kindness to an ill boy, bringing him one of his trophies and – subsequently – developing a life – long friendship with that person. A model of that Ford, built by a local man, is one of Andrews' cherished mementos.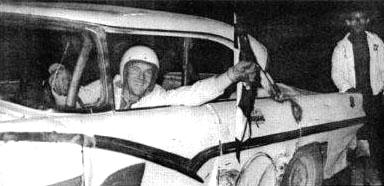 MVRCA Site Photo
Glenn raced a car like this until 1970 at Oxford Plains. Below – Today, he cherishes a model of that car built for him by
fan and close friends Cliff and Mike Parsons.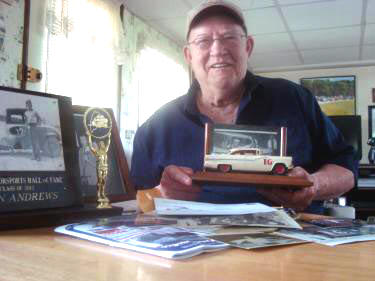 Courtesy of Paul Bellefeuille
Glenn and wife, Helen, now live in Harrison, Maine; but they never got too far away from the sport they loved. When Oxford Plains Speedway had its 60th anniversary, Glenn Andrews was asked to attend. When Paul Bellefeuille and his group, having restored the Northeastern Speedway property in 2009 staged a reunion – the Andrews were front and center. Glenn is listed in the all – time records at Oxford, having won three late model features. Apparently the track records do not go back into the earlier coupe days, or he would have more listings in their annals.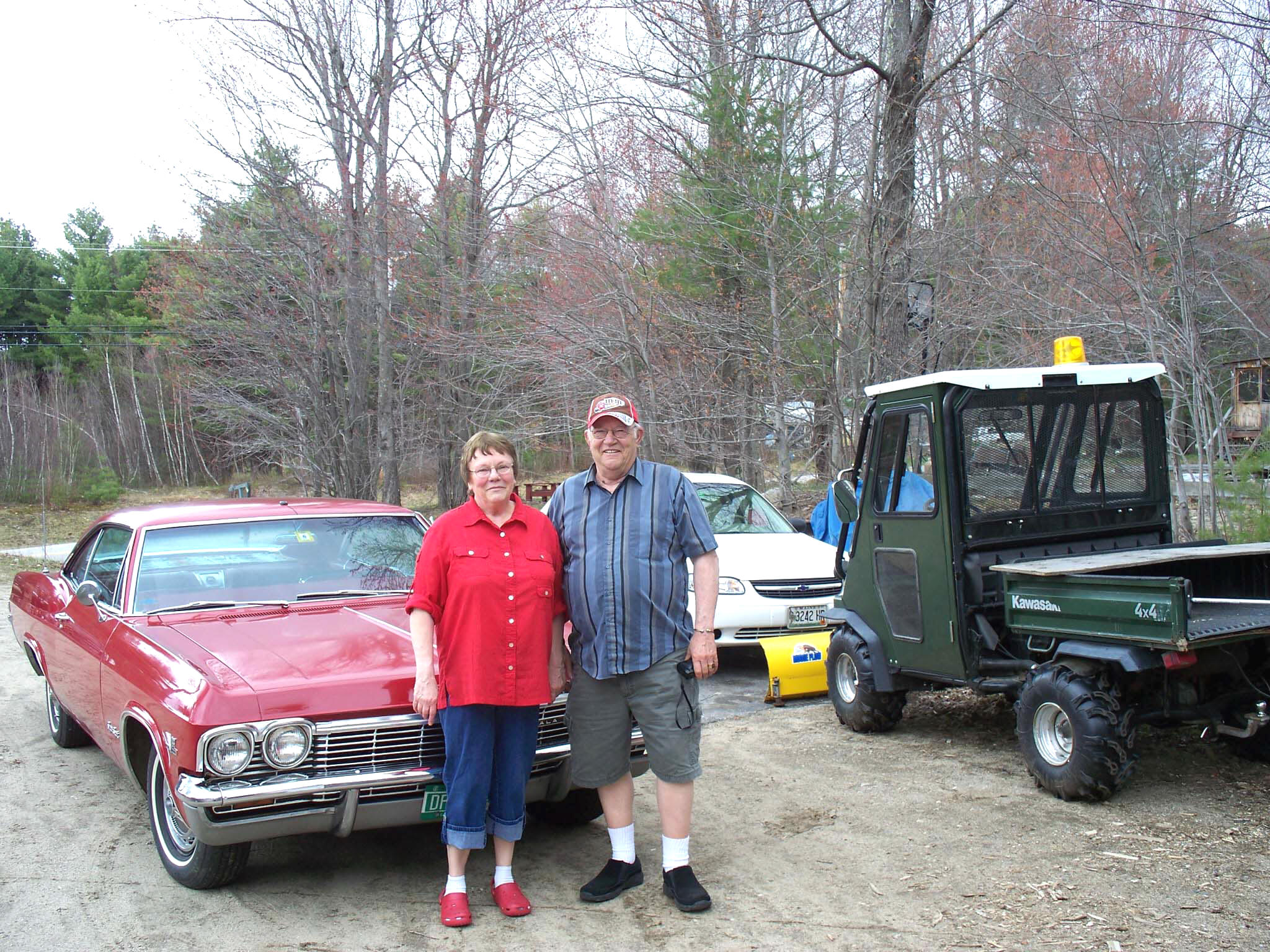 Courtesy of Paul Bellefeuille
Glenn and Helen, at home in Harrison, Maine. Below – Brother, Clyde, Jr., in action at Northeastern Speedway around 1960.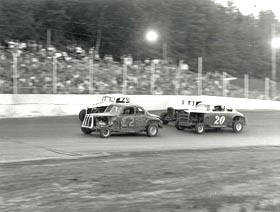 From The Northeastern Speedway Site
Glenn, according to one article done about him in Maine by Phil Whipple, came from a strong racing background, perhaps evidenced by the fact he was on the track, himself by the time he was 15. Brothers Clyde and Mark joined Glenn as some of the first drivers OPS founder George Damon had on the track. Clyde Andrews, Sr. was a good friend of Damon.
Today, Andrews is a big supporter of new Oxford Hills Middle School program in which students develop and build their own race car with Crazy Horse Racing in Paris. He is excited to see that students are still interested in learning about racing. Phil Whipple points out that he was inducted into the Maine Motorsports Hall of Fame in 2012.
"Slow up and you'll go faster," he says to prospective drivers. That is the same advice – word for word - that I heard car owner Bob Curtiss give to Joey Kourafas before the team went up to that same Oxford track and won the first version of the Oxford 250 in 1974. No Doubt, Glenn Andrews was on hand, somewhere in the background.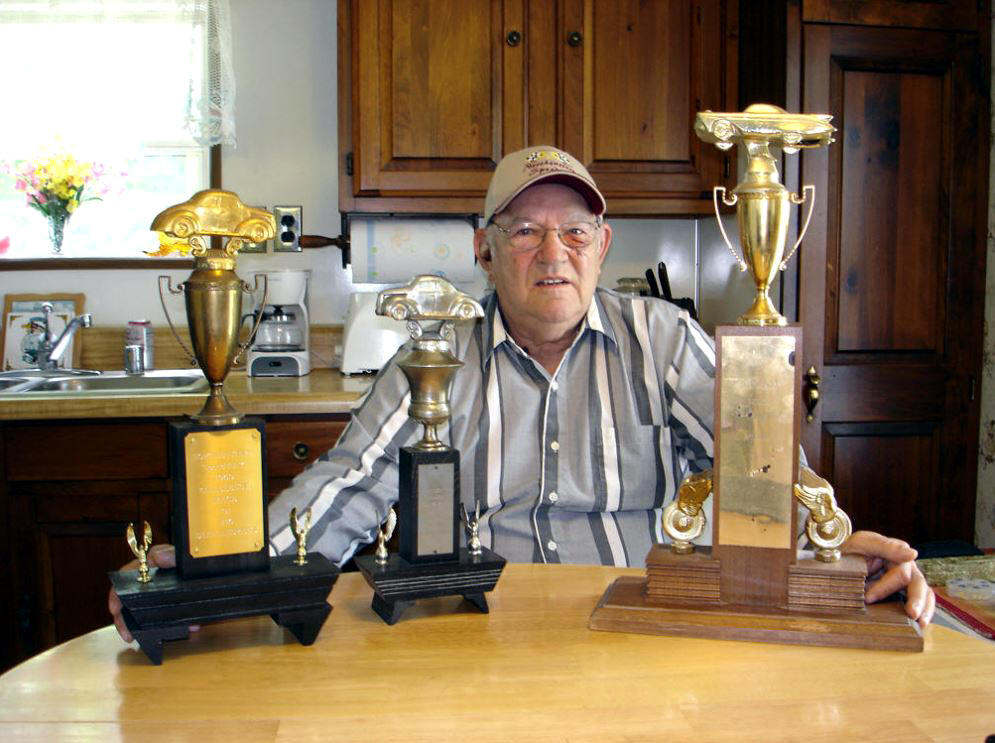 Sun Journal Photo by Phil Whipple
Glenn, at home, with some of his trophies.
Please email me if you have any photos to lend me or information and corrections I could benefit from. Please do not submit anything you are not willing to allow me to use on my website - and thanks. Email is: wladabou@comcast.net . For those who still don't like computers - my regular address is: Bill Ladabouche, 23 York Street, Swanton, Vermont 05488.
AS ALWAYS, DON'T FORGET TO CHECK OUT THE REST OF MY WEBSITE
www.catamountstadium.com
Return to the Main Page
Return to the Main News Page
Return to the All Links Page
Return to the Weekly Blog Links Page