BILL'S [Somewhat] WEEKLY COLUMN/BLOG PAGE

BILL'S BACK IN TIME
By Bill Ladabouche
BILL THREW A FIT
We had been enduring a pretty bad dry spell in Rutland, County, Vermont – in as much as stock car racing was concerned. After the early 1950's, where a Rutland County resident could veiw stock cars at Pico Raceway, Rutland; Fairmont Park Motor Speedway, Fair Haven; Stateline Speedway, Bennington; Brattleboro Speedway, West Brattleboro; or tracks like Granville or Safford Park out of state, we had seen precious little racing since 1952. Lebanon Valley did put on a show at the Vermont State Fair in 1961; but, the only other way to get in any race viewing was to journey up to Waltham, VT where a fledgling track called Otter Creek Speedway was staging some pretty mediocre programs late in the 1961 season. Racing was going on further away, at places like Whites Beach; but we didn't hear about it much.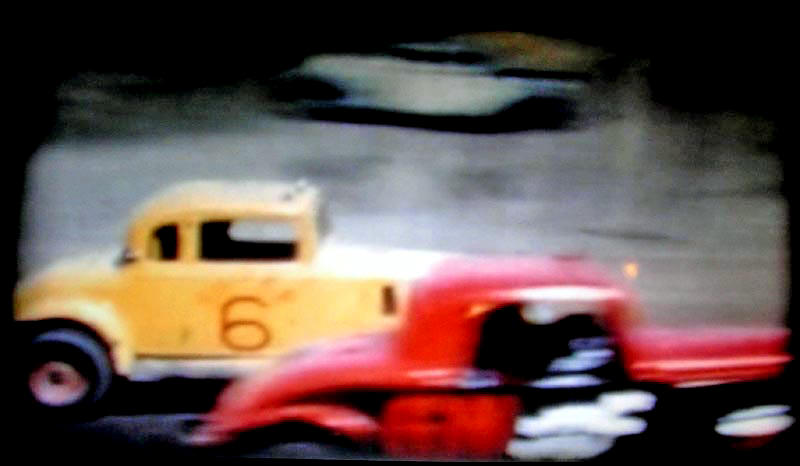 From Dan Ody's 8MM Old Speedways DVD
Vern Baker's yellow Hudson, the SUPER6, powers down the front straightaway at Whites Beach Speedway in Ballston Lake.
The car would appear at Fairmont Speedway, a few later in 1962 called the 6 PACK and driven for Vern by cousin Ed Baker.
Below – The 7 sedan, driven at Fairmont in 1962 by Joe Spellburg, appears at Otter Creek Speedway in 1961. I'm
absolutely dying to know what car that is he is passing here.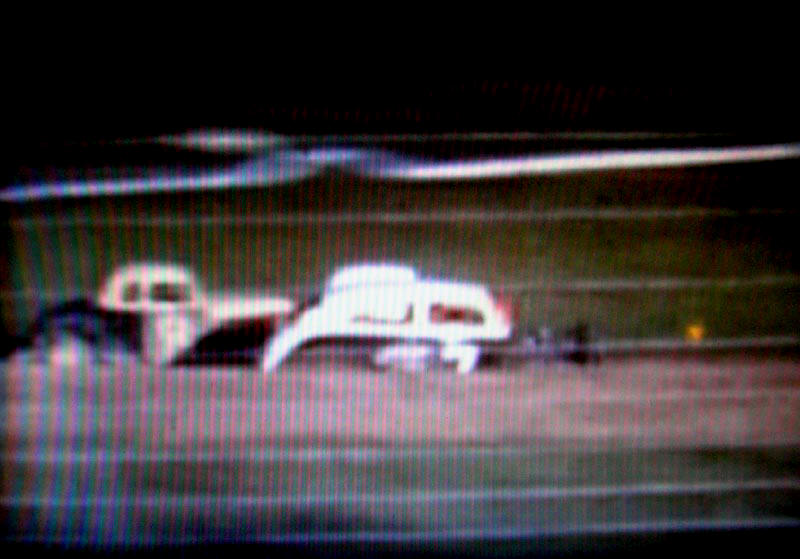 From Dan Ody's 8MM Old Speedways DVD
So, when C.J. Richards re-opened the Fairmont Speedway in 1962, it was an exciting and hugely welcomed return for race -starved folks [like a 14 year-old Bill Ladabouche]. The opening show, perhaps a little more widely – attended due to immense efforts by Richards, did feature teams from both New York and New Hampshire, with a smattering of Vermont and Massachusetts as well. The bigger, louder New York cars were outdone by the lightweight, flathead – powered cars from NH's Claremont Speedway that day.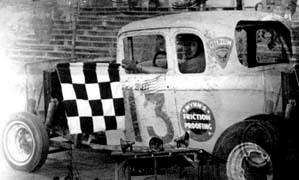 Courtesy of CJ Richards
Buddy Bardwell displays the checkers in his Fairmont – opening win in 1962. The photo is slightly double exposed. The nearly vacant
bleachers give testimony to the fact that the crowd, exhausted from sitting in intense heat for hours, had seen enough by the end of the race.
Below – Bardwell's cutdown offers a contrast to the aforementioned Spellburg sedan as they sit on the frontstretch, lining up for a 1962 feature.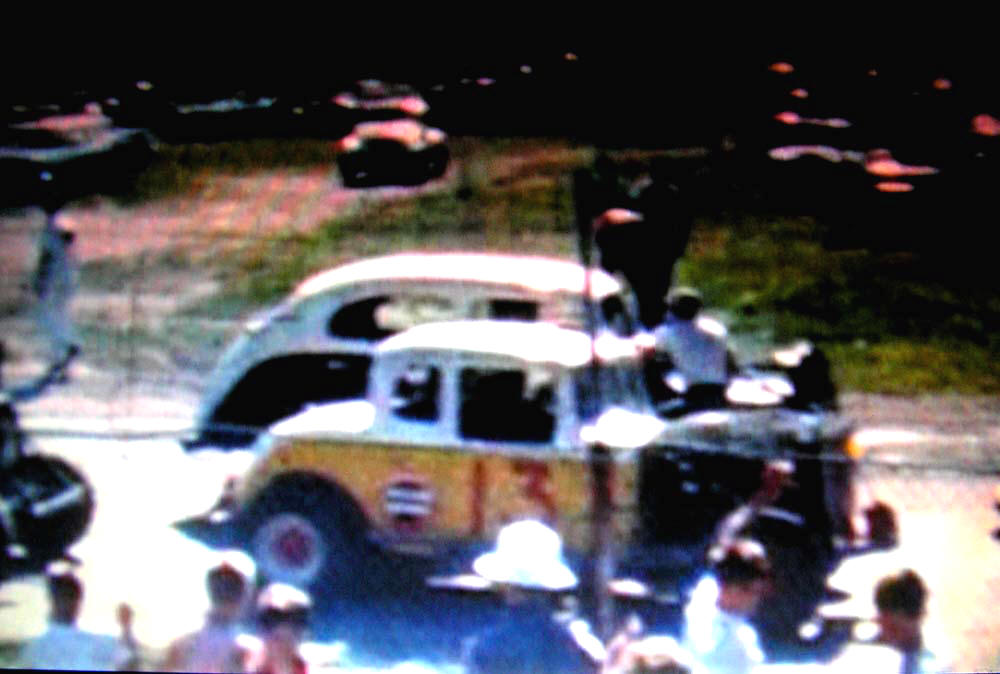 From Dan Ody's 8MM Old Speedways DVD

So, we returned the following week [early June] expecting much of the same. There were a few less of the Lebanon Valley region cars there, but at least as many cars from the Warrensburgh, NY and Glens Falls, NY area. One such entry was a holdover from the old circuit that used to include the track in Warrensburgh, the Whites Beach track near Ballston Lake, NY, and even the short – lived Adirondack track in West Glens Falls. Bill Threw, who had not appeared at the Fairmont opener, arrived with an immaculate white 1934 Ford coupe numbered 7A. He and brother Richard [who seemed to use the number A7 - much in the manner of the cars from Warrensburgh] were seen on Fairmont's program in that first season, although we would never see Richard's car run, as far as I know.
The Threws, natives of West Glens falls, NY, had been fielding nearly identical white1937 Ford coupes – conversely numbered as 7A and A7 [as the first Fairmont program stated]. Not having the money to run at somewhere like Fonda Speedway or the high – banked Lebanobn Valley Speedway, it is likely that they would have run locally. West Glens Fall had a small track Adirondack Speedway, and there were other tracks not too far away: Whites Beach Speedway, Ballston Lake, NY; Route 66 Speedway, Averill Park, NY; Pine Bowl Speedway, Snyders Corners, NY; and they may have even tried the deeply – oiled, hilly early track Burden Lake Speedway near West Sand Lake, NY.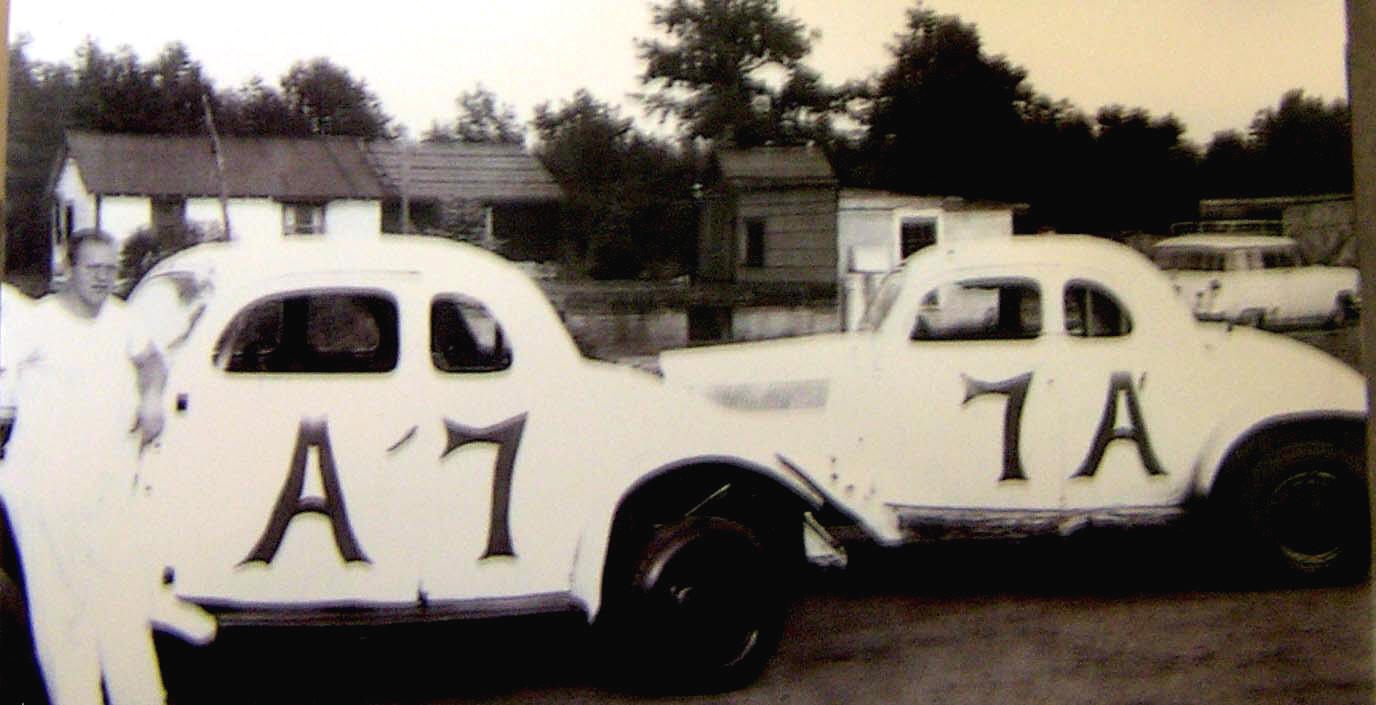 Courtesy of Don Stockman
Richard Threw poses at one of the brothers' houses with his car, nearly identical to the one Bill was apparently using at a time
before his appearance at Fairmont in 1962. Below – Bill, Richard, and a neatly – uniformed crew pose with Bill's newly – acquired
coupe. I am not sure which is Bill and which is Richard. One might be Don Stockman.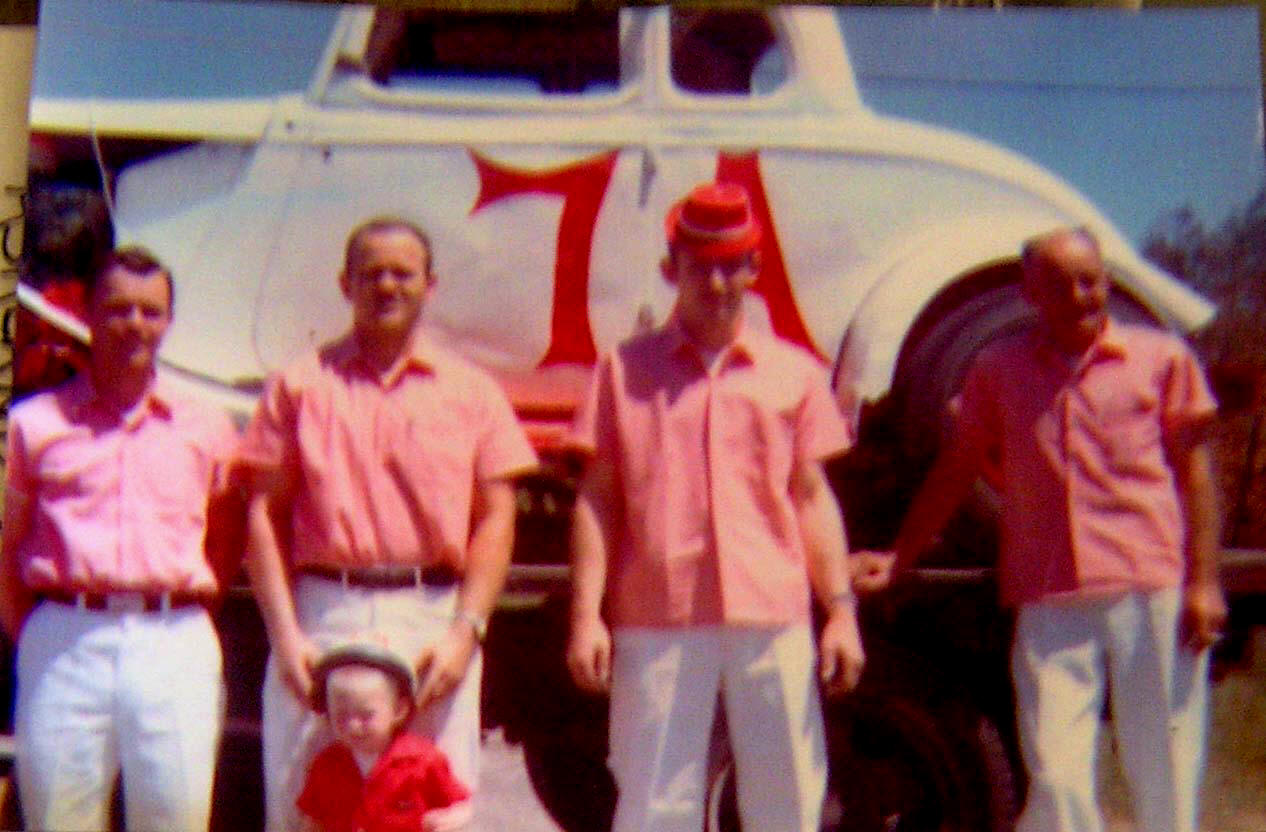 Courtesy of Don Stockman

Threw's Ford had a characteristically loud, thundering sound much like the Lebanon Valley cars of such as Butch Jelley, Frank Hatch, and Ralph Chittenden. It was also a fuller, less chopped – down or lowered body, which exemplified the Empire State cars and contrasted to the cutdown New Hampshire cars. The freshly – painted 7A joined the NY contingent of such as Earl "Little Joe" Spellburg, driving a full – bodied '40 Ford; Dick Pennock's Super 38 team; Vern Baker's old yellow Huddson, the 6PAC, a former Wally LaBelle car now driven by Ed Baker; and a host of cars such as Larry Jones, from Whitehall and more. Another yellow Hudson, the 33 and 1/3 of Red Smith fomr Athol [pronounced ay-thul] was joined by a group of old Warrensburgh Speedway cars like Dick Germaine's, Lenny Baker's, and Bob LaBarge's cars.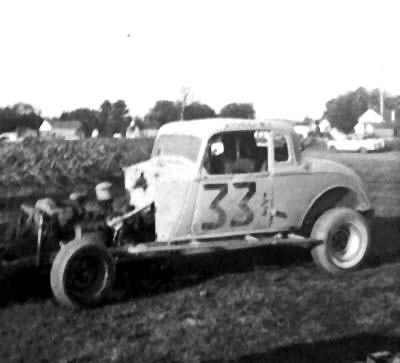 Ladabouche Photo
Red Smith's 33 1/3 was a potent force at Fairmont before he wrecked it. This was the closest NY came to having a NH – style cutdown.
Below- The 888 of Cecil Bosworth was a typical [and feature – winning] NH cutdown.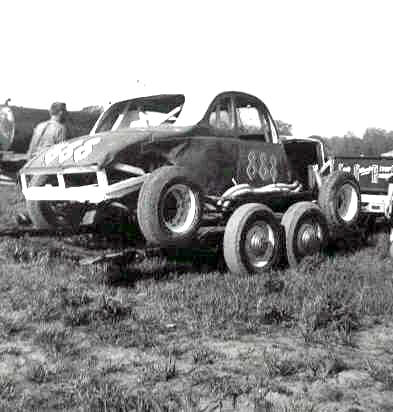 Ladabouche Photo
Threw had impressed onlookers with a strong qualifying effort in his heat, and had a good starting spot in the feature, which – it was expected] would be won by someone like last week's winner Buddy Bardwell, the fleet Art Cody in his yellow 33, the George Ingalls 888 cutdown with Cecil Bosworth aboard, or Sonny Rabidou in the Frank Smith 311. Rabidou, in particular, had something to prove to the New Yorkers after he had been a n unwelcome pariticpant in the Valley show at the 1961 Vermont State Fair and had been unceremoniously stuffed under the turn one rails [barely missing the propane tanks behind Roxy's french fry stand]. While outmanned in numbers, the lighter Granite State cars seemed to have the advantage seeing as the bigger NY cars could run only flathead or GMC six power.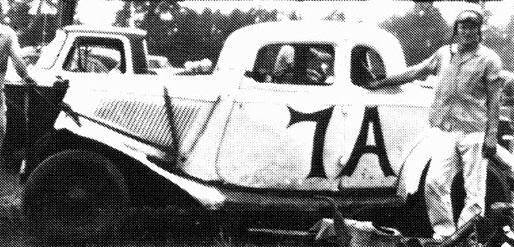 Bob Frazier Photo Courtesy of Norm Vadnais
Bill Threw poses after his surprise win in June of 1962 at Fairmont. Ironically, he is parked next to Bob Hoffer's Ford hauler pickup.
Hoffer's family would end up with Threw's car. Below – Bob LaBarge's 5&10 lines up behind fellow Warrensburg
Speedway refugee Jack McLure at Fairmont in 1962, New York cars like these offered little competition for the lighter NH cars.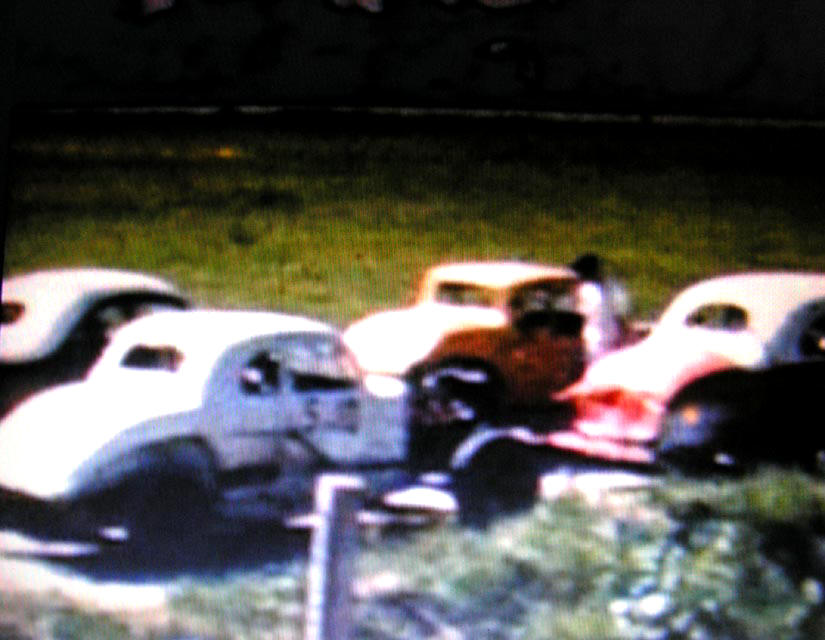 From Dan Ody's 8MM Old Speedways DVD
Threw, as it turned out, was the surprise winner that second race of the C.J. Richards promotional career; and he did it in convincing fashion. The white Ford roared in for the checkers well ahead of whoever was in second that day. So it was that the tough as nails Threw would appear at Fairmont often, either whenever he could or whenever he chose to. He had a pretty good season going. The track would become largely a battleground between the NH and eastern NY cars. The Claremont Speedway [NH] cars now increasing in numbers to a cadre including Cody, Bardwell, Dick Gerard, Rabidou, Walt Brown, Jr., the newly-arrived and exciting Ted Brown, Leo Howland, Mike Cody, Rocky Cusinelli, and more.
The largely Glens Falls, NY area Empire State contingent had the abovementioned drivers, as well as the likes of Tom Clark, Art Rivers, the Guilder brothers, Foster Wendell, Skip Wilcox, Ken "Pappy" Delong, Doug Potter, Jack McClure, and many more. The few Massachusetts drivers had sort of faded back to Lebanon Valley, perhaps frustrated by their weight disadvantage. Vermont was soldiering along with a few teams such as Gene Tetreault, Kenny Martin, Dwayne Gibbs, John Ballantine, and George Pritchard , none of whom had won. Local driver [and former Fairmont driver from the early 1950's] George Rogers would make a big impact when he returned late in that first season.

From Dan Ody's 8MM Old Speedways DVD
Vermonter Gene Tetreault, at speed in Fairmont's second turn, helped Threw and others to offer competition for the NH cars in 1962.
Below- Warrensburgh's Dick Pennock, also in turn 2, was typical of the bigger, heavier NY cars.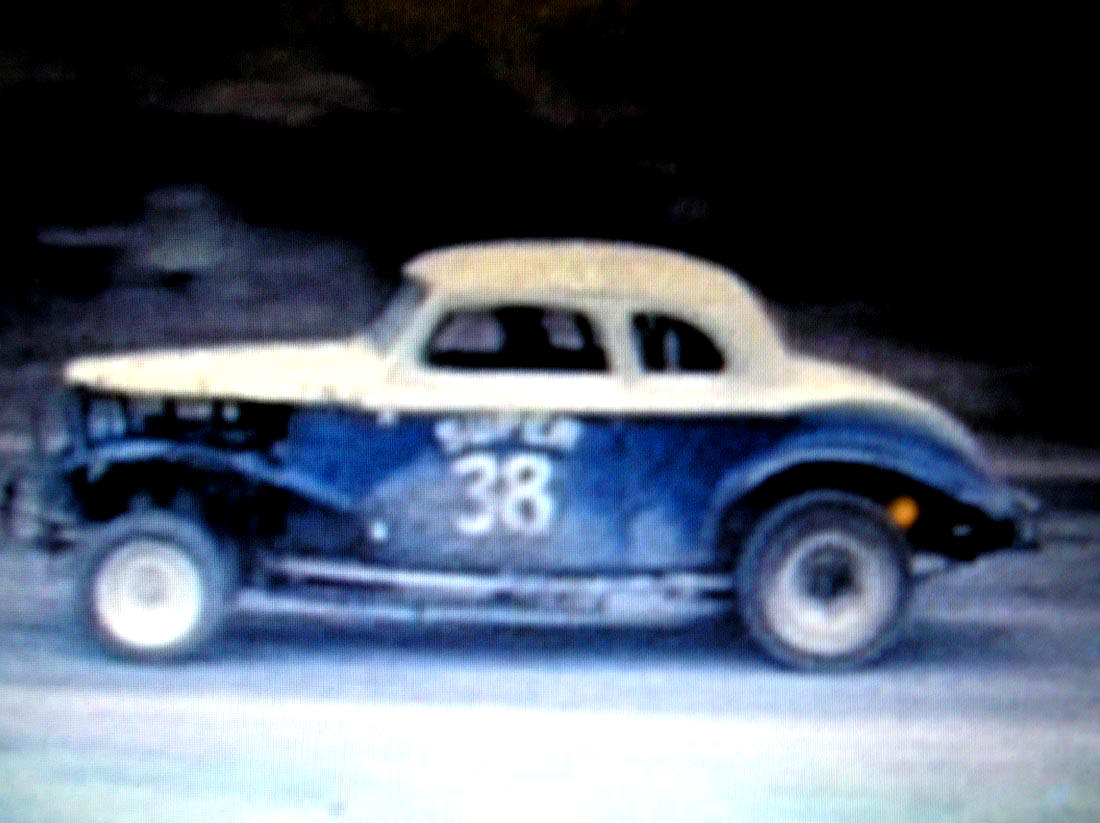 From Dan Ody's 8MM Old Speedways DVD
So it was in that atmosphere that Bill Threw would occasionally show up and almost always make a strong showing. One particular afternoon, later in that first CVRA season, he was running a heat when something occurred on the track that wasn't being adjudicated to his liking. The tough West Glens Falls runner immediately got into it with the starter, Saratoga's Danny Rumpf and then with another of the track's officials. He apparently felt partiality was being shown to the New Hampshire car involved. Now totally pissed, Threw proceeded to throw a fit, refusing to leave the track.
It was probably lucky that he did not exit the car to press the argument further or that some of the threw crew did not get more involved than they did. The upshot of the affair was a standoff similar to one staged by the huge, menacing Ronnie Marvin at Thunder Road that same year – miles to the north. Threw first stormed the white coupe around the track, into the pits, back onto the track, and so forth – finally coming to rest on the racing surface and refusing to budge. Not being entirely stupid, none of the CVRA officials [including C.J. Richards] were about to get within arm's reach of any of the 7A's windows.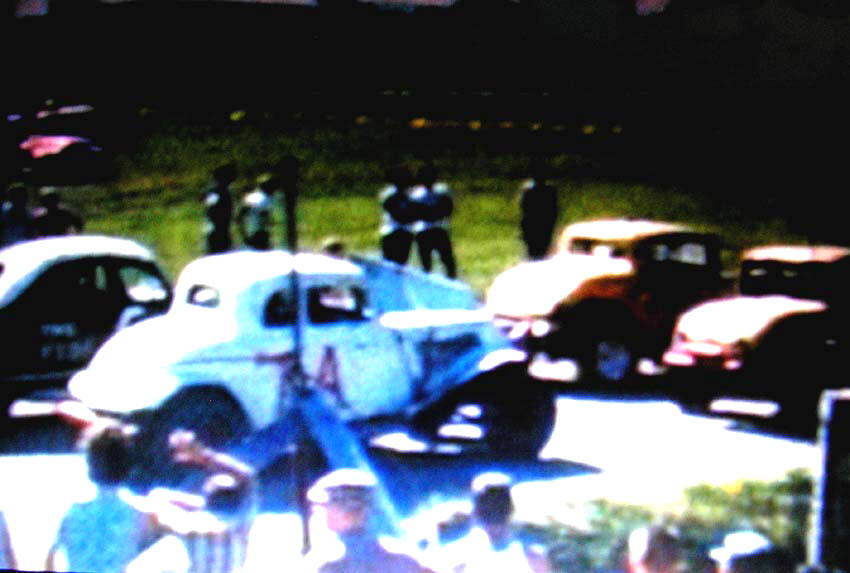 From Dan Ody's 8MM Old Speedways DVD
Threw sits in a restart lineup at Fairmont in 1962. In front, are Art Cody
[outside] and Art Cody [outside]. Gene Tetreault, then driving for
Julius Mestyan, sits inside of Bill.
The crewcut Threw, wearing his usual white pants and light reddish driving shirt, sat, fuming and cussing in that car as nobody knew quite what to do to avoid the stalemate. The equally – tough NH team would have been just as hard to deal with the Fairmont officials felt pretty strongly that Threw was the one at fault in what should have been a minor scrape. The crowd, not knowing exactly what was going on, was still enjoying the whole drama; but, they would soon tire of the delay and – most likely – would begin to boo and carry on. Sitting in that crowd, I certainly had the feeling that we didn't want a NH vs NY fight to begin there either.
Finally, somebody got the bright idea of bringing in the "little lady". Threw was there was either his wife or girlfriend [I don't know what their status was], and she was convinced to go out to Bill, who now was parked on the apron between track and pits, fuming and refusing to budge. Shortly thereafter, a woman in what we called pedal pushers [today they are capri pants] was seen being allowed through the gate, onto the track, crossing over to the idle white 7A. You could see her talking to Threw through the window and occasionally reaching in to pat him on the shoulder.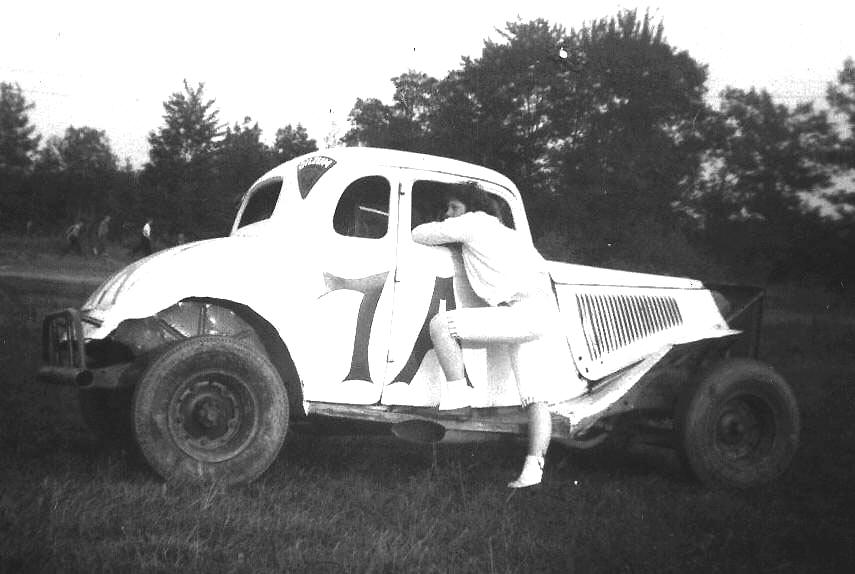 Ladabouche Photo
Bill Threw is talked into calming down by his significant other, after holding an impromptu one-man program filibuster at Fairmont.
Below – I had thought enough of the Threw car to offer it as one of my reward pictures in my classroom.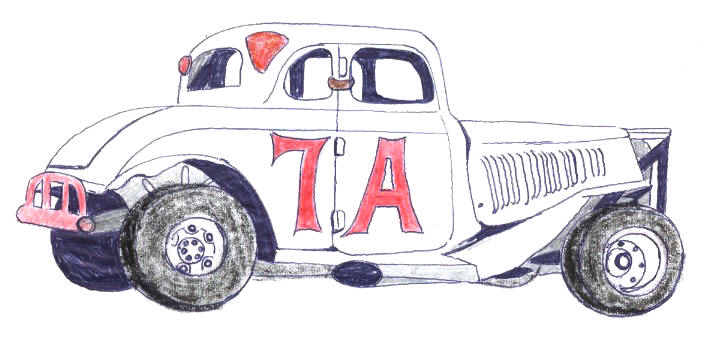 Ladabouche Photo

Eventually, the West Glens Falls man cooled down sufficiently enough to agree to hitch up his car and leave. Things were never the same after that. I am not sure that we ever saw Threw drive at Fairmont again. At one point, some years later, the Hoffer family appeared at Fairmont with what had obviously been the Threw car, now hastily re-numbered as X9. Hoffer didn't do much with the car, and Threw either stopped racing entirely or found somewhere else to run. It was Fairmont's loss, as the track needed competition for the lightweight New Hamphsire cars, and that did not come about nearly often enough in those first two years of Richards' promotion.
I had only that one photo I had managed to take of the woman, talking into to Bill through the window, and one other that came from, of all places, the Vince Quenneville, Sr. memorial program. So when, in 2011, I happened to standing near Dan Ody's booth at the Saratoga Auto Museum's Lost Speedways conference and a man I think named Don Stockman came up showing a couple of photos of Bill and Richard Threw, it was an unexpected delight. That would pretty much complete all the photos that were probably were of the tough and likely publicity – shy Threw brothers. Their hometown track in West Glens Falls, while still slightly visible, had not lasted very long; and tracks like Warrensburgh and White Beach were gone by 1962. It didn't leave much for Bill other than to stick the white car behind the garage and eventually sell it.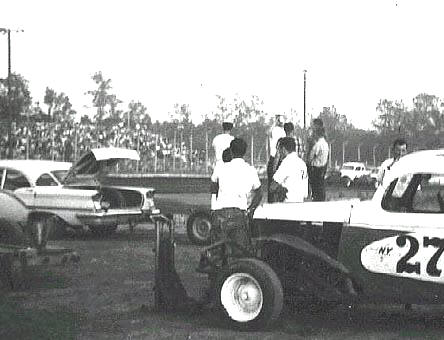 Ladabouche Photo
If you look hard, you can see a race coming out of turn four for the green
at Fairmont in 1965. The former Threw car is visible on the pole, driven
by one of the Hoffer boys - now as # X9.

Bill Threw would be considered as a small blip on the huge screen of stock racing history in that racing – rich area from western Vermont to eastern New York. But, believe it, there were a lot more Bill Threws in that screen of history than there were Steve Danishes or C.D. Covilles. Besides that, Bill Threw was a winner.
Please email me if you have any photos to lend me or information and corrections I could benefit from. Please do not submit anything you are not willing to allow me to use on my website - and thanks. Email is: wladabou@comcast.net . For those who still don't like computers - my regular address is: Bill Ladabouche, 23 York Street, Swanton, Vermont 05488.
AS ALWAYS, DON'T FORGET TO CHECK OUT THE REST OF MY WEBSITE
www.catamountstadium.com
Return to the Main Page
Return to the Main News Page
Return to the All Links Page
Return to the Weekly Blog Links Page