THE BILL'S BACK IN TIME COLUMN PAGE
Copies of my column in Mark Thomas' "Racin' Paper"
BILL'S BACK IN TIME
By Bill Ladabouche
Site Column #76 from My Column 91

LITTLE GEORGE
It is hard, even today, to be around Devil's Bowl with running into some evidence of the influence that George Rogers had on racing in that region of Vermont. Although he has been gone from us for along time, his name comes up in the small conversations of men huddled near cars in the pits, in sections of the grandstands, or with the people by the pit fence. And, almost always, the name is spoken with admiration.
An excellent welder, Rogers was pretty much a master of every aspect of race car preparation. Living and working in Castleton, Vermont, George took immediate notice when the new sport of stock car racing crept into Vermont, from neighboring New York, at the end of the 1940's.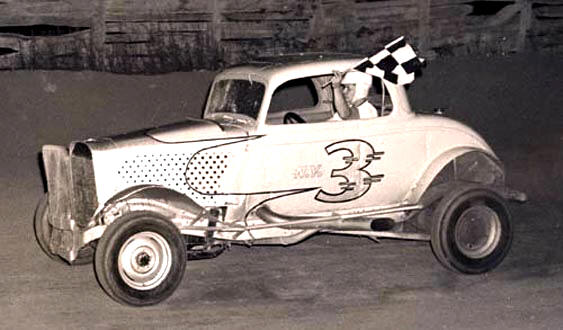 That new sport of Stock car racing was creeping in from New York. [Courtesy of Otto Graham]
While the first officially – recognized stock car race took place in Northfield, a long way from Castleton, Rogers may have been aware of the late 1940's roadster racing that was taking place at a little – known track that was alternately called Griffin Speedway or the Burgess Race Track – in eastern Bennington. He was, most likely, not tempted to participate in one of these highly – dangerous cars because George [while being a great driver] was very concerned with driver safety.
By 1950, stock car racing was spreading through Vermont faster than dandelions on a front lawn in May. The Hugh Young family had converted the old fairgrounds horse track in Fair Haven, Vermont into a half mile stock car track, which they would name Fairmont Park Motor Speedway. They had added bleachers, fencing, and barriers to the existing track. When a Castleton neighbor named, of all things, Snuffy Smith built a #61 car, George Rogers ended up in the driver's seat.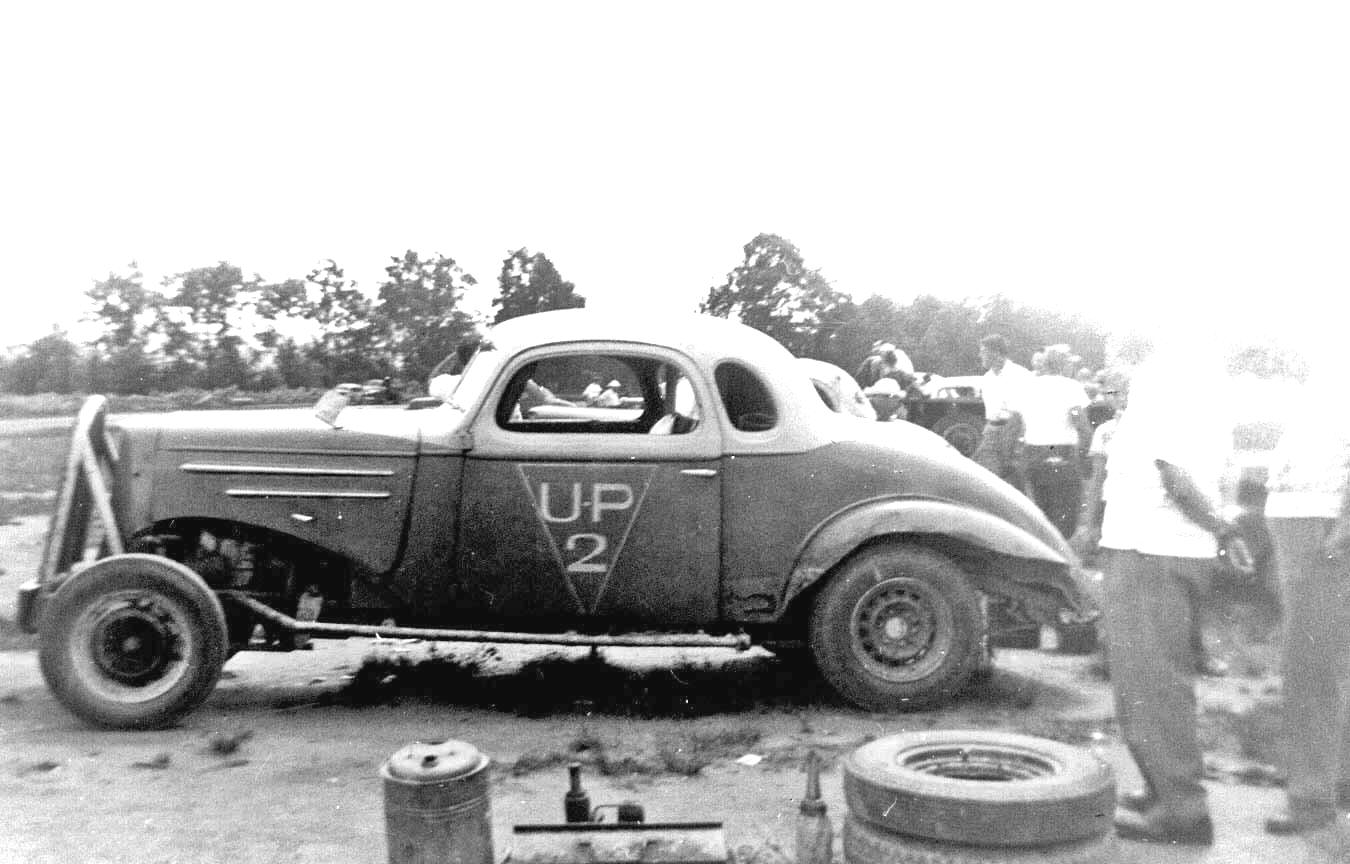 You pee too ! You pee, too ! [Courtesy of Mark LeFrancois]
Rogers, however, is not noted for the number 61. That was the domain of legendary greats like Steve Danish, of Cropseyville, NY, who was starring at some of the same tracks Rogers began at. Also, the great Richie Evans settled on this number for the better part of a great, but tragically – shortened career. The way the story goes, some men were either working with Rogers at his garage at home, or – maybe – were just hanging around watching. A very, very young Ronnie Carter, who was there with his dad, noticed one of the men, outside the garage, taking a leak.
The tot ran into the garage to the men yelling, "You pee, too ! You pee, too !" Hence Rogers' car was numbered the U-P-2, which would eventually be modified to just UP2.
At local tracks, which were springing up all over the region, Rogers would haul the U-P-2 and perform very respectably. No doubt, he ran the Pico Raceway, over in Rutland, but the Fairmont track was definitely his home track. There are also records that he ran at Stateline Speedway, in North Bennington, whose grounds straddled the Vermont and New York border. More likely than not, he also participated at the Mettowee Speedway, located on a farm in North Granville, NY – not far from the Comstock Prison.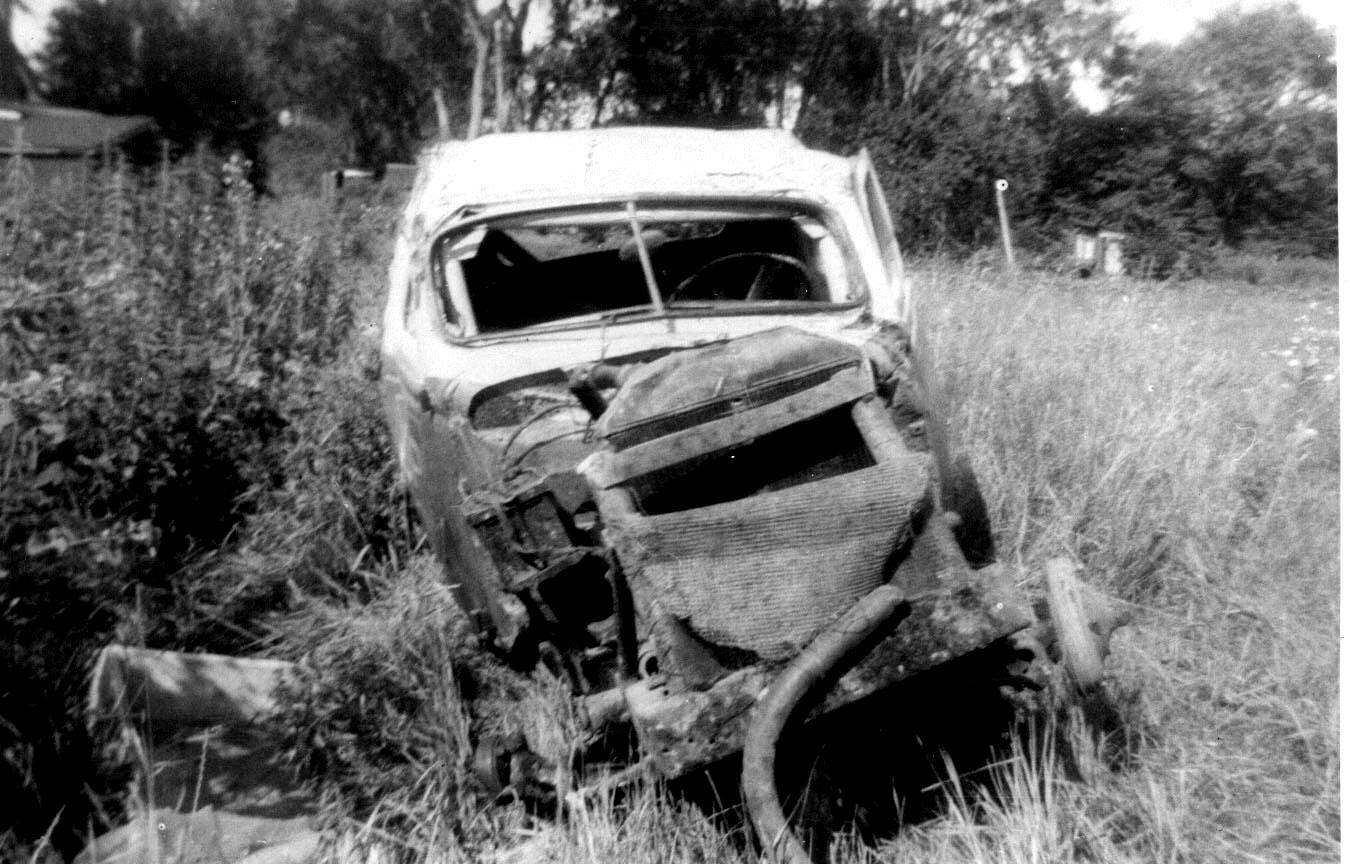 Vic Love and the team car did not fare as well. [Courtesy of Mark LeFrancois]
Back in the early 1950's, Fair Haven's Vic Love drove a team car numbered U-P-3. Love, who had driving experience in his own cars, wrecked the U-P-3 on at least one occasion, as old photos from the area show. As Pico and Fairmont both petered out by the mid 1950's, so did a lot of racing for both Rogers and Love. When C. J. Richards re-opened Fairmont in 1962, both men brought cars there, but Rogers would end up having the more success.
Richards' first season at Fairmont began with few of the old Fairmont and Pico stars in attendance. Spence Parkhurst and Dave Brooks were retired; and Steve Danish, Jeep Herbert, and Pete Corey were busy running places like Fonda and Stateline. George Pritchard was one of the few 1950's stars to appear at Fairmont in 1962. However, a few weeks into the season, the local car of Kenny Martin, from Fair Haven, began to be driven by former 1950's driver Gene Tetreault, of Manchester Depot. Although Tetrault eventually ended up dumping the old Ford, end over end, he did decide to dig one of his old cars out of mothballs and ended up having a rich second career for several more years.
Towards the end of that 1962 season, actually at Otter Creek Speedway in Waltham [which was filling its fields with new faces who were Fairmont regulars], George Rogers did appear with an unpainted 1937 Chevrolet coupe on which sign painter Mal Brown had neatly painted "UP2" in white paint. The unfinished body work lent a multi-color effect to the big old coupe which sat unusually high off the ground.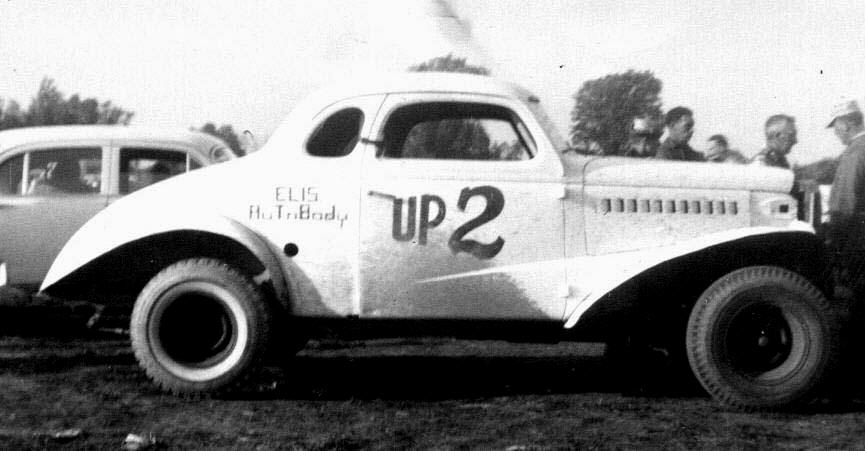 The old race car brought out of mothballs and repainted turned out to be one of the most competitive Vermont cars Fairmont Speedway had to offer. [Ladabouche Photo] Below - That same car, which is reportedly still over a bank somewhere on the Rogers property, sits behind George's house in 1964. [Rogers Family Photo Courtesy of Neal Davis]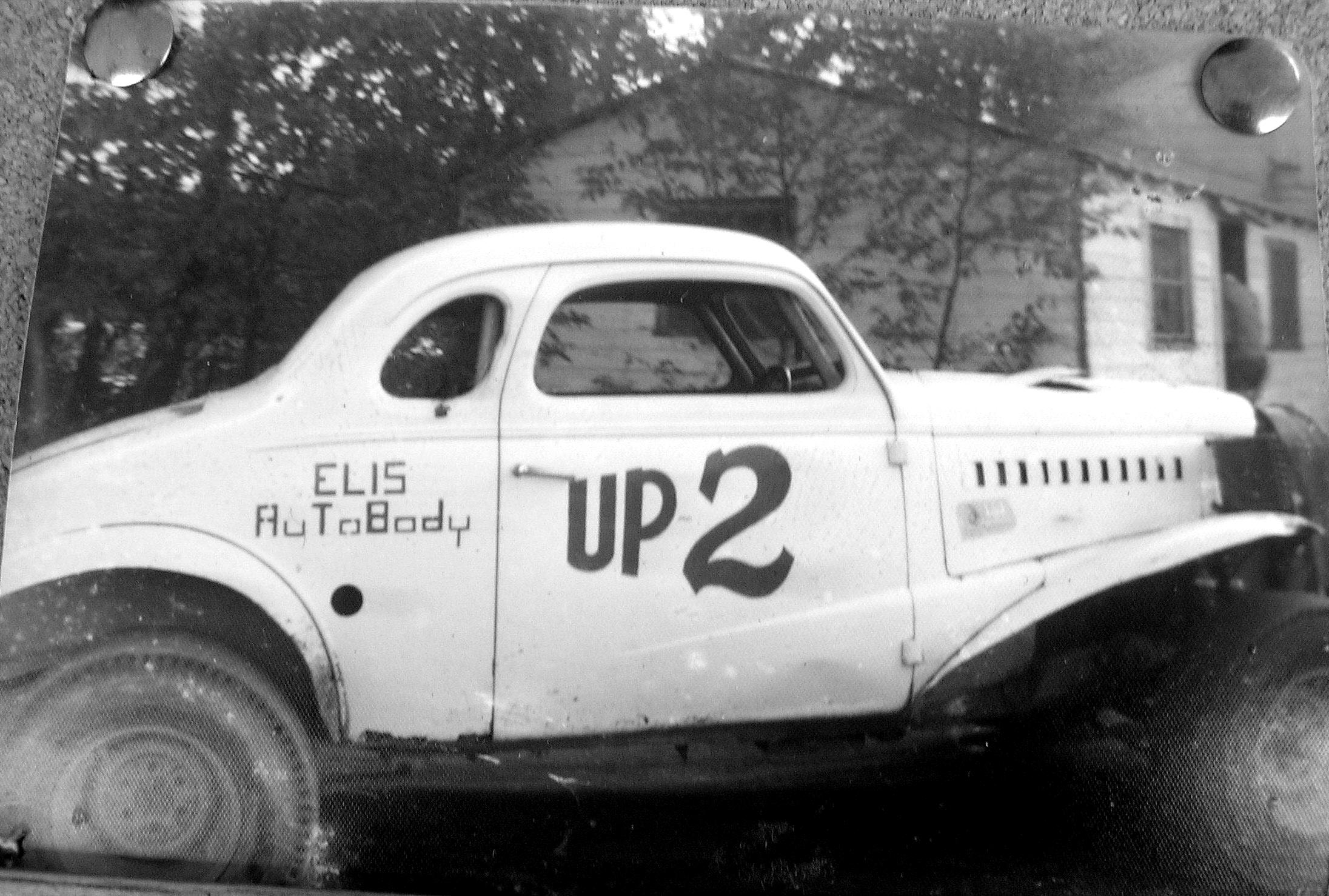 Not long thereafter, with a plain but professional white paint job from the prestigious Eli Vadnais body shop, Rogers and his high – riding coupe became strong fixtures at Fairmont. It would usher in a three – year period in which Rogers cars were very strong, winning a number of feature races. Being a local driver at a track that was dominated by outsiders, Rogers enjoyed unusual media attention from The Rutland Herald and other local papers.
Some of the media attention, however, was about Richards' controversial Lions' Club benefit race at the Vermont State fairgrounds, in Rutland, at the end of the his season. There were a number of bad pileups, due to dusty conditions and a lowering sun; and one of the cars to be virtually destroyed was the UP2. Neighbor Charlie Brown recalls "Mr. Rogers' car had to be towed home from the fairgrounds by Gene Tetreault's wrecker because it was in no shape to stiffhitch." [Charlie Brown and Mr. Rogers? I couldn't make these things up.] The 1936 coupe had had a few many scrape and put out to pasture in 1964.
An outspoken man, George was particularly vocal about safe cars. This may have been partly from the fact he had quite a mouth on him and partly because of a terrible experience he went through during the 1964 season at Fairmont. During the beginning of the feature that day, a car driven by James Van Guilder had rolled and – due to poor welding – disintegrated, the driver being thrown [in full view of a horrified crowd] through the air and onto the track. Rogers, at full speed coming down the front stretch, threw the car sideways into a spin and stopped scant inches from the driver lying on the track. George was very upset and was not sure he would want to continue driving for a while.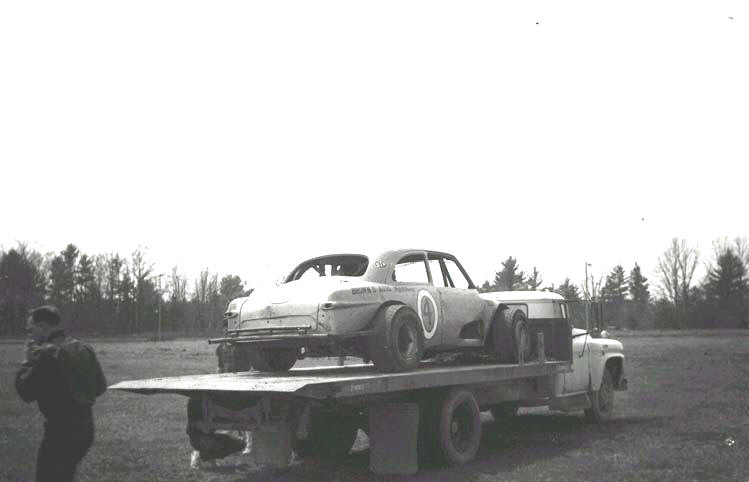 The Graham Trudo vibratin' deathtrap, after races in 1965. [Ladabouche Photo]
During the winter of 1964 – 1965, George was busy creating a very lightweight three window coupe of the early 1930's variety. A few observers wondered it if it might be too lightly braced. Strangely, as prone as Rogers was to labeling other cars as deathtraps, he would he no criticism of the new car. He once pronounced that Graham Trudo's fast and radical – looking 1950 Ford hobby car was "a rattlin' vibratin' deathtrap". A different – style UP2 was painted on the sides of the new, white car, along with the name "Little George".
As the story goes, sign painter Mal Brown was at Eli's Auto Body to letter up two cars. First, he did a 1938 Chevy coupe for George Pritchard, a hulking Welshman from Castleton. So he labeled it as "Big George". So, when Rogers' car was done second, it as only natural to that it would be dubbed as belonging to "Little George". And the name stuck, as those so often do.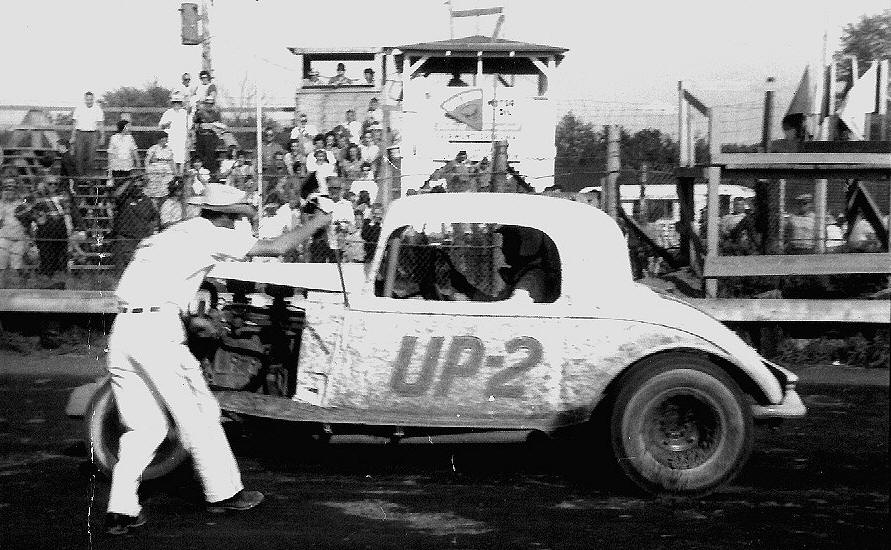 The Little George UP2 coupe was a real winner at Fairmont, among strong cars. [Courtesy of Chris Companion]
Rogers was running a flathead – and very successfully. But, more and more, he was competing against overhead V-8 sportsman coupes. By 1965, those overheads were the official car of Fairmont Speedway. Cars were coming in to run Fairmont's Saturday night shows from Fonda, Lebanon Valley, Airborne, and even Canada. In addition, local runners such as the Taggarts [#0, Castleton]; Gael Dundon [Quenneveille's #3 from Whiting]; and Norm Scarborough [Russ Shaw's 24 out of Whiting] were buying or building these cars. The overheads had the power, but George had a weight advantage.
Rogers, along with Fairmont regulars Sonny Rabideau, Buddy Bardwell, And Chet Doaner were remaining with lighter flathead cars. The previously – described UP2, as well as Doaner's chopped and channeled, Al Romano – built #5 were marvels of weight management. Rabideau's Frank Smith – owned #311 was a leftover from the cutdown coupe era of Massachusetts and New Hampshire from the last decade.

Bob Harrison. Whoopee ! I have the George Rogers car ! Harrison always bought someone elses'
used car, but he had a good eye for it. [Courtesy of C.J. Richards]
The overheads were still occasionally beaten by a flathead in 1965, but even the potent Rabideau car was blowing engines. From that time, until the opening of the Devil's Bowl Speedway in 1967, George Rogers was a little quiet. The little, lightweight three window coupe was sold to Bob Harrison, a driver who made a career out of buying other peoples' established cars.
After the Bowl had been open for a while, Rogers appeared with an impressive 1955 Chevrolet late model division car he had built. Not his usual white UP2, this was painted yellow and sported a number 20 on the side. Rogers hadn't accumulated must rust since his layoff from racing, and he won four straight races with the late model before unexpectedly selling it Center Rutland Used Car mogul Ray Nutting. Nutting assumed that Rogers would drive the car, but George told him he [Ray] would do just fine driving it himself.
Nutting a rather heavy man with a gift of gab, but no race experience, did a great job in the car and won a few races himself. One of his favorite stories is arriving, after the races one Sunday night, at the Checkmate snack bar in Hydeville, where my friend and I had already ordered. Knowing my friend, Bob, Nutting asked us to peek inside the car, which we had just watched flying around Devil's Bowl. The driver's seat was split entirely in half.
"I really shouldn't have stopped here", Nutting admitted, "looks like a I gotta lose some weight".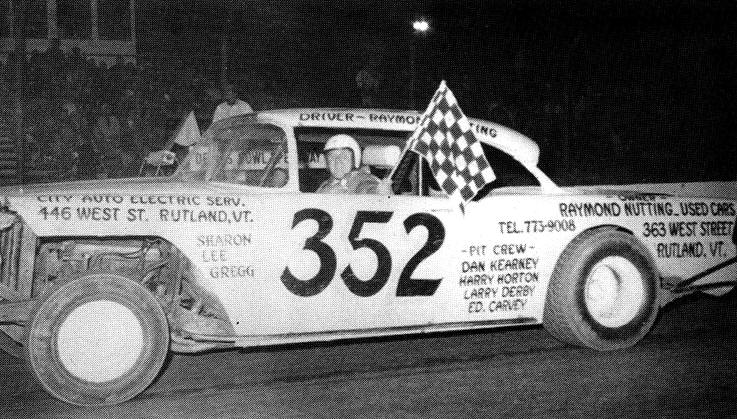 Ray Nutting in the Rogers-built late model, only with a different body and number. [Courtesy of Norm Vadnais] Below -
A grainy 8MM movie frame of the car when Rogers still drove it. [Dan Ody's 8MM DVD]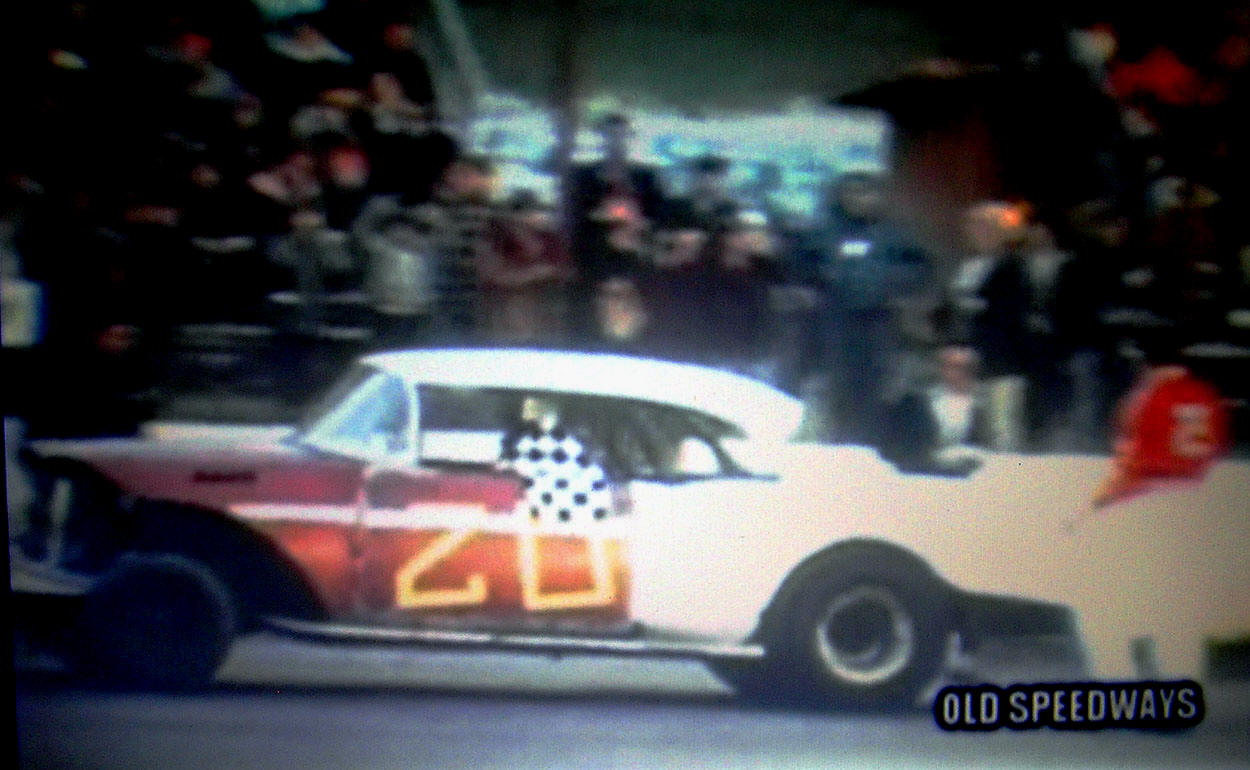 Devil's Bowl observers were taken aback by Rogers selling the Chevy. He had been beating the likes of Barry Purdy, Ralph Soulia, Graham Trudo, and Johnny Peoples with that car and – just like that – he was bowing out. What few people knew was that Rogers had contracted a very rare health disorder that would eventually take his life. George had begun to look a little ruddy and bloated, but most people just dismissed it as the aging process.
They didn't make another quite like Little George Rogers. The man who once called Pete Corey a name I won't even print here could also be innovative and a wonderful neighbor and father. One thing is certain, he could sure build an effective race car and he definitely knew how to drive it after he was done building. He is often missed when Devil Bowl regular old hands [and some younger ones] get together to reminisce.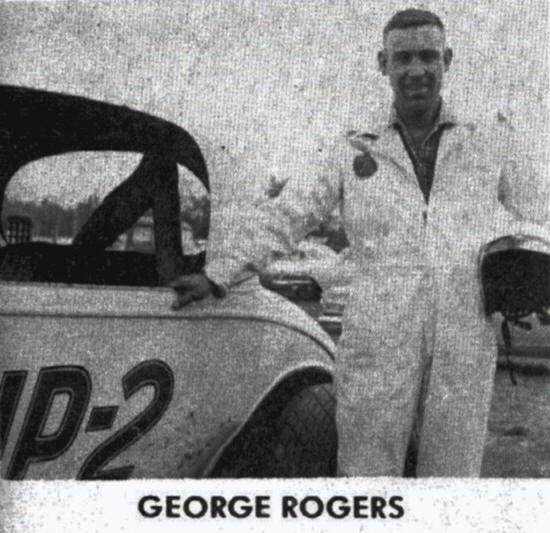 The closest I have to a good picture of George. [Cavalcade of Auto Racing Photo]
Return to the Main Page
Return to the Main News Page
Return to the Columns Link Page
Return to the All Links Page