GE - JO - CLIN SPEEDWAY
The Track at Boltonville, VT
Prevaiing wisdom [and info sources have it that the track was called GeJoClin after founders Gene Bemis, Joe Veilleux, and Clint Boyce. Clippings found early in 2021 have shown that to be the correct name. The track ran in 1950 and actually - unbeknownst to most people - it had competition from across the Connecticut River in the form of Rive - Air Raceway, near Woodsville, NH. About all I got from sparse newspaper coverage was a few ads put in a local paper.
I learned about this track primarily from information sent to me by the Boyce family. From what I can determine, it was where the present day Blue Mountain Union High School sits, and all traces of it are obliterated. A Terraserver satellite photo would show nothing. I have [ or will be] doing a columnon this track, depending on when you view this page. I would appreciate any additional help with it anyone can offer. Mostly locals raced here, although it did feature Harold Hanaford, who went on to a stellar career. I do believe teams like George Barber's #46 almost certainly gave the rustic track a visit or two.
The truth of this is borne out in an article about Barber done by Ken Paulsen and found on the 176 Racing website of Lloyd Hutchins: "
It was 1948 when George, at age 36, built the first of many jalopies at his auto supply shop in Bradford, Vermont. George chose his car number to be the same as his phone number – "46". Bradford was a lot smaller back in the "good old days". With one exception when he used a '32 Ford coupe, George built only 1933/34 Ford coupes. Finding the cars was not a problem. He had a junkyard next to his business with acres of candidates for his next machine. He enlisted the services of Stub Piper to pilot the first '34 Ford coupe around dirt ovals in Vermont and New Hampshire. Stub was still in high school when he started driving for George and needed a note from his mother to get into the tracks. Success did not come immediately for the Barber-Piper combination. The very first night out the car wound up on its side at a track in Boltonville, VT."
Other than this verification from Barber [before he passed away last year], only Harold Hanaford has substantiated his participation there. The Boyce family information does name some drivers, some of whose photos may appear on the page, but there is no way to know who is who.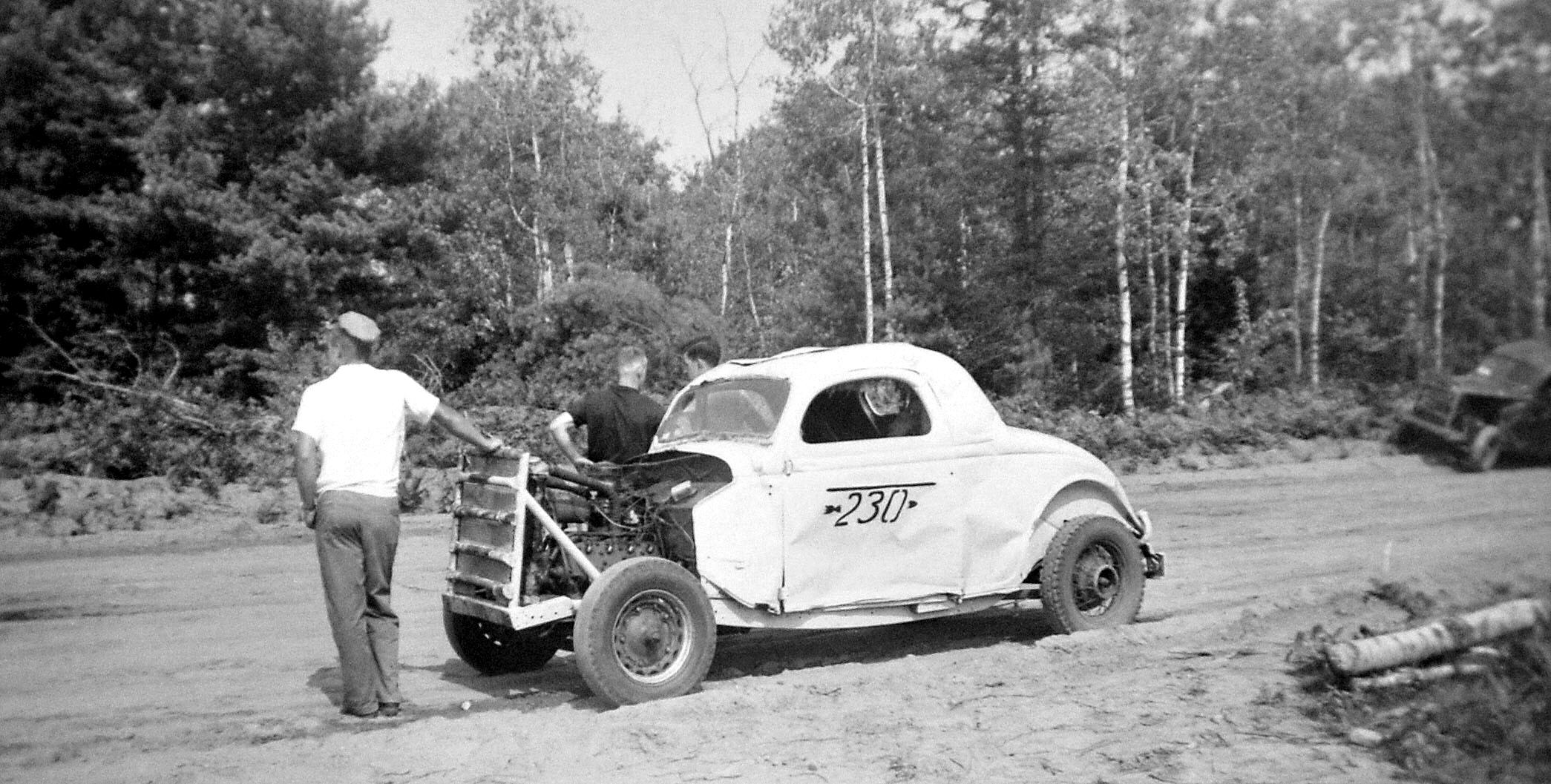 Ed Gould Photo Courtesy of George Hill
Ralph Chase waits on the track with his Plymouth coupe, probably while a wreck is cleared.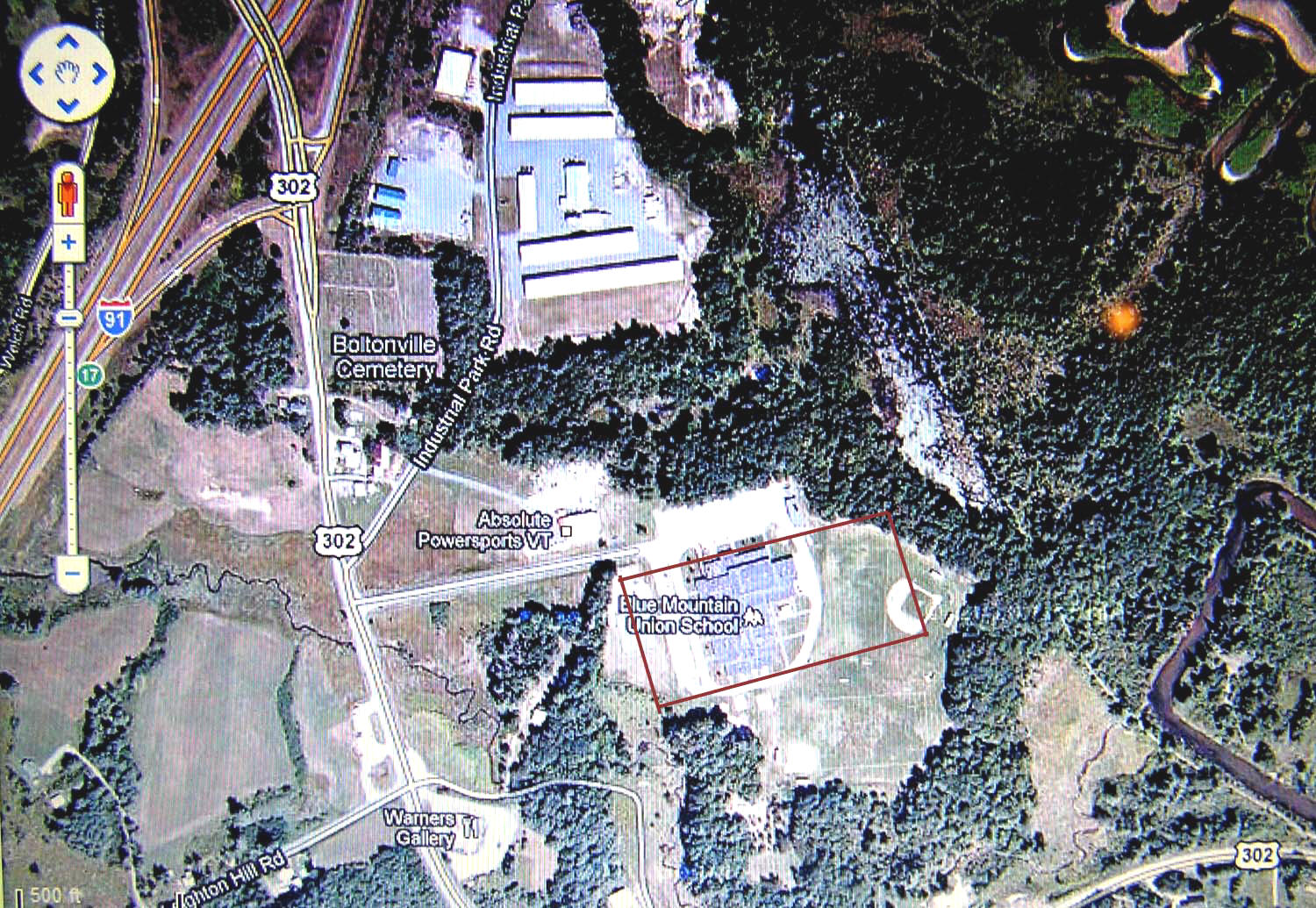 Google Earth Photo
[Above] You cannot see any trace of the old track, as the high school complex takes up far more room
than the entire grounds of the old race track ever did. [Below] The track was situated in a colorful
area, near both a cemetery full of Civil War veterans and not far from Ticklenaked Pond. In both shots,
the brown rectangle indicates likely track location.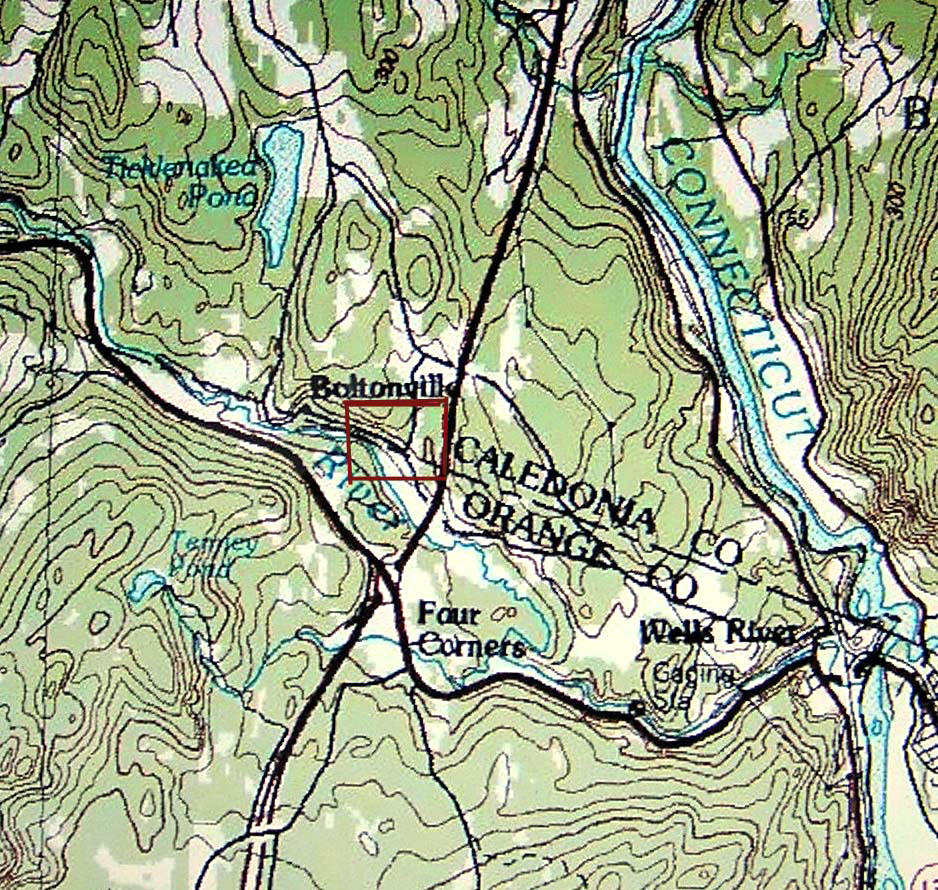 Topo Quest Website Map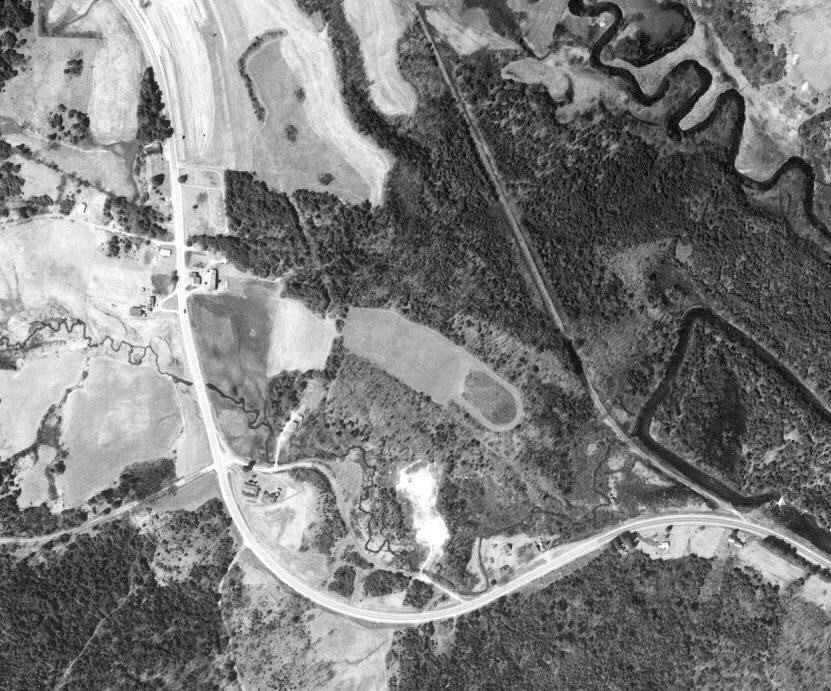 SOurce VCGI via John Nelson
John Nelson, avertitable research dynamo, found this aerial from before the high school. It appears that, based
on where I heard the track was, it is almost in dead center, a light gray with half the oval showing.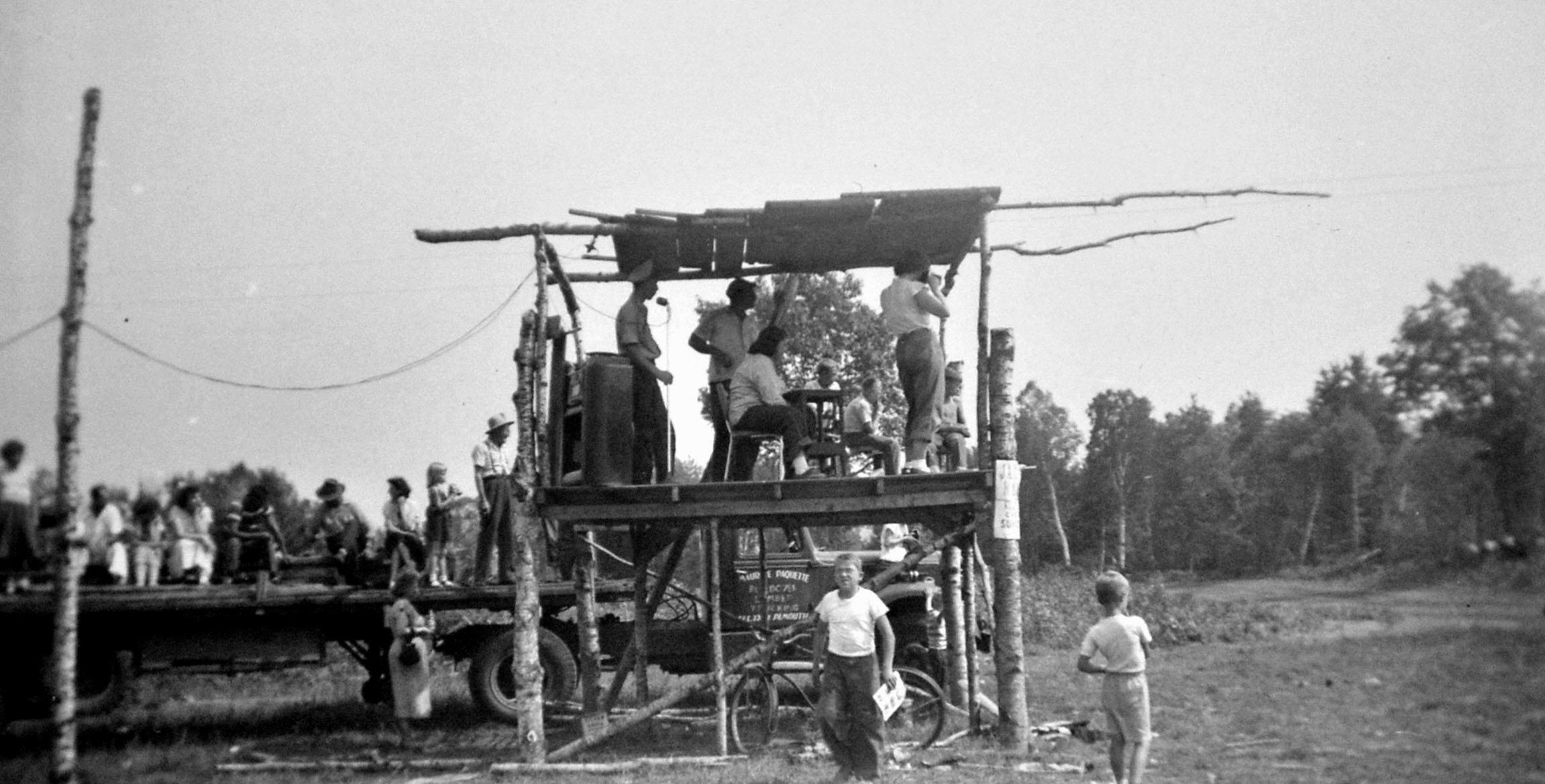 Ed Gould Photo Courtesy of George Hill
Kids hang around under an unbelievably crude announcer's stand. Many spectators are sitting
on the Maurice Paquette Chrysler Plymouth flatbed truck, waiting for the next race.
It appears that the Ji - Jo _ Clin track facility was a very rustic place. Admission was handled at the access road by a man wearing a nail apron and carrying a roll of tickets. Several of the track employees, most of whom were Boyce family members working for about ten cents an hour, would arrive at the track in the local hearse, which served as an ambulance. The track was the creation of Gene Bemis, Joe Veilleux, and Clinton Boyce - hence the Ge-Jo-Clin name. Its strange name was mispoken as "Joe Joplin" and about every other hybrid of the actual title.
According to one member of the Boyce family, after insurance costs forced cessation of operations, One of the Boyces used the land as a small truck farm before eventually donating the land to the district for the high school.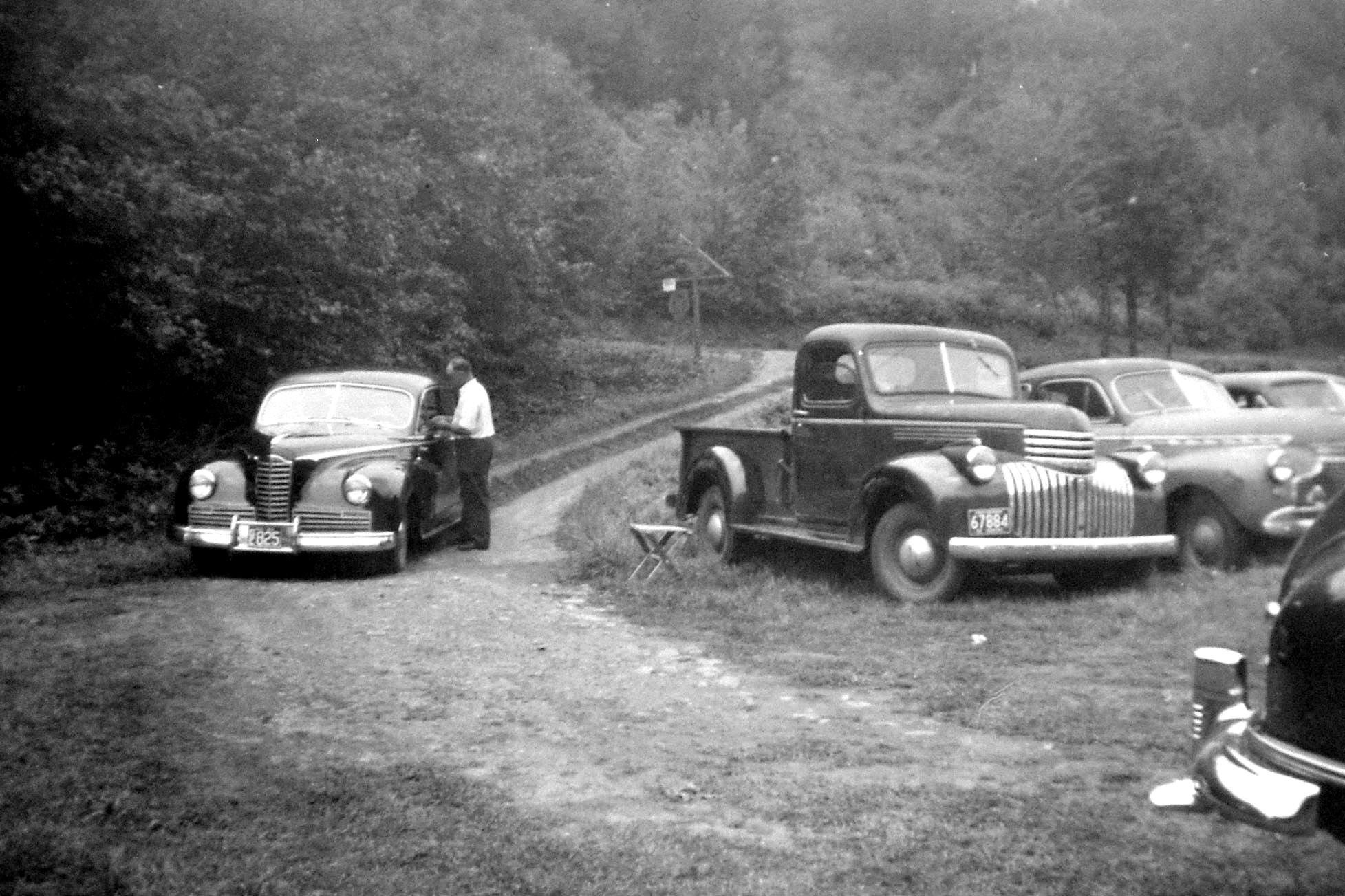 Ed Gould Photo Courtesy of George Hill
Admission procedures were simple - see the fellow in the white shirt [probably a Boyce.

Courtesy of Scott Haskell
Crossing the track
was easy - just wait
for one of the frequent
accidents.


Courtesy of Scott Haskell
Workers move into the
trackside brush to get
at an errant race car.

Courtesy of Scott Haskell
A man looks on as they
try to get an accident
cleared up.

Courtesy of Scott Haskell
I suppose this could be
Stub Piper, in George
Barber's first car, who
knows for sure ?

Courtesy of Scott Haskell
A stock car with a
sophisticated color scheme
speeds by.

Courtesy of Scott Haskell
Lining up a field
of highly - technical
Ge-Jo-Clin racers.

Ed Gould Photo
Courtesy of George Hill
Informal pit meeting.

Ed Gould Photo
Courtesy of George Hill
The local hearse
doubles as the
ambulance and an
employee lounge.

Ed Gould Photo
Courtesy of George Hill
Unloading team cars.
Could that kid be any
skinnier ?

Ed Gould Photo
Courtesy of George Hill
Someone's pit area.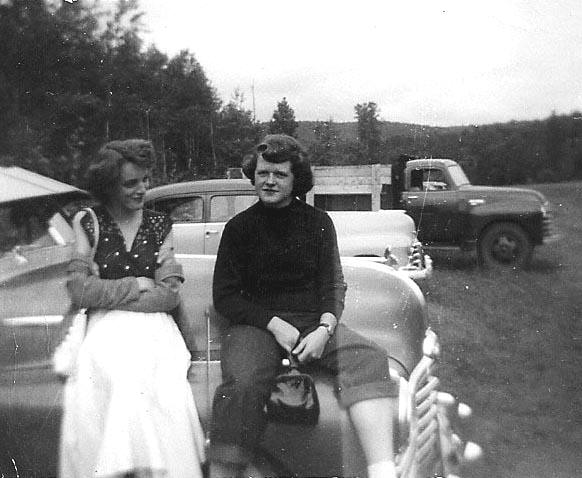 Photo Courtesy of Wayne Boyce
Bev Boyce and Mrs. Ken Boyce wait at the track for their jobs
in the hot dog stand to commence. They made ten cents an hour.
Click on the ads to enlarge

River News and Twin State Times
June 16, 1950. Sounds like
the opening program.

River News and Twin State Times
July, 1950. All their ads
looked just like this one.



River News and Twin State Times
July, 1950. All the rest of their ads
looked just like this one.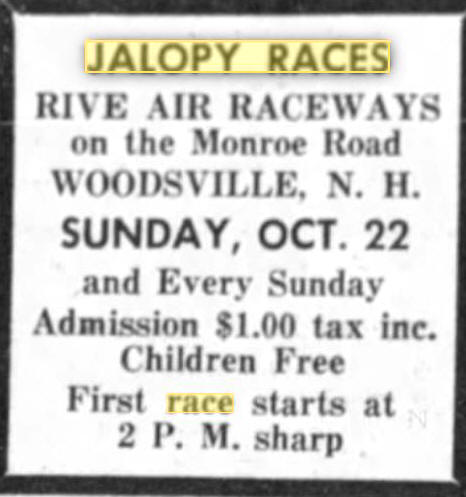 River News and Twin State Times
Also, 1950. This was the competition.
Return to the Main Page
Return to the All Links Page
Return to the Main News Page