THE BILL'S BACK IN TIME COLUMN PAGE
Copies of my column in Mark Thomas' "Racin' Paper"
Column #4 [All previous columns unavailable]
BILL'S BACK IN TIME
By Bill Ladabouche
REMEMBERING BUCKY, WITH HELP FROM OX
Terry "Ox" Osterman had a number of thoughts, which he conveyed in a recent lengthy phone to me. I hadn't talked to him more than twice in my life, the most recent conversation being 2004, but all he had to say is "This is Ox" and I knew who he was. Must be nice to be that unique. Ox had wanted to point out that the Bundy family who raced in the Hurricane division at Catamount Stadium in the early 1970's was not from Essex Junction, Vermont – but, rather, from South Burlington.
We had landed on the topic of the NASCAR Grand National Division [now Nextel Cup], probably because of Ox's affection for the late Richie Panch, who had raced with us in the Northern NASCAR Tour in 1972. Richie had gone into the Grand Nationals in 1973 and had raced there with some success until his untimely death in a plane crash. Ox had been looking at some special release from NAPA and found out that Lee Petty had won a race at Plattsburgh, New York's Airborne Speedway in 1955, driving a 1955 Chrysler.
We had touched upon some of the men from the Keene, New Hampshire area who had connections to that golden era of the late 1950's and early 1960's. He mentioned the name of Terry Marks, who has done much to preserve the cars and the memories of that time – in that region. Terry is best known for co-organizing the wonderful Swanzey vintage car meet that happens every summer near Keene. He restored the Stroker Smith 311 driven to so many championships by Moran "Sonny" Rabideau from Brattleboro, Vermont.
!

Bill Ladabouche Photo
Terry Marks [furthest left] organized the assemblage in this vintage
car show photo.
Marks' shop in Westmoreland is, according to Ox, a treasure land of vintage racing stuff, like vintage racers, racer parts, photos and more. He has made many friends over the years, and he has preserved one of the most important race cars in New England, the 311, to boot.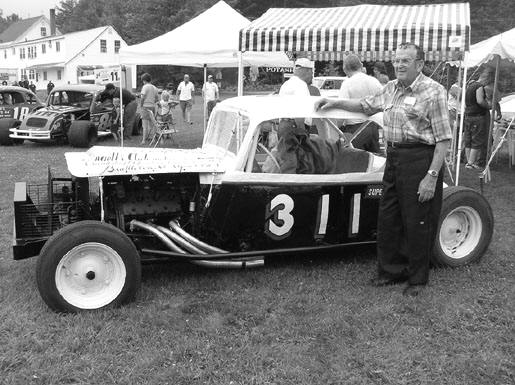 Bill Ladabouche Photo
Sonny Rabideau with the legendary Stroker Smith 311 flathead.
Osterman, himself, has quite strong connection to the racing of the past. As a member of the motorcycle organization The Super Hogs, he hung out with the likes of Kenny Bucklin, Phil "Super Hog" Bowler, and Darrell Tucker – to name a few. Bucklin [or Bucky as we all called him] was a pretty fair racing mind in the region. In 1972, when Marvin Panch decided to send his son, Richie, up to Vermont to learn the racing trade, he acquired the services of Bucky as crew chief. That meant Ox, Hog, and Bucky's father – in – law Mr. Coke, were thrown into the deal.
Richie, one of the most pleasant and popular young men to ever race up here, was only 16 at the time, and he had to essentially become one of Tom Tiller's family that summer. He had one of the more unique first seasons any driver ever had, rubbing shoulders with a motorcycle gang of very intelligent men as his crew. The Panch effort had landed a former Donnie Allison 1964 Chevelle, an extra engine, a borrowed [but topnotch] hauler, and a sponsorship from an obscure local business called Mer Con. Mer Con happened to operated by a little-known business [and former Catamount Flying Tiger driver] named Thomas "T-Bone" Curley.
The brief Richie Panch chapter is one of the most interesting little vignettes in the history of racing in my region. It had a semi-sweet conclusion. Richie went down, from the Northern NASCAR experience and proceded to compete in the Grand National division for Rookie of the Year. Marvin Panch had Bucklin build a car, and Richie was holding his own against Canadian Earl Ross until the latter landed a fat deal with Carling Brewery, advertising their Red Cap Ale brand. Ross then took the show over to Junior Johnson, which helped him be one of the few rookies in NASCAR's big leagues to ever win a race in his rookie year [at Martinsville].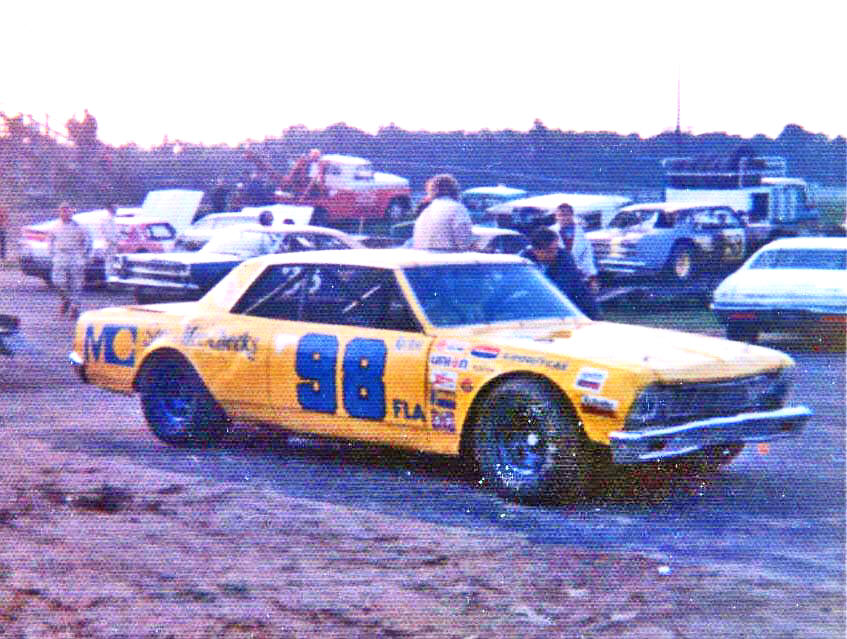 Bill Ladabouche Photo
"Save Mer Checks" urges the ad on Richie Panch's quarter panel . That's Ox towering over the car and Kenny Bucklin leaning in to talk to young Richie.
That pretty much left Richie without a chance of landing the rookie title. Ross went off into the sunset and Richie stayed on, racing for a few more seasons. It was difficult for him to be totally effective because his eyesight was always suspect. It was said that if you need someone with balls enough to drive a car to its limit where others chose not – it was Richie Panch you wanted to find. But, finally we lost Richie in that plane crash and that was that. Marvin Panch had found Richie's host father, Tom Tiller, a ride in the 1973 Permatex race, but we no longer had one of our Catamount graduates to root for in the big time for several years. One of Richie's last cars lived on, as the first car for Bill Elliott.
Ox had several stories about Tiny Lund to relate. After Lund had come and raced with boys with his 1964 Chevelle, it ended up in the hands of Claude Aubin, who had a wonderful season with it around 1973 or 1974. Aubin inherited the entire Bucklin entourage as his supporting cast, as well as a few colorful Candians [and, of course, his gorgeous blonde daughters who were always around]. I'll always remember a fourteen year-old kid named Kevin Lepage, tired of watching his brother race, flirting with the younger Aubin daughter and trying to speak French to her.

Photo Courtesy of Guy Corriveau
Claude Aubin was just another Canadian driver until he got his hands on a Tiny Lund Chevelle around 1974.
Aubin did not always have the best relationship with American customs officials, so the car often was garaged on Riverside Avenue in Burlington, Vermont – kept at the Road Chop Shop, a hangout for Ox, Bucky, Hog, and their buddies. Claude really flew that year, and it seems as though he was never again as strong a factor as he was when the former Lund Chevelle was in his hands. Given the lifestyle in Canada with that crowd, I imagine Ox would have some stories that could curl your hair.
Ken Bucklin did get around in those days. Besides building a couple of Grand Natinal cars, crew chiefing for Aubin and Panch, he ran operations for the well – funded Hector LeClaire team for a while, and he also was the first crew chief for the even – better – funded Remo Pizzagalli team, which fielded a car for Mike Barry and one for Peter Pizzagalli for a while. That operation had the best of everything, but Bucky's rough – around – the – edges image did not sit well with the image desired by the PC Racing group, and he soon departed. Kenny is another of those people we lost too soon and everyone who knew him misses him.
Lastly, current – day Airborne Speedway frontrunner Brian "Bucko" Branham really helped those of us who are trying to preserve race history when he recently released from very old photographs that go back into the early days of Airborne Speedway. Apparently the property of his family [and Bucko is the youngest of three racing brothers], these pictures include several of his oldest brother, Bill, who had shown tremendous potential in the 1960's as a late model driver. Also featured in the Branham pix were the early legend, Jackie Peterson, along with Mack Miller, and several other shots of Airborne in its crude infancy as a dirt track. It is helpful to me because many of the same men who raced Airborne then, also raced in the northern Vermont area at the same time.

Photo Courtesy of Bucko Branham
This rough and ready bunch raced the Studebaker [numbered 7UP later] at Airborne and Catamount, to name a few tracks. From left – Gene Fountain, Bill Branham, and Don Burl.
Tracks running at the same time as Airborne at the time of the Branham photos included Malletts Bay, Otter Creek. Saranac Lake, Fairmont, and perhaps the track in Warrensburg, New York. I recently drove through Ticonderoga, New York and saw a road named "Race Track Road". I am hoping that this area of the town might be where the old Champlain Speedway was located. I have seen Champlain on the Terraserver satellite photo system, and I must go back to it and see if I can determine if this is the case. Anyone who knows anything about either Warrensburg or Ticonderoga would be doing me a favor if they would contact me.
Please email me at wladabou@comcast.net if you have any photos to lend me or information and corrections I could benefit from. Please do not submit anything you are not willing to allow me to use on my website - and thanks. For those who still don't like computers - my regular address is: Bill Ladabouche, 23 York Street, Swanton, Vermont 05488.
AS ALWAYS, DON'T FORGET TO CHECK OUT MY WEBSITE: www.catamountstadium.com
Return to the Main Page
Return to the Columns Link Page
Return to the Main News Page