BILL'S [Somewhat] WEEKLY COLUMN/BLOG PAGE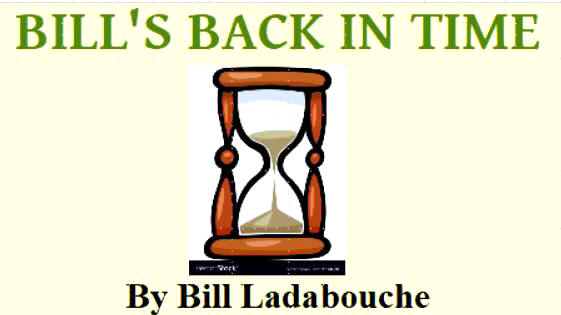 CATAMOUNT GUYS WITH MORE TO THE STORY
In the much – too – short history of Catamount Stadium [Catamount International Speedway, etc.], there is a fair share of people like Don Mactavish, Jerry Cook, Beaver and Bob Dragon, Dave Dion, and dozens for whom researchers have no trouble digging up all kinds of information. The track spent a majority of its life playing a major role – first on the Modified/Sportsman scene and then on the Late Model Sportsman scene.
We also need to consider that it wasn't just drivers who made some big marks in the racing worlds, but also car builders, car owners, and even officials. With all of the luminaries notwithstanding, there are also a ton of "little guys" whose stories at Catamount are somewhat limited, but for whom there is more story either before or after their time on the Milton, Vermont third mile asphalt oval.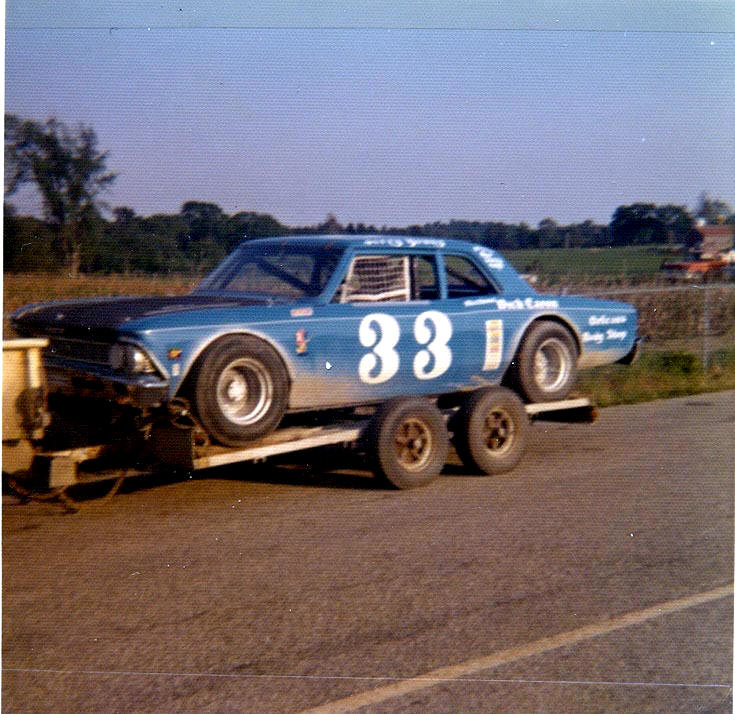 Ladabouche Photo
Jerry Young's Chevelle arrives at Catamount unceremoniously
around 1972. The little guys like Jerry didn't receive all the
hoopla that came with the Rosati teaam, the Canadians.
Or the Dragon brothers. Below – Jerry enjoys a brief moment of
attention from one of the photogs at T Road.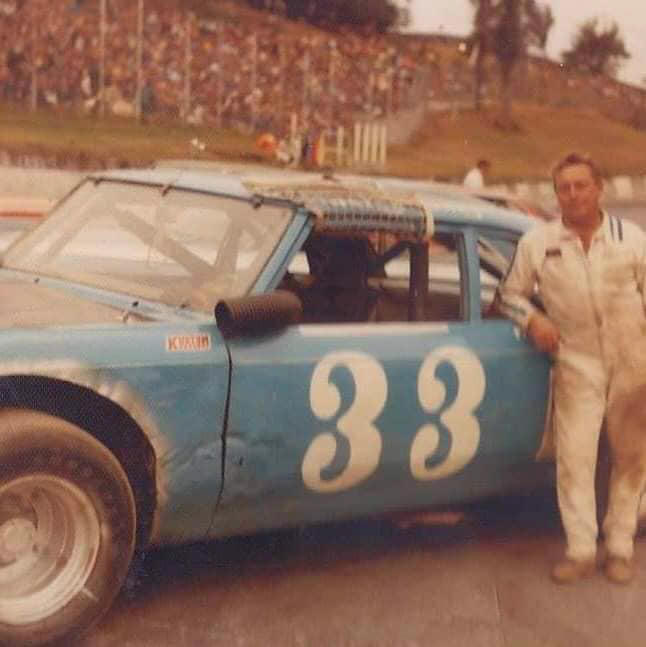 Courtesy of Pat Bartlett
One such case is a guy who quietly came upon the early late model scene either in 1972 or 1973; he seemed to confine his activity to Catamount and Thunder Road, not preferring or maybe not being able to contend with the entire Northern NASCAR experience [which could have involved places like Sanair, Devil's Bowl, and Airborne race tracks]. Jerry Young simply showed up that year, being id'd as coming from the Northeast Kingdom hamlet of Barton, and driving an understated blue 1966 Chevelle numbered 33.
Jerry never amount to a helluva lot, much like the many other small operators on the increasingly difficult, increasingly big money Northern NASCAR circuit. The circuit was attracting cars from Massachusetts, Maine, New Hampshire, Canada, New York, Connecticut, and of course Vermont. Teams like two – car Cabana, Tiller, Rosati groups [and more] were tough to contend with a sued race car , a small budget, and little or no help.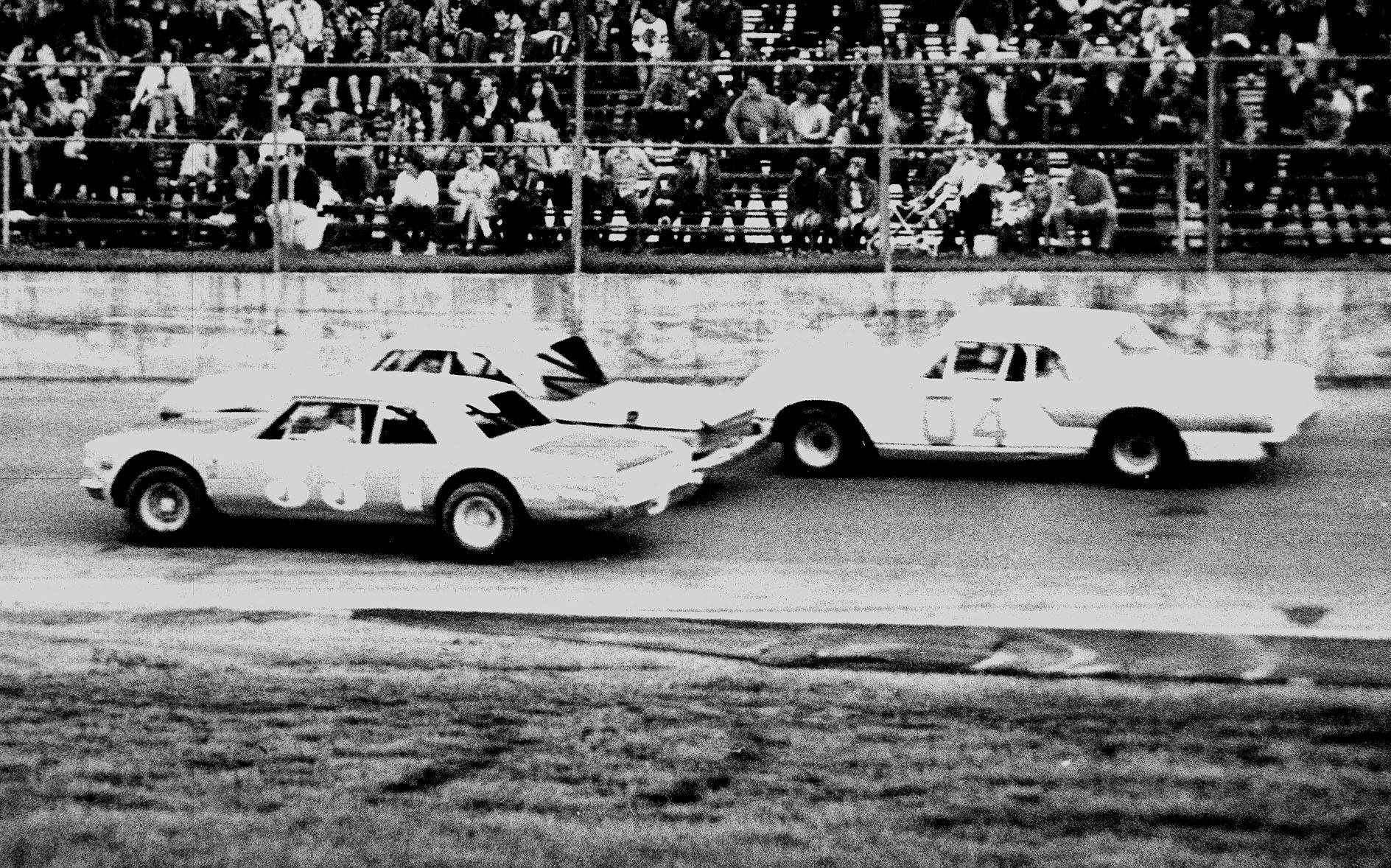 Courtesy of Chris Companion
Jerry goes to the inside at Catamount against someone in a
Plymouth and the driver du jour of the Norton 04. Below – The results
of a dustup at Fonda in its late model class. Jerry's car did not
appear to be set up for dirt when I saw it.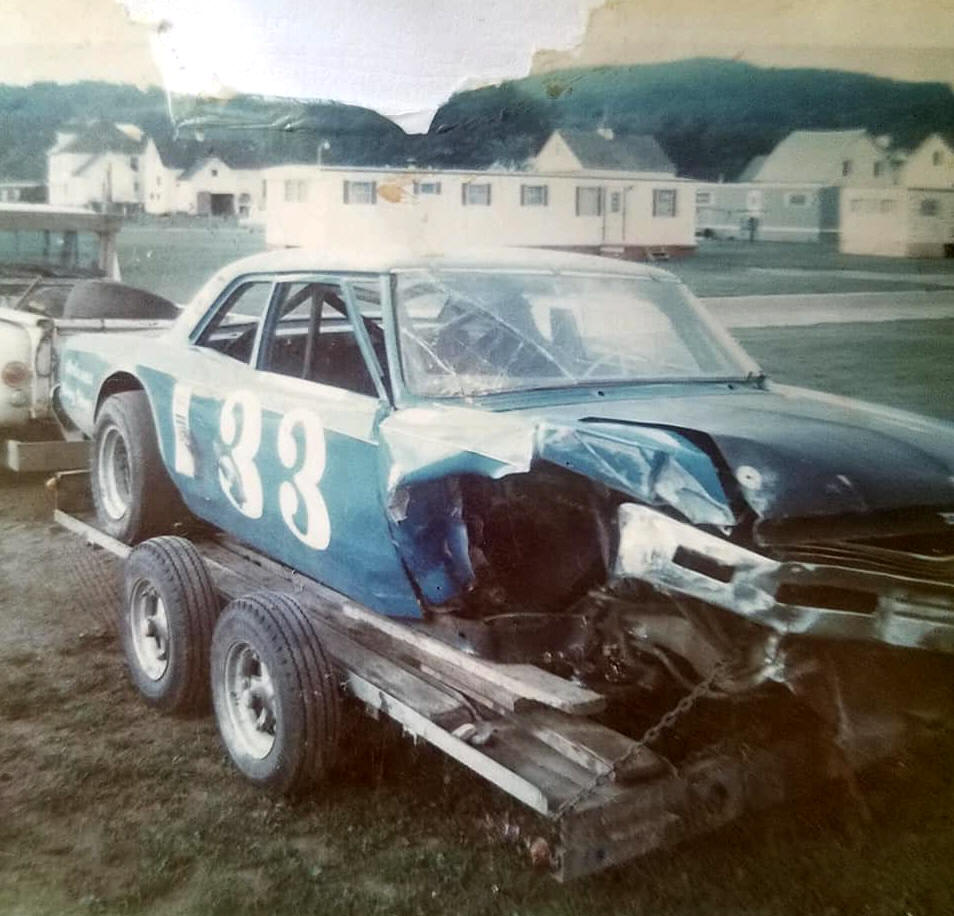 Courtesy of Pat Bartlett
Young hung in there for a year, and then disappeared. Nobody thought much of it because so did many other small operations in that era. Other than occasionally finding a photo that might have him in it, I didn't think much more about the quiet Young until his photo popped on one of the Fonda vintage Facebook pages. I then realized Jerry Young might have come from Barton for a season, but that wasn't who he was.
I would have to assume something like maybe Young worked construction and maybe he had been sent to Vermont for work for a year. It is not clear if the Chevelle was what he ran at Fonda Speedway before coming to Vermont or if he took it back with him upon leaving Vermont. Photos show that Jerry not only ran that car at Fonda [and wreck it] but that he had – at one time or another] driven a sportsman coupe there and perhaps another Chevelle. So, there was more to Jerry Young than we ever knew.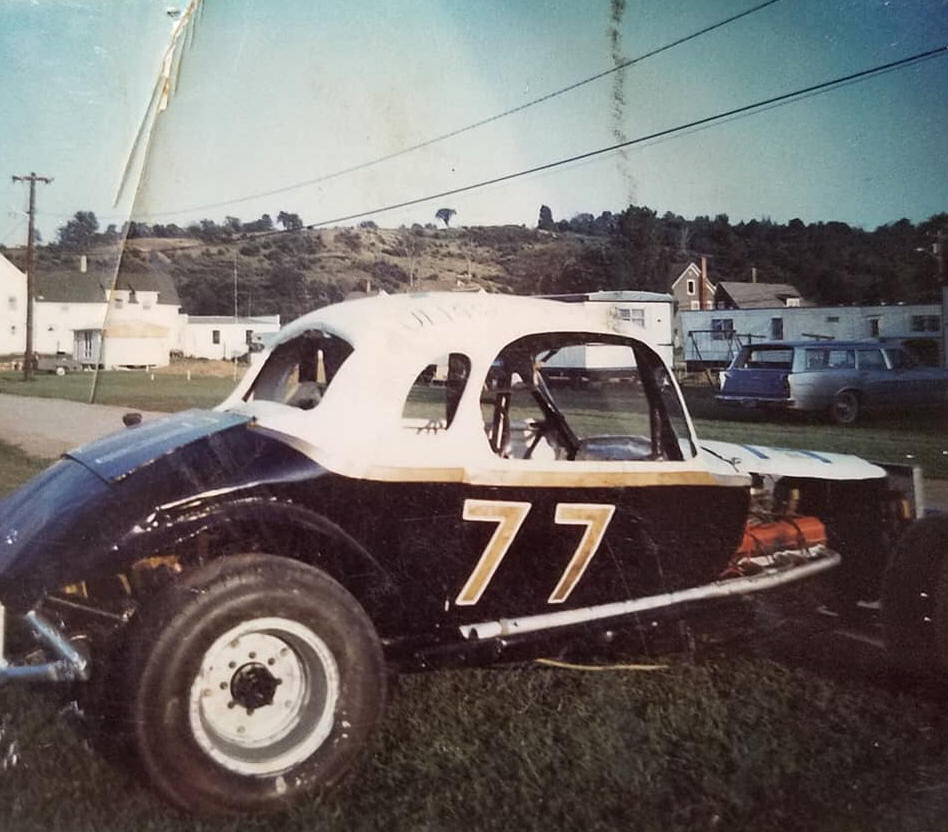 Courtesy of Pat Bartlett
The coupe Jerry is said to have driven at Fonda, although
I don't know if it was before or after Catamount. Below -
A different Fonda late model of Young's.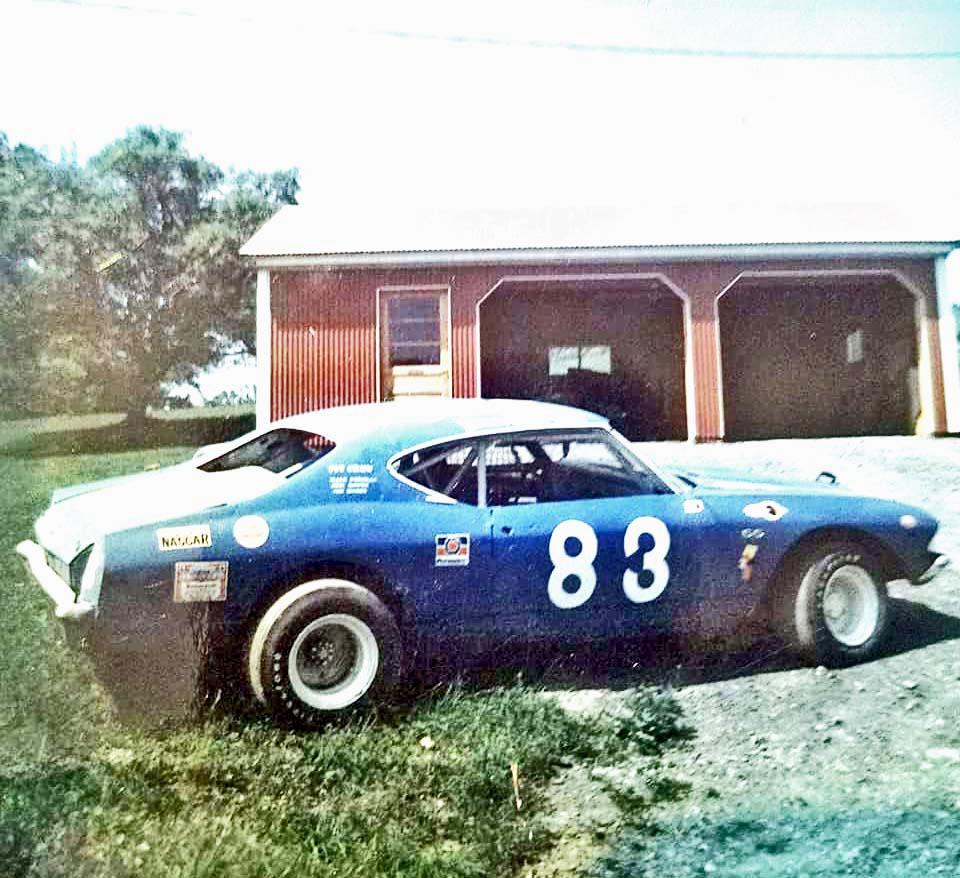 Courtesy of Pat Bartlett
Another such case is that of Vergennes, Vermont's Ray Ringer. As the Hurricane division was really starting to take wing at Catamount and T Road, so, too were similar divisions called Chargers at places like Devil's Bowl, Albany – Saratoga, and Airborne. I have no idea at which place Ray Ringer got his inspiration to build one.
Ringer showed up with this black '63 Chevy numbered 23. It was a very homemade operation, from the nice but homemade graphics, to the homemade racing wheels, to the car itself. I seldom saw much more than Ray and his wife or girlfriend available at the track to keep the 23 tour de force going. Ray got where he was pretty competitive, even considering the class was beginning to field some pretty sophisticated cars by then.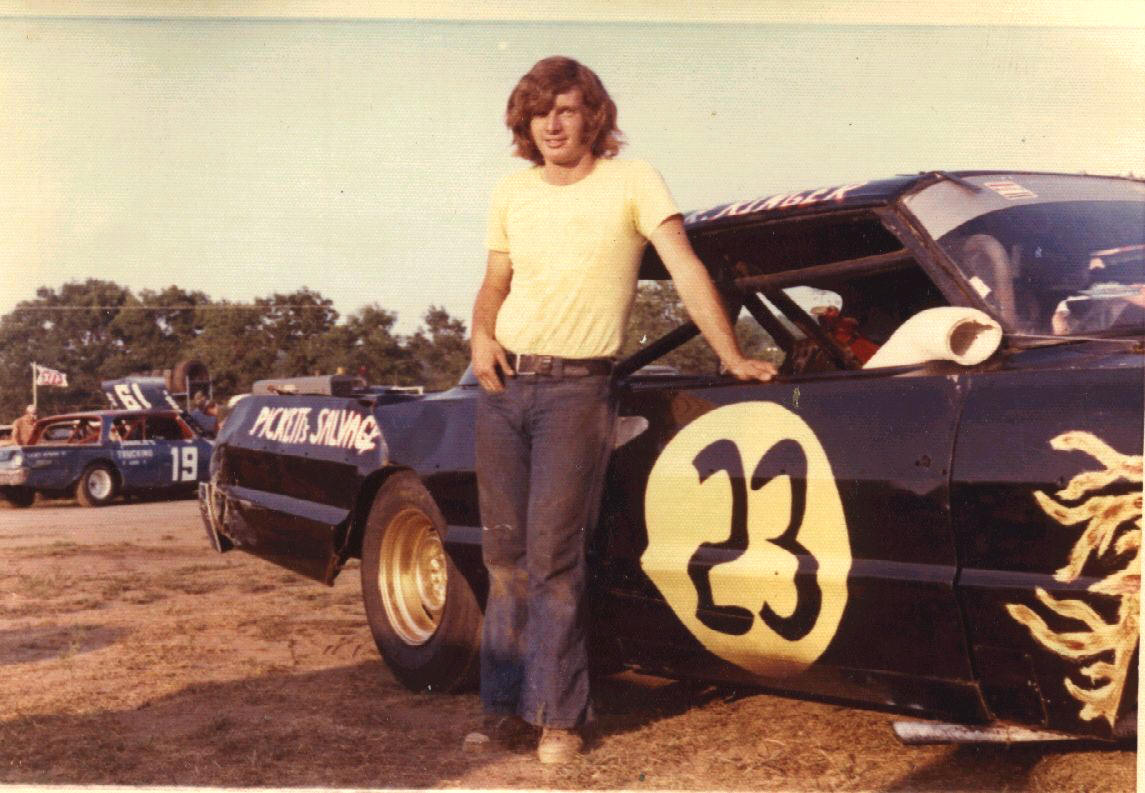 Courtesy of Lonnie Terry
A fashionably long – haired Ray Ringer poses with his
Hurricane car at Catamount around 1972 or 3. Below -
Another shot around the same time.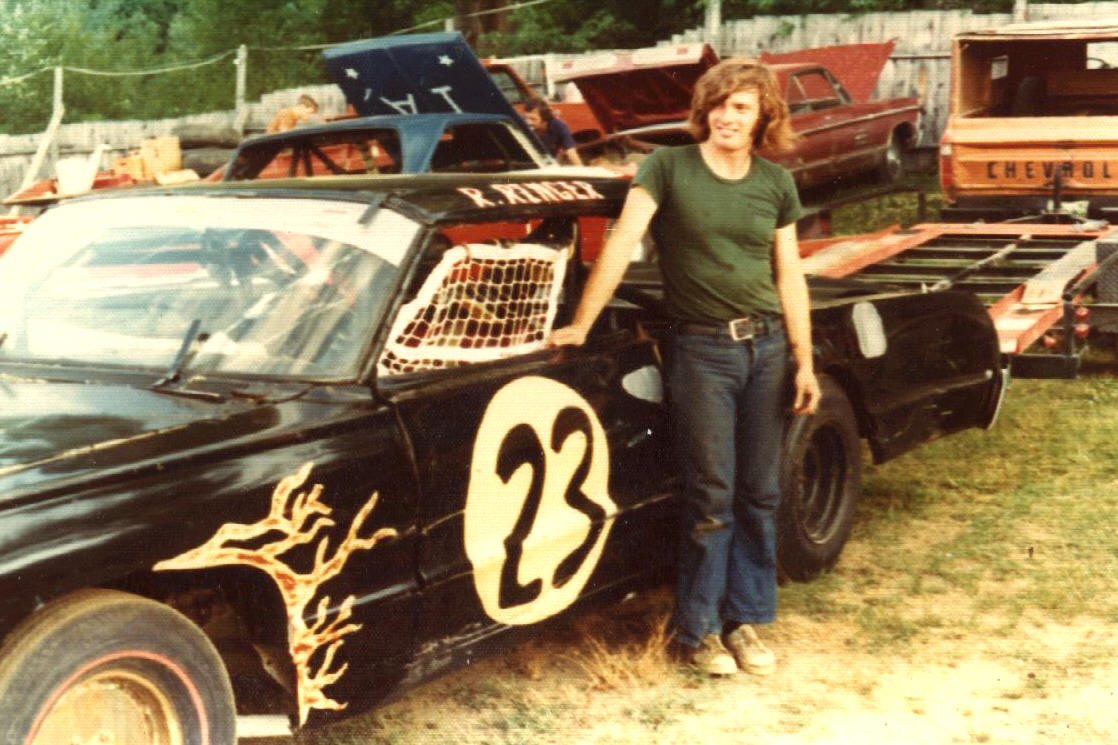 Courtesy of L. Terry
Ran ran for a year or so before disappearing. Many years later, as Facebook pages began popping up for various racing nostalgia, the Milton Speedway [dragstrip] page showed some photos that were supposedly of Ray Ringer. It looks like Ray's first racing appearances in Milton were not at Catamount, but rather on the dragstrip a little further north on Route 7.
Ray did, at one point, also post what almost certainly had to be a Devil's Bowl dirt Pro Stock. Apparently, he had not quite gotten the circle track bug out after Catamount. He seems to be very interested in the new attention that is being given to the old Milton Speedway strip, including it's having been awarded a State of the Vermont historic site status, complete with the iron road sign. Ray Ringer obviously came to Catamount with a lot more speed knowledge than most of us suspected.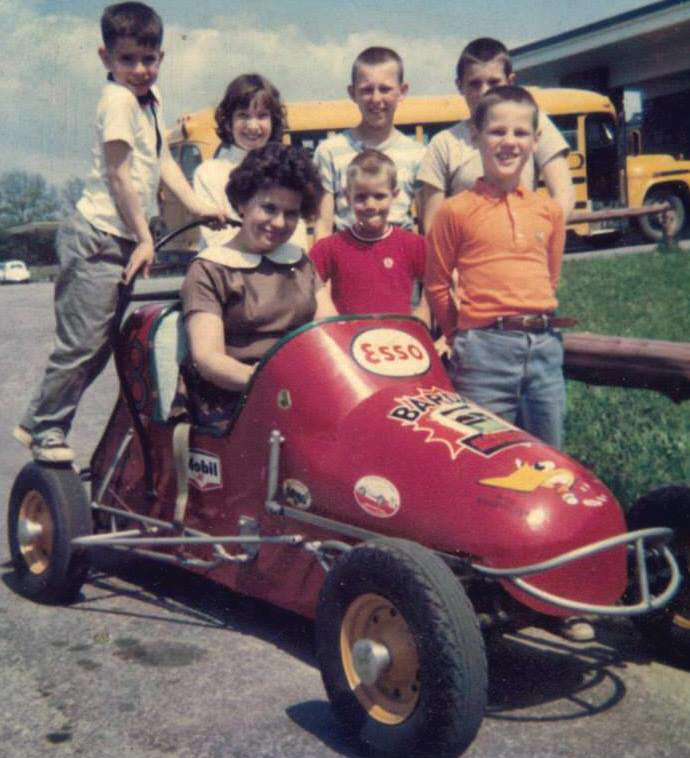 Courtesy of Ray Ringer
Ray must have gotten his knack for making his own
equipment from dad, who made this mini race car for his
kids. Below – Ray tried Devil's Bowl later with this
fgast – looking Pro Stock.



Courtesy of Ray Ringer
I was never quite sure what to think about the third man; but so much of his story was told to me by others [rather than he] I had to decide he needed to be one of these subjects. I noticed a good – looking late model sportsman car about a year or so into when they had been brought in to comprise Catamount's headlining division. The red Chevelle belonged to Jack Anderson, who had been operating a transmission shop on Riverside Avenue in Burlington for a while.
I began to notice that the shop was often a stopping off place for notables. Firstly, some of the Grand Touring teams that came up from the South for their early '70's races would be there. Later, it was the spot where Claude Aubin kept hi car after he was having trouble getting back and forth across the border. Jack was never one of my sign customers, but he seemed to know everybody – even me.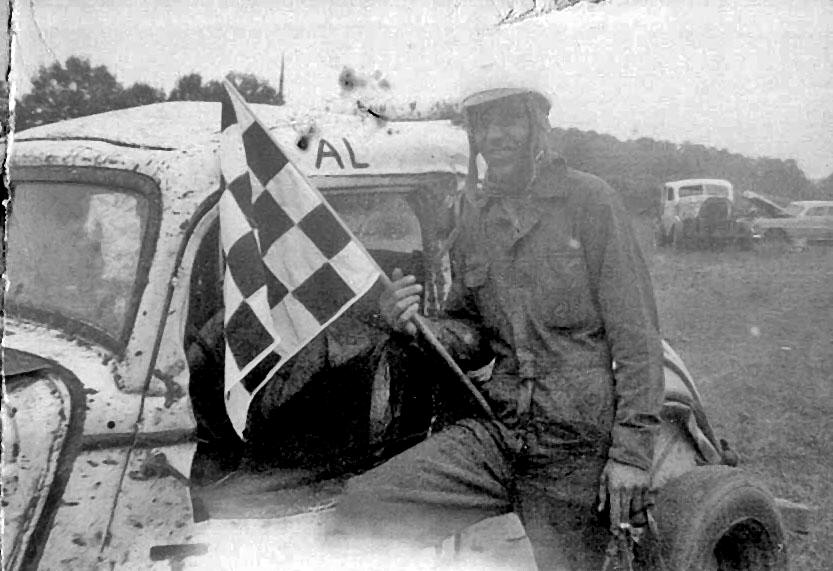 Courtesy of Jack Anderson
Jack's first driving experience, early 1950's at Ivanhoe
Smith's Colchester Raceway. Although I didn't realize,
my first sight of Jack was in this "NASCAR sportsman"
at Otter Creek Speedway in 1961.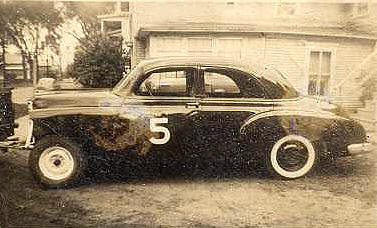 Courtesy of Jack Anderson
He ran late models with a few different versions of the car #11 before slipping off into the South again. I realized I had taught his nieces in Milton, and we kinds sorta knew each other. But the rest of his story had to be related to me later. I guess I had watched Jack race at the old Otter Creek Speedway near Vergennes, VT in 1961; this was after the had run the Colchester tracks quite a bit in the 1950's.
Jack also had built and run a NASCAR baby Grand Car, at one points, and had also run in the Grand Touring class down South. He took great delight, however, in telling me about the first LMS Chevelle up here – a convertible onto which they stuck a roof he and Rene Maxfield got somewhere else. It was a bit of an odd – looking car. Jack is a ranking member of Living Legends of Auto Racing, being good friends with the likes of David Pearson and having convinced the great owner Ray Fox to autograph one of his books for me. If I had waited for Jack to tell all that he had done, I'd never know about it. [and I appreciate his help in getting me some rare photos from the 1950's racing in Colchester].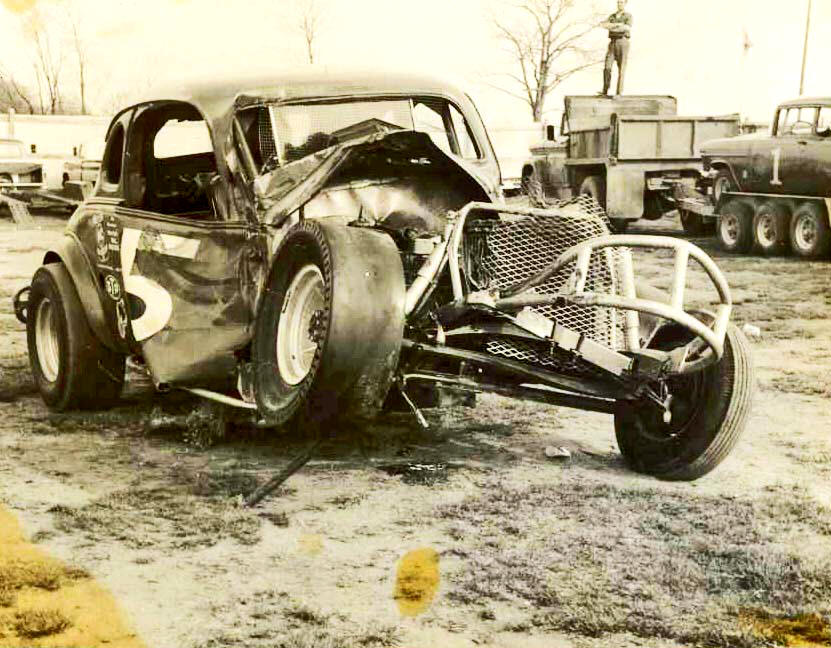 Courtesy of Jack Anderson
Jack did a fairly good number on his sportsman coupe at
Catamount in 1965. It didn't seem to handle much after that.
Below – Jack, at Catamount, with a typical late model of his.
I think that is Dad siting guard.



Ladabouche Photo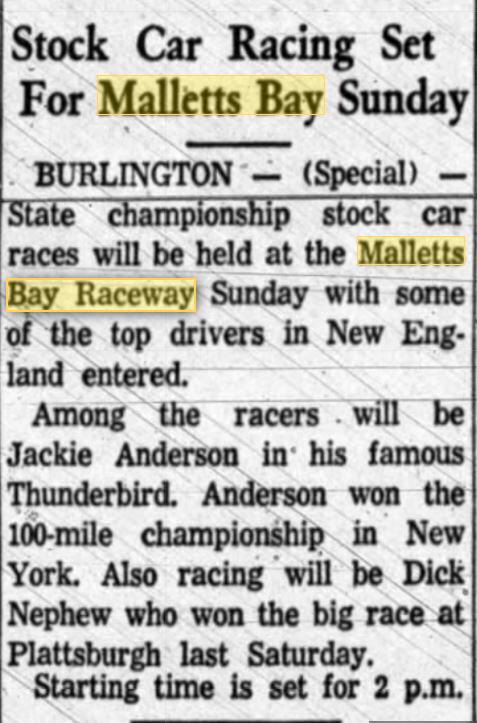 Courtesy of Jack Anderson
Jack didn't get much ink in the 1950's but this one did feature him.

Please email me at wladabou@comcast.net if you have any photos to lend me or information and corrections I could benefit from. Please do not submit anything you are not willing to allow me to use on my website - and thanks. For those who still don't like computers - my regular address is: Bill Ladabouche, 23 York Street, Swanton, Vermont 05488.
AS ALWAYS, DON'T FORGET TO CHECK OUT THE REST OF MY WEBSITE:
www.catamountstadium.com
Return to the Main Page
Return to the Main News Page
Return to the All Links Page
Return to the Weekly Blog Links Page