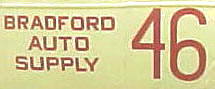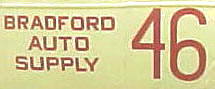 A Man Who Could Be Easily Called "Dean of Northeast Racing"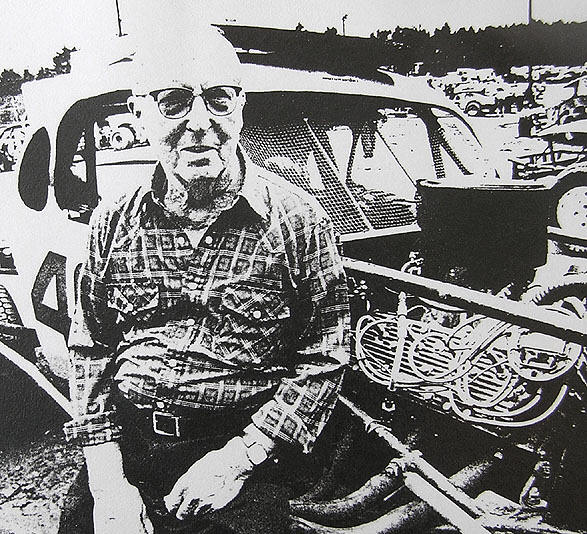 Courtesy of Cho Lee
George Barber, later on in his career, with his car at Bear Ridge Speedway.
It is presumptuous for me to try and write up a bio on George Barber. 1.) there is far too much about him to put in one web page; and 2.) Cho Lee would have known far more knowledge on George than I. But, I don't have Cho, so here I go.
George Barber, proprietor of Bradford Auto Supply in the Connecticut Valley town of Bradford, Vermont, started getting involved in Vermont - area stock car racing practically at its inception in the early 1950's. Photos of Barber's familiar cream-colored flathead Ford coupes began to surface in state newspapers at such tracks as West Brattleboro, Stateline, and maybe even Pico. I am sure he also tried the Cheshire Fairgrounds, in Keene, New Hampshire and maybe Rhythm Inn near Millers Falls, Massachusetts.
STUB PIPER ERA
[The First Car]

George's first driver of his original team [#46] was Stub Piper. There are pictures of Stub at some of the previously - mentioned tracks in the early 1950's, which suggests George was not afraid to range quite a ways from home in search of the best stock car competition. When Barber was starting, the races at Cheshire Fairgrounds were being starred at - and sometimes run by - a good - looking driver named Pappy Forsythe. After a bit, Forsythe got on board with Barber and began a long run of driving the #46. One picture shows Forsythe [or possibly Piper] chasing the legendary Steve Danish around Stateline Speedway in North Bennington, Vermont around 1954 or 5.
EARLY ROY FORSYTHE ERA
[The Second Car]

Forsythe and Barber were effective right away. Another shot from that same approximate time period shows Barber, Forsythe, and crew holding unopened bottles of Coca-Cola and being the apparent recipients of a championship feature win at [as George's caption puts it] "a New York track". That turns out to be Stafford Springs, Connecticut. Some Forsythe material shows him driving his own car 80 at what would seem the same time as he was supposedly driving for Barber. I haven't figured this out yet. I would suspect he ran both cars at different times in the same years.
Eventually they would run closer to home to run some of the tracks in Colchester, Vt., at Northeastern Speedway in Lower Waterford, Vt., and - by 1960 - at Barre's Thunder Road. It was here that Barber added a second, nearly identical coupe #47 with the same graphics, driven by New Hampshire's Leland Ingerson, the eldest of four racing brothers. Barber's team was extremely successful at Barre and Northeastern, with Forsythe finally being replaced by Libero Buzzi's driver, Larry Granger. The team continued to make a name for itself until NASCAR came to T Road in 1965 and the flathead - engined pre- 1936 coupe were phased out.
THUNDER ROAD ERA
[The Early 1960's Cars]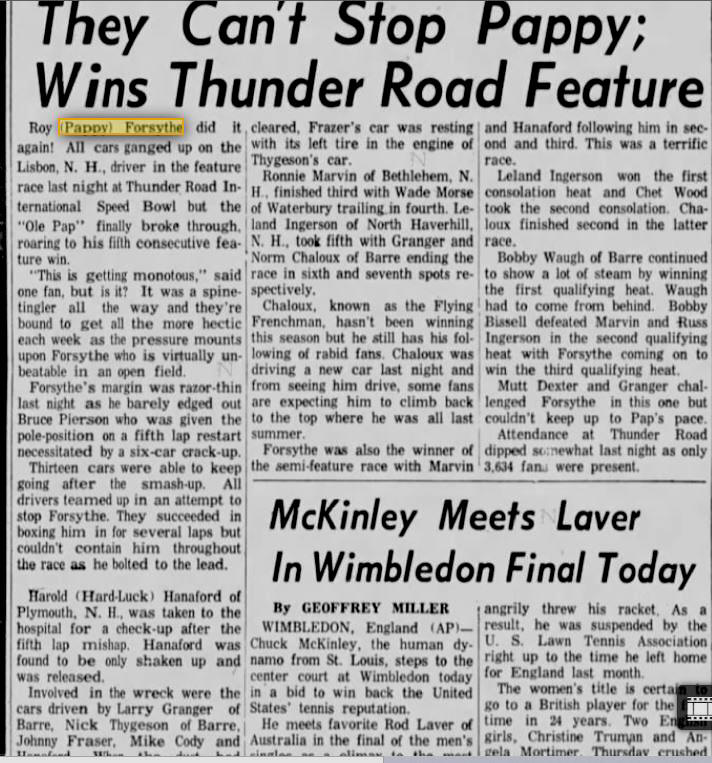 Barre/Montpelier Times Argus
This article pretty much tells how Barber and Forsythe fared when they first ran T Road in 1961.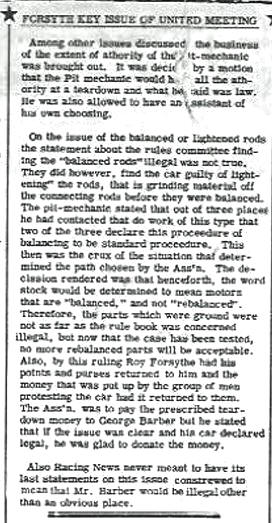 United Racing Club Racing News 1961 Issue
Courtesy of Craig McDonald
Article reports on the flap going on in 1961 about Barber's "unbalanced" engine components.
Disappointed, Barber was determined to save the flathead racing from extinction. As Northeastern was closing its doors, and T Road was out of reach, he took some land in the boondocks of his Bradford township and carved Bear Ridge Speedway out of the dense woods. Legend has it that track builders scared more than one bear from the site in the construction of the "Home of The Coupes', which eventually made its was onto the pages of Stock Car Racing magazine. As coupe racing was becoming more sophisticated at places like Airborne, Thunder Road, and Catamount, low - buck teams and lovers of the flathead racing engine flocked to Bear Ridge to run at the only place left for them.
Barber ran the track until selling it to the Chuck Elms family. He actually fielded a flathead race car up into the 1970's. At 90, George was still active. We lost him recently. It completely escaped logic why he is not in the NEAR Hall of Fame. Hell, he should have been in the first class of nominees. He occasionally speaks with racing historians like Cho Lee, and has generously let Lee take some of his old trophies and other materials to help preserve racing history. My hat is off to George Barber - and pioneers like him.
POST THUNDER ROAD/ BEAR RIDGE ERA
[The Late 1960's Cars and More]
George Barber, unfortunately was such an unassuming man that he placed very little stock in the trophies and awards he had accomplished. Most of them were stored in an outbuilding, and shared their accommodations with chickens. So, many of the trophies' inscriptions are gone or unreadable. For example, we are not sure which is his most important ones. There is one, from a "Colchester-Bayview Speedway, for instance; and no one even know which Colchester track it was. Most agree it was probably Barcombs' track, near the Malletts Bay Drive - In.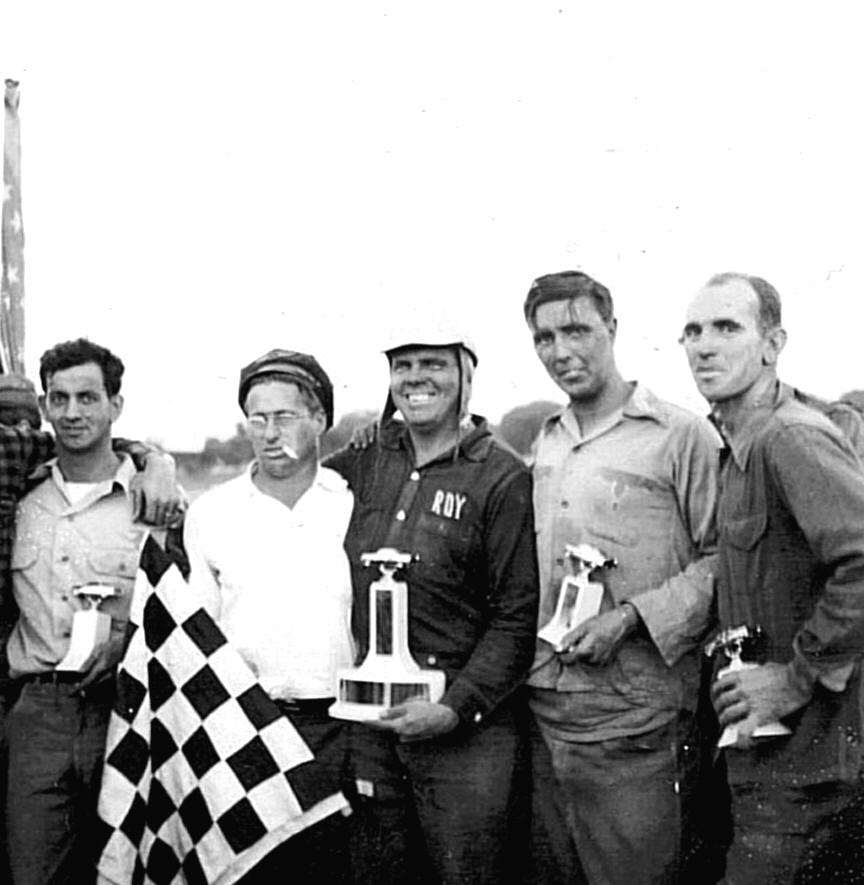 Frank Hart Collection Courtesy of Arnie Hill
Forsythe is seen here holding the Colchester - Bayview trophy shown below.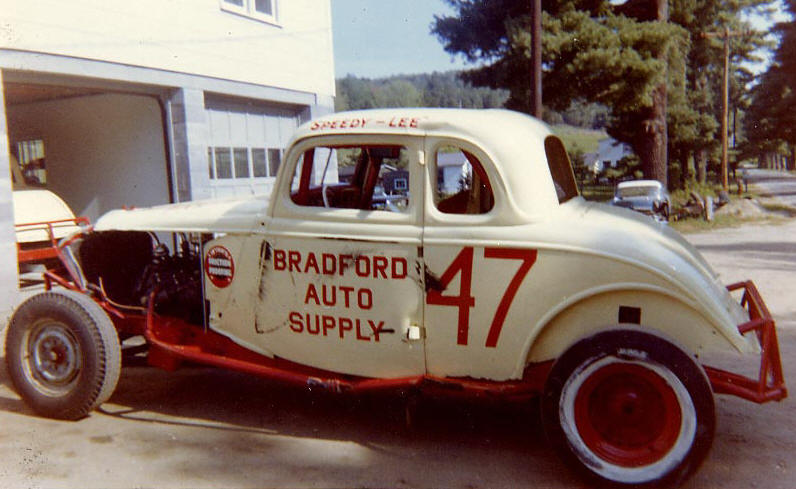 Courtesy of Ken Paulsen
The Ingerson car looks like it had some spirited action the night before as the 46 car sits
in the relative safety of George Barber's garage. Check out how high that donut is on the driver's side.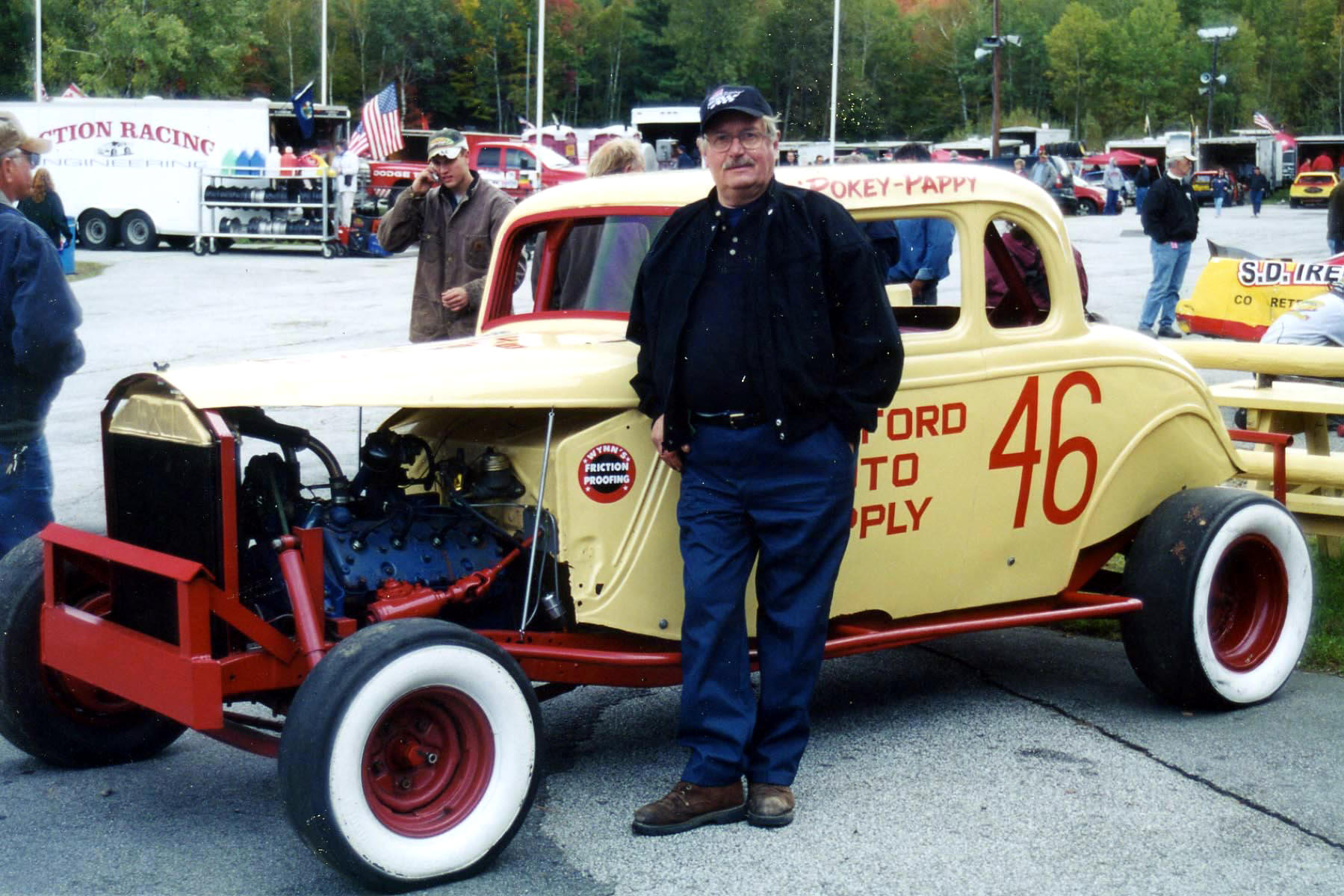 Courtesy of Ken Paulsen
Junior Coffin poses with is old car at a recent Milk Bowl at Thunder Road.
Courtesy of Cho Lee
A reunion in Barre around 2005. George is front row, with cane. Early official Emilio Girelli is at his right.
MORE TO COME Return to the Main Page
Return to the Main News Page
Return to the All Links Page