---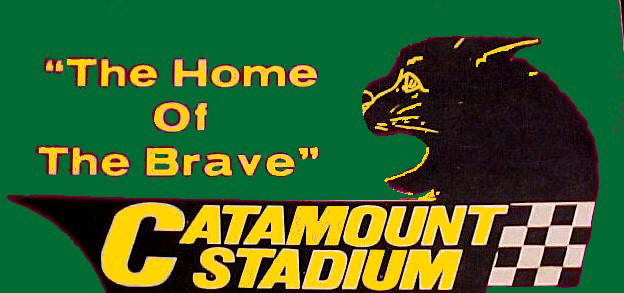 ---
Reunions, Car Shows, Anniversaries,
and Encounters with Stars of the Past
2005 Swanzey Meet Barre VT Reunions Watervliet Breakfasts Bear Ridge 40th Northeastern Reunion Casey's Party
2005 Swanzey, NH Car Show and Vintage Meet
Swanzey, New Hampshire hosts a vintage race car meet, in coordination with their Old Home Days [or whatever exactly they call them] annually in July. This was the largest of its kind, in terms of the number of participants, that I have personally attended. Photos here include some guest stars and some beautifully - restored cars. Other exhibits included photo albums and model cars.
The immaculate Bushey
coupe. [Proud owner in
orange shirt]

Group shot from the Swanzey show. Can you find your favorite legend ? Terry Marks, one of the show's organizer and a car restorer, is at far left. Next to Marks is Harold Rounds. Sonny Rabideau is to the right of the banner, helping hold it. Buddy Bardwell is in the red hat behind the man holding a green jacket on his arm. Don Rounds is partially hidden, in front of the man in the maroon T-shirt in the middle.

NEAR Hall of Famer
Sonny Rabideau with
his former car, the Stroker
Smith 311 - as restored
by Terry Marks.

Buddy Bardwell returned
with his familiar #13

Racing legend Don
Rounds, from
Warwick, RI

Rounds talks with Sonny Rabideau. Can you
imagine all these men
could recall ?

Driver & owner Jean Michaud [left] with car builder Bruce Carmen, who built those #23's
for Mert Hulbert.
Barre, VT Car Show and Thunder Road Reunion
Barre, Vermont hosts a Thunder Road reunion vintage meet, in coordination with their Barre Home Town Days. The meet is at the Barre City Fire station. It has been held for years, but it is in danger of being cancelled because the fire station has been condemned. The firemen cannot even store their engines inside.
Various interested locals, including Barre race historian Cho Lee, set up the meet yearly and it has attracted a number of Thunder Road, Northeast Speedway, Catamount Stadium, and Dog River Speedway veterans, as well as delighted fans and history buffs like me.
The car of Norm
"The Flying Frenchman"
Chaloux

Historian Cho Lee is at
right with his back to the car.


Norm in his car.

Courtesy of Cho Lee

Norm's car entering Thunder Road. Year unknown

2005 Barre Reunion
Group Shot 1

2005 Barre Reunion
Group Shot 2

2005 Barre Reunion
Group Shot 3

Bobby Dragon [left] and
Dick Blake at the
reunion. Blake has operated
the most famous wrecker
at T Road since the track
opened.
The Monthly Watervliet Breakfast
A large group of veteran drivers, car owners, photographers, and other appreciators of the vintage years of racing meet every first Thursday of the month at a small diner near Watervliet, NY [I wish I could remember the name of the place]. I found about this from Carl Fink, a former driver in the region and a present - day owner of a vintage midget race car, which he travels around and displays.
I figured I absolutely HAD to get to one of these during the summer of 2007, so I went down on July 5 and had a great time. Among those in attendance at recent breakfasts include former drivers Link Pettit, Carl Fink, Cookie Osterhoudt, Ernie Martin, Johnny Flach, Lee Palmer, Ollie Palmer, Bruce Dostal, Lou Martin, Mike Ehring, and many more whose names I cannot come up with. Among the car owners are Cliff Wright and Bob Zautner, as well as midget owner Joe Sukup. Track photographers include Les King and John Grady, and there were other notables such as artist Sam Barlow, historian Ken Gypson, and Ed Biittig, who owns a considerable photo collection, himself.
My friend [and big Jack DuBrul fan] Bob Novak was there the week I came down. Others who signed the pad for me in June were Bruce Boyler, Bill Gonyea, Mike Kulzer, John Bichteman, John Cahill, Claude Barber, Bob Barber, and Joel File. If you are in this scene and you live anywhere near that area, it's something you ought to do. Contact one of these guys to get directions.

Ladabouche Photo
Johnny Flach [hat with red
brim]. I'm sorry I don't
know the others yet.

Ladabouche Photo
[From left] - Sam Barlow,
Bob Zautner, Cliff
Wright, and a man
I don't know yet.


Ladabouche Photo
Historian Ken Gypson
[foreground], Les King
[red shirt], and Mrs. King.

Ladabouche Photo
Lee Palmer

Ladabouche Photo
Link Pettit, [left]
chats with another
former driver - maybe
one of the Martins.

Cavalcade Photo
Cookie, in the day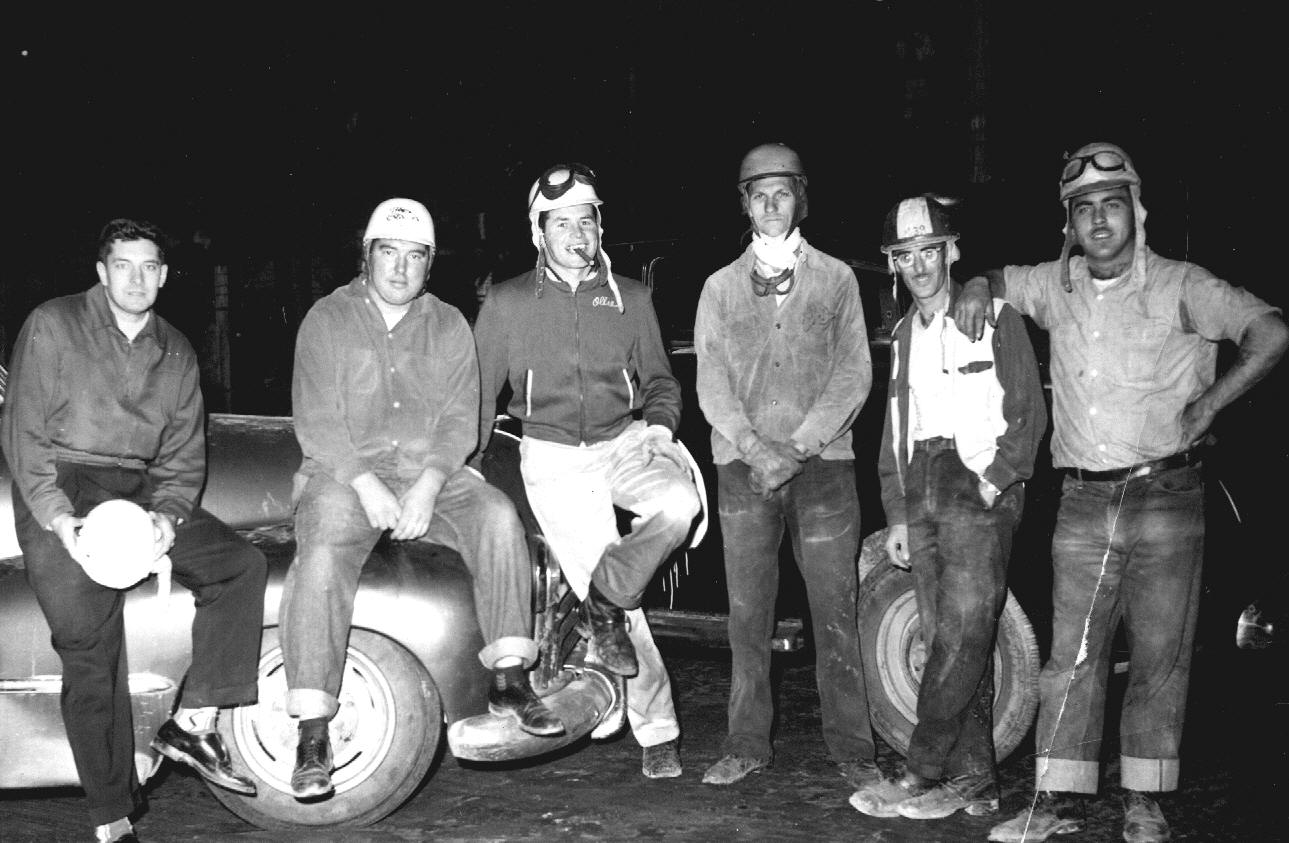 Conroy Photo Courtesy of Chris Companion
Two of the six guys in this old Lebanon Valley shot are sometimes at the breakfast:
Lee Palmer [second from left] and Ollie Palmer [cigar, no relation to Lee]. The whole group is: Howie Westervelt [left], Lee Palmer, Ollie Palmer, Lou Hacker, Bob Kudlate, and Henry Bouchard.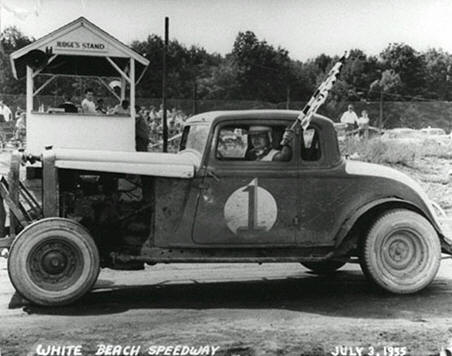 Bill Ladabouche Photo Photographer at Whites Beach probably Irv Conron
Ernie Martin, a regular at the breakfast. [Left] attending the lost race tracks conference
in Saratoga in April. [Right] as Whites Beach Champion.
The Fortieth Anniversary of Bear Ridge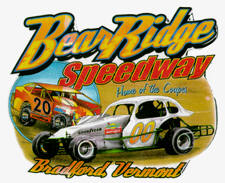 Cho Lee had been telling me for months about how he was putting together a special album for the 40th anniversary of George Barber's founding of Bear Ridge Speedway, a track whose main purpose was to save that most endangered of species called the flathead stock car. In 1965, Thunder Road had begun to phase them out because of the new NASCAR affliliation, and tracks like Fairmont and Claremont were seeing more and more of the overhead V-8's in Victory Lane, as well. The new Catamount Stadium wasn't particularly interested in the flatheads either, and its size was not ideal for them.
Barber, apparently with some help from Herb Gray, had taken some land on top of a mountain in the middle of nowhere, near Bradford, Vermont, and carved out a fairly bucolic little oval no longer than one fifth mile. Soon, about every damned coupe with a flatheaqd had been pulled out from behind the garage or barn and was running at the Ridge. The track enjoyed publicity [albeit somewhat sarcastic] in STOCK CAR RACING magazine in the early 1970's. As with all things, changes came and the track ended up with many of the more modern Troyer cars and others of that type. They kept a coupe division; although, today, most of the coupes are just modern chassis' with a very modified coupe body on top.
The evening was very successful, giving promoter Butch Elms one of the biggest crowds of the year, and he was presented by an original poster from the track that had once been owned by George Barber. Barber himself, now in a care home, was transported to the track where he watched not only the races but also a parade of vintage stock cars including his own #46 Bradford Auto Parts car. Below are the few photos I took of the vintage car end of the program.

Ladabouche Photo
Doug Farrow [owner] and
Johnny Gammell, with
a car Johnny drove.

Ladabouche Photo
Vintage coupes display.
Among those in the shot:
Butch Elms, Lloyd Hutchins,
Harold Montandon, and
Johnny Gammell.


Ladabouche Photo
Vintage Row
Cars include Farrow's
32, Hutchins' 46 and 12,
and Zampieri's 30.

Zampieiri Collection
Buddy Bardwell
was there with
his Hudson coupe.

Courtesy of Cho Lee
George Barber,
at home with his
son in the 1960's.

Courtesy of Cho Lee
A typical scene from
the first season at
Bear Ridge.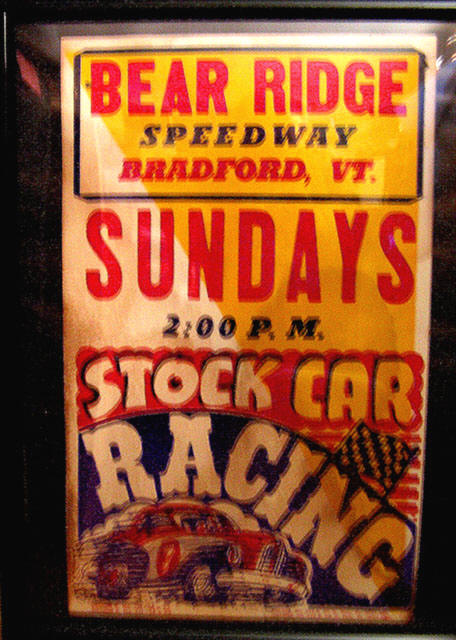 Courtesy of Cho Lee
The poster given to Butch Elms by Cho Lee. Sorry about the poor photo quality.
2010 Bear Ridge Old Timers' Night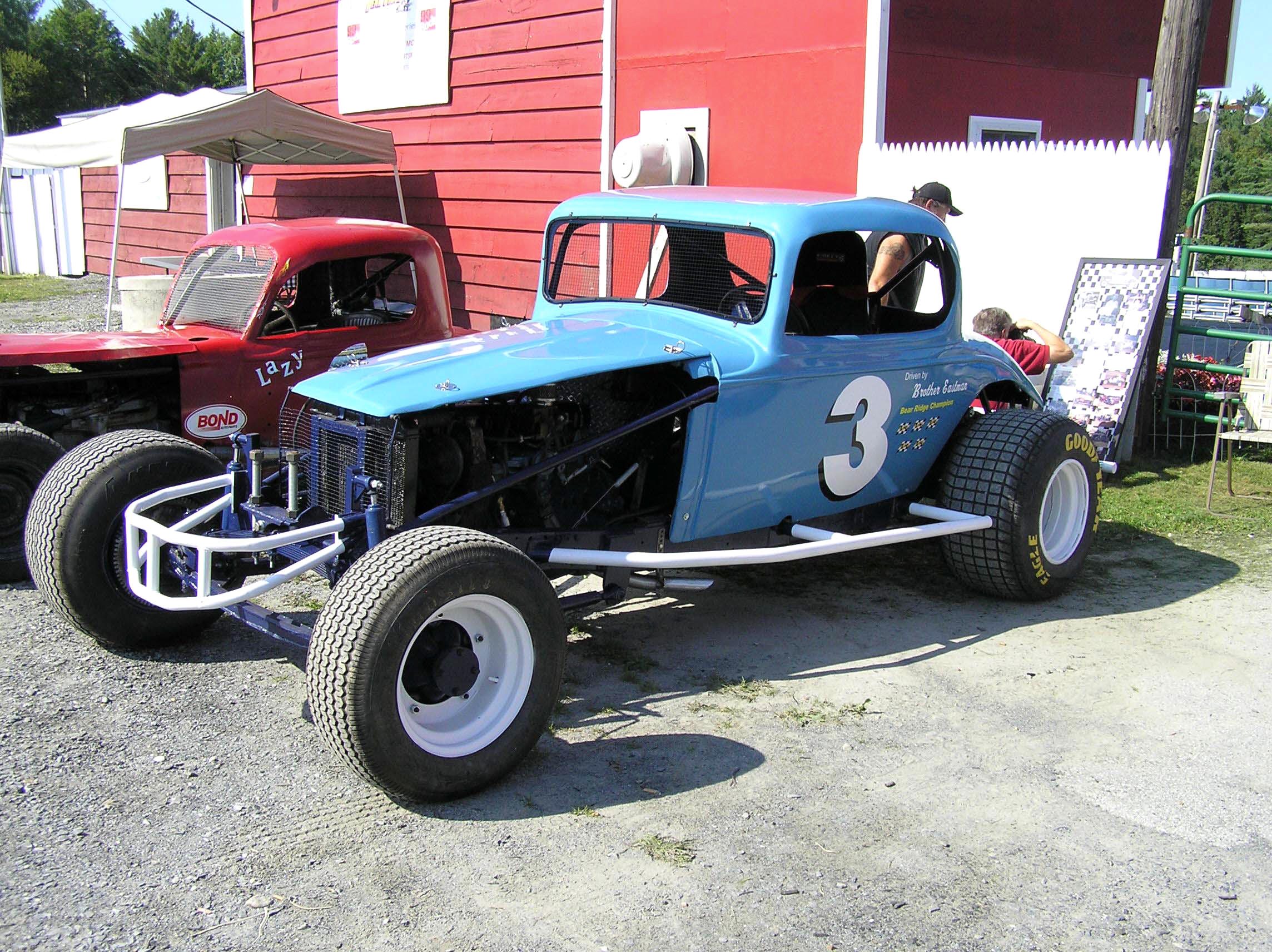 All 2010 Oldtimers' Night Photos by Ladabouche
The restored coupe of Ervine "Brother" Eastman was one of the most significant cars in the
history of the track [and it was a big hit at the 2010 Oldtimers' Night festivities]. In attendance were a number of
former drivers, as well as many vintage racing historians like Cho Lee, Lloyd Hutchins, Neal and Rob Davis, Ken Paulsen,
Scott Haskell, and more. I apologize for forgetting other names, but it was a month ago.

Two of the hard workers in
the field of vintage racing
preservation: Neal Davis
[left] and George Hill

The #199 Farley Kemp Camaro
entry of Bill Kemp had the
most power and raised the
most noise. F. Kemp was an
associate of Bobby Edwards,
of Alligator car fame.


The Lazy 6 was one
of the actual Bear Ridge
cars of the past.

The former Emerson 27
was another old Ridge car.
It came up with Barry Roy
and Archie Banks.

Neal Davis' great model of
his father's car, the 99 of
Carroll "Crash" Davis. It
ran at Pico Raceway, in
Rutland, Vermont.

This was a replica
of Richard Southworth's
B Class car that ran at
T Road and N'eastern.

Former driver and flagger
Emilio Girelli posed by the
3J car.
I didn't have photos of the Rocky Cusinelli 51. The Lloyd Hutchins car
are already shown in several other
photo locations on the page. He and Cho brought the Barber 46 and
the Chaloux 12 this year. The 3J is
shown elsewhere, as well. The former Silvio Bilodeau 92, shown in the Northeastern Reunion section, was"there.
The Northeastern Speedway Reunion 2009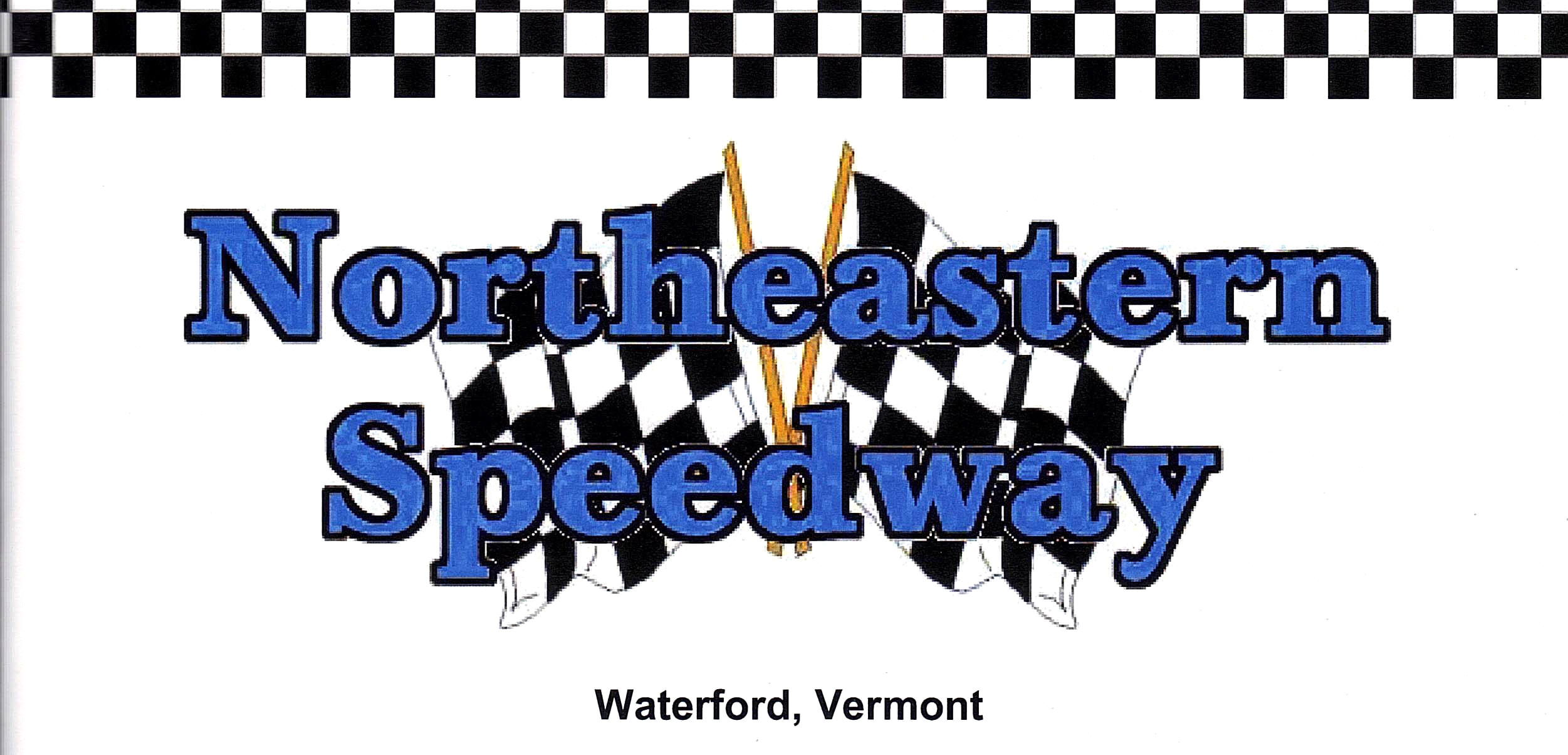 After nearly a year of work to clear and reclaim the long - dormant Northeastern Speedway site, owners Paul and Lise Belfeuille hosted a track reunion on July 18, 2009, the fiftieth anniversary of the track's opening. I will insert photos as I receive them. It was one of the most enjoyable and emotional reunions I ever attended.

Northeastern Program Cover Photo
Cars line up on front stretch in 1963.

Ladabouche Photo
The front stretch, around 1980.


Justin St. Louis Photo
The front stretch, at it s worst, 2007.


Ladabouche Photo
The Silvio Bilodeau sedan looks much like it did in the day at Northeastern.


Steve Poulin Photo
Paul Belfeuille directs parade laps on July 18, 2009.

Ladabouche Photo
Cars parading on
the front stretch.

S. Poulin Photo
Paul Belfeuille
displays the 1st
checkers flown at
the track. It is in
a photo frame.


Ladabouche Photo
Charlie Ely [left] and
Johnny Gammell, two
founders of the track.

Ladabouche Photo
Buddy Bardwell trailered
his famous Hudson all
the way from Keene, NH.

S. Placey Photo
This banner welcomes
you to the N.E. Spdwy
2009 Reunion.

S. Placey Photo
The walkway looked
very familiar to the old
hands at the reunion.

S. Placey Photo
An accurate replica of the
old ticket booth with
an authentic old sign.

S. Placey Photo
The railroad ties are
still protecting the fans
from turn four.
2010 Northeastern Reunion


| | |
| --- | --- |
| Photo Courtesy of Paul Bellefeuille | Photo Courtesy of Paul Bellefeuille |
Ron Bouchard's Yearly Nostalgia Meets
Every year, former NASCAR Winston Cup and former Northeast modified driver Ron Bouchard hosts a gathering at his Fitchburg, MA auto dealership. This attracts many vinatge racing buffs, as well as car restorers and many of the original drivers, themselves. I was lucky enough to go with my wife in 2007.

LadabouchePhoto
Ernie Gahan talks with
Buddy Bardwell .

LadabouchePhoto
Billy Harmon talks with
Leo Cleary and Bob Potter


LadabouchePhoto
Extraordinary car builder
Marty Harty and Mrs. Harty.

LadabouchePhoto
Ernie Gahan talks with
an unidentified man.


LadabouchePhoto
Buddy Bardwell and 13 .
John Casey's Annual Old Timers' Party
Almost every year, John Casey is gracious enough to host a picnic and get-together for people involved in the earlier years of racing in Vermont. It centers around NASCAR and ACT , but he has had guest such as C. J. Richards and Dan Kearney - from the Rutland County area, as well. The party used to be at Casey's camp, somewhere way up north. Recently, he has held it in the Turn Three Pavilion, Forsythe Hill - at Thunder Road.
2009

Steve McKnight Photo
Ron Lamell, Sr. and Jr.

McKnight Photo
Alvin "Slugger" Fadden
threatens "Bear Staples,
from McCabe's crew.
Yeah, right.


McKnight Photo
Kevin Lepage and
Justin St. Louis.

R Scott Haskell Photo
Harold Hanford and Johnny Gammell.

McKnight Photo
Large group shot
taken by Steve "The
Shutterbug" McKnight.





McKnight Photo
Two old mega-rivals
J P Cabana and
Bobby Dragon.

McKnight Photo
Tiger Tom Pistone and
yours truly. McKnight
says we look alike. I always said
Pistone is one handsome man.



R Scott Haskell Photo
The crowd, munching away.

R Scott Haskell Photo
Dave Moody and some
of his womans.

R Scott Haskell Photo
What's a spread of Casey's
party without the hosts ?

R Scott Haskell Photo
Let's hear it for
the cooks.

R Scott Haskell Photo
Lloyd Hutchins talks with
A.W. Clark. That's Tony
Andrews in the foreground.


R Scott Haskell Photo
Me, talking to Dan
Kearney [obscured by
my massive body] and his
group.

R Scott Haskell Photo
Me, Cho Lee, Lloyd
Hutchins, Bob Dragon,
Leif Tillotson - among others.


R Scott Haskell Photo
A plug for Casey's
great publication.

T Brisson Family Photo
There must have been some serious
Stories exchanged here: Langis Caron,
Kevin Lepage, JP Cabana, and Beaver Dragon.


T Brisson Family Photo
Former team mates talk.
Robbie Crouch, Dale Shaw [kneeling],
Dick Glines. That's Gardiner and June
Leavitt in the background.
2007







Ladabouche Photo
A group talking to Stub Fadden:
Tom Tiller, John Keefer, Valerie and Steve Poulin


2012 Airborne Park Speedway Legends Reunion
The track has added a little to each succeeding year's festivities when they recognize their stars of the past. Few areas hold their stars of yesteryear in more reverence than do the people at Airborne - all the way from promoter Mike Perrotte to very young people who now participate or just attend as fans. Sadly, we continue to lose our past Airborne stars like Charlie Trombley, Dick Nephew, and Bob Bruno [died last year]. This year did feature Jackie Peterson, Jean-Paul Cabana, Bob Trombley, car owner Gaylord "Junior" Rowe, Henry Jarvis, Harold Ormsby, Jim LeClaire, Bob Brunell, Jack Liberty, and others. Usual attendee, Bill Wimble, was unable to come this year. Others like long - time Bob Bruno mechanic Jack Rugar and former driver Robin Branham were in attendance but preferred to stand out of the limelight.

Bruce Jarvis, nephew of Henry and son of Ralph, did a bang-up job with the luminaries' bios and with interviews.


Norty Foster Photo
Jackie Peterson, with the
replica of the sprinter he ran in 1949 at tracks in Ticonderoga, Sheldon, VT, and elsewhere. Clem Couture assisted the 89 year - old in this project.



Norty Foster Photo
Jackie Peterson, car owner
Ralph Jarvis, and me - at
the festivities.

Norty Foster Photo
Me, with Junior Rowe, son
of the famous car owner Gaylord
Rowe [himself, an owner and crewman]

Ladabouche Photo
Jack Liberty had a replica of his
JL7 on the track. That's Harold Ormsby, at left.

Ladabouche Photo
Bruce Jarvis interviews
Jean-Paul Cabana. Sorry
about the blurriness.

Ladabouche Photo
Curt "Metal Man" Giventer
with his #2 sedan, a veteran
of Weisglass Stadium, State
Island racing. At left is
a Canadian vintage
restoration entry.