THE BILL'S BACK IN TIME COLUMN PAGE
Copies of my column in Mark Thomas' "Racin' Paper"
BILL'S BACK IN TIME
By Bill Ladabouche
Column 61 - From Original Column 76
I'M IN HOG HEAVEN !
Every once in a while, when I am digging through photos or memorabilia , I will invariably run across something that reminds me of my old friend [everyone's old friend] C.A. Crouch. While this is not meant to be a comprehensive, well – documented piece, I just wanted this wonderful man to have his turn in my column.
According to a much older writer than I, Clarence was apparently once known as "Crunch" and he came out of the rough and tumble dirt racing circles around the Tampa, Florida region in the 1960's. When I wrote about the little-known but highly-accomplished Vermont native, Paul Connors, and how he had risen through the Southern sportsman ranks against the likes of Wendell Scott, Tiny Lund, Red Farmer, and Bobby Brack, it is almost certain he would have had to run against Clarence Crouch, as well.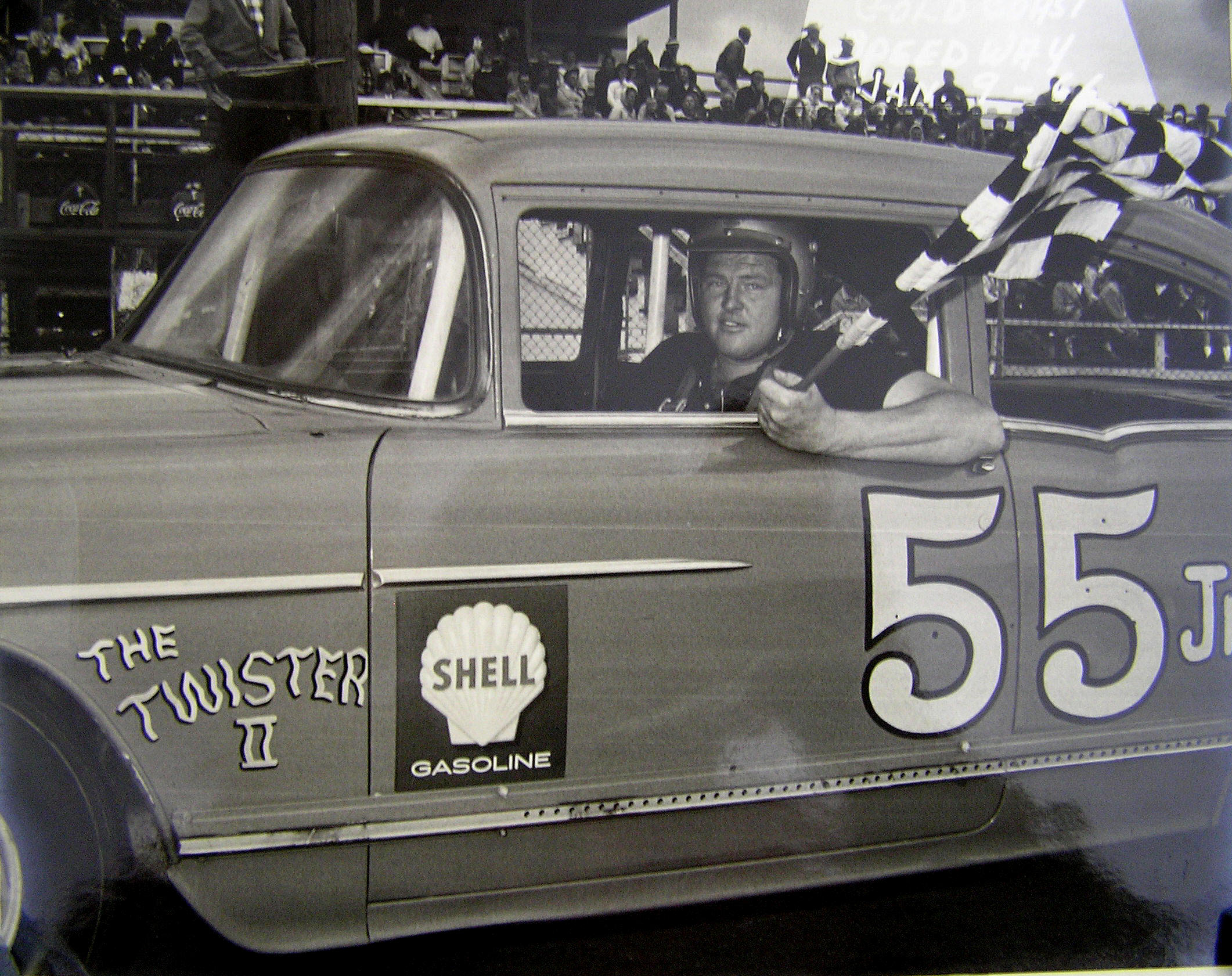 Legendary Tiny Lund, driving one of Paul Connors' cars, would have run against C.A. Crouch
during his time in the sportsman ranks. [Connors Collection]

When Clarence Crouch came North in the Spring of 1972, he had his young son, Robert, with him. Little did anyone know then that Robbie, as Clarence always called him, would become the winningest ACT driver possible ever. The Crouches first settled in Fair Haven, Vermont, where they knew C.J. Richards before they knew their future friends, further north.
I recall one of the sport's early national writers [it may have been Jim Moffat] writing about C.A. "Crunch" Crouch and his son [whom Jim called "Bob"] installed in Fair Haven and ready to race in the new Northern NASCAR circuit. The Fair Haven arrangement would have worked out better had it been in the ensuing year – when Northern NASCAR's crazy, five-track schedule would include a newly-paved Devil's Bowl. Eventually, the Crouches moved North.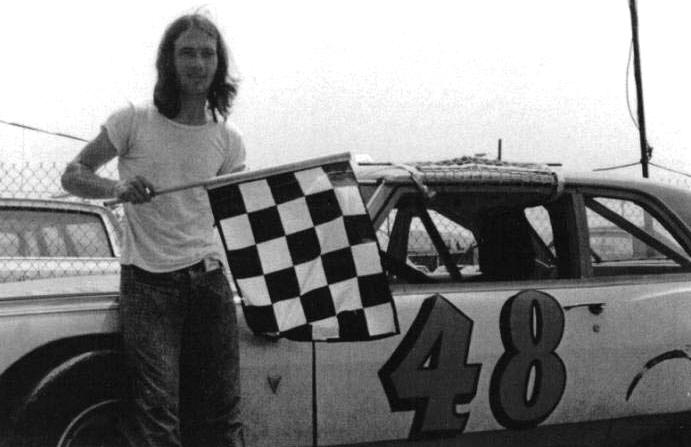 Good ol' "Bob" Crouch, back in 1972 or 73. [Source Unknown]
Clarence was strictly in Vermont to bring Robbie's career along. The two arrived at Catamount with a purple and gold 1964 Chevelle #48. Clarence became a familiar and popular figure with his ever-present gray work clothes, his perpetual cigarette, and his smooth Southern charm with any lady in sight. He was a sharp contrast to his long-haired, but equally charming son.
Clarence and Robbie would work their way through the first seasons OK, but with nothing too spectacular. Some time later, Robbie would go off to drive for the newly – arrived Bob Curtiss in the Black Angus Steak House #25 1974 Chevelle. C.A., no doubt somewhat disappointed, would bring up a family friend, Danny Perez, to drive his new car, now a 1968 Chevelle. Robbie would be unsettled and moody much of that season, and the wild Perez would continually wrinkle up Clarence's #48. Probably, bith wanted to be back with the other by July.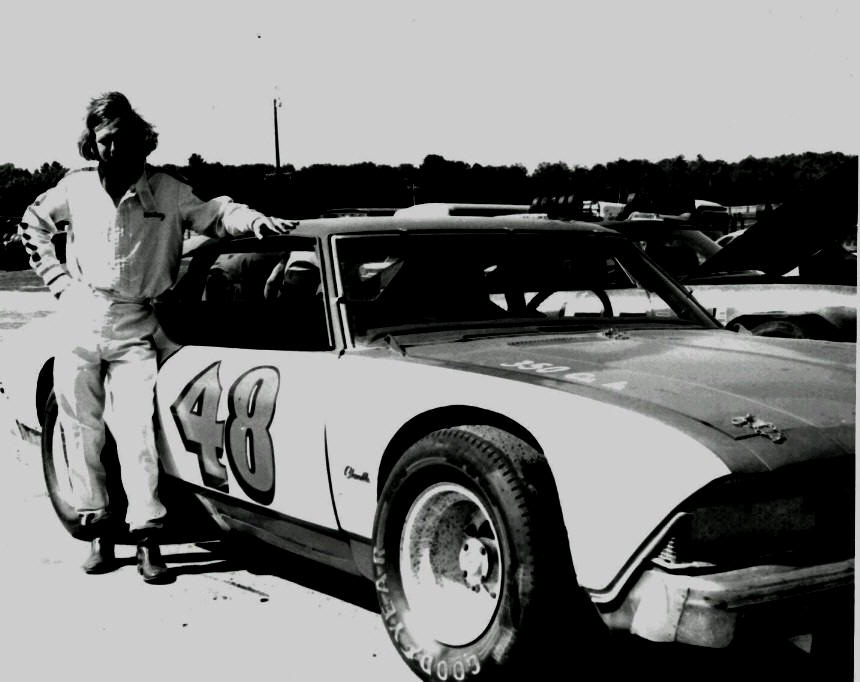 Probably Perez would have been the better recipient for the nickname "The Tampa Tornado".
A tornado would have torn the 48 up less. [Courtesy of Chris Companion]
After that, the Crouches were back together for years, and they became very successful – especially in the mid to latter 1970's. At one point, Robbie left the area and went back to Florida. We all heard he was back racing on dirt, but I have no proof, one way or the other. This split prompted Clarence to join forces with Franklin County's Phil Gerbode, a financially comfortable relative of the Dole Pineapple fortune and a race enthusiast. Always using factors and multiples of his 48, Crouch built cars numbered 12 and 24 for Gerbode. The team went through a number of highly – successful seasons with Gerbode and other assorted drivers with varying degrees of experience: Tim Dykman, Mike Barry, Tom Glaser, and Mike Rowe.
The Gerbode years were very satisfying and defining for Clarence Crouch. At first, the team had rented an empty gas station right off Interstate 89, in St. Albans, Vermont, where the Wagon Wheel Truck Stop is now located. When I went up there to letter Dykman's red #12 Pontiac LeMans, I had a great evening talking to Clarence. He was a talented man with a very simple life style.
I recall him saying, "Bill, if I have a six pack of beer and pack of cigarettes, I'm in HOG HEAVEN !" He had long since been made to stop inhaling the damned things, so he'd use the cigarette like a cigar – just puffing on it. Even all those years and dozens of victories later, he still dressed in the matching uniform of gray Dickies work clothes.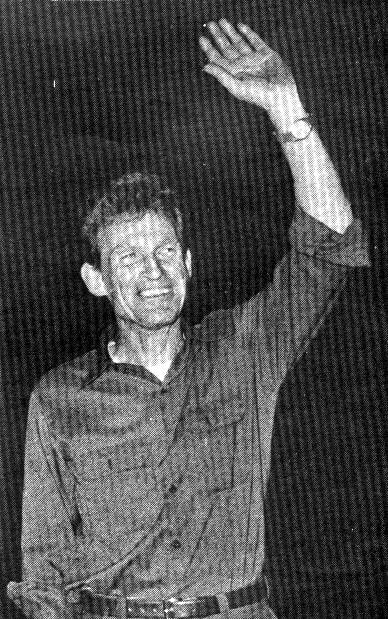 "I'm in Hog Heaven, Bill !" [Courtesy of David Turner]
The good-natured team won a few races, here and there; and then Dykman and Gerbode would lose interest in being the drivers, turning the potent #24 over to high – potential chauffeur Mike Barry, who was fresh off a gig with another millionaire, Remo Pizzagalli. Now tragedy was about to rear its ugly head for Clarence and Robbie, who had returned from Florida with a little Nova that was tearing up the circuit.
As the 1985 [ I think] season was about to begin, Clarence and sometimes – driver Tom Glaser had prepared the team's #12 car to be debuted in the Spring Green by the younger Crouch son, Ricky, The blonde, vociferous Ricky had been around the scene for years, and was now finally old enough to drive. The night before the Spring Green practice was to be held, Ricky had a fatal crash with his truck on Interstate 89.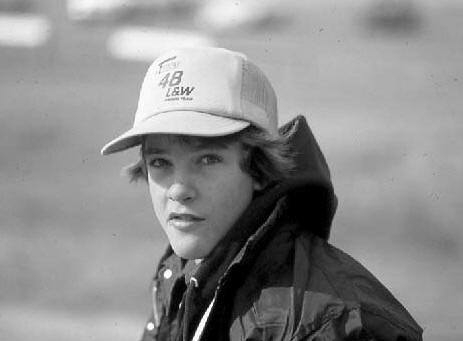 Ricky Crouch was ready to drive. [Courtesy of Mark Dean]
In tribute, the #12 was rolled out the next day and driven by Glaser, a former mini stock driver who had had limited success in the late models. Fueled by emotion and adrenaline – with a little divine help – Glaser drove the car to one of the biggest upset victories in the history of the NASCAR North circuit. Despite the storybook ending, Clarence was heartbroken and never felt the same about anything again.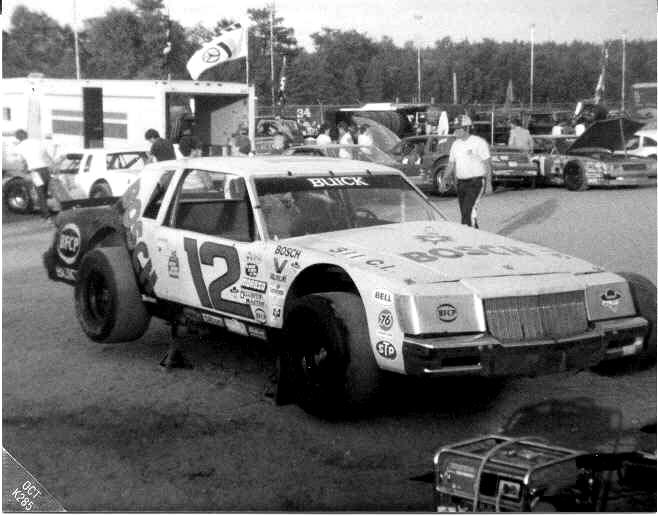 The Crouch #12, at Oxford, with Glaser as permanent driver by then. [Courtesy of Darrell Rogers]
By now, Robbie was firmly entrenched with the L&W Tower Pizza #48, and was well on his way to sometimes total domination of the circuit. Clarence was seen less and less. Finally, while I away from the sport, we lost Clarence. All I can say is – I loved the man.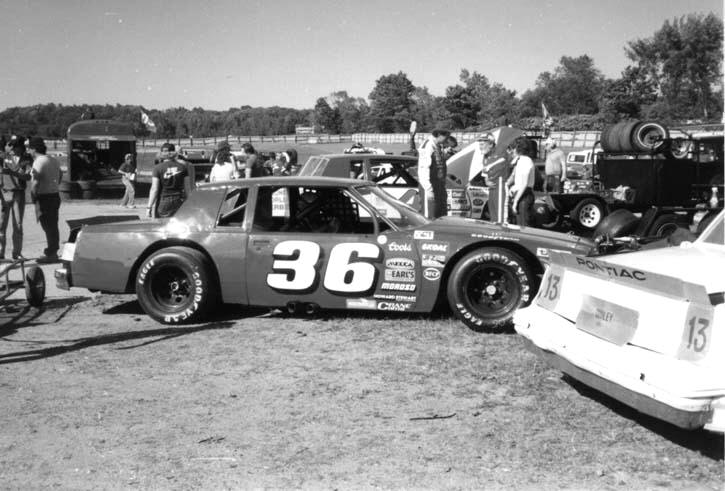 Clarence, with his car 36, talking to Barney McRae at Catamount around 1986. [Ladabouche Photo]
Return to the Main Page
Return to the Main News Page
Return to the Columns Link Page
Return to the All Links Page