BILL'S [Somewhat] WEEKLY COLUMN/BLOG PAGE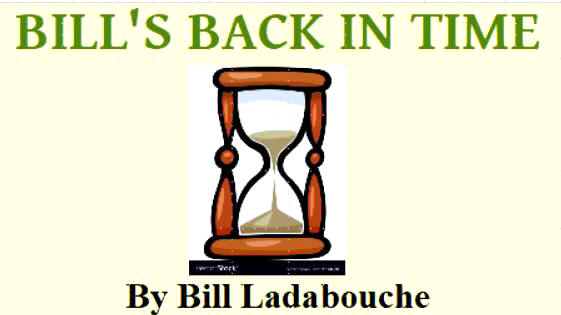 WHAT I CAN TELL YOU ABOUT THE EASTERN BANDITS

Let me start out by saying that, under ordinary circumstances, the Eaatern Bandits don't need me to write about them; they were legendary in and of themselves. But, I have a somewhat different readership, and one of the families was talking to me at Devil's Bowl this summer and – upon my mention of the Eastern Bandits - they admitted they had no idea who or what that was.
It was right there that "I seen my duty" and now, with it being too wet and cold outside to do much, I am "doin' my duty". With appreciated help from the work of those such as Bones Bourcier, Mike Adaskaveg, Pete Zanardi, and many more writers whose names were not readily available – I will tell those who don't know a little about this interesting chapter in stock car racing lore. I owe almost all this information to their efforts.

Courtesy of Midstate Club
In the late 1940's the modified playing field was fairly even. Northerners like New Jersey's Frankie Schneider
above raced on an even par with Southerners like South Carolina's Buddy Schuman [below].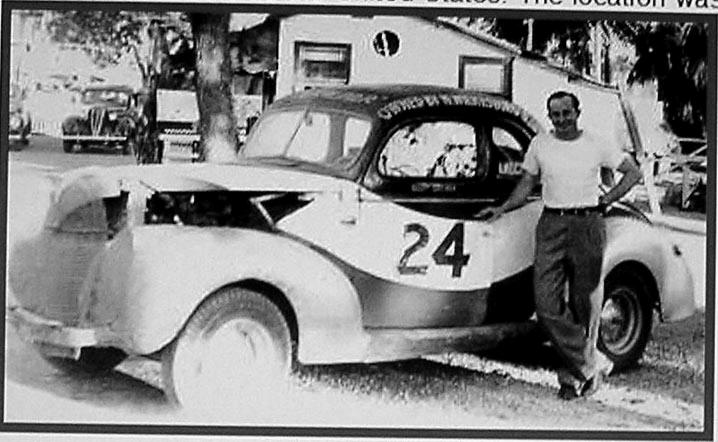 Legends of NASCAR Site
We here in the Northeast [particularly with late model sportsman racing] know all too well the struggle to catch up with the Deep South and the Midwest in terms of areas of racing in which they had tremendous head starts. When Northern NASCAR decided to upgrade its Flying Tigers to Late Model Sportsman cars, it took a few seasons to be able to compete with Southerners who had been at it with those cars since most of them switched emphasis from modified and sportsman coupes.
But there were good reasons why that big switch in emphasis took place, and one of those reasons was the Eastern-Bandits. Post WWII modified [and sportsman] racing started out with good teams coming from all over. The Northeast, with teams like the W.O. Taylor group out of Patterson, NJ and people like Frankie Schneider, seemed to be able to keep pace with the Rebels. As the old coupe and sedan racing began to get more sophisticated, many of the biggest strides seemed to be happening both in the New Jersey/New York, Pennsylvania area – and also in southern New England.

Shany Lorenzet Photo via Flemke Website
One of Flemke's earliest rides, the Rich Yurewitch 1, which e
ran at Riverside Park Speedway in 1949. Below - Ed Flemke
had early exposure to quality race equipment such
as the Garuti team cars and he learned well.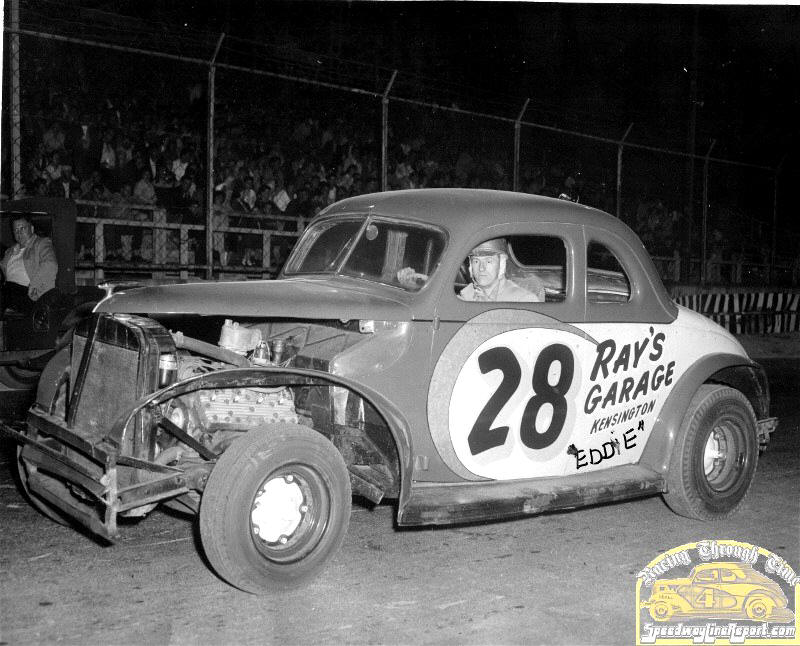 Shany Lorenzet Photo via Dave Dykes
By the early 1960's, many New Englanders had been racing at the many tracks that dotted the Northeast for the better part of ten years; and, in so doing, had been refining their art. One of the top performers was a likable Connecticut native named Ed Flemke. He had begun, like so many others, competing at the myriad tracks of his region ranging from the rustic Brattleboro and Rhythm Inn Speedways to the relative sophistication of Riverside Park, Agawam, MA and Empire Raceway, Menands, NY.
In so doing, Flemke would be rubbing fenders with the likes of Ted Tappett, who would go on to race in Europe; Pete Keller, who was destined to be a top NASCAR official; Roscoe Pappy Hough, who would go on to be a legend in midget racing; and many more. His racing world would eventually sift out the Pine Bowls, the Rhythm Inns, the Brattleboros, the Cheshire Fairgrounds, and other such lesser tracks as the Massachusetts / Connecticut scene became a powerful entity by itself.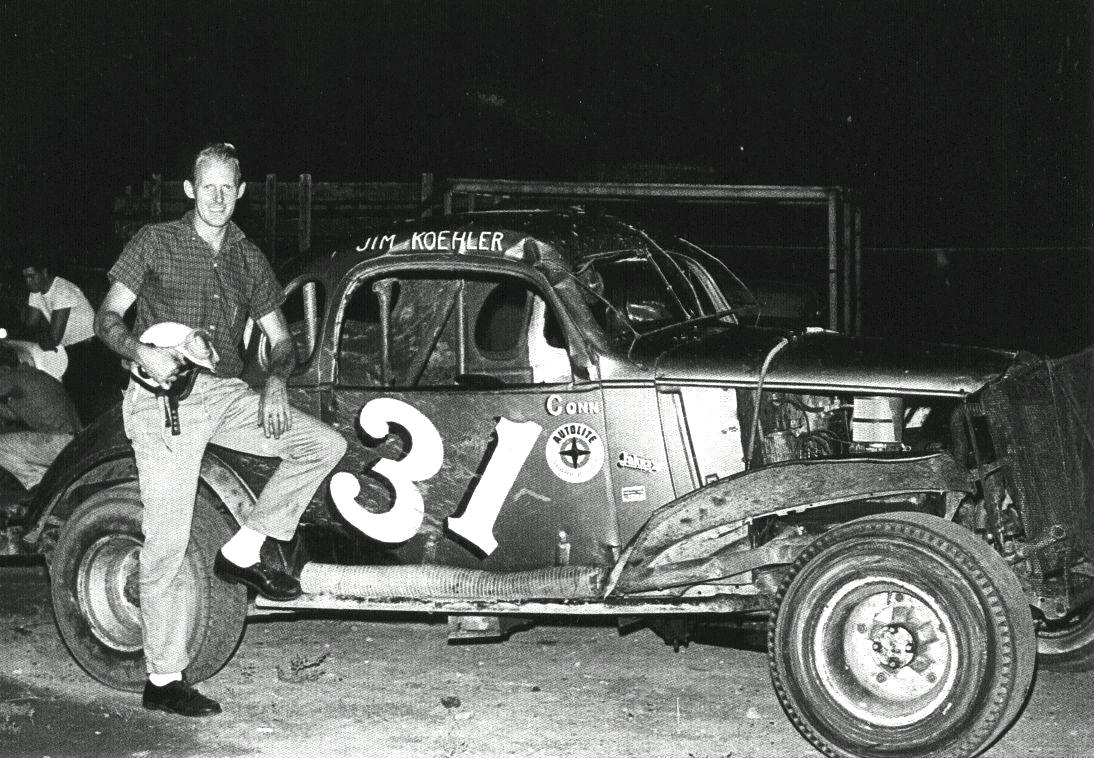 Russ Bergh Photo Ladabouche Collection
I recall watching Jim Koehler and his crew, in a borrowed garage
in Rutland, VT, discussing how to use the Flemke front end set
on this car. Below – One of Ed's most iconic rides was this
Bob Judkins 2X coupe, seen here at Catamount Stadium.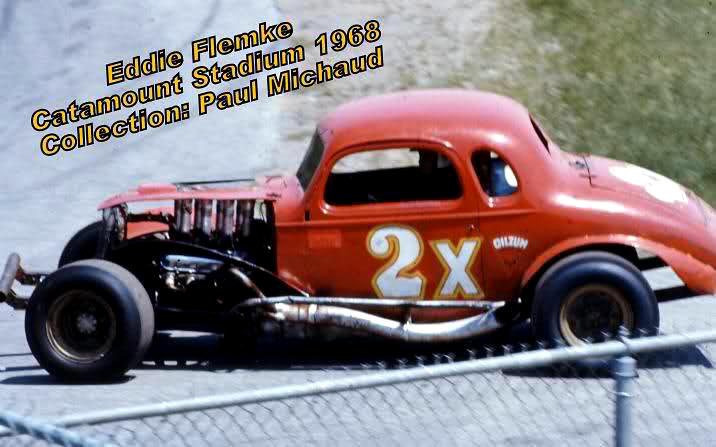 Paul Michaud Photo via Christian Genest
Flemke had become quite an innovator, at once always working on handling. His cars became lighter and he would come up with "the Flemke front end", an idea that improved handling and remained popular for years to come. Eventually dubbed "Steady Eddie" by racing photographer Shany Lorenzet, Flemke would be the essence of modified racing excellence by the '60's.
Running in a similar sphere of action as Flemke was Melvin "Red" Foote. Like Flemke, he hailed from Southington, CT [a town very close to the Massachusetts border] and – like Flemke, he began with jalopy racing in 1948. Whereas Flemke seemed to start out a little further North, Foote began at tracks around the northern Rhode Island area. While Flemke was not know for this, Foote had quite a run with the infamous "cutdowns" that ran in Connecticut and Massachusetts in the 1950's under declared unsafe and discontinued.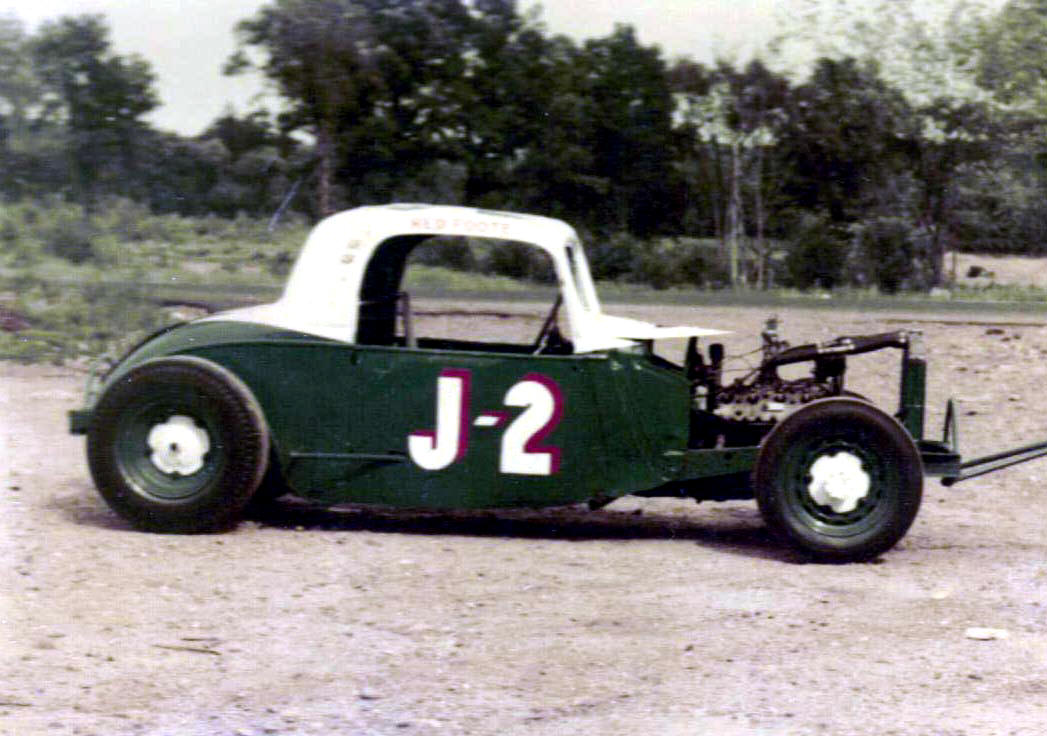 Courtesy of Ridin' Dirty
The Red Foote J2 cutdown. Below – A very typical pre – Bandit Foote car.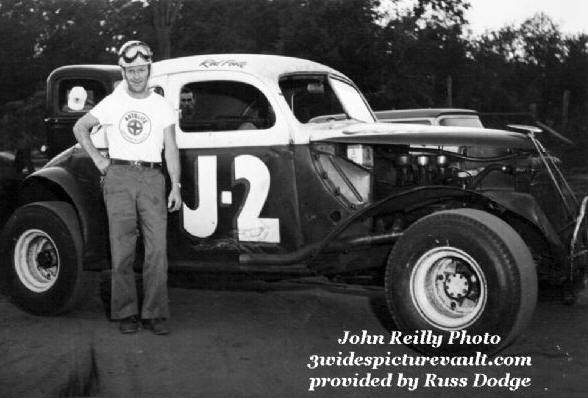 John Reilly Photo Russ Dodge Collection via Three Wide's Picture Vault

Foote and Flemke both were building impressive victory totals into the 1960's. Especially at places like Riverside Park Speedway and other paved venues. Flemke, in particular, was given to much travel in his racing. Known as a "money racer", he did not wish to waste his time or team resources unless the race was a good paying one. It was this attitude that eventually attracted both drivers' attention to the South.
Materials I have read indicate that, while hailing from the same town, Flemke and Foote did not venture to races in the South together very often, even though they seemed to end up at many of the same venues. It is here that we need to point out that Flemke pointed out his [and Foote's] advantage when they invaded Dixie somewhat regularly. The New England modified racer, while certainly not more powerful than its Southern counterpart, was lighter and handled much better. Therefore, many Southern dollars were being taken home to Southington.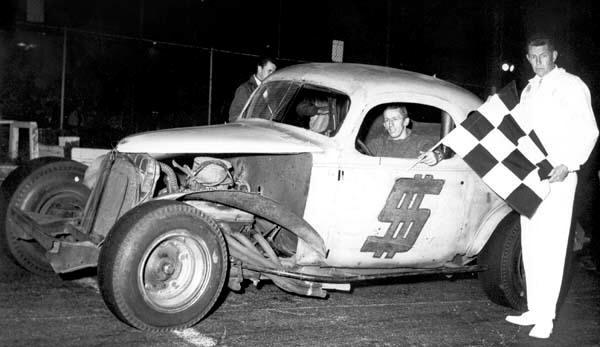 Courtesy of Otto Graham
Ed Flemke made no pretense that he wasn't racing for money. This would
be a typical Eastern Bandit era car. Below – In the Bandit era, Foote
sails by a wrecking Southern rival, Perk Brown, at Trenton.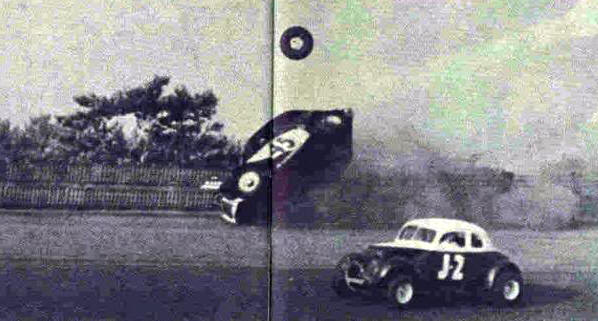 Courtesy of Ridin' Dirty
At some point, with all that loot changing hands [and regions], somebody [maybe on of them] dubbed the invading NE modified teams as "The Eastern Bandits". The way in which Dennis Zimmerman became a bandit is far more poetic than how Rnne Charland joined in. With Charland, it was simple. He had been an aggressive seeker of NASCAR National Sportsman points since around 1961, the year New Yorkers Bill Wimble and Dick Nephew tied for the title. Charland knew he had to race often and fin =d big point races in order to secure a national title.
Apparently, the practical joking former Marine from Holyoke, MA did just that as he would be NASCAR National Sportsman Champion for four straight years: 1962 – 1965. While not always traveling with either Foote or Flemke, Charland would leave his home base [which would switch to Agawam, MA near Riverside park Speedway] and run races on a regular basis in the Southeast. He also knew how to hit those special races that offered big national points – and most of those were Down South.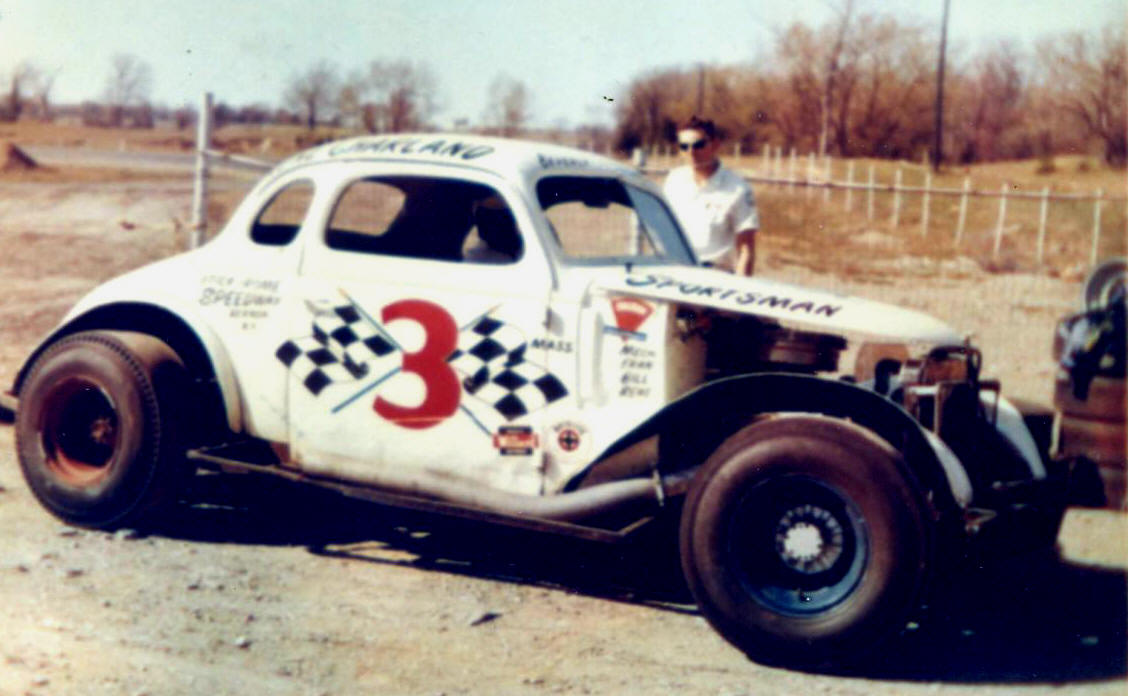 Mike Parenteau Photo
A typical Rene Charland points chase era car. They almost always
had that number and the twin flags. Below – This sedan, probably built
by Fred Rosner, was another familiar mid 60's Charland ride.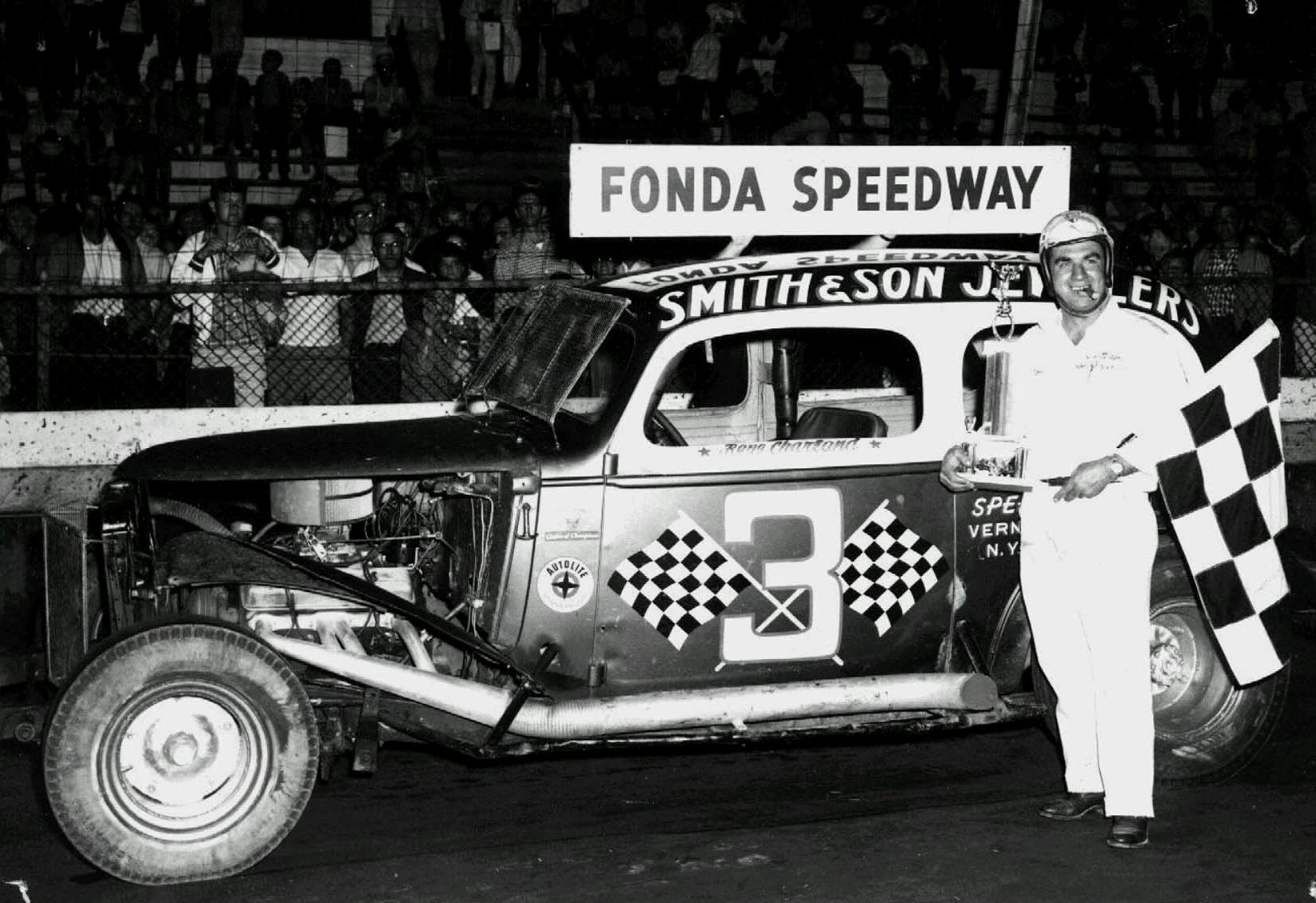 Russ Bergh Photo Ladabouche Collection
Zimmerman, the youngest of the Bandits, had a unique story on how he ended up running with Flemke and becoming the fourth Eastern Bandit. He didn't start racing cars that put him on a track near Flemke until 1957. At Riverside Park, the old hands had noticed that Zimmerman did like running the outside. They would get under him and force him up ever chance they got. One night this resulted in Flemke starting a wreck that put Zimmerman in the hospital. Being the man he is, Eddie felt responsible and took the young driver under his wing soon after.
Zimmerman would start hauling with Flemke on a regular Thursday to Sunday schedule: Fort Dix, N.J.; Southside; Old Dominion Speedway in Manassas, Va.; Marlboro, Md.; and Old Bridge, the latter two Sunday afternoon and evening, respectively. This required the younger driver to be able to succeed at new places while keeping his equipment somewhat intact in order to make the rigorous schedule financially worth it. And he did.

Shany Lorenzet Photo via Dave Dykes
An early Denny Zimmerman ride at Riverside, late 50's.
Below – A more typical Zimmerman car from the
Bandit era.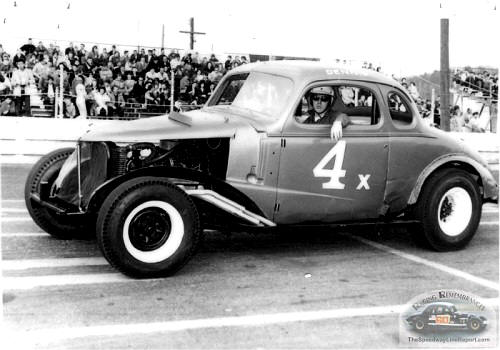 Courtesy of Zoera

So, tracks all the way from New Jersey to North Carolina would feel the effects of visits from the Eastern Bandits. The mechanical expertise of Flemke notwithstanding, Charland had some pretty wide skills, himself. The developed a real center of car building in the Agawan area, as Charland had brought in the likes of Fred Rosner, Godfrey Wenzel, and others in his massive points chasing efforts. Dozens of cars were built out of the Agawn area for other Northeastern teams, as well.
Apparently the bandit trips began as early as 1961 and lasted past 1965. Tracks such as Fort Dix, NJ; Old Bridge, NJ; Marlboro and Beltsville Speedways, Maryland; Old Dominion and Southside in Virginia; Fredericksburg, Virginia; Langley Field, Virginia; Bowman – Gray, NC; and Dog Track Speedway, Moyock, NC were some of the tracks invaded by the Eastern-Bandits.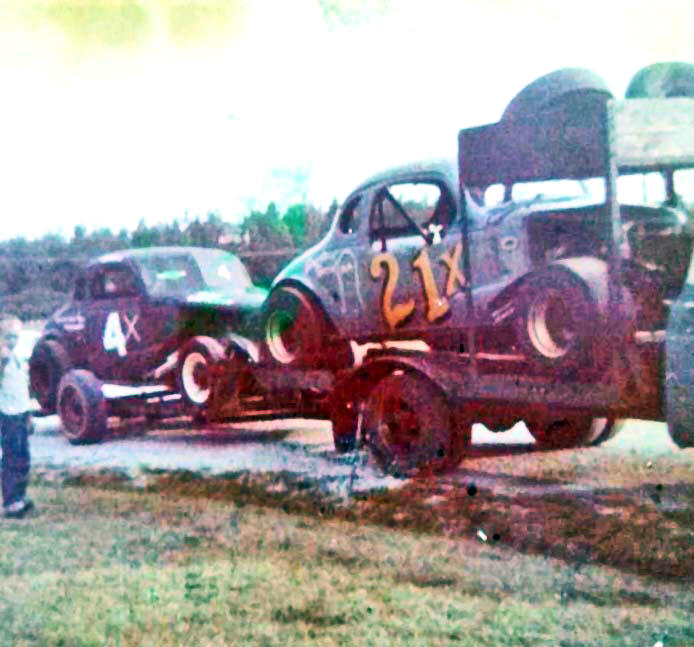 Courtesy of Brian Tidball
This classic shot shows the Flemke rig, with Zimmerman's
4 in tow, headed South once again. Below – Red Foote,
with this classic photo in Donleavey's 90, at a Virginia track.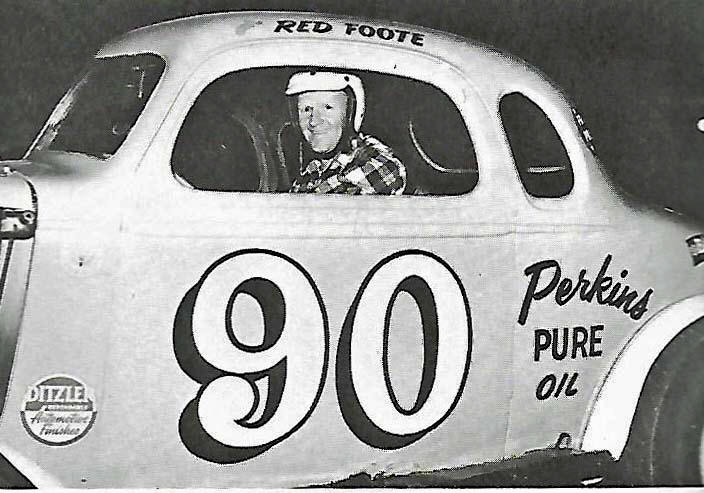 Cavalcade of Auto Racing
These raids to the South were not just carefullly – selected cherry pickings either. Foote would eventually move to Virginia and become closely allied with the famous car owner Junie Donleavey. He would race some super speedway shows for Donleavey before retirement. Zimmerman would actually become track champion at one track and was the Virginia State Champion [year not known].
During their reign, the Eastern-Bandits , except for Flemke and Zimmerman, were not any kind of cohesive unit. Foote had become entrenched in Virginia and was no longer tied to the Northeast at all. Charland. Was too busy seeking mountains of national sportsman points to worry about what anyone else was doing. Having perfected his methods of winning the national title, he probably would have continued, at least for one more had he not suffered the infamous "French Barbeque", a serious wreck and fire at the Albany – Saratoga Speedway in Malta, NY in 1965.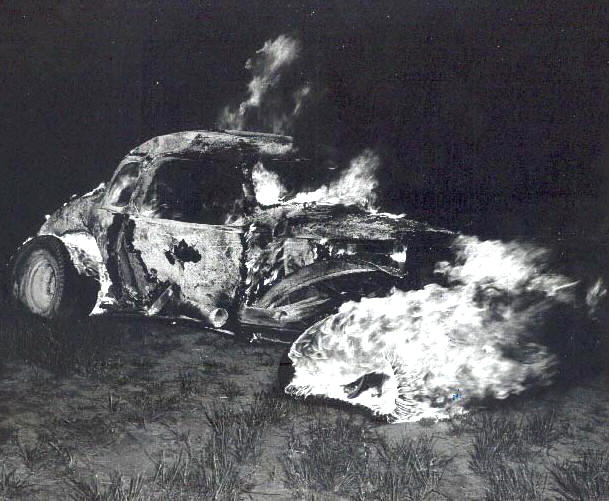 Courtesy of M. P. Roy
Charland's self – named French Barbeque sidelined his
exhausting national points chases for good. Below -
Ironically, the four – time national champion [giving him
the nickname The Champ] impressed him less than being
in the All Star League. Check out the roof of his car.

Lynch Photo Joe Cryan Photo Collection
Flemke and Zimmerman began tutoring another young, high – potential driver in the person of Pete Hamilton of Dedham, MA. Having a great career developing at the wheel of the Worcester Sand and Gravel #69 coupe heh ad inherited from the older Marion "Fasts" Caruso, Hamilton had already made a name for himself before the tutelage of the Bandits. Unlike Charland or Flemke who stuck with the coupes, he would then branch out [much like Foote] to a Southern team – in this case the Pettys. After having a few widely – celebrated wins around 1970 or 71, Hamilton would settle in to race car development for the Pettys, particularly their kit cars.
Finally, Zimmerman would also leave the modified / sportsman realm in favor of a career in the Midwest, with USAC. He would be the Indy 500 Rooke if the Year in 1971. The rule of the Eastern-Bandits began to fade thanks to the generous Flemke, who shared his ideas with everyone. Soon, those Southerners who were sticking with modifieds over late models were developing cars that handled like his.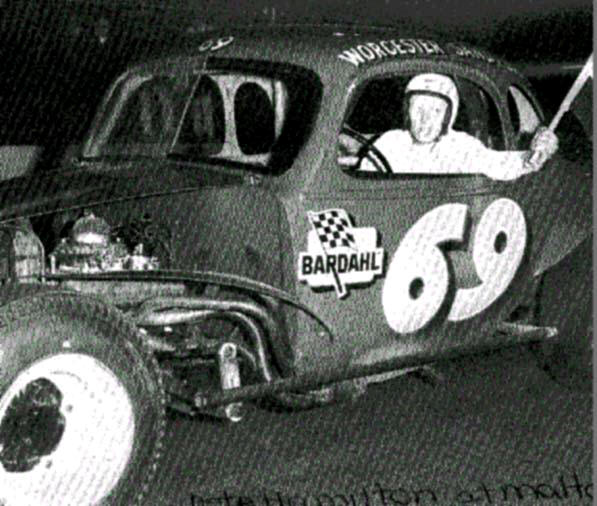 Ladabouche Collection
Pete Hamilton was off to a good start before he ever went under
the mentorship of the Bandits or the Pettys. Below - Hamilton
with the Petty Superbird with which he won a Grand National race.
Source Unknown
Flemke went back North to race successfully for more seasons; Zimmerman was running his USAC cars; Charland recovered from his injuries and raced for years but he never again chased points; Foote retired after becoming a Virginian and racing for his friend Donleavey; and Hamilton basically stayed Down South for many of his next years. The era of the Eastern-Bandit ended, but the legend and the lore live to this day.
Please email me if you have any photos to lend me or information and corrections I could benefit from. Please do not submit anything you are not willing to allow me to use on my website - and thanks. Email is: wladabou@comcast.net . For those who still don't like computers - my regular address is: Bill Ladabouche, 23 York Street,Swanton, Vermont 05488.
AS ALWAYS, DON'T FORGET TO CHECK OUT THE REST OF MY WEBSITE
www.catamountstadium.com
Return to the Main Page
Return to the Main News Page
Return to the All Links Page
Return to the Weekly Blog Links Page