THE BILL'S BACK IN TIME COLUMN PAGE
Copies of my column in Mark Thomas' "Racin' Paper"
Column #37 from Column 50
BILL'S BACK IN TIME
By Bill Ladabouche
A PICTURE CAN TELL A WHOLE STORY
<![if !supportLineBreakNewLine]>
<![endif]>
When I was paging through some of the hundreds of photos I have stored on this computer, I came to realize some of them are particular favorites. Sometimes, I don't even know the people in the photos, but they bring me back to the way it was in the old days of racing before everything got to be stick-on graphics, tear-offs, and all business. It also occurred to me that – while most don't – some photos represent a considerable story which may have brought the driver or car to that point in time.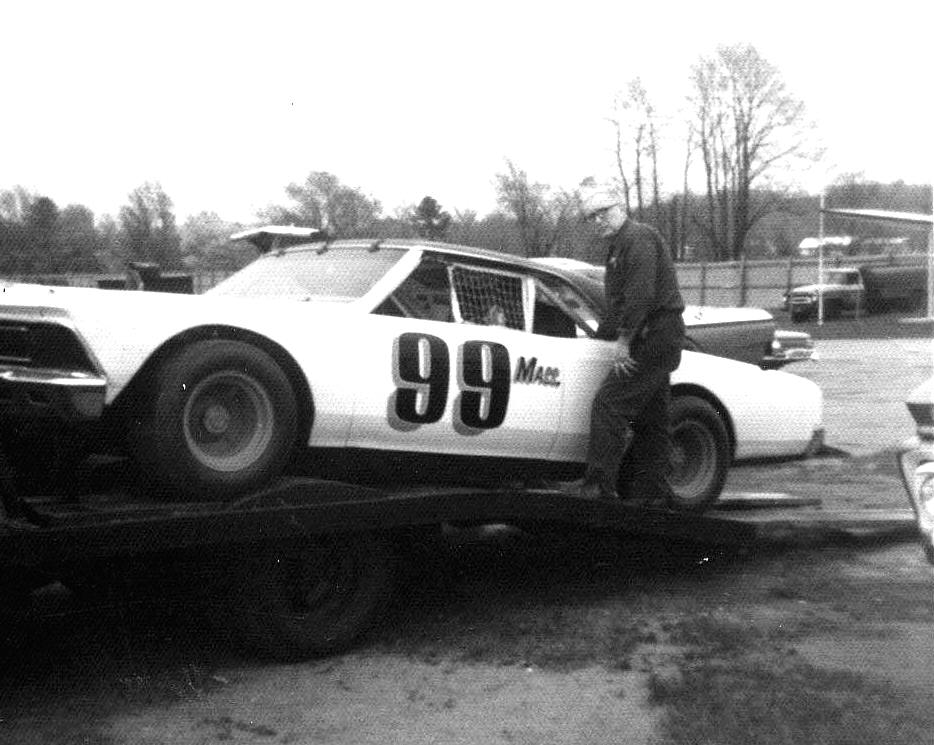 Sulo Karvonen, unloading Bob's Chevelle around 1973. [Ladabouche Photo]
In the earlier days of Massachusetts racing, a Wichendon – based family, with a Finnish heritage, had formed the My Three Sons Racing Team out of their business, the Toy Town Auto Body. Sulo, the father, had formed the team with son Bob as the driver. After small beginnings in the Atlantic Auto Racing Association at tracks like Westboro [Massachusetts] and Brookline [NH], Karvonen began to become more well-known in the pavement modified ranks. He even ventured up as far as Catamount Stadium.
Eventually, as the Northern NASCAR late model program began to take flight at tracks like Catamount, Thunder Road, Airborne, and other places, the Karvonens decided to build a Chevelle, keep the familiar #99, and try their luck. Bob ran the circuit for a least a couple of years before going back to his home territory in Massachusetts. The photo, of Sulo preparing to unload the spiffy [perhaps unused] 1966 Chevelle in the pits at Catamount in the mid 1970's suggested this background story to me.
Karvonen was always a popular man among competitors, while perhaps not being particularly well-known among the fans. After all, he was from further away, Finnish names are hard to pronounce, and he was competing against the long-haired, Johnny-come-lately heart throbs "the Mod Squad", which consisted of Robbie Crouch, Joey Kourafas, and John Rosati. The squad was the darling of the local press and Karvonen went about his craft quietly. Maybe because I always knew of him or maybe it's all my Finnish relatives I once had, but that photo of Sulo always stuck with me.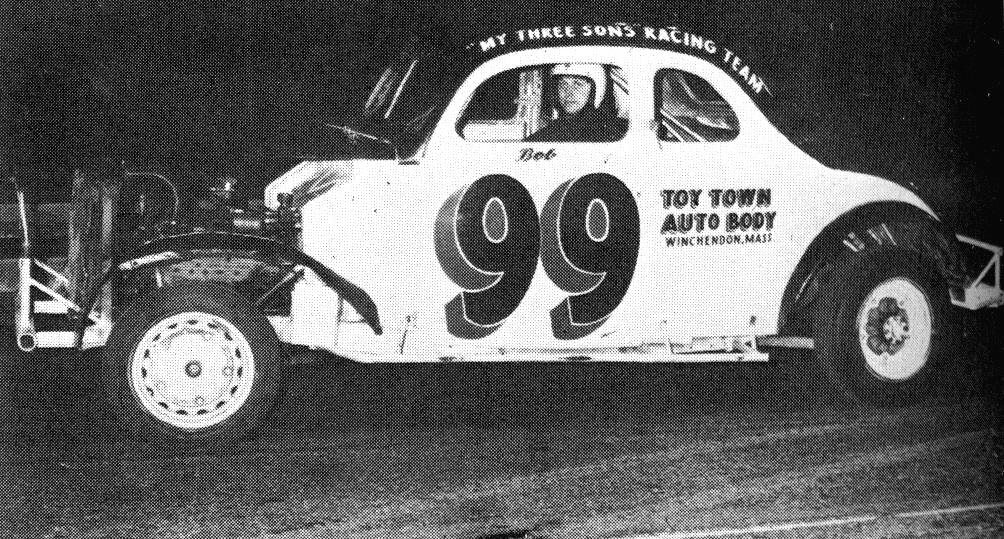 Bob Karvonen, at Westboro, around 1964 [Cavalcade Photo]
A man who was one of Quebec's winningest drivers did not rate much more than a glance when occasionally tried his hand at racing at Catamount Stadium. Francois Chausse, who recently passed away, had literally hundreds of victories at various tracks near his home base of Mont-Laurier, Quebec. Chausse probably started [as did many], at the old Bouvrette Speedway in St Jerome, Quebec. The track, which looks like it must have been a fairgrounds, was the starting point for many of Quebec's finest.
Chausse had wins in sportsman coupe and just plain old coupe, but his specialty seemed to be with later model cars – especially in the 1955 – 1965 range. He had a few top quality rides in Quebec; but, when we saw him on the old Northern NASCAR tour, he usually had the Marcel Beliveau B-45 top try and run against much bigger – buck teams. Chausse thought highly of Beliveau and mechanic Michel Martel, but the tired old '64 Chevelle couldn't compete against new, well-financed cars. Combine that, with the fact Chausse spoke no English and a relatively shy man – and it made him pretty much a persona non grata around the pits in the U.S.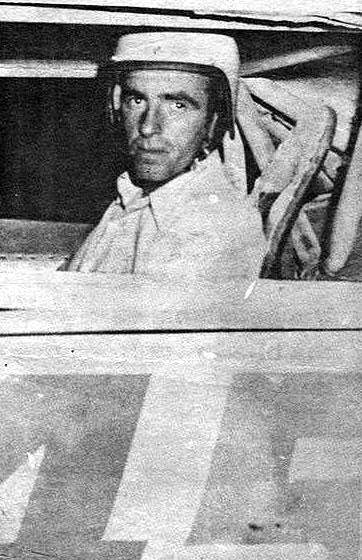 Francois Chausse has the largest photo section in Quebec's largest vintage racing website. What does this tell you ? [Pascal" Magnum Website Photo]
Perhaps the best indicator of how Chausse was regarded north of the border, Claude Aubin installed in one of Claude's well-backed '68 Chevelles in Quebec. Unfortunately, Aubin got where he had trouble getting any car into the U.S. , so Francois never got his chance to shine at Catamount. I was brought to write about this man, and made some complimentary comments about him. He was very moved and grateful for what was said about him. I'm glad I wrote about him because he didn't live much after that. I am now good friends with his son, Andre.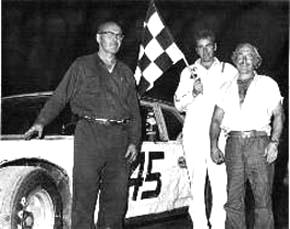 Francois, Marcel, and Michel did manage to win frequently in Quebec, as evidence here. [Andre Chausse]
Around 1963, I happened to have my attention drawn to a car that seldom visited the Fairmont Speedway, the track I frequented. The driver was all-too-familiar. Cecil Bosworth usually used the George Ingalls 888 to dominate things at Fairmont for weeks on end; but, for some reason, Bosworth showed up driving a little flathead three window coupe #37. As it turned out, this car was a New Hampshire fixture, but it was often driven by one of the area's older hands – Ray Harris, of Charlestown, NH.
Later, when Harris himself appeared at Fairmont with a white-painted three window numbered "U2", it dawned on me that this was the 37 I had seen not long before. I didn't know then that Harris was much more associated with the car than Cecil. Harris didn't do much that day and the photo shows him and his wife looking kind of dejectedly at the little coupe. The photo sort of signified the changing of the guard in New Hampshire racing.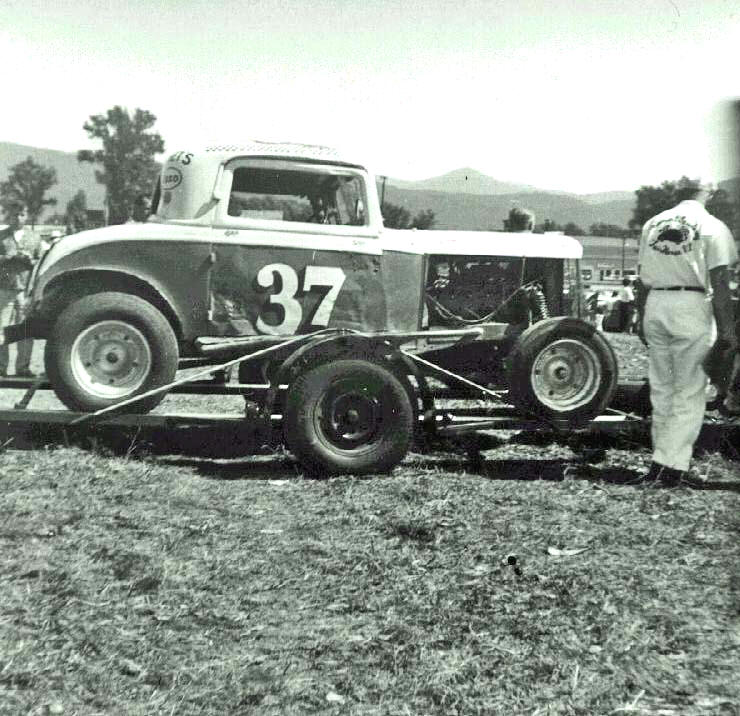 The three window coupe, when it was first brought to Fairmont by Bosworth. [Ladabouche Photo]
The Cheshire Fairgrounds era cars, the earlier Claremont cars, and those from old tracks like Rhythmn Inn and West Brattleboro were dying out. New drivers were taking their place and any of the older guys left were jumping into well-financed cars [like Ingalls 888]. The Ray Harrises of the sport were starting to slip out of the picture. Bosworth would survive into the late '60's – thanks to Bear Ridge Speedway.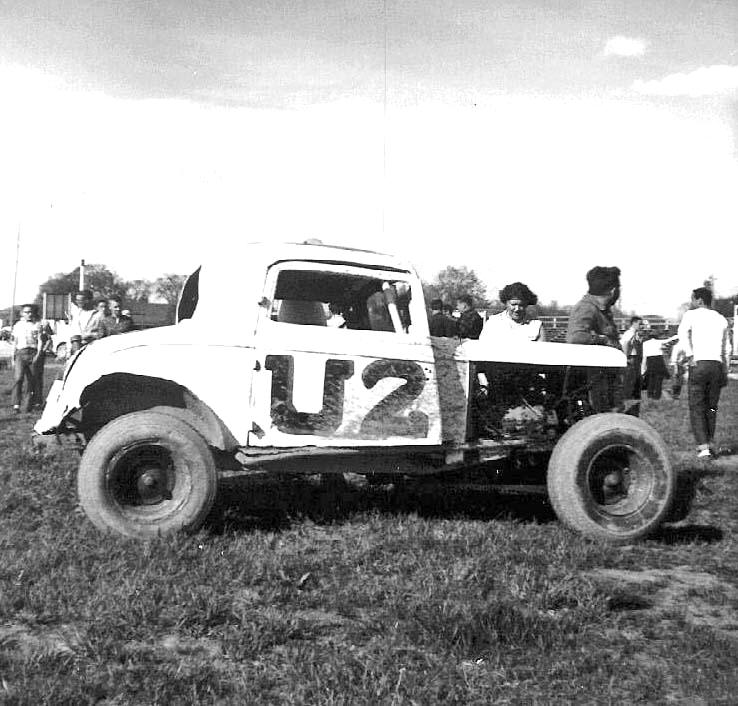 Ray and the Mrs. Look a little discouraged here, at day's end at Fairmont. [Ladabouche Photo]
No stories of hidden meaning in racing photos would be complete without a couple of New Yorkers. The first one looks harmless enough. The year is 1962, and the woman wearing "pedal pushers" was suitably in style for that year.. She is clearly talking to someone sitting in the crisp-looking five window, white-painted Ford coupe. Normal enough picture for the end of a racing program in those days. But, looks can be deceiving. As a matter of fact, West Glens Fall, NY driver Bill Threw was the winner of the second feature C.J. Richards ever ran at Fairmont. Having missed the opening race program, Threw came out of nowhere and beat out the bigger names whom Richards had attracted to start his inaugural year of the Champlain Valley Racing Association.
But this was a different instance. Threw had done something, one particular afternoon, and CVRA officials had seen fit to kick him out for the day. Threw was beside himself, careening the car on and off the track, through the pits and back. If anyone dared to approach the car, he'd floor it again and do some more roaring around. Finally, they had rounded and deputized his wife [or maybe girlfriend] to go out and talk to him, calm him down, and get him to lead up. That's what you actually see in the shot. I got called a few magic names for getting close enough to snap the photo.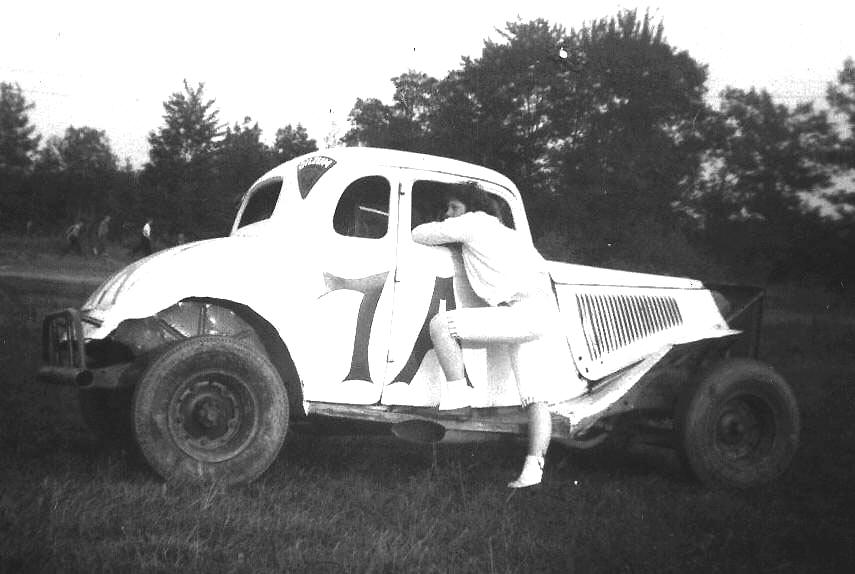 "Honey, just load it up and let's leave. To hell with these guys.". [Ladabouche Photo]
The final shot shows a collision of perhaps the car with most hired drivers and the driver who hired out to drive for the most different owners. Donny Wayman, driving the Bernie Maruska #71 is that collision. I always had a soft spot for the 71 because it was the first car I ever saw at Fonda. The car chugged out first for running in the track and practice laps [and they did chug at slow speeds with those cams]. I recall announcer Mike Valchovic intoning "the 71, Leeeeeee MILL-ing-ton, from PAL-a tine Bridge!". It is hard to think of Fonda during its Golden Era without thoughts of Bernie's 71.
The Bernie's Liquor shop would be driven by Wayman, Irv Taylor, and others. Mostly, however, Maruska used Millington as driver. Wayman, while starting out in his own cars, became perhaps Fonda's busiest driver for hire. At first he ran early cars for McCoy,Southard, and All. Then I can recall his driving for Maruska, Wright, Trinkhaus, Wentzel, Betz, Albro, and Braver. Conde and Parry write, on their website about Don: "Don's desire to drive was a strong one and would race for anyone who needed him which brings back memories of a "TRUE CHAMPION".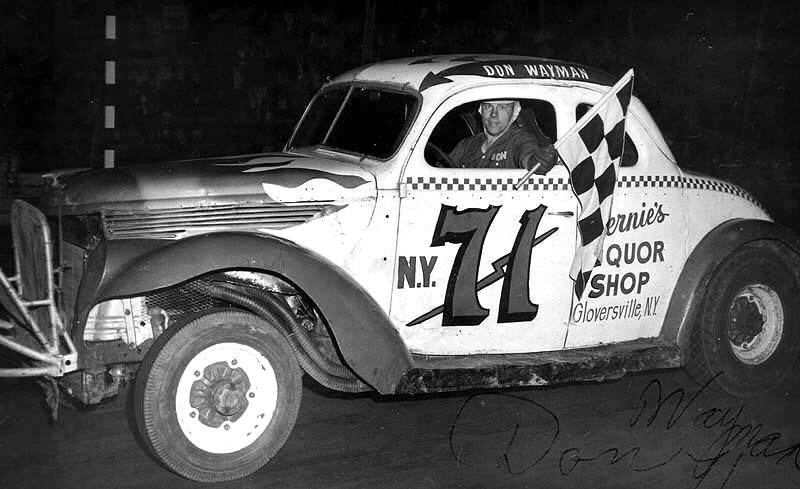 Wayman gets a flag in an early version of the Bernie's Liquor Shop 71 – around 1960. [Mike Russo Photo]
Return to the Columns Link Page
Return to the Main News Page