THE BILL'S BACK IN TIME COLUMN PAGE
Copies of my column in Mark Thomas' "Racin' Paper"
BILL'S BACK IN TIME
By Bill Ladabouche
A RACER WITH THE UNLIKELY NAME OF PEANUT
This past summer, there was a rather infamous police chase through central Vermont – mostly Addison County. Apparently the reasons for the lengthy, high-speed chase were obscured by the inadvertent death of a popular police dog, some time during that incident.
Newspaper article about the chase were many and varied. One of my friends sent me one such article, in which a man who lives along the chase route is quoted as saying he was ready, with his guns, if anything like that occurred again.
The well – armed Vermonter was identified as one Edwin Foley, a man those of us in the Vermont racing scene know as "Peanut". Eddie Foley appeared on the scene around 1961, at Otter Creek Speedway, The rambling, bucolic, dusty half – mile oval had been carved out of a pasture near Vergennes, and the promoter / owner was smart enough to land a NASCAR sanction.
While Otter Creek saw some of the Northeast's premier NASCAR sportsman coupe competitors – at one time or another- it also attracted a core of local competitors, some of whom were survivors of tracks which had closed and some of whom were brand new to the sport. One such newcomer was Leicester, Vermont's Edwin "Peanut" Foley.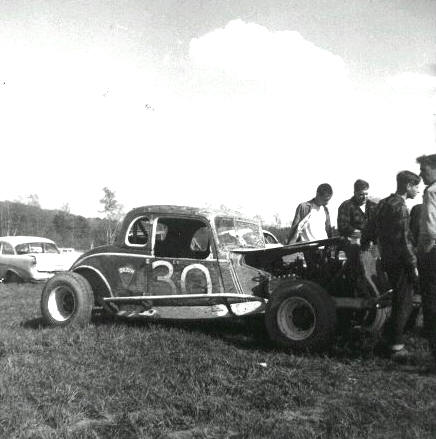 The original gold Ford coupe first seen at Otter Creek. Both Pidgeon twins are visible in this shot. Foley is at far right. [Ladabouche Photo]
The Otter Creek fields of cars were a motley mixture of V-8 sportsman coupes and local hobby cars – but, from that mixture, one gold – colored 1932 Ford coupe stood out as considerably faster and more aggressive than the other local "hobby" cars. It was apparent that even the established hobby class cars from the recently – deceased Malletts Bay race track, north in Chittenden County, could not keep up with this gold #30.
That #30 Ford turned out to be Foley. He would field the car out of Pidgeon's Salvage yard, in Leicester, and he received avid help from Pidgeon's twin sons, Arlen and Allan. According to Arlen Pidgeon, Foley had rented the old house of Arlen's grandfather, and the car was worked on in a ramshackle, one-car garage out back.
"I think he spent more money on us than he did his own kids," remembers Arlen, thinking about those days when he was about fourteen years old.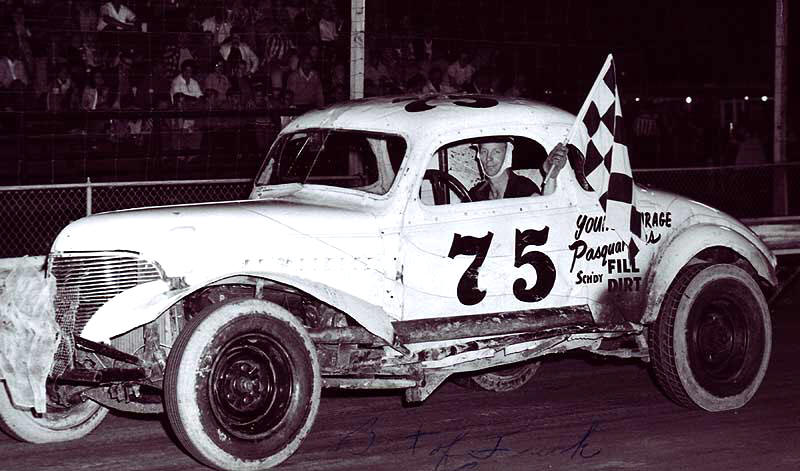 George Baumgardner, and the Young / Vine 75 was a regular at Otter Creek in 1961, where he didn't
have to contend with the high level of competition he did at Fonda. [Mike Russo Photo]
After bouncing around the dusty Otter Creek bullring for a year [and finishing second in the hobby points, according to the NASCAR Record Book], Foley had gained invaluable experience, running head-to-head against the more powerful NASCAR V-8's, such as Saratoga's George Baumgardner, in the Young / Vine 75. The next year, Foley towed the #30 coupe to the newly – reopened Fairmont Speedway in Fair Haven, Vermont – to run in C.J. Richards' Champlain Valley Racing Association.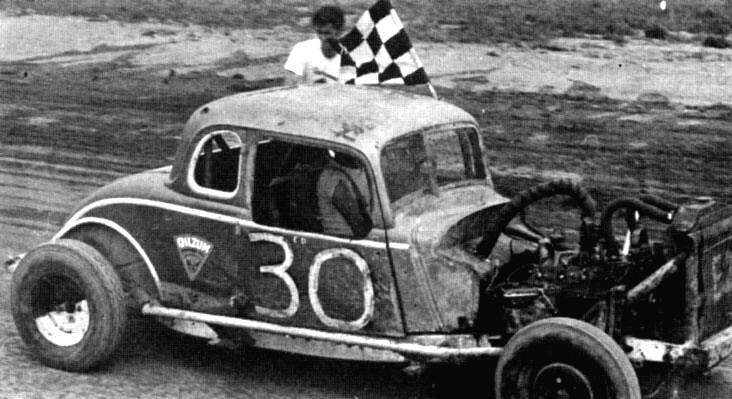 Foley found the "no V-8" atmosphere at Fairmont much to his liking. [Courtesy of Norm Vadnais]
Although the CVRA was tiny, compared to NASCAR, the move was right for Foley, who could now compete with the flathead coupe without having to run against V-8 sportsman cars. He fit in well with the fields of Ford flathead and GMC 6 cylinder motors that Richards allowed at Fairmont. Eddie won a number of heats, however, the dominance of regional flathead stars like Buddy Bardwell, Art Cody, Sonny Rabideau, and Ted Brown kept him from many big ones.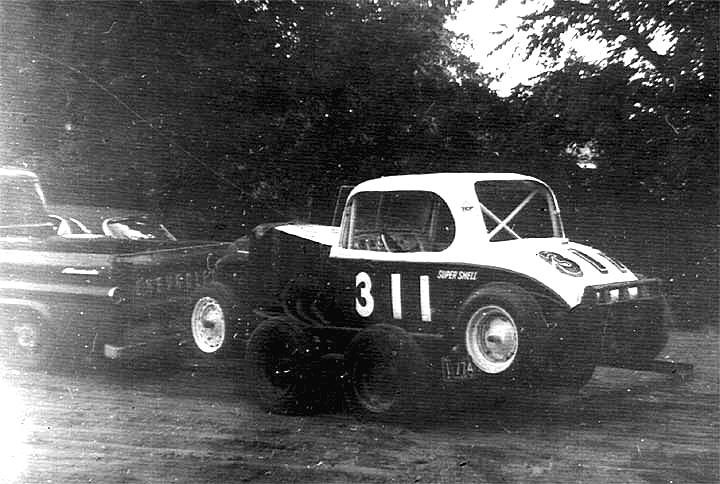 Sonny Rabideau and the Stroker Smith cutdown 311 had a bit too much for Foley's lower – budget operation.
[Courtesy of Racers Bored Site]
Foley ran the #30 gold coupe for another year or two, before building another '32 coupe – this time numbered 2 – a numeral which would be identified with Eddie over many years. As neighbor Vince Quenneville, Sr. began to rise into prominence, so did Foley. Fairmont had a few more years before disgruntled neighbors successfully complained it out of town, citing noise and dust. The association would moved out to Devil's Bowl, in the next town. Those final years at Fairmont were quiet for Foley, as the track brought in V-8's and teams were beginning to build far more expensive machinery.
Ed Foley was reborn when Devil's Bowl opened in 1967. He fielded a CVRA V-8 sportsman coupe, numbered 2 [with a lightning bolt going through the middle of the numeral], and proceeded to become one of the top runners in the track's early days. The little red 2 was a nifty little, modified – down '36 Chevy body, and it went along beautifully.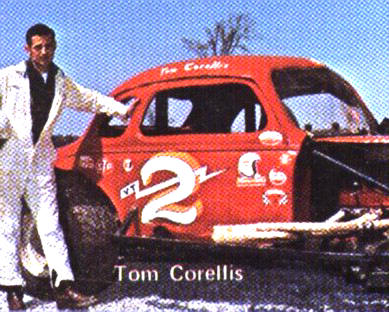 The little red coupe that Ed Foley ran at Devil's Bowl. By this photo, it was
driven by Tommie Corellis. [D Bowl Program Photo]
It is not clear to me whether Foley ever owned the #2, whether he owned and then sold it, or if he was just the driver. The #2 picked up an excellent sponsorship from New England Tower. Eventually the car ended up in the hands of Lebanon Valley veteran Tommie Corellis, of Mechanicville, NY, who continued the success the team had been enjoying.
Foley, now highly – regarded, went over to Addison County car owner Clayton Ryan, who had put together a snazzy #211 sportsman. I always thought the 11t came from Ryan's history at Fairmont with his #11 "Shelby's Cobra" coupe driven by Dutch Reed; and that the 2 was in deference to Foley. After some running at Devil's Bowl, the team took their act down U.S. Route 7 to Lebanon Valley Speedway where other Bowl regulars like Vince Quenneville and Mert Hulbert were already making a name for themselves.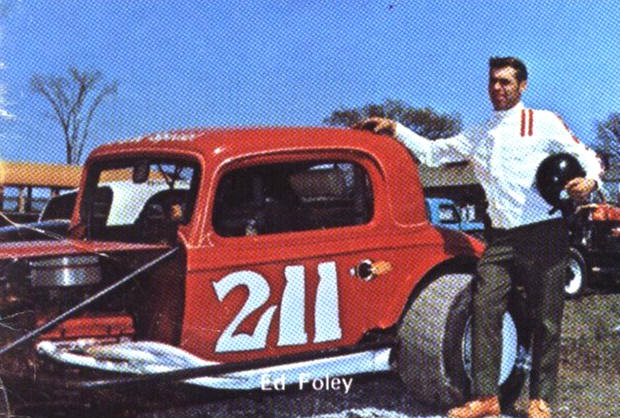 Foley and the first 211 car. [Devils Bowl Program Photo]
After the initial Valley years, I didn't hear much more about Ed Foley. I honestly don't know if he ran any more, and I haven't caught up with him for an interview yet. He had risen from humble beginnings in a tumbledown garage behind an old house on the Pidgeon property in Leicester, to a well – financed ride at Lebanon Valley in the space of about a decade or so. He did make another appearance at Devil's Bowl later – to drive a restored open wheel roadster that he had brought back to life. Few in attendance comprehended that this was what the first stock cars looked like.
People like to say that racing no longer has room for the low budget runners like Ed "Peanut" Foley – the kind of local hero who could not only inspire intense devotion from admirers and neighbors like the Pidgeon boys, but who could help pack people into the stands of a local track. But is this true ? If you watch Mike Visconti at Malta or Mark "The Hammer" Barnier at Thunder Road running his ancient Tiger sportsman – you realize Ed Foley is alive and well in 2009.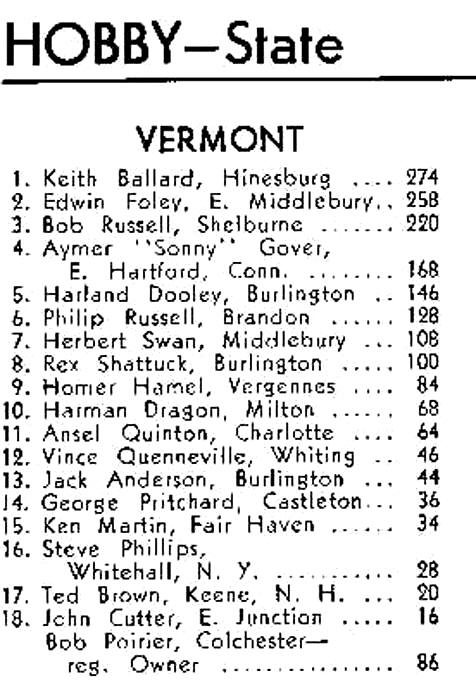 Ed's first year came out pretty well. Check out the presence of Beaver Dragon and Vince Quenneville here, too – as well
as other known names. [NASCAR Record Book]
Return to the Main Page
Return to the Main News Page
Return to the Columns Link Page
Return to the All Links Page