TWIN STATE SPEEDWAY
Known to Most of Us as Claremont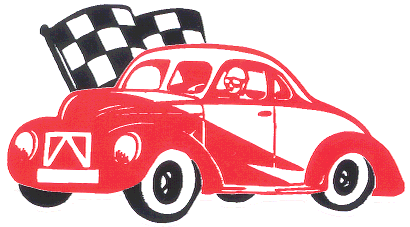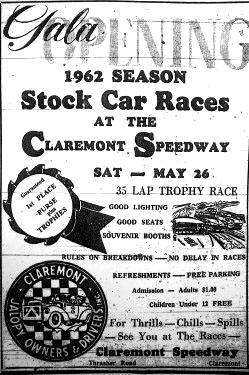 Courtesy of NH Short Track Heroes Website, by George Hill
When I used to go to the races at Fairmont Speedway in the early to mid 1960's, some of the most prominent performers at the Vermont track were New Hampshirites - primarily from the race track at Claremont. Today, the track is thoroughly modern, but - in those days - it resembled a circular path in a sand pit. Many of the local cars were holdovers from Claremont's old Claremont Jalopy Association - and they looked it.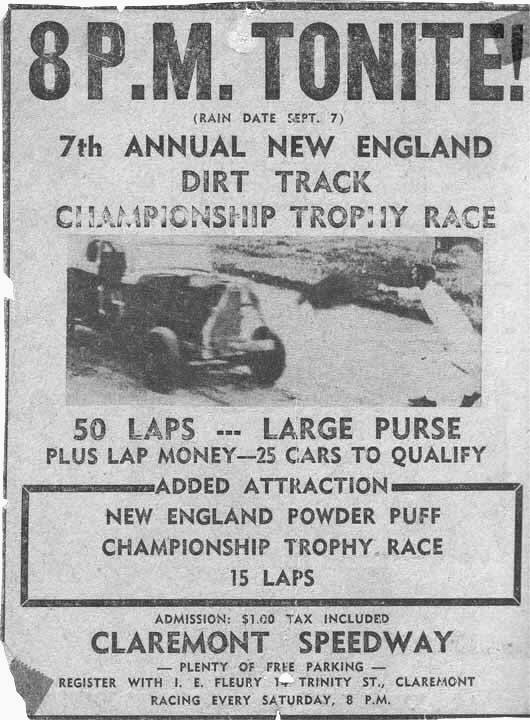 Courtesy of Phil Chastenay II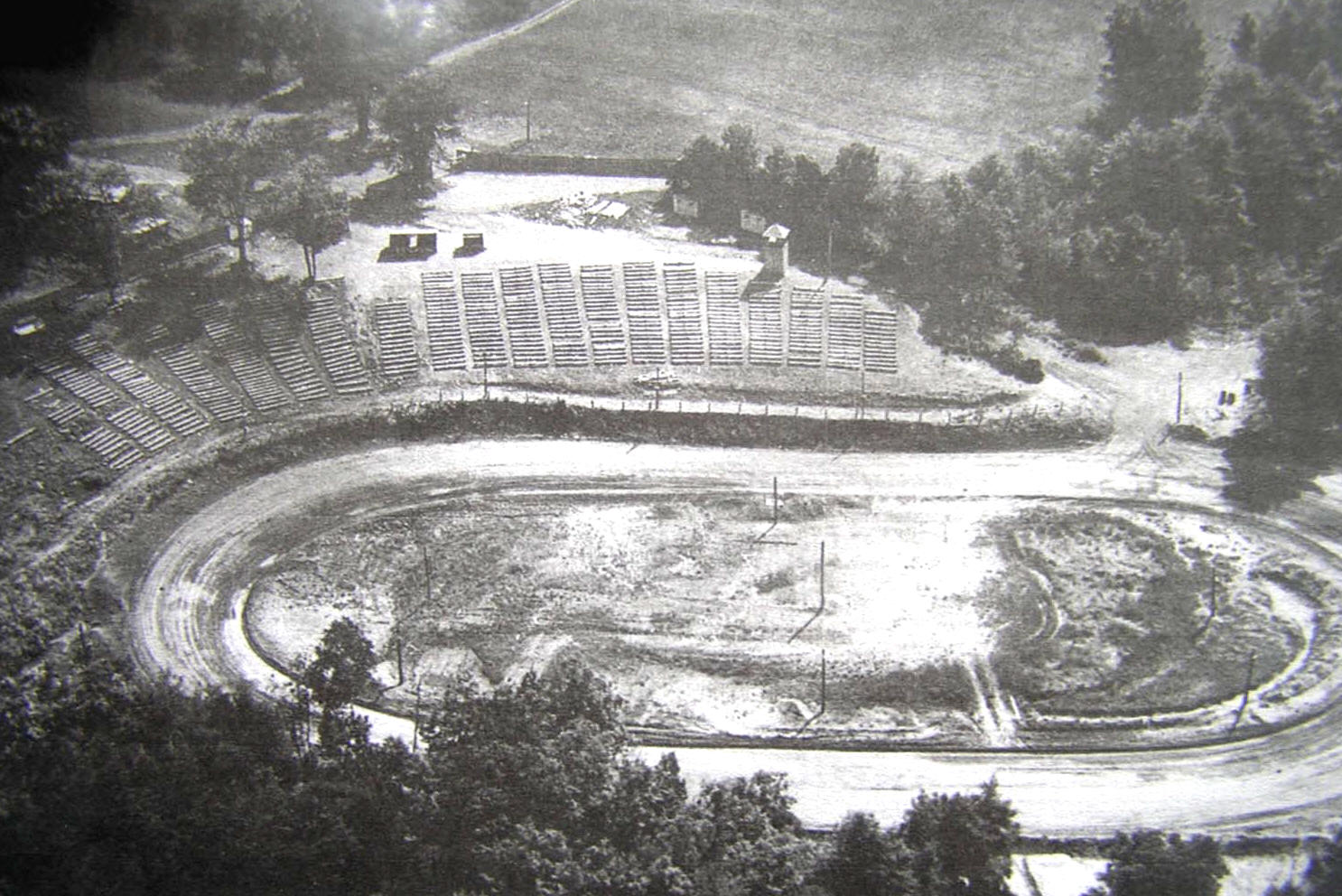 Courtesy of Neal Davis
Supposedly taken during the latter stages of construction around 1958ish. Below - Sonny Fleury and a young winner.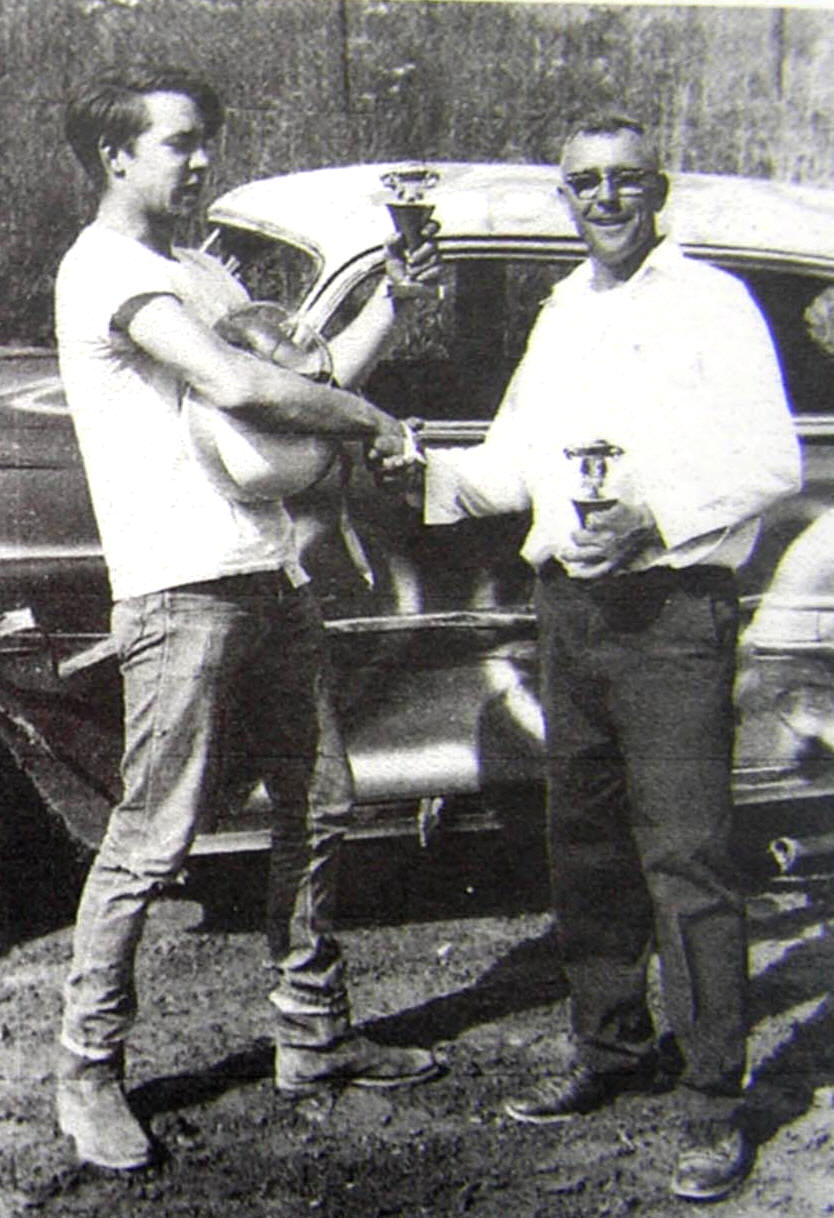 Courtesy of Neal Davis
Sonny Fleury awards the goods to a young driver.

I honestly believe that Claremont's bigger stars in those days had come from the racing at the Cheshire Fairgrounds track in Keene, NH. Also, the old West Brattleboro/Rhythm Inn circuit had contributed better runners, as well. Some of the jalopies would go on to improvement; but that core of stars from the earlier days remained in place into the next decade - at tracks like Claremont and Devil's Bowl, to name two.
When Claremont began to upgrade its divisions and headed towards more modern engines and chassis's, some of the hardline flathead runners were saved by the creation of Bear Ridge, up the interstate, in Bradford, Vt. Claremont went on to feature - at one time - Northern NASCAR Late Model Sportsman shows, as well as state-of-the-art modifieds and pro stocks.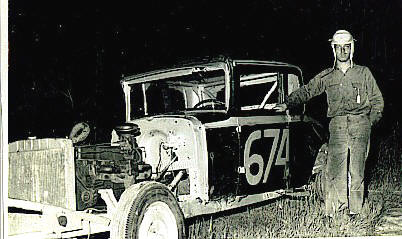 Courtesy of racersbored.com Site
Rocky Cusinelli strikes a typical pose for the Claremont Jalopy Association Era.
Many more such shots were shown in the Cavalcade of Racing.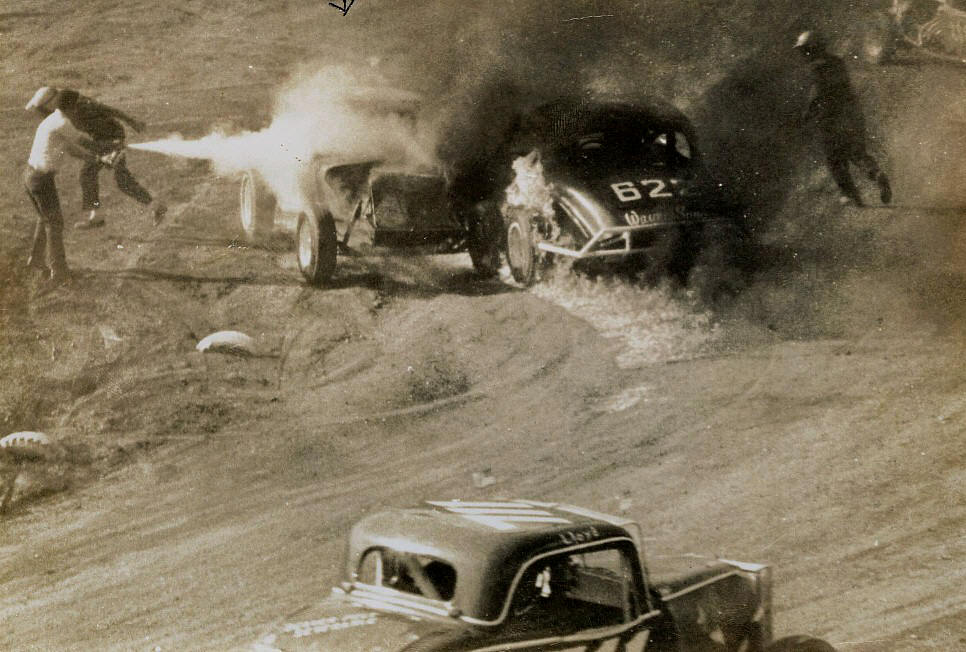 Photo Source Unknown
Lloyd Severance [711] drives by a fire involving Ernie Hastings of
Massachusetts and a Claremont local car.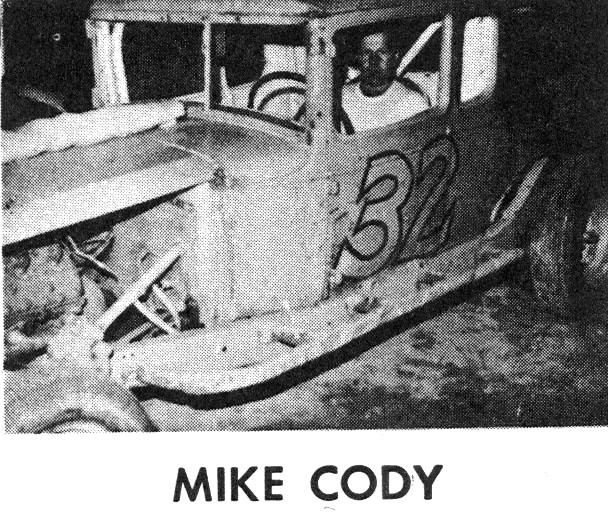 Cavalcade of Auto Racing
Keene's Mike Cody was a track champion at Claremont in
the earlier years - when it was dirt.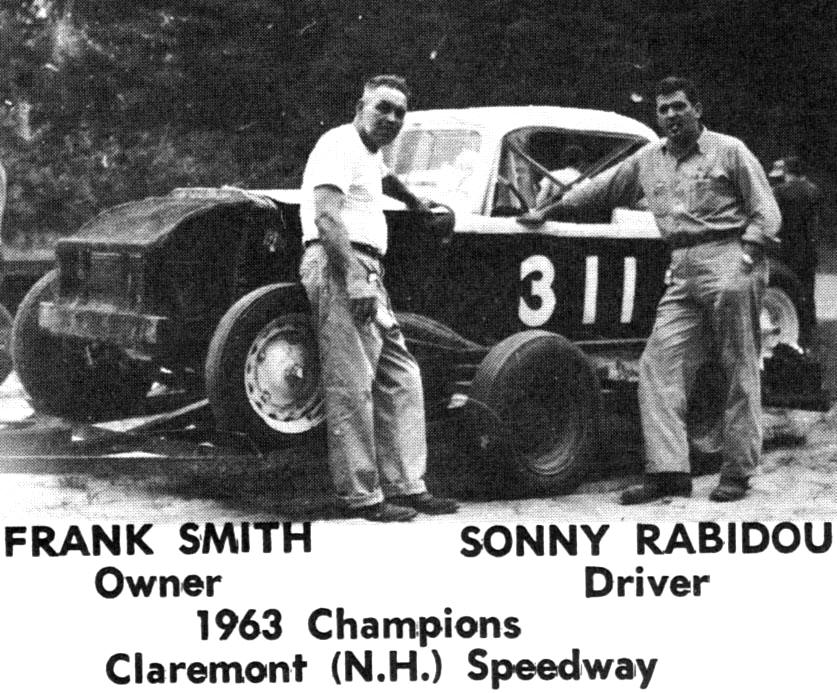 Cavalcade of Auto Racing
Stroker Smith [Keene, NH] and Sonny Rabideau [Brattleboro, VT] were
the 1963 Champs at Claremont - plus being big stars at Fairmont.
CLAREMONT JALOPY ASSOCIATION ERA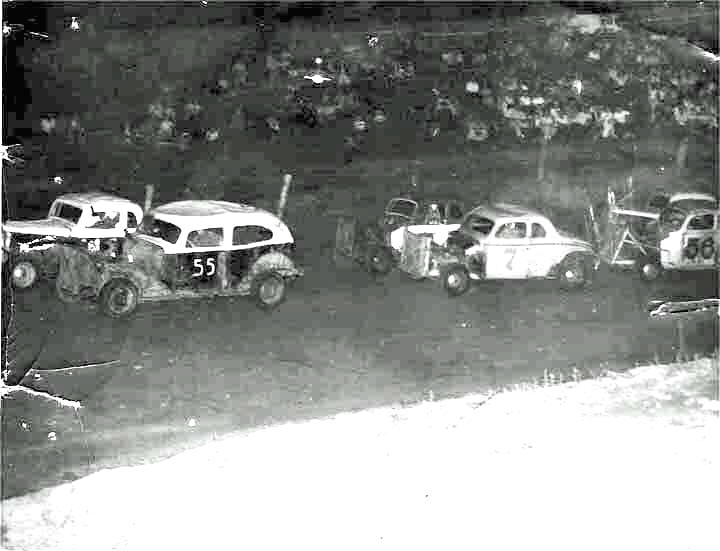 Courtesy of Ernie Bodreau
An early field of Claremont jalopies. The sedan was really quite rare at that track.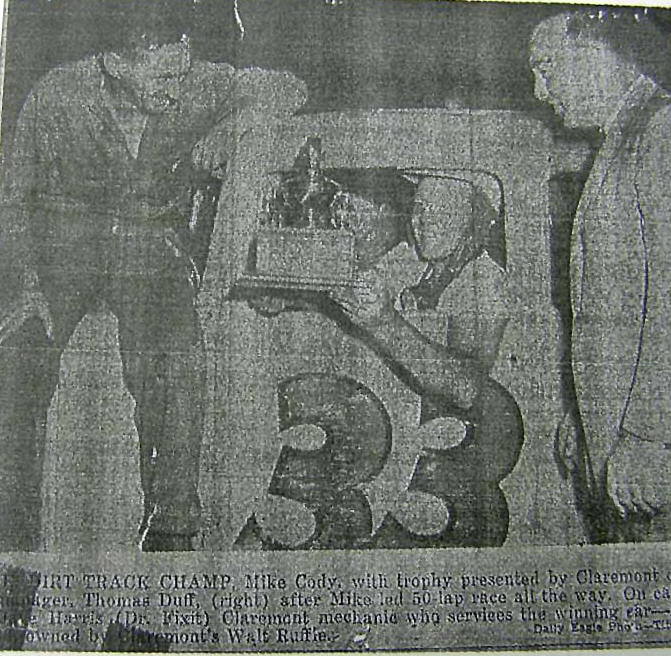 Courtesy of Neal Davis
Mike Cody receives a trophy in Walt Ruffner's 33. The car later owned by Henry Merrill, was better known
as the ride of big George Schnyer and later of younger Cody brother, Art.
Dynamite Al's Car

Courtesy of Phil Chastenay
The old 311, after a
rollover - when Al had
acquired it.

Cavalcade of Racing
Al, when featured
in Cavalcade of Racing

Courtesy of Phil Chastenay
The old 311, renamed
97 for Al Sanville.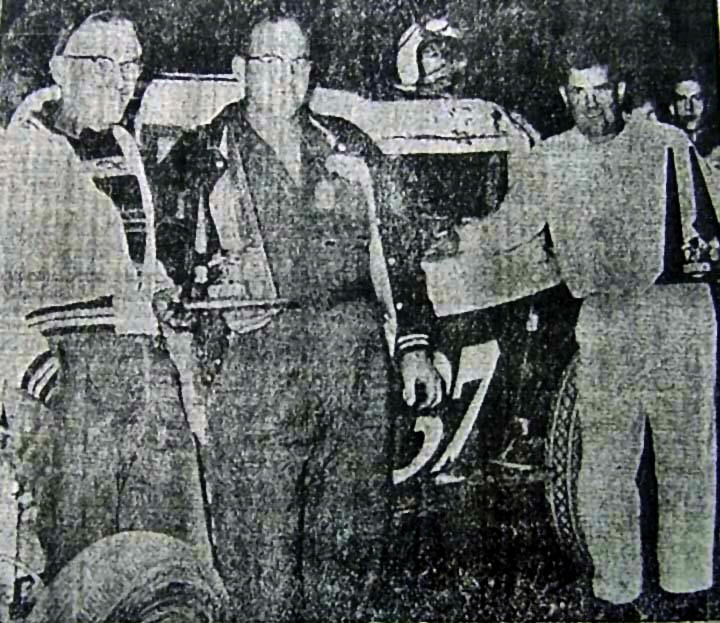 Courtesy of Neal Davis
Cecil Bosworth enjoys a win with car owners Harvey Logan and Chet Cashman [center]. Below - Cecil and the car.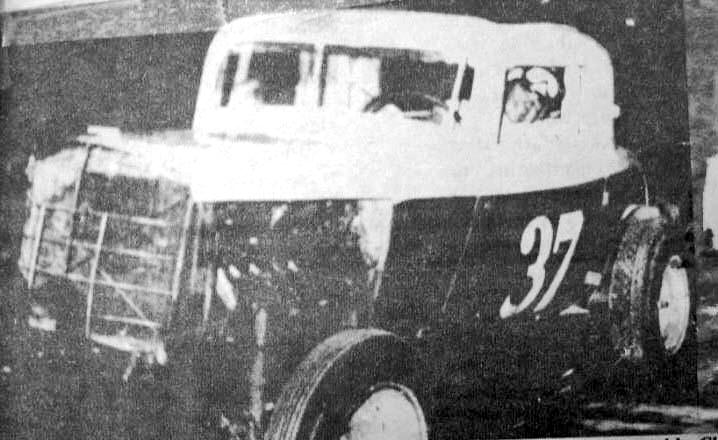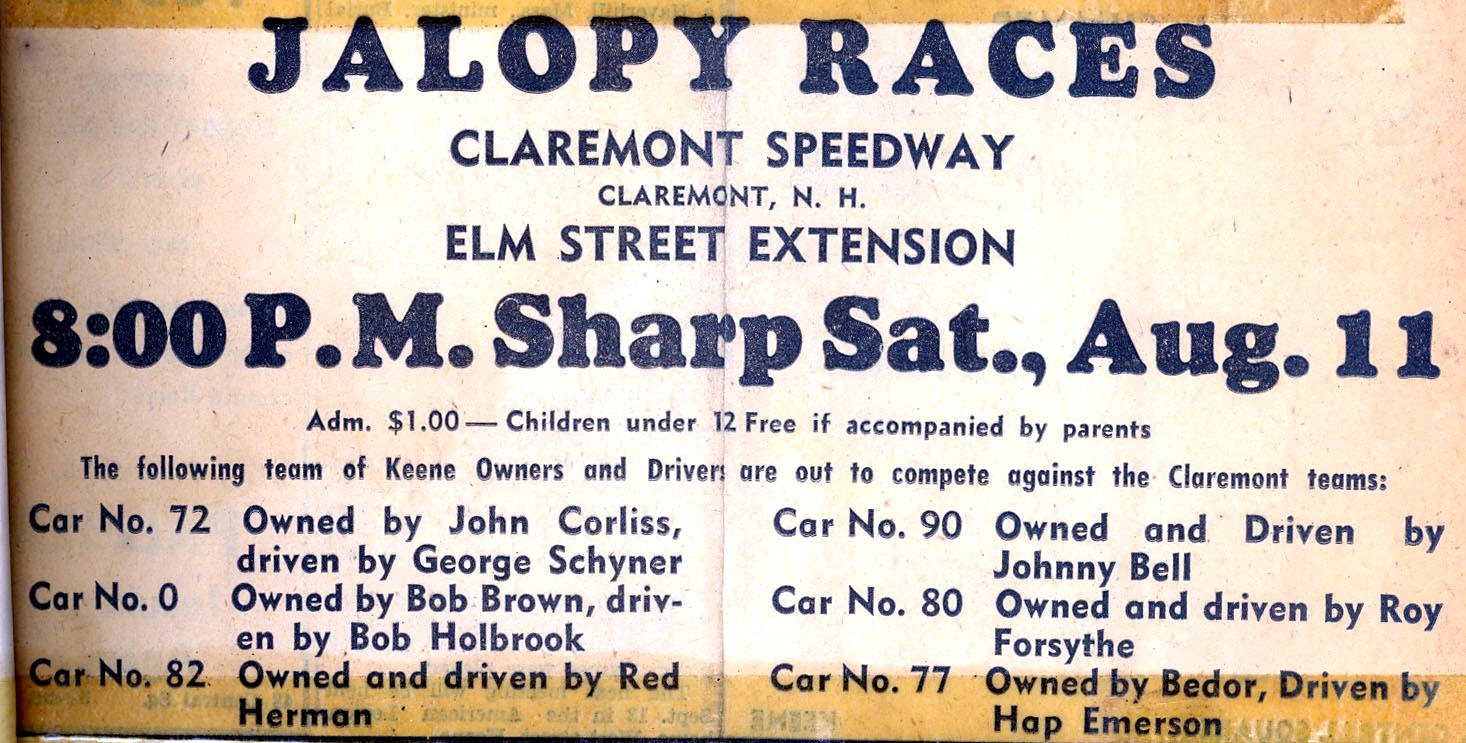 Courtesy of Walter Perkins

Courtesy of Mark LeFrancois
The Don LeFrancois family - of Rutland, VT. - took several early - 1950's racing photos.
This pair sure looks like Claremont.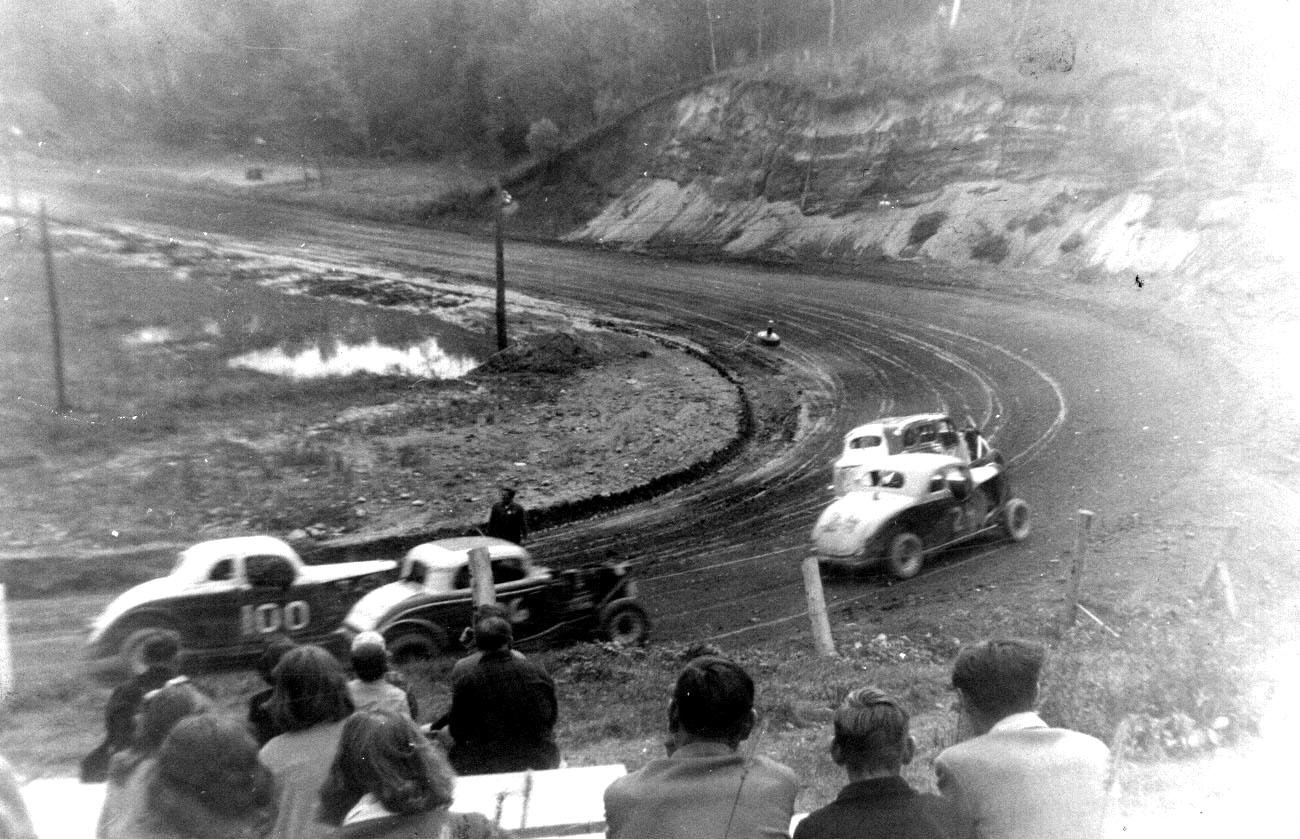 Courtesy of Mark LeFrancois
Neal Davis tells me the #26 here is Pop Brown, father of Walt Brown, Jr..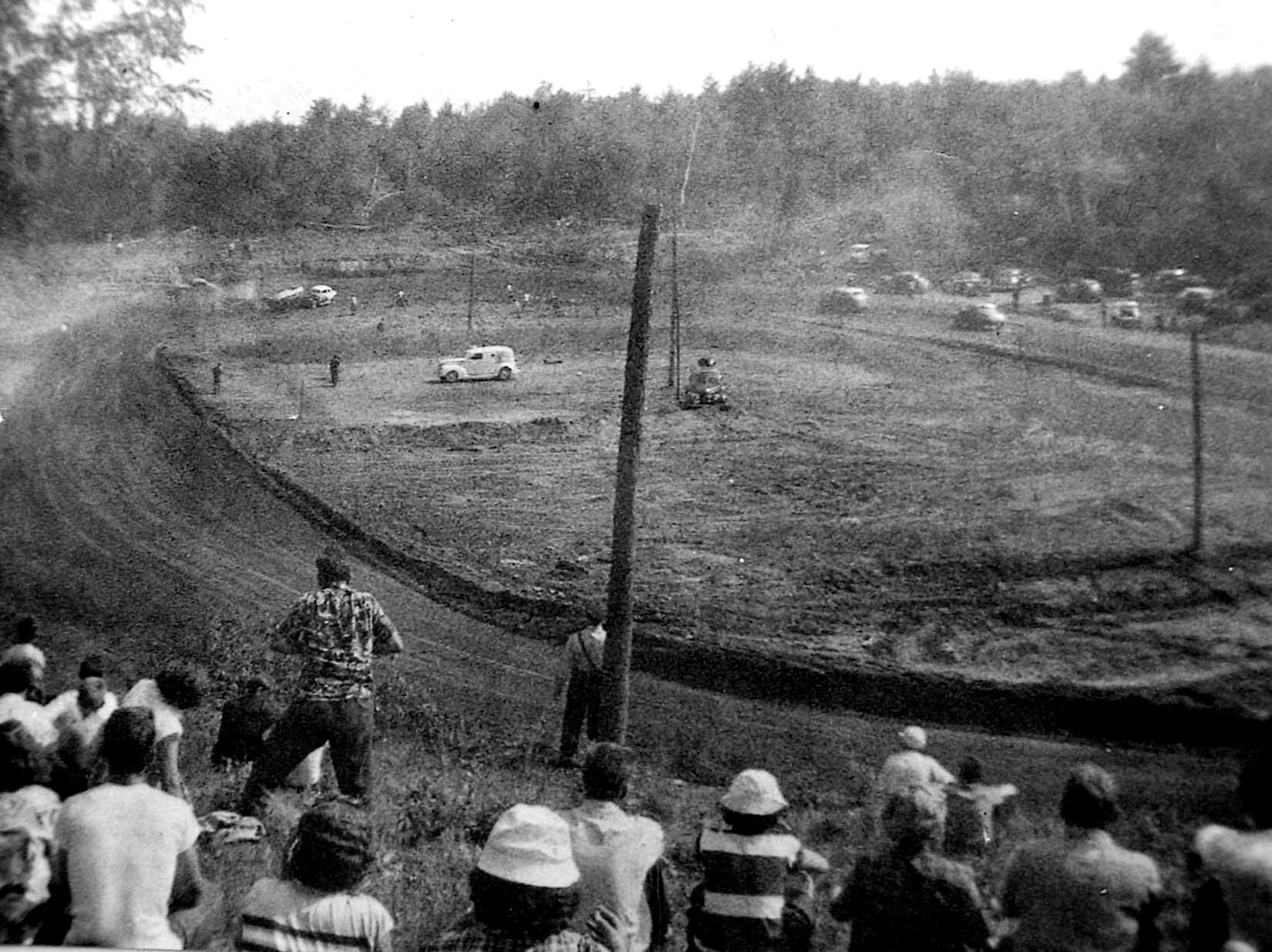 Courtesy of Neal Davis
A good view of the early speedway, including infield. Contrast this with the similar shot below.
Click here to go there.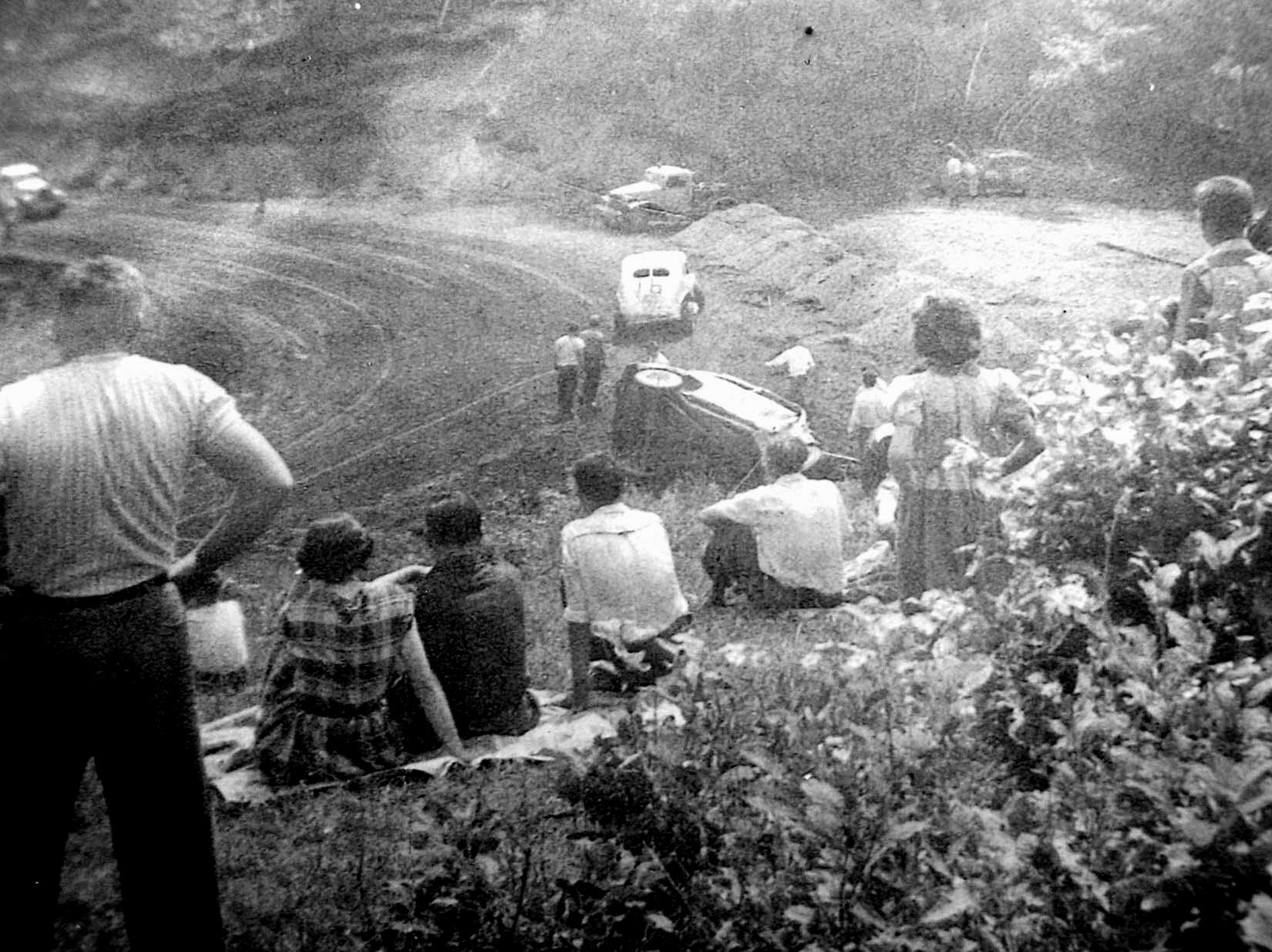 Courtesy of Neal Davis
A wreck in the early era of the speedway. A similar view as the photos above.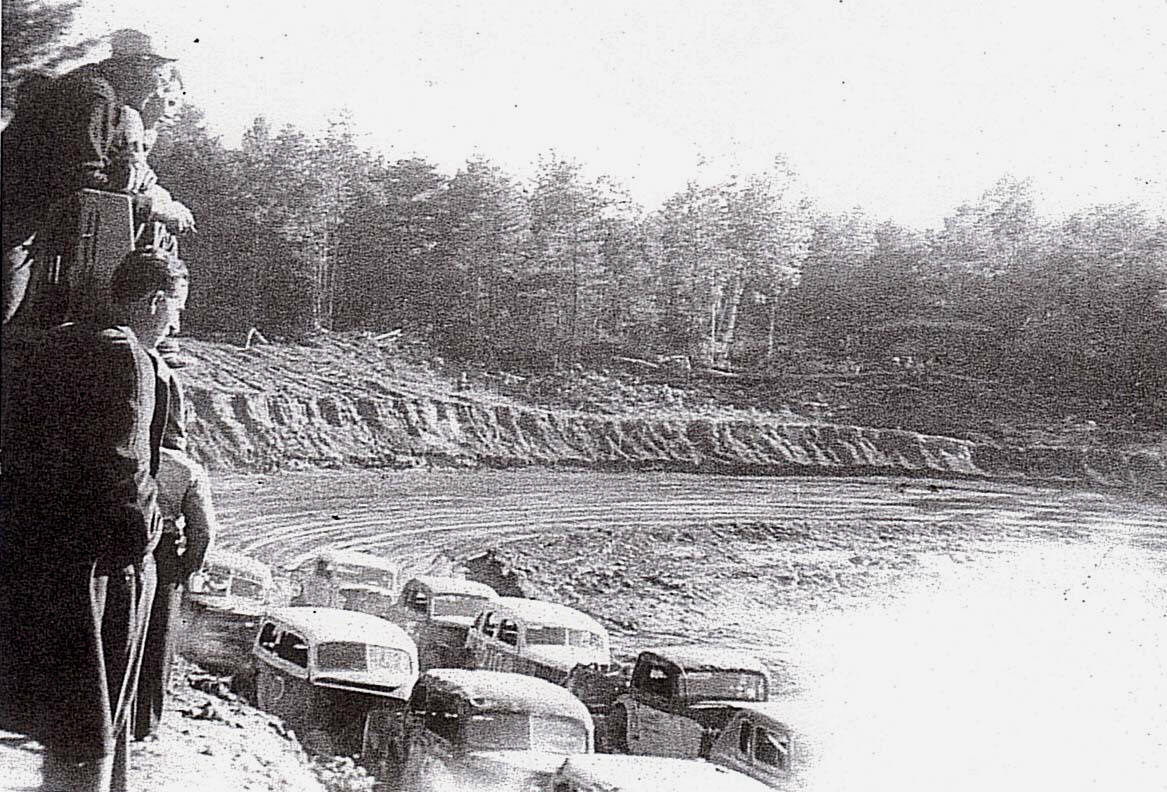 Courtesy of Marty Harty
An early jalopy lineup awaits the start of what is probably a heat.

POST - JALOPY ERA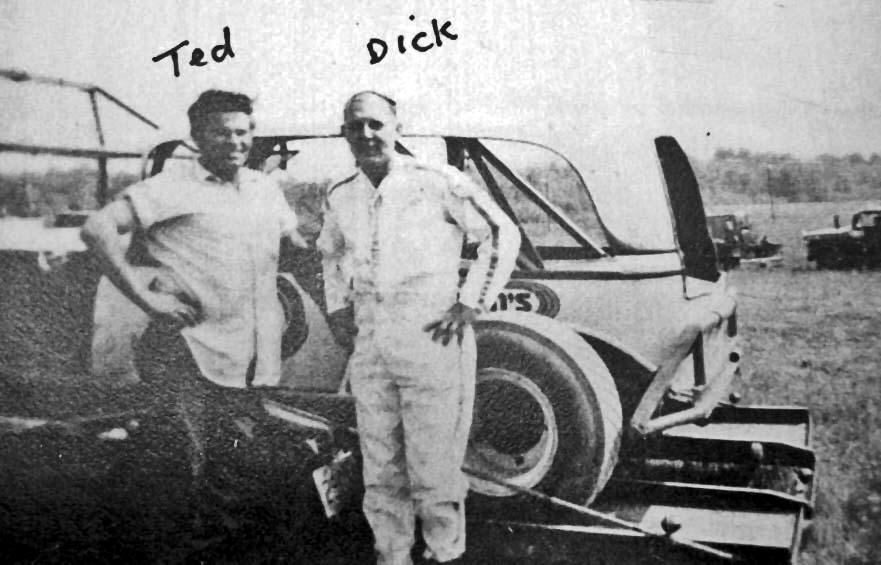 Courtesy of Neal Davis
Ted Brown, with Dick Humphrey, who owned the "Coffin" car before Ted.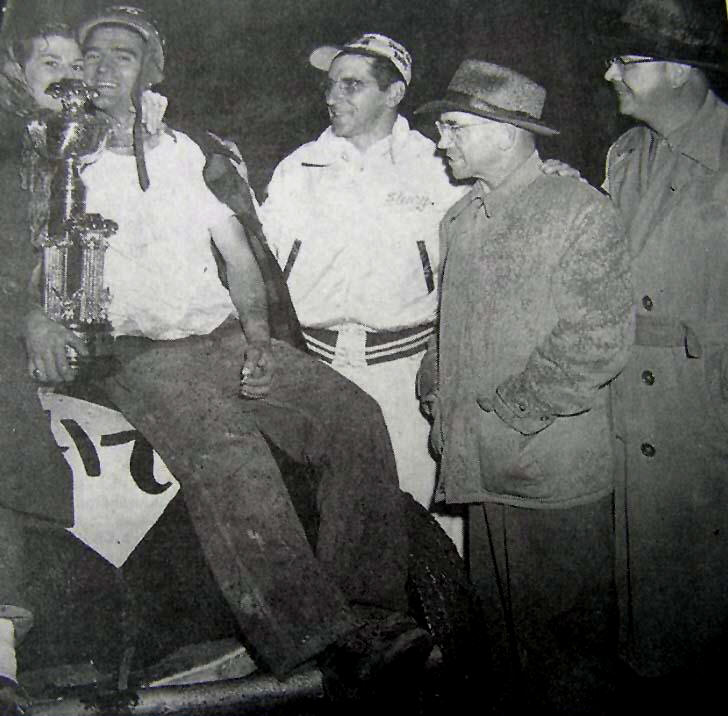 Courtesy of Neal Davis
Pop Goodwin is kissed by his wife after achieving a track championship at Claremont in one of its earlier seasons. Goodwin's
family operated their race track in West Lebanon, NH some years before. Sonny Fleury is at leaft, just out of the photo and
on the right are the flagger and CLaremont city officials.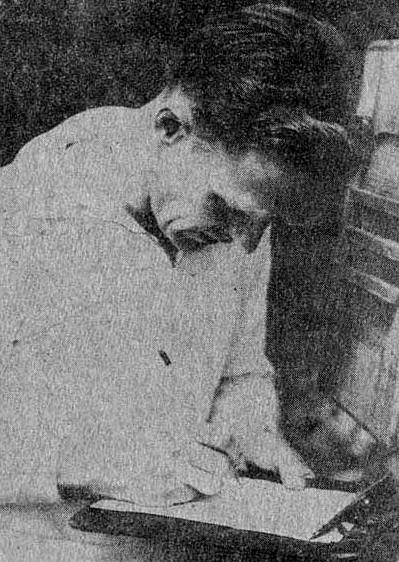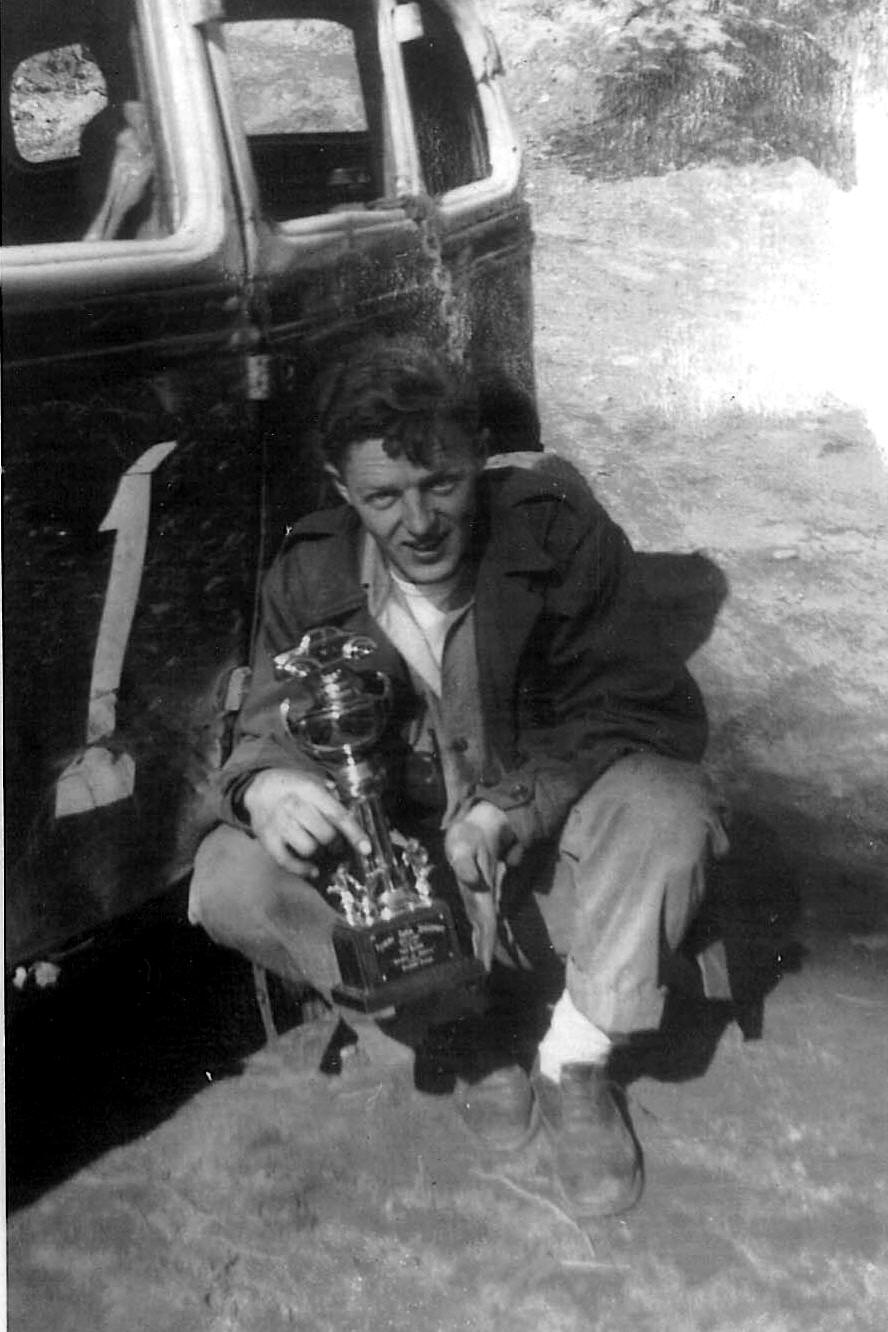 Courtesy of Phil Chastenay Courtesy of Darlene Burr Blair
Ted Burr, one of the early officials at Claremont. [Right] As a jalopy era driver.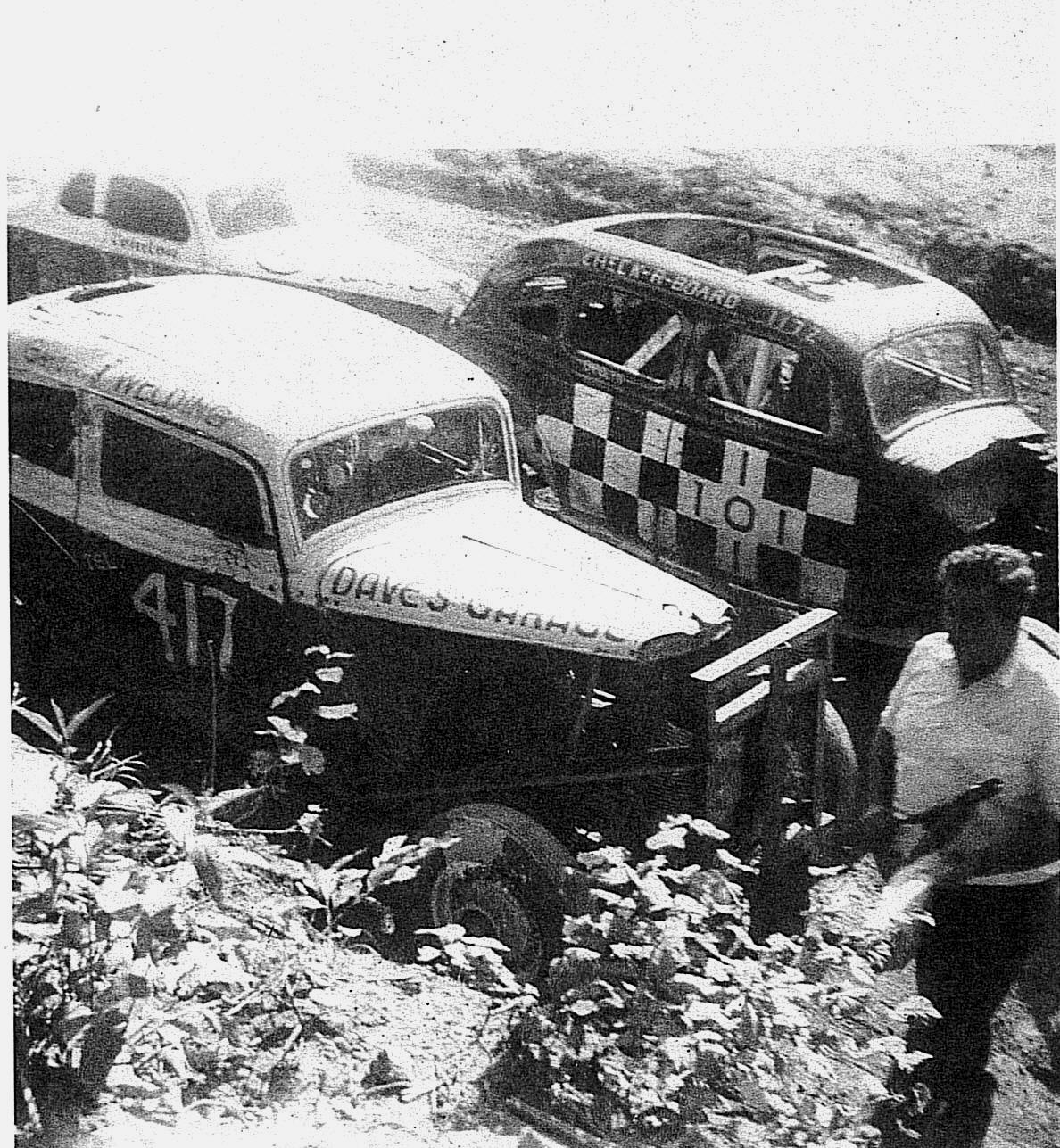 Courtesy of Marty Harty
A good, clear closeup of an early jalopy lineup. The third car is Maurice Condon.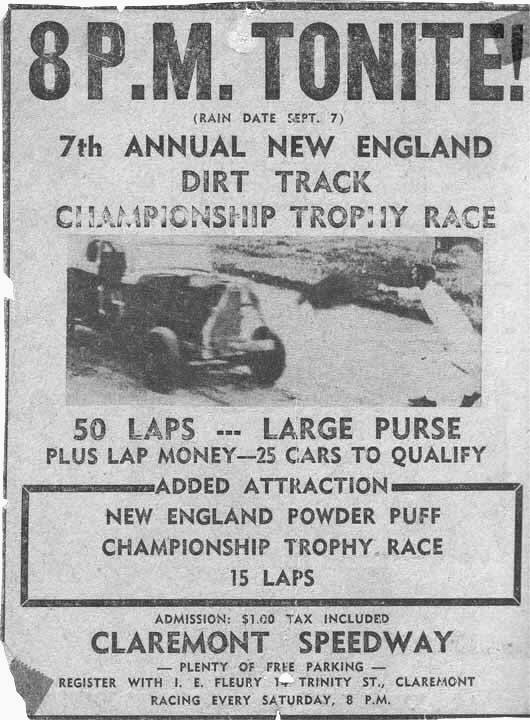 Courtesy of Phil Chastenay
One of Sonny Fleury's early posters.
Some Shots Courtesy of Neal Davis
Some Shots From the NEAR Meet at Claremont in 1983
All the photos in this next table are, most likely Bodreau Collection items - courtesy of Phil Chastenay
CLICK HERE for photos from The Walt Brown Family

Twin State Site Photo
Claremont today, as Twin State Speedway.
Return to the Main Page
Return to the Main News Page