THE BILL'S BACK IN TIME COLUMN PAGE
Copies of my column in Mark Thomas' "Racin' Paper"
BILL'S BACK IN TIME
By Bill Ladabouche
Column 68- From Original Column 83
THE TWO GUYS IN THE FUNNY SUITS
When the photo came out after the infamous Ray Forte fire at Catamount Stadium in the middle 1960's, everyone marveled at the destruction of Forte's beautiful 1936 Chevy sportsman coupe. The charred hulk, hanging from the hook on the wrecker, drew all attention to itself – especially in view of how wonderful the car looked before. So, it didn't amaze me that nobody paid much attention to the Milton Fire Department personnel who had left their homes, camps, or recreational activities to respond to the track. Back then, the track did not have any kind of fire extinguisher adequate for this kind of fire – so the town's fire trucks had to come.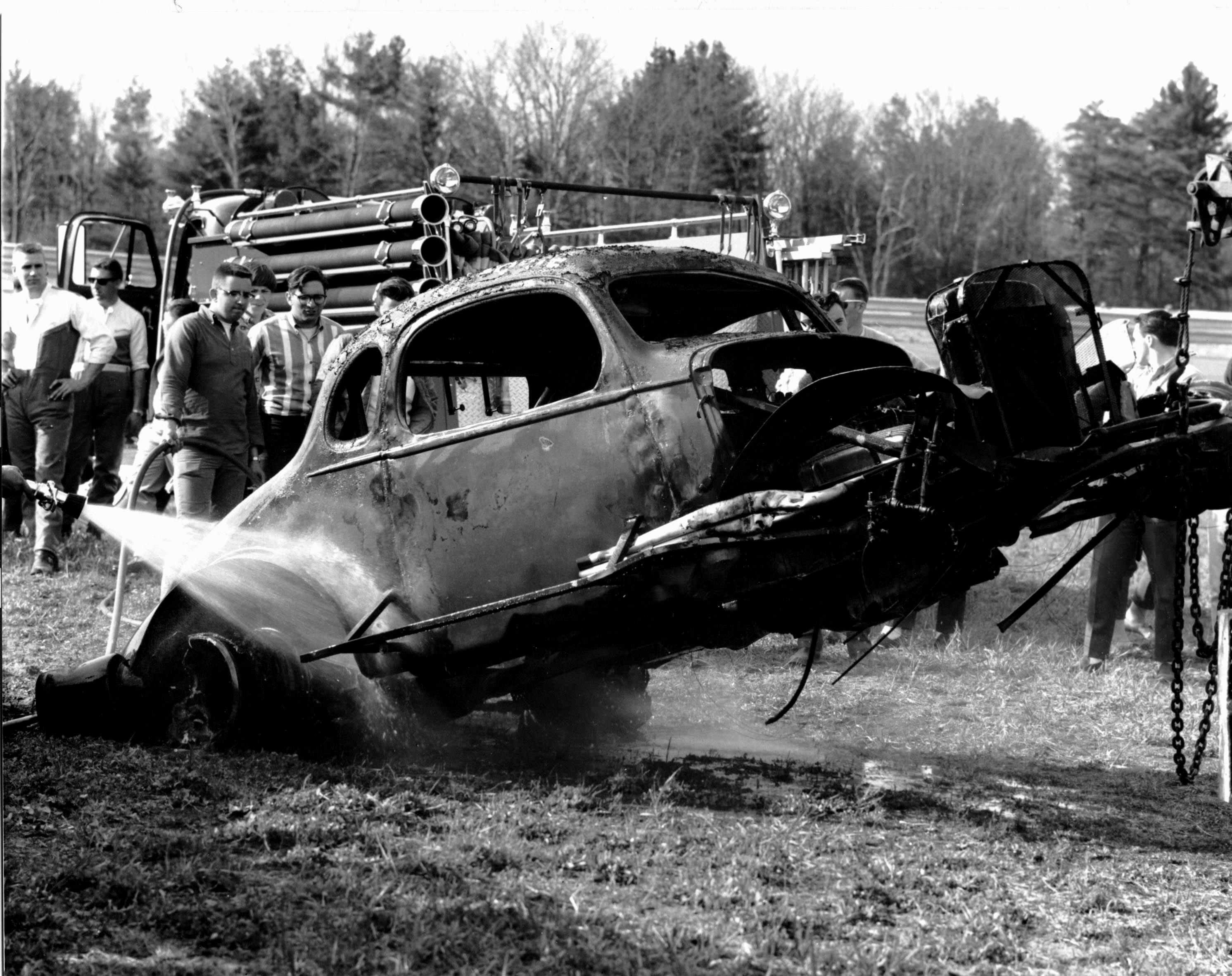 The charred Forte car is hoisted. Note the two guys in matching fire suits to the left. [Courtesy of Cho Lee]
It just so happened that two of the firemen were already at Catamount Stadium: Beaver and Bobby Dragon. They are seen in he photo, looking on as the remains of the Forte car begin to exit the infield. It was the uniforms that killed me. Beaver had already been widely publicized with his highly-unusual, kind of homemade- looking driver's suit. He had upset the Northeast racing world in 1966 when he and his little underpowered sportsman coupe beat a Catamount field that included a number of prominent modified drivers. In posing for the victory lane photo with Ernie Preiss and Johnny Bourgeois, Beaver had displayed this funny driving suit to the world.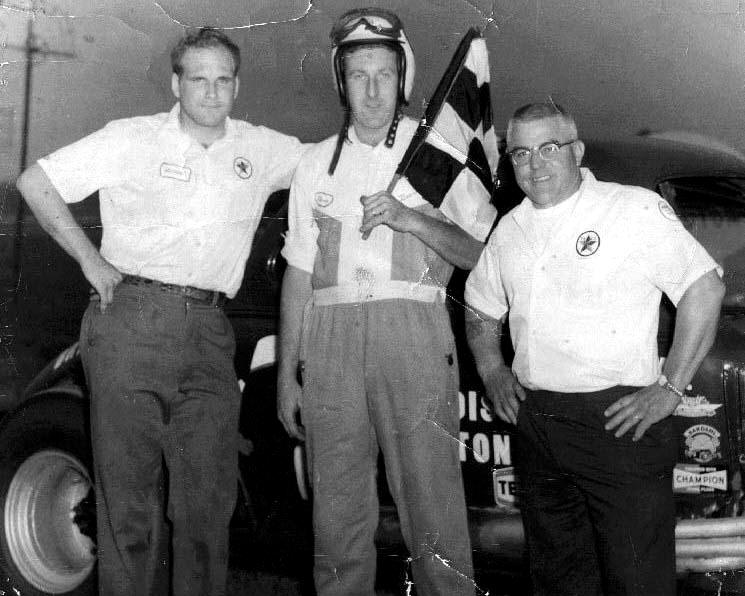 Beaver, in "the suit" poses for his big win with Ernie and Johnny. [Dragon Family Photo]
Apparently either it wasn't that funny to the Dragons or maybe it was the way all the suits looked in the mid '60's; but, when younger brother Bobby started out in the Flying Tigers at Catamount, he got exactly the same suit. And it was in these suits that the Dragon boys stood, gazing a Forte's poor car that early Summer evening. As it would turn out, the suits were the only part of their act that was questionable in any way.
Harmon "Beaver" Dragon, older by at least five years than Bobby, had been kind of one his own since his late teenage years, and he had already tried out the burgeoning sport of stock car racing at Malletts Bay Speedway well before 1960. Beaver and his friends had an unimpressive – looking 1936 or 37 coupe equipped with a slightly newer Buick power plant. With a little help from some questionable chemicals added to the gas and a cleverly – shaved flywheel, the plain white old Chevy actually won the first race the Dragon crew was ever in.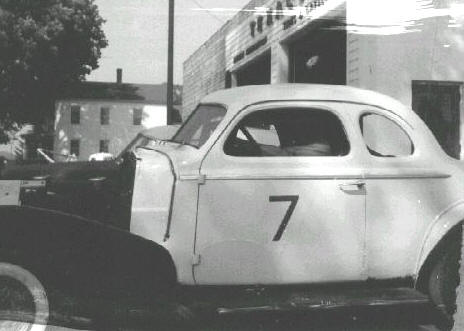 The old coupe with the exotic equipment sits at Bourgeois' garage. [Bourgeois Family Photo]
Beaver would go on to race regularly that year and throughout the rest of Malletts Bay's life [which ended in 1959]. The car apparently remained largely idle, perhaps making a few pilgrimages to Northfield's Dog River Speedway, until the new NASCAR track, Otter Creek Speedway, opened up in Hi Monroe's pasture near Vergennes in 1961. Mislabeled as "Herman" Dragon, Beaver ran a few weeks there before the old coupe was put out to pasture for real.
With Bobby looking on with increasing interest, the Milton bunch now built up a 1955 Ford to run in the late model hobby division at Thunder Road International Speedbowl in Barre, Vermont. Beaver [again with the tricky flywheel trick] was successfully running the Ford with the funny cowcatcher front bumper at Barre, Northeastern Speedway near St. Johnsbury and – most successfully – at Airborne Speedway in Plattsburgh, New York. The group even made a one – time foray down to Fair Haven's Fairmont Speedway, on clay, to challenge the track's unbeaten Lennie Wood. Beaver nearly dethroned the Unbeatable Lennie Wood before the traveled all the way down to Seekonk to take on Red Barbeau.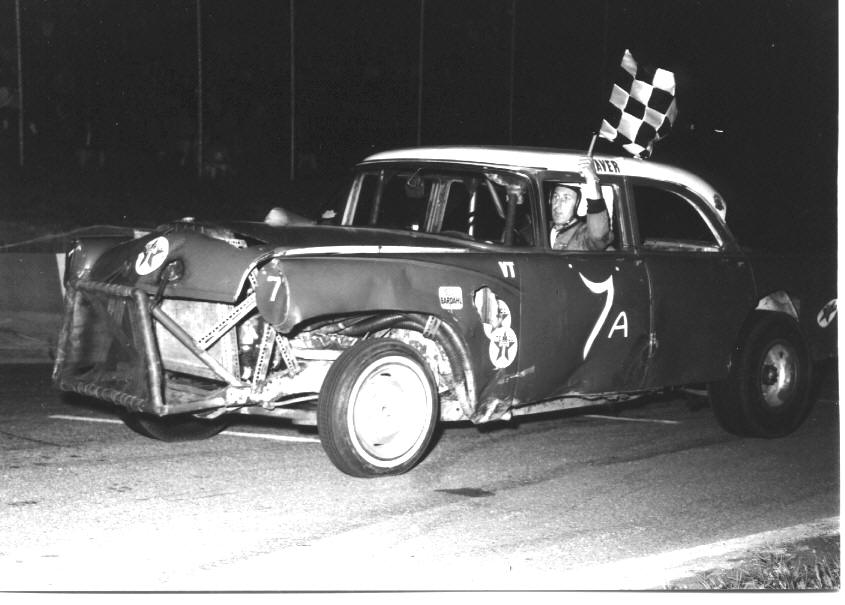 Beaver gets a checkers award from Bob Quinn at Thunder Road with the Ford cow-catcher car. [Courtesy of Cho Lee]
By 1966, the red Ford had been put aside for a sportsman coupe bought from fellow Miltonian Norm Cyr. Sporting a snubnose hood from a GMC, the coupe was fairly peppy but was not only underpowered in the presence of the modifieds at Catamount, but the truck hood wasn't letting the motor breathe enough. So, with a more conventional hood in place, Beaver went out one summer night in 1966 and won the Catamount feature, putting himself forever into Catamount and Vermont racing history.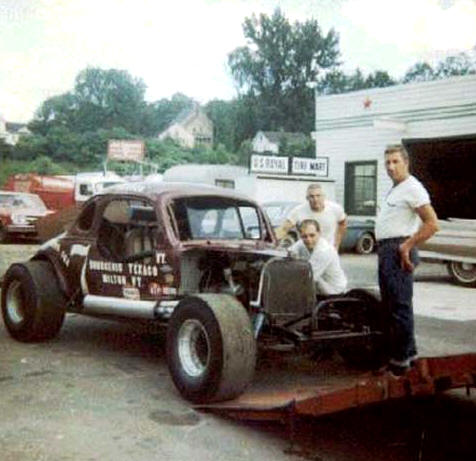 Beaver stands with builder Ernie Preiss [kneeling] and Johnnie Bourgeois near Johnny's gas station.
The famous feature-winning coupe is no longer sporting the snubnose hood here. [Dragon Family Photo]
By now, Bobby had been brought into the sport with help from the boys' father figure, Johnny Bourgeois, a gas station proprietor with a storied history of service in World War II. Bobby would come out with a 1955 red and white Chevrolet numbered 71 [a number he would keep most of his career]. Bobby showed immediate driving capability. Bobby had come right out of the box with an effective technique, which included looking two turns ahead when driving around the Catamount oval. This was not something many of his Tiger competitors had remembered to do. Bobby, of course needed a requisite driving suit and he naturally got on just like his older brother's.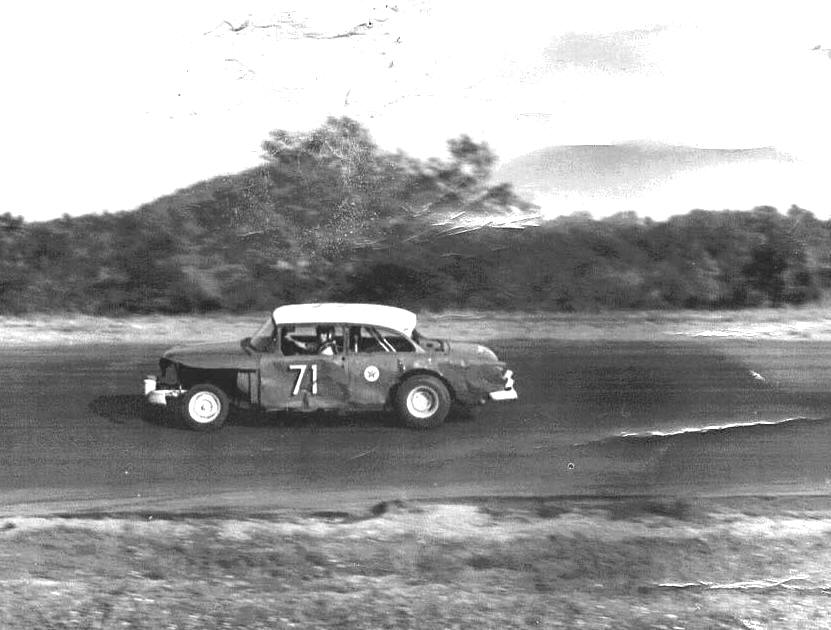 Bobby Dragon looks across to the backstretch as he goes through turn two
in his first car about 1966. [Courtesy of John Bourgeois]
Beaver would go through that following season, trying out a Falcon – bodied sportsman while Bobby came out with his legendary all – red paint scheme, with the number 71 that included a Seagram's 7. Beaver ended up destroying the Falcon at Lebanon Valley about the same time that Bobby tried his hand at Red Barbeau at Seekonk. It left Beaver with little choice but to return to the Flying Tigers at Catamount, even though he did land in his former Chevy coupe down at Devil's Bowl where it had been sold to Ray Richards.
By the time I came upon the scene at Catamount in 1968, Beaver was firmly entrenched in the Flying Tiger #63 of George Blake, while Bob was enjoying almost equal star status with a 1955 Chevrolet, still numbered 71. The modifieds were gone by late in 1968, and the Tigers were the whole show. Beaver would, that year, win several features in a row and practically had a bounty on his head. By 1969, Beaver was sticking with Blake and his capable brother – in – law Ray Devarney, while Bob had gone to a 1957 Chevy and was really tearing things up at Catamount. The strange two-tone driving suits had long gone out and the boys were adorned in very conventional suits.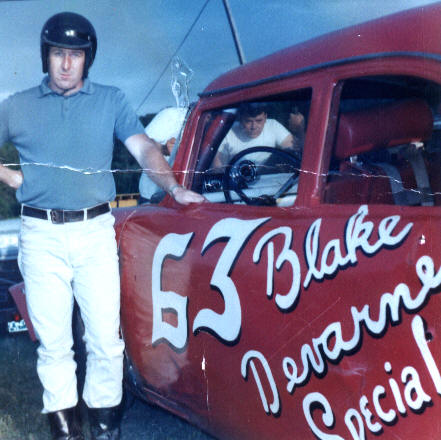 Beaver found himself back in the Tigers with George Blake's Ford. [Courtesy of Rich Palmer]
Had there not arisen a big problem between Bob and the Catamount management towards the end of the 1969 season, the two probably would have gone through at least the 1970 season cutting a swath through the competition, which included other talented locals such as Ron Barcomb, Tom Tiller, Bob Giroux, Moe Dubois, and Art Taylor. Catamount now also sported a New Hampshire contingent such as the three Ingerson brothers, Ronnie Marvin, and Stub Fadden. New York drivers came and went, as well, but not with the regularity of the Vermonters and Granite Staters.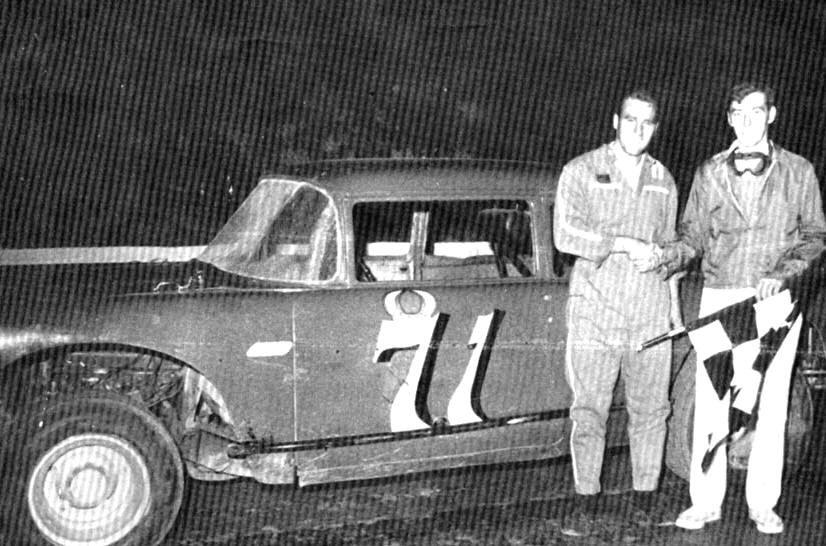 Bobby had converted the '57 Chevy for dirt and gets a win in 1970. [Courtesy of Ed Fabian]
After the big flap over a scoring miscue, Bob refused to drive at his home track any more and Beaver went into exile with him – to Beaver's other familiar venue – Devil's Bowl. Bourgeois, while sympathetic with his boys, was a Catamount official, so he had to stay. The Blake / Devarney 63 went into the hands of St, Michaels college student Joe Couture and Bob's '57 Chevy was modified into a dirt late model. Later, of course the two would return to Northern NASCAR and to big careers, but they never again could really be thought of as the two guys in the background in the funny driving suits.
Return to the Main Page
Return to the Main News Page
Return to the Columns Link Page
Return to the All Links Page