THE BILL'S BACK IN TIME COLUMN PAGE
Copies of my column in Mark Thomas' "Racin' Paper"
BILL'S BACK IN TIME
By Bill Ladabouche
IN DAYS OF OLDE WITH INVANHOE
One evening in the recent past, my wife and I sat, looking out a window at Libby's Blue Line Diner, atop a hill overlooking miles of Colchester, near Winooski, Vermont. I remarking how much the area had changed since I first moved up to Northern Vermont in 1968. From that vantage point [which would have been a motel back then], I would have been looking at the Mountain View drive – in theater, at a small restaurant run by a man and his wife, and I almost could have seen the site of Smitty's Used Cars.
Ivanhoe Smith was apparently a truly unique character, with an automotive business on U.S. Route 7, outside downtown Winooski in a section that most Vermonters are not sure belongs to Winooski or Colchester. Given that the lot sat right in front of what today is Winooski High School, I would have to assume it's barely in the Onion City. In the early days of stock car racing, he would help to field a vast variety of stock cars [most field fillers] and he would actually have his own race track.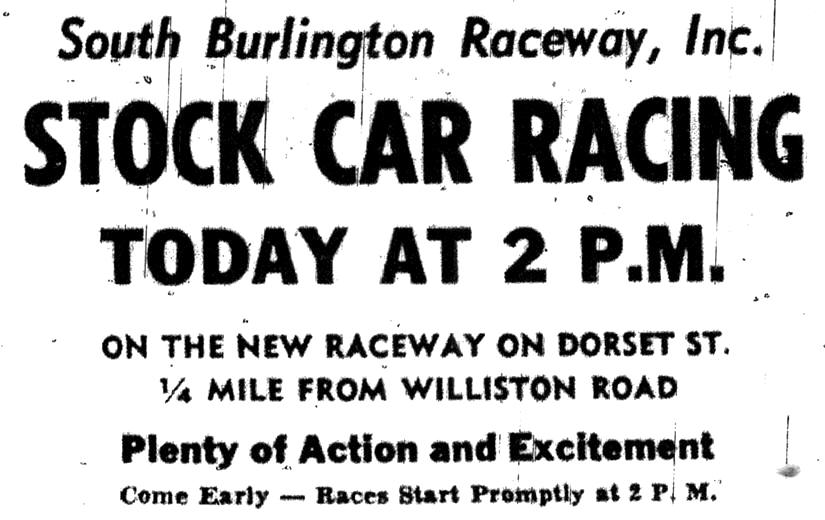 Burlington Free Press Ads like these sparked a lot of interest in stock car racing. [Thanks to John Nelson]
Smitty probably got the racing bug – as did so many of his colleagues – when the very first tracks sprung up in Chittenden County, Vermont: Earl Greer's South Burlington Raceway, off Dorset Street near what today is South Burlington High School, Sunset Speedway in Malletts Bay, and the first Malletts Bay Speedway on Holy Cross Road in Colchester.
Smith was involved with one quality car – the P-30 of Clarence Rock, an eaqrly 1930's Ford coupe which still sported some of the spoked wheels of its day. Besides success around the tracks in the Chittenden County area, Rock also did well at Airborne Speedway. I know the car performed at least once at the original Fairmont Motor Park Speedway, in Fair Haven, Vermont – around 1951.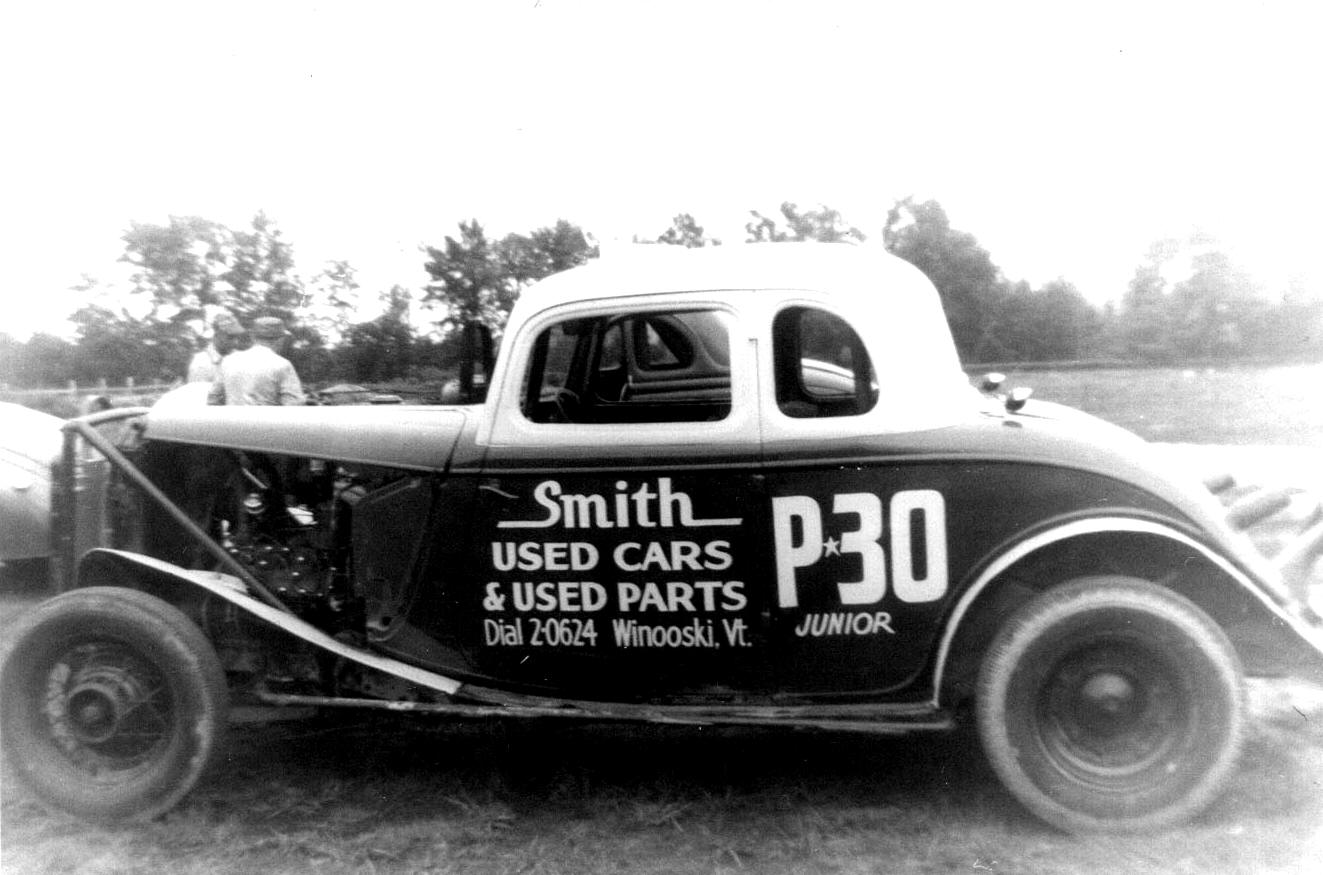 The Smith – sponsored P-30 sits in the pit area at Fairmont around 1951. This was a polished – looking car,
for the day. The driver was probably Clarence "Cornfield" Rock. [Courtesy of Mark LeFrancois]
The Smith business was a center and gathering place of sorts for a number of local guys who wanted to be around the racing scene. Larry Caron, a highly – respected and successful driver in Northern NASCAR and also Busch Grand National North in the 1970's to 1990's, recalls his father being one of those guys. The Smitty bunch, never known for excessive pre-race preparation, would break out the tools and six packs on Friday night to get Smitty's cars ready for a weekend of racing wherever they were headed. Probably the multiple car effort started out as a way of ensuring his track had enough cars for a field.
Later on, Smith's sons, as well as a number of assorted characters and local talent from all over would hop in the heaps from one week to another. Don Smith, Billy Bigelow, Ollie "Beatnik" Wescott were the most familiar; but I think the following names appeared in Smith cars from time to time: Cannonball Baker, Enosburgh Falls, VT; Bud Poirier, Buffalo, NY; Sparky Bessette, and "Crash Smith , Winooski. I saw three of them drive [sort of] at the old Otter Creek Speedway in Waltham in 1961. That track was the last hurrah for most of the old Colchester race track scene. The Smith cars were so informally staged, they didn't even bother to take them home ,from one week to another – after a while.


Ollie Wescott [12] "competes" in a heat at Otter Creek Speedway in 1961. He is in with 2 + 1, Jim Hampton; Beaver Dragon white coupe 2nd]; Jack DuBrul [1]; Jack Anderson [5]; and Red Dooley [white coupe in rear]. [Courtesy of Cho Lee]
Around 1951, Smitty organized the Colchester Raceway, one of the five tracks that existed in the town of Colchester, Vermont in the 1950's. Colchester Raceway was located on U.S. Route 2 – between Colchester Center and Essex Junction. Today, the southeastern end of Canyon Estates housing development occupies the site of the old track.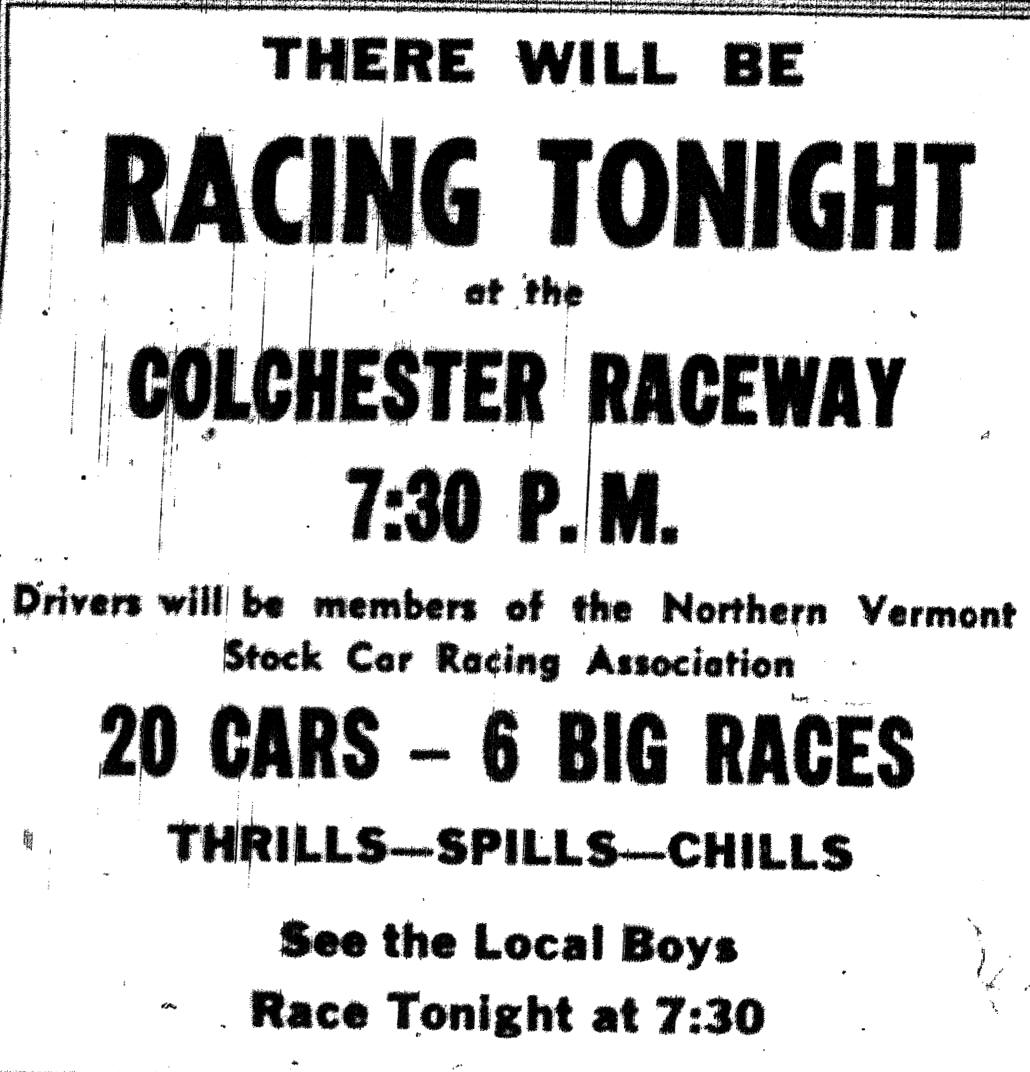 Smitty's track joined the other early '50's tracks in advertising in the Burlington Free Press. [Courtesy of John Nelson]
From what I can see in the few photos of the track that I have had access to, the track had a decent front stretch fence, grandstands, a roofed announcer's stand, and the public address system was operated from a truck in the infield [very common for that period]. A barn is visible off the third turn.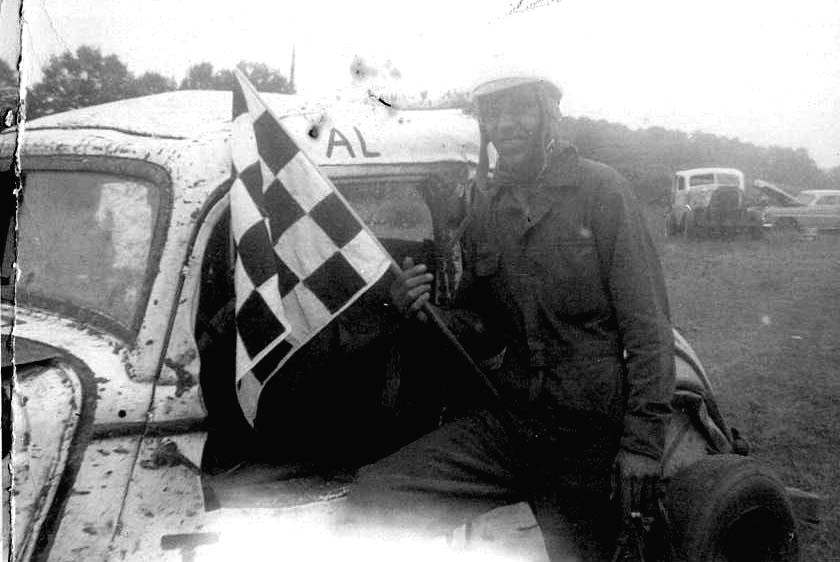 Jack Anderson, only sixteen years old in this photo, poses
with a checkered flag at Colchester Raceway. [Anderson Collection]
Apparently, the track experienced an unfortunate accident in which some spectators were injured. Despite the fact that the fences were at least as good as most and may be better, the catch fences were seldom adequate in the early 1950's, and fans were usually not made to stand back from the action. Police investigators were not verry satisfied as they analyzed the situation.
This sparked a big confrontation between officials who were not particularly big fans of stock car racing, and the increasing legions of Vermonters who loved the sport. State officials the unearthed some old Vermont blue laws to keep the track from operating. For the uninititated, Sunday Blue Laws were very archaic, leftover laws about doing things like drinking, dancing, or anything else fun on the Sabbath. They hadn't been dusted off in decades. Most track had to run on Saturday or Sunday afternoons because they couldn't afford lighting. The blue laws would take away Smith's schedule. It didn't help any that racing at the Champlain Valley Exposition fairgrounds experienced a fatality at almost the same time.
Smith and many of his drivers decided to defy the laws and stage races the following week. Smith, noted driver Jackie Peterson, and some others were hauled into court. From what I can tell, not much came of the whole and tracks were back running on Sundays after a while. Maybe they owed some thanks to Ivanhoe Smith. The incident produced plenty of copy from local newspapers.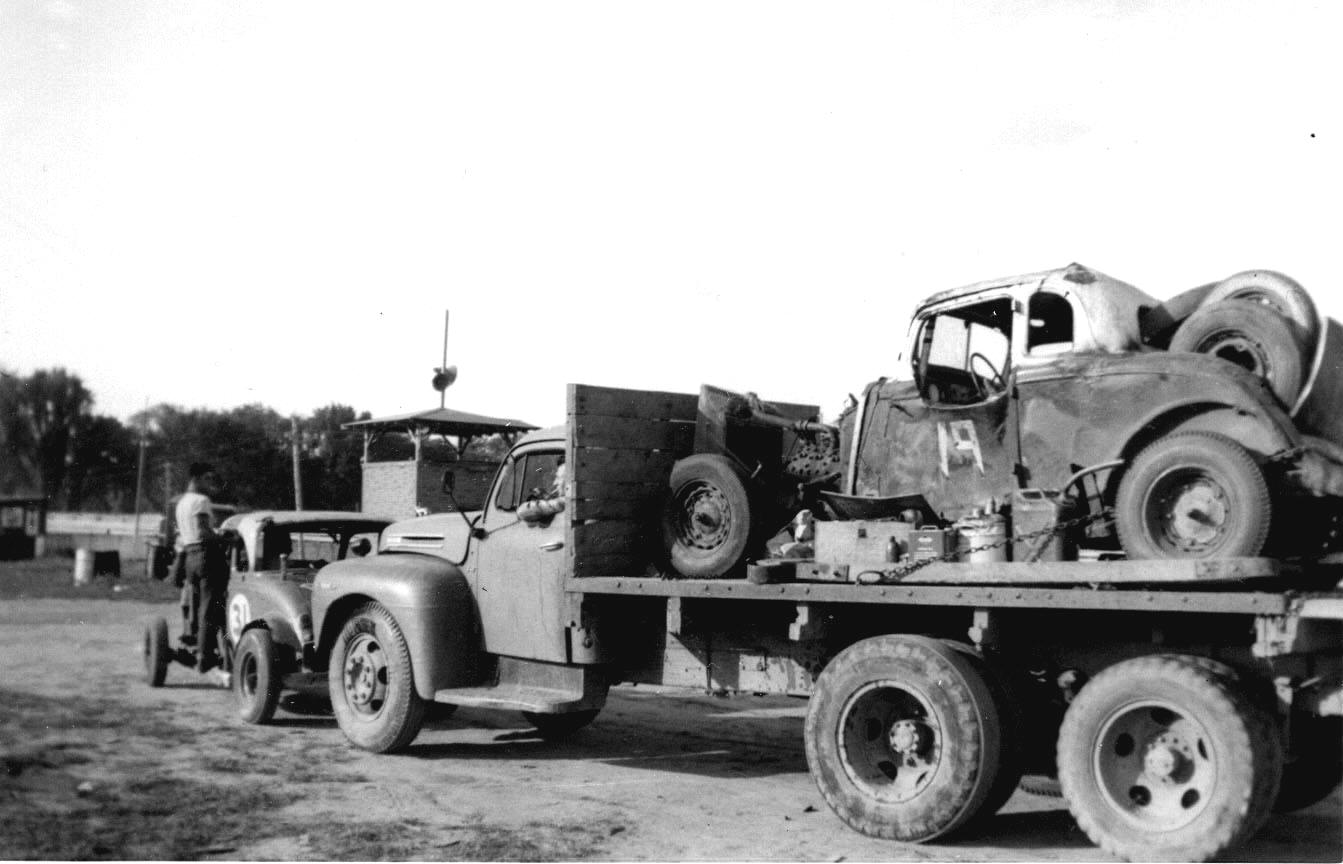 Local stars working together: Gordie Owen's 31 is pushed into the Colchester Raceway by friendly competitor
Rex Shattuck. [Bushey Family Photo Courtesy of Jack Anderson]
Most Vermont tracks survived the flap, but not the 1950's. Between the fatalities, too many tracks in too close proximity, and the inevitable decline brought on by that per cent of participants who didn't remain committed to the sport, a lot of the tracks in northern Vermont were gone by 1956. Smitty's Colchester Raceway was among these. I doubt Ivanhoe had the finances to keep it going through the rough spots. Only the Walter Barcomb track, formally called Colchester – Bayview and supported by NASCAR, made it through to 1959. It was guys like Ivanhoe Smith who made racing so wacky and wonderful in its early days.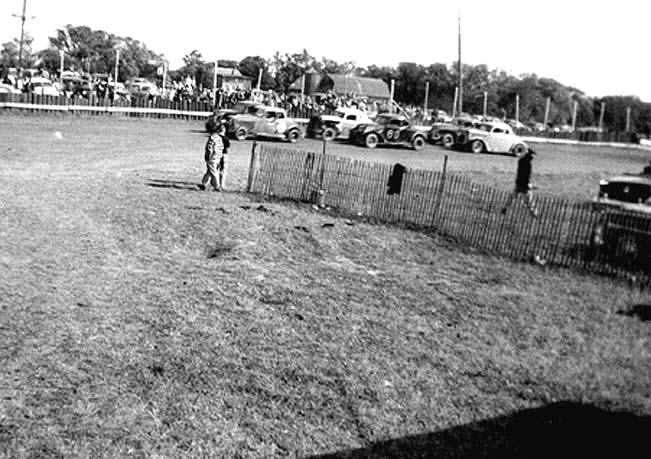 A small heat race parades around Colchester Raceway on a Sunday afternoon during the track's short life. Gordy Owen is on pole, and it looks like Jackie Peterson in the rear. [Owen Family Photo]
Return to the Main Page
Return to the Main News Page
Return to the Columns Link Page
Return to the All Links Page