THE BILL'S BACK IN TIME COLUMN PAGE
Copies of my column in Mark Thomas' "Racin' Paper"
BILL'S BACK IN TIME
By Bill Ladabouche
Column 60 - From Original Column 75
BUCOLIC TRACKS AND CHANGEABLE ECONOMIES
I'm trying to see if there is a parallel between what goes on in the nation and the economy and the fortunes of local race tracks. The 1950's, for example, were a time of post war economic boom and accelerated consumer response in the United States – and there was an amazing number of race tracks that sprung up, all over Vermont.
<![if !supportLineBreakNewLine]>
<![endif]>

Although this was Claremont, in New Hampshire, tracks just like this were springing up all over
Vermont, as well. [Courtesy of Mark LeFrancois]
When Harry S. Truman handed over the reins to Dwight D. Eisenhower, the nation saw the interstate system bloom into life, as did the country's fledgling sport of stock car auto racing. In Vermont alone, the early 1950's saw the creation of tracks in Newport, Lyndonville, Morrisville, Sheldon [2 tracks], Enosburgh Falls, South Burlington, Colchester [5], Wells River, East Corinth, Waterford, Rutland, Fair Haven, West Brattleboro, Concord, and probably a bunch more we haven't found about about yet.
Thousands of returning servicemen looked to get automobiles, which were in short supply. As a result, many of them – like my dad, for instance – ended up with fairly old cars to start with. [Ours was a 1936 Plymouth sedan bought nice old Mrs. Grbacz.] Some of these men needed a car for job and family; some wanted a car for self expression. That latter group helped boost most of those tracks. I have already related the story of how a young Al Romano helped create Pico Raceway by giving his father gray hairs, drag racing on the Rutland Airport runways at night, as one example.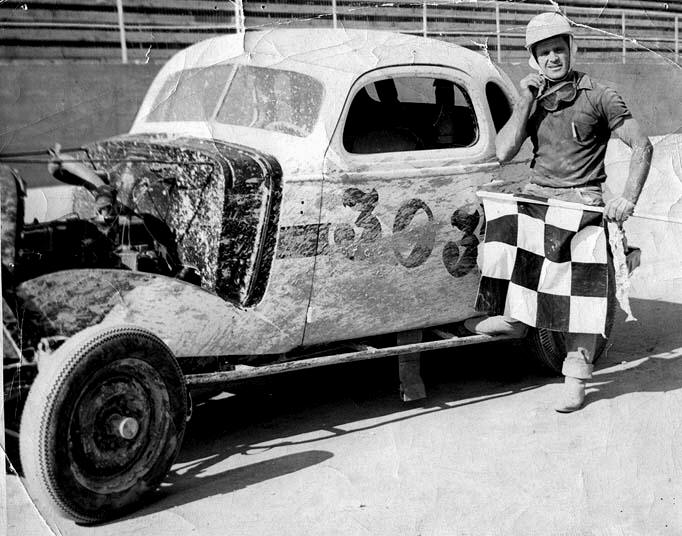 Al Romano finally used Pico Raceway to channel his need for speed. [Courtesy Romano and Ed Fabian]
By the mid 1960's, most of those tracks were gone, or in the process of disappearing. I heard stories of some of the heroes of 1960 racing finding and using the old, abandoned tracks for practice. I know Art Visconti, who raced at places like Fairmont Speedway, occasionally used the old Granville, NY track to try out of #001. There was an economic slowdown in the 1960's, and an unpopular war. Sound familiar ?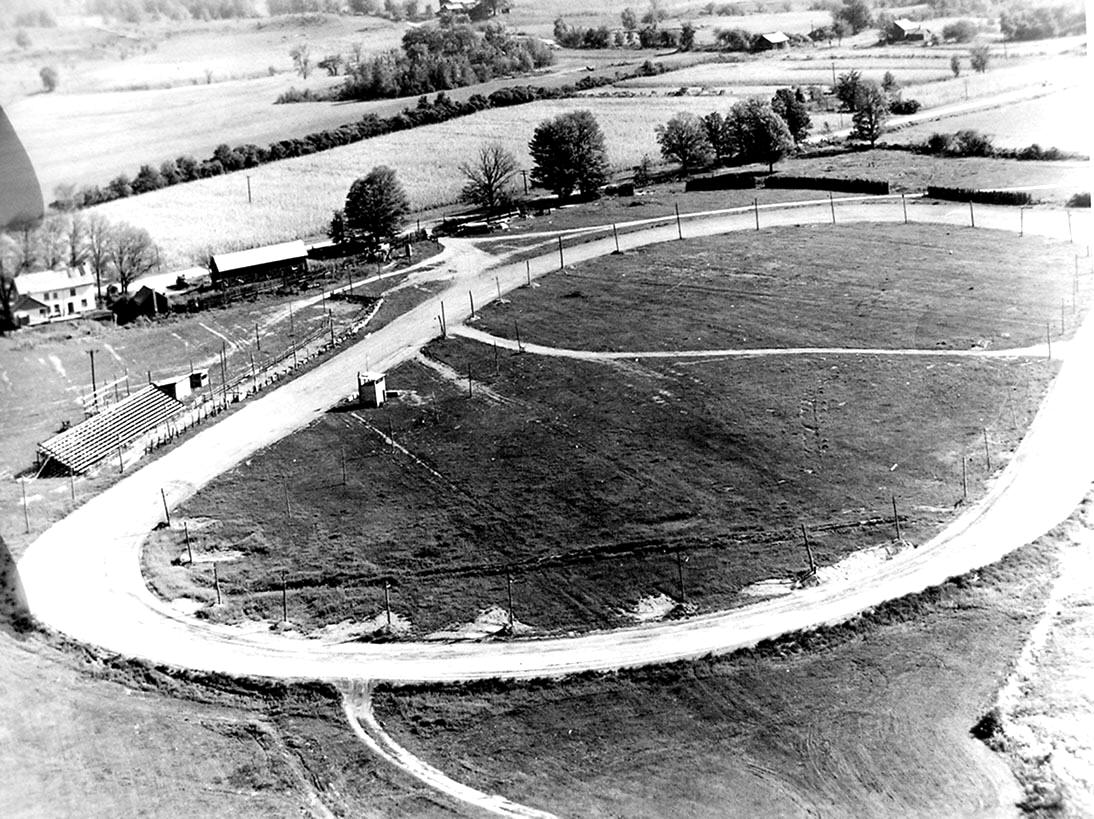 The old Mettowee Speedway, shown here in a nice aerial view, was used by guys like Art Visconti to
practice for the tracks that were still in existence. [Courtesy of Ray Wilson]
We were never able to return to the days where there was a race track around every corner. So now – with a doozy of another economic slowdown, with another unpopular war, and with untrustworthy oil prices – we also have come up with environmental concerns, energy shortage, and rapidly shrinking land availability.
As 2009 comes in, Vermont had two healthy tracks and one that has big problems. Nearby tracks in neighboring states look about the same. The impending danger is that, if any of the existing three Vermont tracks falters for even a few weeks, bothersome neighbors and the tree huggers will fall upon it like hyenas. It'll probably never open again [and perish the thought of any new track].
There are several tracks nearby which are not any too healthy. However, in those states, a track can close and stand a chance of re-opening. It would be great if we could keep what is left, but it isn't going to be easy. We need to do whatever is necessary to keep the remaining tracks afloat. Look how close states like Massachusetts and Connecticut are to having none left.
Dick Kison's car sits in the pits at West Brattleboro. Note action on the track and Bardwell in the background.
[DL Collection} I apologize that I cannot recall who DL is]
One of those little boom tracks with a short lifespan was the one in West Brattleboro, Vermont. I cannot talk about this track with much authority, but I haven't stopped trying to dig up information about it – and I have made two pilgrimages to the area to try and see if anything is actually left. If you drove west, out of Brattleboro, on U.S. Route 9, you would tow through a small village that was obviously built up around a large mill or factory – located on the Black River. I'm sure getting there took longer in 1952 because there were no interstates in Vermont yet.
Not far out of that village is a small valley and t he track could be found – to the right -, in between Route 9 and the Black River. From the few photos I have been able to see, it wasn't much. There may or may not have been bleachers, but it looks like the pits were on the right [or south] side of the track – not far from the spectators. Long logs were placed along the sides of the straightaways, on the apron of the racing surface. There were a few shacks thrown up for various purposes.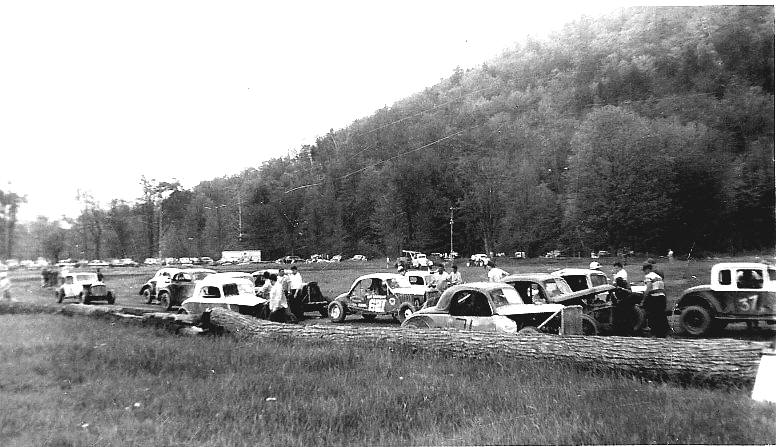 Cars, including Rousseau's 621 line up in West Brattleboro. Notice the logs along the track. [Courtesy of Lew Boyd]
The participants seemed top have been regulars from the Cheshire Fairgrounds in Keene, NH and from places like the Rhythm Inn race track in Millers Fall, Massachusetts. Shots of starting fields revealed standard upright stockers, mixed in with a few of those "cutdowns" from that era. Regional star Art Rousseau with his cutdown #621 out of Manchester, Massachusetts, Sonny Rabideau with his Chrysler – powered #D3, Buddy Bardwell with his legendary bullhorn-decorated #13 car, and the legendary #46 coupe of George Barber [all the way from up near the Canadian border] were some notables espied in these pictures.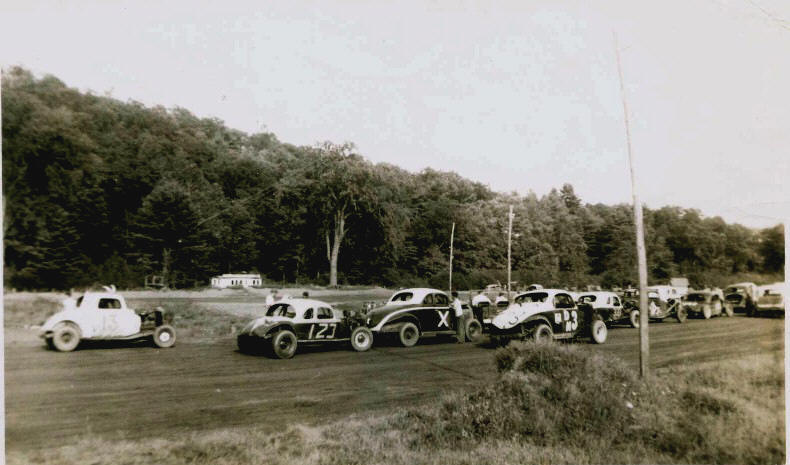 This shot shows Buddy Bardwell [13] and Sonny Rabideau [DN3], among others. [Courtesy of Lew Boyd]
Today, there isn't a trace. Eaters at a local silver diner nearby can direct you to a vague location behind a building supply business and a store. Checking on the site is hard and would mean trespassing in people's yards. I cannot see a hint of the track on the 1990 Terraserver USGS satellite photos we use on the internet. Local drivers' photos show guys like Dick Kison and "Flash" Gordon, but I have found no trace of them either. Bardwell survives [and is a friend of mine] but Rabideau is in poor health. I still hope people will step forward with stories, photos, or other materials to keep West Brattleboro from just eroding into history without a trace. Otherwise, it remains the ghost it is now.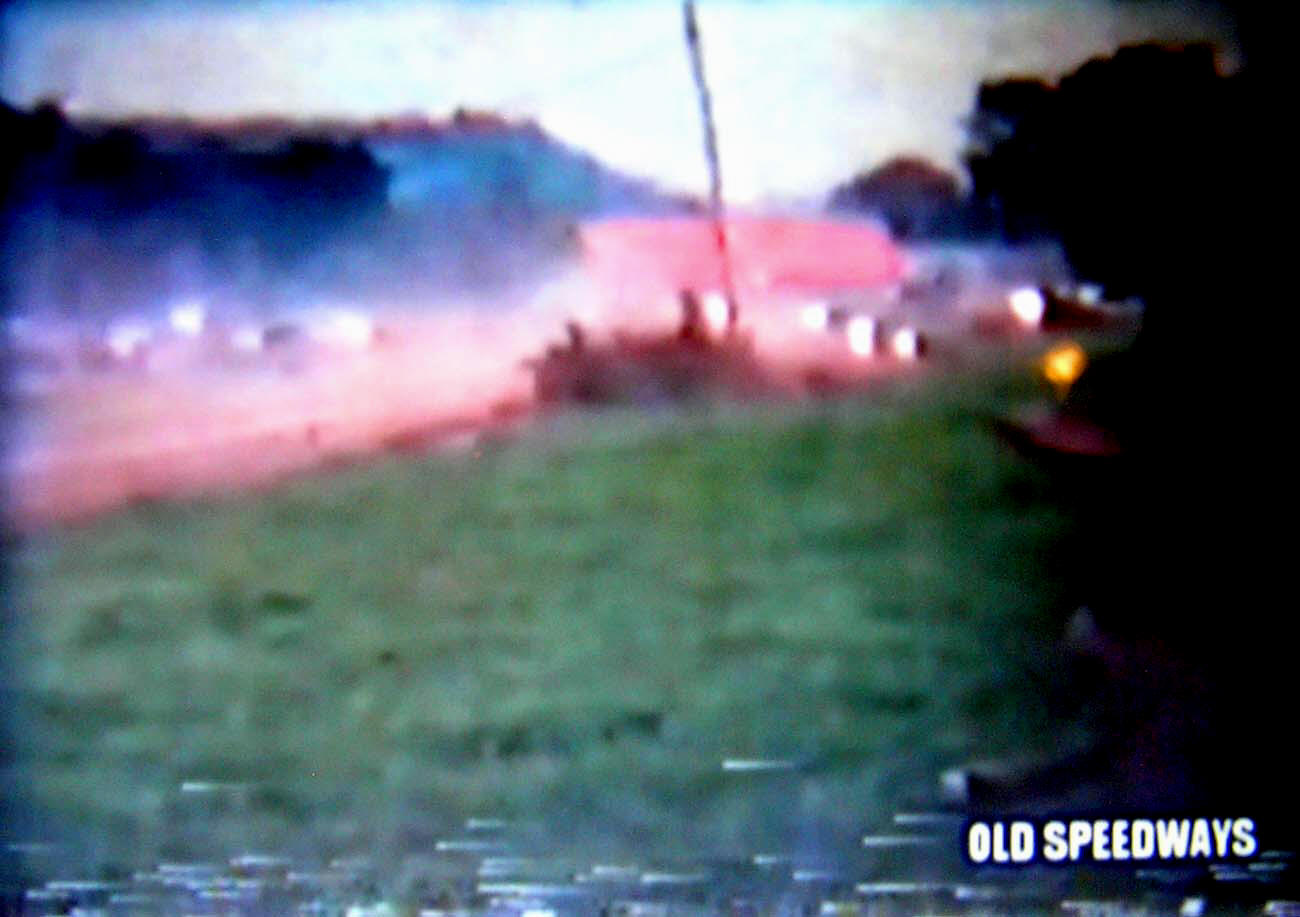 From Dan Ody's 8MM DVD
Using a lot imagination, looking down the front stretch from the fourth turn.
The tracks heads toward a building with a red roof [apparently not on track
property] and then veers to the left.
<![if !supportLineBreakNewLine]>
<![endif]>
Return to the Main Page
Return to the Main News Page
Return to the Columns Link Page
Return to the All Links Page