---
---
STREET STOCK ERA COMPETITORS
---
BACK TO THE MAIN COMPETITORS' PAGE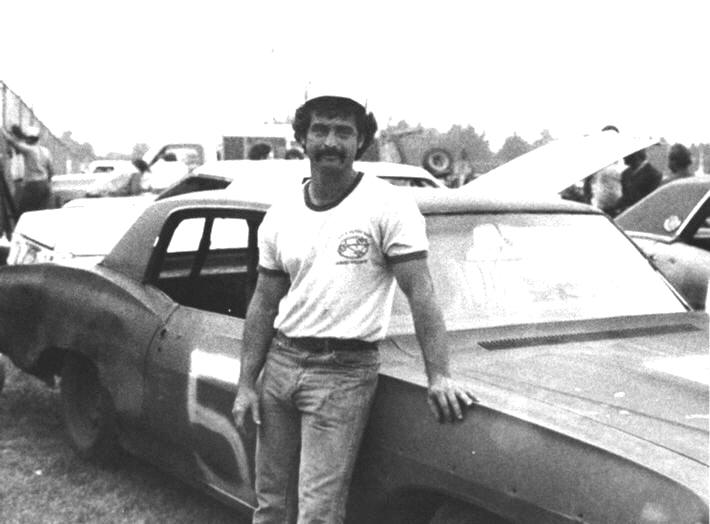 By 1978, Catamount Stadium was aware that it must keep the local interest by featuring some drivers who lived in the region. The stars of the late model division, more and more often, were coming from far away. Catamount had learned from the late 1960's experience with the Flying Tigers replacing the coupes, that fans having an uncle or next neighbor to root for was positively essential for keeping that fan base healthy and growing.
No one could have anticipated what a hit the street stocks would be. Starting with Dick Strobridge, forever to be known as "The Original Street Stocker", to stars of the final year like Jim Barton, the division endeared itself to the fans with its selection of some of the most colorful characters to ever hit the asphalt. The division immediately sprouted out with two or three Caron brothers, two Blow brothers, and assorted other family combos. To this, add Al "The Animal" Simoneau, with his little Tasmanian Devil strapped to the car, and Richard "Choo Choo" Smith, running wheel to wheel with dozens of cars of every make, description, and running condition - and you had the Street Stocks.
By 1981, the officials were thinking of trying to capitalize on the excitement of the original Flying Tigers of the 1960's. They decided to use the Street Stocks as the foundation for that new Tiger division. By 1982, the Street Stocks were to be phased out at Catamount, and the track would not last long enough to see the rebirth of the Street Stocks later.
MAIN COMPETITORS PAGE
Courtesy of Cho Lee
Al "The Animal" Simoneau
Burlington, VT
Catamount History
Richard "Choo Choo"
Smith
Milton, VT

D. Turner Photos
David Turner,
Milton, VT


Courtesy of Mark Austin
Dick Strobridge.
Colchester, VT

"The Original Street Stocker"

COUPES ERA


Mark Austin Photo
Bobby Jennings,
Colchester, VT
#47


Catamount YrBook Photo
Richard Caron,
Burlington, VT


Bv. Dragon Family Photo
Ron Blow, 05
Milton, VT
[Running with Al Simoneau]


Courtesy Dan Nolin
Steve Blow,
Milton, VT
EARLY FLYING TIGERS


ACT Site Photo
Steve Miller,
Burlington, VT

Humphrey Family Photo
Cramer Humphrey,
Charlotte, VT
He won the first ever street stock race at Catamount

B. Ladabouche Photo
Jim Barton,
Milton, VT

Ladabouche Photos
Steve Cushing,
Milton, VT


LIMITED SPORTSMAN


Ladabouche Photos
Richard "Choo Choo" Smith,
Milton VT


Ladabouche Photo
Jim Barton,
Milton, VT
Car Freshly Done.

Ladabouche Photo
Jim Barton,
Milton, VT
After He Re-Acquired
it, a Season Later.
HURRICANES

LATE MODEL SPORTSMAN

MINI STOCKS

GRAND AMERICANS

STREET STOCKS

ACT CARS

NEW TIGERS

LIMITED SPORTSMAN
2ND ERA 1976
Do you have pictures of other drivers from this era at Catamount ? If you would like to make them available for me to place on this site contact me at: wladabou@comcast.net
or
Bill Ladabouche
23 York Street
Swanton, VT 05488
802-868-4339