---
---
MINI STOCK ERA COMPETITORS
---
BACK TO THE MAIN COMPETITORS' PAGE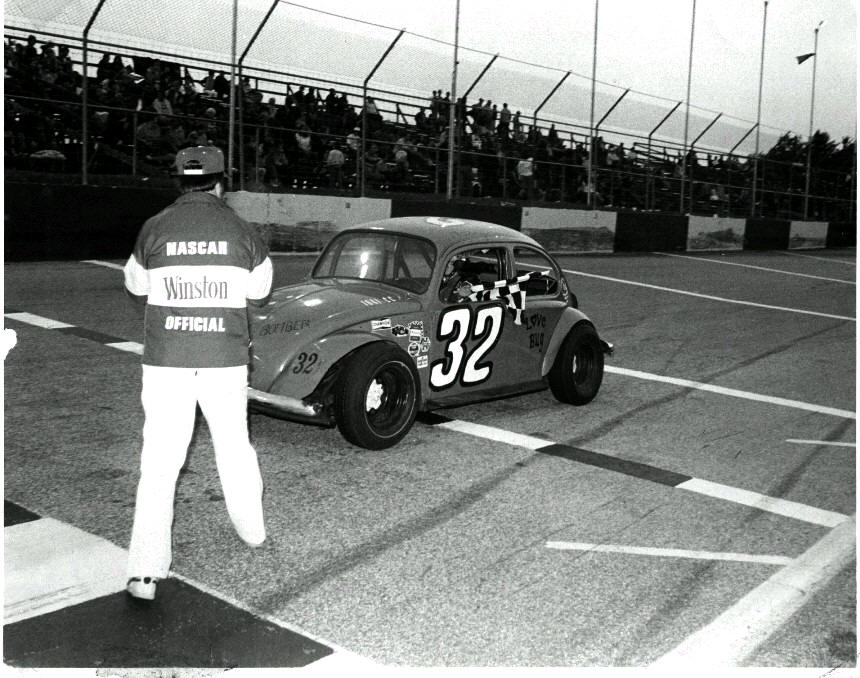 Courtesy of Chris Companion
Harry Gammell, like his dad, was one of division's favorite competitors.
In response to the the rapidly - spreading popularity of mini stock divisions at other tracks like Oxford Plains, Northern NASCAR decided to put in a mini stock class at both Catamount and Thunder Road around 1974. The class started out very vaguely, with a group of cars from mostly North of the Canadian border. In fact, a Canadian, Monique Proulx, won the first mini stock feature, and she remained the only woman to win a feature at Catamount to this day.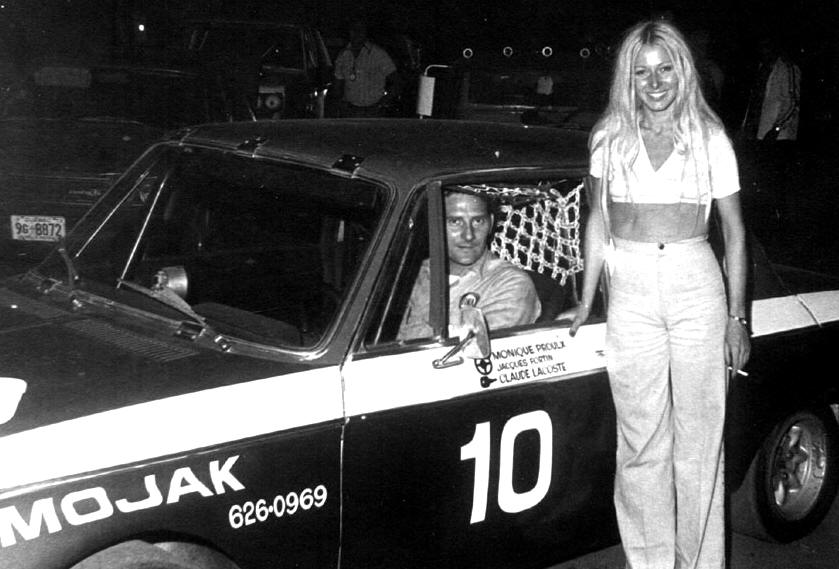 Courtesy of Chris Companion
Monique Proulx, winner of Catamount's first mini stock race.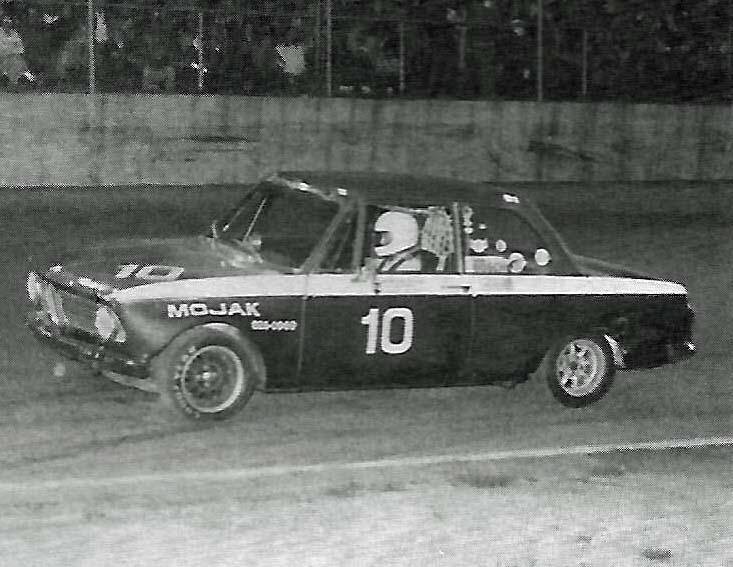 Courtesy of Catamount History Book
One race and finished. I doubt the car was absolutely legal. It served tpo help kickstart teh division.
Butch True became the division's first big star, and it seemed to be controlled by Burlington area drivers. But, but the second year, it was very clear that the class of the field seemed to be centered in the Barre area - especially in the persons of Jerry Perantoni and Joey LaQuerre. The division remained for about seven years. Although the Volkswagen Bug was always the car of choice, the division saw participation from other makes, like the Carmann Ghia, the four cylinder Ford, Volvos, and a few Datsuns [yup, they were Datsuns then].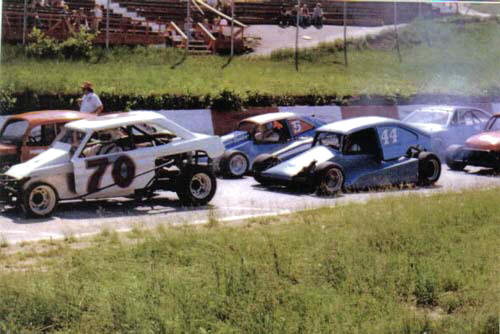 Courtesy of Andy Boright
Mini stocks and mini modifieds line up for a race at T Road during the horrible Tommy Kalimiris era. Look at the
unmowed infield. Likely, they never were paid.
The Mini Stocks produced its own stars of repute, and some of its participants went on to higher race divisions. Arguably the most prominent and accomplished graduate was Joey LaQuerre, Sr, who still excels in racing - especially at Thunder Road. Barney McRae, who started in the minis, has gone on to run in the NASCAR Busch Grand National North circuit. Boomer Mumphord and brother, Peter, went on to distinguish themselves in a similar division at Devil's Bowl.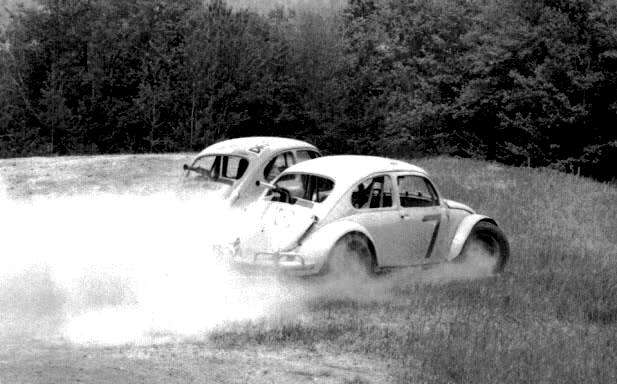 Courtesy of Andy Boright
Kevin Frink [7] and Mike Richmond go off turn two during the pure mini
stock era at Thunder Road. Both were really on the binders here.
MAIN COMPETITORS PAGE

Dick LaFayette
Barre, VT

Butch True
Burlington, VT


Photo Source Unknown
Butch olds on for dear life
as a field of minis and
mini mods fly under him.


Courtesy of Cho Lee


Jerry Perantoni




Barre, VT




Courtesy of Terry LaFerriere


Photo Source Unknown


Joey LaQuerre




E. Montpelier, VT


Courtesy of Cho Lee
In a NH - bought
entry, late '70's.


Courtesy of Rich Palmer


John Mascitti,




Barre, VT




Courtesy of Paul Mascitti




Courtesy of Paul Mascitti

COUPES ERA


Courtesy of Cho Lee


Kevin Frink




Plainfield, VT


Photo Source Unknown


Randy Therrien,




Charlotte, VT




Courtesy of Terry LaFerriere


[Front] Randy Therrien




[84] Don Therrien




Charlotte

, VT


Courtesy of Cho Lee


Ralph Potvin




Randolph, VT

Photo from Dan Nolin


Tom Glaser




Shelburne, VT

Courtesy of Terry Courtesy of Jim Watson



Catamount History Book


Courtesy of Rich Palmer


Dale LaPerle,




So. Barre, VT



EARLY FLYING TIGERS


Photo Source Unknown


Harry Gammell,




West Barnet, VT




From Andy Bright, via Outside Groove Site




Courtesy of Johnny Racer


Photo Source Unknown


Roy Dyke




Bristol, VT


Catamount Program


Dave Gibbs,




Westford

, VT


Courtesy of Cho Lee


The safety truck was none




too safe when Ken Hoadley attacked.


Courtesy of Rich Palmer


Barney McRae,




St. Albans, VT






Courtesy of Paul Mascitti




Barney's first race car




exitting at Catamount




after a heat.




LIMITED SPORTSMAN


Courtesy of Andy Boright


Remember when Ken Squier




tried driving a mini ?


Courtesy of Mark Austin


Jim Carlson,




Shelburne, VT


Courtesy of S. Mishkit


Steve Mishkit,




Granville, VT


Courtesy of Austin Wheeler


Ric Wheeler,




Middlebury, VT


Courtesy of

Eric Adams




Dave Ford,




Barre, VT

HURRICANES


Norman Morley Photo


Randy Therrien, Arlo




Cota, Jim Carlson, and




Ken Hoadley, among




others, mix it up at




Catamount around 1977.




Norman Morley Photo


Pace car ducks in.


Norman Morley Photo


Randy Therrien [48]




paces a heat.


Courtesy of Andy Boright


Minis mix it up at




Catamount, prior to the building of the luxury boxes.




Helen Owen Photo




via Walter Newell


My Lord, Tom is
that exhaust high
enough ?
LATE MODEL SPORTSMAN


Courtesy of Cho Lee


Mark Rossi,




Plainfield, VT


Father of 2010
Tiger Champ, Tony
Rossi



Cho Lee never drove




his mini mod at




Thunder Road, but




he deserves to be




on the page.


Denis LaChance Photo


An unidentified Mini Mod




at Catamount. Might be




Dan Meservey.


Ladabouche Photo


Joey LaQuerre's Pit Area




Chris Ford and John Mascitti visible cars.


Sorry, they used textured photo paper in this era


Courtesy of

Johnny Racer


Another one for Joey
MINI STOCKS


Ladabouche Photo


Mike Richmond's




Pit Area




Dave's Automotive Team


Sorry, they used textured photo paper in this era


Ladabouche Photo


Mark Senesac and




Barney McRae at




Church St Car Show




Ladabouche Photo


Shorty LeClaire,




Hector's brother, made a




rare Catamount visit.


It's a Lebanon Valley
Mini Mod

Ladabouche Photo


Stu Fenton,




Plainfield, VT


The Volvo

Courtesy of

Brian Manning


More Joey
GRAND AMERICANS


Ladabouche Photo


Don Therrien,




Hinesburg, VT


Team Car to Brother,
Randy.

Ladabouche Photo


Randy Therrien,




N. Ferrisburg, VT


Team Car to Brother,
Don.



Courtesy of Mike Gilbert




Only shot I have of Steve,




Fenoff - following Perantoni




Courtesy of Andy Boright




I'm using a number of shots

from T Road to try and get
a full complement of the
division's teams in one place.
The "Joe Fan" car [1] was actually won by Stan mason and campaigned with
limited success at both tracks. I need help with who is 15VT.





Courtesy of Andy Boright




I'm using a number of shots

from T Road to try and get more teams in here. Good shot of Ed Orton. I need help with that Renault in the rear.
Don't think it's Arlo.
STREET STOCKS

ACT CARS

NEW TIGERS
Do you have pictures of other drivers from this era at Catamount ? If you would like to make them available for me to place on this site contact me at: wladabou@comcast.net
or
Bill Ladabouche
23 York Street
Swanton, VT 05488
802-868-4339