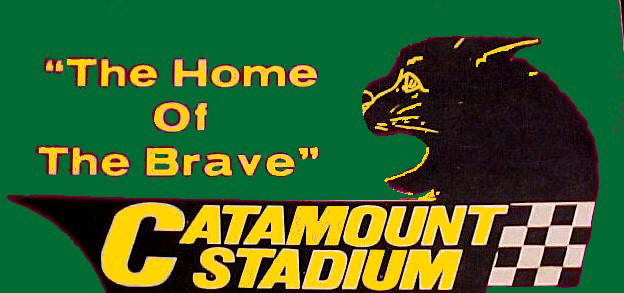 BILL'S SOMEWHAT WEEKLY BLOG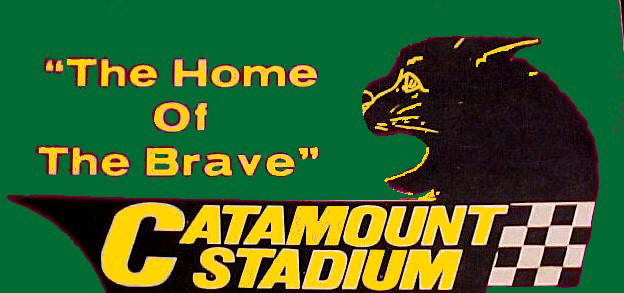 ---
Since I seem to have lost my forum, Mark Thomas' "Racin' Paper", I will apparently enter the 21st Century and start doing my column as a
blog. In certain times of the year, this may not be weekly; but I promise to keep it regular. Many of the site regulars have only been able to
get my columns via this site, anyway, and representing the very newspaper that was given out at Thunder Road gave me no press courtesies.
So, I might as well do it this way and reach some different readers. Let me know what you think. -Bill
Week of April 30, 2012

BILL'S BACK IN TIME

REMARKABLE NORTH COUNTRY CAR BUILDERS: SHIRLEY WALLACE

Some of the eccentric, low budget Northeast car builders and owners are the stuff of legend among the informed stock car enthusiasts of the Northeast. Lennie Boehler comes to mind. Those horrible – looking blue coupes were made famous by Carl "Bugsy" Stevens and by Fred DeSarro. Boehler, one of the creative geniuses of the modified world in his era, was quite capable of looking almost as scruffy as those #3's he fielded. But his results were unimpeachable.
But, further North, there were some others just as accomplished in their own racing classes and locales – as Boehler. And, like Lennie, these were far some the high – spending, flashy individuals that got of the ink in the newspapers of their time. Their paths would actually cross a few times, at places like Fairmont Speedway, Saranac Lake Speedway, Otter Creek Speedway, Rebel Speedway in Granby, Quebec, and in the very early years at Devil's Bowl.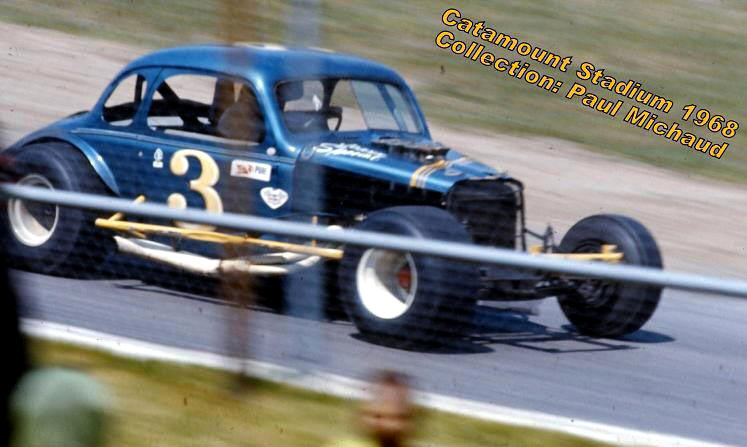 Bugsy Stevens, in one of Boehler's cars. Boehler wasn't the only high – functioning lower –
budget car owner. [Courtesy of Paul Michaud]
Both men did almost all of their own work and each had a number of drivers perform on their behalf. As far as I can determine, no single driver worked for both. This time we will talk about Upper Jay, New York's Shirley Wallace. In that region that features Lake Placid, Saranac Lake, Whiteface Mountain, and all, stock car racing figures do not get as much attention. A car builder, maintainer, and owner with the unlikely name of Shirley, Wallace fielded cars that were almost always numbered 1, and he raced them in the area ranging from Fair Haven, Vermont to the southern parts of Quebec. They also frequently ventured west, to Fort Covington and Watertown.
Among the chauffeurs who twisted a wheel for Wallace were Jackie Peterson, a very early racing pioneer from South Burlington, VT; Junior Sabin, a Tupper Lake native; Wilmington, NY's Charlie Draper; and – towards the end – Saranac Lake native Bernie Kentile, Jr.. Somewhere in the Wallace experience, Wes "Slugger" Moody also tried his hand driving a #1.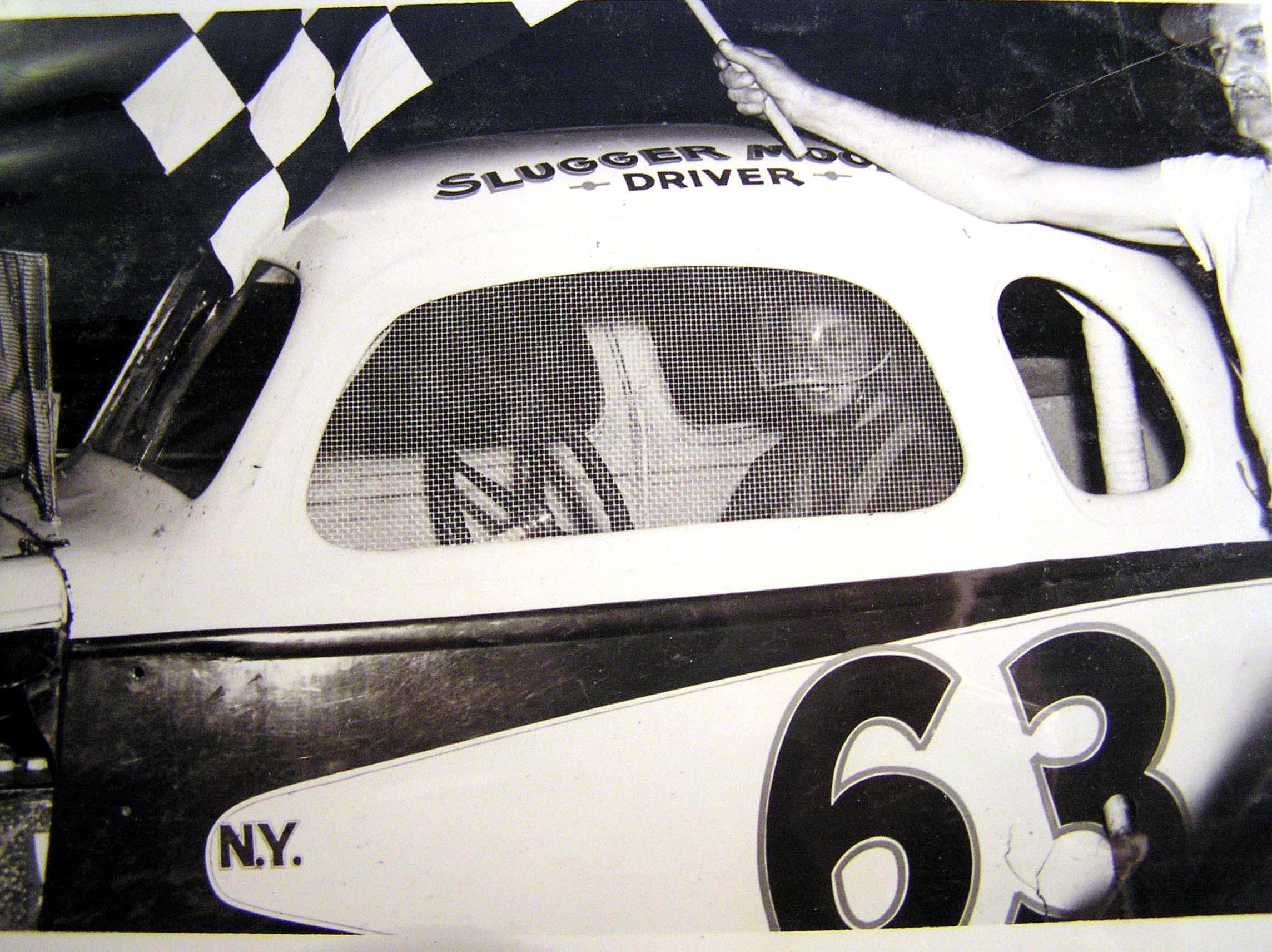 Moody Collection
Wes "Slugger" Moody, shown here in one of his own cars, also drove for Shirley Wallace.
As mentioned before, Shirley Wallace did almost all of his own work, in a period when many car owners were having engines built and even early chassis's constructed outside of their shops. Wallace handled engine building, chassis work, suspension, fabrication, and regular maintenance. Moody recalls that the #1's were usually blue and black, with a time period in which Wallace used yellow and black. I personally remember one yellow and black Wallace car as a three window coupe from the mid 1930's, with "Little Joe's Cocktail Lounge, Saranac Lake" on the roof. This is not hard to figure seeing as – at that time – Saranac Lake had more bars per capita than anyplace else in the East.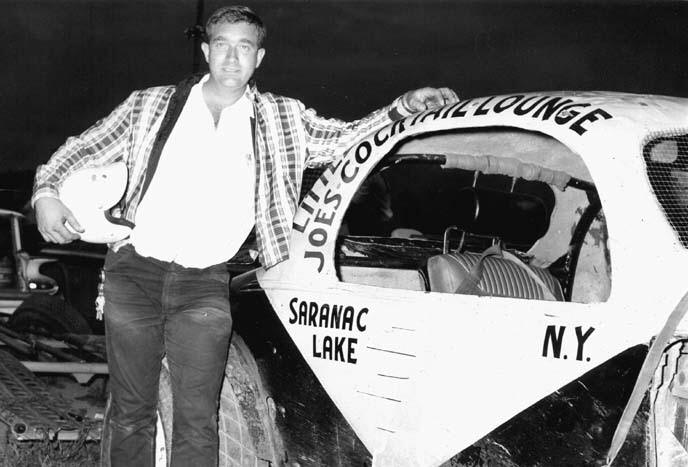 Charlie Draper with one of the yellow and black Wallace cars – at Fairmont. [Courtesy of Norm Vadnais]
Charlie Draper would show up at Fairmont on a Saturday night with this Wallace creation. Invariably, he would start on or near the pole in the feature and he would lead that feature for a large number of laps before the higher – budget cars, like Vince Quenneville, Sr.'s Gael Dundon #3, Mert Hulbert's Fred Searing #73, Jerry Pennock's Tony Villano #37, Russ Shaw's Norm Scarborough – prepared #24, or Gene Tetrault's #91 sedan, would catch him. I can still see Draper coming out of Fairmont's bumpy turn two, sawing around and around on that big steering wheel to get the car righted to power down the back stretch.
Wallace's cars were limited only by his lack of budget. His cars also ran in that era of really poor track surfaces. Once, at Otter Creek – the race track in the cow pasture near Vergennes , Vermont, Jackie Peterson was following George Baumgardner out of Four, onto the front stretch. Otter Creek had a spring that caused water to flow across the track right at that spot where the cars were unloading from turn four. Baumie hit the rough spot the wrong way, his cowcatcher dug into the clay, and his Henry Caputo Plymouth coupe #11 was destroyed in a series of end to end flips. Baumgardner, a pretty good drinker, was almost destroyed as well.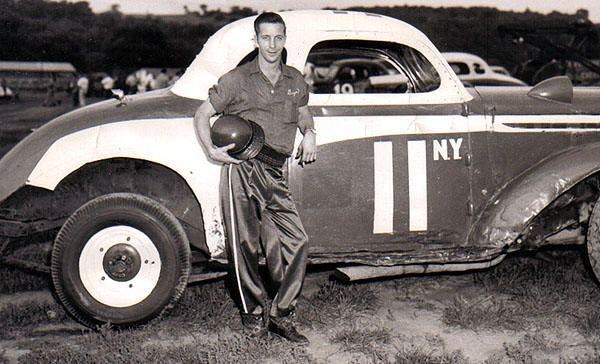 George Baumgardner put the Henry Caputo Plymouth out of its misery right in
front of Wallace driver Jackie Peterson. [Courtesy of John Rock]
Later, in that same race, Peterson pulled into the pits after the blue and black Wallace car had been struck by two huge chunks of clay, thrown up by leader Dutch Reed in the Royce Tucker #7 VT. One chunk had broken through the radiator which was now spewing its contents everywhere; the other chunk had taken Jackie straight in the face.
With goggles askew and snot running down his face, the profoundly deaf Peterson yelled out at Shirley, "She's skippin" !"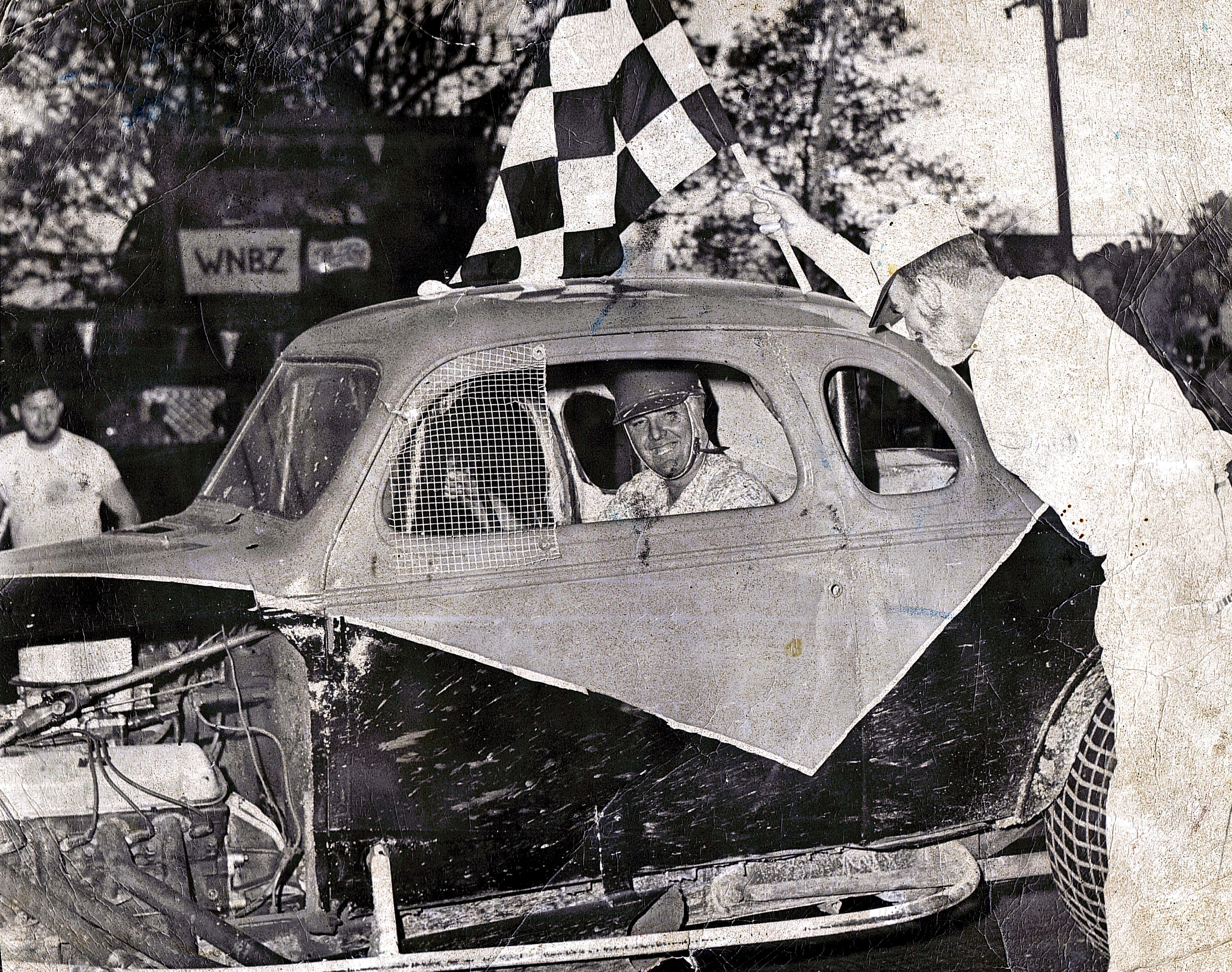 Peterson Collection
A happy and tired Jackie Peterson gets a feature win at Saranac Lake Speedway in a Shirley Wallace car. This was probably
the last in a long career for Peterson, who started racing sprint cars in 1947. That is starter Art Prairie, one of Peterson's
rivals in the late 1940's.
When Shirley got his last driver, his technical expertise was matched by that of the man driving the car. Bernie Kentile, Jr., who worked with his father running a garage in Saranac Lake was on his way to becoming the full-time paid mechanic who kept Dick Nephew on track during the years he was chasing national championship NASCAR points. The Shadow Broderick / City Taxi red #6 cars were kept at the Kentile garage – right in Saranac Lake, sometimes along with the likes of Pete Hamilton's cars.
Kentile, whose father had the creativity and technical expertise to actually improve the design of the Holley four barrel double pumper carburetor, had Mr. Holley as a regular customer at the garage. The Holleys had an Adirondack summer home. Bernie K says that he drove both cars, and that the Wallace cars were consistently faster than the Nephew championship cars. Kentile and Wallace also hold an unusual distinction: as a team, they won the last features at Saranac Lake, Fort Covington, and the old Watertown track, all with the black and blue Wallace #1's.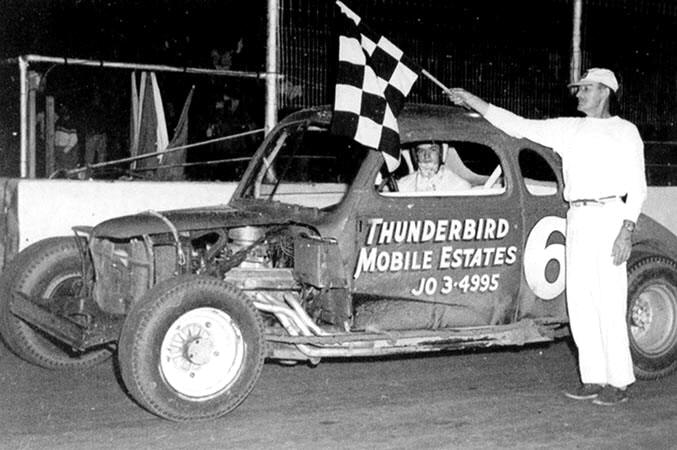 Bernie Kentile, here winning one for Dick Nephew, said the Wallace cars he drove were faster.
[And he worked on the Nephew cars]. [Courtesy of Mike Watts]
Wallace also held a regular job, as a jack – of – all – trades at The Land of Make Believe, a tourist destination in Jay, NY, in the Adirondacks. But, the accomplishments of his cars were not make believe, Kentile recalls taking a later Wallace car up to a Syracuse qualifier at Drummondville, Quebec. Everyone in the dirt who had not already qualified for Syracuse was there. Kentile had to start scratch in the feature and decided to follow Lou Lazarro up through the pack. They ended up in first and second spot with about ten laps to go. With five to go, Kentile found he could get around Louie fairly easily and was on the way to cruising in with the win when a universal joint let go. Probably a team with more money or with a full – time mechanic would be less likely to have that happen.
The only thing that kept Shirley Wallace from operating at the top of his racing world was money. He did what he could, by doing his own work [and very well] to make up for that lack of financing. Shirley Wallace's race operation is long gone, but it is not forgotten. Anyone from that region of New York will not reminisce about the old days of racing for long without bringing up his name – and deservedly so.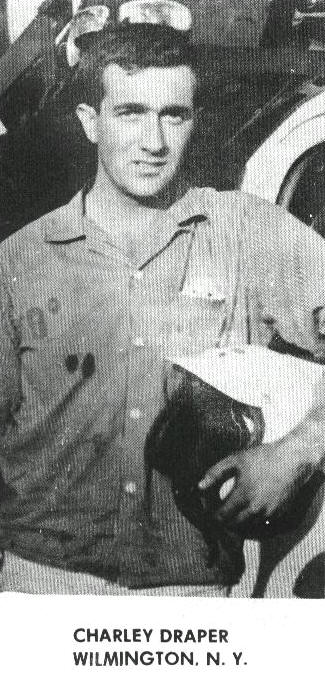 Charlie Draper and Shirley Wallace made the Cavalcade of Auto Racing in 1966.
[Ladabouche Collection]
Please email me if you have any photos to lend me or information and corrections I could benefit from. Please do not submit anything you are not willing to allow me to use on my website - and thanks. Email is: wladabou@comcast.net . For those who still don't like computers - my regular address is: Bill Ladabouche, 23 York Street, Swanton, Vermont 05488.
Return to the Main Page
Return to the Main News Page
Return to the All Links Page
Return to the Weekly Blog Links Page