BUSY, BUSY RENSSELAER COUNTY
Few Places Had More Early Tracks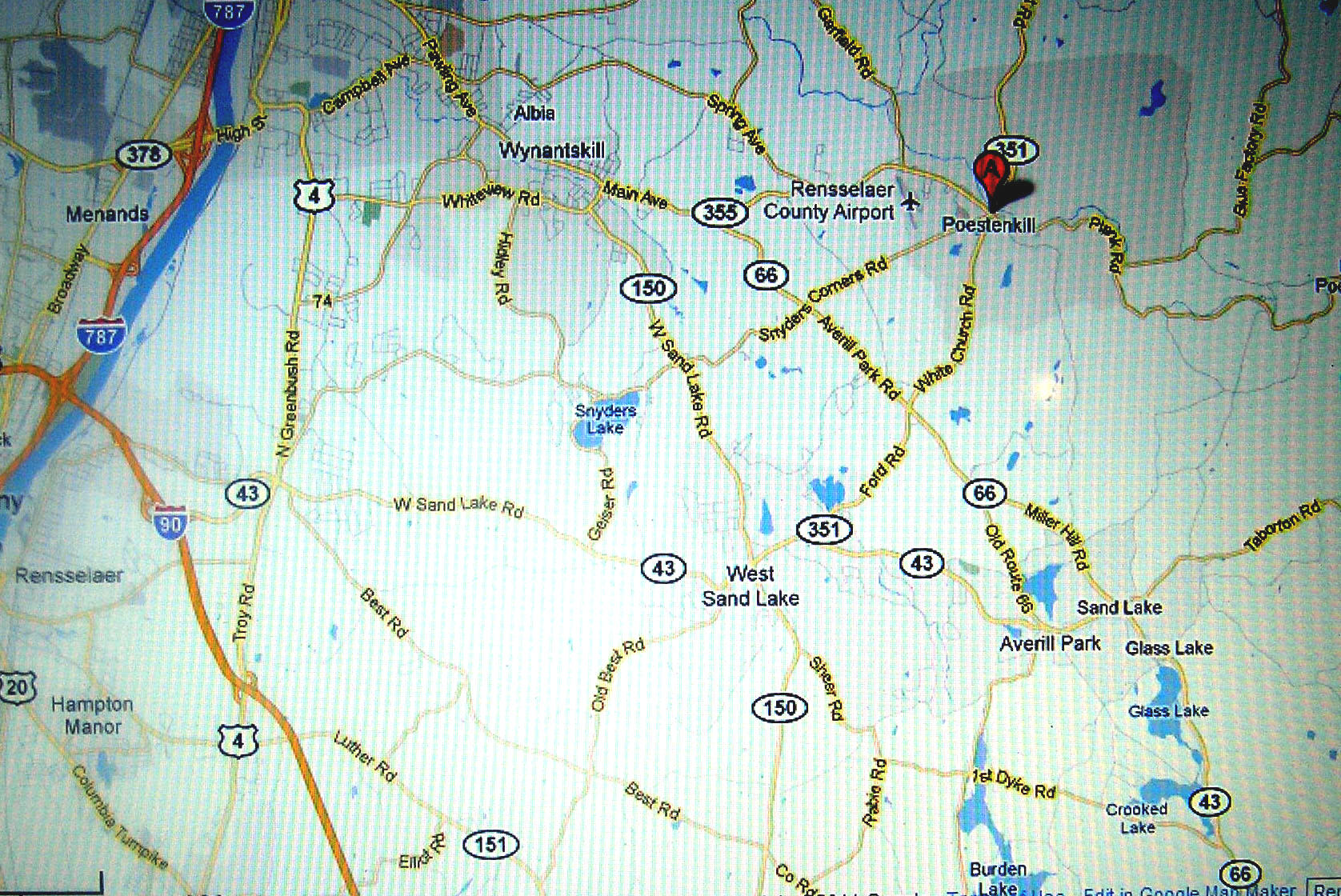 Google Earth Map
At a minimum, there were tracks in Menands, Poestenkill, West Sand Lake, and Snyders Corners. Just out
of sight, you also had Stateline Speedway, Bennington, VT; Hudson River Speedway, Schuylerville, NY; and
the East Greenbush Speedbowl / Schodack Center Speedbowl, in Schodack.
EMPIRE RACEWAYS
Menands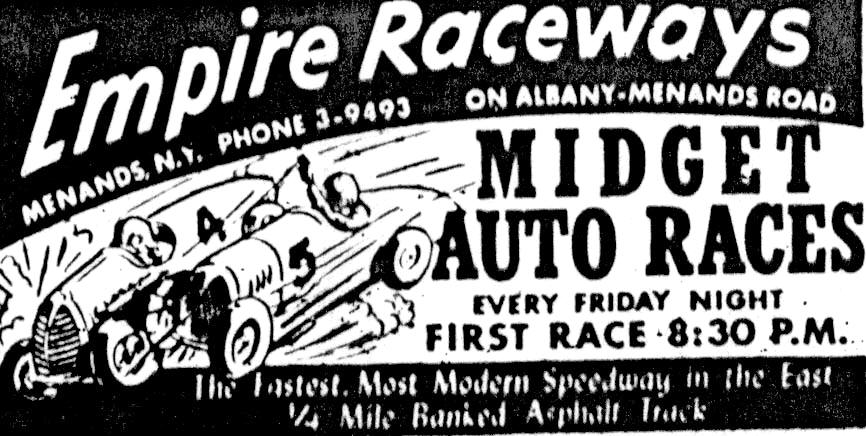 Courtesy of Ken Gypson
Empire Raceway was first known for a midget venue, as these ads attest.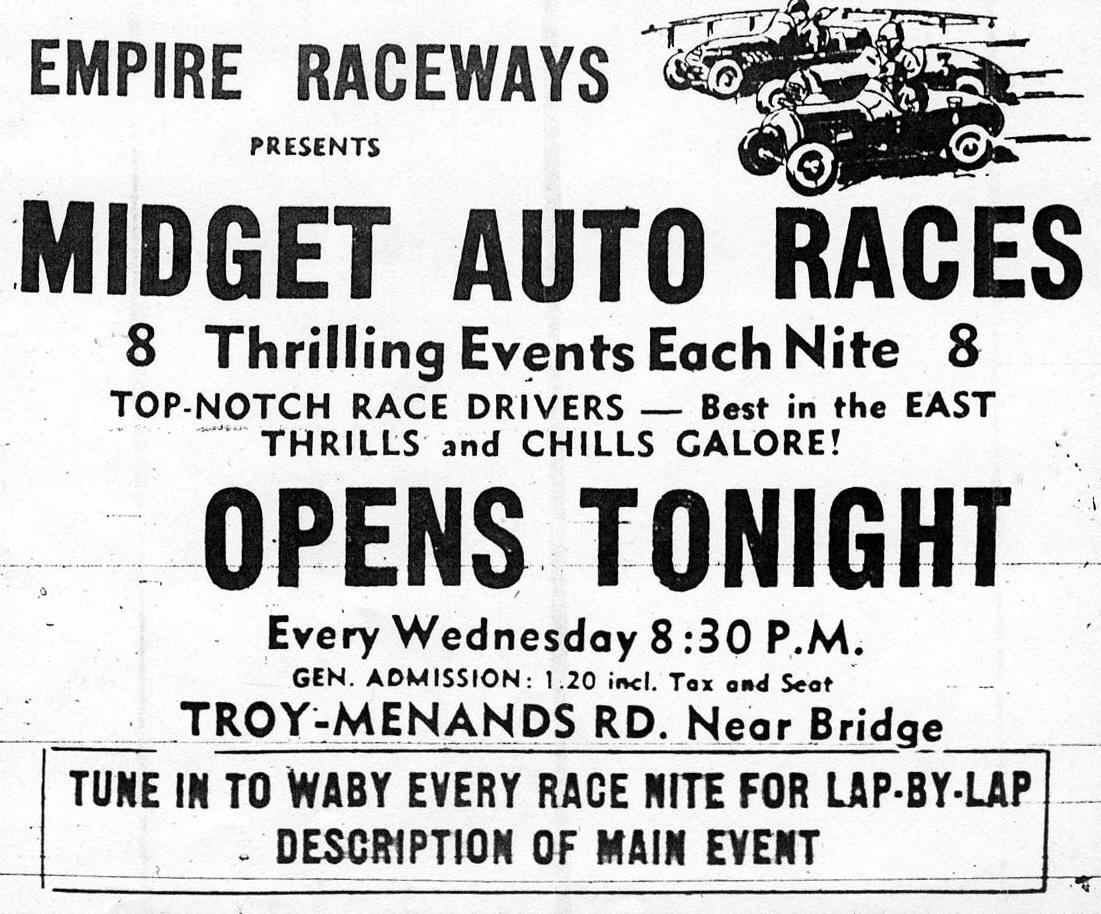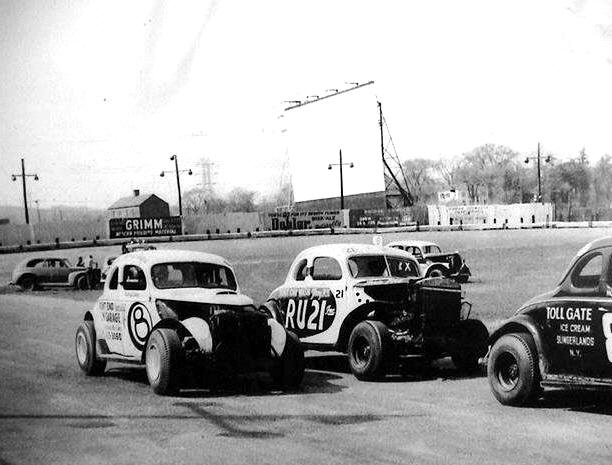 Courtesy of Joe Grossetti
Empire drew from New York and So. New England. Dick Dixon [Ct] and Link Pettit [NY] chase Stretch Van Steenberg [NY].
Check out the nearby drive - in theater.

Danish Family Photo
The great Steve Danish
rarely ran on pavement;
but he did run this time
at Empire.

Source Unknown
This shot shows how close the track was to one bridge.

Source Unknown
This shot of Carl Fink [62]
leading Stretch Van
Steenberg shows
the Empire venue well
- with its many billboards.

Obtained from Dan Ody
Photographer Unknown
Car 945, in action.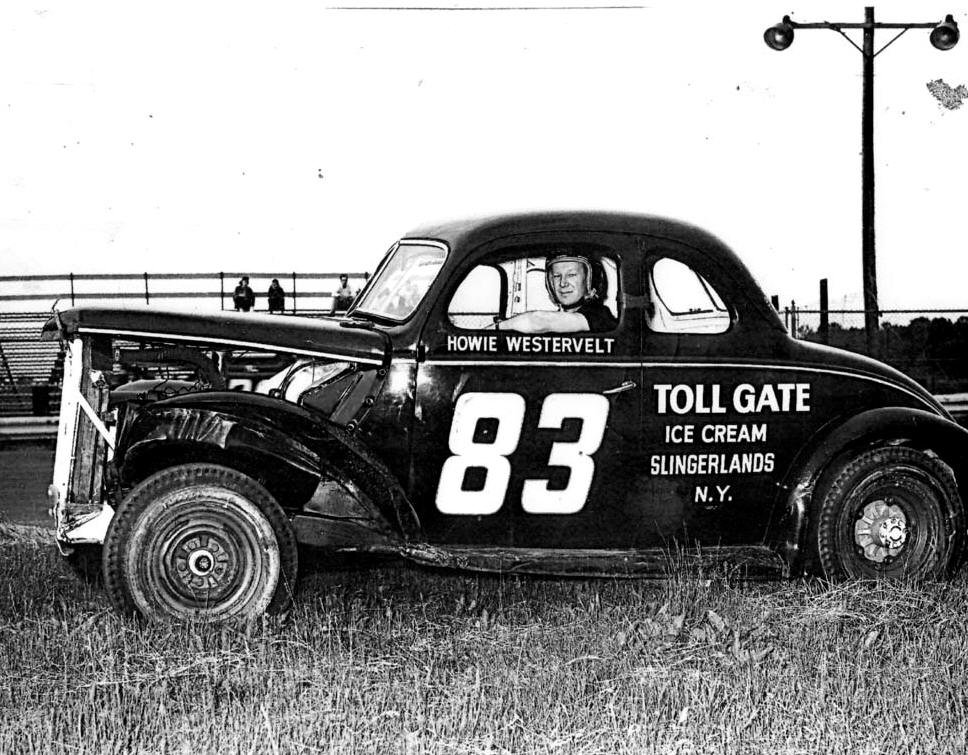 Garrison Family Photo
Howie Westervelt, in Cliff Wright's 83, at Empire.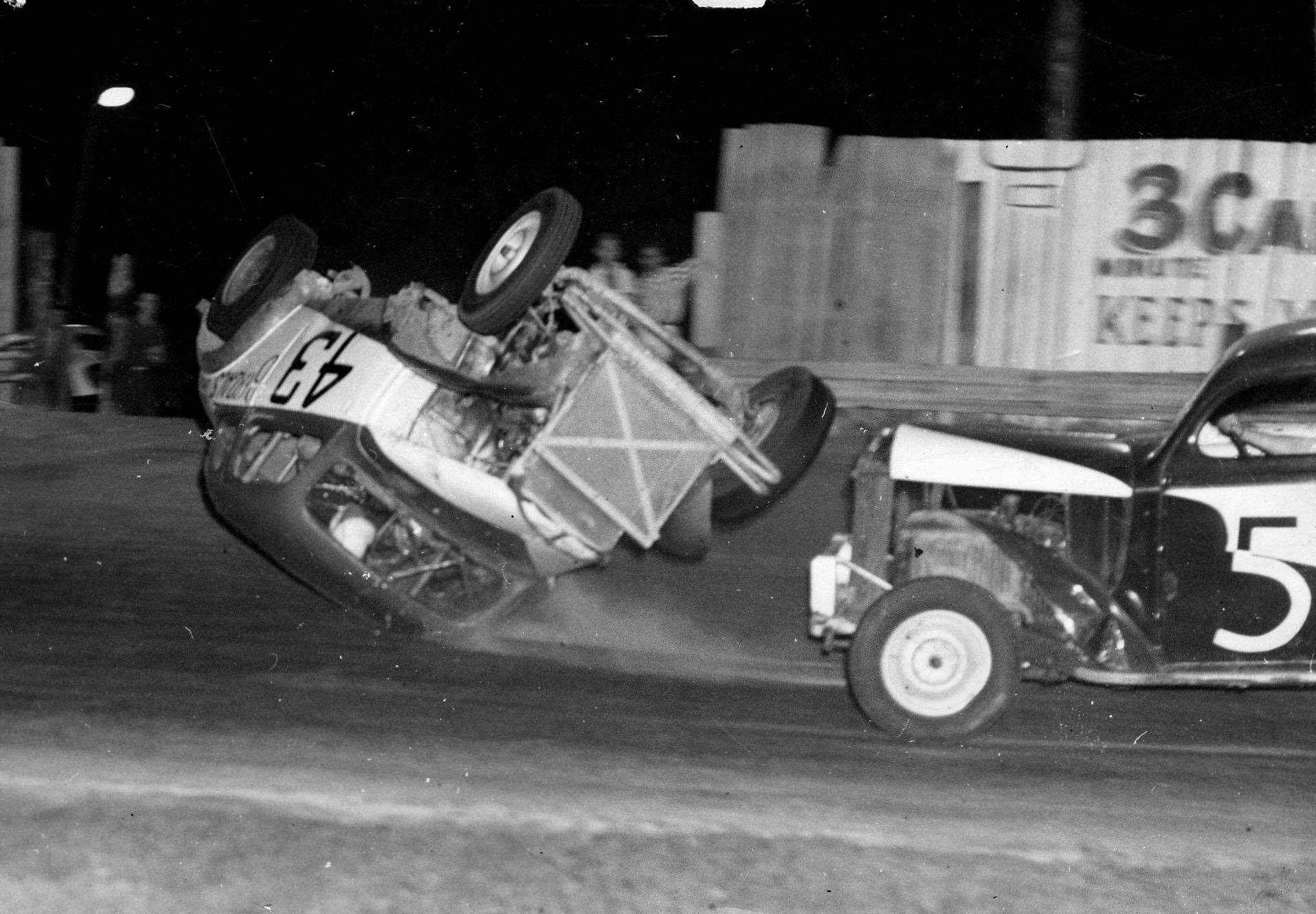 Courtesy of Russ Blake
Carleton Hughes avoids a rolling car 43, probably driven by Merwin Hommel.
THE PINE BOWL
Snyders Corners

The track has its own page. CLICK HERE.
THE HOLLYWOOD BOWL [ROUTE 66 SPEEDWAY]
Poestenkill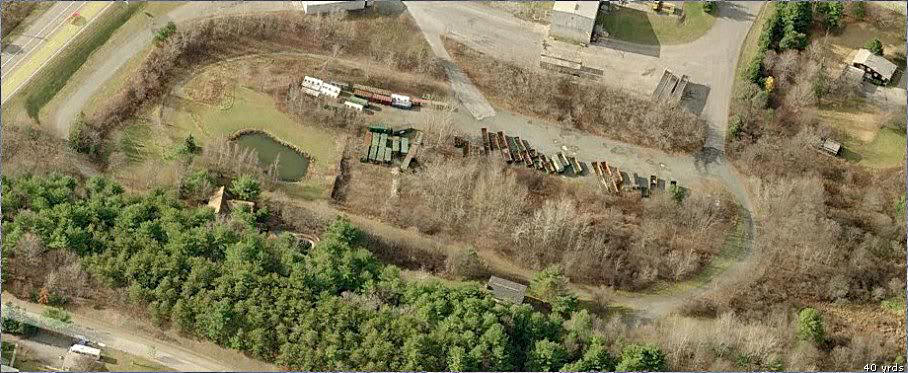 Not Sure of the Source. Probably Google Earth
The site, as it looks today, of Harold Garstang's post - Burden Lake project.
A LITTLE HISTORY - THANKS TO KEN GYPSON
RT. 66 Speedway was opened in 1950 by Harold Garstang and Bud Heffner. Harold had promoted, drove at, and sponsored cars at the Burden Lake Speedway with the land owner Charlie Whitford. They had a falling out over the beer stand. This track (Burden Lake) is the oldest in Rensselaer County post WW2. (Shippy's Speedway in Brunswick ran pre-war but never re-opened after the war. I believe this is the oldest track in Ren County) Anyway, Harold had a garage on the hill of turns 3-4 which is the corner of route 351 and 66. Some of the drivers that drove at RT 66 were:

Boyd Sousi, the Wait brothers, Jack Sweeney, **** Canfield, Lou Hacker, Ray French, and a black driver by the name of Johnny Kettel.

In 1960 Ed Ryan who was promoting Pine Bowl and Rhinebeck Speedway took over and renamed it Hollywood Bowl...there was a drive-in movie theater just east of the track called the Hollwood Drive In...hence the name. Most everyone though, knew it as the Hollywood Hole. (The Hollywood Drive-In is still open and showing current movies).
The track closed at the end of the season never to open again...but....one really neat thing happened that last year. A very young Mario Andretti drove a cream colored, Crosely powered TQ midget there under the American TQ Midget Racing Association.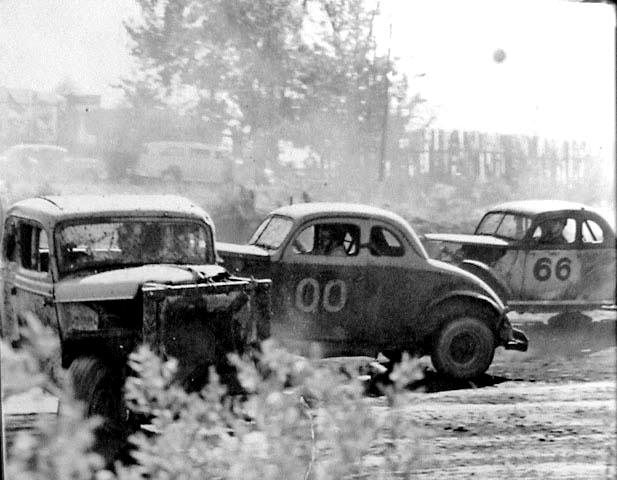 Courtesy of Ken Gypson
Schenectady's Pete Winnie or possibly Lou Hacker [both used 00] drills a rival in Hollywood Bowl action.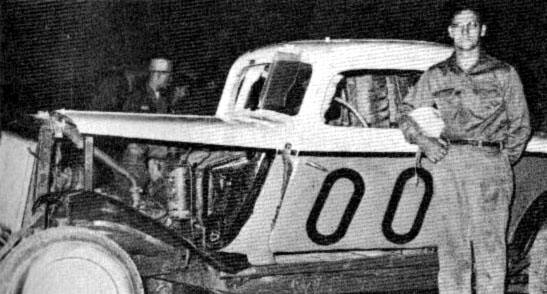 Cavalcade of Racing Photo Courtesy of Joe Grossetti
Lou Hacker, with his Lebanon Valley car. Many Route 66 drivers ended up at the Valley.
STATELINE SPEEDWAY
No. Bennington, VT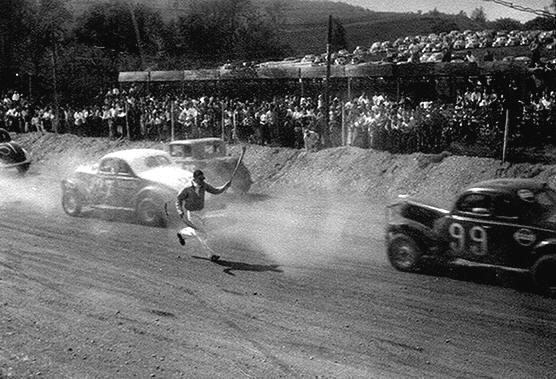 Courtesy of Chris Companion

The track has its own page. CLICK HERE.
BURDEN LAKE SPEEDWAY
West Sand Lake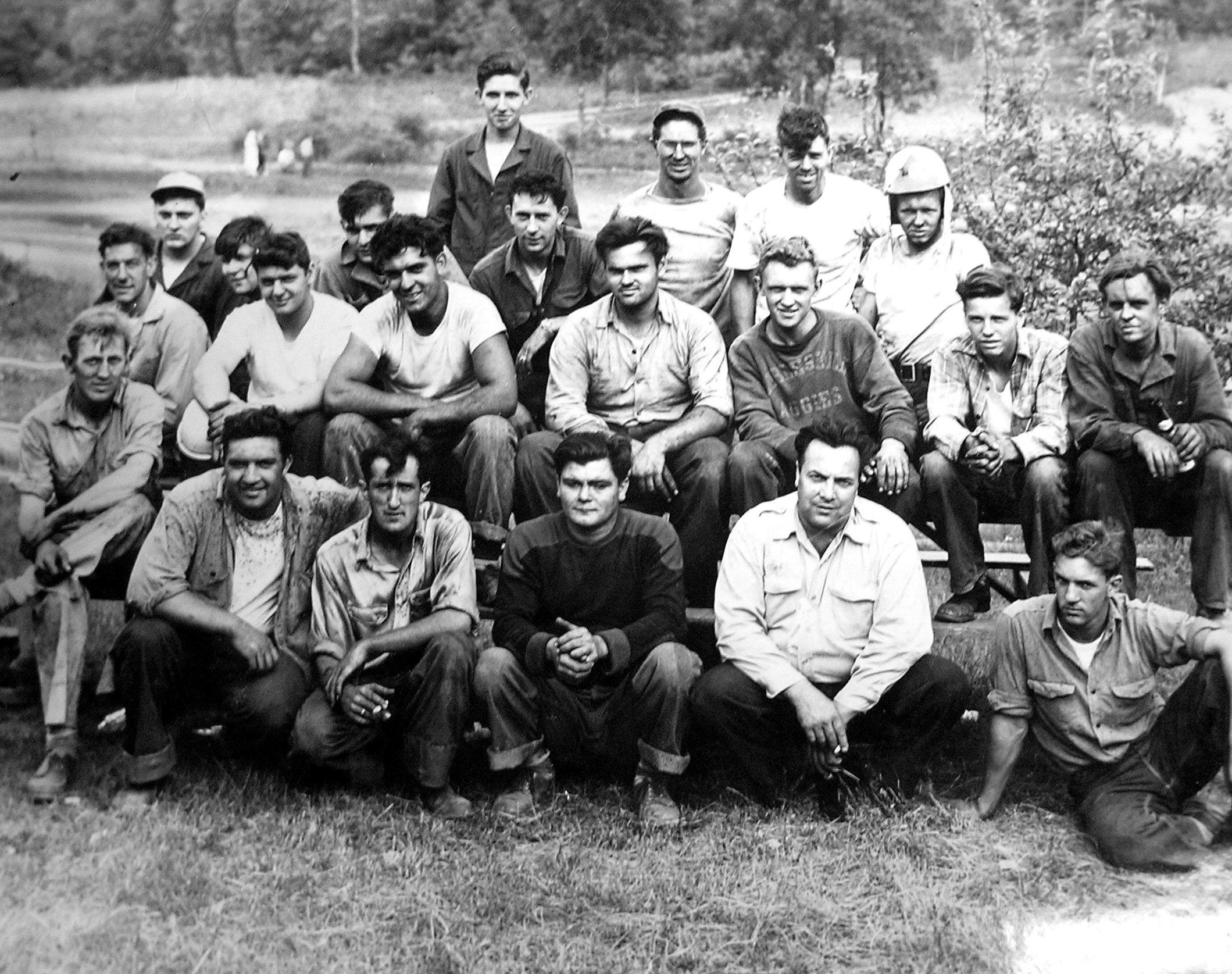 Courtesy of Bob Hackel, Jr.
Bob Hackel, Sr. [big guy in white shirt in front row] poses with a group of Burden Lake
Speedway drivers sometime around 1950.
Burden Lake Speedway started out running the infamous roadster cars and switched over to stock cars by around 1950. The track achieved infamy , early on, when LOOK or LIFE magazine featured a photo of an errant wheel flying through picnickers, who were watching the races on the track grounds. The track layout was an oddball, going well uphill in some areas and into dips in other portions. The track was pretty well done by 1956. One driver, Jimmy Bedell, was champion five times.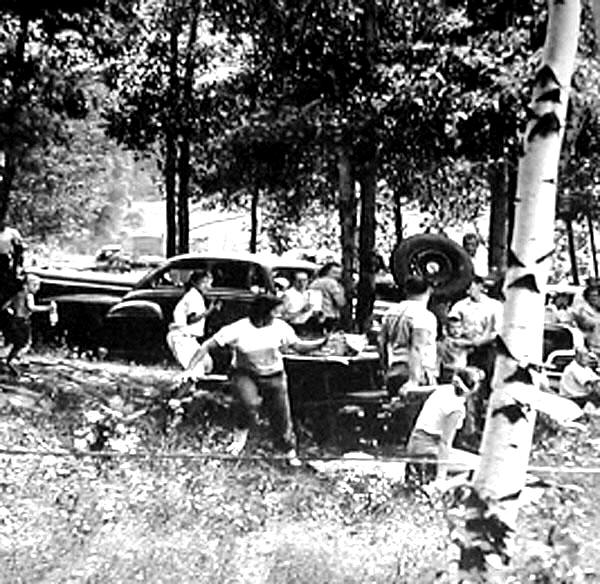 Source Unknown [AP , no doubt]
The picnic spectators scramble as someone's wheel comes flying through.
ROADSTER ERA PHOTOS

Courtesy of Dan Ody
A roadster race lines up
on must be the front stretch.

Courtesy of Dan Ody
The Deep 6 roadster, out of Albany,
chases down car number 1.

Courtesy of Dan Ody
The guy has no helmet !
STOCK CAR ERA PHOTOS

DTD Photo
Turn one action with
the stock cars. I believe that
#77 also appeared in a
first - year photo at
Lebanon Valley.


DTD Photo
Wow ! Look at that oiled
dirt ! EPA Supersite !

DTD Photo
J5 could be Henry Bouchard.

Courtesy of Ken Gypson
John Somebody gets
a trophy from flagger,
Bernie Somebody.

DTD Photo
A very full field of
stock cars in the
turn.


DTD Photo
You see this car 77
in a lot of early racing
shots in that region.

DTD Photo
A remarkable number
of entries for such an
early track.


Courtesy of Ken Gypson
A very early Carl Fink
photo, probably just
before he took over
the 62Jr ride.


Courtesy of Ken Gypson
Old stockers scramble.

Courtesy of Joe McCarty
Car 8 throws up a
rooster tail as he works
the track after an
obvious rain storm.


Courtesy of Joe McCarty
Cars for the next race
parade before the
green is thrown.

Courtesy of Joe McCarty
A very wet track surface,
probably after a rain.

Courtesy of Joe McCarty
Henry Bouchard,
E. Greenbush, NY

Courtesy of Joe McCarty
Henry Bouchard's
Hudson.

EAST GREENBUSH SPEEDBOWL or SCHODACK CENTER SPEEDBOWL
Schodack Center, NY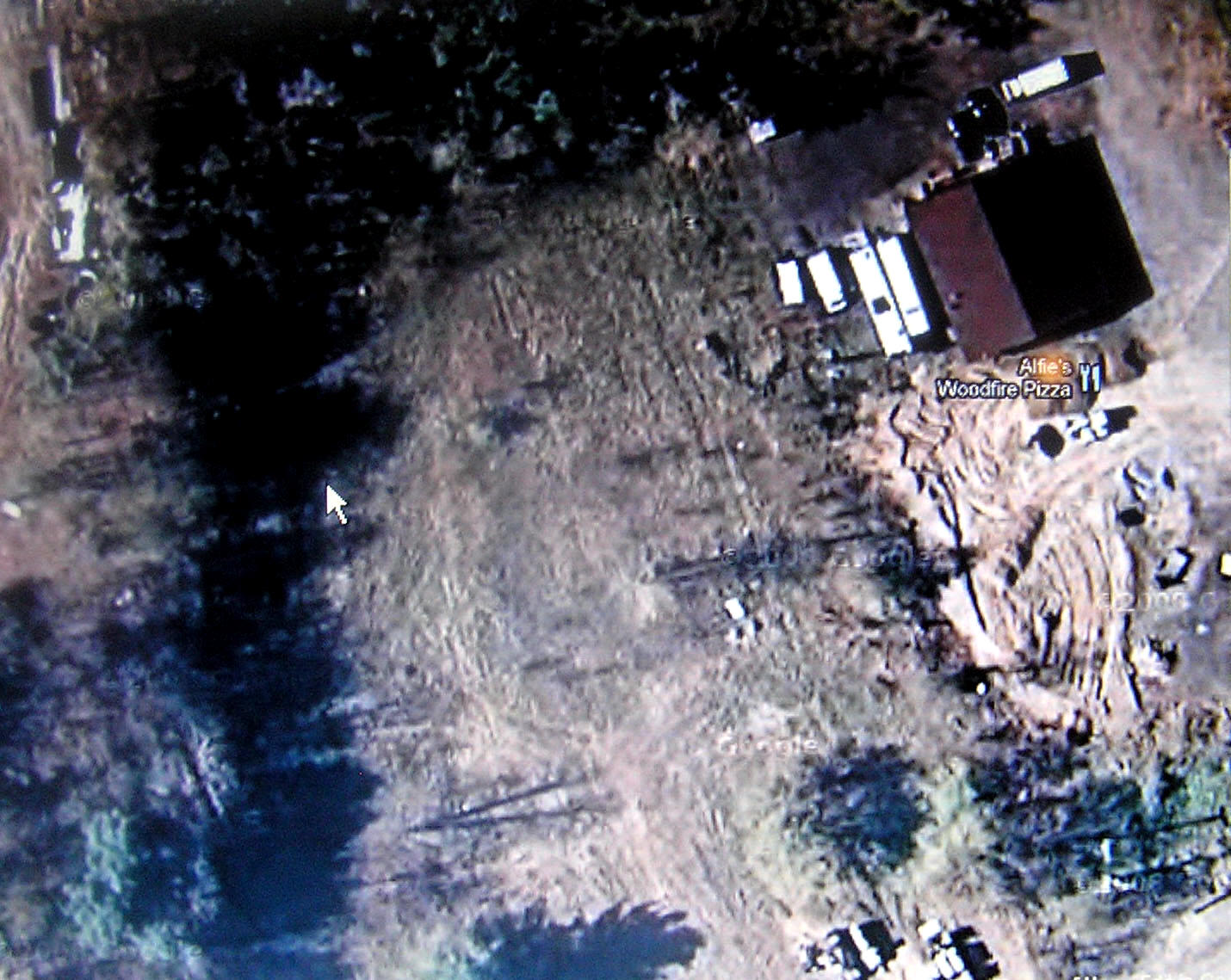 Google Earth
This aerial view of the former site is the only photo we have right now. One man says that there
are some remnants of fencing, posts, and banking left. It only ran a few weeks.
SOME INFORMATION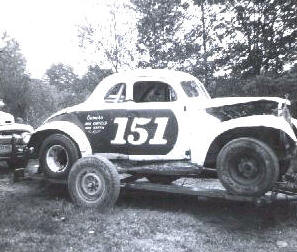 Ladabouche Photo
Don Leffler, of East Greenbush, more than likely ran at the track.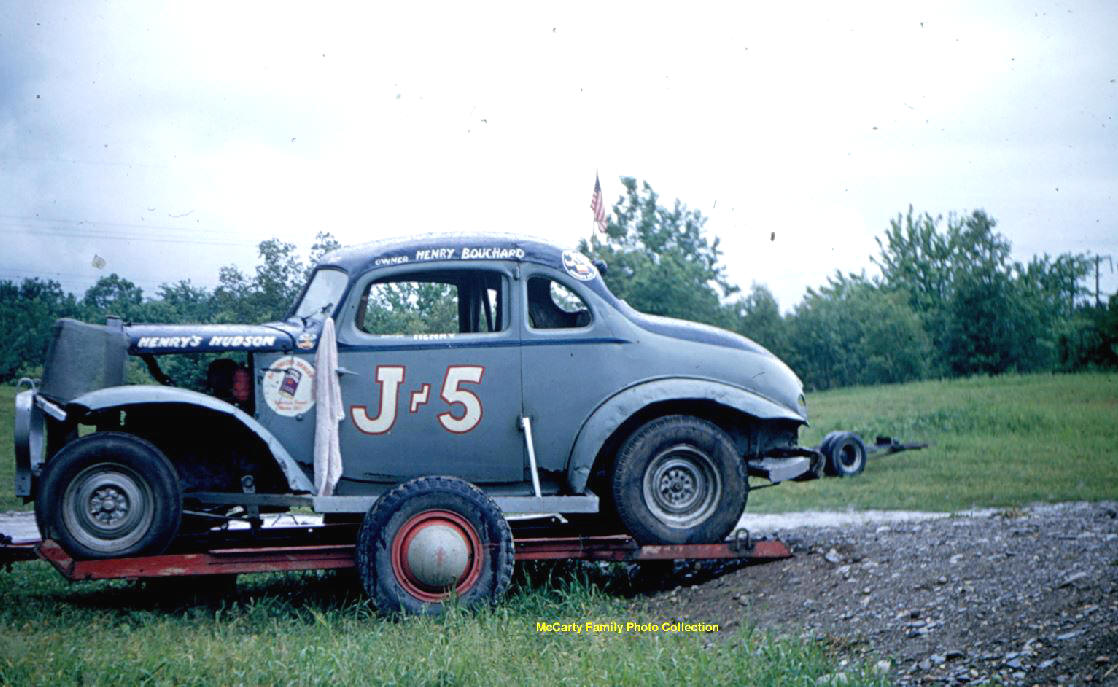 Courtesy of Joe McCarty
Henry Bouchard,
E. Greenbush, NY
It's hard to see in this shot [above] , but this is the location of the former "East Greenbush Speedway" which I understand ran only about 6 weeks in 1955 until it was shut down by either the E.Greenbush police or the NY State Police. It's off Columbia Turnpike in Schodack Center. The building at the top of the pic is now an Auction house and the building just South of it is now Goomba's Pizza. Joe, This track was called East Greenbush Speedbowl.
The satellite photo is correct. In the center of the field, there is a large tree, Next to the tree is a 8x8 wooden post in the ground, that was the start-finish line. It can clearly be seen in the photos and movies I have. Also behind the pizza shop, you can also see a portion of the wooden and cable fencing, along with a large section of the banking. Its been since last winter since I have been there, but next door the property was sold, and construction may be happening there...........Cool story, I stopped by and talked to the new owner, asked him about the track, but he had no info. He told me that he just renovated the house in the front, and said ........well wait a minute. He went into a back room of his shop and came back with an original sign from the track he found in the walls of the house. The sign was handpainted to use in the consession stand.. in mint condition..........it was a real cool find. The fella would not sell it to me, but I convinced him to donate it to the Saratoga Auto Racing Museum.

I have some info on four of the speedways listed here. All info is from the Allan Brown book "The History of America's Speedways" (Past & Present). First is East Greenbush Speedway. The actual name was the East Greenbush Speedbowl. It was AKA Schodack Center Speedbowl. A gentleman by the name of Morris Mermelstein was the owner. It was a 1/4 mile dirt track and was closed down due to a lack of spectator parking. It operated in the mid 50's. Next is Greenport Speedway. It is incorrectly listed in the book as being on Long Island although all info given is related to upstate. It, too, was a 1/4 mile dirt track and was actually located in Hudson. It operated in 1952 and the book claims that Lou Lazzaro ran his first race there! It is now a shopping center. Next is the Ida Mae Speedway, another 1/4 mile dirt track. Located in Schodack it operated in the pre WWII years of 1939 through 1941. It was connected with a diner by the same name on US 9. And last but not least is the Ups and Downs Speedway. Still another 1/4 mile dirt track it was located in Schodack Center. It ran from 1952 to 1954. One event was halted by the NYS police when the promoter tried to run at on a Sunday in violation of the blue laws in place at the time.
Most of this info from participants on dirtrackdigest.com

HUDSON RIVER SPEEDWAY/ FORT HARDY PARK
Schuylerville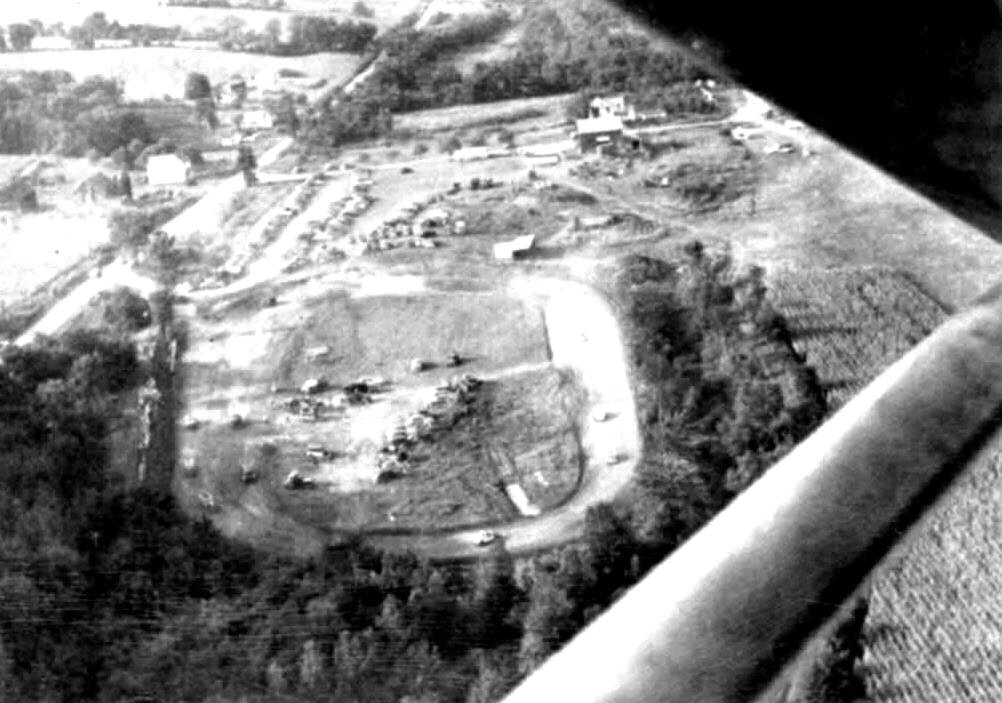 Paul Garnsey Photo Courtesy of Dan Ody
A shot of the track, in action, taken by its owner in his plane.


The track has its own page. CLICK HERE.
Return to the Main Page
Return to the Main News Page
Return to the All - Links Page