Ladabouche Collection

FAIRMONT SPEEDWAY - 1962 RUTLAND HERALD ARTICLES


















ARTICLES 16 and the Final Race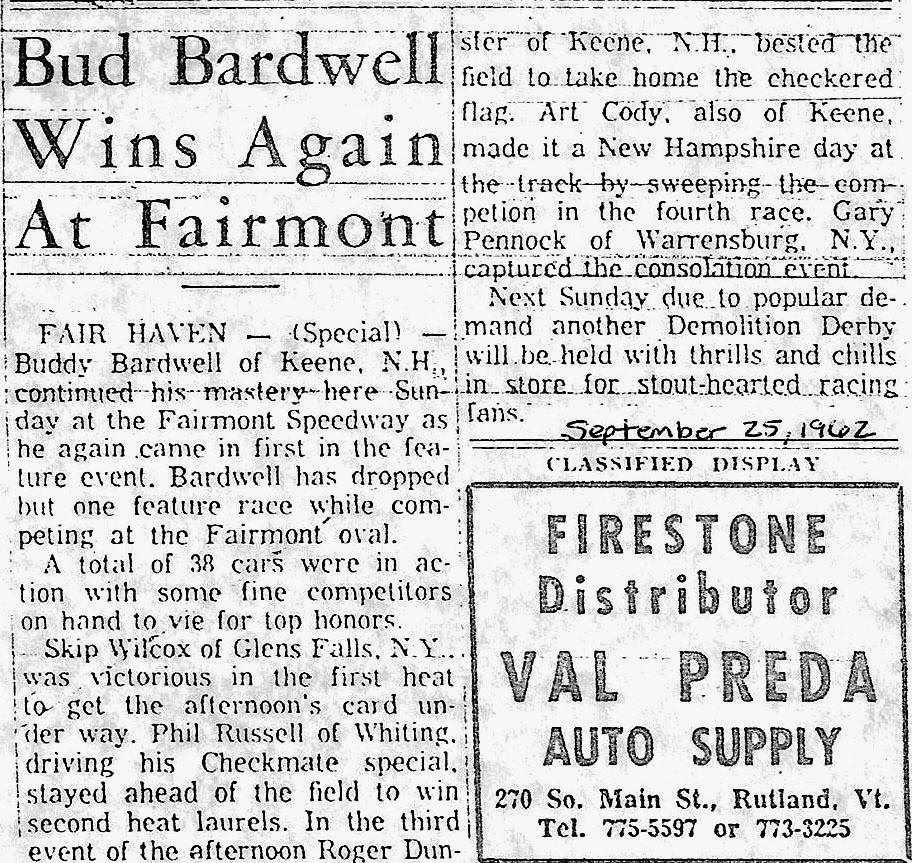 Courtesy of Marty Kelly, Jr.
Click on a name in this article and - if I have one - a photo of that person or car will be linked to.



Bob Frazier Photo via C.J. Richards


Buddy Bardwell


From Dan Ody's 8MM Old Speedways DVD's
Skip Wilcox


Courtesy of Norm Vadnais
Phil Russell

Ladabouche Photo
Roger Dutton

Ladabouche Photo
Art Cody

Ladabouche Photo
Jerry Pennock


Ladabouche Photo
Neal Davis' Checkmate and my Art Cody model. The dust is, of course for authenticity - not lousy housekeeping.



From the Laduc Family Collection
1962 Season regular Beryl Fitzgerald's F4 [far left] and George Pritchard's RR [white coupe sideways at left]
were both ruined in the first Rutland fairgrounds race pileup. Below -the F4.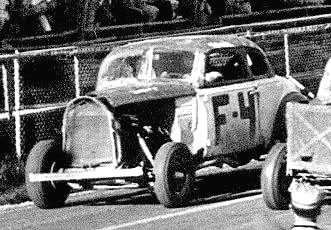 Courtesy of C.J. Richards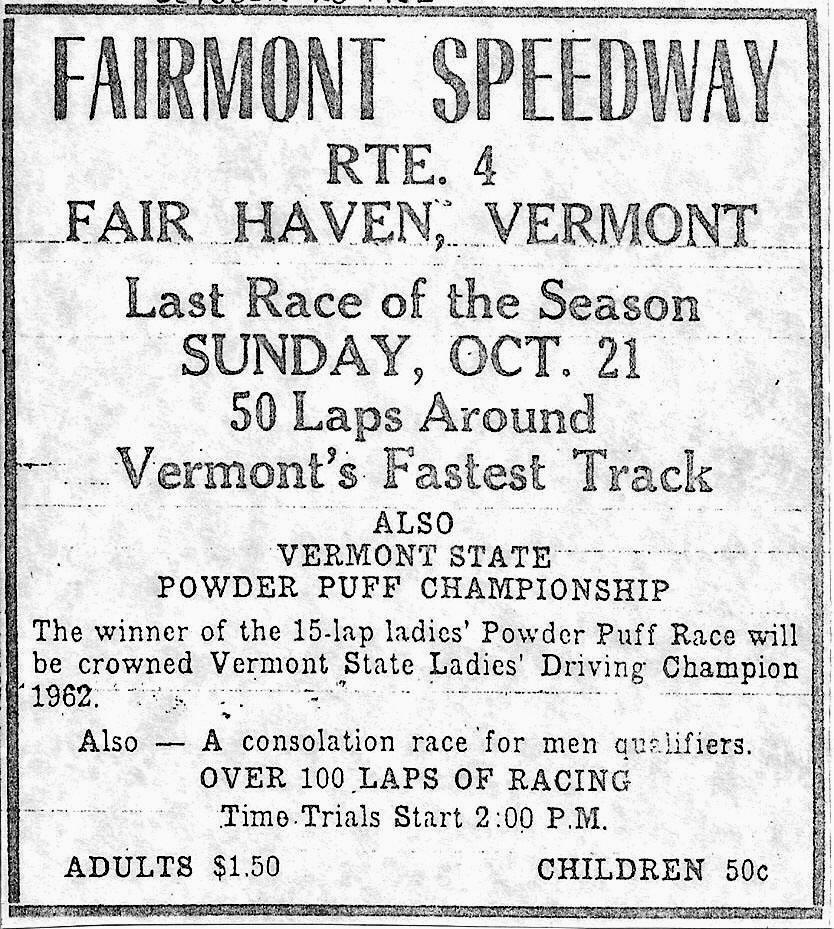 Courtesy of Marty Kelly, Jr.
This one has no links. We don't have the actual news results article.
Photos from that race. All shots snapped after at the this race were taken in failing late October light. Very bad quality.



Ladabouche Photo


Sonny Rabidou, active at Fairmont only
towards the end of the 1962 season, won
the final championship race on Oct. 21.


Ladabouche Photo


Connecticut native

Art LaBelle, running out of
Rutland, ran this car at the end of the season.

Ladabouche Photo
Leo Howland was back with the Curt Dragon 31
after a few weeks with another car.

Ladabouche Photo


Phil Russell, with the better of his two Checkmate cars. He also became the sole driver, having used John Quenneville some - especially at Otter Creek Speedway in 1961.


Ladabouche Photo
Vince Quenneville [no relation to John]
won one race in 1962 with this}
Norm Scarborough Chevy Coupe. GMC
Six cylinder power.


Ladabouche Photo
Johnny Spafford would sell this car
after his rookie season and concentrate
on operating a push truck at the
track.

Ladabouche Photo
The George Ingalls 888, driven by
Cecil Bosworth, was one of the heavy
favorites to win this race.

Ladabouche Photo
This little - known car was on the
Fairmont program roster all year. But,
it only showed up twice. This time,
I think Jerry Pennock drove it.

Ladabouche Photo
The Wilfred Brown 409 appeared
at the first race of 1962 and the last.
Driver was likely Walt Brown, Jr.
Return to the Main Page
Return to the Main News Page
Return to the Main Fairmont Speedway Page
Return to the All Links Page