THE BILL'S BACK IN TIME COLUMN PAGE
Copies of my column in Mark Thomas' "Racin' Paper"
BILL'S BACK IN TIME
By Bill Ladabouche
Column 70 From Original Column 85
A WHOLE NEW MEANING FOR JEEP
When Howard Herbert was beginning his racing career, World War II was barely ended and the country was having a love affair with a number of symbols that equated to victory over the nation's enemies. One of these was the little all – purpose vehicle developed by the Willys Corporation early in the war. This little miniature truck could travel almost anywhere and eventually ended up with the nickname of jeep, which no doubt was from some acronym for general purpose or something similar.
Given the country's tremendous potential for production and the fact that we over – produced everything from planes to mess kits, it isn't a mystery that thousands of these jeeps ended up in the hands of the general public through the sales of war surplus materielle. Many of the same people who would be drawn to motor sports like stock car racing in those early postwar years would be attracted to ownership of a jeep, as well. Somewhere in that atmosphere, the diminutive Howard Herbert got the nickname "Little Jeep" [which eventually morphed down to just "Jeep". According to one story, he was actually named by an employer after a dog in the comic strips of the day.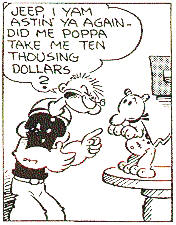 Jeep may have gotten his name from a post WWII comic strip dog. [livinghistoryfarm.org photo]
The Rotterdam, New Yorker had his hand in stock car racing from its early beginnings. He had already formed a circle of racing acquaintances such as the handsome and temperamental Pete Corey, and his tough buddy Kenny Shoemaker. In those early days, the patriarch of the New York racing fraternity was the well-respected and very particular Steve Danish, a man who was already introducing professional dress and extensive preparation into a sport only in its infancy. Howard Herbert was influenced by all these men and more.
In those early days, there were no standards for car safety nor were there any benchmark car constructions to compare to. Some cars, such as the infamous roadsters that ran at Perth, New York, had no safety features whatsoever, Others, like those who ran in northern Vermont, had cages built outside the body of the car. Comparatively speaking, Capital District New York cars were slightly father along in most aspects of stock car racing development.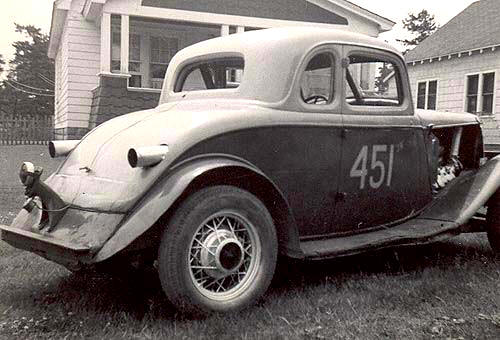 A very early Herbert race car, at home, around 1950. [Herbert Family Photo]
Nonetheless, early Herbert cars were still not exactly marvels of auto racing technology, as compared to the last car he drove. Never having had an opportunity to talk to Jeep, I can only guess here he ran. I imagine he took to the same early tracks as his contemporaries – tracks like Burden Lake, West Glens Falls, Route 66, Schuylerville, and some of the other first-of-their-kind tracks in New York. Jeep actually ran first at Willett's Speedway near Perth, New York – a track noted for the dangerous roadsters.
It is likely that, as his hauling and racing equipment improved, Jeep would widen his racing horizons and compete farther away from home. By 1951, it is absolutely certain he was running at Pico Raceway, near Rutland, Vermont. He was also an established competitor at Stateline Speedway, in North Bennington, Vermont – a sort of hub for New York, Vermont, Massachusetts and even a few New Hampshire drivers. Likely, he ran at Mettawee Speedway in North Granville, New York, too because the same drivers and officials that worked Pico also worked Mettawee. One of the ovals that attracted a lot of the eastern New York drivers was the old Fairmont track, located on the old fairgrounds in Fair Haven, Vermont – right on the New York border. Stateline literally straddled the state borders and Fairmont was almost as close.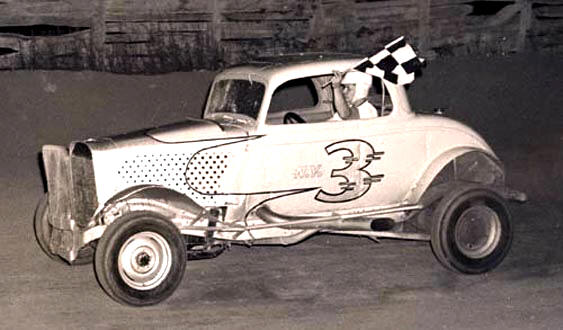 Jeep takes a Stateline Speedway with Mott's #3 in the early 1950's. [Herbert Family Photo]
Jeep's career seemed to begin with two major driving opportunities: the Kitler's Western Meats #37 and Bob Mott's yellow and silver #3 [late made famous by Pete Corey]. The Sam Kitler / Gibby Wolf, built by Bob Whitbeck, car would begin a proud heritage of #37's that went through Kitler, and lasted with A.C. Caprara and finally Tony Villano, Sr. Jeep managed, at one time or another, to drive for all three owners. It is not clear to me when he drove for the last two, although he had a great deal of success with the Kitler team at Stateline in the early 1950's.
However, he seemed to also see at lot of action at Stateline with the Mott car, after Bob, himself, decided he was not going to drive it any more. Most likely, when Kitler sold out to A.C. Caprara, Herbert then moved over to Mott. He and Corey seemed to bounce back and force between the two teams, It was in the Caprara version of the #37 that Corey last his leg at Fonda. In the early 1950's – except for Steve Danish – there no were no two teams any more dominant than the #3 and the #37. For all I know he may have run for Mott first.
This Stateline shot features Jeep and arguable his most successful car. The ads for owners
Gibby Wolf and Sam Kitler are in evidence. [Ladabouche Collection]
In time, still in the 1950's Jeep would have two more noteworthy driving situations. Lake George, New York car dealer J.R. Earl would field two big, white Ford sedans at Fonda in the later 1950's. One car would bear the number 991 [which may have served as the inspiration for Tom Douglas' car of the same number around 1963], and the other car was #1. The Earl/Herbert combo won the 1957 Fonda track championship. Some people feel one of those sedans was the same car Ted Vogel and George Baumgardner tore up Stateline with around 1957. Ted Vogel Sr. and Jr., however, are not convinced this is correct.
Jeep had some big victories with the Earl team and was chosen by Fonda to represent the track at a big promotion for the track and for stock car racing at the Albany airport that year. The Earl team did not remain active for a very long time; so, Jeep also drove for Henry Caputo, who was based in the Glens Fall region. Caputo was fielding a big old Plymouth business coupe, as well as a more common 1936 Chevy coupe. He ran a flashy red and white paint scheme and used the numbers 111 and 111a. Caputo would feature a number of drivers in the cars, as he ran at venues like Fonda, Airborne, and Stateline.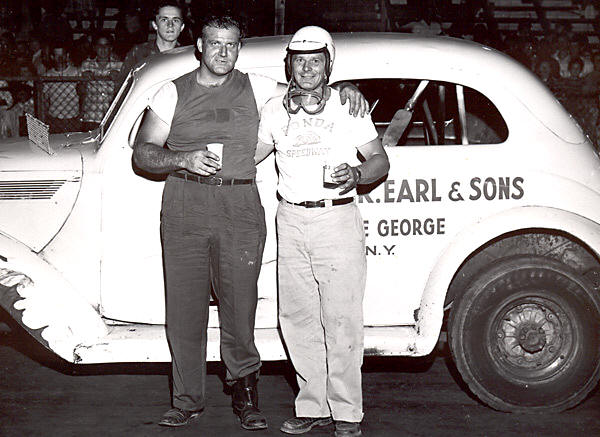 Little Jeep and the massive Paul Marshal pose in front of Jeep's
victorious J. R. Earl car at Fonda. [Courtesy of Dan Ody]
It appears as if Caputo took the Plymouth, with Jeep, to Langhorne on at least one occasion. One photo shows Jeep apparently driving the Plymouth in the wrong direction when – fact – I think he was circling back to check on some spectators who were injured when another of the New York drivers left the track and into the infield during one particular portion of the race. When Caputo ended up having some sort of legal difficulties and had to sell out his operation to Chris Drellos, Jeep would have to find another team to drive for again.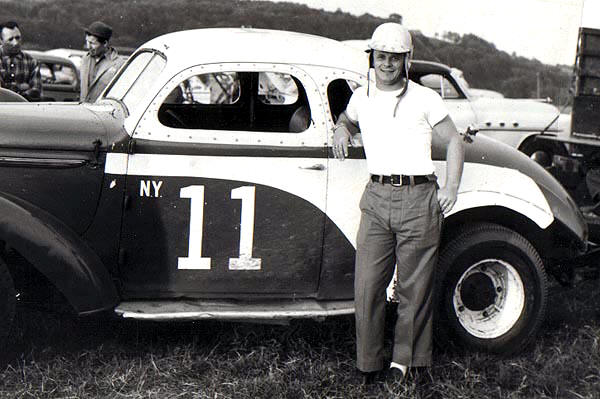 Jeep with the Henry Caputo Plymouth. That's Norm House in the background, possibly with
Frank Trinkhaus. [ Otto Graham Site Photo – the Schenectady Collection]
The 1960's at Fonda and Victoria were considered to be a golden era of New York racing. Jeep was still a viable driver in those early 1960's and he went through a rather impressive series of various driving gigs. One more than one stint, he joined the legions of other prominent drivers who took a turn in the seat of the Frank Trinkhaus #62, out of Fly Creek , New York. Trinkhaus was a mainstay, particularly at Fonda, and Jeep drove for him while Frank and Norm House were still fielding the classic upright sportsman coupes of that era. Alternating with others such as Lee Millington, Ken Shoemaker, Paul Marshal, and Irv Taylor, Jeep would tool the Frank's Speed Shop #62 at least two different seasons.
Running the paper clip – shaped Victoria Speedway, near Duanesburg, presented problems for the Fonda teams because Victoria was not NASCAR sanctioned and the organization was famous for handing out fines and suspensions for its drivers "running at outlaw tracks". Fearing repercussions from Daytona Beach, Trinkhaus would change the car's number and Jeep came up with some of the most original and creative racing pseudonyms in the history of outlaw racing. Two of his best were Flex Hose and Bob Alou. All of them were clever puns.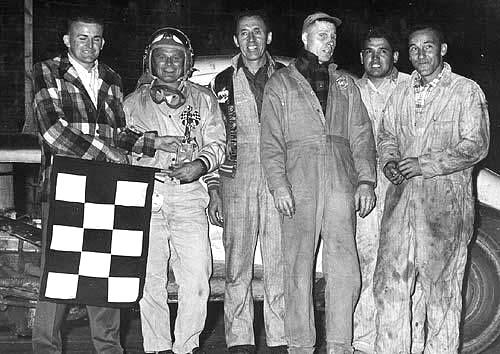 Another victory at Victoria for Flex Hose [ Herbert Family Photo]
Jeep would also take a turn with Richard Welch's potent little red #77 coupe, from Schenectady, again sharing seat time with Taylor, Baumgardner, Pieniazek, and more. The little coupe had originally been built by Rollie Johnson [father of Jumpin' Jack] and the 1937 Ford probably lasted longer than any other single stock car in New York state racing history. So, it seems Jeep was also not hard on his equipment. With both Welch and Trinkhaus, Jeep had endured the brief experiment Fonda teams had with using late model – bodied 1952 Chevies because NASCAR was offering the allowance of far bigger motors for these. Jeep had absolutely no luck with the late models with either team.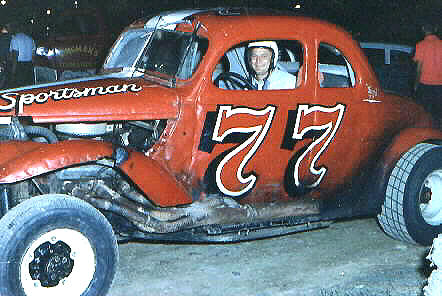 Jeep in the Richard Welch 77, a ride shared by dozens at Fonda. [Conde & Parry Site]
Herbert would spend a little time driving the backup car in the Chris Drellos team, which operated out of Hudson Falls. Drellos had basically kept the red and white color scheme he had bought from Henry Caputo, although the equipment was certainly upgraded a notch. Ken Shoemaker had settled in with the main car as the hottest thing going on that circuit. But the backup car, a three – window coupe, was something else again. Apparently most of the efforts were going to keep Kenny hot, and Jeep often never made it out to race. I recall sitting one night in the Fonda grandstands and hearing a middle-aged Herbert fan say disgustedly to her friend, "Dammit, Jeep's folded again ! when he failed to make it out for his scheduled heat race that evening. That about summed up his Drellos experience. The following year, when Corey took over that position on the team, Drellos had built him a brand new car.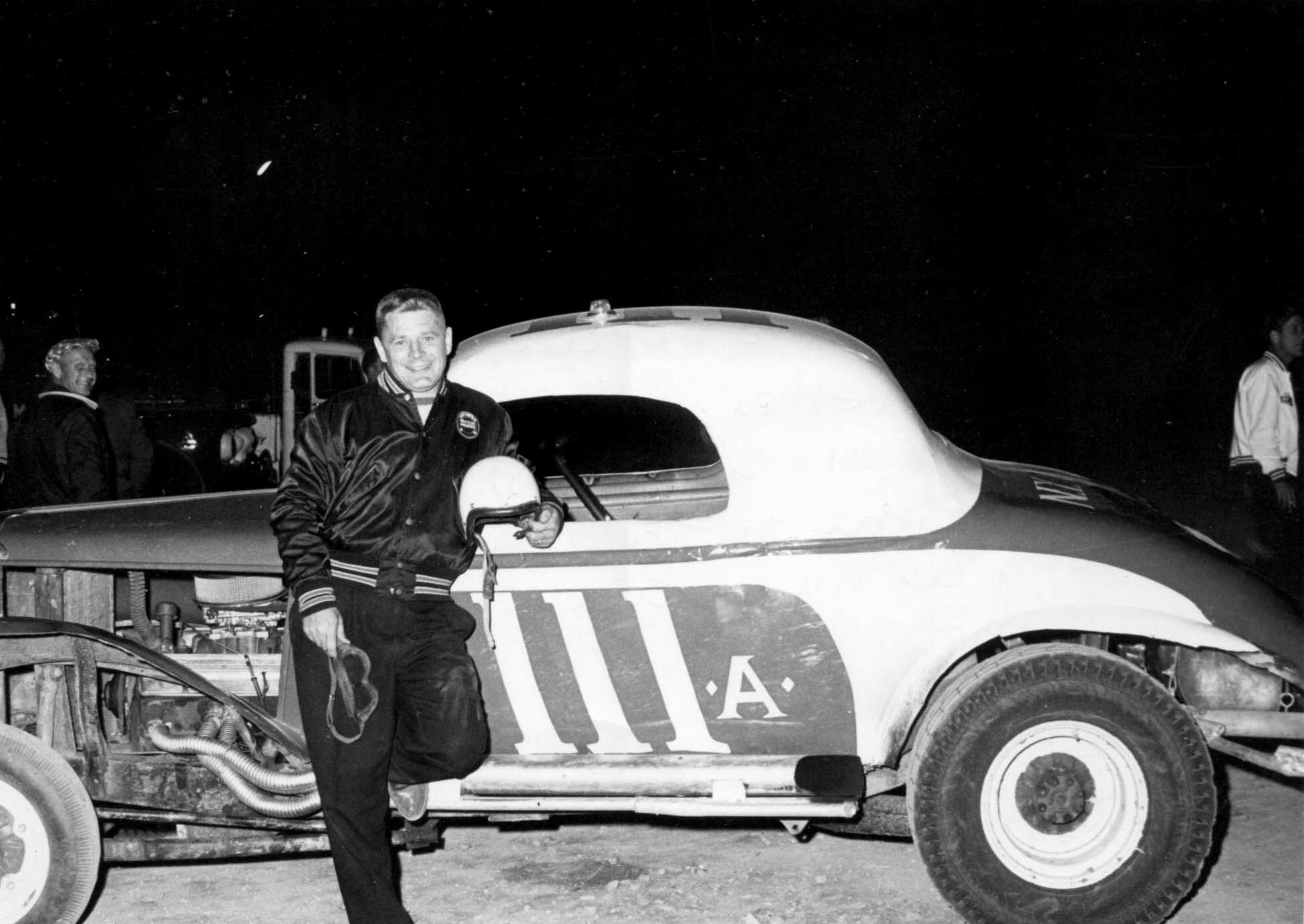 Jeep is smiling in this 1962 shot with the 111a, but it wasn't a happy time. [Ladabouche Collection]
One of the last local rides Jeep had was a descendant of one of his first rides: the Tony Villano 37. Villano's team was bought from A.C. Caprara, who bought the team from Kitler, Jeep's Stateline buddy. Jeep would take over a Villano team that had featured Pete Corey the year before, as he had been more or less inherited from Caprara. By that time, Villano was struggling and the 37 would not achieve much success agin until the end of the decade, with Jerry Pennock driving a Falcon – bodied car.
Jeep did start out another season with the beautiful #2 of Vince Barbuto, from Schenectady. The white and black 1936 Chevy coupe with gold highlights was immaculate. The main problem was that it was still of the upright variety, while several of its competitors were lowering their cars and using some new chassis ideas. Jeep would win one at Victoria, but not much was happening at Fonda. He was eventually replaced by a little – known New York State judge name Jack Farquhar. The Farquhar/Barbuto combo would do little at Fonda but they defected to Lebanon Valley where they were very successful with a much lower version of the #2.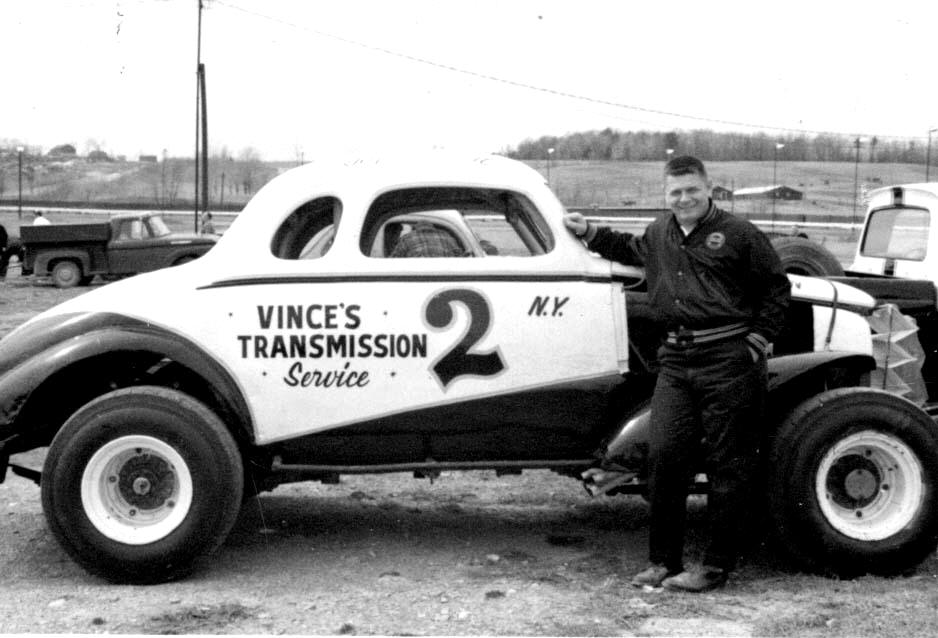 Jeep poses with the beautiful Barbuto car at Victoria, where he won one. [R.S. Bergh Photo]
It looked as though Jeep's career options were about expended when he was given an unexpected chance to run a state-of-the-art sportsman coupe out of Connecticut. The Lou Hammond / Burley Strong [yup that's actually his name] #56 had been running at Stafford Springs and driver Chet Hunt had won the track's sportsman title there. The team wanted to run the car on dirt at the great Fonda, and Jeep was considered a likely choice for success there. The team was doing just great when Jeep sustained a fractured ankle at Stafford and decided to call it a career.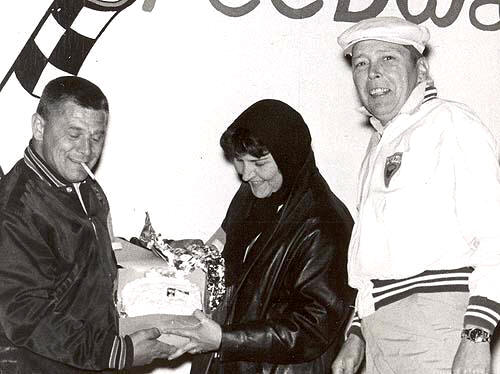 Jeep and Dee get a cake from Fonda starter Chet Hames [Herbert Family Photo]
By that time, Howard Herbert was not young and he had been driving almost constantly for the better part of two decades. His wife, Dolores [Dee] had taken active part, even becoming one of Fonda's scorers for several years – but enough was enough for both of them. Jeep made one run in a then – modern – day modified, just to have the experience, but his final appearances at Fonda were mostly on "stars of yesteryear " nights and at autograph sessions. We lost Jeep around 2006 or 2007. There wasn't anyone you could find who would be willing to say anything bad about Jeep Herbert; he was a peach of a guy.

Howard "Jeep" Herbert [Herbert Family Photo]
A Website Extra Photo: Jeep, in his later years.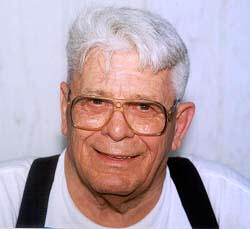 [Courtesy of Robert Lansing]
Return to the Main Page
Return to the Main News Page
Return to the Columns Link Page
Return to the All Links Page