BILL'S [Somewhat] WEEKLY COLUMN/BLOG PAGE

BILL'S BACK IN TIME
By Bill Ladabouche
ELUSIVE MCGREGOR SPEEDWAY MAY HAVE BEEN
A RESPONSE TO ANOTHER NEIGHBORING TRACK
One of the most difficult tracks in our region on which to get information was the McGregor Speedway, located in Wilton, NY – just outside Saratoga Springs. The facility is mentioned on a number of lists of old race tracks, but no one knew much about it or where, exactly, it was. Through the efforts of local writer Steve Harran, Jr. and Wilton town historian Jeannine Woutersz, a small body of information had surfaced.
From the scattered references made to the track, when discussing other tracks and early stock car drivers, it was very apparent that this was one of those important seed tracks that led to the establishment of a budding stock car racing community in the region while not surviving for long, itself. Other, similar tracks like this include the St. Lawrence Valley Speedway, in Canton, NY; the Green Mountain Speedway, in Sheldon, VT; the Franklin Motordrome, in Franklin, NH, and many others.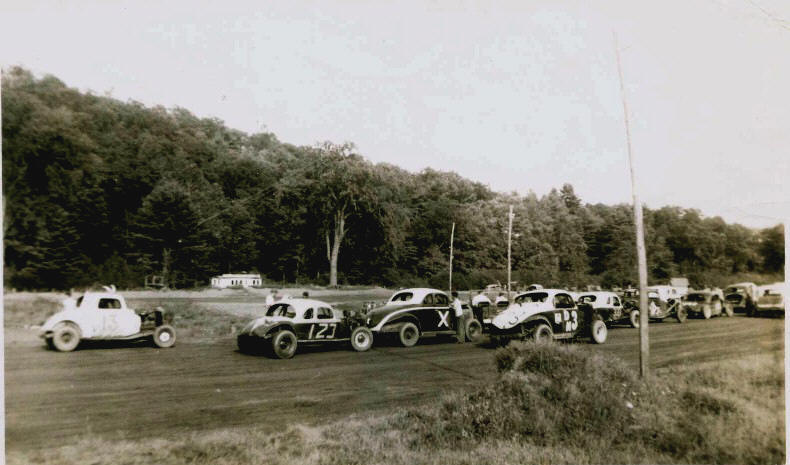 Courtesy of Lew Boyd
Buddy Bardwell [far right], joins Sonny Rabideau [DN3] and the X of Joe Ryan in the lineup at Brattleboro Speedway around 1951.
The track may have been started partially in protest to hot dog prices at a nearby track in New Hampshire.

It has been written that the Brattleboro Speedway, in West Brattleboro, VT, was created by disgruntled local racing people who did not like the way some things were done at a neighboring track. Much in the same vein, according to Woutersz, the McGregor Speedway was organized and established in some part due to the way a Wilton stock car team was treated at the Hudson River Speedway, in Schuylerville. Apparently a very successful Wilton car was considerable dismantled by a Schuylerville track official only to discover it was legal. In those days, the cars didn't "tear down" as easily as today's fabricated, cookie cutter racers do.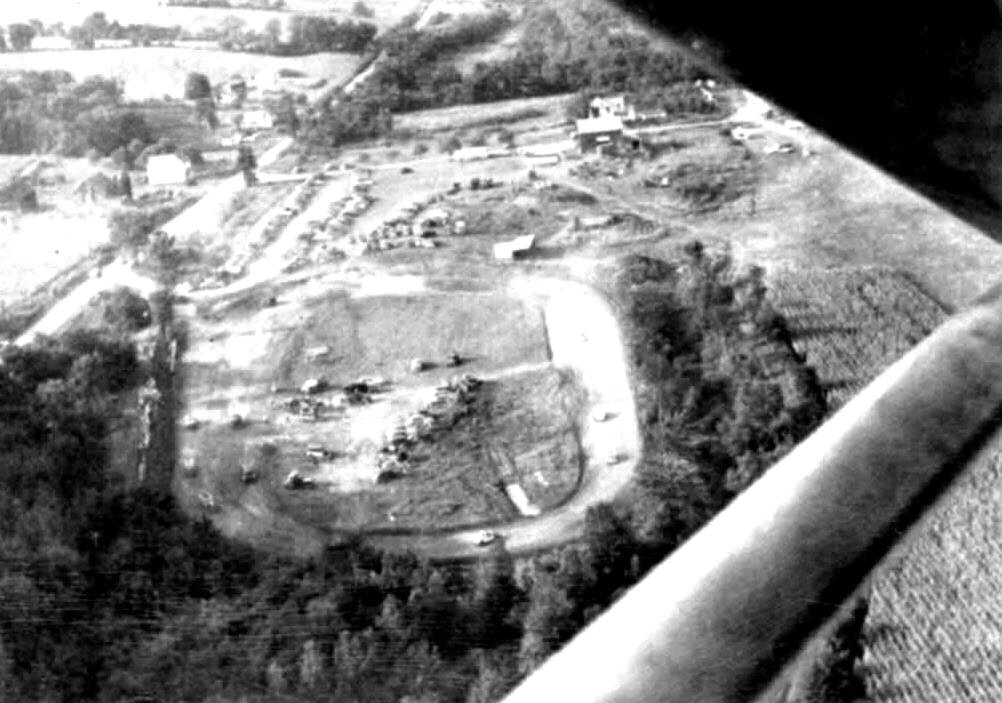 Courtesy of Dan Ody
Schuylerville's Hudson River Speedway is seen in this aerial photo, taken by track owner Paul Garnsey from his plane.
Below - An official's jacket from the Schuylerville track is displayed by the owner's grandson, Zene Garnsey.
Being as this was a woman's coat, it was probably not the offending official in question.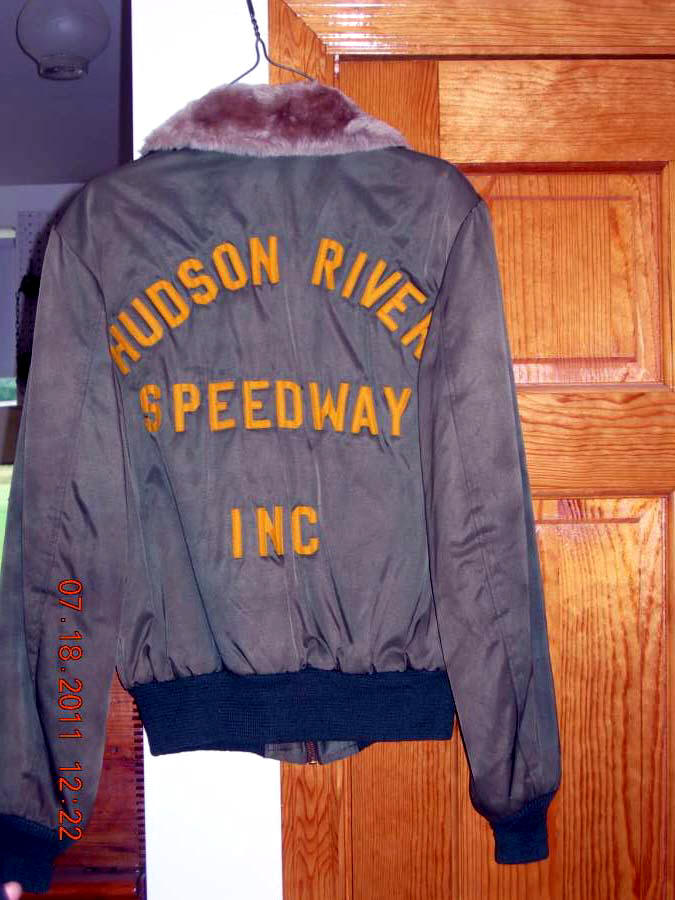 Courtesy of Zene Garnsey

This treatment led to the formation of the McGregor Speedway, Inc. in Wilton. Woutersz writes" "Early in 1950, the Woodcock, Harran, LaSalle, Worth, Staigar, Parkhurst, Smero, Moses, Helenek and other families united and created the speedway. There were 200 authorized speedway shares valued at $10. All shares were sold, according to Steve Harran, Jr.. Thurlow Woodcock, a prominent Saratoga ski shop owner, was president and the treasurer was Robert Harran. The speedway was created on property owned by the Staigar family in an area between Jones Road and what is now known as Gavin Park. The track was a quarter-mile oval banked dirt track that was developed, graded and maintained by Larry LaSalle."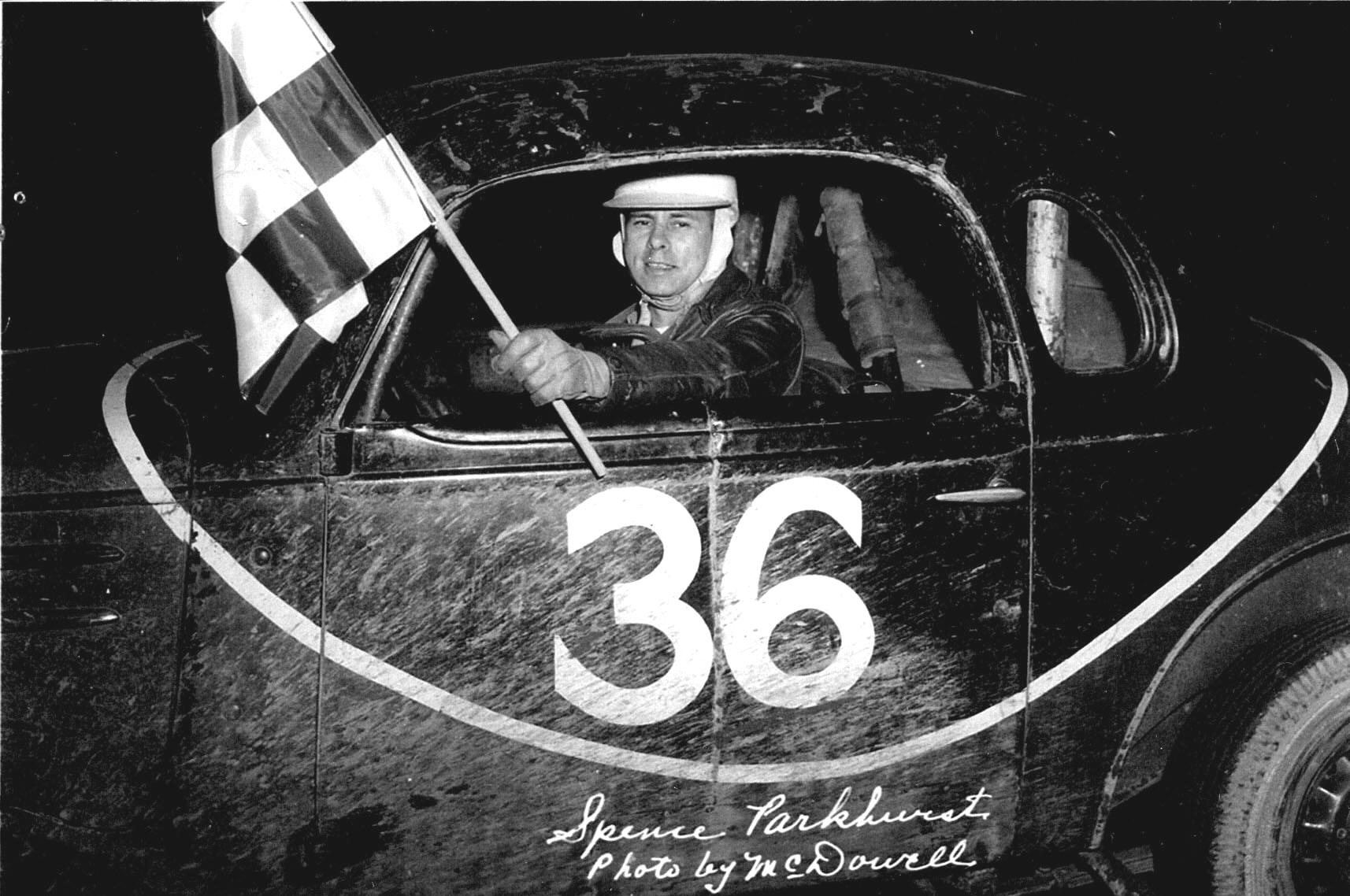 McDowell Photo Courtesy of C.J. Richards
Spence Parkhurst, a Saratogian, was not only a prominent race driver but he also was a founding father of the McGregor Speedway.


Some of the drivers mentioned as running at the track in 1950 included a Saratoga Springs driver that we saw, farther East, at Pico Raceway, near Rutland, VT. Spence Parkhurst, who operated an automotive repair facility in Saratoga, was one of McGregor's better known competitors. Parkhurst's familiar black and red #36 can be seen in photos and 8MM footage at tracks like Pico, Stateline Speedway, the old Fairmont Park Motor Speedway, Mettawee Speedway, and on into the early Fonda era.
Another early Fonda driver who drove at a number of locations with noticeably less attention than Parkhurst was John "Smokey" Stover. Stover, nicknamed after the peculiar comic strip character of the same name, may have been best known for finishing a race at Fonda in 1953 in the top five despite actually having retired to the infield. Stock car races in those early days – even at the mighty Fonda – could be tenuous experiences.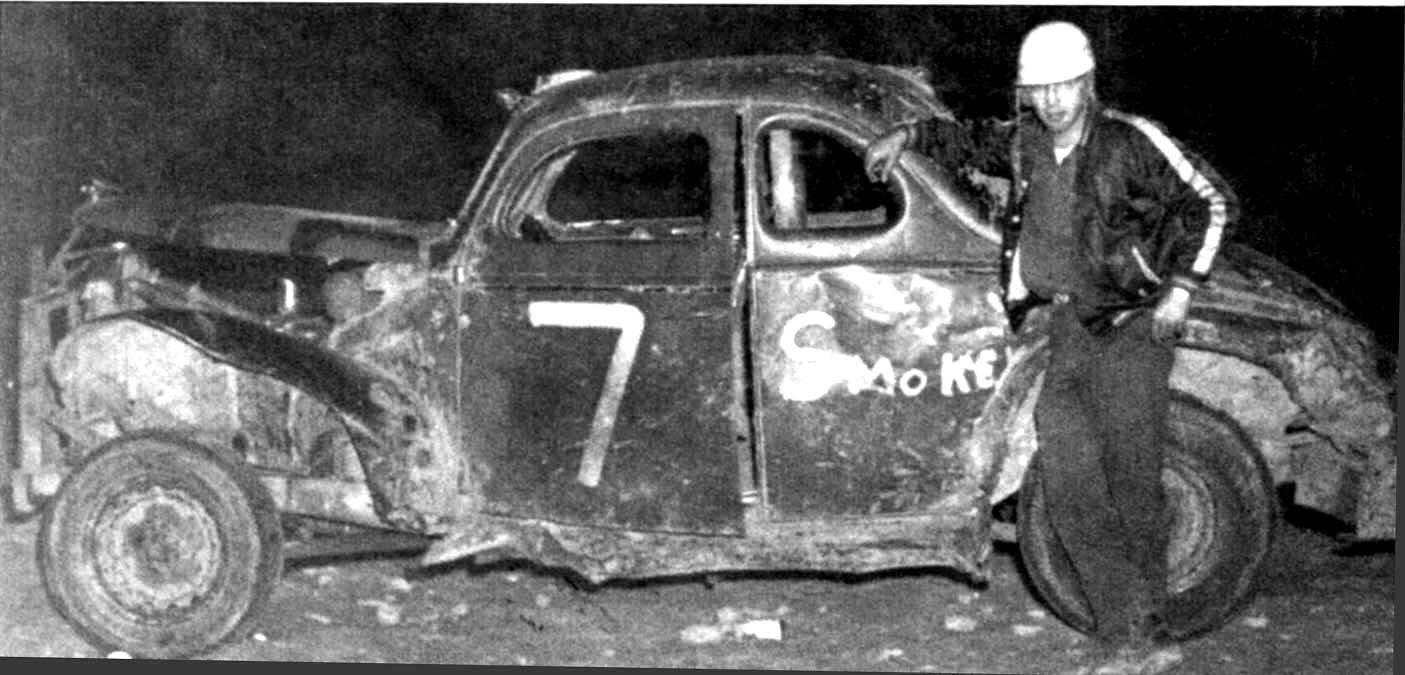 Fonda Book – Fusco Collection
John "Smokey" Stover and his gorgeous car were early McGregor supporters.
[Below] Saratoga's Jack Barney, shown here in action at Pico Raceway, also ran McGregor.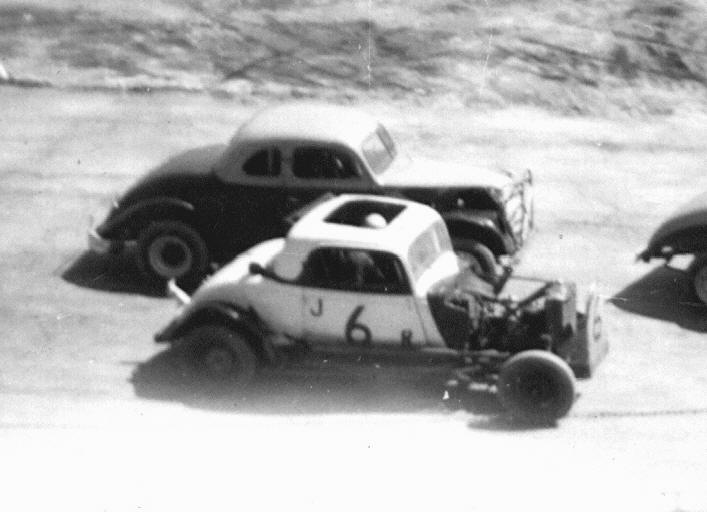 Courtesy of Jerry King


The only other driver whose name was at all familiar was that of Jack Barney, another guy I saw at Pico Raceway. Barney raced at McGregor in 1950, before moving on to Pico and Stateline by 1951. He drove a white 1934 Ford #6 with his initials surrounding the numeral. Unlike most other drivers with those early Ford coupes, he took out the leather and wood center section of the roof and just ran the car with that big opening. If Barney could have known how many drivers ejected through those early Ford roofs [even with some metal filling the space], he might have thought twice.
It is apparent that McGregor had at least one female driver in the person of Tessie Staiger Farrell. Other drivers mentioned by Harran and Woutersz included Jake Smero, Joe Staigar, Ed Harran, Larry LaSalle, Al Moses, and, Joe Reulet. I would hazard a guess to say that probably the Bob Hoffer car from Argyle ran at McGregor, as I know they appeared at Schuylerville. Possibly, too, that Hank Schmidt, of Gansevoort and Leo Nadeau may have visited at least once.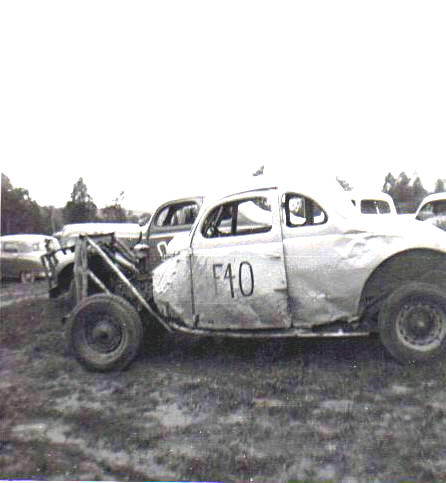 Courtesy of Ron Hoffer
Gansevoort's Hank Schmidt, shown here at Hudson River Speedway in Schuylerville, was not only a good driver but spent years as a track official.
[Below] This would have been the Hoffer car if he ran at McGregor as he did at Schuylerville.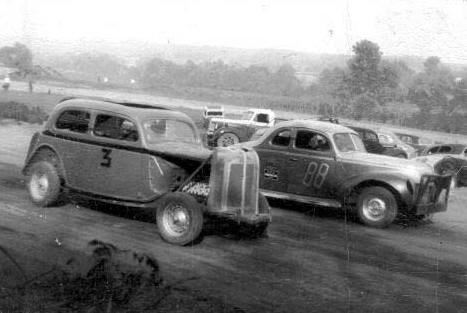 Courtesy of Ron Hoffer

Gail Moses Remington, whose husband, Tom, is still racing in a long career, said her father, Al Moses, was one of the founders of – and drivers at - the track. Although quite young at the time, Gail says she recalls the track had stands, protective fencing, and some "cement block buildings" that she supposed were for the usual uses such as toilets, concessions, ticker sales, and so forth. Apparently many of the competitors there were from closeknit family ties. She was close friends with Staigers, while Thurlow Woodcock was one of her uncles.
Gail Remington recently produced two photos of the track with her father driving what appears to be a somewhat safer – than – usual roadster. That aspect of the track is what would bring the problems with the New York State Police soon thereafter. Al Moses is seen dumping the race car over, but he apparently survived without any serious injury. If McGregor was like most of the roadster tracks, its fields of cars featured both roadster – type entries and some stock cars with complete bodies. Such was the case with Champlain Speedway in Ticonderoga, the various Hernacle tracks around Perth, and even at Warrensburg, NY.

Photos Courtesy of Gail Moses Remington
Al Moses poses in the #4 roadster on the McGregor track in 1951. This was an example of the Les King photos that
became rare when King eventually concentrated on open wheel car racing later on. [Below] - Al ended up
not having such a good day later that year, as seen in this grainy shot King took under duress.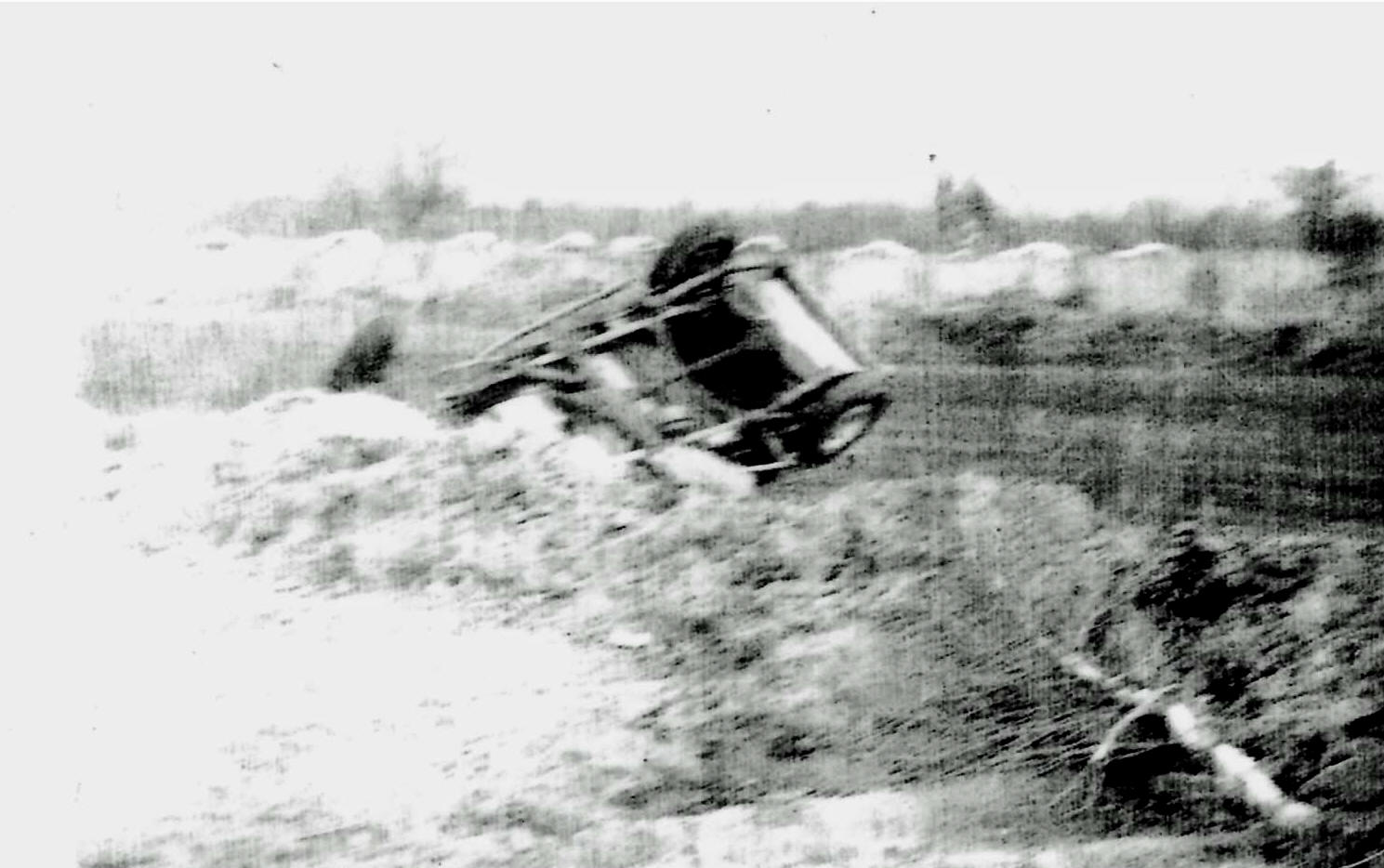 The officials at the track were familiar, in that there was a team of men who traveled from one venue to another, offering their services until most of them settled at Fonda by 1953. According to long – time photographer, Les King, he, Warren "Red" Wildey, Chet Hames, and sometimes another man went around and filled the positions [respectively] of track photographer, track announcer, flagger, and pit steward. Steve Harran, Jr, who contributed heavily to Woutersz' information, served as the handicapper at McGregor. The Speedway, by 1951, would be running up against literally dozens of other tracks in New York and Vermont - vying for the limited number of compeititors in the new sport.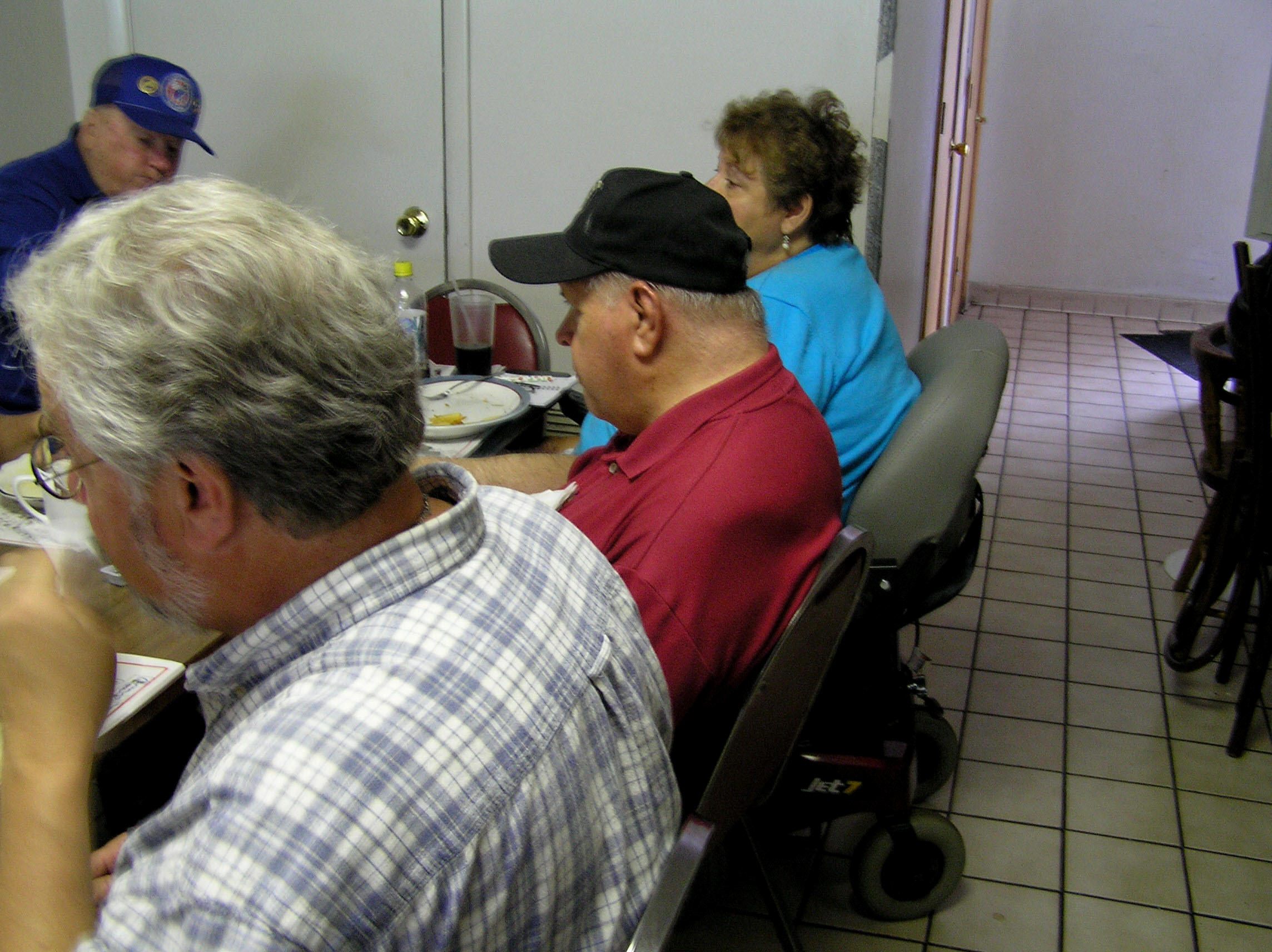 Ladabouche Photo
Les King [red shirt] seated by racing historian Ken Gypson at the monthly Watervliet old racers' breakfast, was still photographing stock cars at
the time of McGregor Speedway. Later he would switch to open wheel racing. [Below] – Red Wildey, early announcer.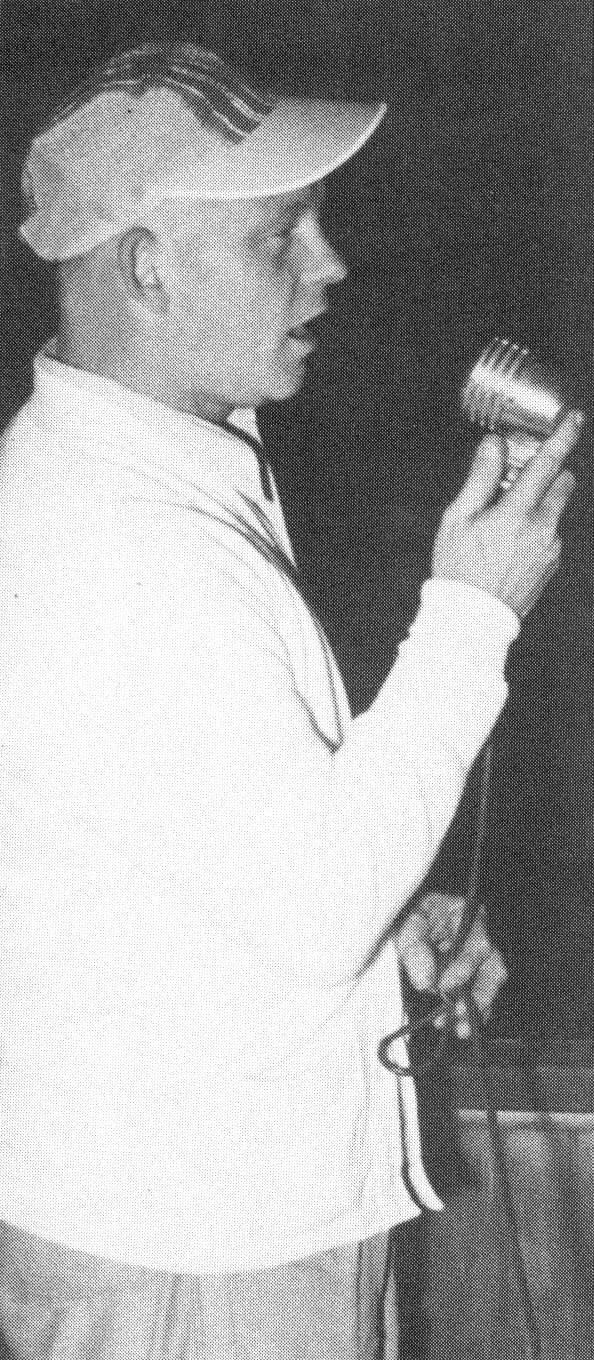 Andy Fusco Collection
Red Wildey

Woutersz goes on to write : "McGregor Speedway opened for business |Aug. 13, 1950 and was very successful throughout its short existence, drawing race cars from throughout the greater Capital District. Because the New York State "Blue Laws" barred fee-charging public activity before 2 p.m. on Sundays, the Speedway closed June 20, 1951. Thurlow Woodcock stated ,"It is with the utmost reluctance, that the organization decided to discontinue racing, but unless it was permitted to operate on Sundays, there wasn't sufficient financial backing to meet expenses." according to local newspaper accounts."
It is odd that the blue law action forced the end of McGregor Speedway because the New York State Police focused their efforts almost exclusively on race tracks that ran roadsters, and – if I can infer from Woutersz' writing – the Wilton track also ran stock cars. Parkhurst, for example, would likely have never run a roadster. It is more likely that McGregor was facing stiff competition from some flashier venues such as the Pico Raceway in Rutland, Stateline Speedway, near Bennington, VT, and even small operations like Mettawee; Ashland Park, Warrensburg; Whites Beach Speedway, Ballston Lake; and others. Champlain and Warrensburg seem to have not been bothered by the Blue Law initiative.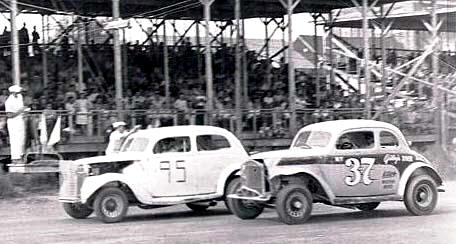 Vogel Family Collection
Stateline Speedway, not far from McGregor, was a much flashier venue with bigger names like Jeep Herbert [37] and Saratoga native George Baumgardner.
The years of 1950 and 1951 were boom years for stock car tracks; after 1952, there was a severe decline in the number of tracks operating. The more established venues like Empire Raceway, Menands; Fonda Speedway; and Stateline took over, most holding on until the end of the decade. The tracks most prominent graduates were flagger, Hames, who started races [particularly at Fonda] into the 1960's] and Parkhurst.
Today, there are few signs of the track's existence, near Gavin Park and Jones Road, not far north of Saratoga. A 1960's aerial view showed a very faint outline of the banked quarter mile dirt oval. The Sargen family, who race at Devil's Bowl now, claim that they can locate a couple of old poles that probably ran electricity to the site. Former CVRA and Northern NASCAR driver John Peoples of Wilton of Wilton is said to own the land on which the track sat. Today, anyone with any photos or documents of the McGregor Speedway have rare treasures, indeed; and it is hoped that they will share these or copies of such with some racing historian. When the Saratoga Auto Museum holds its annual Lost Race Tracks conference in November, it is unlikely there will be much mention of the long – gone McGregor track.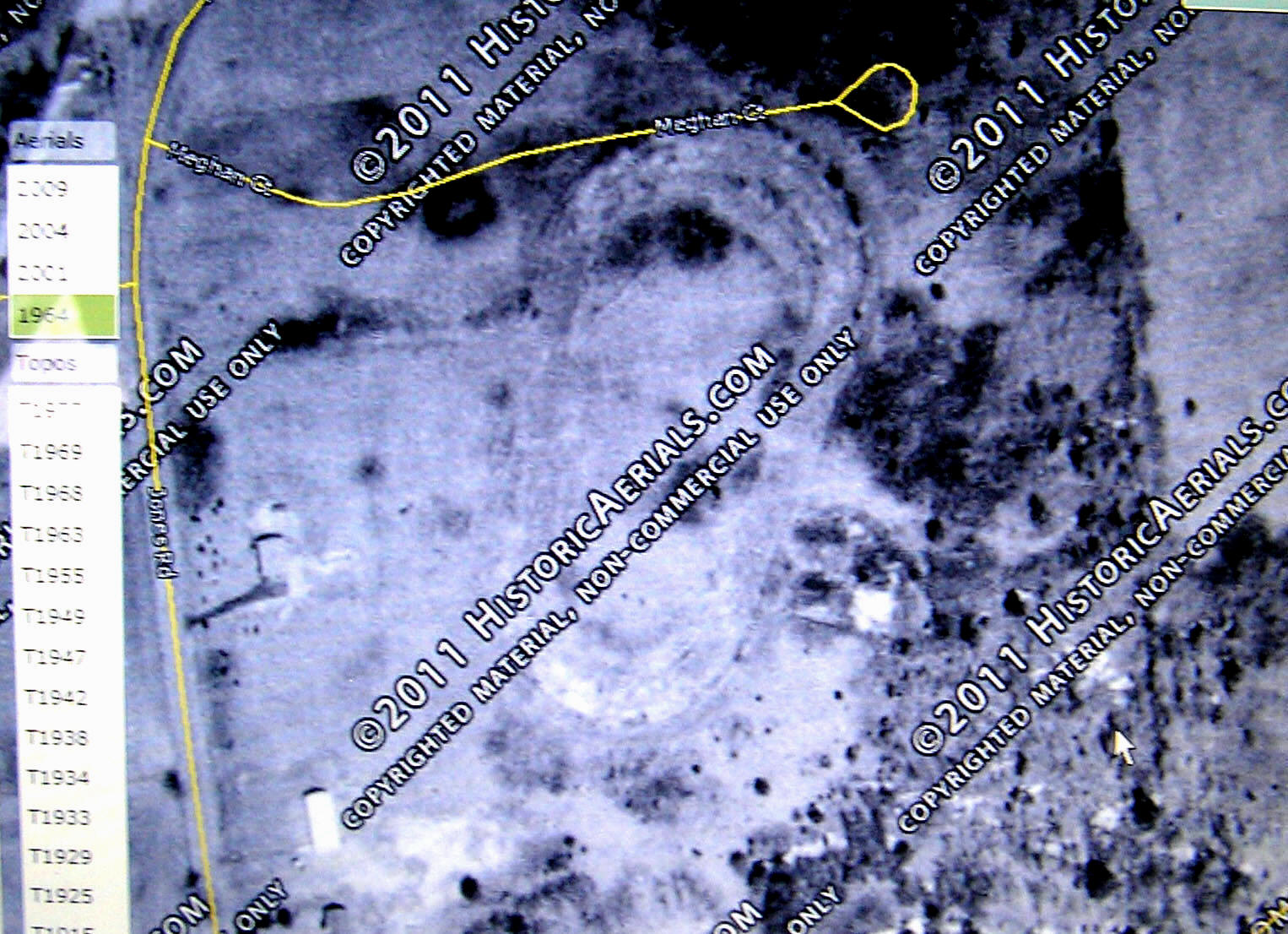 Historic Aerials.Com Photo
Look closely and you will see the outline of McGregor Speedway in this 1964 aerial view of the area.
Please email me if you have any photos to lend me or information and corrections I could benefit from. Please do not submit anything you are not willing to allow me to use on my website - and thanks. Email is: wladabou@comcast.net . For those who still don't like computers - my regular address is: Bill Ladabouche, 23 York Street, Swanton, Vermont 05488.
AS ALWAYS, DON'T FORGET TO CHECK OUT MY WEBSITE
www.catamountstadium.com
Return to the Main Page
Return to the Main News Page
Return to the All Links Page
Return to the Weekly Blog Links Page