BILL'S [Somewhat] WEEKLY COLUMN/BLOG PAGE

BILL'S BACK IN TIME
By Bill Ladabouche
POWDER PUFF RACES WERE A SIGN OF PAST TIMES
IN LOCAL STOCK CAR RACING
One of my less pleasant childhood memories involves attending a softball game played by my mother and many of my friends' mothers. These ladies were having a special game against th high school girls' softball team, if I recall correctly. My father and most of the other men kept a continuous flow of razzes and good – nature insults directed towards the team of mothers [who were actually more than holding their own on the gamer]. When I took issue with this, I got sent home by dad, whom I had a good healthy respect/fear of . It was right in the era when stock car racers' wives would often climb into stock cars and race in what was called "powder puff races".
It seems as though every article that appeared in the early 1950's newspapers which were supportive towards stock car racing featured a paragraph on the afternoon's powder puff races. For those not familiar with the term, a powder puff race [probably named for the most well = known feminine cosmetic tool of that day] was a race for women. Generally, these were wives of the regular drivers. This line from a 1951 Troy Times Record article is pretty much typical of how the gals were covered: "In the powder puff special for women Jane Hacker of edged Lee Russell of Nassau; Dot Schuman of Nassau was third ."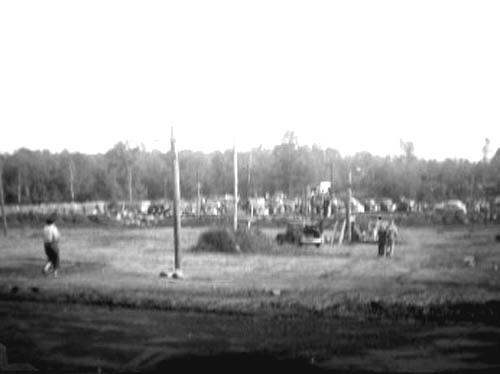 Courtesy of Eddie Puffinberger via Scott Haskell
A rare moment in early races: a woman is crossing the track. They were usually only welcome out of the grandstands if they were a nurse, scorer, or trophy girl.
[Below] Some of the Boyce girls hang out at Je-Jo-Clin Speedway near Boltonville, VT after having ridden there in the hearse. They would be selling hot dogs.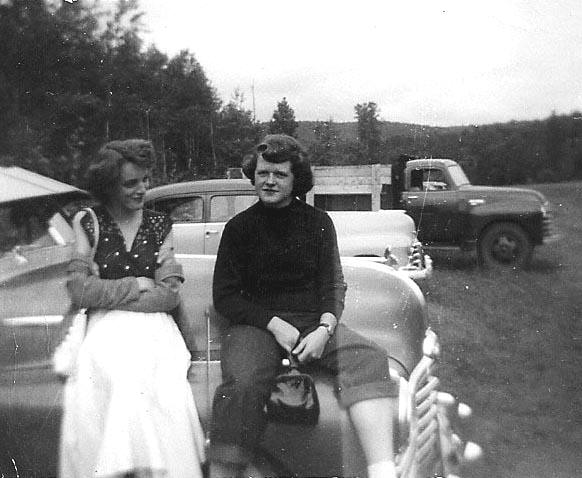 Courtesy of the Boyce Family

These female racers could become a lot like their husbands - especially if they had had previous run – ins with a particular hussy from another racing team. Northeastern Speedway was a fifth mile track located in the northeastern corner of Vermont, near to New Hampshire. Lyndonville's Jerry Bigelow considered this track to be his backyard; and that did little to impress Perley Densmore. That attitude rubbed of one Mrs. Bigelow and Mrs. Densmore. Something went on between the two during of the powder puff races at the Lower Waterford, VT track and Mabel Densmore ended up flying off the backstretch courtesy of the Bigelow #2. Poorly braced, the Densmore car landed on the roof and flattened, sending the luckless Mabel to the hospital for a brief stay. Biggie Bigelow, one of the sons of the perpetrator, says he cannot recall tremendous remorse from a still – pissed off mom as they hauled Mabel away.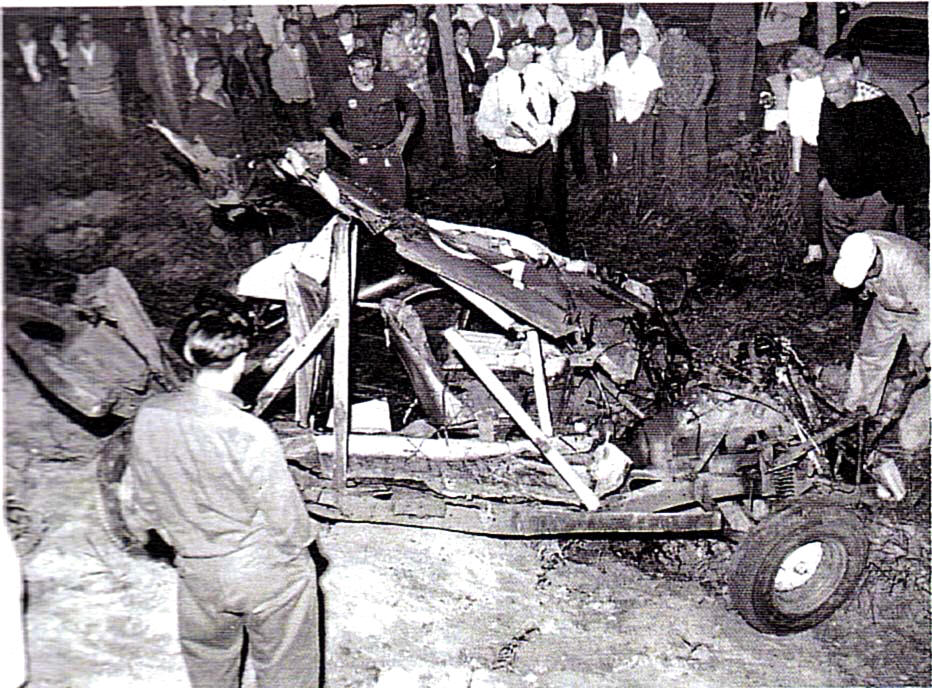 Courtesy of Ken Paulsen, via Northeastern Website
Mabel Densmore took quite a ride and wiped out Perley's ride in this 1961 crash.

We do not see powder puff races today because women are encouraged to try their hand at the sport, right in with the men. However, as late as 1972 or 73, I can recall powder puff races he;d at Catamount Stadium. The handwriting was on the wall then, however because female drivers such as Barbie Jean Willard and Linda Alexander [Hurricane Division] and Monique Proulx [Mini Stocks] were coming within the next year or so. Fans today, rooting for the likes of Danica Patrick, Jessica Zemken, and Emily Packard probably find the concept of the powder puff race to be a little beyond their comprehension.
Powder Puff races seemed to come in right at the beginning of the sport; and certain tracks seemed to accept them more than others. Several of the Capital District race tracks in New York simply had them every program. Others had a race of this kind once a year. One of the most strong emphases on the ladies was by the Veterans' Park track, located inside an established half – mile horse track in Newport, Vermont. This organization kept active records of female drivers, apparently including points. Other places never chose to have such events; or, there were no takers when the offer was made.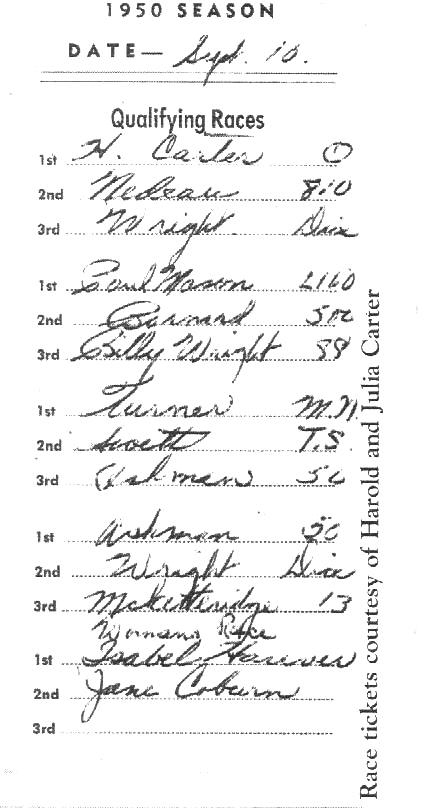 Harold Carter Collection via Scott Wheeler
[Above] An old results ticket from Veterans' Park, Newport shows ladies in qualifying races. [Below] Some of the Newport
female drivers, including the infamous Barb Bigelow [front, 2nd from left]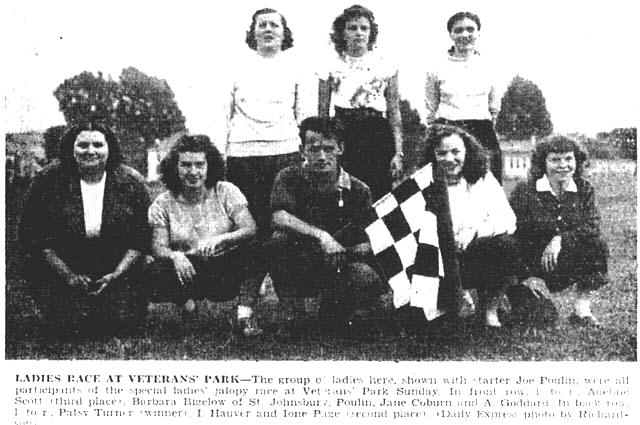 Courtesy of Ken Hitchcock via Scott Wheeler
It's not that female stock car drivers were unheard of. Ethel Mobley, of the famous Flock racing family, was right in there, driving with the men in the late 1940's. Northern Vermont tracks' histories speak of the occasional female driver such as the infamous Ma Begins. But she did not bother with powder puffs; she raced with the boys. Doubtless, the powder puff concept came about to keep the spouses of race drivers involved in the sport other than washing the uniforms and packing a weekly picnic lunch.
An article about the Saranac Lake Speedway, an out – in – the – woods dirt oval near Lake Clear, NY, illustrates how these races could be received: "GIRL DRIVERS PLEASE CROWD AT SPEEDWAY In the wake of last weeks first lap crash, Joan Patterson of Lake Placid drove 10 circuits to victory in the Women's Powder Puff Derby at the Saranac Lake Speedway Friday. The car no. 143 was owned by her husband Pat, the Speedway's hottest driver the past couple of weeks. He also owned the one involved last weeks crackup driven by Nata Melvin." I am sure that kind of coverage helped speedway owner Aaron Hoyt and his staff to promote the fledgling track which was usually operating the in shadow of the more – established Airborne Park Speedway, further north in Plattsburgh.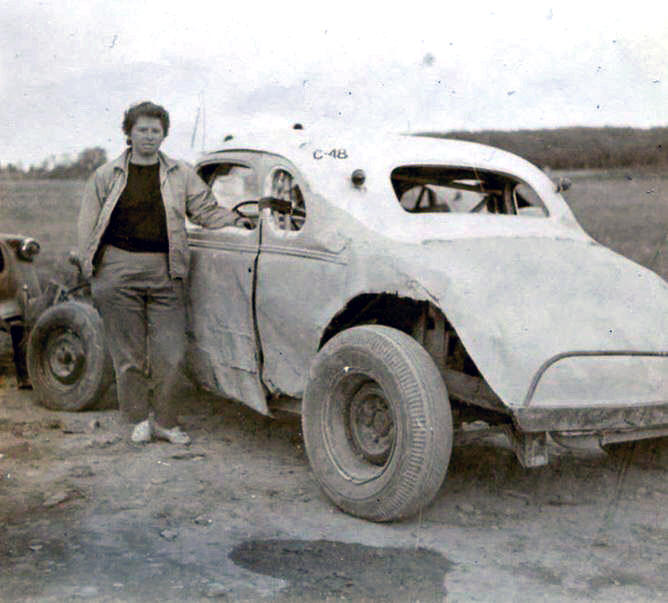 Courtesy of Yvan LaCroix
This rough and ready French Canadian flower doesn't look like she
needs to drive in any "poffe du poudre" races. [Below] Hudson Polly LaRochelle.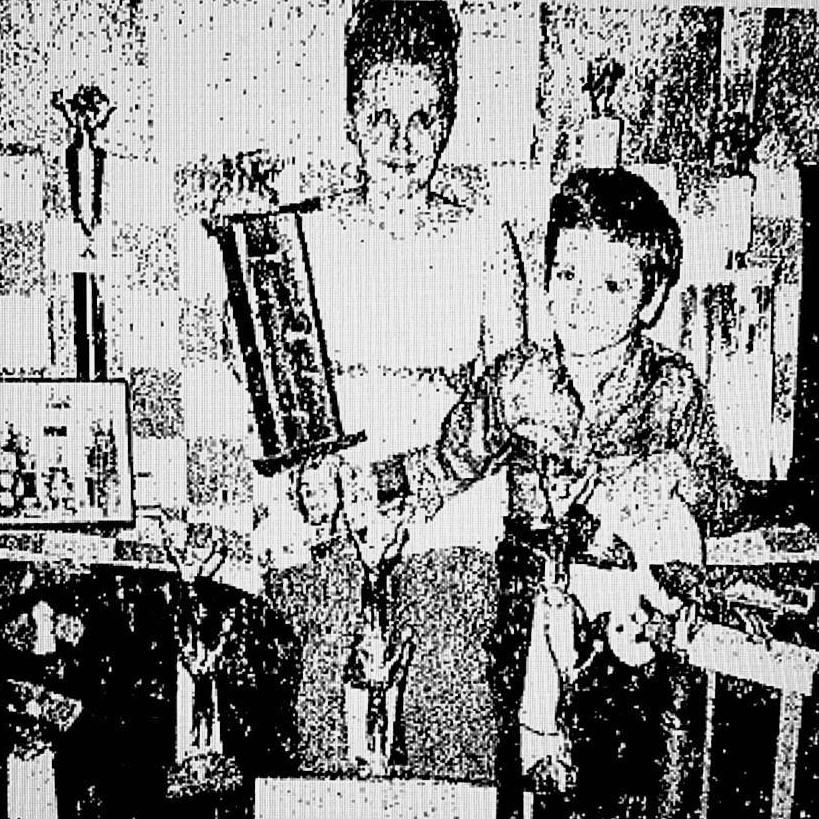 Source Unknown
One old magazine article photo shows a frequent winner of powder puff races at Hudson Speedway, in the Granite State town of the same name. Hudson certainly would be a candidate to be in on the ground floor of something like this as the track was never afraid to try something new or even quite far – out to promote itself. The driver in this case was Polly LaRochelle, almost certainly the wife of the Minuteman, Joe LaRochelle, who used to be a fellow columnist in the old Speedway Scene paper.
I can clearly recall the intense interest and pride with which the Catamount Stadium powder puff competitors armed themselves when they would enter one of that track's somewhat regular female races. Pauline Rivers Barton, wife of one of my racing friends, found her way onto the track at least once in her brother's battered Flying Tiger Ford numbered 08. One of the best puffers was a gal named Cheryl Paquette, who possibly was the better half of Hurricane Division star Perry Paquette, a rough and tumble excavator from nearby Georgia, Vermont.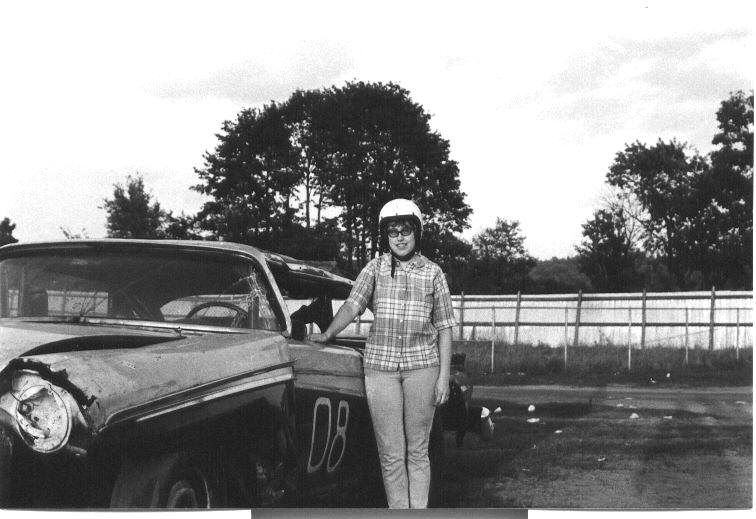 Ladabouche Collection
Pauline Rivers with her brother's Ford. [Below] Cheryl Paquette won her share of races.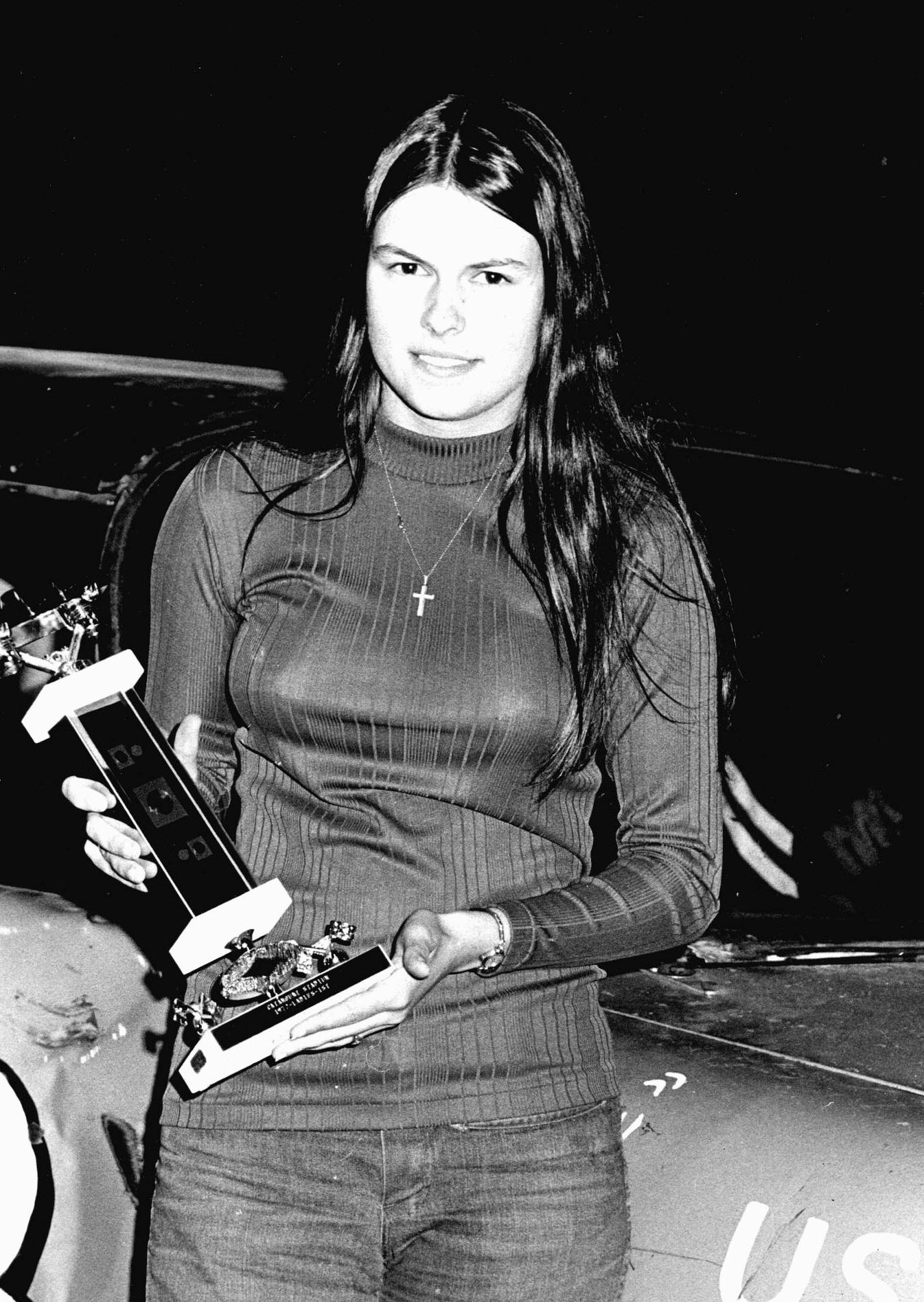 Courtesy of Chris Companion
At the tracks with the more regular and serious powder puff competition, pretty much the same women raced one another, time and time again; and it did not engender closeness or esprit du corps among them. The women of the 1950's would have their core of regulars and – fierce competition aside – they were not too interested in newcomers. I have related the story wherein a powder puff race was forming at the old Malletts Bay Raceway, in Colchester, Vermont, around the mid '50's. Most, if not all of the entrants were wives of drivers; but, there was this one little tart who had been getting a lot of leers from the men in attendance. The tart wanted someone's husband to provide her with a car.
It was made reasonably clear through an informal grapevine that no man was to lend her a stock car. Well, poor, ol' good – natured Clarence Rock didn't get the message. He sent her out in his car. Later, after having rolled his car in a heat, Rock moseyed across the track and entered the spectator area looking for the Mrs. The Mrs, was, indeed, available. According to Jackie Peterson, she went over to the poor, unsuspecting Clarence "Cornfield" Rock and let him have a pretty good swat across the face right in front of a packed and roaring bleachers.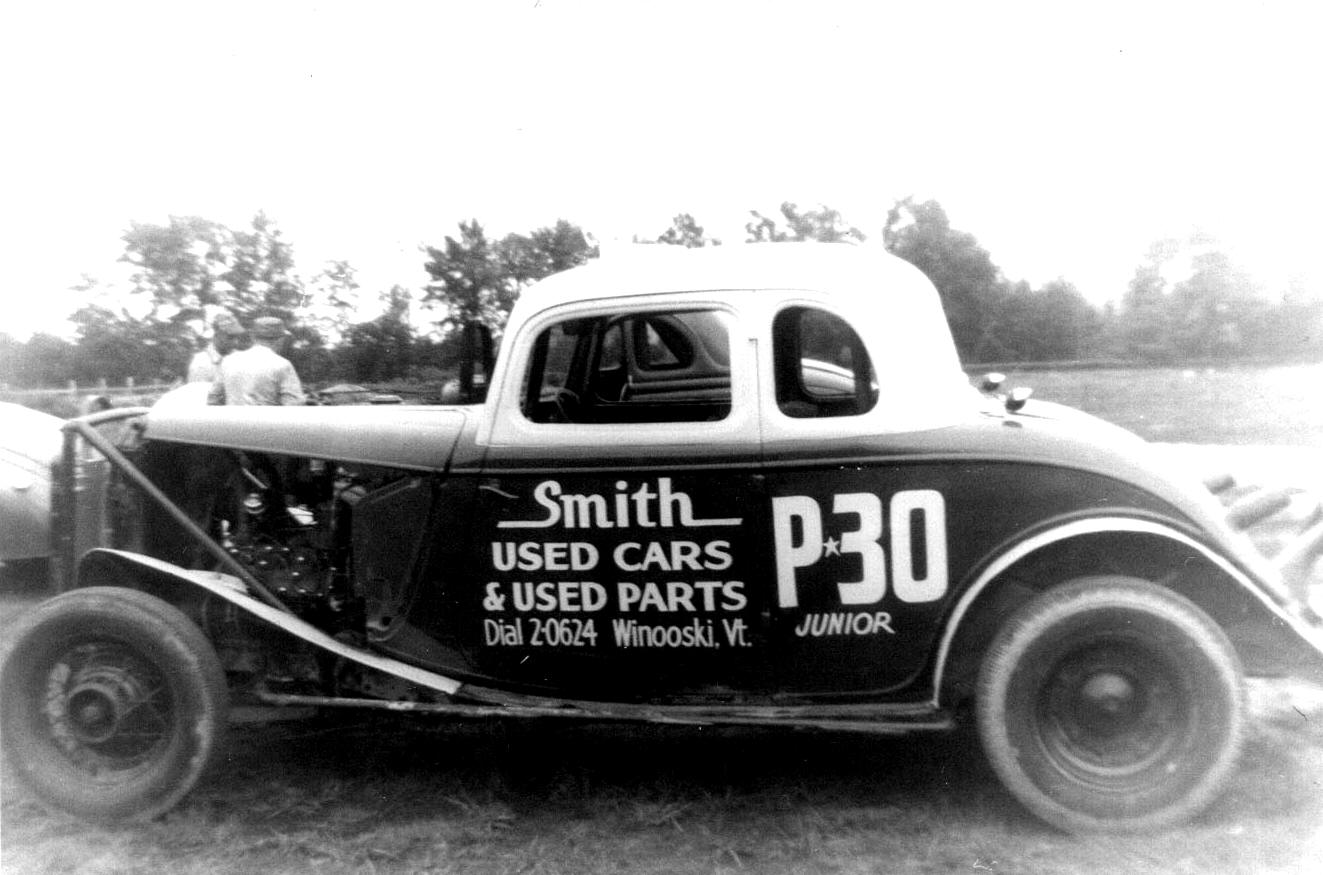 Courtesy of Mark LeFrancois
She wanted Clarence Rock's P30Jr – which looked good for a car of that era.
Watching a still - teenaged Emily Packard whose grandfather Emory raced in the era when powder puffs were the only way a gal could race, is enough to spell out clearly why powder puff races have gone the way of track clowns and kiddie rides. For the second year in a row, she ran the vast majority of a 100 – lap late model sportsman race against some top notch make drivers in third place before a catastrophe not of her making knocked her out. There are a number of female drivers [mostly very young] driving in competitive racing divisions all over the Northeast. I would wager few of them even use a powder puff.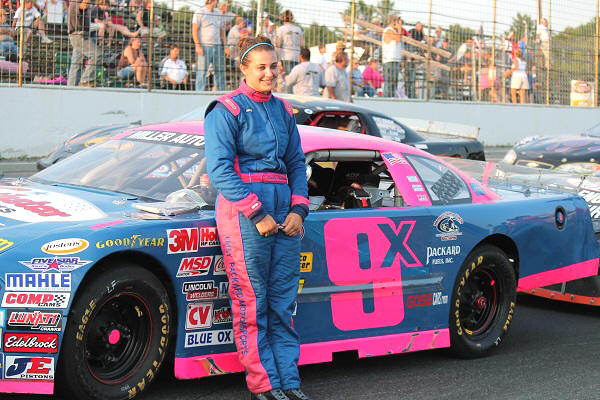 T.J. Ingerson Photo
Emily Packard, 16 in this photo, doesn't need any powder puff races.
Please email me if you have any photos to lend me or information and corrections I could benefit from. Please do not submit anything you are not willing to allow me to use on my website - and thanks. Email is: wladabou@comcast.net . For those who still don't like computers - my regular address is: Bill Ladabouche, 23 York Street, Swanton, Vermont 05488.
AS ALWAYS, DON'T FORGET TO CHECK OUT MY WEBSITE
www.catamountstadium.com
Return to the Main Page
Return to the Main News Page
Return to the All Links Page
Return to the Weekly Blog Links Page