BILL'S [Somewhat] WEEKLY COLUMN/BLOG PAGE

BILL'S BACK IN TIME
By Bill Ladabouche
BOB HARRISON – THE ULTIMATE USED CAR MAN

We had been through three seasons at Fairmont Speedway before we saw or heard anything about Bob Harrison. When he showed up in the pivotal 1965 season, as the overhead V-8's were displacing Fairmont's traditional flathead and GMC 6 cylinder cars, a few old hands who remembered the 1950's well related as how Bob had "raced a bit" back then; but he was no one I was familiar with.
When Fairmont was re-opened in 1962 by C.J. Richards, one of the staple cars, coming down from Warrensburgh, NY, was the Maynard Baker – owned 1936 Chevy #Me2. As competition ramped up in 1964, that car disappeared, along with most of the once – sizable Warrensburgh contingent that had come seeking a place to race when Warrensburgh's Ashland Park Speedway had closed around 1960.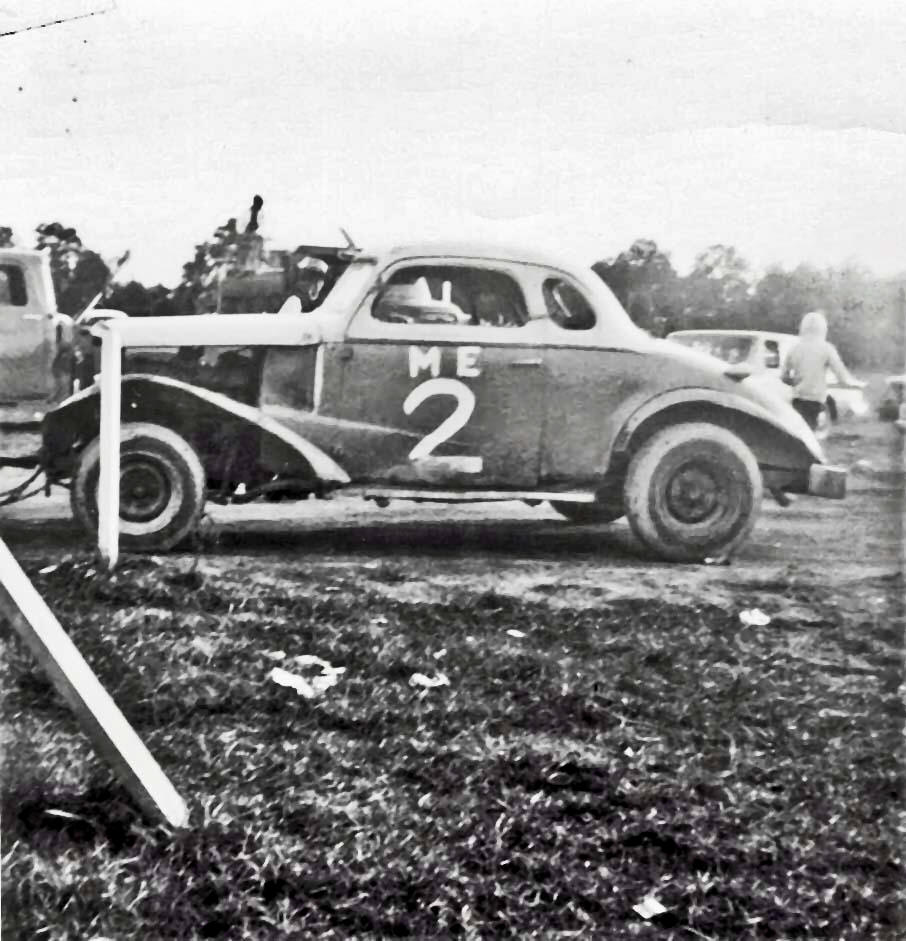 Ladabouche Photo
The Warrensburgh contingent was at Fairmont in force for the first two years. The Maynard Baker Me2 was driven by many
drivers in that time period. Below – Bob Harrison showed up with a refurbished Me2 around 1965.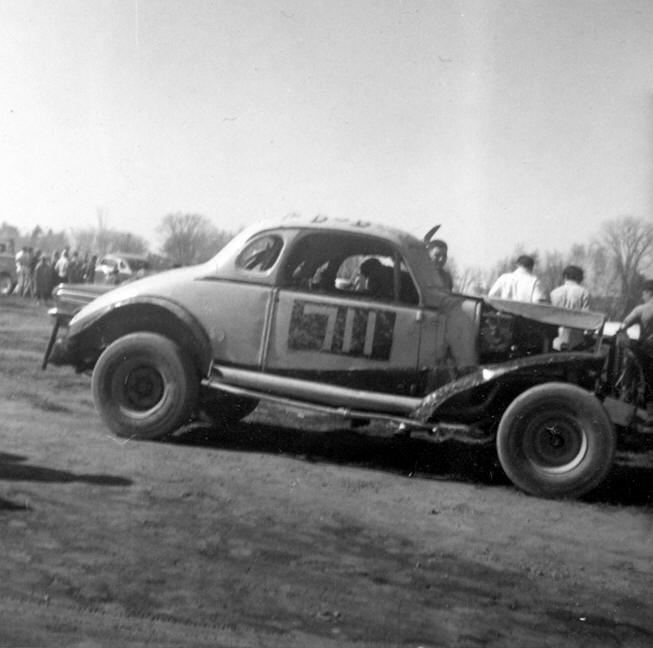 Ladabouche Photo

Now, in 1965, here comes Bob Harrison with that old Me2 car, having purchased it and refurbished it with an overhead Chevy V-8. The car was never much on the track, but fans remembered it because of the Packard hood ornament that baker had affixed on the roof, just above the windshield. Harrison kept that on the car. He came in with considerable body welding and other shoring up, along with a numeral change to # 7-11.
That old Chevy had not appeared at Fairmont, or been heard of, for years. The entire genre of racing had changed, and yet - somehow - Harrison came in contact with somebody who knew the thing was still sitting at Wilbur Baker's, waiting for a new owner. It did about as well as expected. The above shot was taken in October of 1965, so the season was shot by then.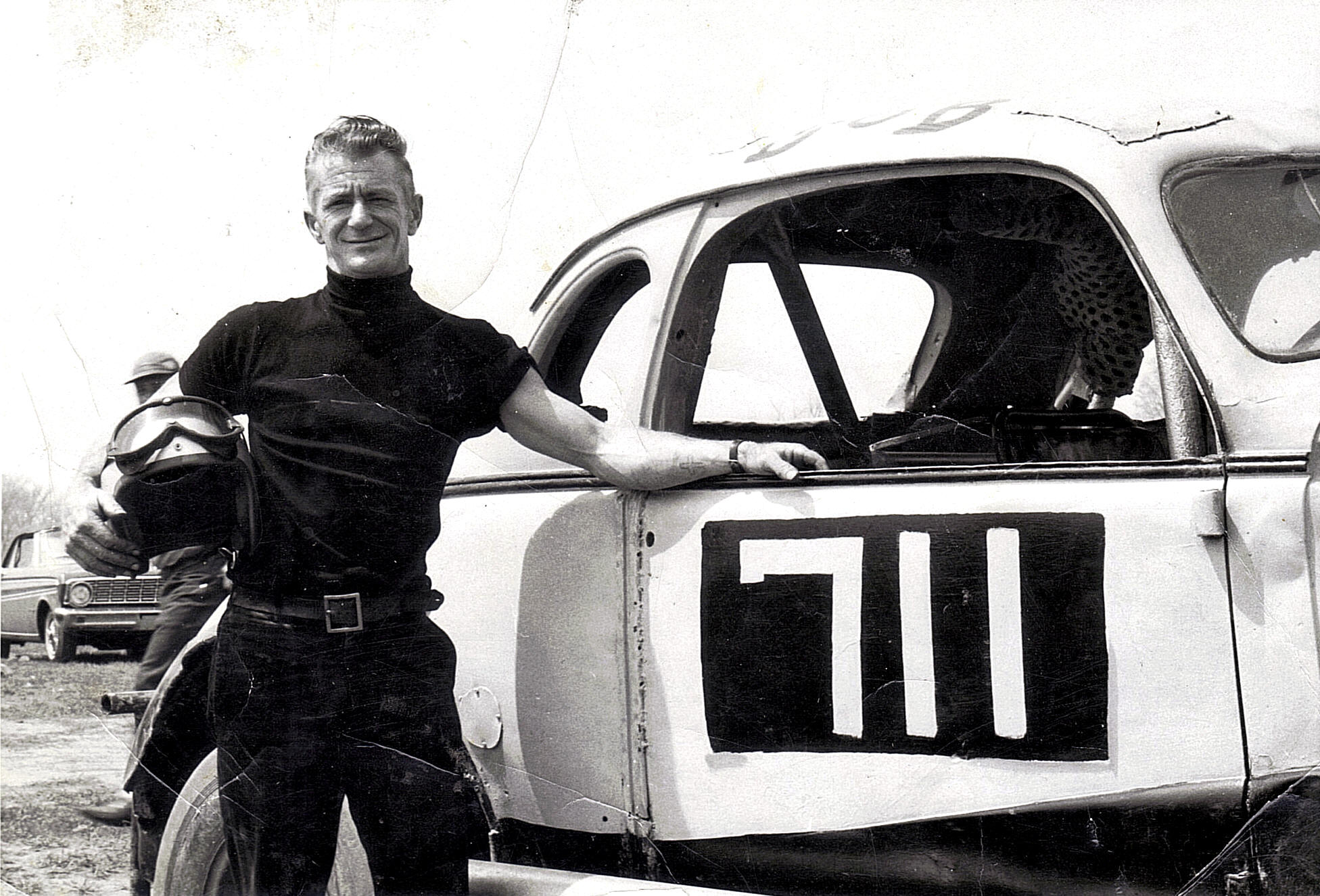 Courtesy of Mike Richards
Bob had put considerable work into the car, along with an overhead V-8.
The Harrison debut season was less than auspicious. I don't think he won much more than perhaps a heat or a consolation race; but the muscular redheaded Harrison gave it a good try. He seemed to disappear after that season – until Devil's Bowl Speedway opened in the place of Fairmont in 1967. In 1965 and 1966, local star [and hardheaded conservative] George Rogers, of Castleton, had come out with an ultra – lightened, 6 cylinder coupe that could actually keep up with the overheads pretty well. Apparently, in 1966 - rthe last Fairmont Speedway serason - ROgers had put an overhead into the car.
Rogers would eventually also show up at Devil's Bowl [however in poor health] and have one more glorious run in a 1956 Chevy late model. No one heard much more about Harrison or the lightweight coupe until he showed up at the Bowl with the car, having again converted it over to an overhead car. The car was a snappy white, as Rogers had had it; but, he had a professional letter it up as 711.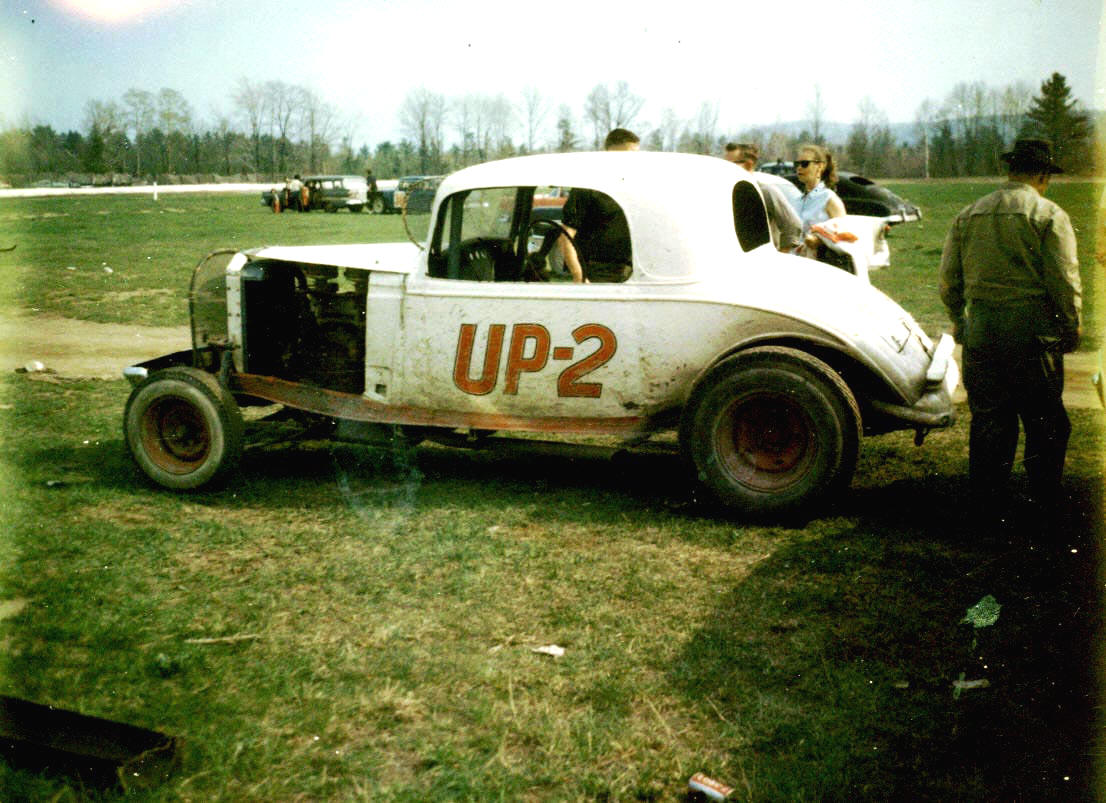 Val Blicarz Photo
George Rogers gave the overheads fits early on in the season with a seriously lightweight 6 cylinder coupe.
Below- Bob arrived at Devil's Bowl with this car around 1967 or 68.

From the CVRA Devil's Bowl Site

Harrison joined a number of other Bowl regulars as a driver of a "used car". Vince Quenneville Sr, having his last season with owner Gael Dundon, had purchased the fast Dexter Dorr Super 29 sportsman coupe, and changed it to their familiar 3 VT. Eventually, Eddie Allen would come out with a former Rene Charland coupe while Chet Doaner would forsake his new Corvair – bodied entry for a Pete Corey sportsman coupe. Ray Richards came up from southern New England with a pavement and had limited luck converting it to dirt. There were others, as well.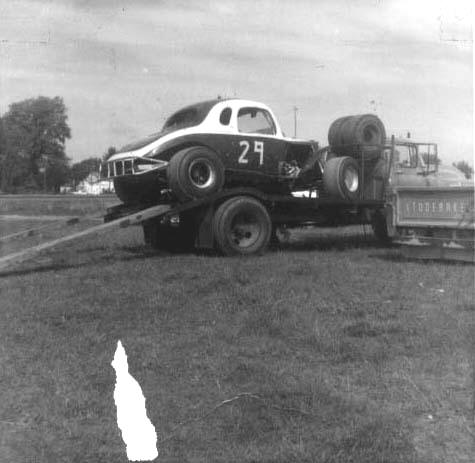 Ted Vogel Family Photo
The potent Dorr sportsman coupe at Fairmont. He ran it all over and sold it to Quenneville and Dundon [Below], who
modified the body and won a lot of Bowl races. The body is lighter and then there is that periscope on the roof.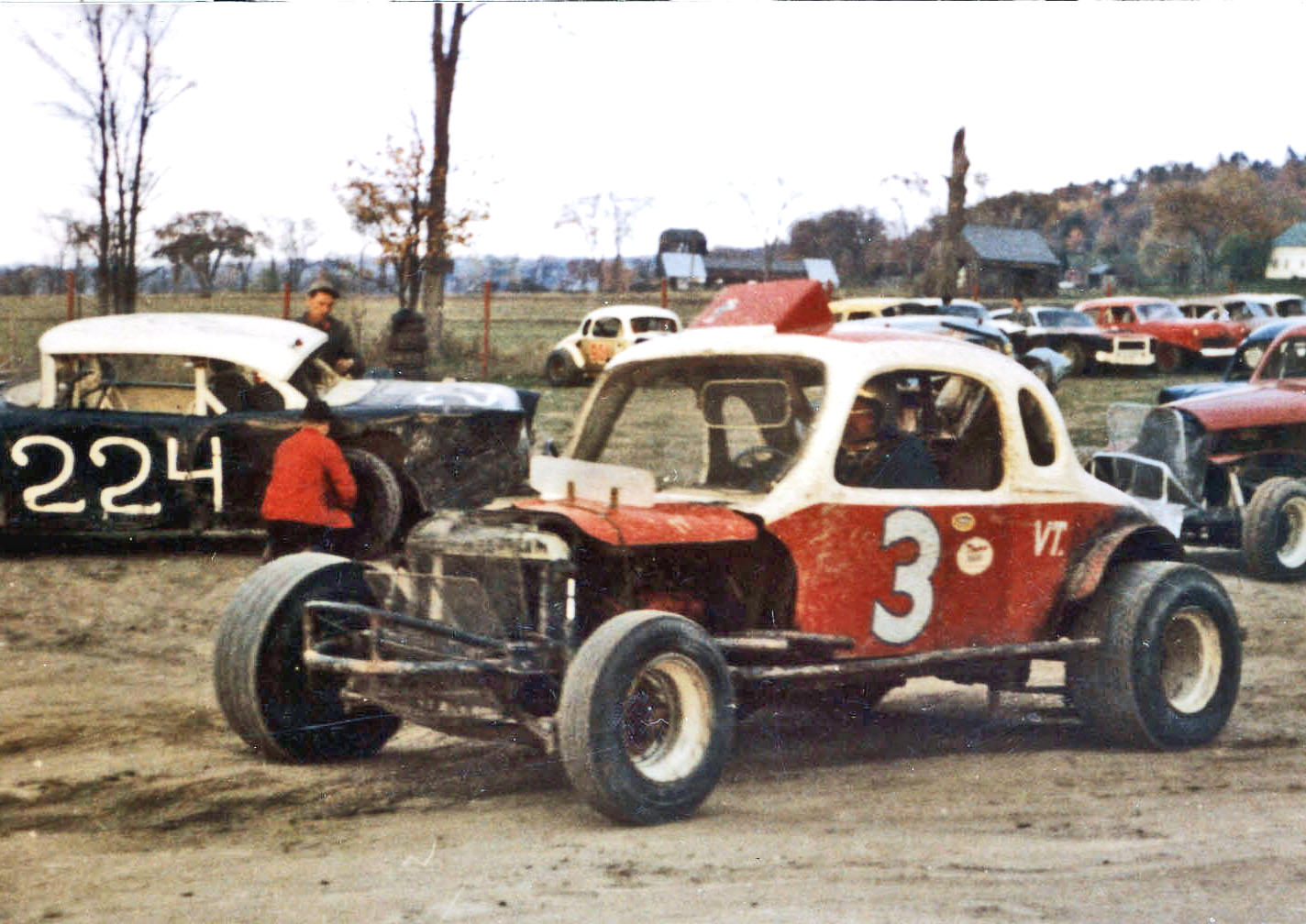 Ladabouche Collection
Bob Harrison would have reasonable success with the former Rogers car, although it was widely thought that, when he buttressed up Rogers' dangerously light cage, he lost a lot of the car's speed. The car seemed to suffice throughout that first Devil's Bowl season, but Bob already had his eyes on another car. He had watched Vince Quenneville become faster and faster with the Dorr – built car. So, when Dundon and Quenneville split up before 1968, the car went up for sale, and – of course – Bo Harrison grabbed it.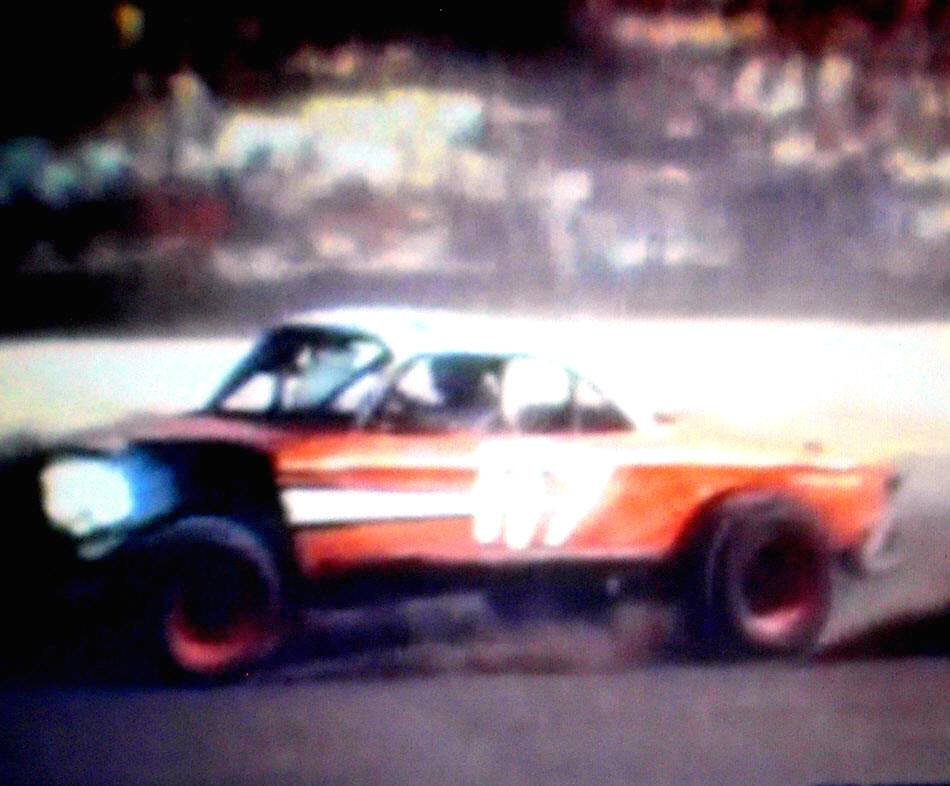 From Dan Ody's 8MMDVD
Harrison appears with this Corvair in the same film as where Quenneville is seen with the Dorr car. So, apparently, the
Corvair was the 1967 season car. I know nothing about it. Below – Bob, withhe former Dorr/Former Quenneville/ former
Devil's Bowl championship car. – likely, in 1969.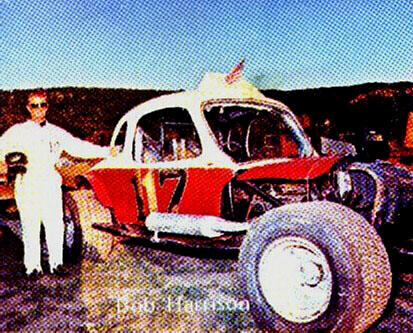 Devil's Bowl Yearbook


That car was a whole 'nuther smoke. Dorr [who would go on to be a leading car builder until his premature death] had constructed an absolute rocket. The car, with a minimal '36 Chevy coupe body left on the frame and a periscope rear view mirror going up through the roof, was a popular and familiar car with the fans. Quenneville, having returned to original car owner Norm Scarborough, came out with an unusal new car, the 38VT, which sported a very long frame. Vince and Norm were on the way to a track title with that beast, and it stole most of the attention away from Bob and his new car.
Harrison would win a few minor races in that season, although the car was becoming pretty worn out. Dorr had run it at Fairmont, Otter Creek, Victoria and maybe even Lebanon Valley before handing it over to Quenneville who drove the bejesus out of it for an entire season. The latest 711, while not really a disappointment to Bob, was only retained one season.I would have loved to see what he did with all of those cars he would used for a season. By now, he had the old Baker car, the old Rogers car, and this Dorr car to do something with.

Courtesy of Mike Richards
Ray Richards bought this sportsman down in pavement country, in southern New England. He and Jimmy Spaulding tried it, with little success, as the bottom photo suggests. This, like Harrison's was one of the D Bowl "used cars". He wrecked with Charlie McMahon in another used car.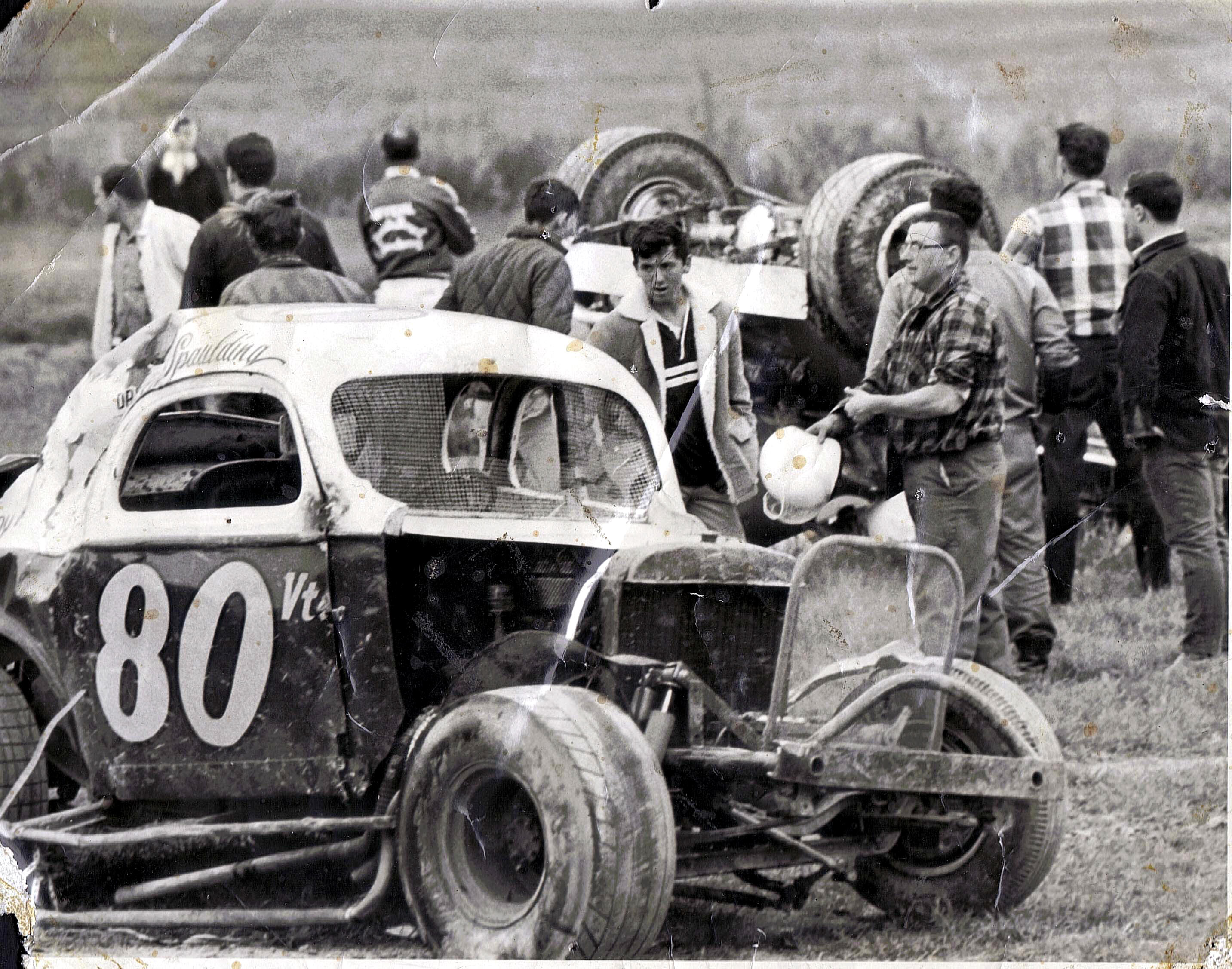 Courtesy of Mike Richards

The two other Harrison cars I know of were doubtless bought somewhere. He had a Corvair – bodied, orange entry for a while in what seems to be the 1967 season. It is seen in some old Devil's Bowl footage, and I think the footage was from that first season there. Not trying to sound disrespectful, but [given Bob's tendencies] I doubt the Corvair was anything he built. He seemed to prefer to use his energies improving proven cars rather than start from scratch. If he built any of his cars, I apologize to his family.
I have no idea how long the Corvair lasted; but the final Harrison car appeared to be a rather menacing – looking sedan – bodied sportsman. Bob appears in the only photo I have of the car, waving the checkers in front of the Devil's Bowl flag stand; so, likely, he won something with it. The car looks familiar, but I cannot place where it came from. I have to say that it is important to have the Bob Harrisons at every race track. – particularly now when the cars last a lot longer.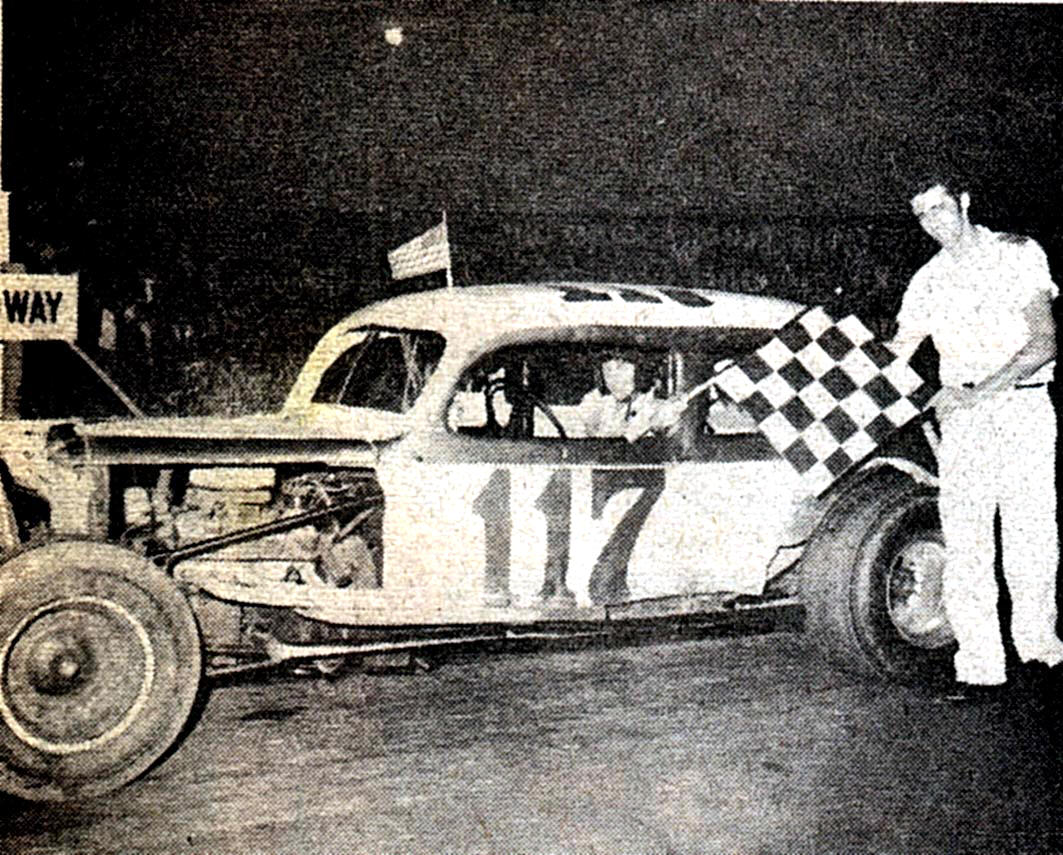 Cavalcade of Racing Photo
Bob Harrison clearly had some luck with this familiar – looking sedan. I never saw it.
Bob took other peoples' unwanted cars and he did very well with them, in some cases improving them. The problem was that, often, when he got hold of one of his cars, the race technology had moved ahead just enough to keep him behind the eight ball. He could drive well enough and he had enough resources to keep the car going; but he usually had a super car from about two years prior. And, in the case of the Dorr – built Quenneville car – it might have been current for the time but it was very well used by the time Bob got it.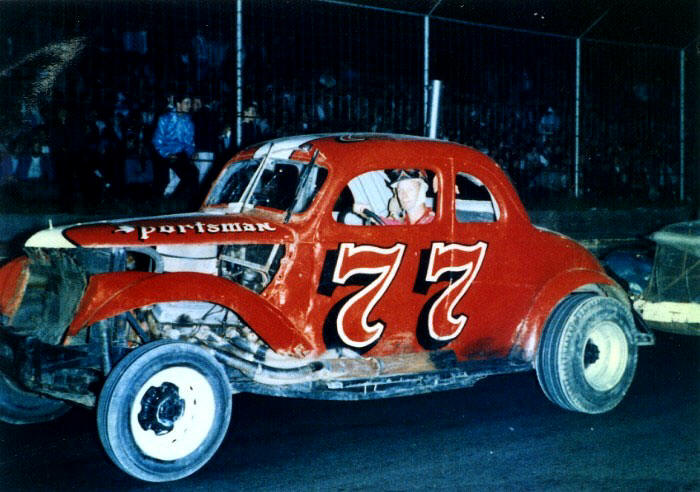 Shaney Lorenzet Photo Ladabouche Collection
Richard Welch's 77 [shown at Stafford with George Baumgardner] was an example of a highly – successful second hand car in the same era as Harrison's.
I moved up to Milton, VT and was not a regular around Devil's Bowl after about 1967, so I do not know when Bob hung up his helmet. I know he was a steady and persistent competitor and I don't believe he ever caused many problems on the track. His brother, Jack, ran a late model car at the Bowl for a number of years, as well [but I think he built his cars]. Racing has, and always will, depend on all the Bob Harrisons to keep it going. Everyone can't be in the Hall of Fame or buy new equipment every year. Today, running someone else's established equipment is way of life for about 60% of the competitors at tracks I go to. Bob was a pioneer of sorts.
Please email me if you have any photos to lend me or information and corrections I could benefit from. Please do not submit anything you are not willing to allow me to use on my website - and thanks. Email is: wladabou@comcast.net . For those who still don't like computers - my regular address is: Bill Ladabouche, 23 York Street, Swanton, Vermont 05488.
AS ALWAYS, DON'T FORGET TO CHECK OUT THE REST OF MY WEBSITE
www.catamountstadium.com
Return to the Main Page
Return to the Main News Page
Return to the All Links Page
Return to the Weekly Blog Links Page