BILL'S [Somewhat] WEEKLY COLUMN/BLOG PAGE

BILL'S BACK IN TIME
By Bill Ladabouche
HARRY'S CARS
One Small – Time Car Owner Helped Kick Off A Major Racing Career
My favorite part of racing is not trying to cross paths with the superstars, and it is certainly not sitting in some grandstands somewhere with a cooler, watching the races on the track. It may cost me a lot more to get into the pits at certain tracks, and I may occasionally get into someone's way; but, I like to be among those preparing those races that the crowd sees on the track.
The best part of all these years of trying to help race teams, painting numbers and ads on cars, and writing hundreds of thousands of words about the sport is getting to become friends with some of those racing people. In a few cases, these friendships became quite strong. Unfortunately, I have lost a number of those close friends to premature, non – racing – related deaths.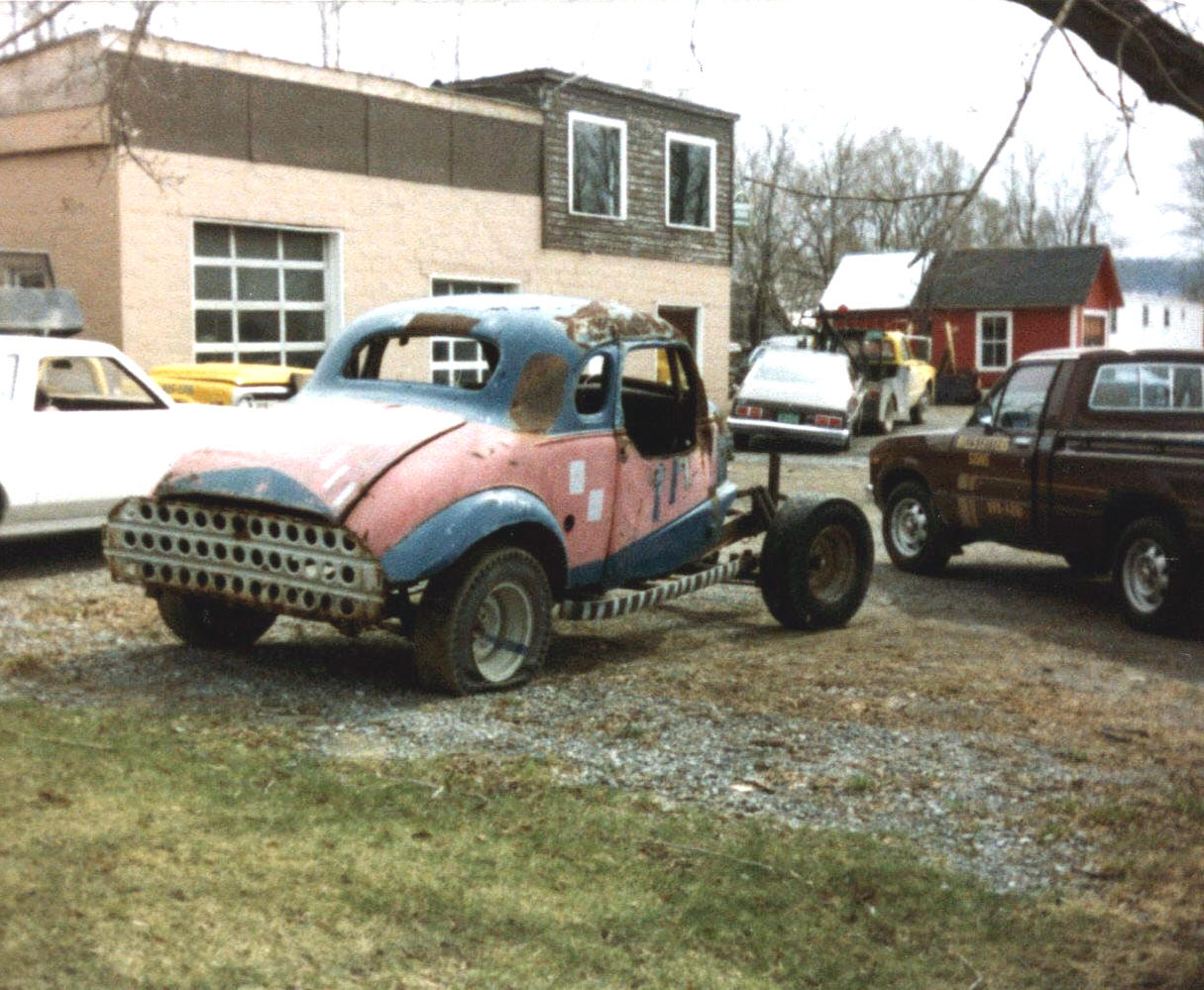 Ladabouche Photo
A look at Harry's garage in North Ferrisburgh. That old coupe was
something he and I wanted to restore before somebody got the
bright idea of crushing it while he was gone.
One such dear friend was known to most people who knew him simply as "Fat Harry". Harry Rathburn was a huge man and an even bigger character. He sold furniture, ran used car dealerships, operated a salvage yard, and God knows what else to make a living a living for himself, Jackie, and their son, Bob. He also needed to keep that street rod in good condition.
When I knew Harry and got to see him the most was when he operated a used car business and lived approximately where Marcottes now have their tavern and where that used car dealership they run is situated. Harry had quite the setup there, by where the Vermont D.O.T. used to have scales on Route 7 in North Ferrisburgh. He ran his business, which included getting cars out of the South [a business I was in on with him and Jim Barton]. He also sub – rented one building to imported car mechanic and race driver Mike Richmond.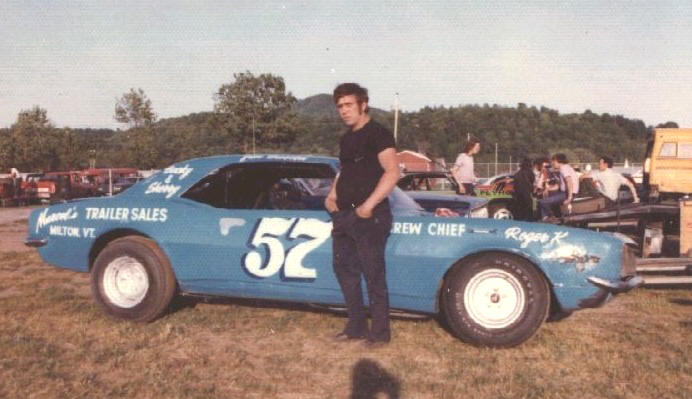 Ladabouche Collection
Jim Barton [with his first GA Camaro at Catamount] and Mike Richmond
[below] both served as prompts for Harry to build race cars.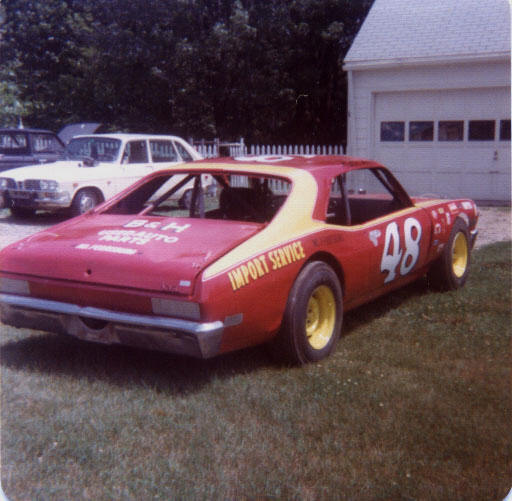 Ladabouche Photo
After his friend, Jim Barton, built his famous blue Camaro as one of the first entries in the six cylinder Grand American class at Catamount, Harry eventually got the urge to have an entry himself. But Harry, being Harry, didn't stop at AN entry – he built two Camaros. I was not always around the construction process, but Harry had a number of friends in that area who were real experts in that task, while he was not.
Among those immediately available to lend help or advice were both racing Therrien brothers – Randy and Don; noted crew chief Kenny Bucklin, Richmond; Barton; and a number of others who were either racing at Catamount or knew how the job should be done. So, while not overfunded by any means, the Camaros were well built.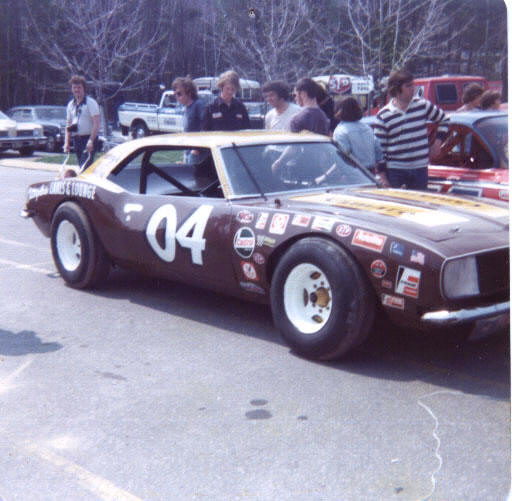 Ladabouche Photo
Harry's two cars on display at the Zayre car show. The gang around the
04 includes Greg Lyman, Brad Wright, Randy Chapin, Joe Myers, and more.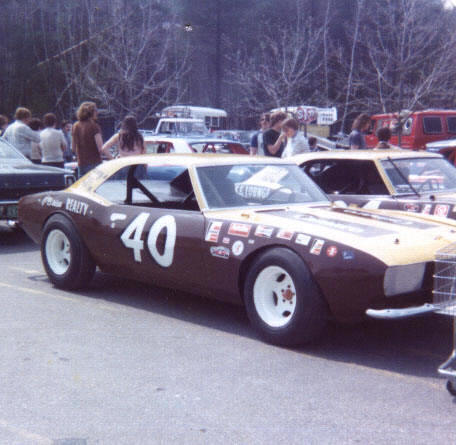 Ladabouche Photo

The two cars would be painted yellow and brown, and numbered reversely as 04 and 40. I think I recall where the 04 was the first car built and the lead car on the team. Being very involved in the sign business at that time, I got to letter up the two cars. Harry was able to secure some sponsorship from such as Champlain Lanes and Lounge in Shelburne, and a local realty firm.
Soon after the cars were ready, Harry put together the hauler du lour – a school bus. Zayre Department store where University Mall is now located] speaks volumes about the circle of friends and supporters Harry had. In that one shot, I can identify Greg Lyman, Sr., Joe Myers, Randy Chapin, Brad Wright, and two more guys whose names escape me but who were very integral in the support classes at Catamount.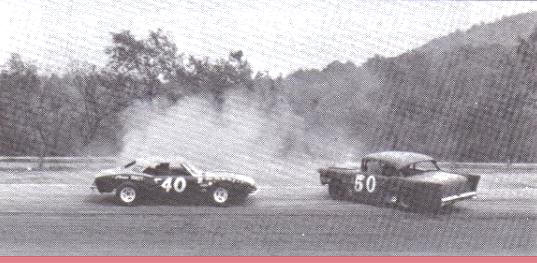 Courtesy of Andy Boright
Harry's 40 car [driver unknown] spins with Jerry White's hurricane
entry around 1976 when the classes were lumped together as
limited sportsman cars. Below – The same car is involved in a
shunt off the backstretch as Leon Gonyo's first car [4NY]
comes onto the scene.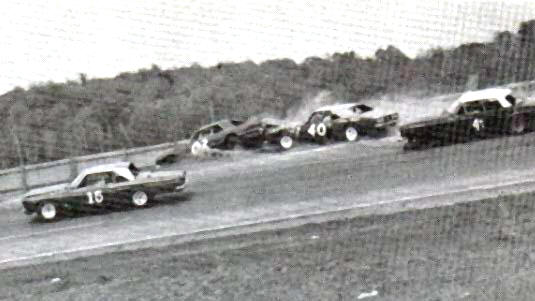 Courtesy of Andy Boright

Harry, if I recall right, did try a stint at driving one of the cars – although it wasn't to his choosing. Being a large man, it was hard to fit comfortably into the small interior of one of those Camaros with all that bracing. The two cars, which were all but indistinguishable to all except the expert eye, had some noteworthy drivers over the course of their brief lives. I can recall Kevin Boutin, Sr. as one who took a turn at the wheel, as well as Greg Lyman, Sr. Both these men have gone on to see sons carry on in racing.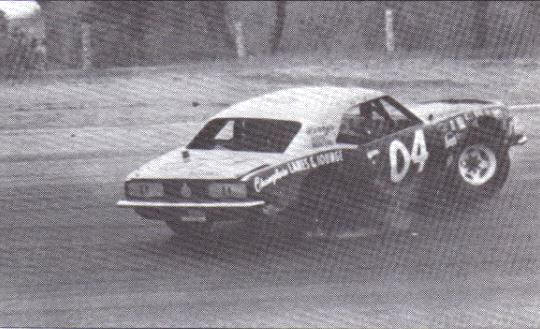 Courtesy of Andy Boright
Harry's 04 [again, no idea of driver] spins after losing the
rear wheel. Below - Al Gover apparently not only retained
Harry's colors, but he seems to have kept the sponsorship and
Harry, as well.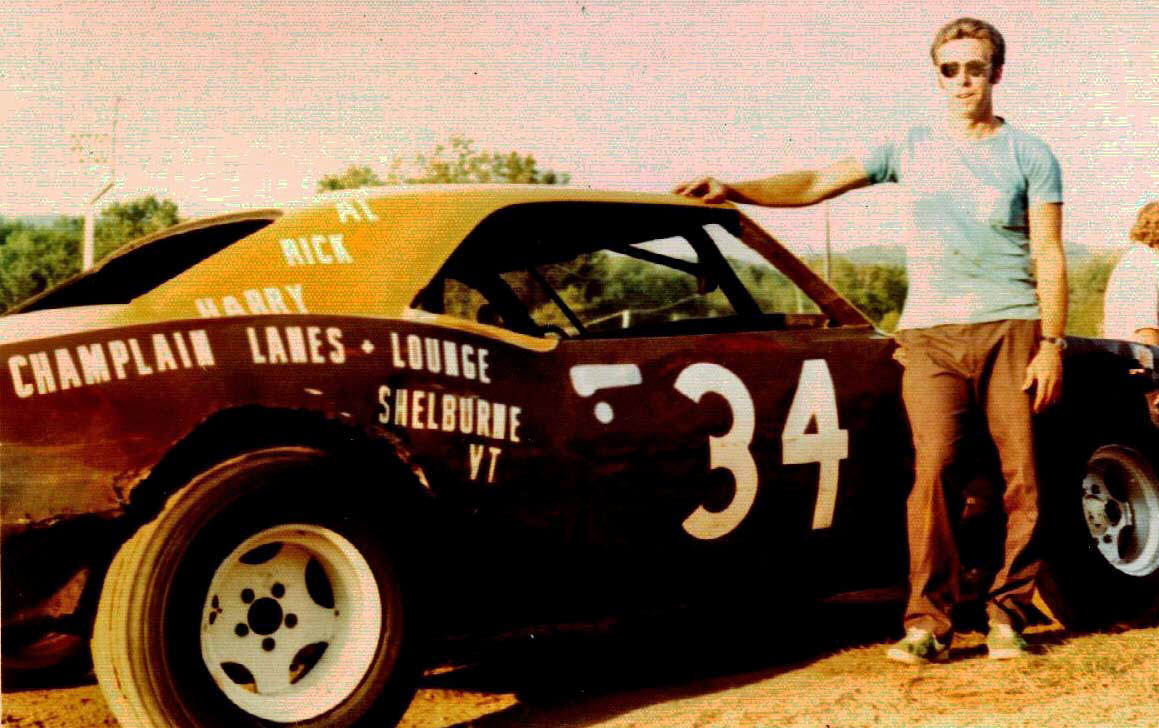 Ladabouche Collection
Another driver who I think drove for Harry was future Burlington High School tech teacher Ed Companion. The cars did not accomplish anything too remarkable either at Catamount or Thunder Road. Their most famous [or perhaps infamous] chapter seemed to be the "Southern Tour" that Rathburn and Jim Barton went on around 1976 whereupon they decided to invade Monadnock Speedway in Winchester, NH. Don't ask me why – I doubt they even knew why.
I had the poor judgement to actually go along on this adventure, leaving the relative sanity and sanctity of home to ride along with Harry in his Lincoln Continental tow car. I don't recall why the bus was not in play for this effort. With Barton roaring on ahead with his Dodge pickup with the lake pipes, the tour de force got down to southern Vermont only to find that June flooding had all but destroyed the highways needed to get to Monadnock.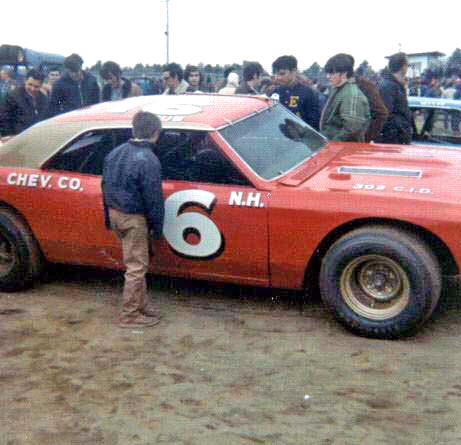 Ladabouche Photo
Larry "Froggie" Woods stares into Stub Fadden's first version of
the H.O. Taylor Chevelle at Catamount's Spring practice day around
1974. Little did he know the chaos that was to follow years later. Below -
I recall being fascinated with the black coupe of Dave Grantz, running
in with the modern modern modifieds at Monadnock.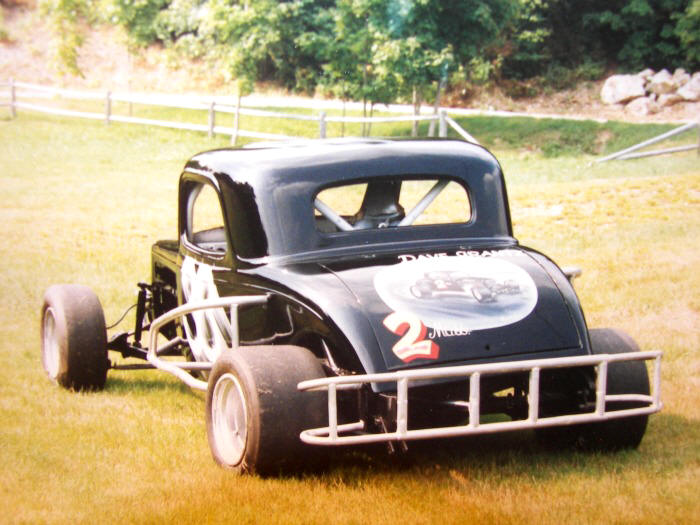 |
Courtesy of George Hill
Would a sane person turn around and forget it ? Hell yeah ! Did they ? Hell no ! By the time we had struggled down one particular secondary road, Harry's trailer had been banged up so bad only the Camaro on it was holding it together. Staying overnight in Keene, NH with that gang was another ordeal, with me rooming with a former student of mine, Larry "Froggie" Wood while Barton and Harry tried to outdo each other in screwing up each others' rooms. The wives weren't all that pleased and finally made the two wild men room with each other.
When we actually got to that sand pit that was Monadnock in those days, we found the cars were legal, but no one could race without a driver's suit. Naturally nobody from Vermont had one. I have to admit reaching the safety of home was a relief, especially considering we never did fix the trailer we were hauling. Harry, being who he was, nearly tore one of the rear suicide doors off the Lincoln at one stop while loudly proclaiming he had to take a s--- in the loudest imaginable voice. If you knew Harry, you just shake your head yes, knowingly.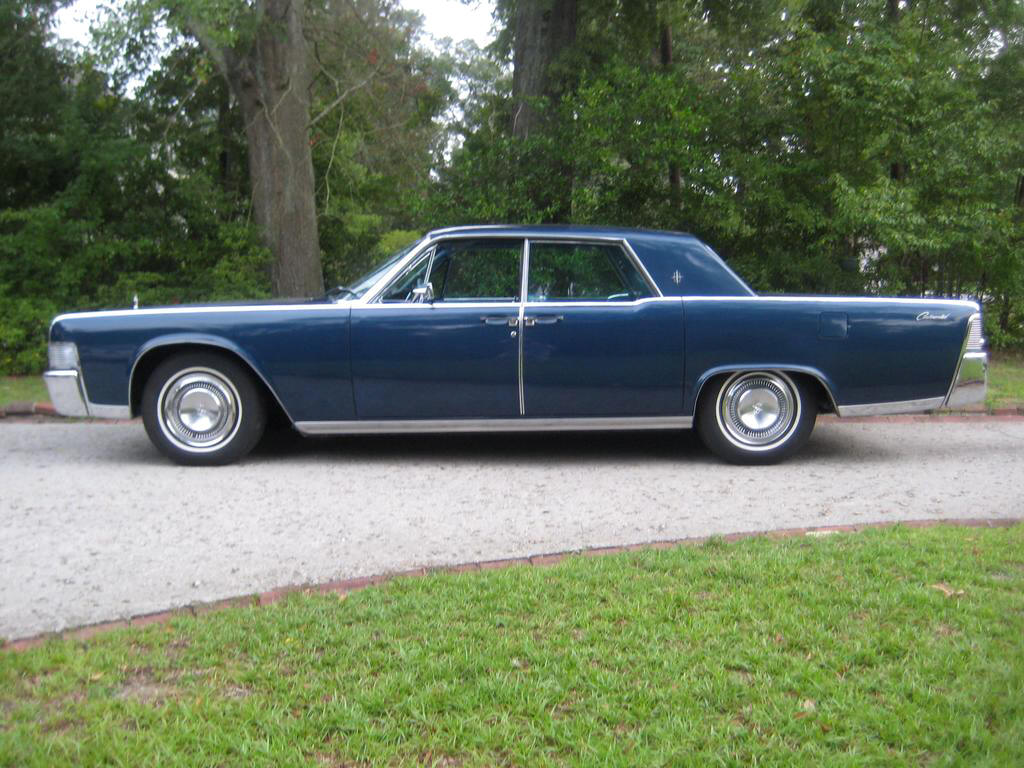 Cardoman.com
We almost lost the rear door off the Lincoln because Harry had
heard the call of nature. Below – Jamie Aube, with his first car,
the once – attractive Larry Warren Chevy that had already been
two other owners.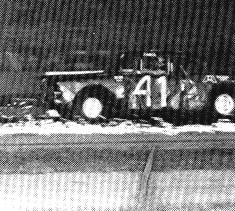 Courtesy of David Turner


Eventually Harry either tired of this project or he needed money for some other venture. At any rate, the two Camaros were shown as up for sale. The school bus went in one direction, and the cars each went their separate ways. The first buyer was Alvin Gover, a veteran of the Catamount Hurricane division whose gigantic Chrysler was now obsolete [as the Hurricanes had their one year phasing out period and that was over]. I really think Gover got the 04 car. He did little to change the appearance, merely placing his number 34 on the sides. I don't really recall how much luck he had with the Camaro. I do remember brother, Sonny's Camaro that came out about the same time because it was one of my favorite lettering jobs ever.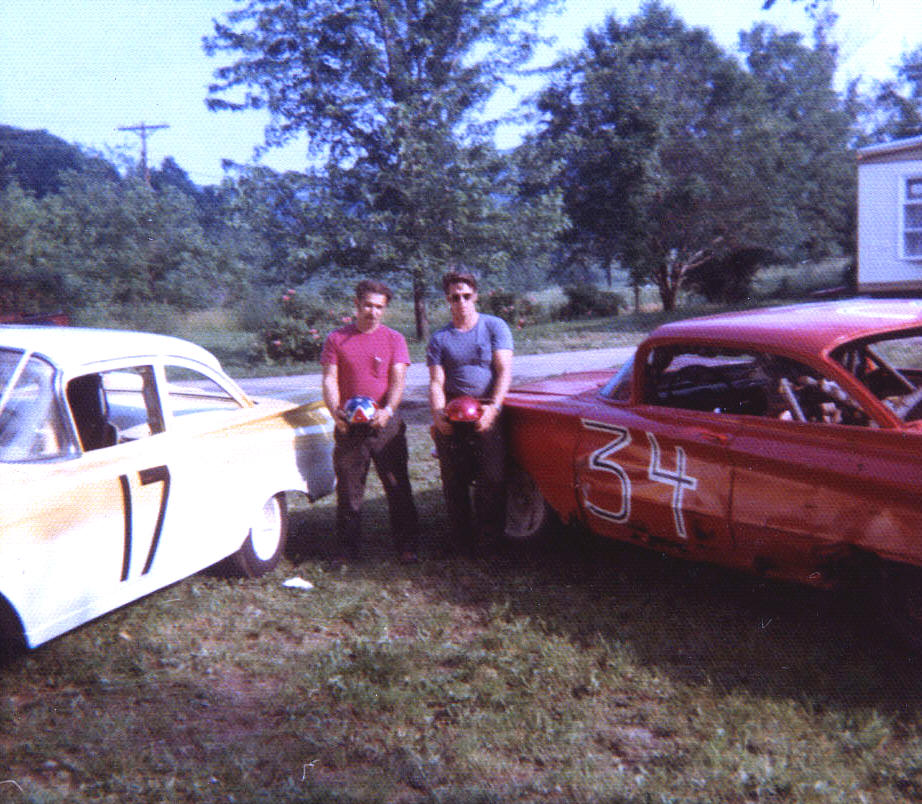 Courtesy of Chris Companion
Alvin Gover [rt] and brother Aymer "Sonny" Gover had both
started out in the Hurricanes. By 1976 each had a six cylinder
Camaro. Below – Sonny's Camaro [and one of my favorite
lettering jobs].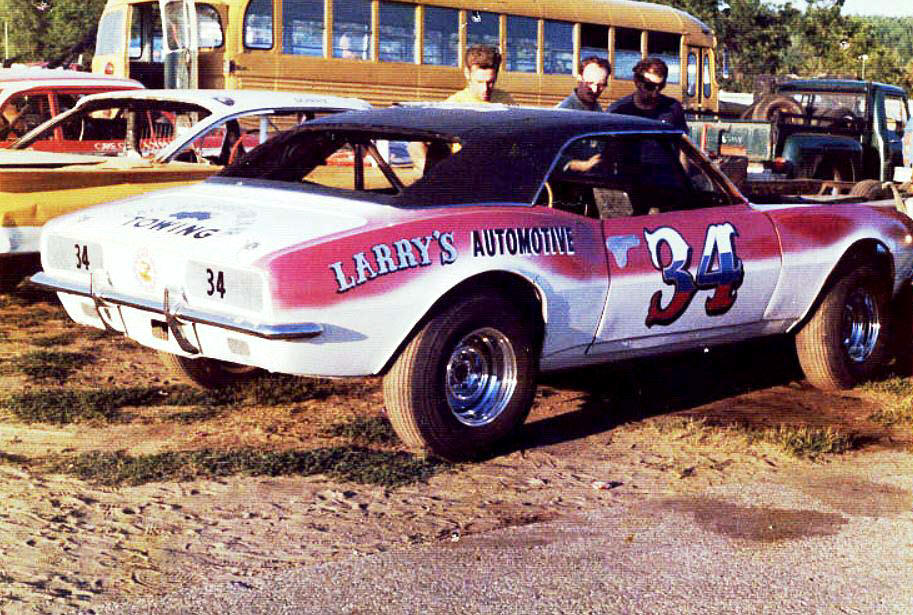 Ladabouche Photo
The other Camaro is a bigger story. A young farm kid up the road from Harry's North Ferrisburgh dealership had been interested in racing for a while and had actually taken a stab at it while the Hurricanes were still legal.Jamie Aube, with help from his twin brothers Peter and Paul, had bought the former Larry Warren '57 Chevy [one of the first really well built Hurricanes] and had run some races just before those eight cylinder, automatic transmission cars were soon to be put out to pasture by the track.
Now Aube had a pretty competitive [and legal] car to run. Having me keep the basic number style, his used the number 41 – which would become his trademark number throughout his career. Jamie speaks of how the lame duck Hurricanes were not that happy with the lighter Camaros and would bash any of them that they felt they could get away with. The year previous, they had already learned not to mess with the hard as nails Barton; but they thought this young North Ferrisburgh farmer would be easy pickings.

Courtesy of Andy Boright
Jamie Aube had Harry's 40 car and – like Alvin Gover – had kept both the
sponsor and Harry's name on the car. But, the colors were now blue
and maroon. Above – He pulls off a GA win at Thunder Road. Note he
had added another sponsor of his own. Below – Already having bigger plans, he had the car up for sale.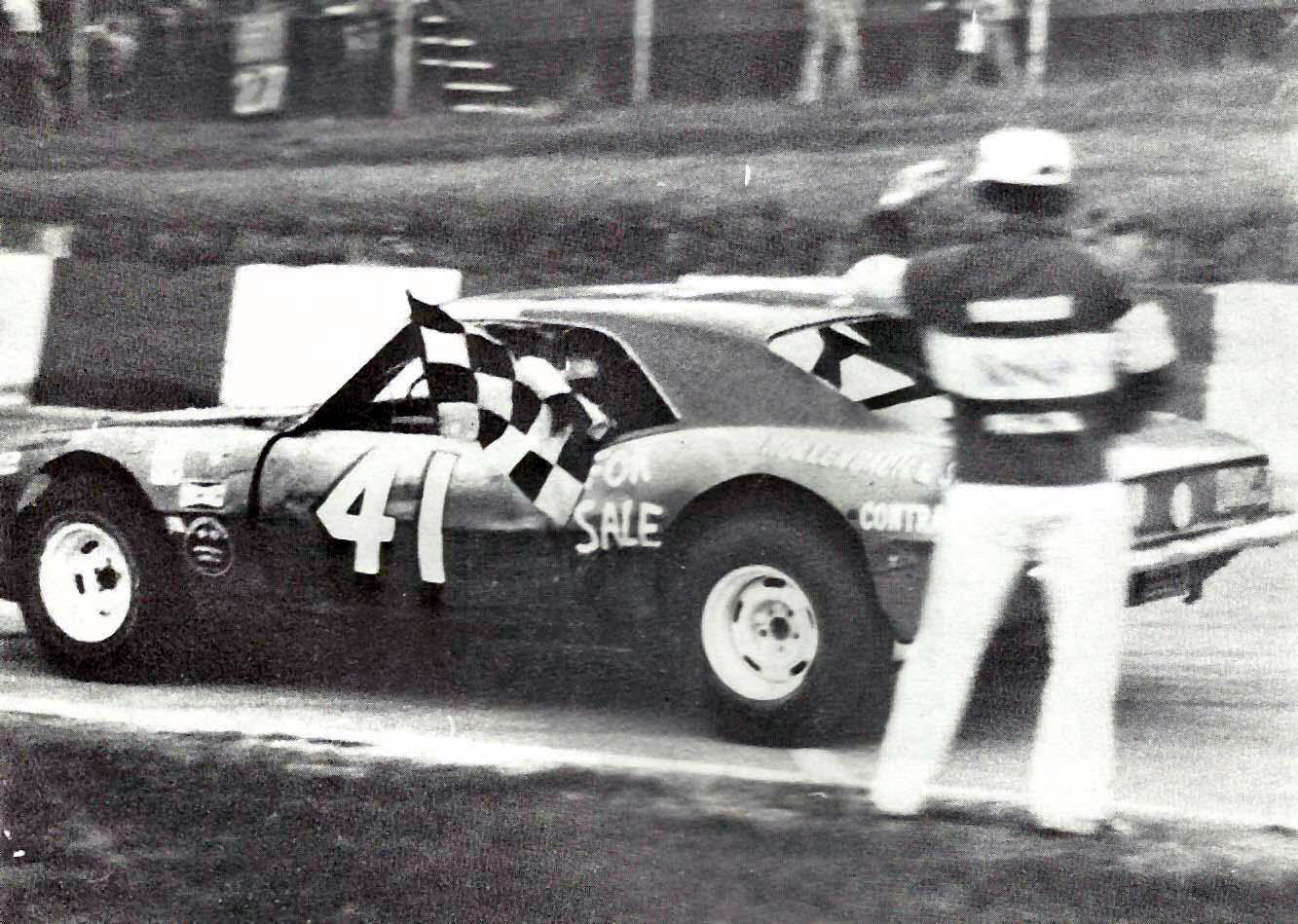 Courtesy of Walter Newell

Jamie was pounded around a bit [when they could catch him] until he and friend Lyle Yantz [of the fightin' Yantz brothers] helped the perpetrators understand it wasn't a very good idea. Today it is still not a great idea, but Jamie is a little more diplomatic at first. The 41 Camaro was fast, and I can still form an image in my mind of Jamie sawing at the wheel of that car, getting all he could out it.
The Grand Americans were not going to be an easy division to stay in, as certain teams were way ahead in six cylinder development. Larry Caron, Richard Buzzi, and Tom Waters all had well – funded rocket ships that were hard so hard to catch that one car owner went all the way out to the Midwest and came back with a Howe chassis Camaro to try and compete. Aube, Lyle's brother jay Yanta and his Mustang, AMC drivers Dave Gibbs and George McRae, Henry Van Acker, and others helped make for great racing in that class, but Aube could see he might as well go up to the late models if he was going to spend a lot of money.
Of course, most people know the rest of that story. Aube would start with a former Moe Dubois Nova and end up building an impressive late model sportsman career, culminating with a great sponsor/ownership setup with the Avery group. He would go on to a brief run with the American – Canadian Tour platic pony cars before switching over to the NASCAR Busch Grand National North tour, where he would win two championships. He also drove in NASCAR's truck series. He is still active in the late models today, mostly at Devil's Bowl.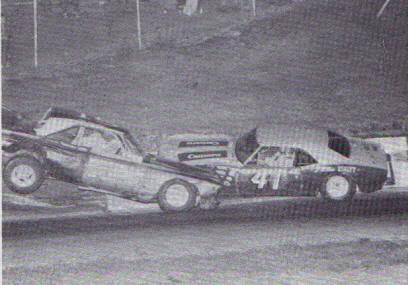 Courtesy of Andy Boright
Jamie Aube having a run – in with one of the lame duck Hurricane cars.
Below – This seemed to put an end to the other Harry car.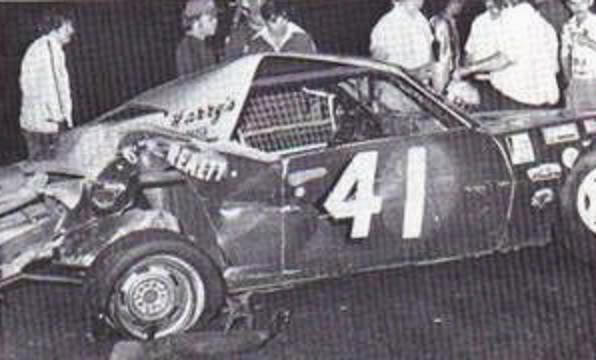 Courtesy of Andy Boright


I don't know where Harry's Camaros ended up. Several of the Grand American cars ended up in the later "New Flying Tigers" class, that included totally new cars, as well as former GA's and former street stock cars. One or both of Harry's cars could have come back as a Tiger; but I really just don't know. The most famous survivors of the GA class were the 16 of Joey LaQuerre which had been built by Ray Lasnier and driven by him, Joey Myers, and Norm Andrews; and one of Dave Gibbs' Javelins.
Harry no longer went to the races. His buddy Jim Barton did race on and off until he was felled by cancer at too early an age. Not too far from hearing that news, I learned of Harry's passing, as well. I was not going to races at the time and hadn't run into either of them for years. Like Barton, Harry Rathburn left a legacy where – to put it simply – no one could find a bad thing to say about him. What more can anyone ask for ?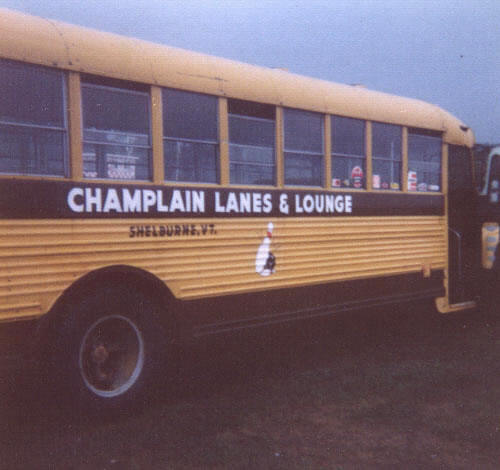 Ladabouche Photo
Harry Rathburn was ahead of the curve in the support divisions on how he cultivated his sponsors. I can't
recall another specially - sponsored hauler until the days of Lepage and the EJP double stacker.
Please email me if you have any photos to lend me or information and corrections I could benefit from. Please do not submit anything you are not willing to allow me to use on my website - and thanks. Email is: wladabou@comcast.net . For those who still don't like computers - my regular address is: Bill Ladabouche, 23 York Street, Swanton, Vermont 05488.
AS ALWAYS, DON'T FORGET TO CHECK OUT THE REST OF MY WEBSITE
www.catamountstadium.com
Return to the Main Page
Return to the Main News Page
Return to the All Links Page
Return to the Weekly Blog Links Page