THE BILL'S BACK IN TIME COLUMN PAGE
Copies of my column in Mark Thomas' "Racin' Paper"
Column #3 [All previous columns unavailable]
BILL'S BACK IN TIME
By Bill Ladabouche
A TOUGH GUY WITH A HEART OF GOLD
Airborne Speedway Renegade division competitor Kevin Boutin, Jr. spent the 2005 racing season running his black #25 with a special message on the side: "In Memory of Jim Barton". I suspect this is primarily because Kevin Boutin, Sr. was one of those who was lucky enough to be included in the huge circle of people Jimmy Barton called friends. So was I.
That circle extends to thousands of people, whom Jim either spent a large amount of time or whose lives he may have touched only briefly. One thing is for sure – no one who ever entered the circle ever came out the same person – nor, did they ever forget Jim again.
I first met Jim Barton when I was just beginning my sign business, which made a lot of its early revenue lettering support division cars for Catamount Stadium. Jim and his brother Ricky had just gotten hold of Dave Companion's 1962 Chevy Hurricane car. Companion, being from the Burlington area, had acquired the services of legendary sign painter Irving Steckler [or simply Steck to most people] to do a quick and simple job on his bright yellow car; and the lettering was still there when Jim bought the car.
!

Courtesy of Lonnie Terry
Jim's first car still had the numbers from Steck, and my lettering – to boot.
Jim didn't even really know me at the time, and I tried to convince him that having Steck graphics was better than anything I could for him, but he insisted on giving a struggling neighbor a chance at getting another stock car in the spotlight at Catamount. Jim was satisfied, and the brief time he had that particular time gave me some good exposure [and a great friend for a long time]. After that, we took those Steck numerals [#57] and used them – not only on every other car Jim ever ran, but also they largely were used to create the #75's on Beaver Dragon's best late models in the late 1970's.
Barton had his best success at the end of his career, but he ran the majority of his races in the six cylinder Grand American division at Catamount and Thunder Road. He had nifty little Camaros, in the familiar Barton blue, and he was one of the division's first and most loyal participants. This long run in the pony cars would develop friendship with Richard Buzzi, one of the winningest drivers in the class, and his band of Barre natives. The Barton / Buzzi gang, of which I proudly include myself, was one of the craziest and most fun groups of people I ever knew.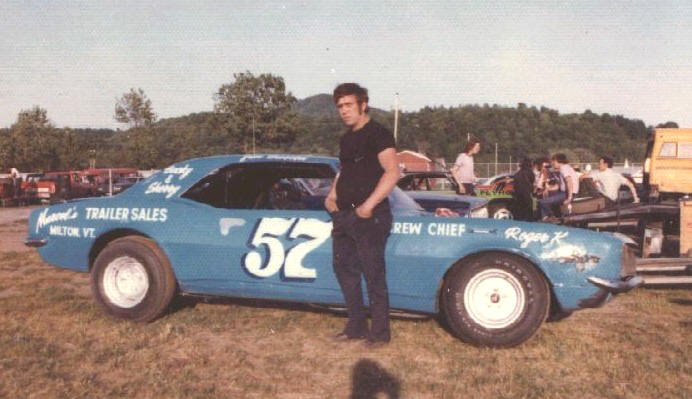 Courtesy of Lonnie Terry
Jim will always be remembered for his little blue Camaros.
Jim was a powerfully – built, rough – around - the - edges sort of guy who worked his butt off and planned to retire at age forty, as a result. He may have except for two things – the racing and the fact he discovered that operating a salvage yard was much better than working for someone else in a tire store. So, around the time he could have retired, he started up a successful auto parts business somewhere in Addison County [I was never sure where].
Jim was a bear of a man, right down to a sort of growling voice that almost hinted of a French accent. He lived life full throttle and he had a nickname for everyone. Although I was about his age, I was always "Dad". Jim raced with the Caron brothers, with the eldest, Larry, being one of the most successful runners ever in the Grand American class. Barton decided to call Larry "Money Bags" for the rest of his life – probably in deference to Caron's shrewd business sense with Caron's Auto Body. Younger brother Dennis Caron, who remembers Barton with particular fondness, was dubbed "Little Buddy", and that name would stick right to Jim Barton's last few days.
The Barton crew changed, from time to time, but the nicknames never did. Brian Rogers, whose son now races Renegades at Airborne, was "Bruiser"; and young Larry Wood, whom Barton had taken under his wing, was "Frog". Jimmy had a few names for people we won't print in this column.
Barton was considered a success in the Grand Americans, although I am not sure he won many features. However, when Catamount introduced the Street Stocks around the end of the 1970's, he watched for a year and then decided to join in. Many of his buds were in the class and it would take up less of his increasingly-busy time. Jim was made for the rough and tumble streets. He ended up winning the points championship there – definitely the top accomplishment in his racing career. He had bought a Pontiac Grand Prix from Richard Caron and had repainted and re-lettered it to the familiar Barton blue.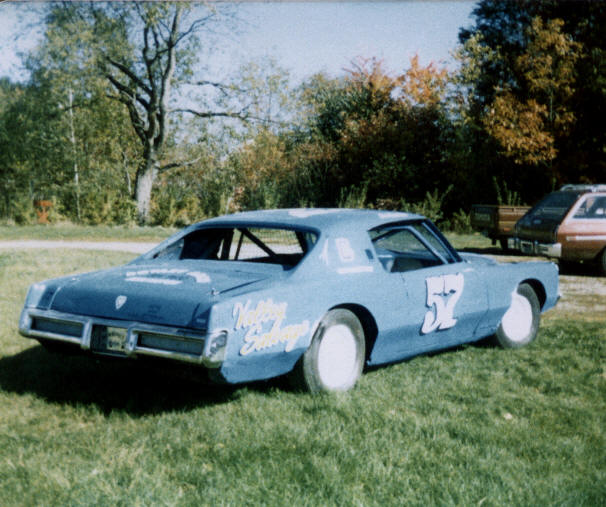 Bill Ladabouche Photo
The Barton blue Grand Prix street stock with which he won the title around 1980.
Jim Barton has particular things about him that stick in your memory. He would drive around in this green Dodge pickup with dual exhausts that emptied out right underneath the box, creating a deafening roar wherever he went. Jim and Roger Kendrew, his inseparable cohort, were famous [along with Ricky] for hovering around the yearly demolition derby at the Champlain Valley Exposition to scavenge the demo cars after the event was over, They would haul the cars just outside the fairgrounds, thereby laying legal claim. Then they would take the entire night to haul dozens of the hulks home to strip them of useful components. The boys made a ton of revenue on this little marathon.
The six cylinder Grand Americans may have been the niftiest division Catamount ever chose as a support to the frontrunners. The cars rapidly evolved into verysmooth little racers, but the costs began to rise rapidly. Finally, one team blossomed out with a Howe chassis and a big-name engine – and the whole thing went to hell. It eventually was an important factor in the creation of the "new Tigers", which are today's Tiger Sportsman cars. A lot of fun was had during those few Grand American years.
One event sticks in my mind when I think of Barton and his effect on the Grand Americans. It was decided, in 1976, to make the infamous "Southern Tour", which consisted of invading Monadnock Speedway in Winchester, New Hampshire. The relatively new track sat south of Keene, and getting there would not be easy, seeing as many roads had been washed out by late Spring flooding a few weeks before. Barton would load his crew, me, and most of the family and join up with our good friend "Fat Harry" Rathburn, who brought one of his brown and yellow Camaros along.

Photo Courtesy of Andy Boright
"Money Bags" takes his famous six cylinder Nova onto the Catamount racing surface.
Rathburn, by himself, would have been a cultural shock on the New Hampshire countryside, but the Barton brothers and Rathburn's driver, Kevin Boutin, Sr. were equally crazy. We arrived at the track with Rathburn's trailer being held together only by the car it was hauling. This was due to the hastily – patched roads in Southern Vermont. After terrorizing a local motel, the Vermont contingent arrived in the pits only to find the drivers in New Hampshire had to wear fireproof uniforms. Before two guys in the hobby lass knew it, they had given over their suits to Barton and Boutin, and the race was on.
We arrived back in Vermont with Harry's trailer still held together by the #04, and missing a rear door off his old Lincoln Continental. He had taken off with the door still open, yelling "I gotta go somewhere and take a dump !" and tore the suicide door off a nearly parking meter in Keene. The officials at Monadnock allowed as though it was nice to see us but they'd rather we didn't return. Can't imagine why. One of Barton's crew had almost managed to run off with some competitor's wife and a near melee had been averted when we had to pit off by ourselves.
Leaving for the races had always been an adventure with Jim and Ricky Barton. In the early days of Catamount, they simply drove their cars to the track, using the unfinished portion of Interstate 89 by the track. A few times, they didn't even bother to use the interstate – they just drove down the road. Next door neighbor Cliff Turner, a crafty wheeler and dealer with a taster for the demon rum, would often stand nearthe fence with both arms raised to the sky, intoning "RAIN !!! you f-----r !!". Invariably, we'd get rained out. Barton took to sneaking the team out of the driveway.
Another time, we had to go into Milton's infamous "Aluminum Ghetto", Birchwood Manor Trailer Park. To get one of the crewmen. Well, it seems that his wife took exception to her husband's leaving that particular night, and the unmuffled Dodge pickup careened through the narrow streets of the park, with 22 calibre bullets pinging off the box, the race car, and the trailer. Few Birchwood citizens even looked up.
Barton gulped up life at an outrageous rate. He would sit down while Pauline fixed him a dozen eggs in one sitting. He could down auspicious amounts of alcohol, and he smoked the same way. The gruff exterior hid a generous nature. There was continuous traffic to and from both his garage in Milton, and his pit area on a race night. People could expect help and – if needed – donations to keep their own race programs going. One evening, after an exchange of words, Jim had run across the pits and knocked a vocal newcomer to the ground after the guy [who we all know] had said something to Jim. Not one week later, Jim was helping the guy change tires on his race car.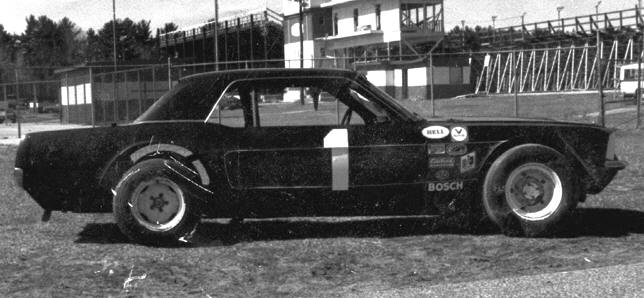 Photo Courtesy of Lonnie Terry
The Mustang of Red Mead was typical of most of the Grand American cars.
The voracious appetite and the over-zealous work load finally caught up and Jim ended up with cancer. He battled as hard as he lived… and he never changed his personality. He would have visiting friends sneak him out of the oncology unit to smoke. Dennis Caron remembers one of the final weeks, when Jim said to him, faintly, "Little buddy, get me out of bed. I wanna a cigarette."
People still discuss Jim Barton at Airborne and at Thunder Road. There have been more than one team that has had some sort of a message in his memory on their car or hauler. Residuals from Jim Barton keep the spirit going on the race track. Brain Rogers, Jr., and Kevin Boutin , Jr. drive Renegades at Airborne, and Brian Kendrew, brother of Jim's friends, is a crewman on the ACT late model circuit. Jim and others like him may be leftovers from a past era, but they left us way too soon. We remember ya, Jimmy.
Please email me at wladabou@comcast.net if you have any photos to lend me or information and corrections I could benefit from. Please do not submit anything you are not willing to allow me to use on my website - and thanks. For those who still don't like computers - my regular address is: Bill Ladabouche, 23 York Street, Swanton, Vermont 05488.
AS ALWAYS, DON'T FORGET TO CHECK OUT MY WEBSITE: www.catamountstadium.com
Return to the Main Page
Return to the Columns Link Page
Return to the Main News Page