BILL'S [Somewhat] WEEKLY COLUMN/BLOG PAGE

BILL'S BACK IN TIME
By Bill Ladabouche
SOMETIMES RACING FOLKS HIT A CROSSROAD BETWEEN SPORTS



In some cases, some of our best people in the history of stock car racing were much better known in their home towns as stars from another sport. While this is more of an exception than a rule – it does happen more than you think. There was – for the longest time – a guy named Lou Lucier, whose claim to fame was being the oldest living Boston Red Sox player. That same guy, who hailed from Northhampton, Massachusetts, also appeared in the points standings of North Bennington, Vermont's Stateline Speedway. One bio on him stated how he had a strong interest in, and aptitude for, machine work on engines.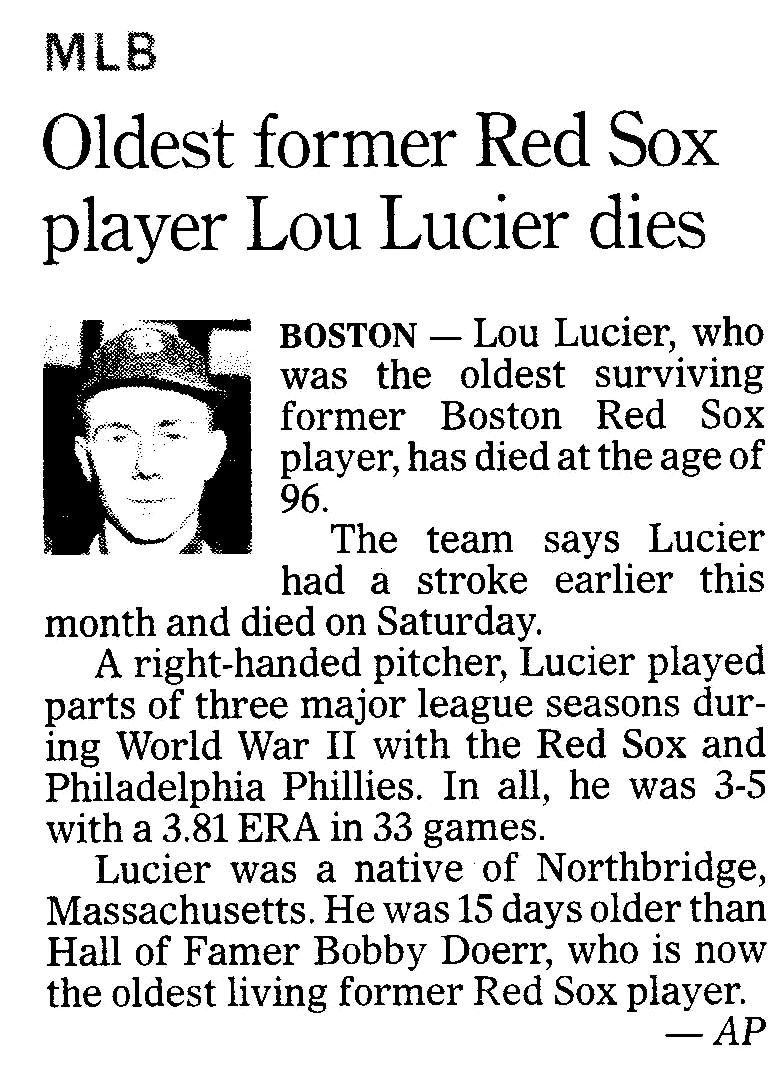 Associated Press Article
When Lou Lucier died, he got credit as the oldest Red Sox player alive. But he also raced at Stateline Speedway around 1955. Below - Stan Timberlake is best known in Maine as a ballplayer, as evidenced by this photo. But he was a darned good Charger driver in that class's first season at Oxford Plains.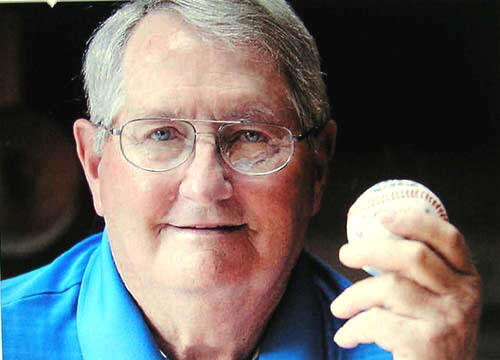 Unidentified Internet Source
We had a couple of very good support division drivers who were much better known in their native locales as baseball stars. One, Stan Timberlake of Turner, ME, had a short but successful career in the Charger Division at Oxford Plains Speedway; I think he was that popular class's first track champion. Timberlake had a plain white 1956 Ford six cylinder charger that simply had a big red apple on both sides. That covered the fact he was sponsored by Turner Orchards and that the car's number was zero. Timberlake would start charger races buried in the back of huge fields and – along with rival, George McKay – would work his way up to near the front every week. Stan was apparently an even bigger baseball star in Maine.
The other, perhaps more famous driver was Waterbury, Vermont's Clem "Desperate" Despault. Despault somehow caught the fancy of the young and well – heeled entrepreneur Ken Squier, who had just built Thunder Road. According to Despault, his first race car – a B Class Studebaker late model, was furnished by Squier. Despault was described by one racing historian as a really first class baseball player in his native Morrisville. Apparently that observer felt Despault's baseball future was comprised by his love of racing.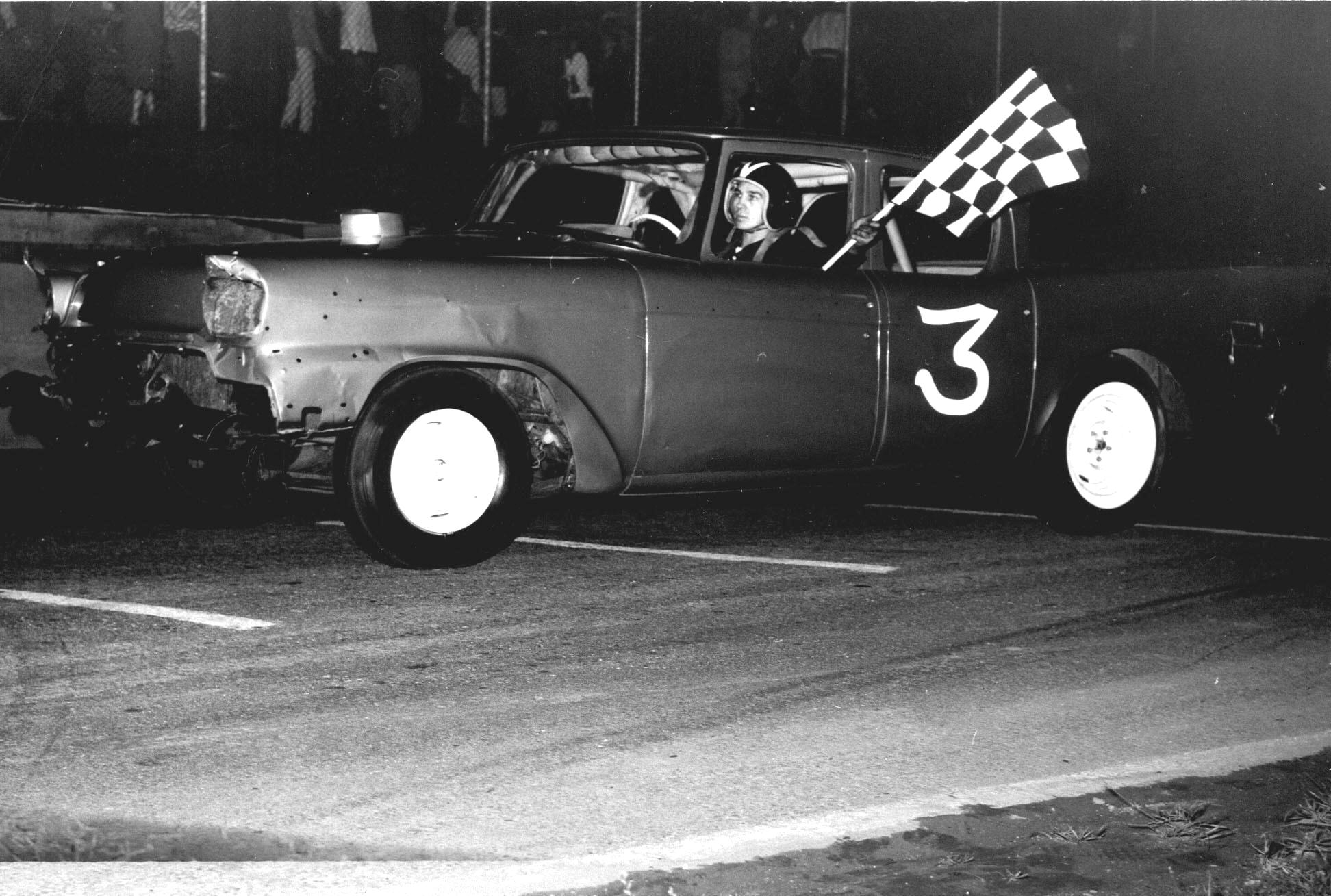 Courtesy of Outside Groove Website
Clem Despault with his first car, a Studebaker from Ken Squier. Below- The familiar Despault Flying Tiger
Chevrolet he had, in varying but similar versions for years.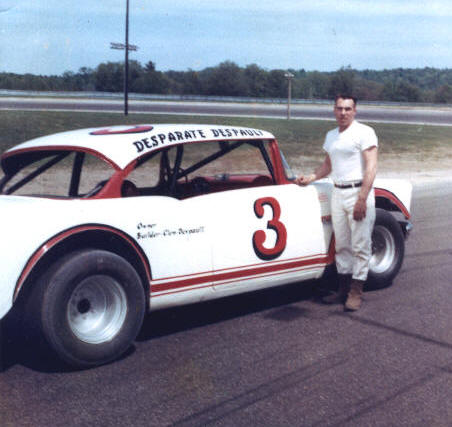 Courtesy of Rich Palmer

Clem would make a name for himself racing in the Flying Tigers, a class that was one step up from the old B Class. The short, sturdy driver ran a white #3 Chevy for years, and the number and colors became a trademark of sorts. Despault won a Tiger title at Thunder Road in the late 1960's – no small accomplishment. He would go on to field a Mopar when the circuit upgraded to late model sportsman cars, but he never had the budget for success in an increasingly cash – oriented sport.
After a brief stint in Bob Pratt's snazzy – but – too – heavy Chevelle, Despault sort of disappeared for a few years. He re-emerged in the "New Flying Tiger" division and ran there, with considerable success at times, until he finally retired at age 74 in 2013 only to un-retire a year later. Even at that age, he had a night at Thunder Road where he won his heat and a semi – feature in the same night. It is arguable whether Clem's baseball abilities would have taken him farther or not, but comments he has made to me indicate they wouldn't have made him nearly as happy.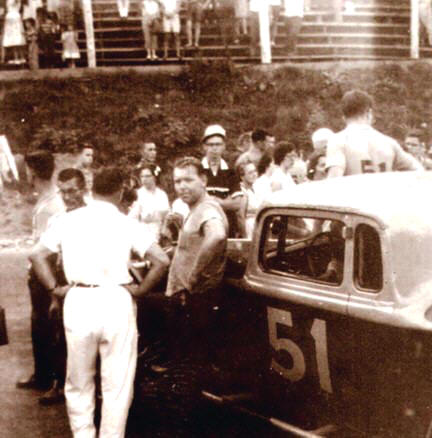 Courtesy of Mike Gilbert
Ed Pelletier with the Plymouth at Dog River Speedway, Northfield. Doug is likely the guy with 51 on his back. I don't know if Bovat is in the photo. Below – The first arrival at Catamount of the Pelletier/Falzarano Chevy limited. Big hit !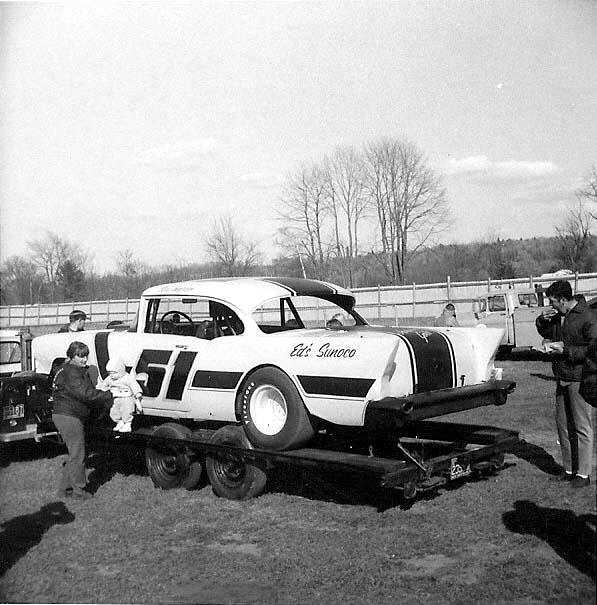 Courtesy of Steve McKnight

Another baseballer who ended up in the game is Doug Falzarano. I first heard of Doug not an tany race track, but rather at college. It turns out that the Hartford, VT Legion team was one of the best in the region because of two pitchers, the left – handed Larry Batchelder [my college friend] and the right – hander, Falzarano. The Hartford team played against the New Hampshire team that featured the Hall of Famer Carleton "Pudge" Fisk, later of Red and White Sox fame. Both of those pitchers could handle him. Batch had letters from the Cubs and the Tigers; Falzarano had his own collection of offers.
The problem was that Doug loved working with machines and motors, too. He eventually damaged his right hand doing that work and the baseball dream was gone. He would take up with the Hartford/White River Junction area's best racing mechanics – Ed Pelletier and an older man named Don Bovat. A WWII veteran, Bovat had worked on those powerful P-51 Mustang fighters and had learned how to be very handy in machining engine parts. It was that experience of him and thousands more that helped bring about the post – WWII boom in stock car racing.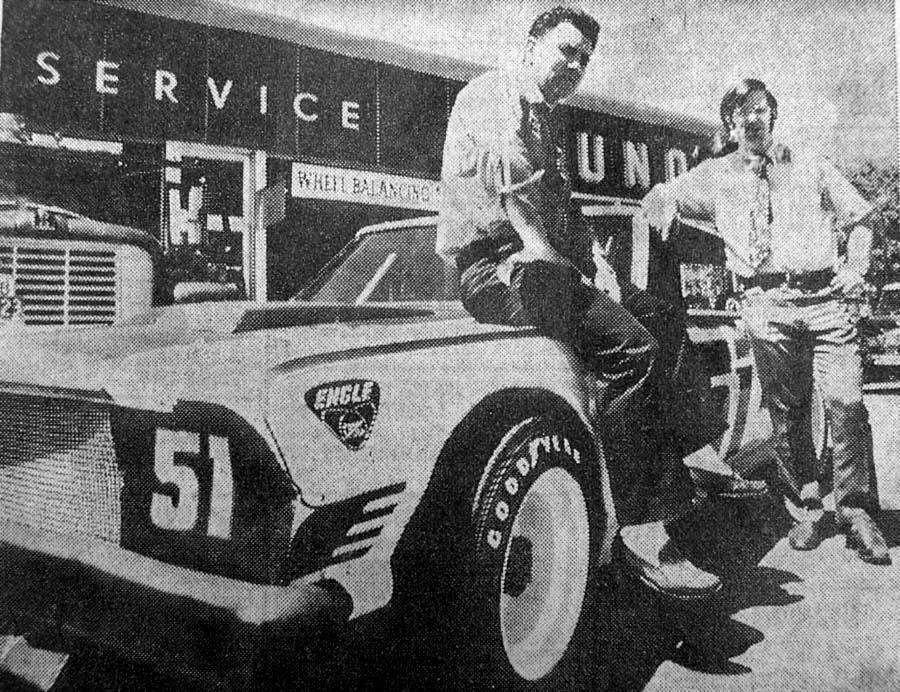 Courtesy of Cho Lee
Doug Falzarano [right]and Jim Campbell with the new Chevelle. Below- The Rosati and Ingerson crews celebrate winning the pole for some big race at Thunder Road. Doug is fourth from right.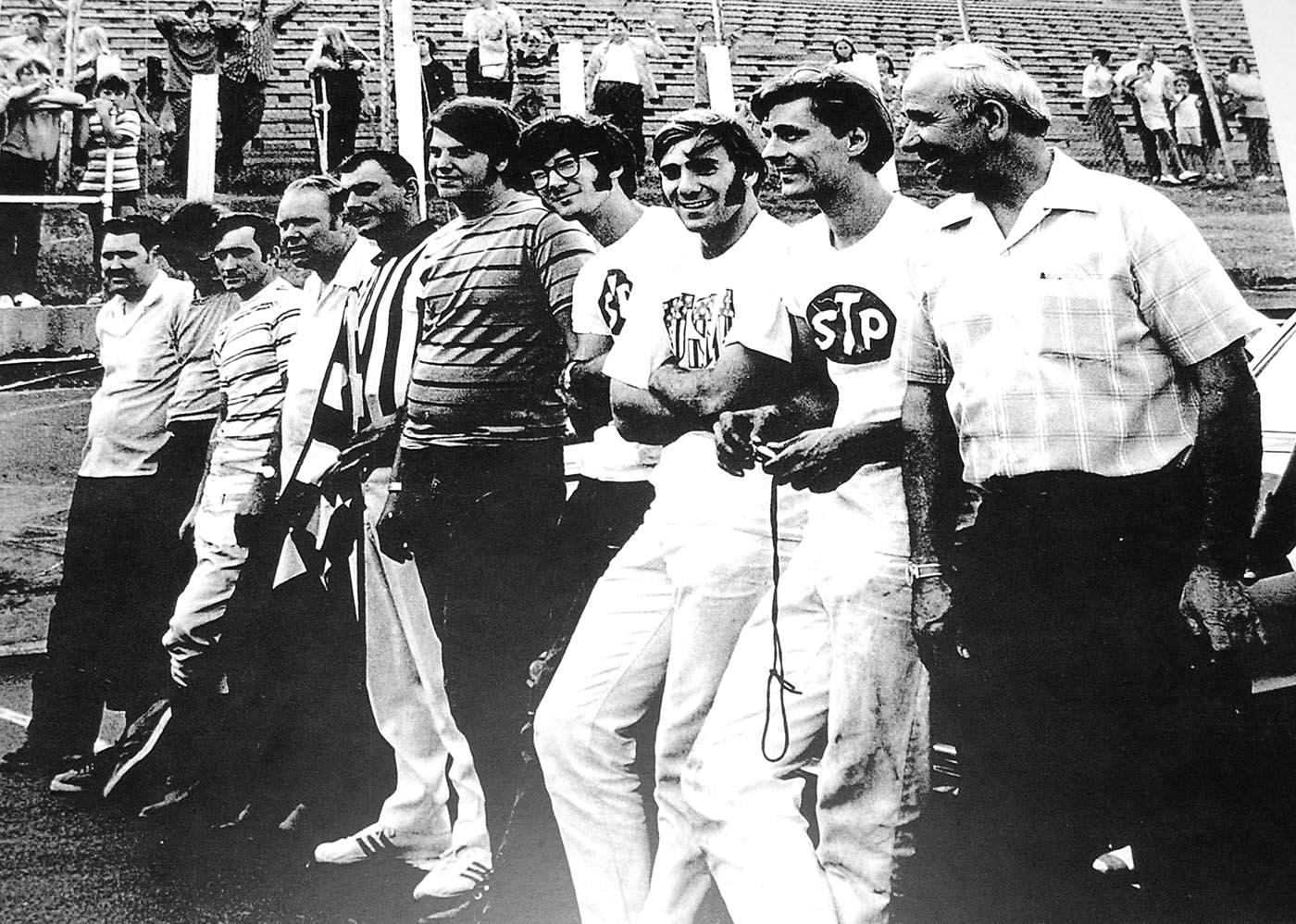 Courtesy of Cho Lee

Doug started out building flat head motors [probably for cars at Claremont Speedway in New Hampshire; he was always under the watchful eye of Bovat. He learned excellence in machining from Don and pride in car appearance and handling from Pelletier, a local Sunoco gas station operator. They started racing at venues such as Claremont, Northfield, VT, and more with Ed as the driver. But, when he narrowly missed wiping out on the same tree at Thunder Road that had all but killed Ray Stygles, Ed thought maybe he better hire a driver.
The car was something to behold. Bovat had built special A Frame shocks for the original # 51, a 1934 Plymouth and showed Doug some great stuff with the flat heads. Doug just couldn't get enough of that stuff in those days. Falzarano claims some of those old cars really went well back in the Northfield days. Guys like Ray Stygles [George Hay's #68] and Roy "Pappy" Forsyth [George barber's 46] were top teams in that time. Some of the Thunder Road cars would show up at Northfield's Dog River Speedway once in a while. Pelletier's car did win the 1960 track championship with Ed Pelletier driving. What Bovat did with the original '34 Plymouth A Frame suspension, the shocks, and the rear springs gave that car an advantage. That year, they ran a 6 cylinder Chrysler motor.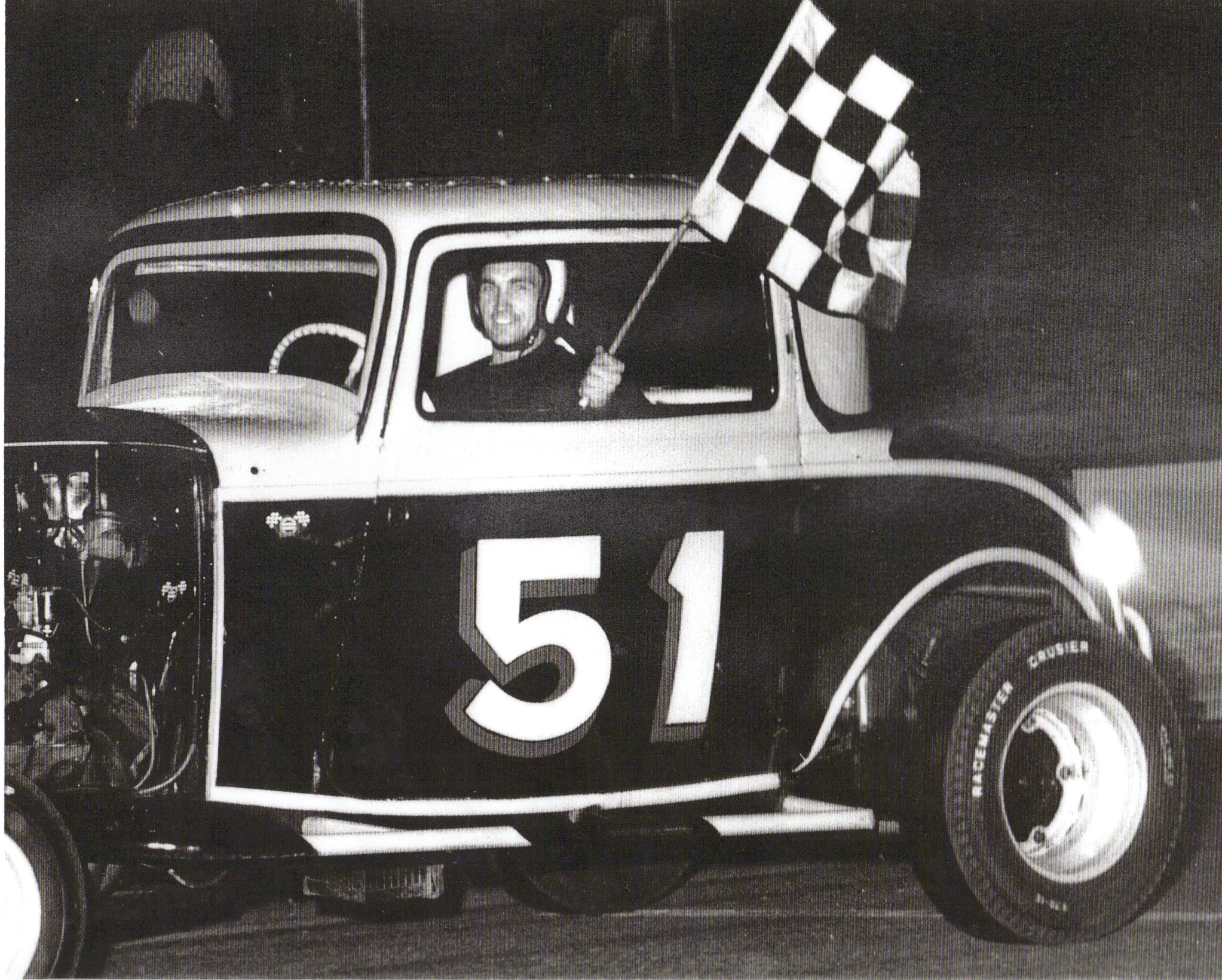 Courtesy of 176 Racing.Com Site
Russ Ingerson in his first Pelletier / Falzarano car. Below – The Bateman modified – one of the team's final products.|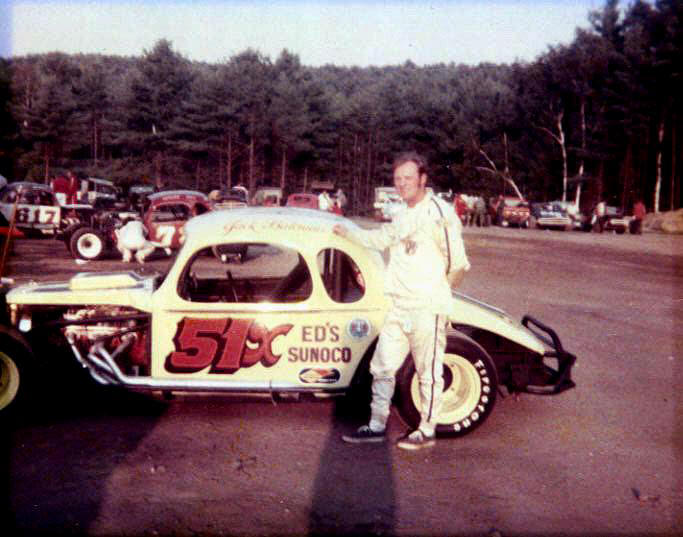 Courtesy of Cho Lee
Finally the 51 team made the trip to Thunder Road. Ed got the bejeezus scared out of him there when he nearly clocked the same tree that Ray Stygles did the year before [and that ended the Stygles career and almost his life]. Ed and Doug decided that, if they were to handle this faster and scarier track, they had better find a hired driver. The car was so great, it wasn't a hard selling job.
The black and yellow, beautiful 51 became the ride for Russ, "The Wild Child" Ingerson out of Littleton, NH. After success, with the coupe, the team built a 1957 Chevrolet limited late model sportsman as Northern NASCAR [Catamount and Thunder Road] were upgrading from the Flying Tigers towards eventually running full – fledged late model sportsman cars. The Chevy was a beauty and Ingerson was a force on the circuit, thanks to Russ' driving and the mechanical expertise of Pelletier and Falzarano.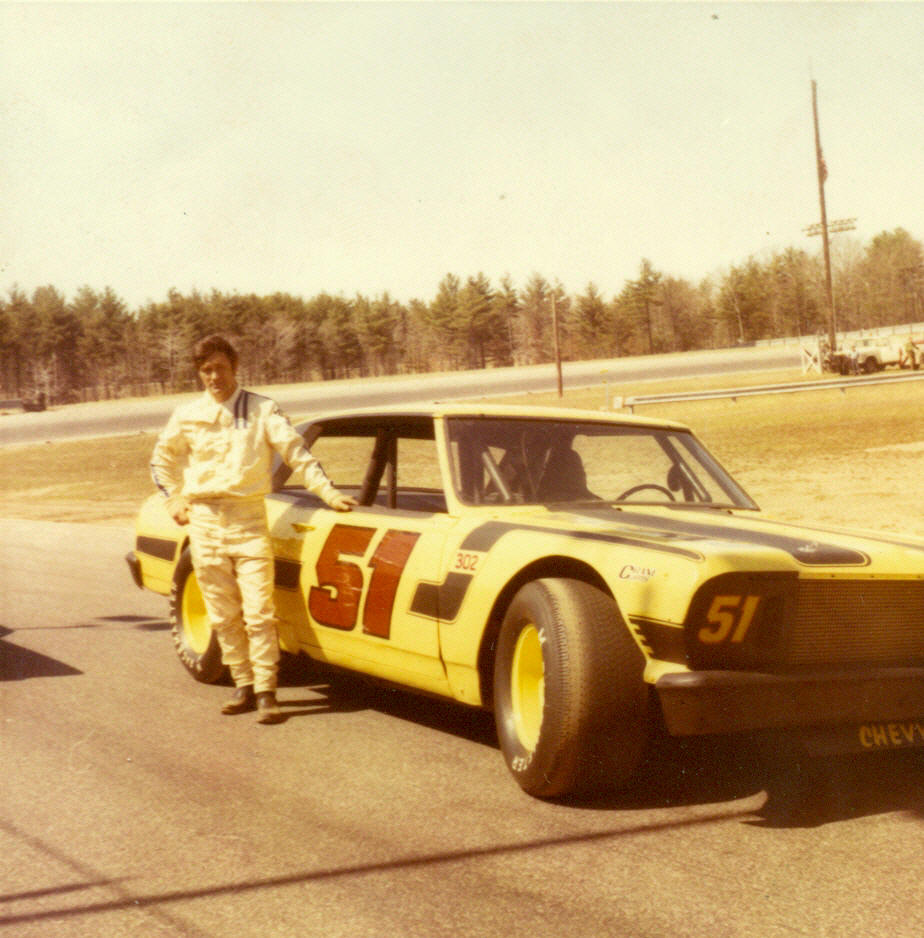 Courtesy of Steve Pecor
Russ with THE CHEVELLE.

The following year, they came out with "the Chevelle". As Doug describes it, the yellow and black 1964 Chevelle they fielded was unique. Doug wrote about the Chevelle: "They wondered how the hell that that old hand made Chevelle could whip their ass when they, Rosati, Cabana etc etc., all had factory chassis and motors. The same with the mods. We built our own to our specs even after we bought a factory frame and cage we put in our geometry and links. It was the challenge to do something different that would give us an edge." He wasn't just blowing steam. I helped with a group that bought the car later and we never could get out of it what they did.
Pelletier and Falzarano would go on to field some modifieds for guys like Jack Bateman, and – like the cars before – the mods were fast and beautiful to look at. Doug now like to reminisce about those days, and wishes he could see one of those #51's again. I never asked him, but I always wondered if he regrets not having a chance to try out organized baseball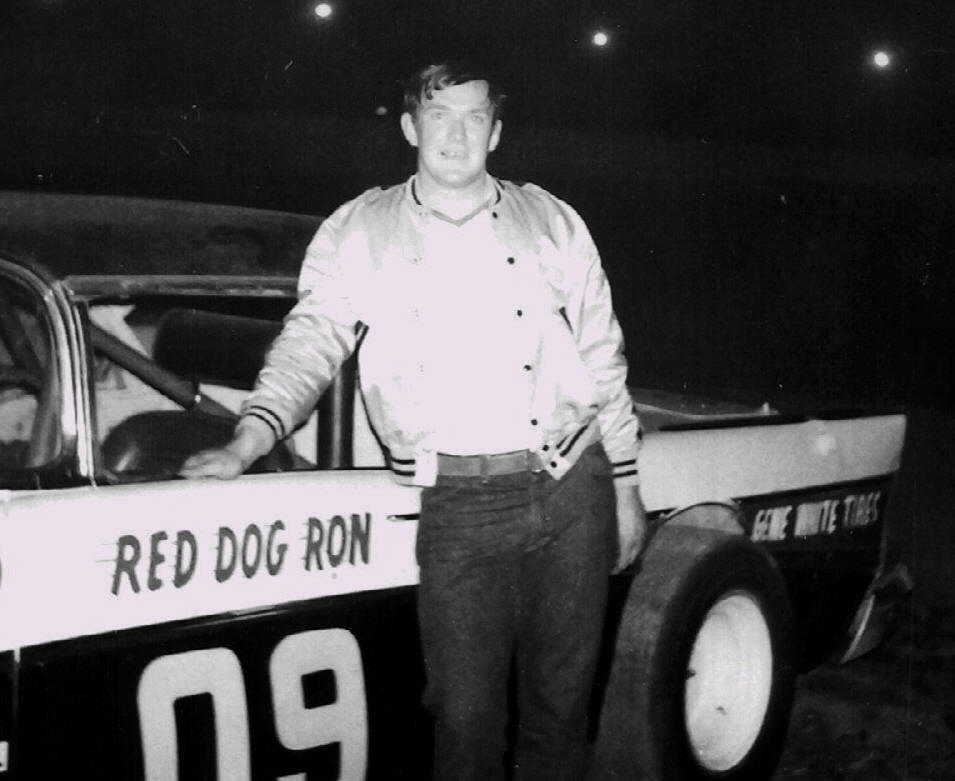 Ladabouche Collection
A very young Ron Barcomb with his first Flying Tiger. Below – Things didn't always go well with that Flying Tiger.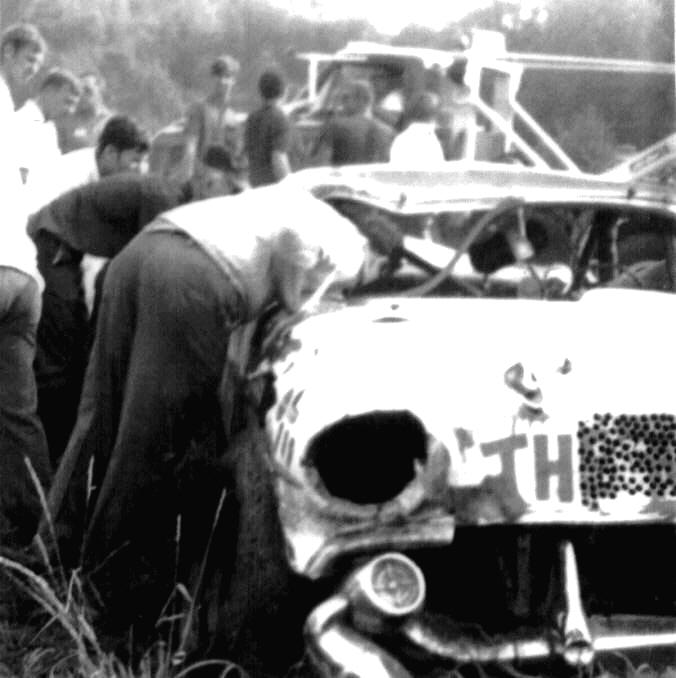 Courtesy of Terry LaFerriere


The last guy is 1970 Vermont State Champion, Ron Barcomb, who starred for Winooski High School at least in basketball and likely played other sports as well. From a big racing family that had a salvage and good financial means, it was almost inevitable that Barcomb would try racing. As known for his carousing the bars in Burlington as for sports, the large youngster came out with a Flying Tiger in the mid 1960's. Nicknamed Red Dog Barcomb after his favorite watering hole in Burlington, Ron won his share of races in the Tigers.
In 1970, when the circuit upgraded to limited sportsman, Barcomb switched his Chevy over to a 1961 Ford, and won the Vermont State Championship, running against teams like Ingerson in that #51 Chevy. Barcomb would run big – dollar Fords for a few more years before settling back to the more popular Novas and Le Mans that most of the circuit favored. He started to fade out of the racing into the 1980's – as much for health reasons as anything else. It is almost certain that he would have never achieved the notoriety he did in any other sport.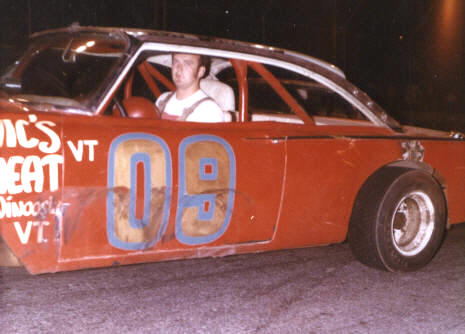 Courtesy of Rich Palmer
Barcomb's state championship car, up close. Below – Easily , his most memorable car.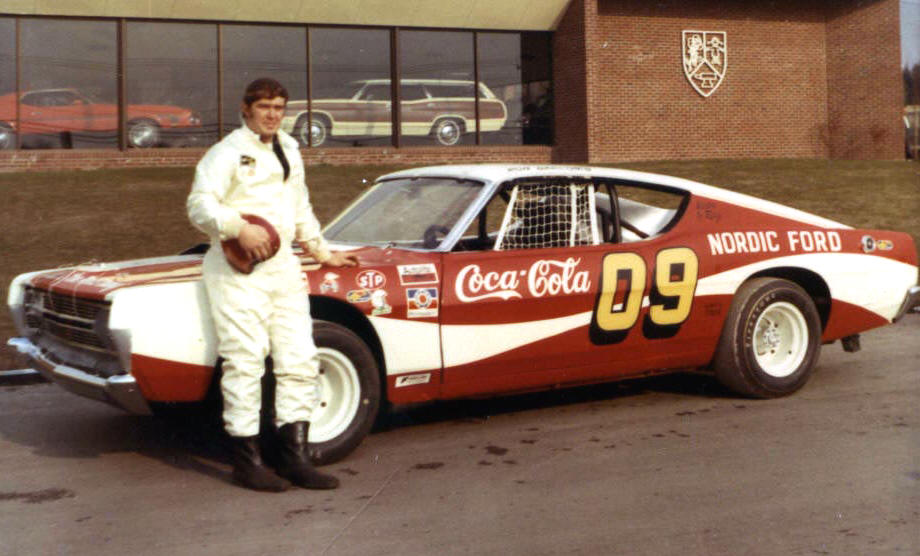 Courtesy of Rich Palmer
They all make a case for race car drivers being athletes as much as any other sport.
Please email me if you have any photos to lend me or information and corrections I could benefit from. Please do not submit anything you are not willing to allow me to use on my website - and thanks. Email is: wladabou@comcast.net . For those who still don't like computers - my regular address is: Bill Ladabouche, 23 York Street, Swanton, Vermont 05488.
AS ALWAYS, DON'T FORGET TO CHECK OUT MY WEBSITE
www.catamountstadium.com
Return to the Main Page
Return to the Main News Page
Return to the All Links Page
Return to the Weekly Blog Links Page