Malletts Bay Raceway or
Colchester - Bayview Speedway
The Walter Barcomb Track Near the Drive-In
The main track in Colchester was always the Malletts Bay Raceway, on the road down to the lake past Malletts Bay Salvage and the famous drive - in theater. Supposedly, the Barcomb family, which operated the salvage yard, owned the track. The track started out in the 1950's with some of the most bizarre - looking machinery you'd ever want to see. Sanctioned by NASCAR near the end of the '50's, the cars were getting pretty good by the end of the track's life.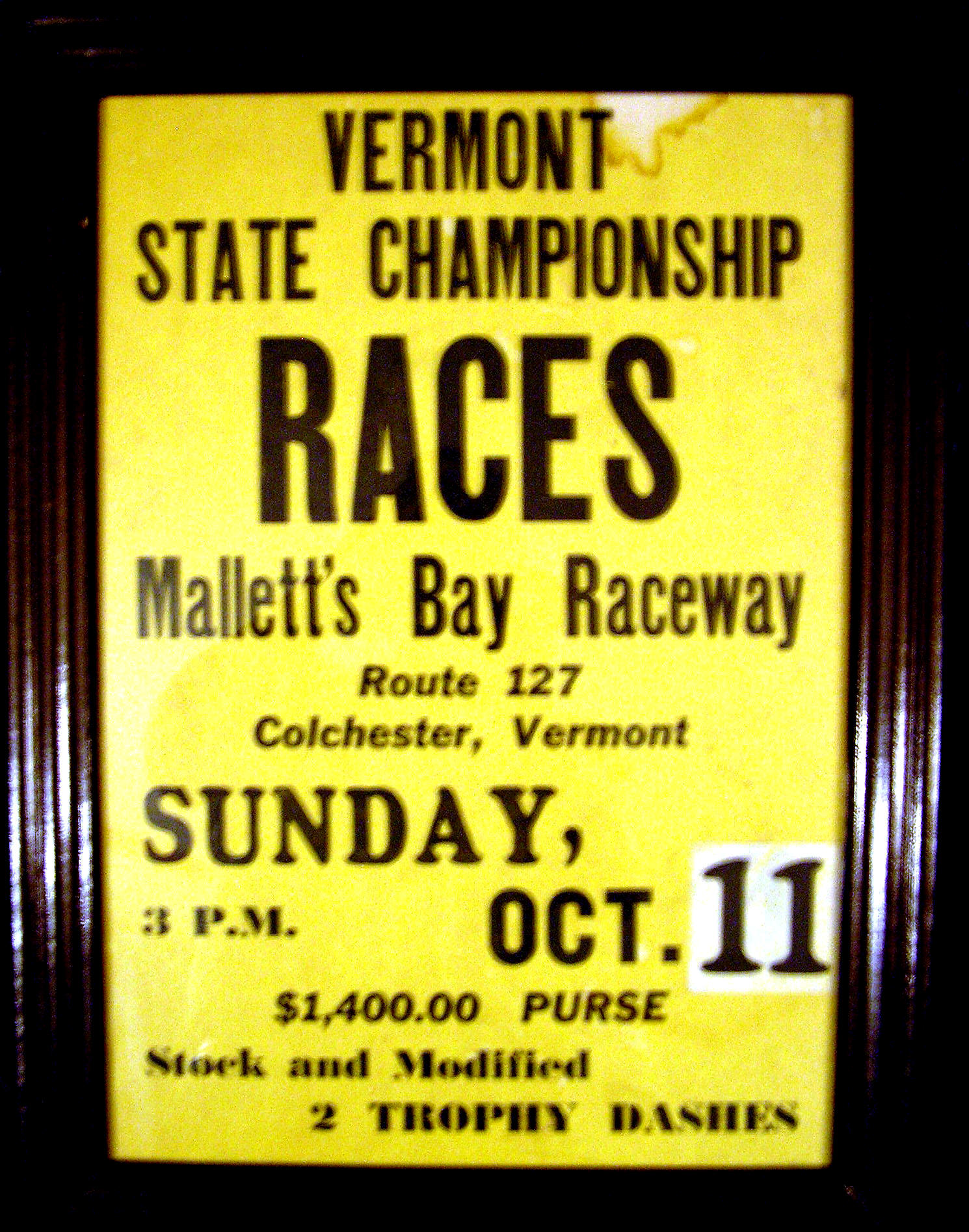 Courtesy of Don Richards
A great framed poster which verifies that the Barcomb track was called "raceway". Don ended up as the owner
of the Malletts Bay salvage yard that was almost next door to the race track.

Cars from Malletts Bay ran there, at Thunder Road, at Airborne Speedway, at Otter Creek Speedway, and even reached out the Northeastern and Fairmont Speedways. According to one popular legend, the owners of the drive - in, incensed by incursions into their shows by various "things" from the race track, managed to buy the track under some sort of disguise and summarily bulldozed it.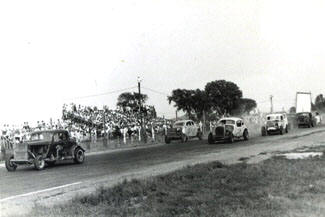 Bob Mackey Photo Courtesy of Bobby Castine and John Rock
Same, but clearer, shot as below.

Bob Mackey Photo Courtesy of C.J. Richards
A field races down the front stretch at Malletts Bay. Note the drive - in theater in the background.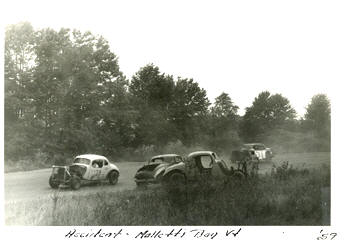 Bob Mackey Photo Courtesy of Bobby Castine and John Rock
Mixup at Malletts Bay. The # 128 and three I can't make out.

Red Dooley Photo
A race lineup sits on the front stretch at Malletts Bay. Note my photo from 20+ years later, showing those railroad ties.

Ladabouche Photo
Those railroad ties.

Red Dooley Photos
Red Dooley's wrecked coupe sits in the infield. Notice the hated drive-in in the background.

Red Dooley


Red Dooley Photos
A field of cars thunders
into Turn One.

Red Dooley Photo
Red Dooley's original car leads
Don Smith's F80 at Malletts Bay.

Red Dooley Photo
Big wreck on the
backstretch halts
a race early in the
track's history.

Red Dooley Photo
Dooley's hand writing id's
#31 as Ernie Barcomb. I
always thought Ernie
used #71. It ought to be
Gordy Owen.

Red Dooley Photo
Red poons a wierd-
looking car near
Turn Four.

Red Dooley Photo
A field lines up on
the front stretch,
right in front of
the stands.


Bushey Family Photos
Thanks to Jack Anderson
The crowd in the stands
at Malletts Bay


Courtesy of Mark LeFrancois
The Ivanhoe Smith
car, a Colchester area
regular. Smith also owned
Colchester Raceway:

Clarence Rock, driver
Willard Rock, co-owner
CLICK HERE for info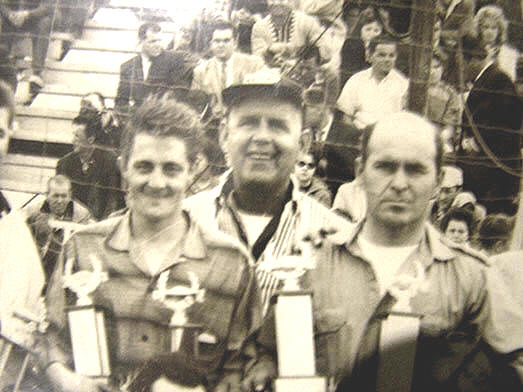 Courtesy of the Nephew Family
Kay Hanson [center] was one of the Chief Pit Stewards at
Malletts Bay Speedway.
Pay records from the track - notice yet another name for the place.
[So, that includes Malletts Bay Raceway, Bayside Raceway, and finally Colchester - Bayview Speedway]
Bayside Raceway
July 6, 1958
Posted Lineup
27
12
113
21
7
56
97
16
7-11
X
78
385
2
888
71
3
19
1
358
Feature
Pos # Driver Laps
1. 358 Bob Bushey 20
2. X Bill McDonald 20
3. 888 Allan Maskell 20
4. 7-11 Ron Weston 20
5. 16 Tommy Cross 20
6. 385 Clarence Rock 20
7. 3 Wayne Chandler 11
8. 97 Gordie Owen 10
9. 2 Bob Santimore 8
10. 56 Junior Graves 5
11. 19 Rex Shattuck 2
12. 71 Ernie Barcomb 2
13. 12 Oliver Wescott 2
14. 78 Sonny Godin 1
15. 1 Herb Trayah 1
"Dead cars"
27
12
113
21
56
7
97
100
Heat 1 Finish
19
2
7-11
Heat 2 Finish
1
888
X
113
27
385
Heat 3 Finish
358
71
78
97
3
56
Consi Finish
3
16
385
97
56
113
12
Payoff Sheet
Car# Driver Total
358 Bob Bushey 45 15 60
X Bill McDonald 30 5 35
888 Allan Maskell 20 10 30
7-11 Ron Weston 15 5 20
16 Tommy Cross 10 5 15
385 Clarence Rock 5 10 15
19 Rex Shattuck 15
1 Herb Trayah 15
3 Wayne Chandler 15
71 Ernie Barcomb 10
2 Bob Santimore 10
78 Sonny Godin 5
27 Foster Guyette 5
12 Oliver Wescott 5
113 (?) 5
21 Pat McGrath 5
56 Junior Graves 5
7 Buddy Barnes 5
97 Gordie Owen 5
(?) Pat Robare 5
Total expenses $412.00
Thanks to Justin St. Louis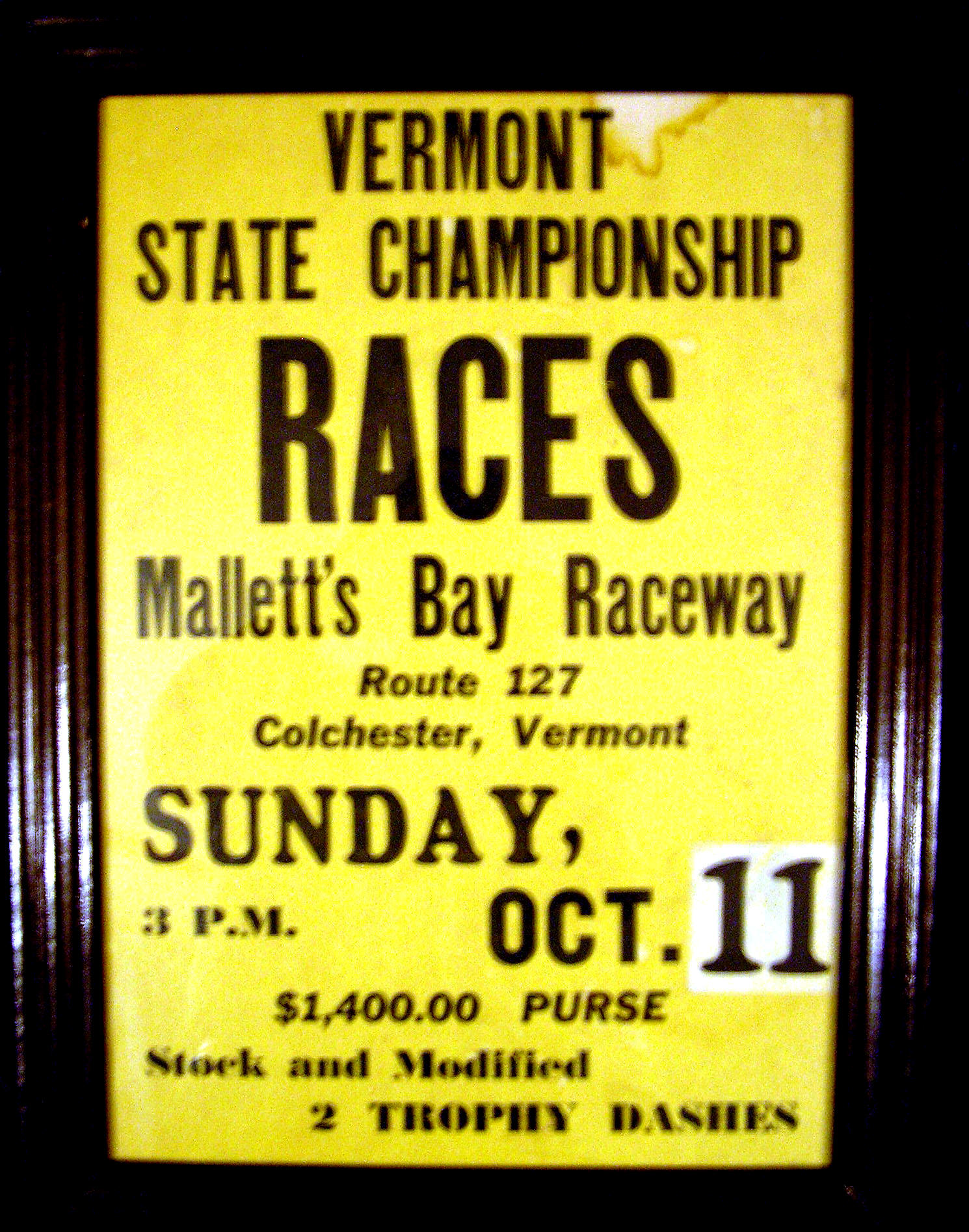 Courtesy of Don Richards
Sorry it's blurry. It is behind glass, goofing up my camera's focusing apparatus.
MACKEY PHOTOS FROM MIKE WATTS' DVD

This appears to be the Charlie Ely
88, with Johnny Gammell aboard.
Starter might be Bucky Barlow.


Action on the backstretch.
Let me know if you
recognize anybody.

Bob Bushey with the
Sullivan 586, which
he also drove in New York State.

Action in the pits.

Car 8 [maybe Frank Hart]
finishes and takes the
flag from Archie Blackadar.

A lineup that includes
3Jr, Wayne Chandler, and
37, Mickey Cross.

The drive-in is seen clearly in
the background as a field of
Cars takes the green.

The starter jumps as a
feature starts on the pavement.
That same #128 Hudson that is
seen above, as well as the 88 of
Johnny Gammell.


Vermont State troopers talk
with a man in front of the
Malletts Bay F.D. ambulance.
---
Return to the Main Page
Return to the Colchester Tracks Page
Return to the Main News Page