---
---
Regional Drivers Who Tried the Big Time at NASCAR'S Bigger Leagues
Catamount - and Northeast racing, in general - has produced more than its share of topnotch drivers. In the formative years of stock car racing, it was a little more possible to attempt participation in either the Grand National / Winston Cup / Nextel Cup level or in whatever its top support division was at the time. These divisions have included the Permatex Late Model Sportsman division, its descendant divisions, the Grand Touring / Grand National East division, and today's Busch Grand Nationals and Craftsman Trucks.
Courtesy of Legends of
NASCAR Site

Red Byron's car was nearly stock in 1949.

Courtesy of Pascal "Magnum"

This 1953 Grand National Ford is more of a specialized racer, but it still not very high tech.

Courtesy of Legends of
NASCAR Site

Cotton Owens' Pontiac was typical of the early Grand National car.

Back in the earlier days, practically anyone who felt they were capable of driving a race car adequately could put together an effort to run in the NASCAR lead division. In fact, the earliest Grand Nationals ran all over the country and were not far from the family car. In the 1950's and the earlier 1960's, it was quite possible for ordinary race car drivers or teams to field a Grand National car, as these cars were not very hard to construct. Obviously, as the Southerners began to learn tricks of the trade, it was more and more difficult for people from our region to compete with drivers having the inside track.
By the 1970's Northeastern drivers had varying success going South. The modified teams actually held the advantage over the Southerners; but, the late model teams struggled because they were competing against the Emmanuel Zervakises, the Mike Laughlins, the Banjo Matthews, and all the other high - powered car builders and team owners.
HERE ARE SOME OF THE NORTHEASTERNERS WHO MADE AT LEAST ONE TRY AT THE BIG LEAGUES

Lepage Website Photo

Kevin Lepage, from
Shelburne, VT has stuck with the big leagues longer
than any other regular Catamount driver.

Beaver Dragon, of Milton, VT drove the Bob Bahre-owned Permatex Sportsman


Courtesy Of Bob Novak

Jack DuBrul of Shelburne, VT shows his Daytona car around Thunder Road




Courtesy of Jeff Pearl's Site: Dave Dykes Page From Past

Paul Connors,
Danby VT
Drove Grand National for himself & Buck Baker. He also built the first Javelin
Grand American car.
Connors Collection
One of the Connors
Grand National cars -a former Petty Mopar.




Andy Boright Photo

Jamie Aube of North Ferrisburg, VT won Busch North titles and tried the Craftsman Trucks




Andy Boright Photo

Stan Meserve, from
Winslow, ME raced
with Northern NASCAR
after a season with the
Grand Nationals in 1967.


Reddit.Com
First decent shot I've ever seen of his GN
Dodge #51.

Danish Family

Steve Danish of
Crospeyville, NY brought
his regular car to the Beach Course in the 1950's. Never
did the late models.



Courtesy of Pascal
"Magnum"

Bill Wimble from Lisbon, NY also brought
his regular ride to try
out at Daytona.


Catamount Yearbook

Jean-Paul Cabana, then from Montreal, drove this 1959 Pontiac at Daytona before selling it to Jack DuBrul

Cabana in action in the Permatex 300 around 1962.


Neal Davis

Dick Skillen, of Claremont,
NH tried the Grand Nationals
for almost an entire year
in the mid 1970's


Courtesy of Jeff Pearl's Site via
Dave Dykes Page From Past

Bill Slater of
Connecticut at Daytona


Catamount Yearbook

Dick Nephew, of
Mooers Forks, NY
tried Daytona driving for Allie Swears of Glens Falls, NY


Courtesy of Pascal
"Magnum"

Francis Affleck, an
inexperienced Quebec
driver, ran cars for Bill Hollar around 1974 until he was killed in a race.


Denis LaChance Photo

Dave Dion, Hudson, NH
tried the Grand Nationals for a few races with his own car in the 1970's.


"Magnum's site photo

Randy LaJoie of Norwalk, CT is one of the region's more successful competitors - particularly in Busch Grand Nationals


Catamount Yearbook

Rene Charland, of
Agawam, MA with a
Studebaker Sportsman at Daytona. This car ended up on the sign at the Albany-Saratoga Speedway when it opened. In the background you can see Bill Wimble's car.


Vintage NE Modified Site
Photo

Charland with his Grand National car around 1964.


Pascal "Magnum" Site

New Jersey legend
Frankie Schneider raced in the very early Grand Nationals


Reed Trucks Website

Jim Reed, Peekskill, NY
was an early Grand
National success story


Legends of NASCAR

Russ Truelove of NJ is
another Northeasterner
in the early Grand Nationals


Source Unknown

Pete Hamilton of
Dedham, MA was
one of the Northeast's
most successful
GN drivers.


Catamount Yearbook

Richie Panch may
have been born in
Florida, but he
started with us.


Source Unknown

Don MacTavish's career in the NASCAR bigs
was cut tragically short He
was from Dover, MA.


Catamount Yearbook

Red Foote, of
Massachusetts, was one of the original Eastern Bandits who showed Southerners how the modified coupe should be run. Here, he is in Junie Donleavy's car - no doubt, adding his own advice.


Courtesy of Dave Dykes

Foote, with the Rocky
Hinton Ford at Daytona.




Courtesy of Justin St. Louis

Ricky Craven from Newburgh, ME raced briefly at Catamount
before a big league career that included Sprint Cup wins.


Courtesy of Marty Little

Harold "Hardluck" Hanaford
of Plymouth, NH. This Pontiac
had been through Elmo Langley,Jean-Paul Cabana, Jack DuBrul, and Bob Pratt before getting to Harold and Mr. Mosley.


Courtesy of Pascal
"Magnum"

Cam Gagliardi, of
Lockport, NY had bad luck qualifying this Buick in the early days of Grand Nationals at Daytona. Gagliardi cars would be run in Permatex races by Jerry Cook, Lee Roy Yarbnrough, and
others.

\
Otto Graham Site

We now know where he got that number from. Later Mike McLaughlin would use it.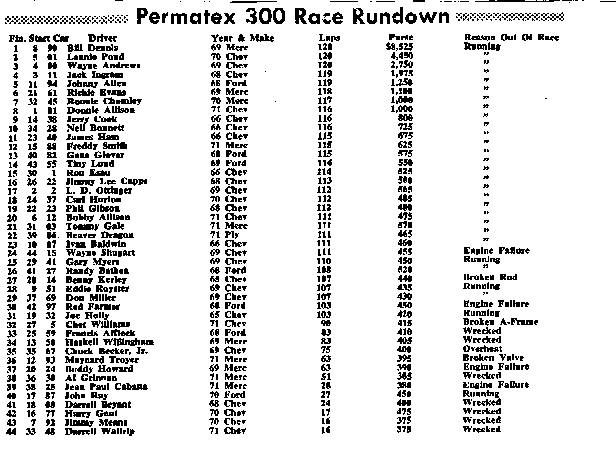 The Permatex race that involved three local drivers. Beaver finished 22nd, Francis Affleck
finished 33rd, and Jean-Paul Cabana ended up 39th - after problems.
Return to the Main Page
Return to the Main News Page
Return to the All Links Page