BILL'S WEEKLY COLUMN/BLOG PAGE

BILL'S BACK IN TIME
By Bill Ladabouche
A VERY ECLECTIC MIXTURE
In this economic time of most business, including organizations trying to keep race tracks afloat, the size of attending crowds is obviously scrutinized very carefully, with a nose to attendant conditions such as weather and competing entertainment events that might affect crowd size. And, while crowd size certainly has a strong influence on the bottom line at a race track, today's tracks seem to survive on pit gate receipts. With pit gate receipts filling those numerous sink holes that threaten to shut down more than half of the tracks in the country, people spend a lot of time looking at the fields of cars a facility attracts.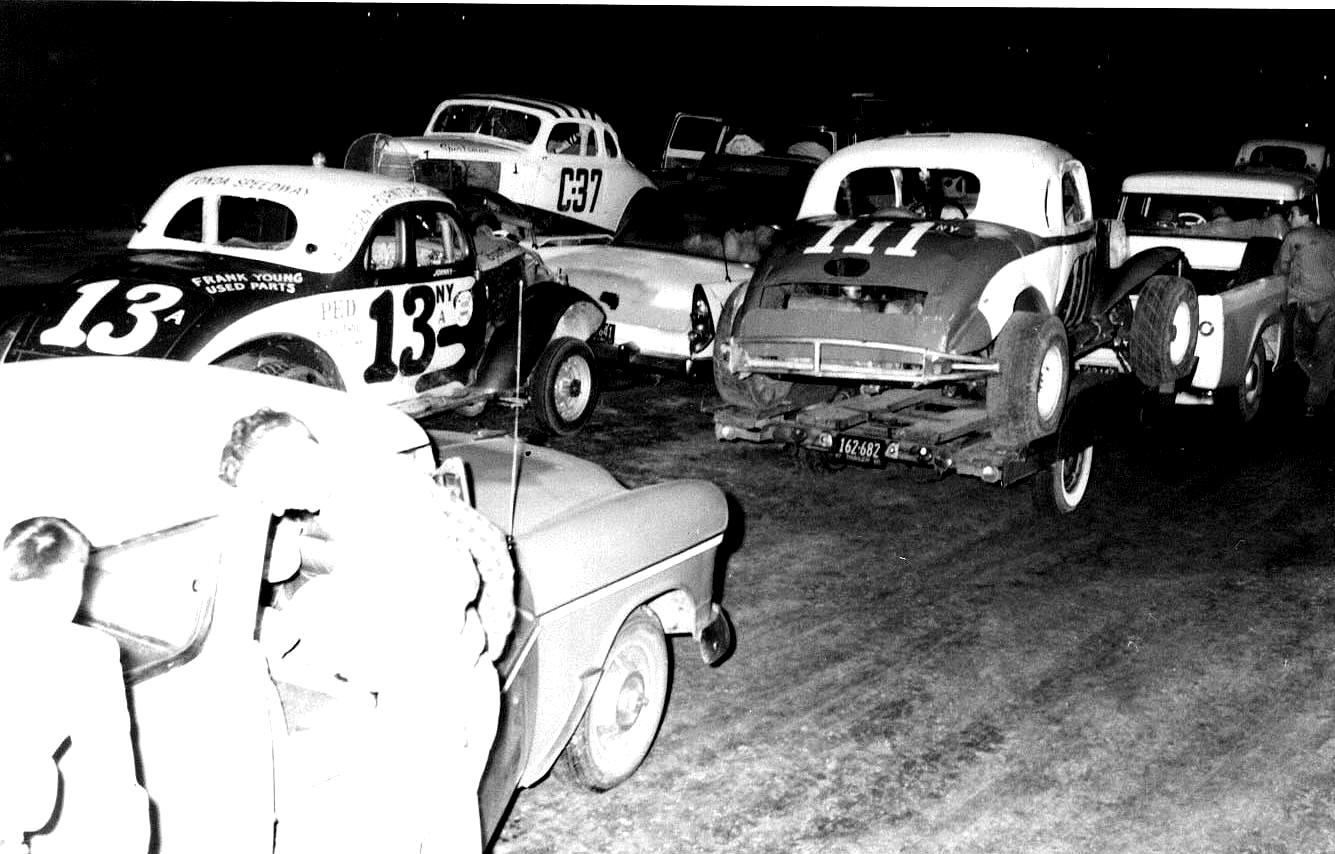 Bob Mackey Photo Courtesy of CJ Richards
A line headed into the pits at Airborne Park Speedway around 1960. Pit receipts have always helped keep tracks afloat.
While I, as a historian, cannot take much time worrying about the financial stability of every track I visit, I do care deeply about these tracks because they are all old, familiar places I have attended since I was old enough to attend. With that in mind, I do pay considerable attention to the nature of car counts and field makeup – even though it is seldom historically insignificant in most cases. Tom Haley, of the Rutland Herald, a childhood friend and a man trying hard to spearhead support for Mike Bruno's fledgling operation at Devil's Bowl Speedway, discussed this very thing with me before recent races there.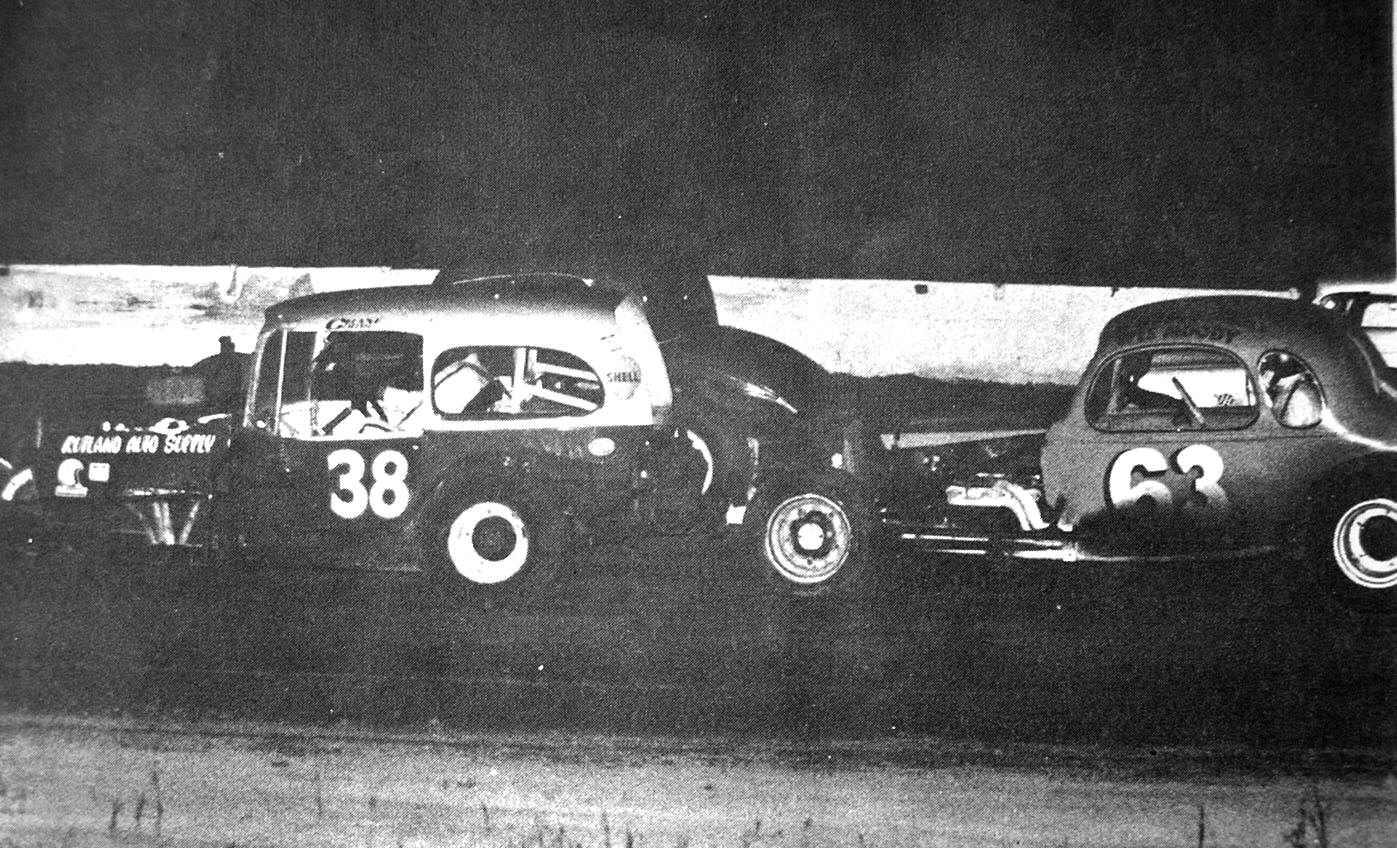 Courtesy of the LaFond Family
Devil's Bowl action around 1968. The 38 is Vince Quenneville, Sr. with the Scarborough sedan. Scarborough would be an uncle to Johnny Scarborough. These and more recent modifieds are still what most people associate with Devil's Bowl.
I became quite fascinated with the makeup of Devil's Bowl's promising late model sportsman division. The track, always thought of as a bastion of the modified race car, seems to be now better suited [since the paving] for the late model car. With its tight turns, many of the modifieds really labored on the track last year; although, to be fair, they are adapting better this season. The late models there, which are so similar to most of the other thousands of late models all over this region, just seemed to take to the track well from the outset.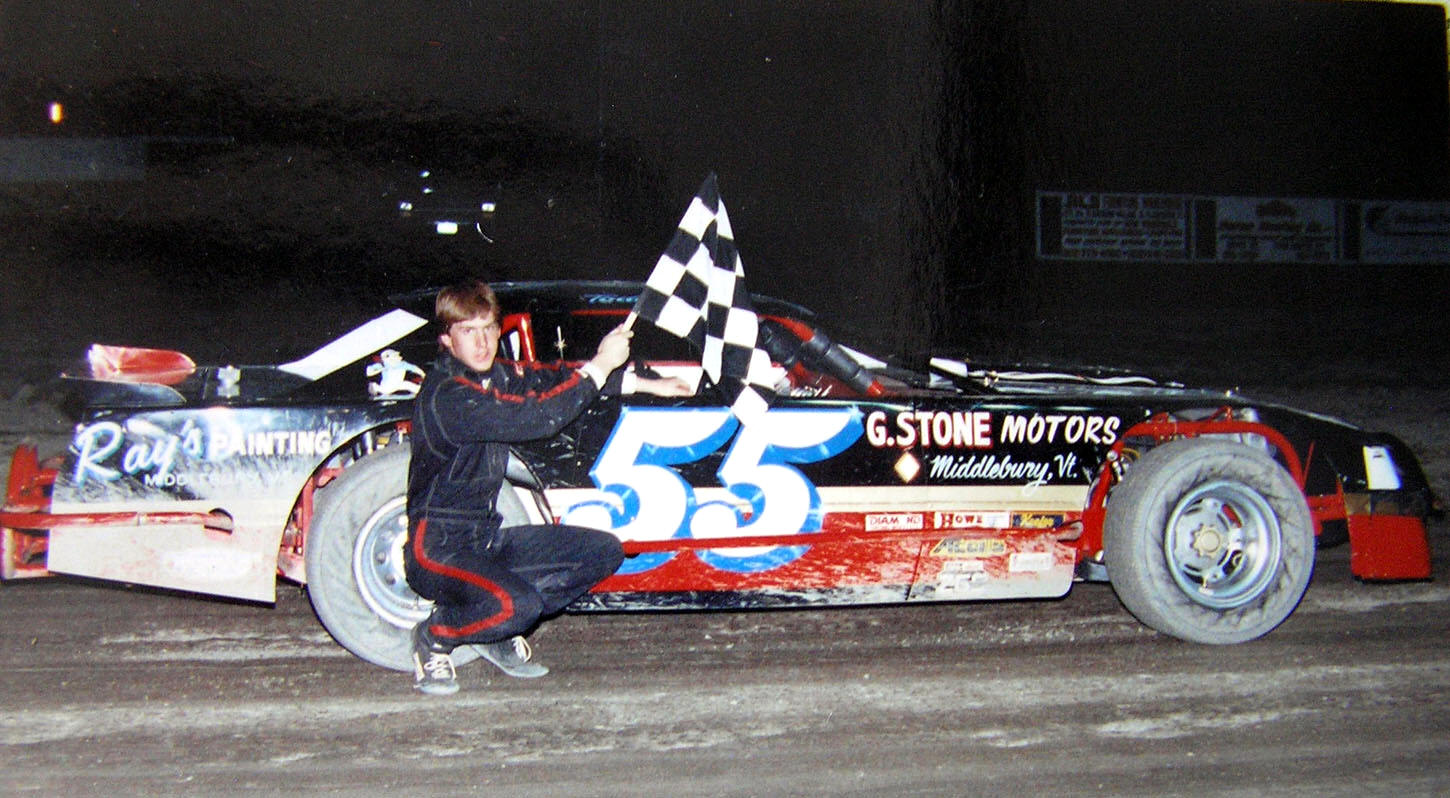 Courtesy of the LaFondFamily
Todd Stone, very early in his career, with a Devil's Bowl late model, or pro stock. Below – Mike Bruno [car 22] brings
late model sportsman experience to the table in his promotion.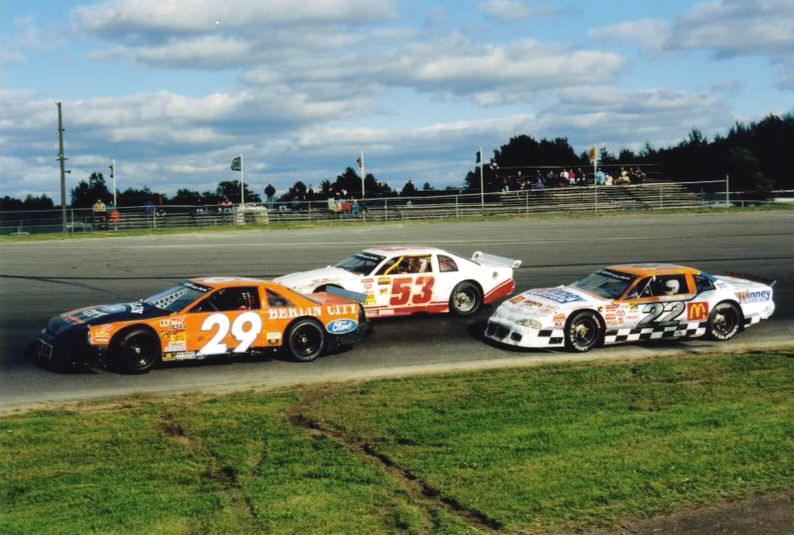 Courtesy of Justin St. Louis
Devil's Bowl is, of course, having to compete for late models with the still – powerful ACT organization to the North [which has found a cooperative avenue towards the Bowl with the Vermont State Late Model Championship Series which runs a few races at both tracks]. Promoter Mike Bruno has raced both modifieds and ACT late models, so he has that understanding of both. And now, his current hot shoe, local star Todd Stone, has had completely similar experience and can lend that viewpoint to the proceedings.

The late model lineup at the Bowl, when I recently finally got down there to see a race program, was very interesting. What a mixture of backgrounds among the drivers and their teams ! Take, for instance, Norm Andrews: Stormin' Norman [who just recovered from an extremely serious heart attack last Fall] started racing in the early 1970's at Catamount Stadium and Thunder Road in the automatic transmission Hurricane Division. When the thundering, huge Hurricanes were to be phased out in favor a small, six cylinder Grand American cars, Norm first made a jump to a late model sportsman and – finding he could not really afford that, landed one of the best six cylinder cars of the time and continued racing.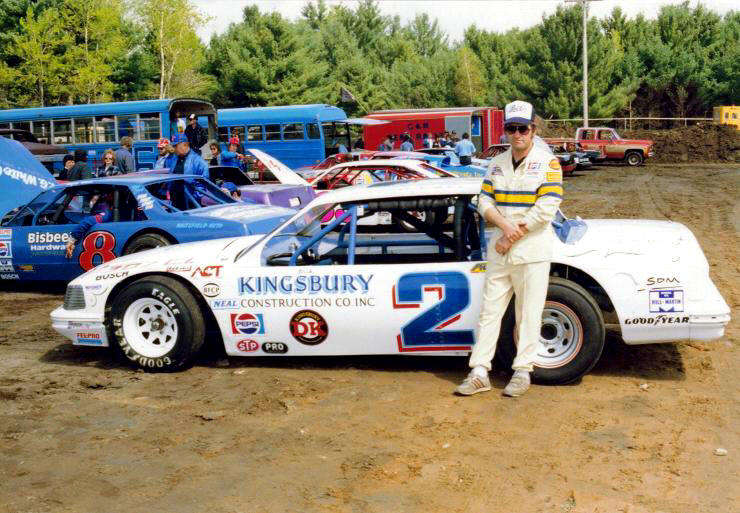 Courtesy of Andy Boright
Norm Andrews, already a veteran of 16 years, posing with what must be some sort of Tiger or early late model in 1900. The car bears the number he still uses. Below – Teenager Brandon Atkins' late model car, as seen at his first race at Airborne in May of 2013.


Andy Watts Photo
As Catamount closed and the support divisions morphed into huge Street Stocks and what were called the New Flying Tigers, Andrews finally ended up doing some driving in the latter class, at one point driving a car for the Lanphear family out of Morrisville. Although I was not around for a number of years of his career, I know Andrews ended up diving late model sportsman cars for decades, often at Riverside Speedway in Groveton, NH. And now, in his sixties, Andrews will line up his #2 late model next to the likes of teenagers like Hunter Bates and Brandon Atkins at the Bowl.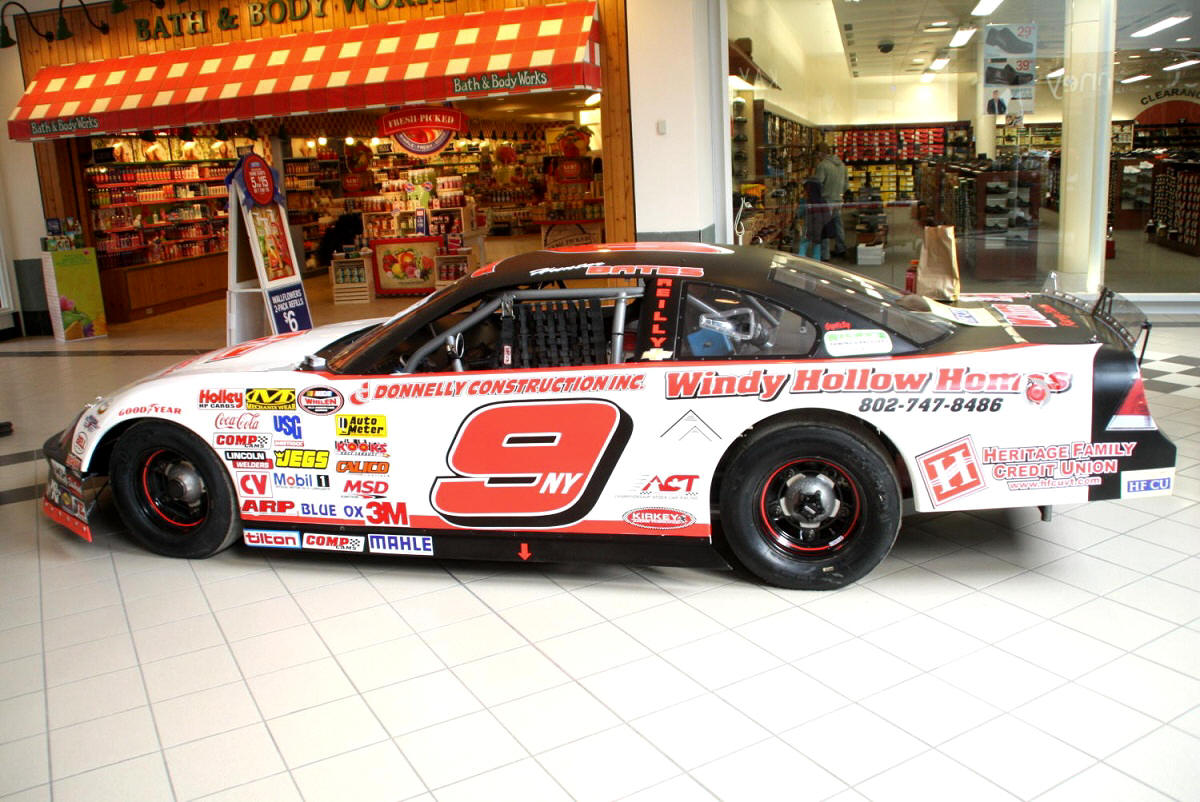 Alan Ward Photo
Recent high school grad Hunter Bates splits time with the late model and the modified [below] at Devil's Bowl.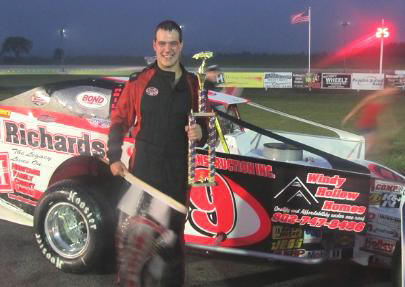 Bates Racing Website Photo
Bates, grandson of the late creator of Devil's Bowl C.J. Richards, is driving in both the late models and the track's modifieds. He will occasionally venture out and try his hand at ACT events. Atkins, whose family may not have created Airborne Speedway but do own it now, has less experience than Bates but has shown well since stepping up to late models from the Tiger Sportsman class at Airborne. Add to the mixture, occasional visits from the LaQuerres. One at least one instance, young late model rookie Joey LaQuerre has appeared on the track with his grandfather, Joey, Sr. [who has driven in late models, Tigers, Grand Americans, Mini Stocks, Mini Modifieds, and God know what else in his 70+ years on this Earth].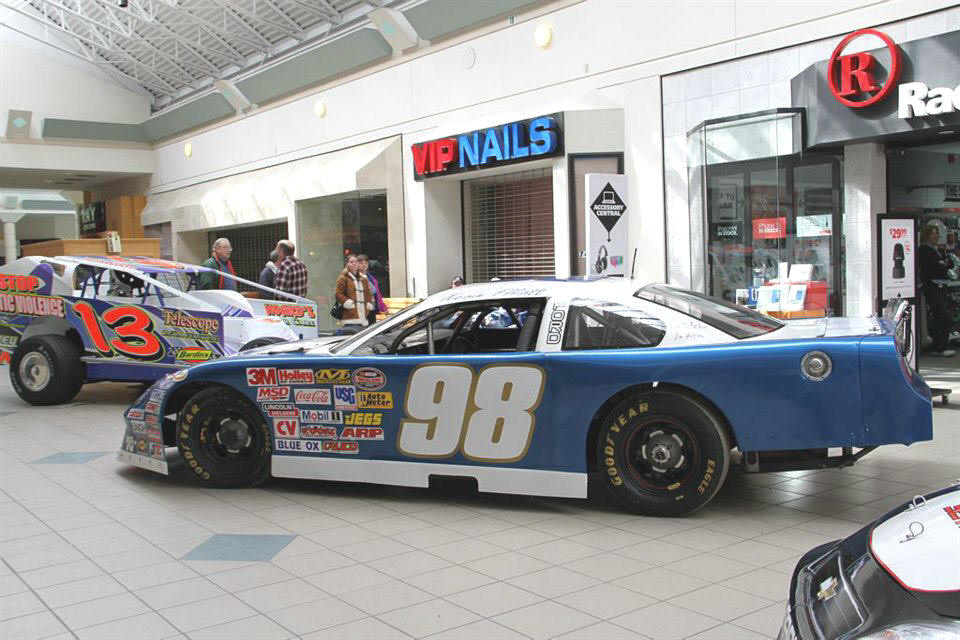 Memorevents Photo
The late model of former limited class driver Kevin Elliott at the Diamond Run Mall show. Below – Jesse Carris' late model shows a small connection to the founding families of Devil's Bowl in the person of Mike Laduc, whose uncle Charlie was a
modified mainstay at the track into the 1980's.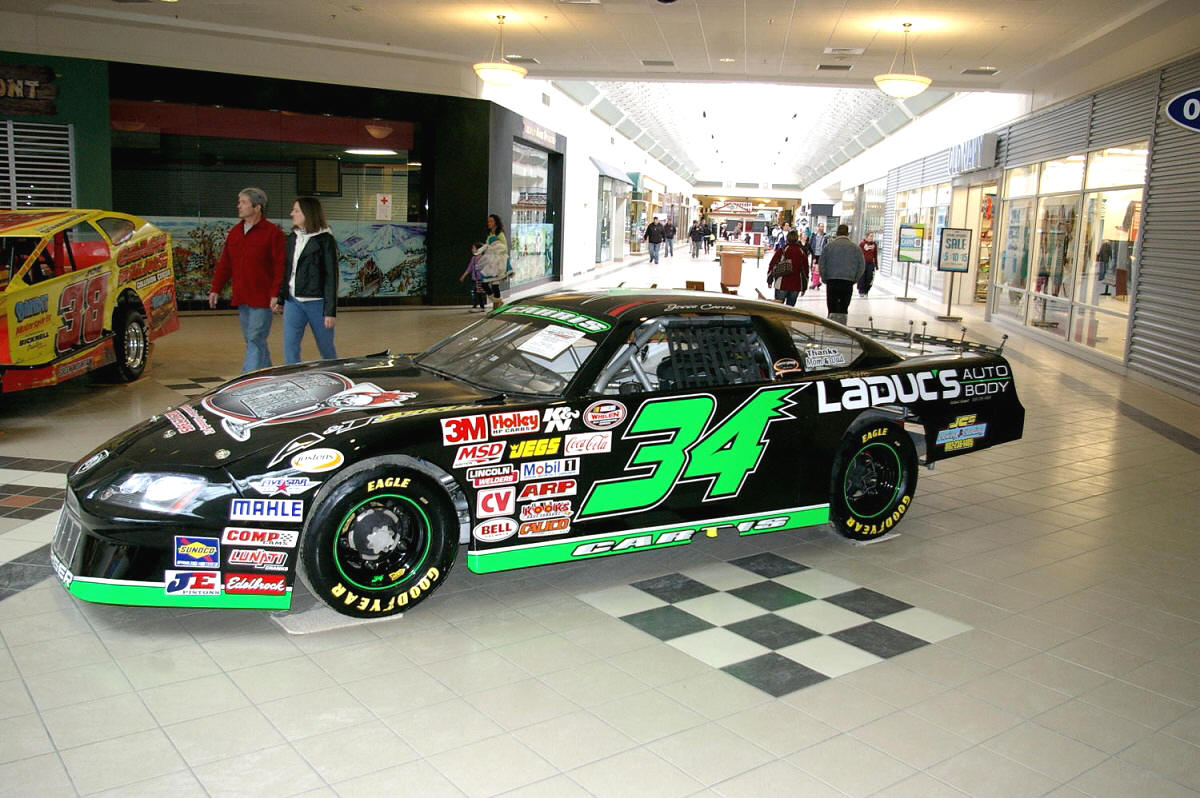 Alan Ward Photo
While the track has attracted a number of transplanted ACT competitors such as the White family, with second generation drivers Chad and Matt who were somewhat close neighbors of Andrews, it is also developing a few homegrown late model drivers as well. Kevin Elliott started out in a dirt Devil's Bowl class called the Limiteds, which were standard transmission, dirt versions of the track's current automatic Renegade class. The Renegades [essentially toned down Flying Tiger cars first created by Tom Curley] are one of the mainstay classes at Airborne; but, they struggle to find competitors to fill the fields at the Bowl. When the track was paved for the 2011 season, Elliott was already figuring to move up to late models [and he is really developing].

Elliott hails from Rutland, Vermont, the state's second largest city [at least for a while] but a place never known as a hot bed of racing. Joining Kevin from the greater Rutland area are late model drivers Jesse Carris, Chris Wilk, and Seth Bridge. Wilk, the only real veteran of the bunch, does not run the track regularly, but was there to help Bruno get the class started. Both Wilk and Carris come from families of prominent businesses in that area. Now throw into this mixture, one of the biggest local – to – Devil's Bowl names that wasn't running at the facility and you come up with Johnny "The Jet" Scarborough.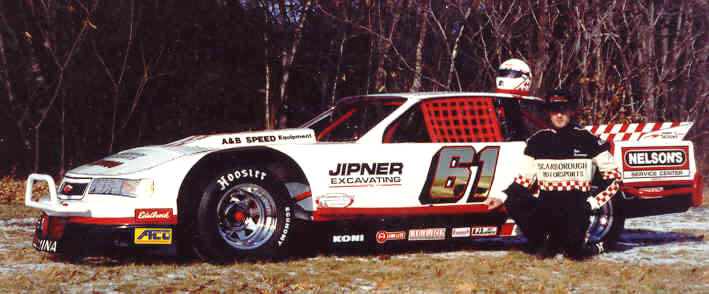 Scarborough Racing Website Photo
Johnny The Jet Scarborough has the potential to be a big local draw at the Bowl, if he can get along with Bruno better than he did with the Richards family. Above, he poses with one of his earlier rides at the Bowl. Below – The Scarborough driving suit gives subtle reference to the horrible fire in which he proved wearing proper safety attire will save your butt.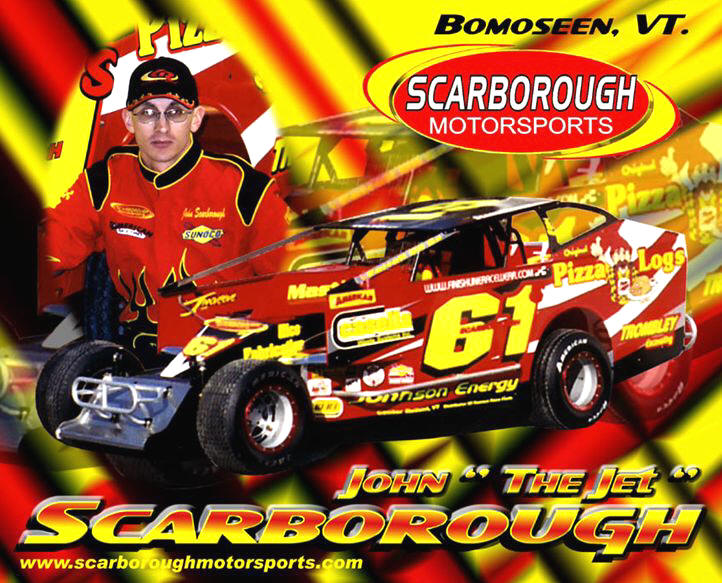 Scarborough Racing Website Photo
<![if !supportLineBreakNewLine]>
<![endif]>
Scarborough, who lives nearly across the road from the original Bruno garage and towing headquarters, had long since been expelled from Devil's Bowl by the Richards Family during the latter stages of the track's dirt era and gone on to make quite a name for himself at the difficult and legendary Fonda Speedway. Scarborough holds several records at Fonda in whatever they call their modifieds with small engine sizes; but, he tells me he made his name famous all over the East by having a spectacular fiery wreck at Fonda, a few years back. He laughs about all the "aren't you that guy ?" comments he gets – even in Florida – from folks who saw the considerable media attention given to his fire and subsequent survival.

Now, as of June 21, 2013, The Jet is running a pavement late model at the Bowl. He should, according to Tom Haley, draw a number of local fans with him and that is important – because the vast majority of racing fans who live near the Bowl HATE pavement and do not regularly attend races there since the Richards family paved it. Scarborough in the late models, as well as Stone and Vince Quenneville, Jr. in the modifieds, bring local family ties and past Bowl [dirt era] experience to Bruno's track. This should bolster crowds which often already exceed what Bruno thought he would get in his first years of operation.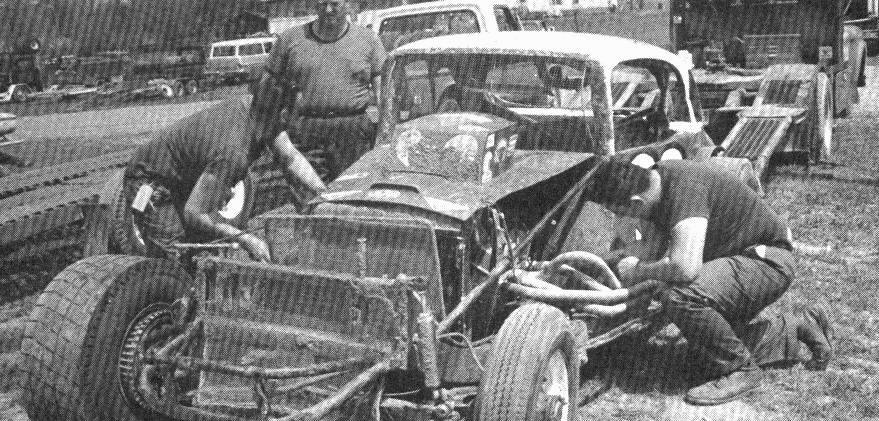 Courtesy of Ed Fabian
The curmudgeonly, cranky Norm Scarborough, uncle to Johnny The Jet and Don Scarborough, grumps his way through supervising pit work on one of his home – built masterpieces, the 38 of Vince Quenneville, Sr – around 1968. Below – As distinct contrast, Young Josh Masterson made the jump to late models look easy this year with his 11X. Nothing home – built about his equipment, as is the norm these days. Sorry about the pun.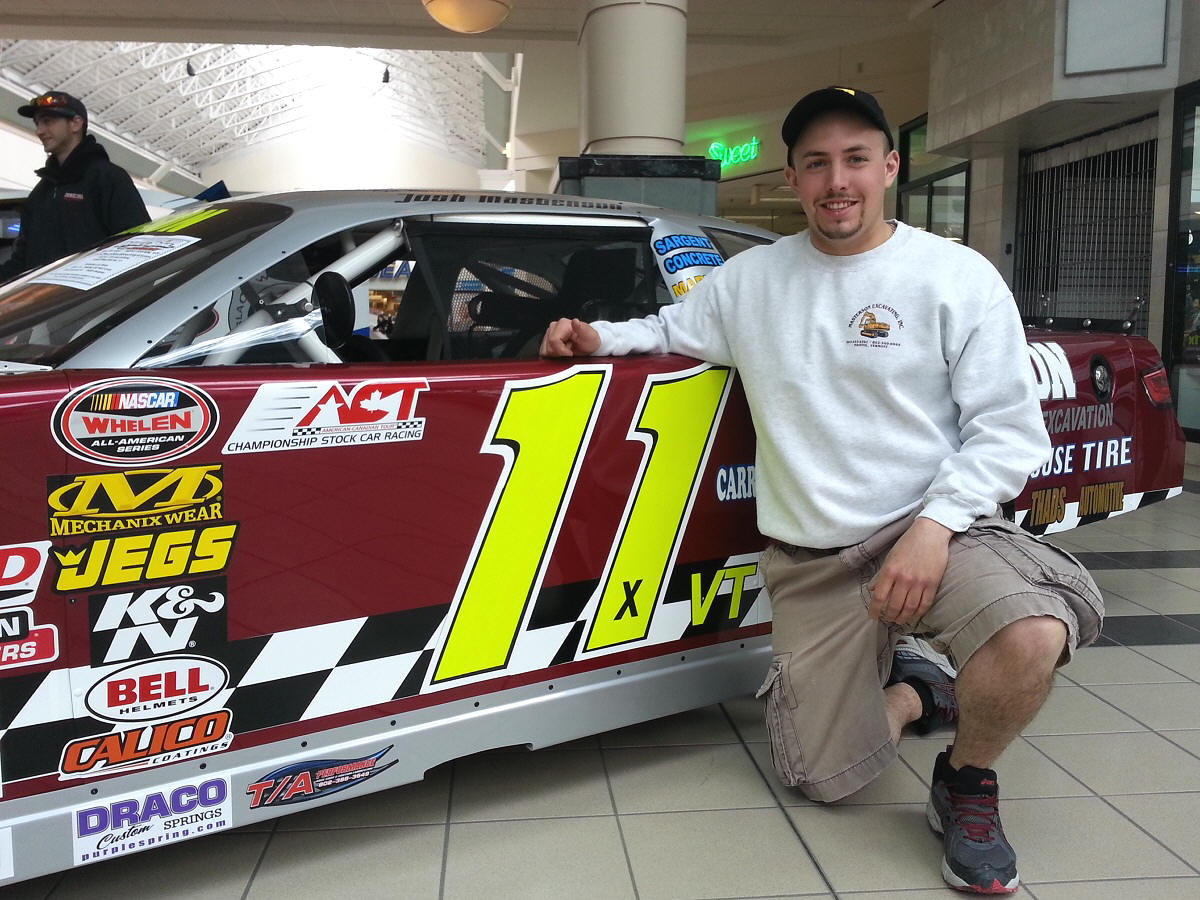 DBS Photo
<![if !supportLineBreakNewLine]>
<![endif]>
Another interesting addition to this year's late model roster is young Josh Masterson, of Bristol, VT, the 2012 Bomber champion. Masterson had an unbelievable four cylinder bomber, built by Norm Andrews' son, Tony, and he drove it so effectively that the officials kept on adding weight to the car to try and even up the playing field. Now Masterson has jumped up to the entirely – different late models, and he is driving as if he has sat in one for years. The youthful age of many of the Devil's Bowl late model competitors promises several years of excellence to come.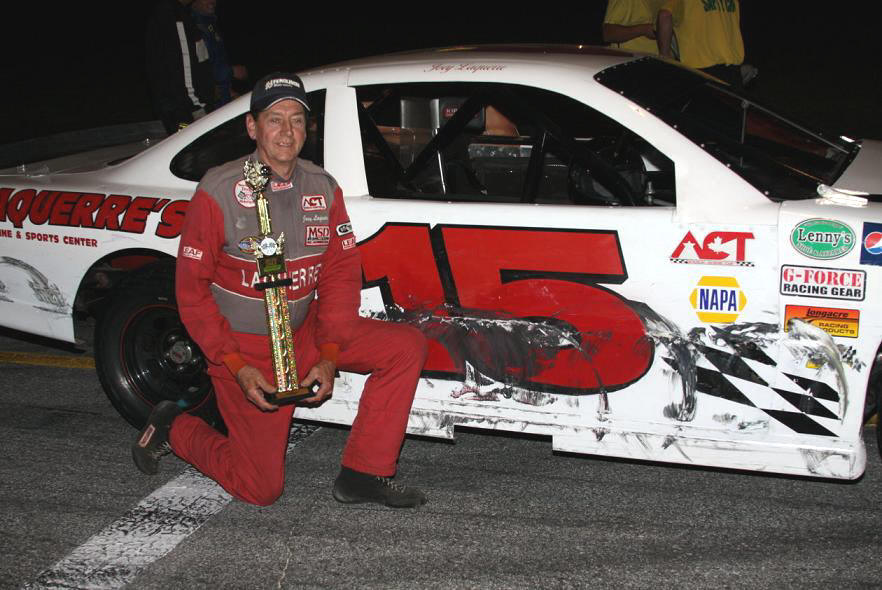 Courtesy of Justin St. Louis
Joey LaQuerre, Sr., somewhere near his 40th year of competition, not only picked up a feature win recently;
but, he has raced on the Devil's Bowl track with grandson, Joey [Below].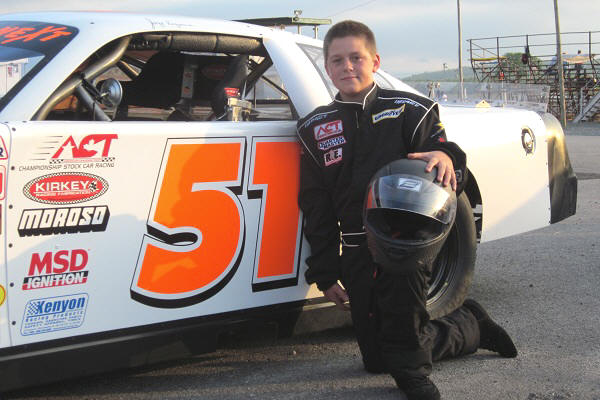 Devil's Bowl Site Photo
<![if !supportLineBreakNewLine]>
<![endif]>
These days, one of the things a track needs to keep up fan interest is one or more promising female drivers to follow in the footsteps of Danica Patrick and Jessica Zemken. Bruno's late models can depend on occasional appearances by Vermont's teenage driving sensation Emily Packard appearing, both at regular shows and when the ACT invades. Her performance against the ACT cars last Fall, nearly finishing third, was an inspiring sight to see. Devil's Bowl also has local female driver Carol Parker, of Fair Haven, in the #94 Setab Property Services late model.
Couple all this with drivers who are competing at least somewhat frequently at the track from locations in Connecticut and Massachusetts, and the occasional visits from some active and recently inactive ACT teams and you have the potential for a nice little cadre of late model runners for Bruno's racing venture. I sincerely believe the success of the track rests pretty heavily on this class, and the interesting roster he is putting together offers a bright outlook. A vast majority of these guys offer no threat to those trying to get into races like the Oxford 250 or Curley's new 500 lapper at Airborne; but they make for a good Friday night race.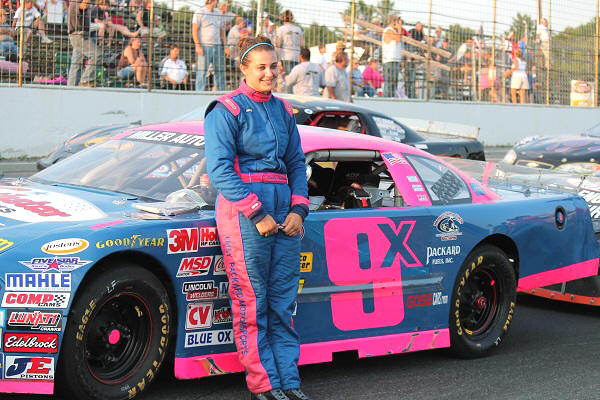 T.J. Ingerson Photo
Young Emily Packard poses on the track at Devil's Bowl in 2012. Below - Bruno's own late model, plus visits from the ACT cars and the Granite State Pro Stocks will make for a memorable 2013. The Vermont State Late Model Championship series
will draw in extra cars. Below – Packard duels with Brent Dragon at a previous Vermont State Championship Series race at the Bowl.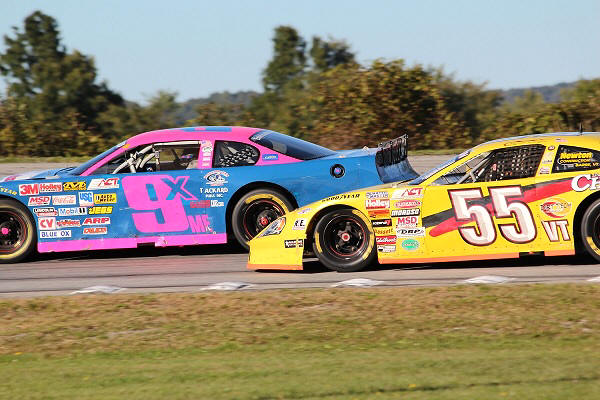 T.J. Ingerson Photo
Please email me if you have any photos to lend me or information and corrections I could benefit from. Please do not submit anything you are not willing to allow me to use on my website - and thanks. Email is: wladabou@comcast.net . For those who still don't like computers - my regular address is: Bill Ladabouche, 23 York Street, Swanton, Vermont 05488.
AS ALWAYS, DON'T FORGET TO CHECK OUT MY WEBSITE
www.catamountstadium.com
Return to the Main Page
Return to the Main News Page
Return to the All Links Page
Return to the Weekly Blog Links Page