BILL'S [Somewhat] WEEKLY COLUMN/BLOG PAGE

BILL'S BACK IN TIME
By Bill Ladabouche
THE YANKEE FLYER
No, I haven't taken up covering baseball stories, the Yankee Flyer [another nickname from the fertile mind of Ken Squier] was actually a Thunder Road star named Mike Osborne. Having come up from central Vermont only by 1968, I never saw the man race; but, through the stories of people like Cho Lee, Mark Austin, and a fellow I recently met named Ronald Ward, I have come to realize that Mike Osborne was one of the more complicated and under - appreciated drivers of that Northeastern / Thunder Road glory years period of 1959 to 1965.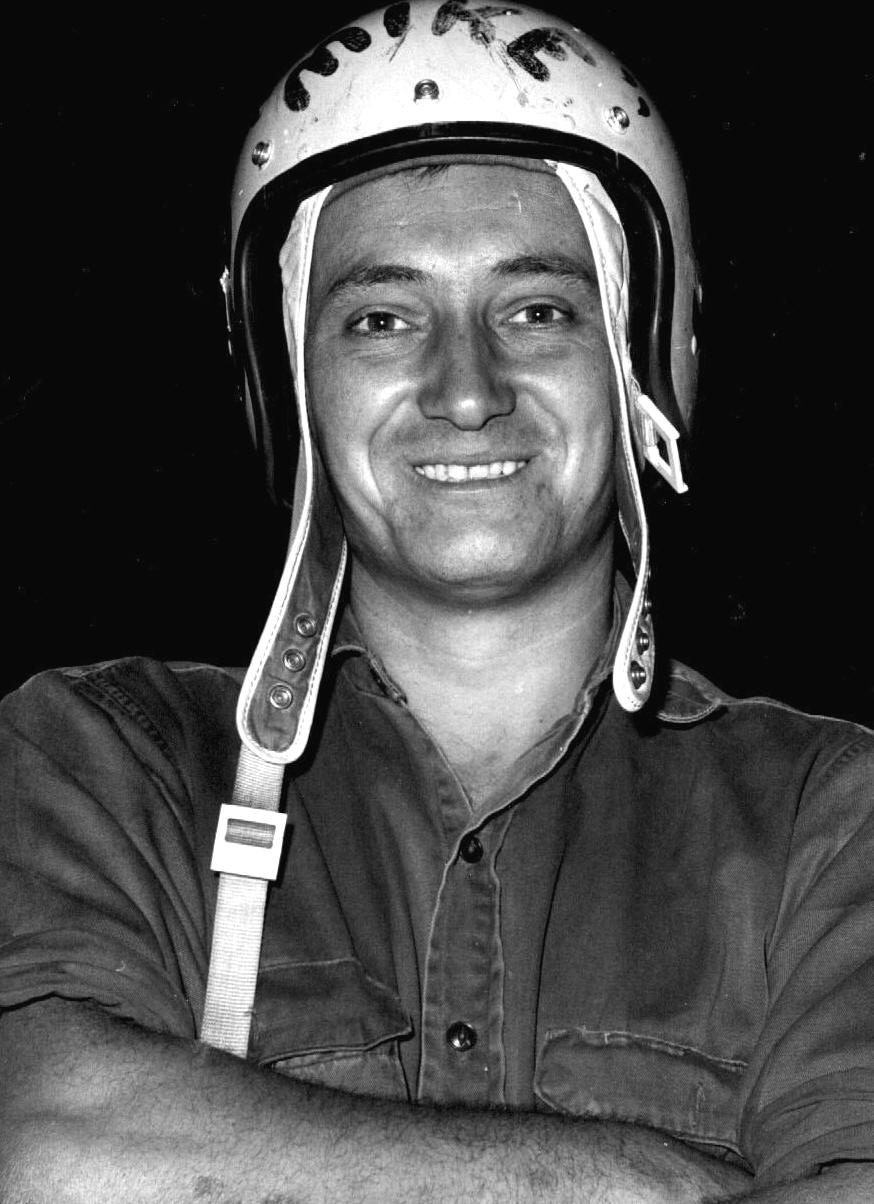 Courtesy of Cho Lee
Outmoded helmet and all, Mike Osborne was ready to roll for photographer / portraitist Norman McIver in 1960. Below - Mike pausing to thinnk out
an interview answer in Victory Lane at Thunder Road around 1962.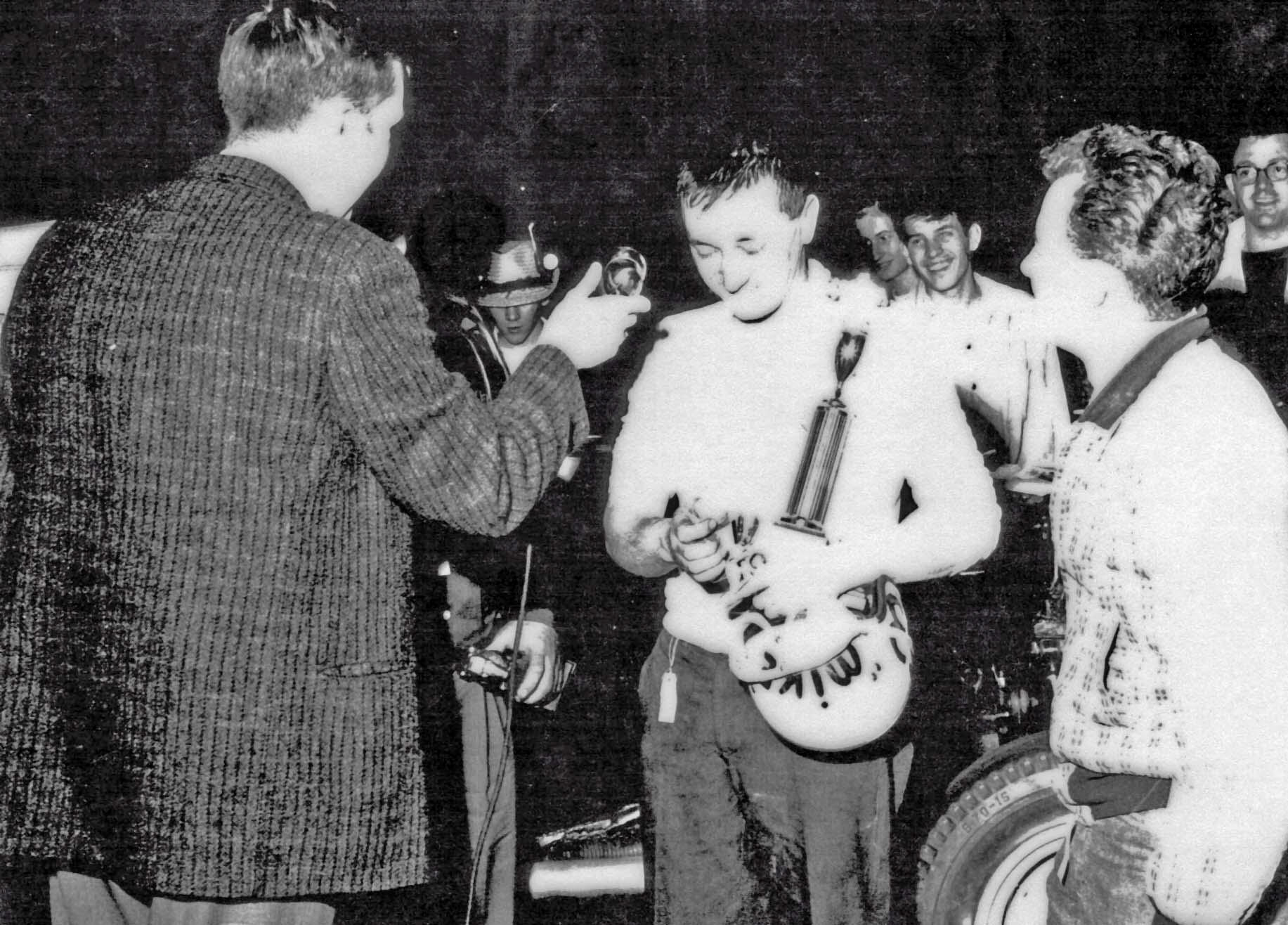 Bob Doyle Photo Courtesy of Paul Mascitti

While keeping in mind that I write this from a position of not having seen or met the man, I just felt he deserved to be put in front of the public eye at least one more time since his untimely death some years back. In an era where Sharon Osborne is probably a more familiar name to people, Mike Osborne was definitely a very big deal at Thunder Road in the early half of the 1960's. He rose quickly among those drivers of the little flathead coupes and – like so many of these same guys – he fell just as quickly when the circuit turned its attention away from those coupes in 1965.
Mike Osborne, from what I have heard, was a multi – talented man; and – like so many others who are steep on talent and potential – he also lived with a penchant for the bottle. An East barre man, Osborne and his father, Jack, were prolific home builders in East Barre in the fifties and sixties, in that post WWII housing boom. According to both Lee and Ward, Osborne always seemed to be drinking, but that didn't keep him from being a good builder or race driver. Perhaps through the home building, he also became a good electrician. He would work, for a period of time for Cassani Electric [probably influencing a young Louie Cassani to become interested in racing, himself].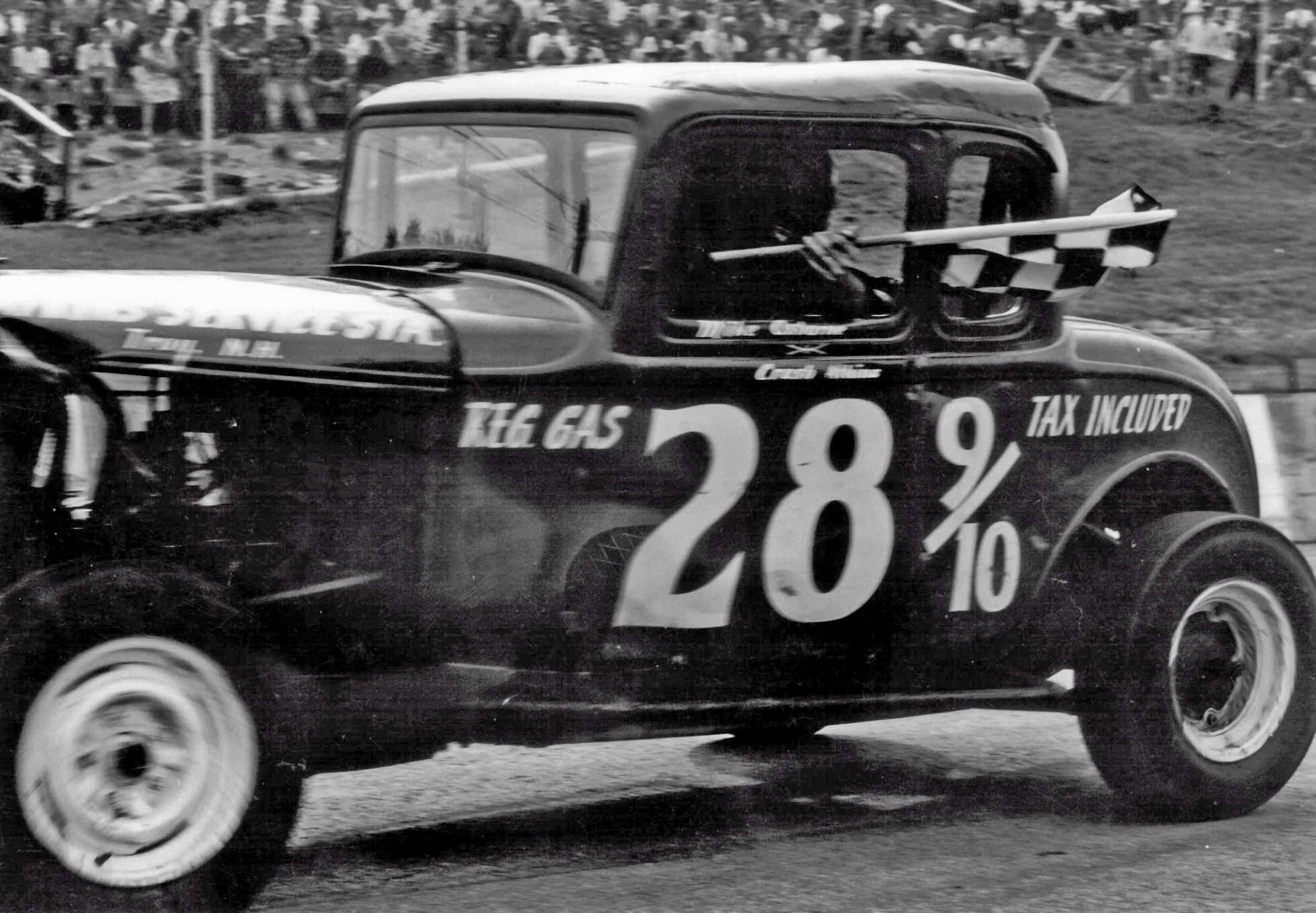 Courtesy of Cho Lee
Mike, in the Harty coupe at Thunder Road. The coupe's strange number was the pirce of
gasonline at Ralph Atkins' serv ice station in those days. Below – Marty Harty, a truly unique New England racing figure.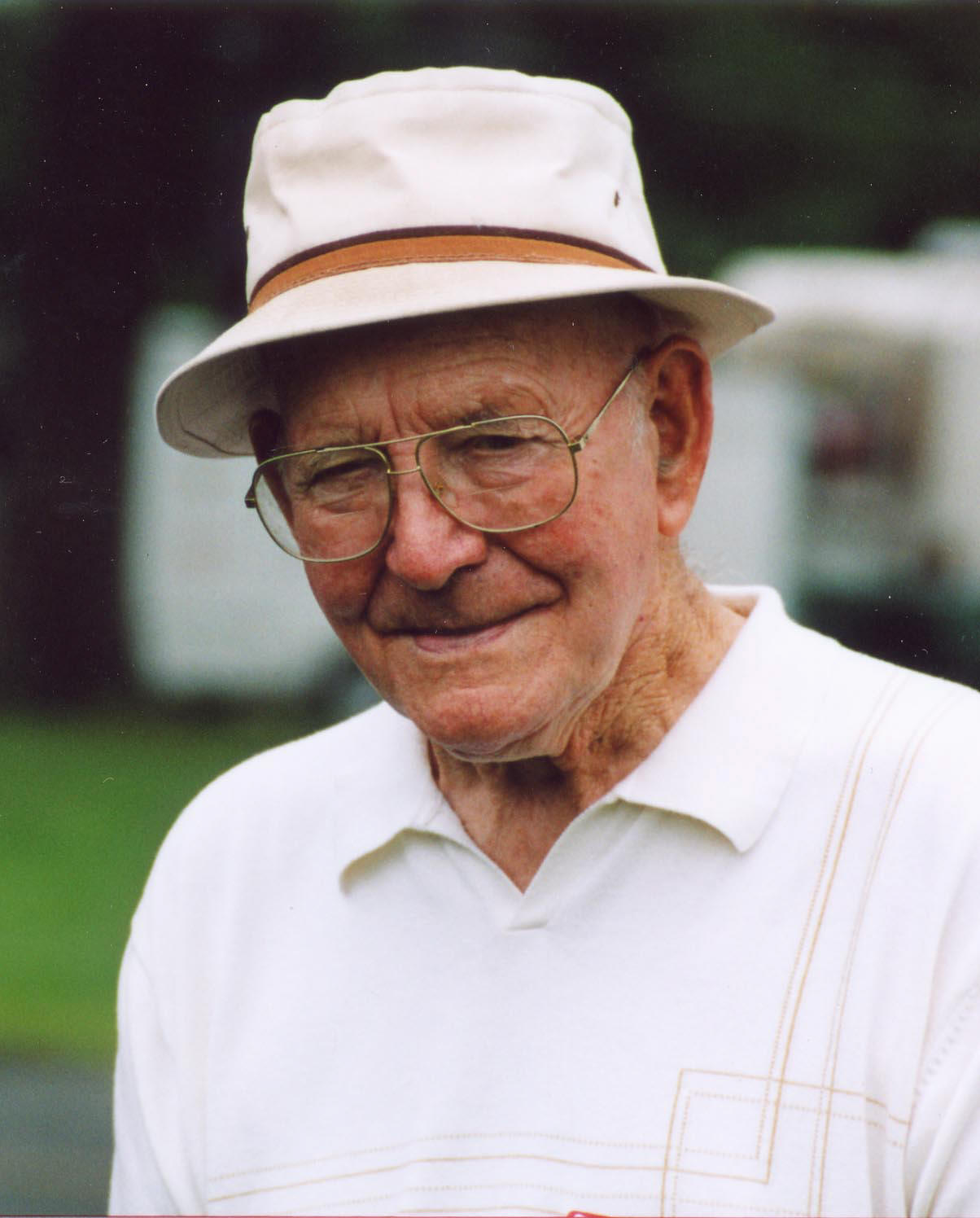 Courtesy of Ken Paulsen



Osborne, who also had a stint as a professional truck driver, began racing, in a limited manner at the old Northeastern Speedway over in Lower Waterford, Vermont. That track,which soon fell by the wayside when Thunder Road took off in 1960, was the training ground for a vast majority of that big corps of flathead coupe drivers that helped the Barre track make its name and establish its unparalleled fan base. But, it was at T Road that Osborne became a star and earned the nickname The Yankee Flyer.
I know nothing of what Mike drove at Northeastern Speedway, although one of the first rides he seemed to have was that of iconic car builder Marty Harty, from down south further in New England. Harty eventually fielded both a coupe and a strange – looking sedan at Thunder Road [both with the number 28 and 9/10 for the price of gasoline at his sponsor's gas station in Troy, NH]. Osborne would drive the coupe in the earlier years of his tenure at the Road.
One of the high points in the Osborne career came in 1961 when he was the winner of the very first Governor's Cup race, held at Thunder Road at that time [given there was no Catamount Stadium yet]. He would have received his trophy from then – Governor F. Ray Keyser, an aristocratic native of nearby Chelsea, VT. Keyser, who, I am told, seemed absolutely flabbergasted at most everything to do with stock car racing, was more comfortable on the golf course. In retirement, he often golfed with my parents after serving as President of the now – defunct Vermont Marble Company. It is likely the diminutive Osborne's pleasant demeanor probably put him at ease in Victory Lane.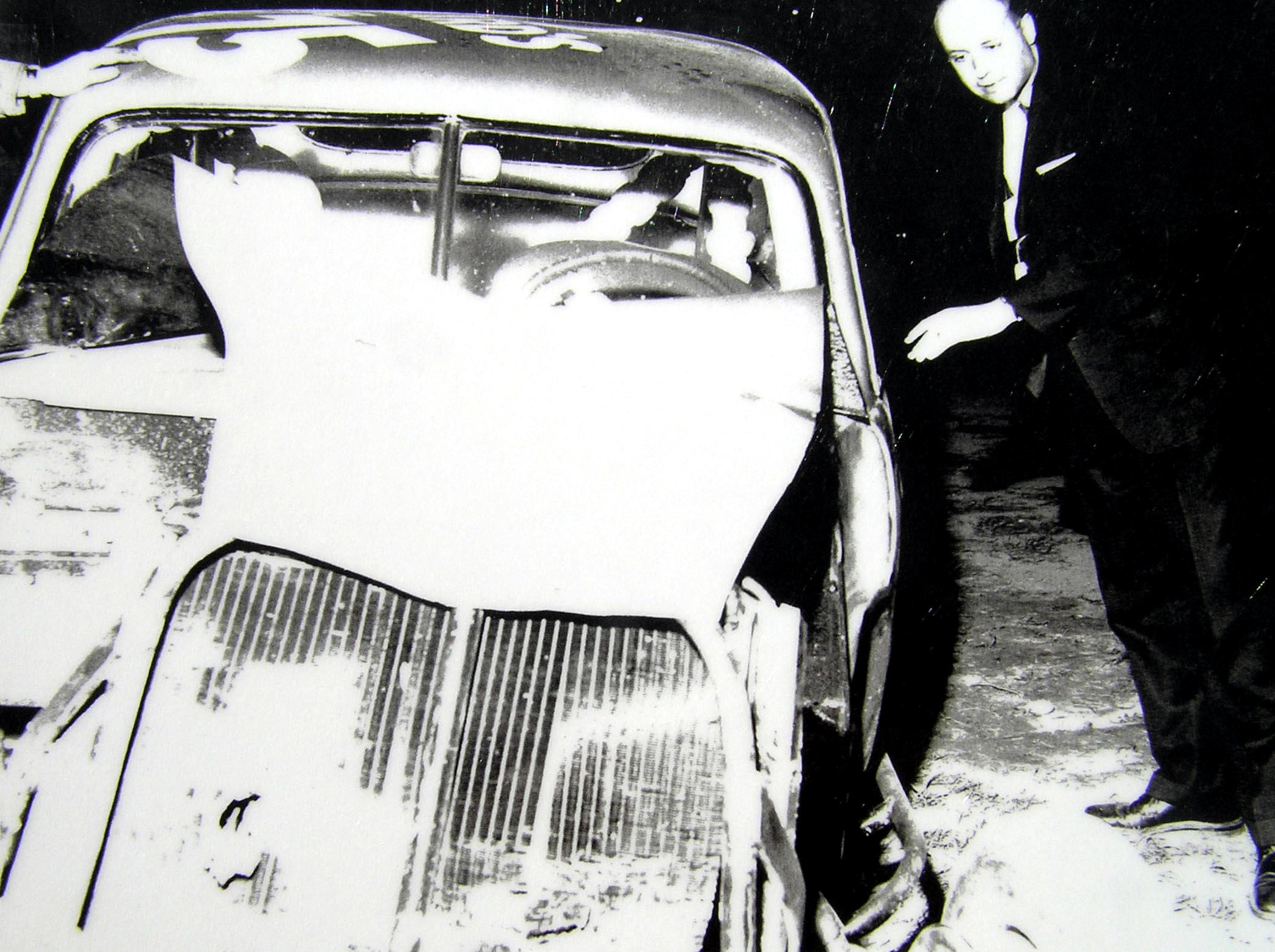 Courtesy of Cho Lee
Governor F. Ray Keyser looks in amazement at the wreckage on Couillard's 75, then a leading Thunder Road car.
The Harty cars remained active at Thunder Road, with Osborne, Roger Lancey [a Brookline Speedway driver], and even future national champion Ernie Gahan taking turns at the wheel. Osborne would eventually move on to some other cars in the course of his time at the high – banked quarter – mile track. The car I see shown and referenced to the most is a #91. An old notebook, kept by an unnamed woman at Thunder Road in 1960, shows Osborne's 1960 entry as that #53 at least once. Those notes show T Road fields as a large smattering of Northeastern cars, old Malletts Bay cars, and some new teams from the Barre area. Other pages in the notebook show Osborne driving the #91. He also drove a local car #28, sponsored by the Howard Johnson's restaurant on the Barre – Montpelier Road.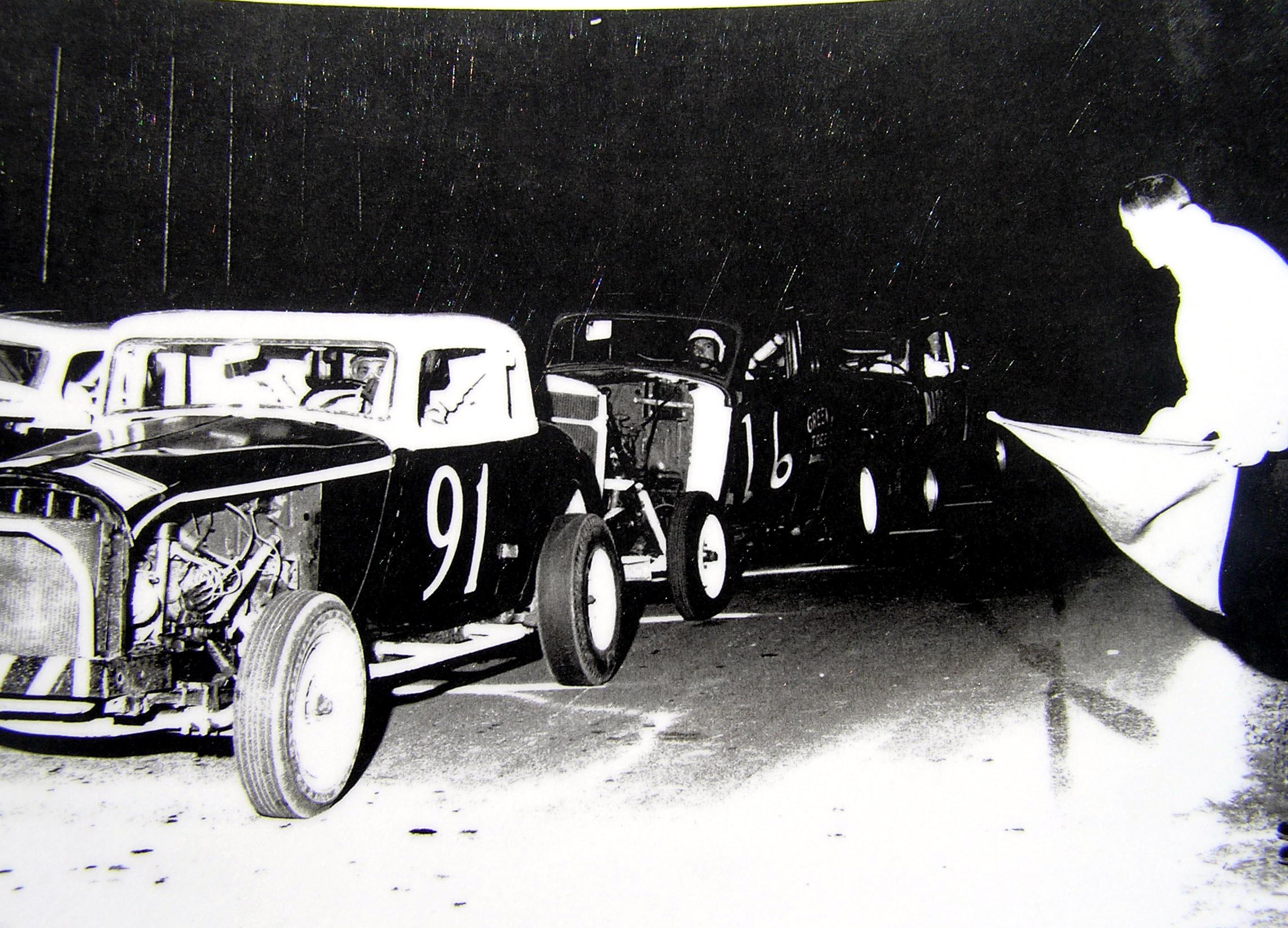 Courtesy of Mark Austin
Osborne in the more familiar 91 at T Road ahead of the recently – deceased Glenn Andrews.
Below - The Howard Johnson's – sponsored 28 car in which he appeared some at T Road.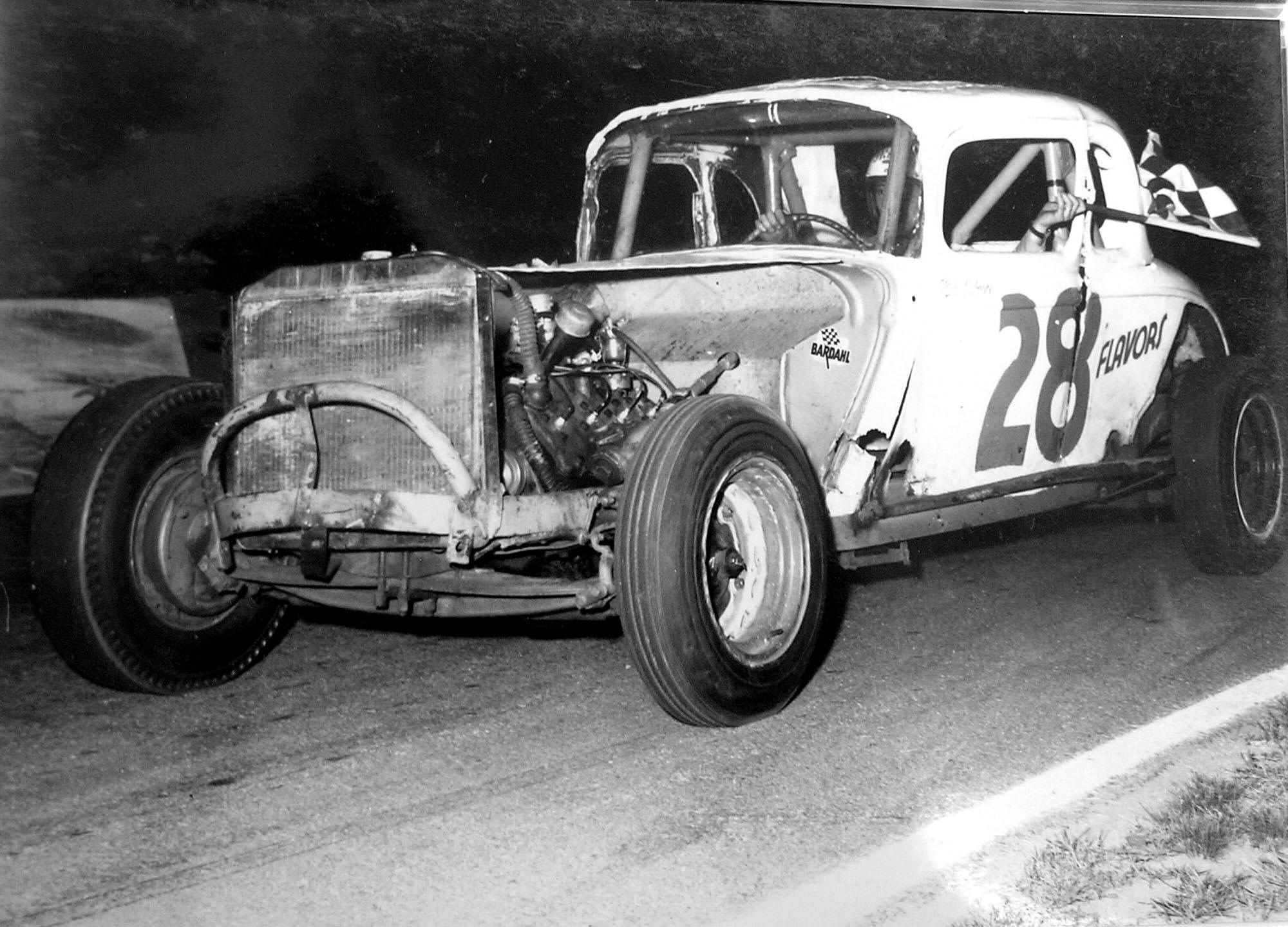 Courtesy of Cho Lee

Neither the 91 nor the 53, however, was the one he and Jack built in the basement of their hose in East Barre. Ronald Ward tells of this car because it was built to completion in the cellar. Then, they discovered it was too large to get out. They ended up carefully removing cinder blocks to coax the coupe outside. This is almost identical to what Wes Moody and Jim Hoyt managed to do over in Saranac Lake, NY a few years after. They apparently built a pretty good one.
The first time they ever took the basement – built car to Thunder Road, Mike went out and broke a lap speed record that had been held by Bethlehem, NH's massive, intimidating Ronnie Marvin [named The Bethlehem Bombshell for damned good reason]. Thrilled to hear the news and ever the good sport that he was, Marvin went over to to the significantly – smaller Osborne and punched him in the nose for his trouble. 1960 notes had shown Marvin establishing a 16.6 lap time – a full second better than his own previous times. Osborne's time was one tenth of a second faster. The Osborne car was unusually numbered as #1240, after the radio station that was sponsoring him at the time.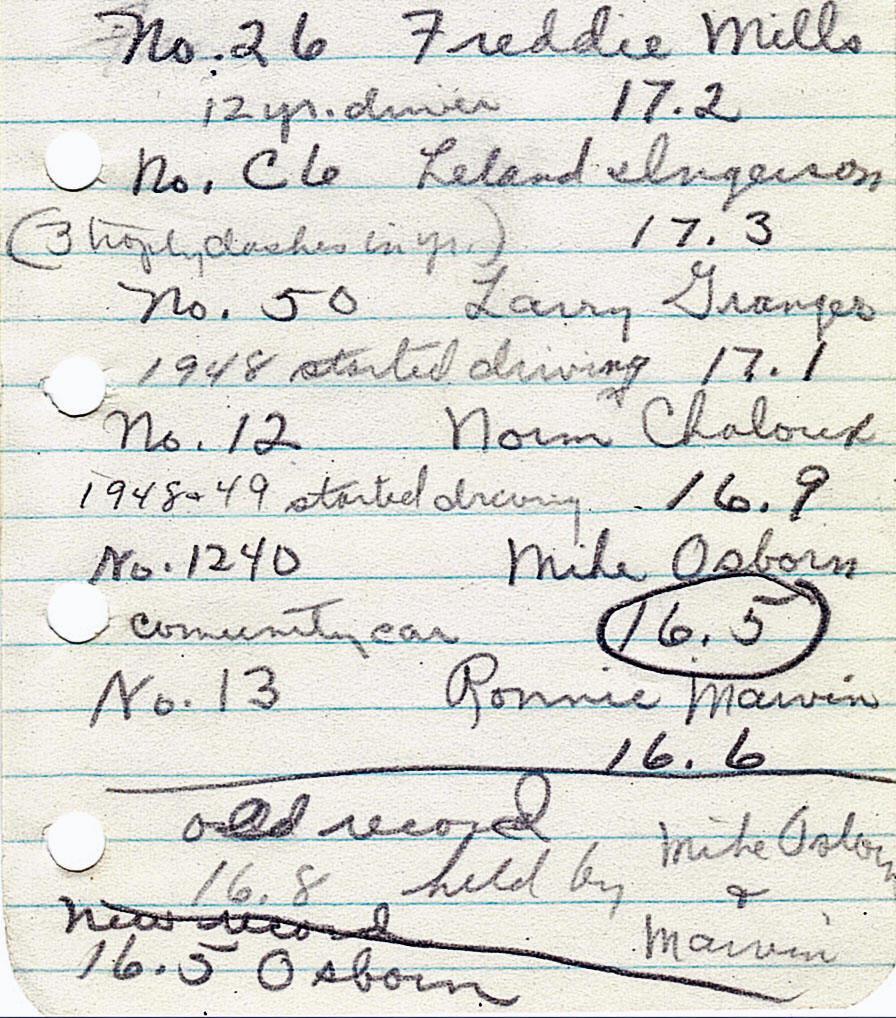 Courtesy of Kevin Scott
This page in the mystery lady's notebook tells it all. Marvin had outdid his own lap time by a full second, only to have that squirt Osborne in that weird –
numbered car come along and beat it by .1 of a second. Below – Osborne is dwarfed by the massive Marvin in this shot by the Thunder Road pace car.
Nice smile Ron !

Courtesy of Cho Lee
The Osborne career lasted through 1964, when he was shown in more than one Victory Lane photo, often with his hulking nemesis, Marvin the Mauler. He needn't have felt alone, as dozens of his fellow competitors had either been physically menaced by Marvin or at least shoved off the track. Keith Ballard, an unassuming fellow from Hinesburg who would eventually move off to the Otter Creek Speedway in Vergennes and win a NASCAR track championship in the hobby division, found his red and white #71 on its roof thanks to the Bombshell.
1965 was a trying year. With NASCAR moving in, the flatheads were put on a one – year final season as the overhead valve V-8 sportsman coupes started coming in from New York, Canada, and Massachusetts. Some Road regulars like Merlin Bean, of Middlesex, sought out their own sportsman cars while others, like Marvin, took full advatage of a weight allowance to run the flathead so effectively that he ended up 8th in the national standings that year. Osborne, and most of the other flathead drivers saw the end in sight. Bear Ridge Speedway, a haven for wayward and forgotten flathead teams, was still three or four years away from being created.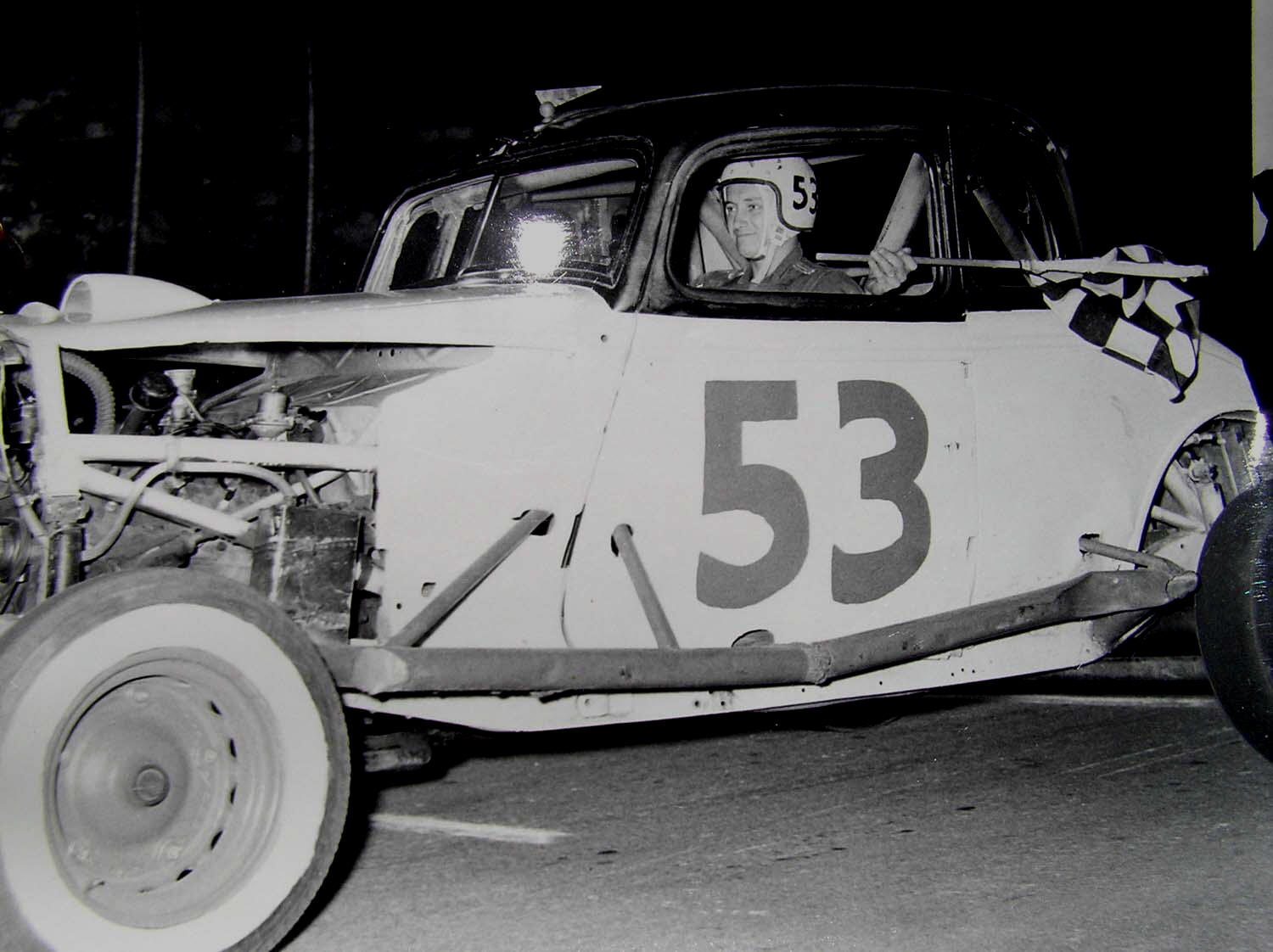 Courtesy of Mark Austin
They only made one Yankee Flyer.
Eventually, a successful ride for the Mike Osbornes of the world was no longer available. While he drove trucks, his drinking apparently became worse. He finally ended up actually homeless, living part of the time under a bridge somewhere in Barre, according to Cho Lee. No one quite knew what to do to help him. He passed way too young, a fact which was strongly mourned by not only the Thunder Road community, but the greater Barre community as a whole. They just don't have Mike Osbornes any more in racing... it's too much of a cookie cutter world now.
Please email me if you have any photos to lend me or information and corrections I could benefit from. Please do not submit anything you are not willing to allow me to use on my website - and thanks. Email is: wladabou@comcast.net . For those who still don't like computers - my regular address is: Bill Ladabouche, 23 York Street, Swanton, Vermont 05488.
AS ALWAYS, DON'T FORGET TO CHECK OUT MY WEBSITE
www.catamountstadium.com
Return to the Main Page
Return to the Main News Page
Return to the All Links Page
Return to the Weekly Blog Links Page