When I happened upon one old issue of Speedway Scene in my barn, I was about to throw it out. After all, it was one of the few from that time that did not have one of my "From Bills Angle" columns in it. Then I noticed my hastily - scrawled note on the front page and decided to bring it in the house and look it over. Good thing I did. It was quite the good issue, as advertised; and - it came at a rather pivotal time in racing in the Northeast.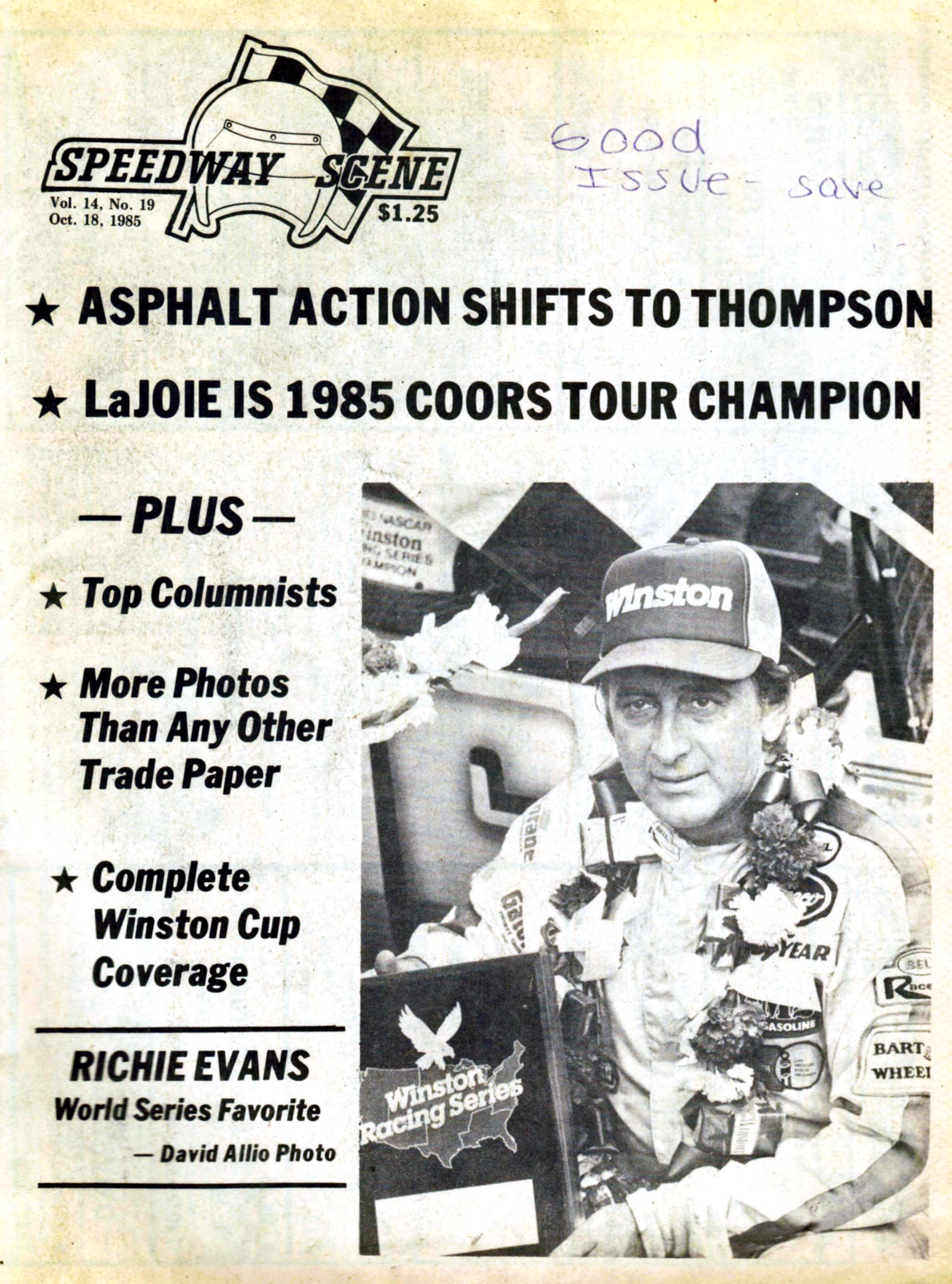 This is the front front page. The choice of Richie Evans is both important and eerie. As of this issue, he had only a week left to live.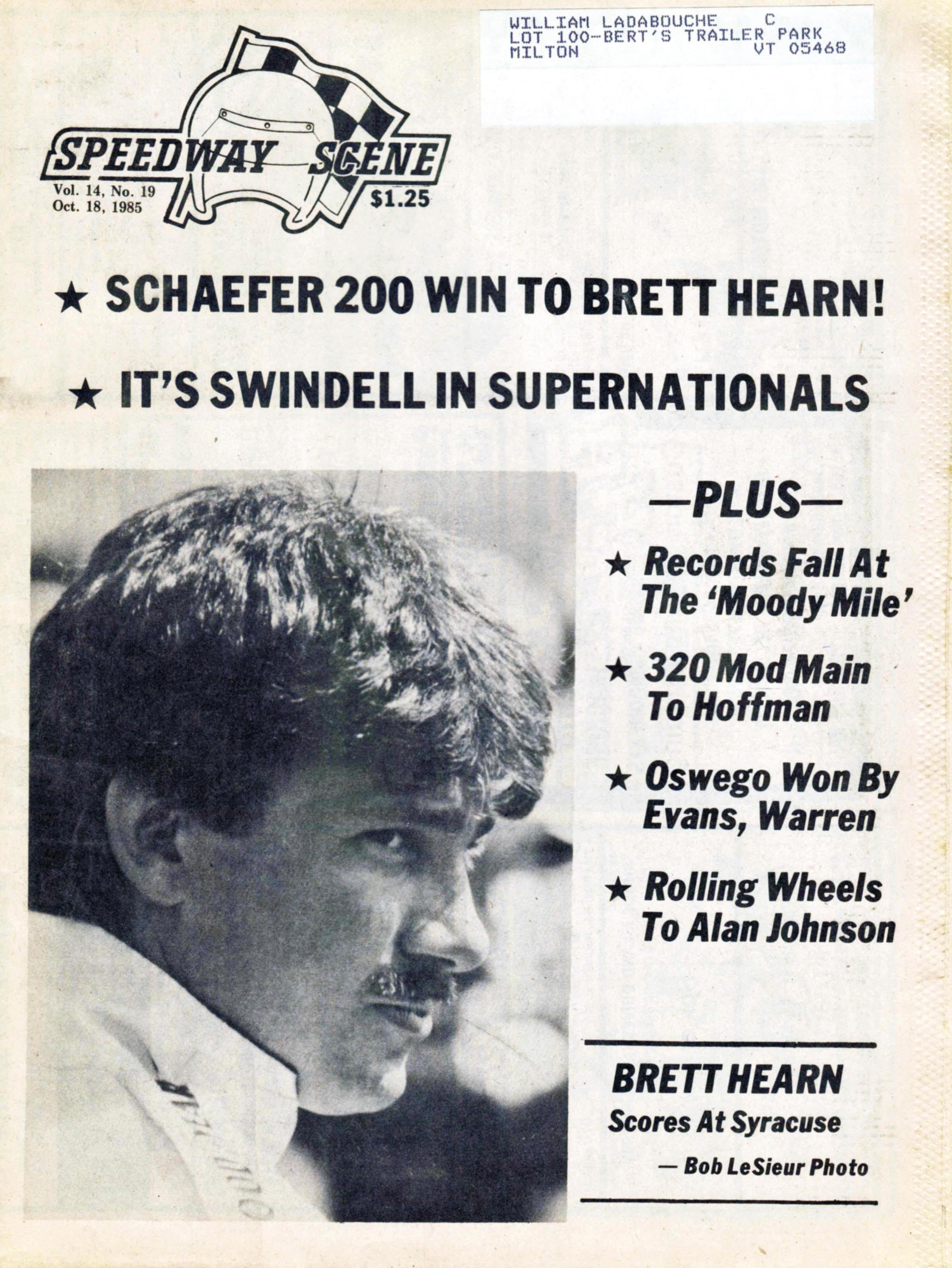 This gives evidence to my assertions that I spent my fair share of time in a trailer park after the divorce. Editor Le Sieur always
used the back page of the paper as a second banner. See / Hearn was young once like the rest of us.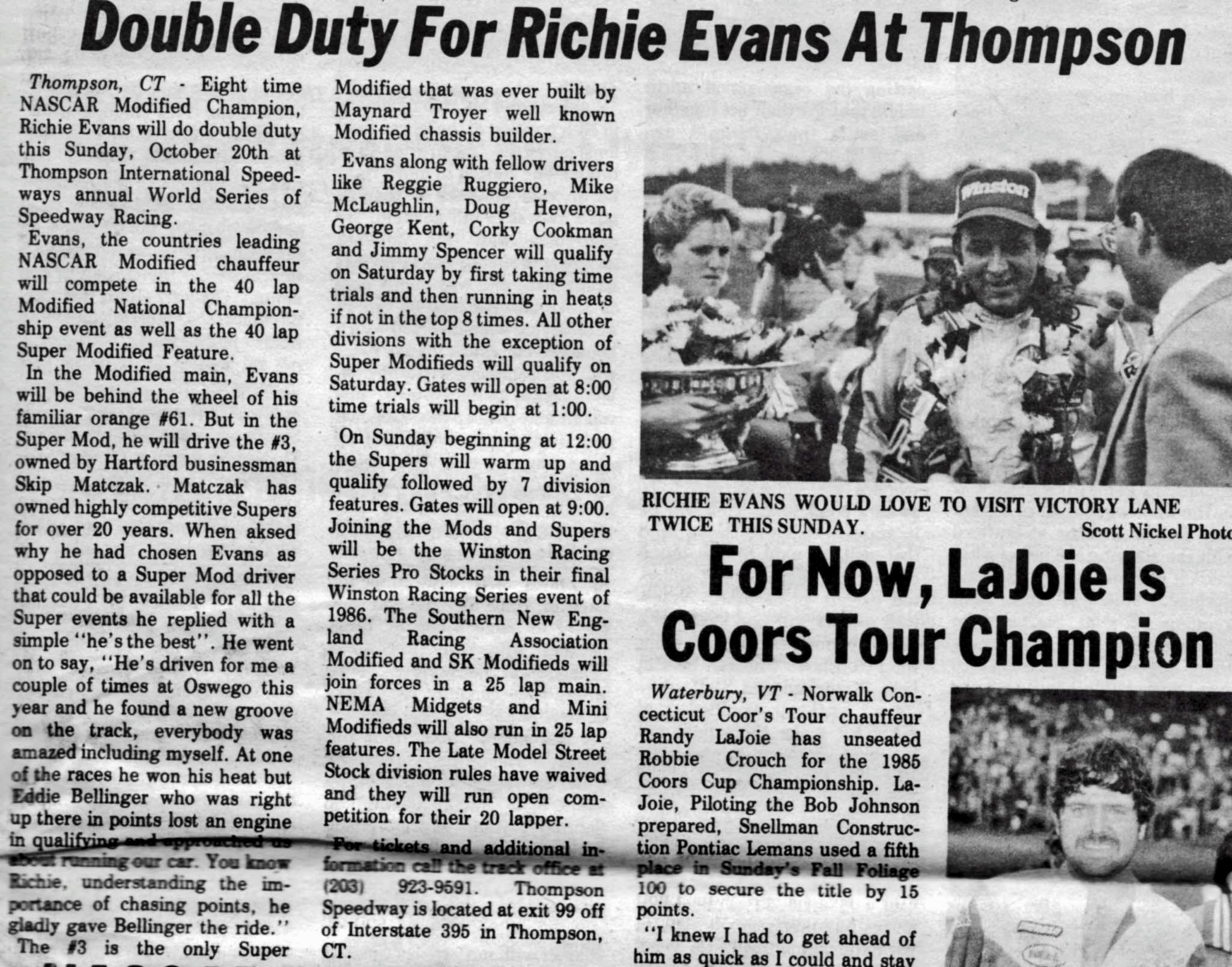 I didn't take every inch of every page in this issue. I picked out material that I knew to be significant.
This is sadly the last racing gig Richie would have. I think he went down to his next race, the next weekend and died in practice.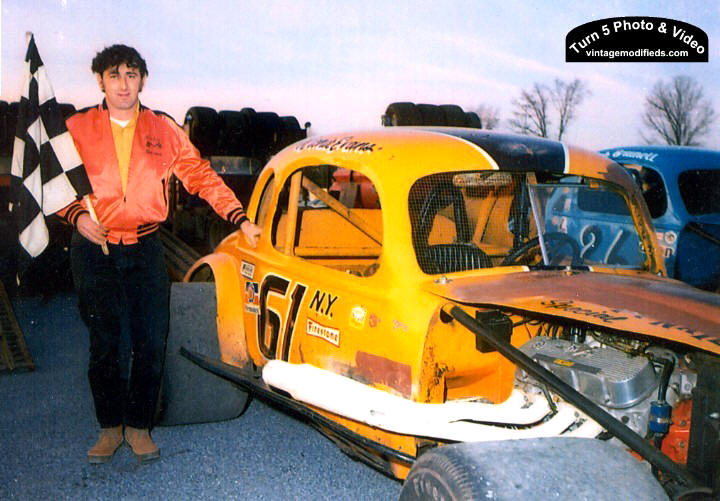 John Bisci Photo
One of my favorite Richie Evans cars.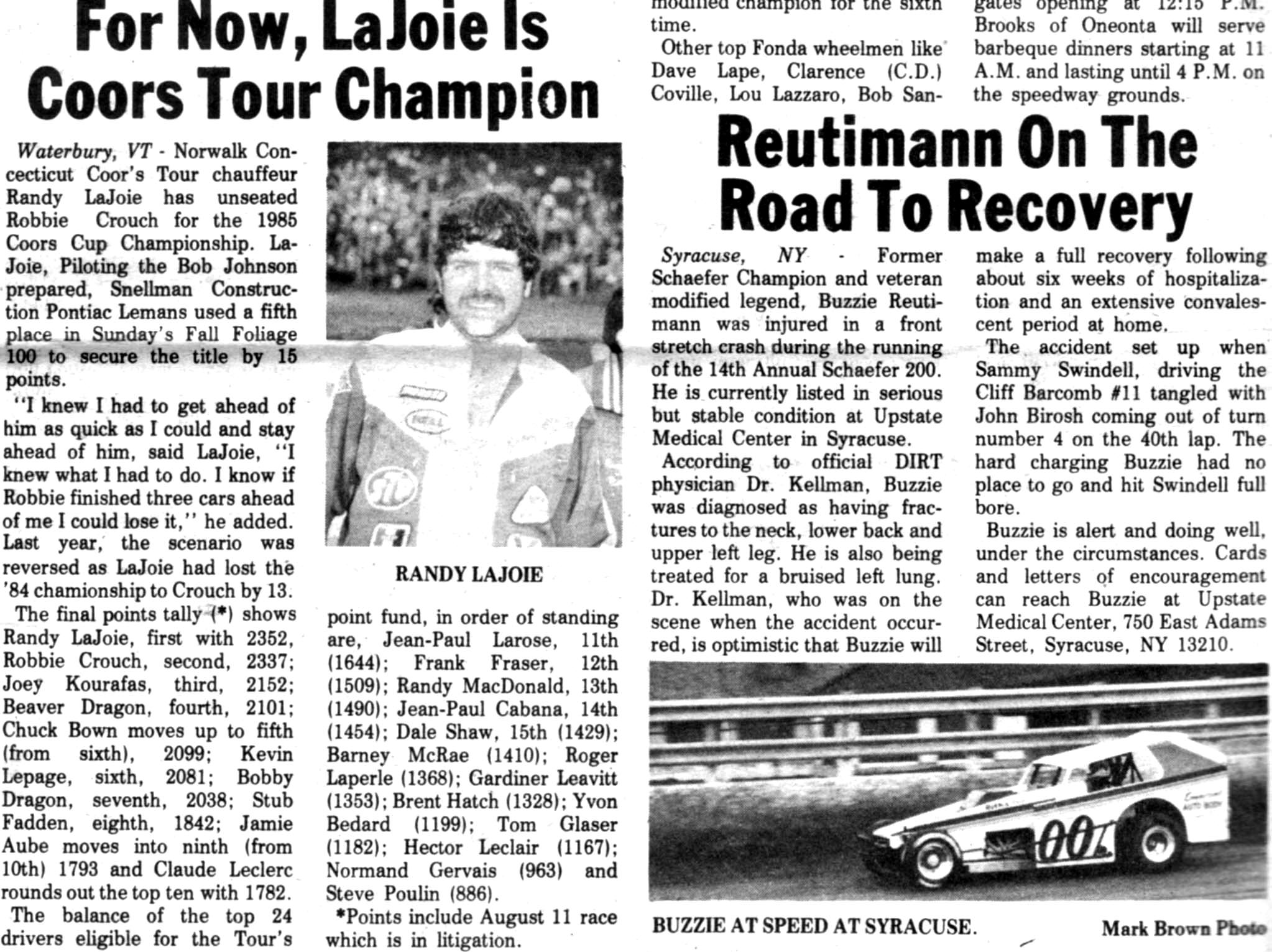 Two items of note here: 1.) This was the time of the LaJoie / Crouch flap that ended up as one of the reasons
Tom Curley split from NASCAR after this season. There will be other references further back in the issuee.
2.) Several legendary modified drivers were hurt or killed in this two week period. The above piece refers
to the wreck suffered by Buzzie Reutimann at Syracuse. It certainly put a damper on his long career.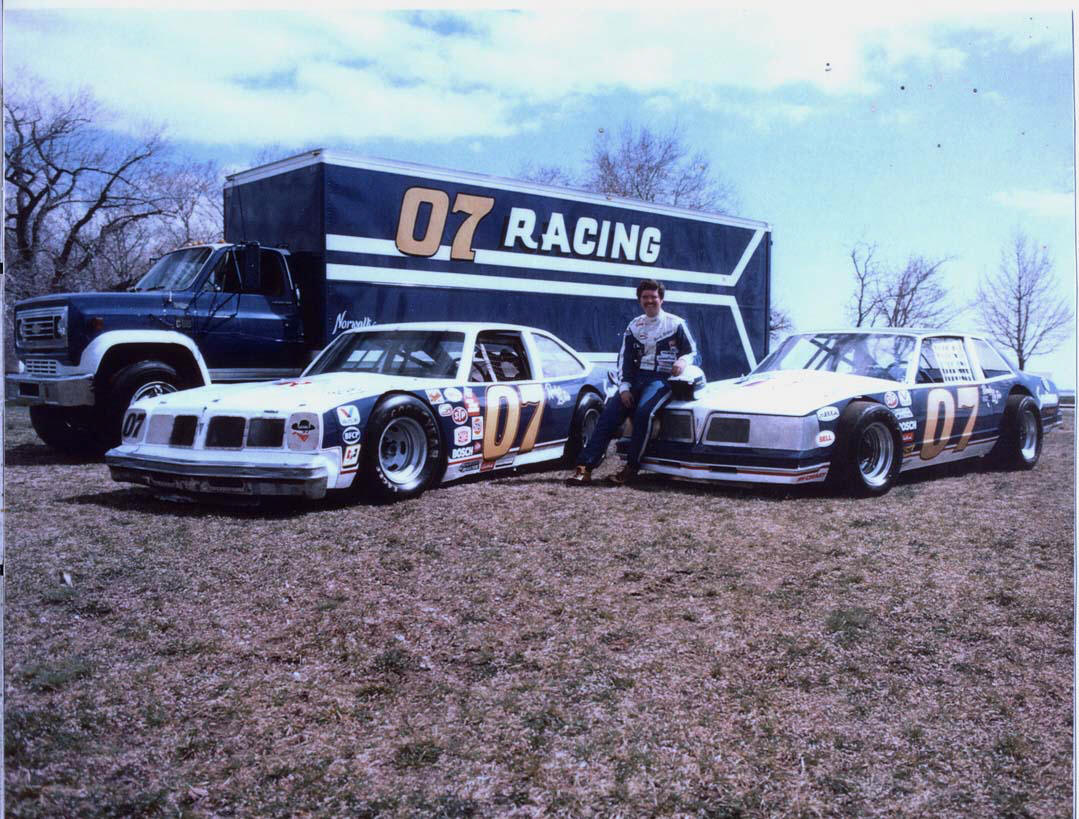 Courtesy of Cho Lee
Randy Lajoie's Coors Tour equipment. He never exactly ran on a shoestring.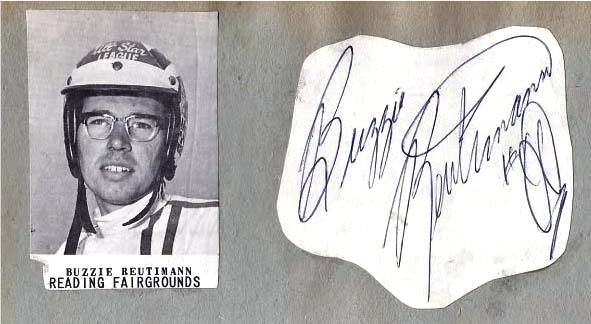 Source Unknown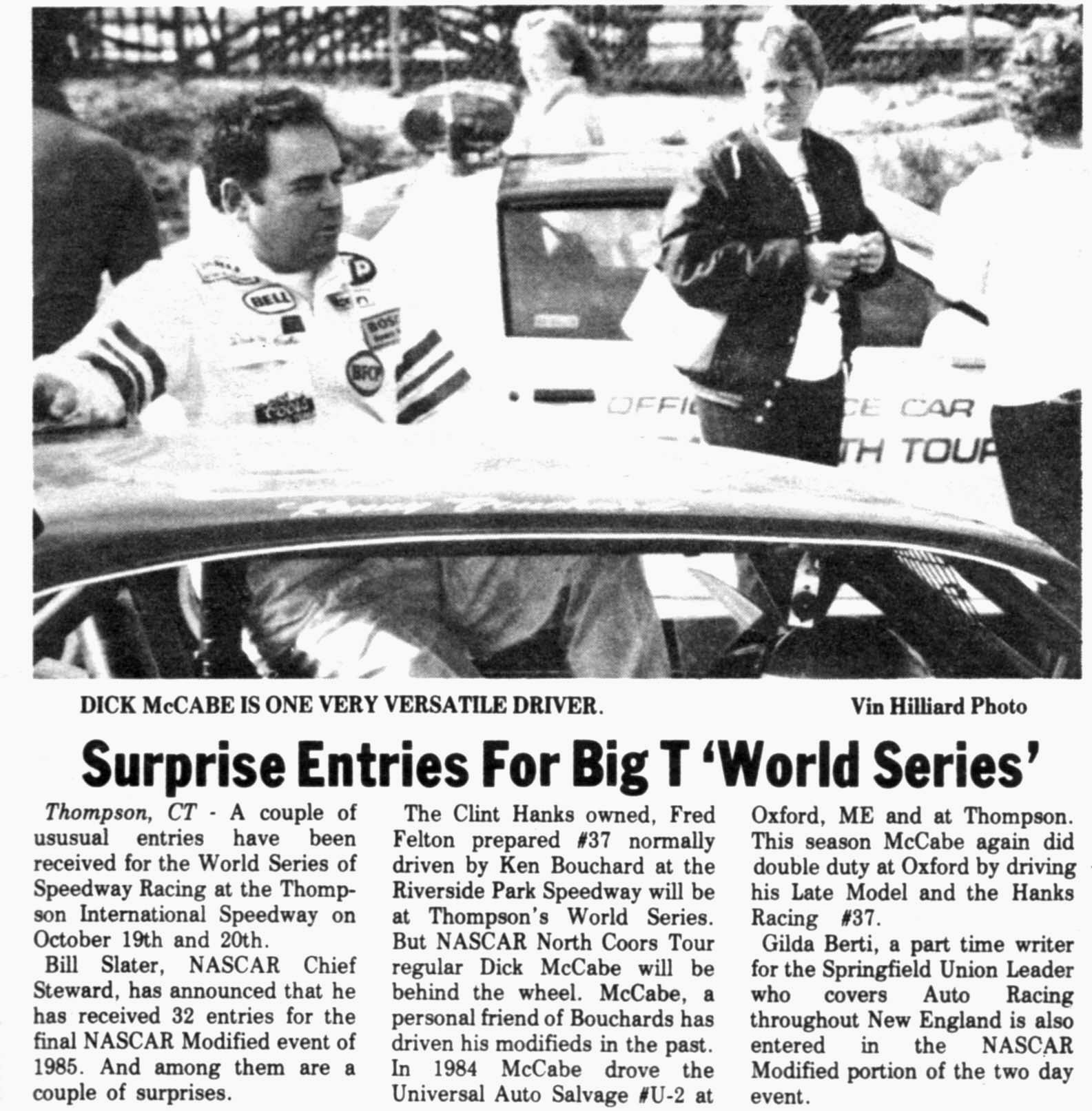 The "Irish Angel" Dick McCabe is best known to me as a champion NASCAR North late model sportsman driver. To Maine folks,
he is synonymous with racing at Beech Ridge in the earlier days of Maine racing [where hje learned to handle a modified].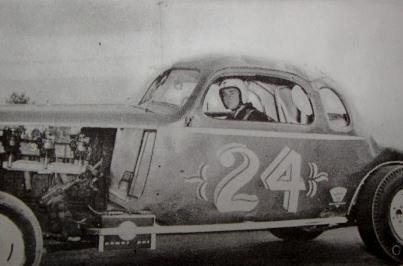 MVRCA Site Photo
Dick McCabe [shown here at Lee] had a modified background before the late models.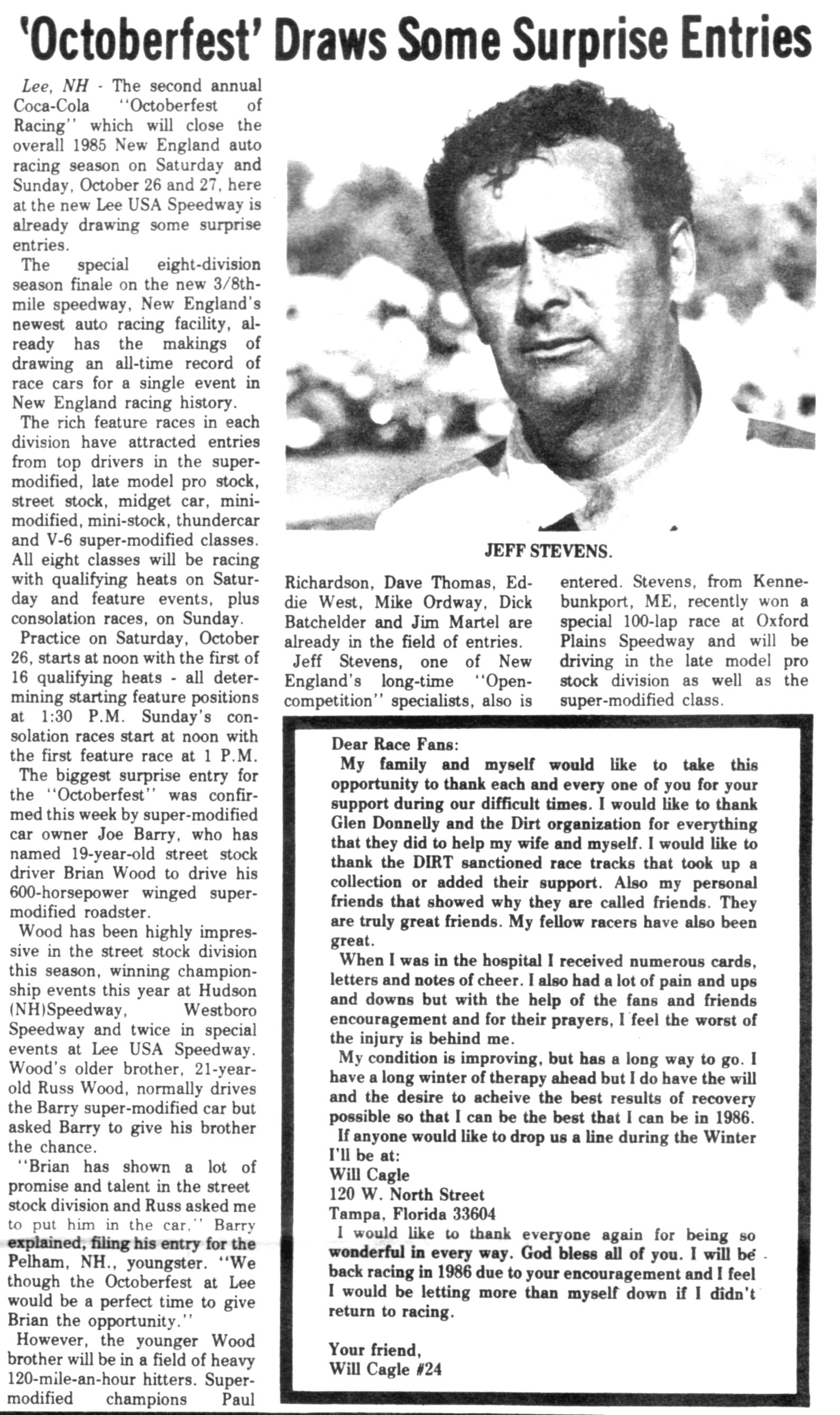 Will Cagle was one of those legends who had been injured in this approximate time period. He and Reutimann were over a decade removed from their
brilliant performances in the All Star Stock Car Racing League and both were at the end of long and successful careers.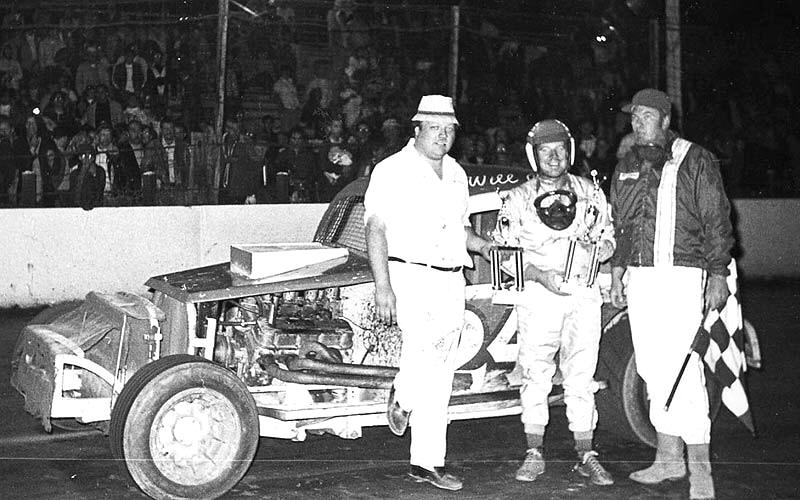 John Harper Photo
Will Cagle, in the glory days of the All Star League, winning one at Lebanon Valley.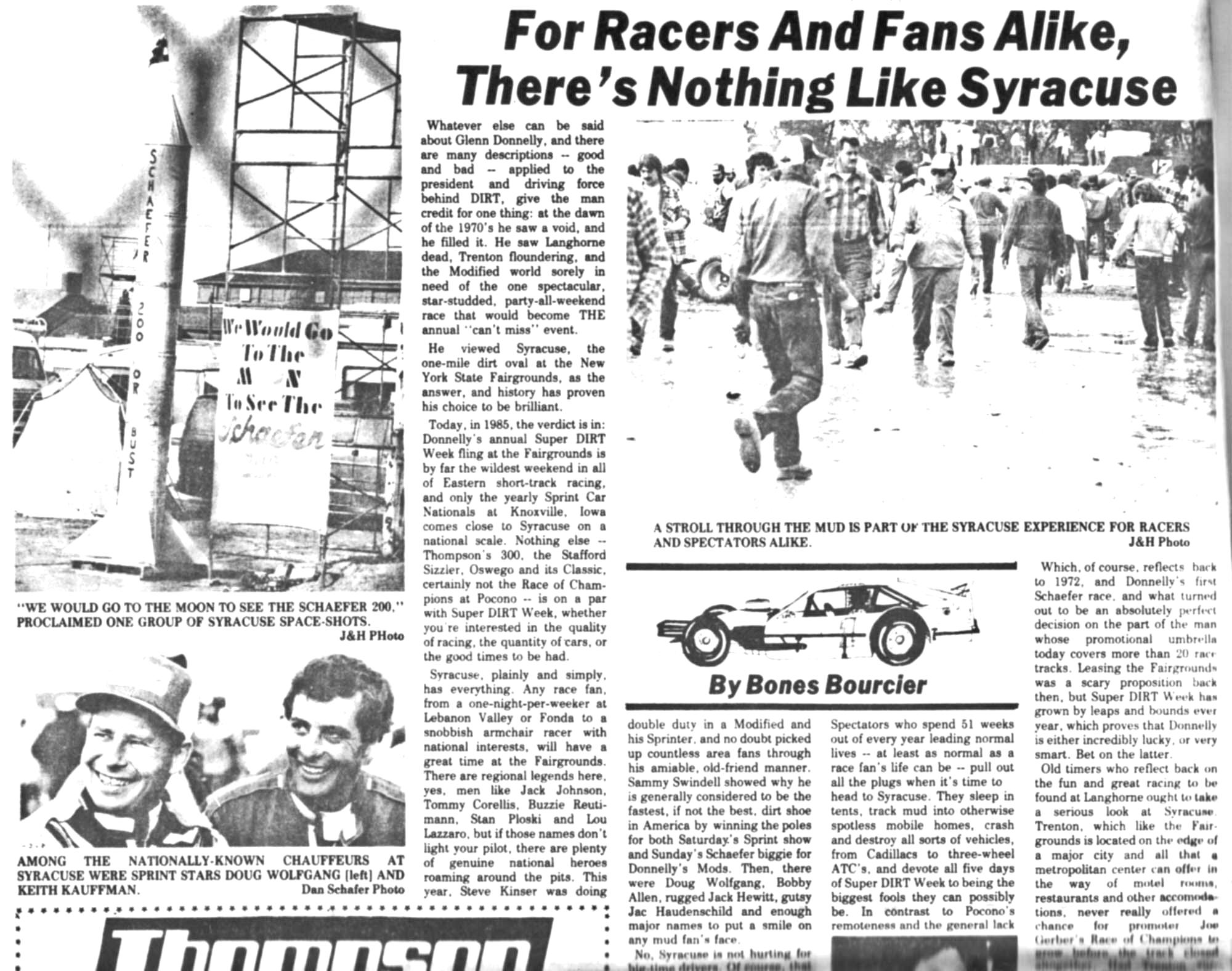 Just some good thoughts and shots on the whole Syracuse scene. It still hasn't changed that much.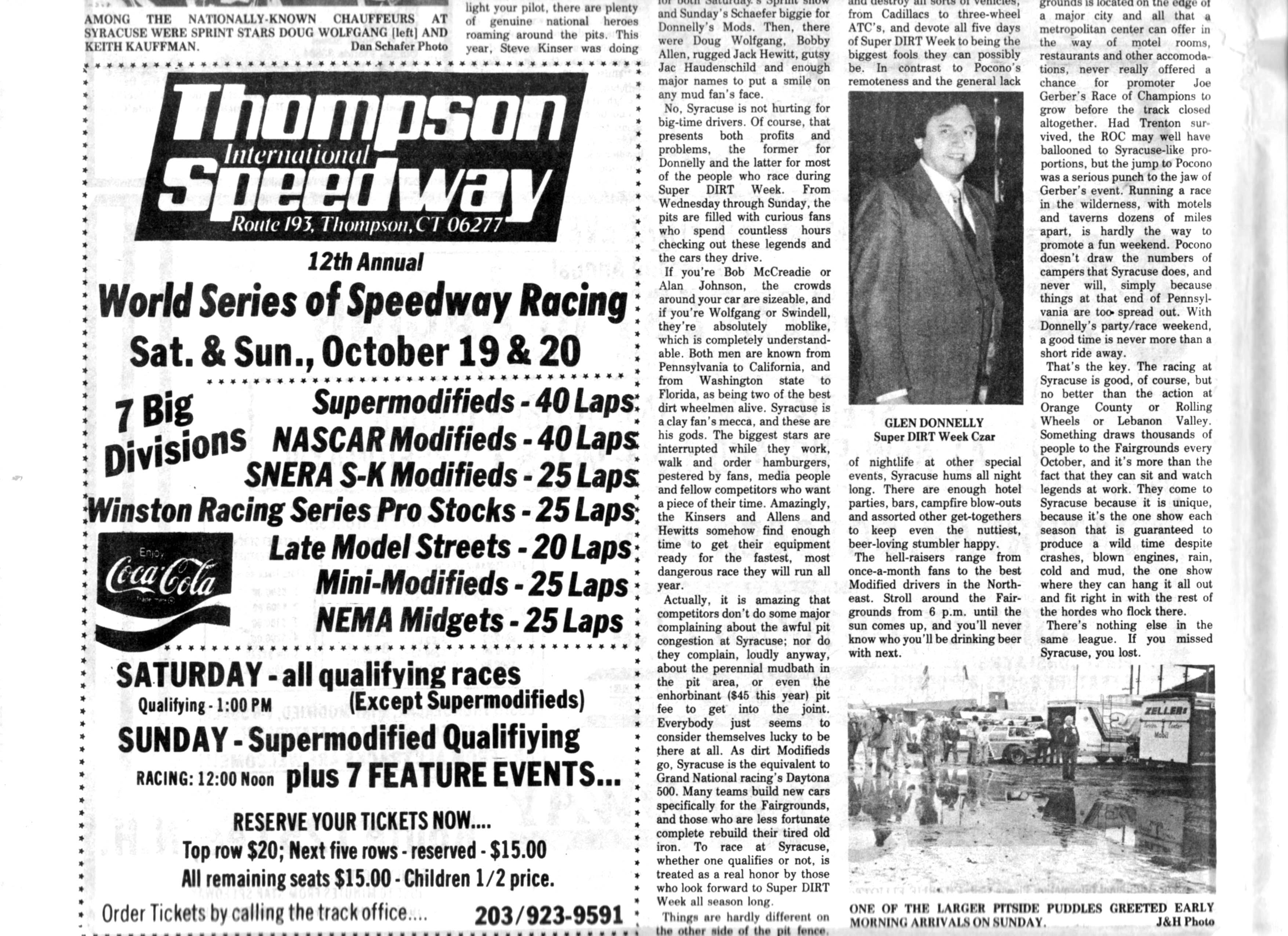 More Syracuse... and check out the Thompson prices.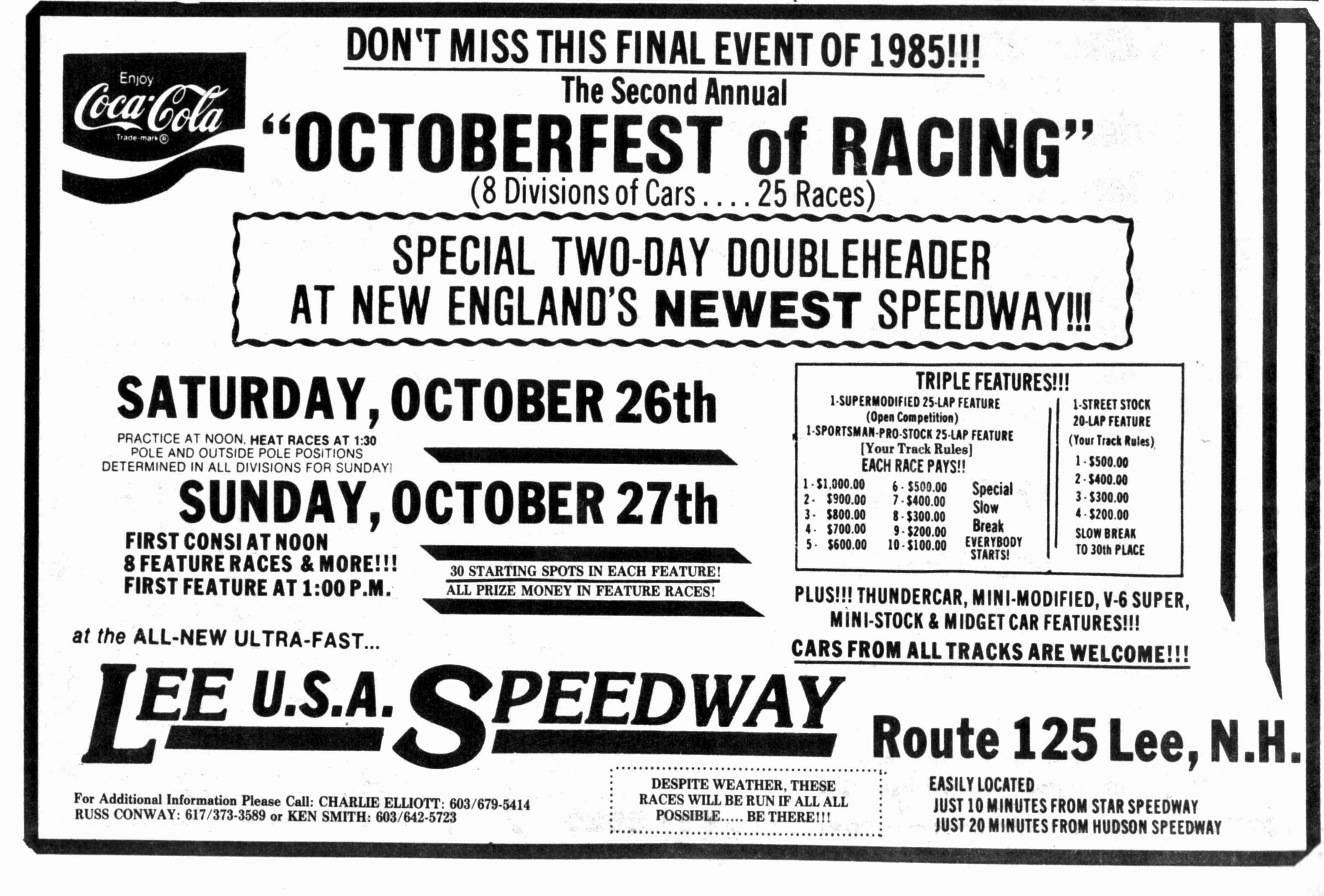 Big doings at Lee. Interesting payout. Some tracks haven't improved much since then. Economy, economy, economy.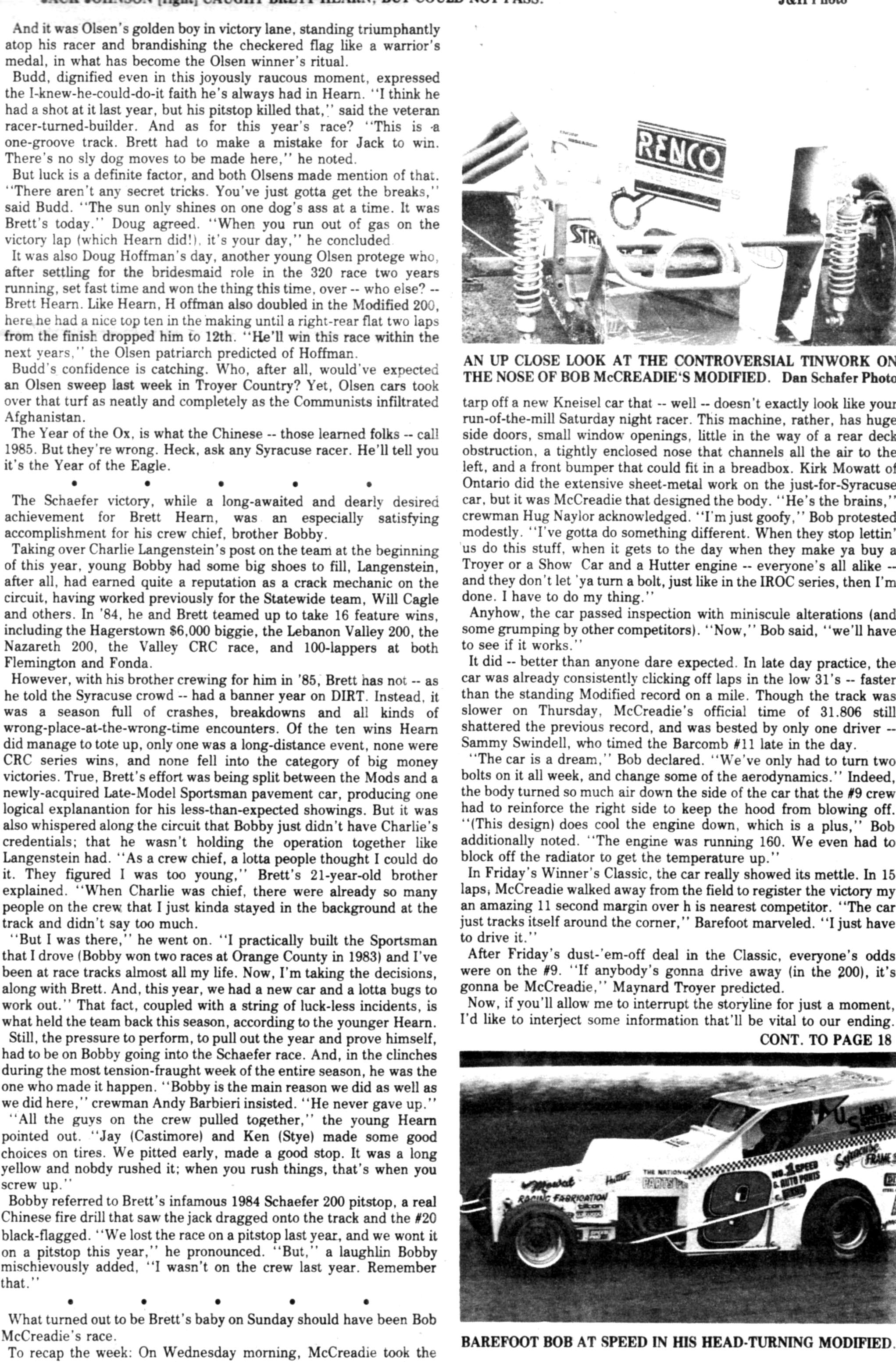 The Barefoot One ruffled a few feathers. But, geez - after the Batmobile it's a wonder any feathers could still be ruffled.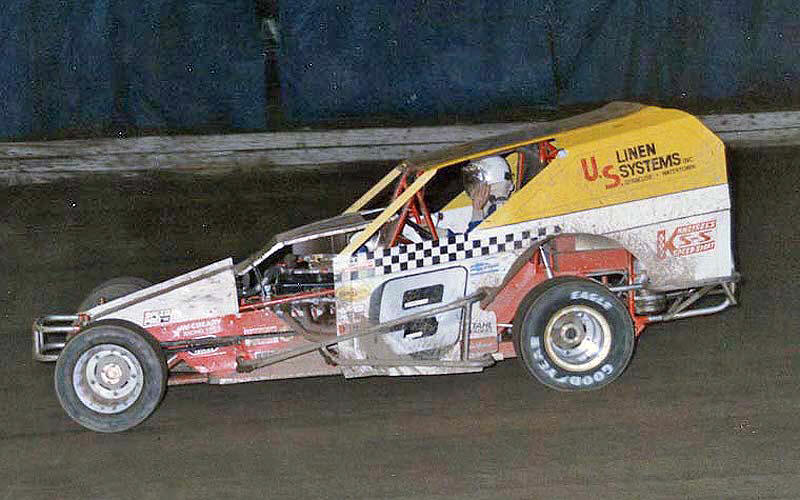 Courtesy of Otto Graham
McCreadie reaches for a tearoff, at speed, in what is my favorite of his cars. This is right about when the
above Syracuse car would have been being created.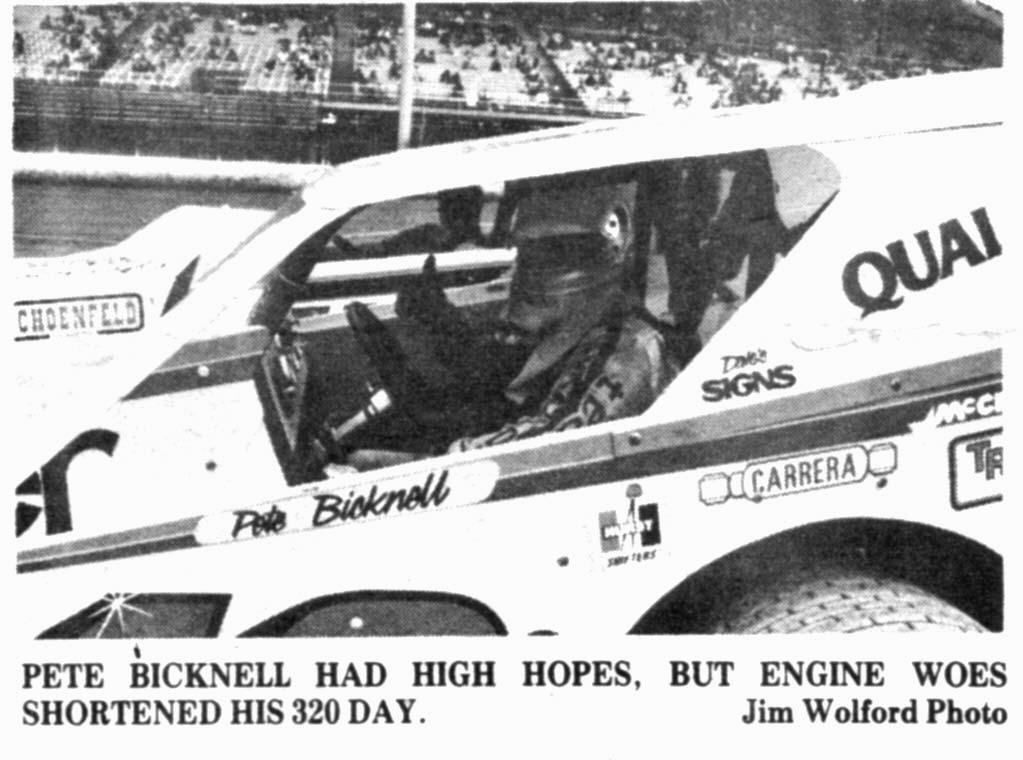 This is a hair before Pete became the big car builder he is today. I think he was doing a few cars in those days.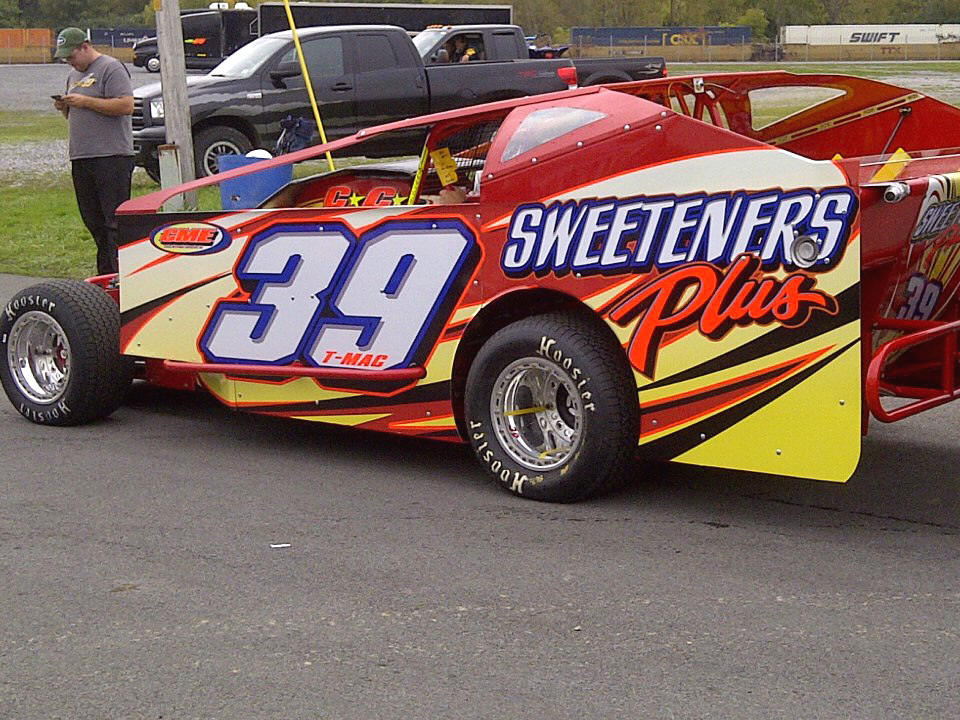 From Dirt Track Digest - Source Unidentified
Tim McCreadie's Bicknell car from recent times; not much like the Bicknell Pete was sitting in above.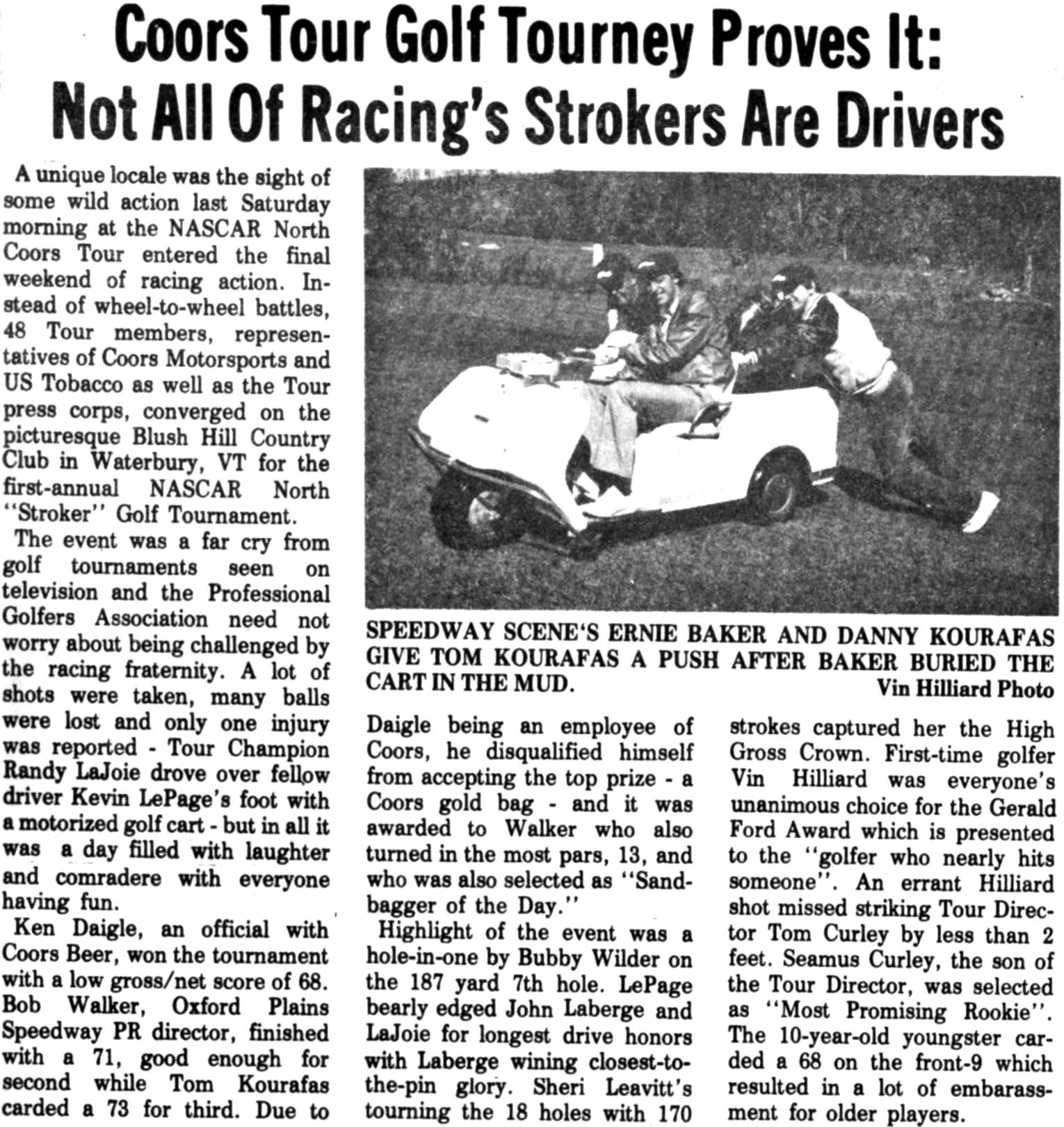 Just as the s--- was hitting the fan with NASCAR, Curley and his group were trying to relax after a long season and
have one good timne before the real frost was on the pumpkin. The tour would then lose the name
NASCAR North Tour and simply go, for a season as the Coors Tour. Two years later, the ACT would come in.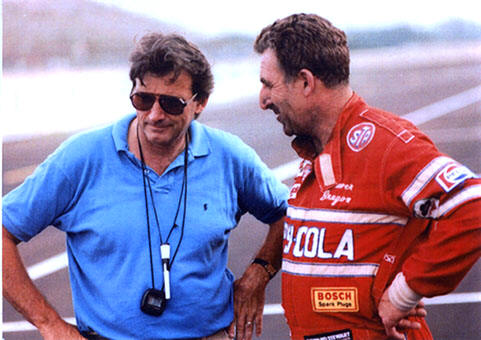 Dragon Family Photo
Tom Curley talks to Beaver Dragon around the time this issue was being printed. Happier and healthier days for Curley.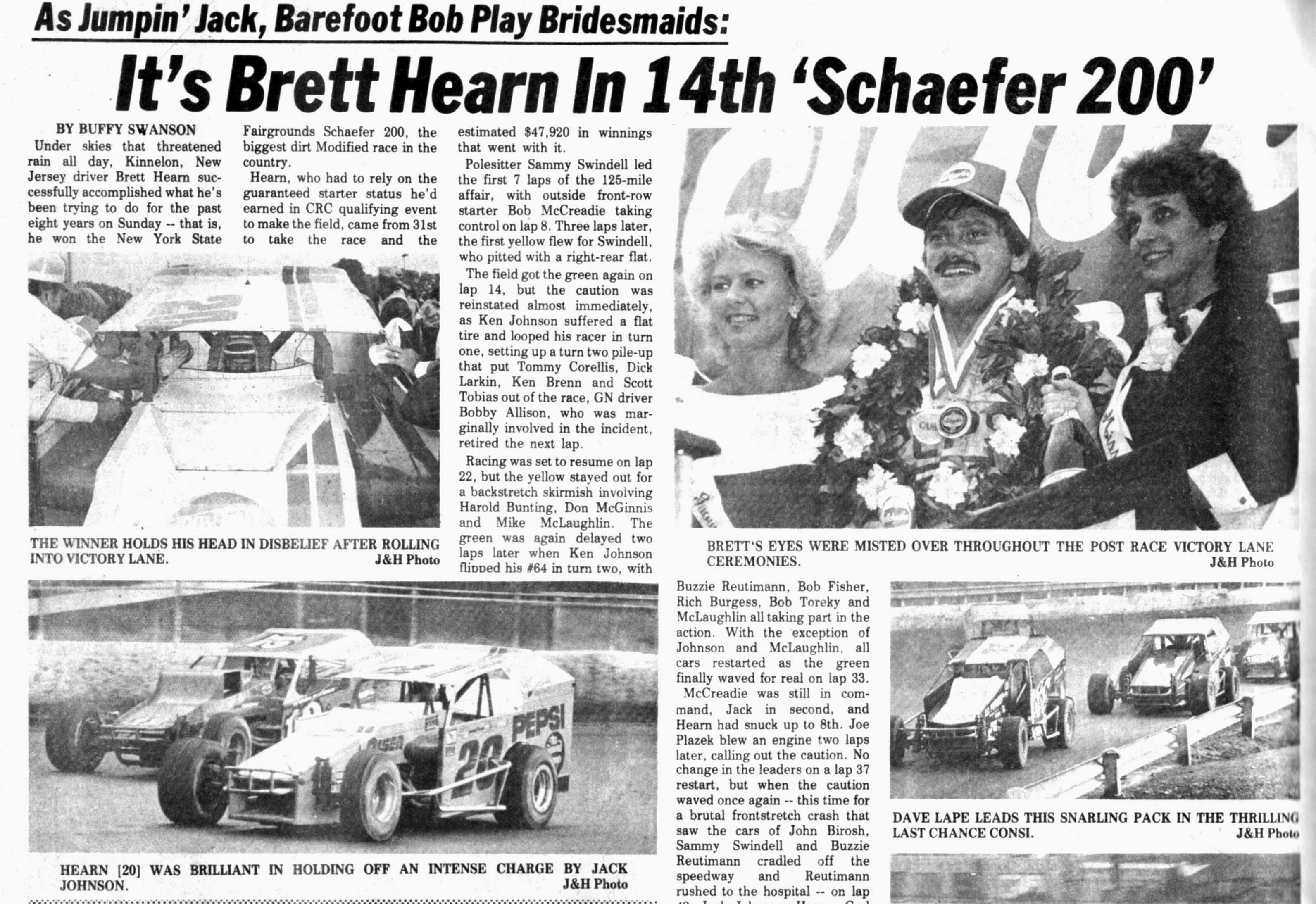 It was a big DIRT weekend for the Olsen Eagle chassis.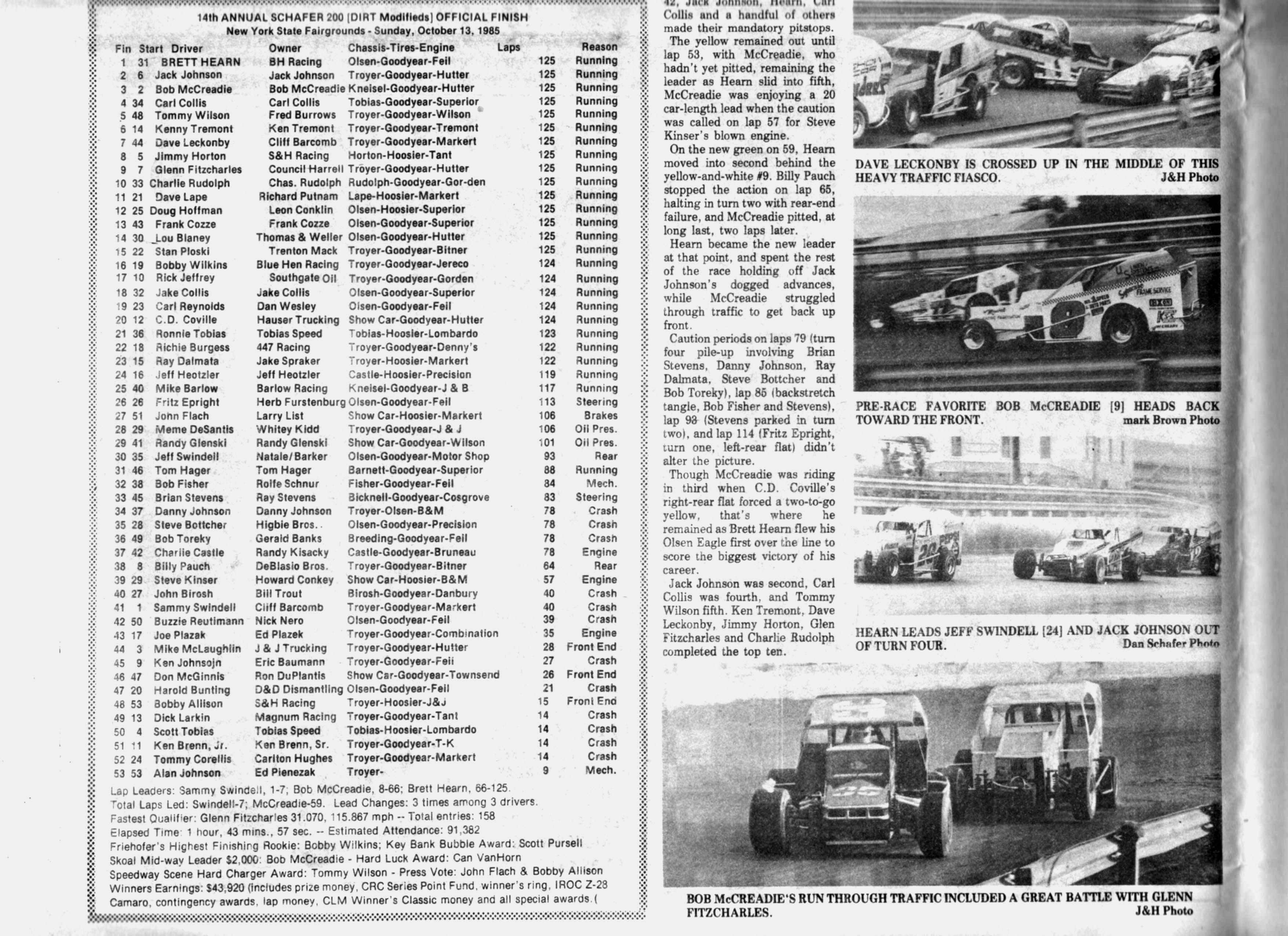 The rundown and some good shots.

Assorted Syracuse shots.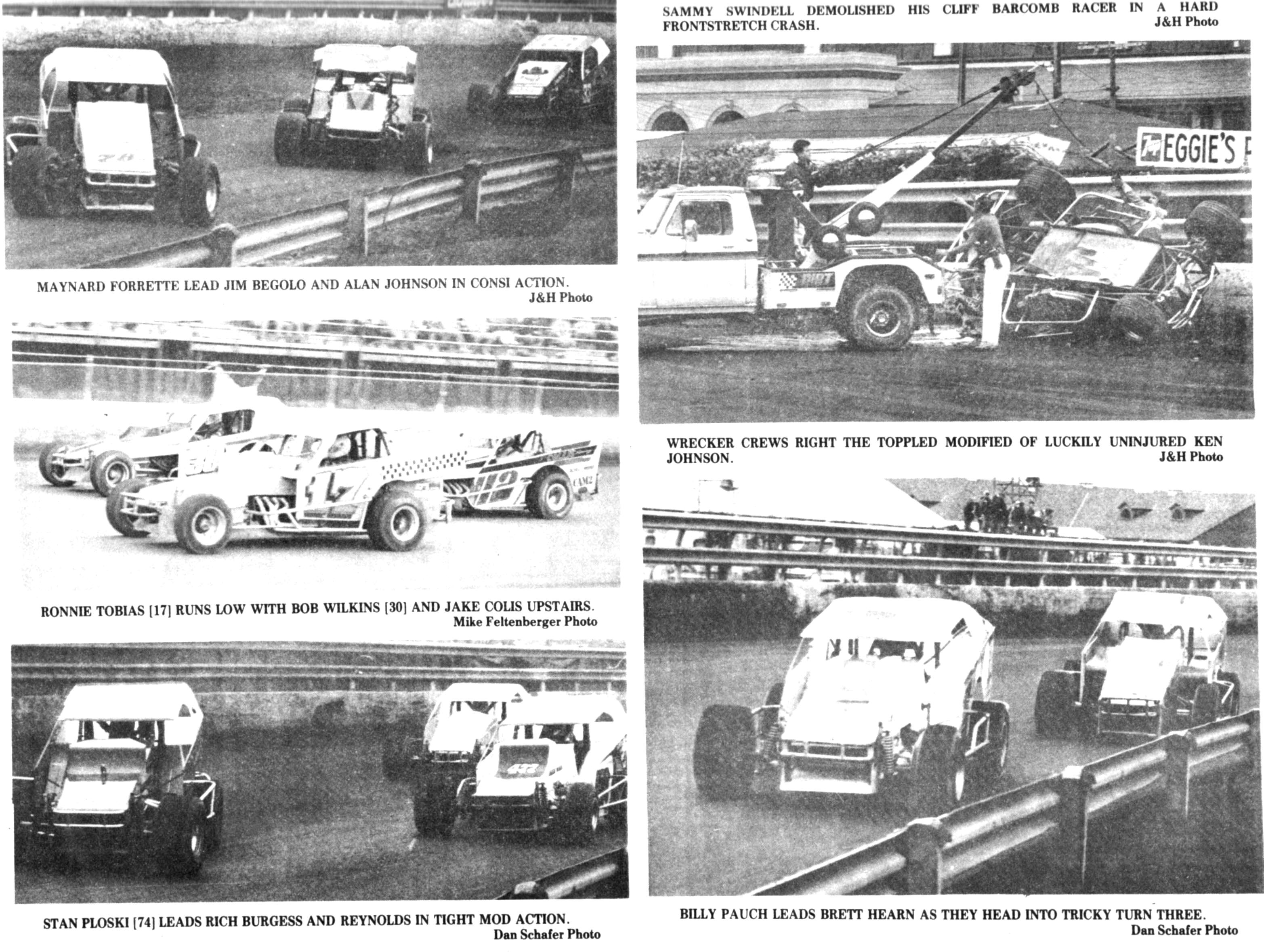 Shots that include the Sammy Swindell wreck. With Cliff Barcomb's new Troyer, he was one of the fastest cars there.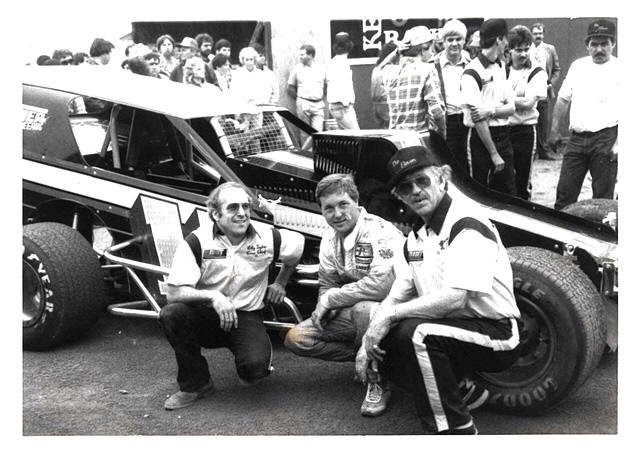 From the Swindell Site
Sammy is flanked at Syracuse by Barc ombg chief mechanic Billy Taylor [left] and Cliff Barcomb with the new Troyer.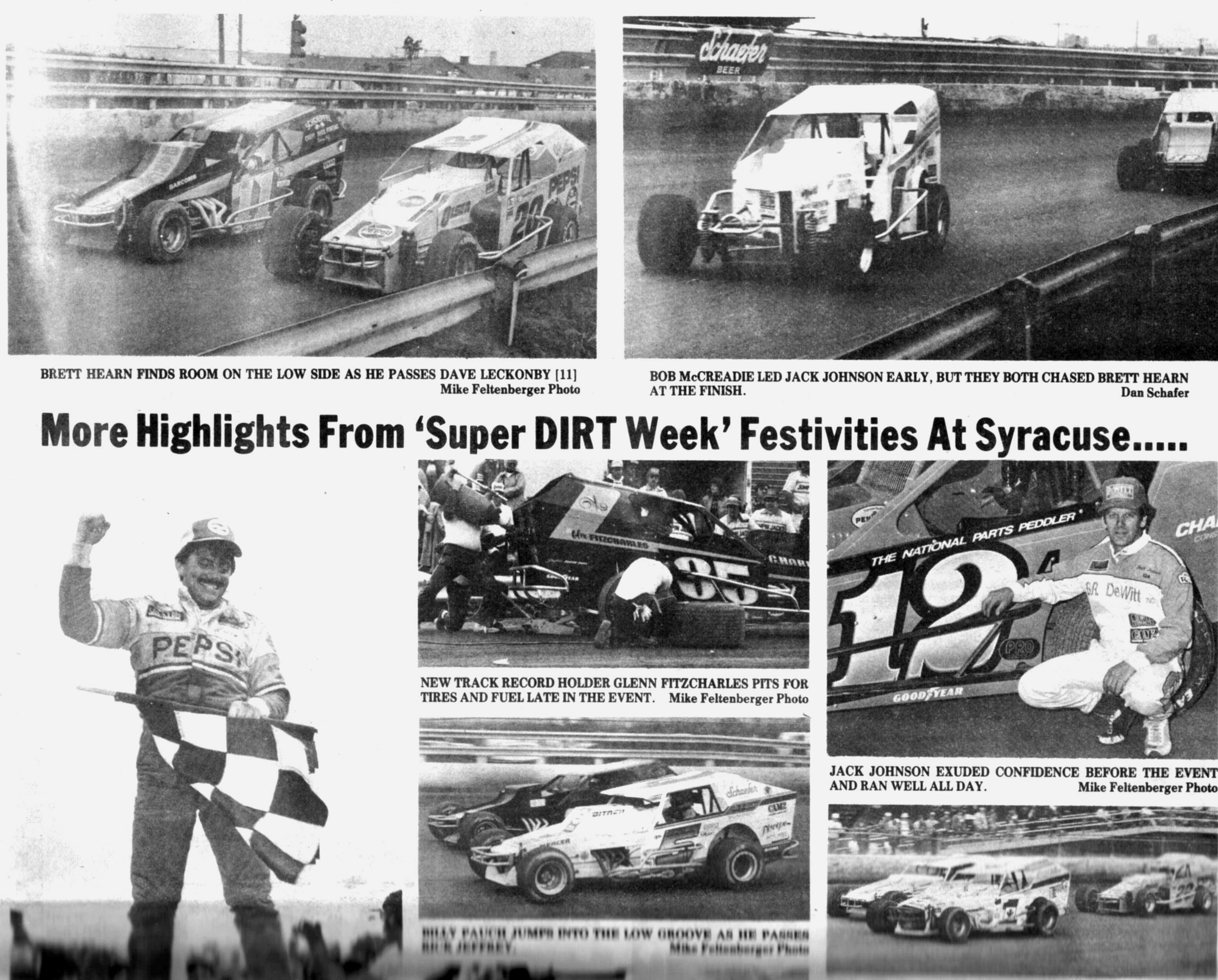 Even more Syracuse.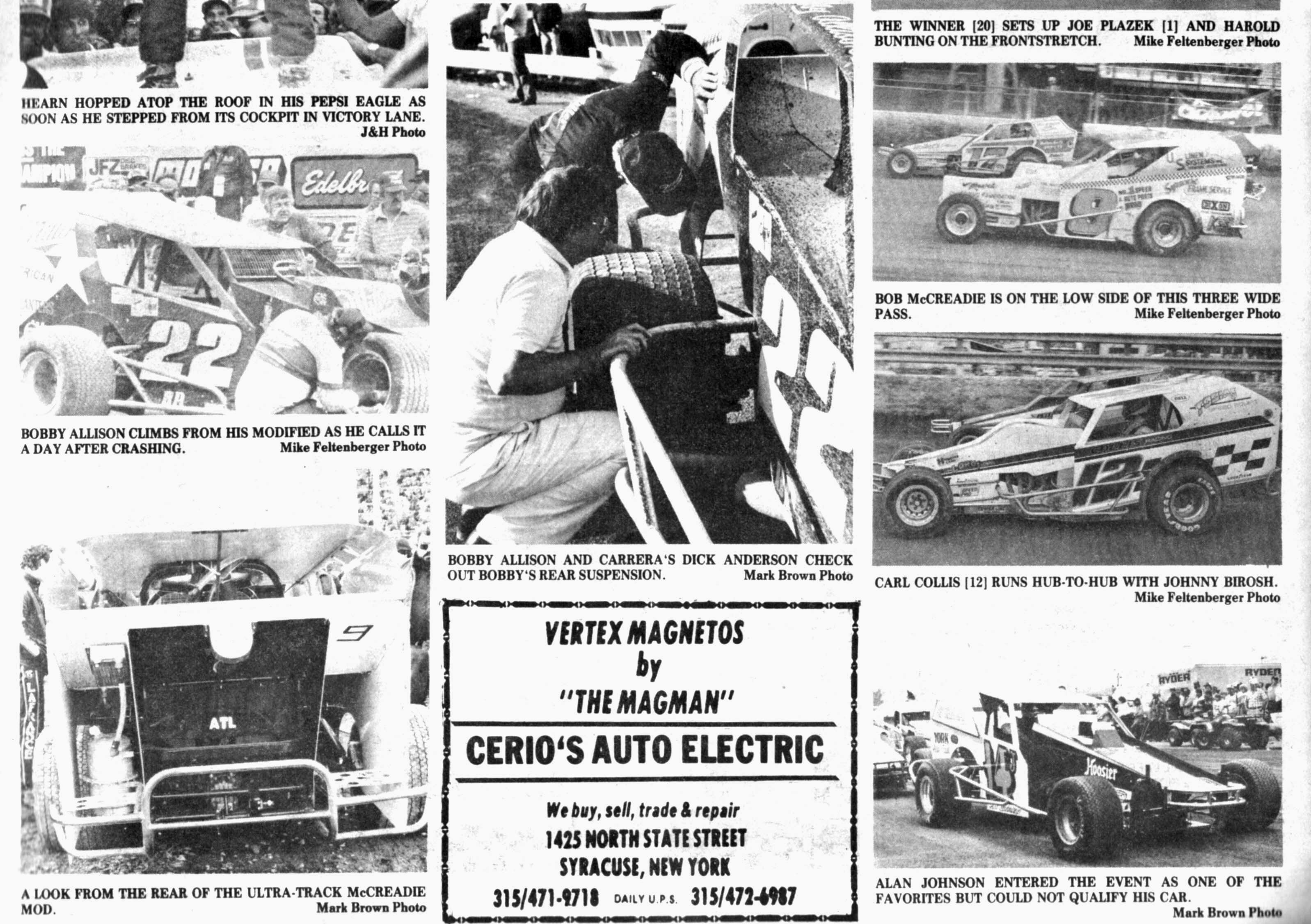 More of the McCreadie car. Bobby Allison was just one of many celebrities at Syracuse.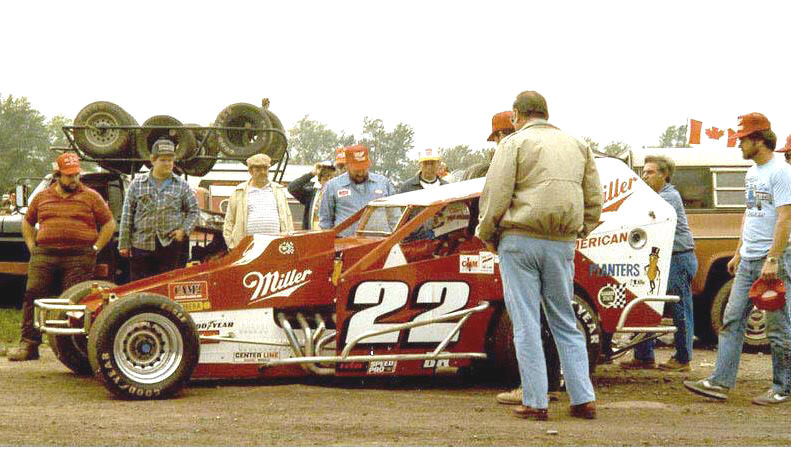 Courtesy of Otto Graham
Bobby Allison attracted onlookers whatever he did at Syracuse. Note the Champ, Rene Charland in the background at right.
For some reason, Charland worked on the crew of the Allison Troyer car all that weekend.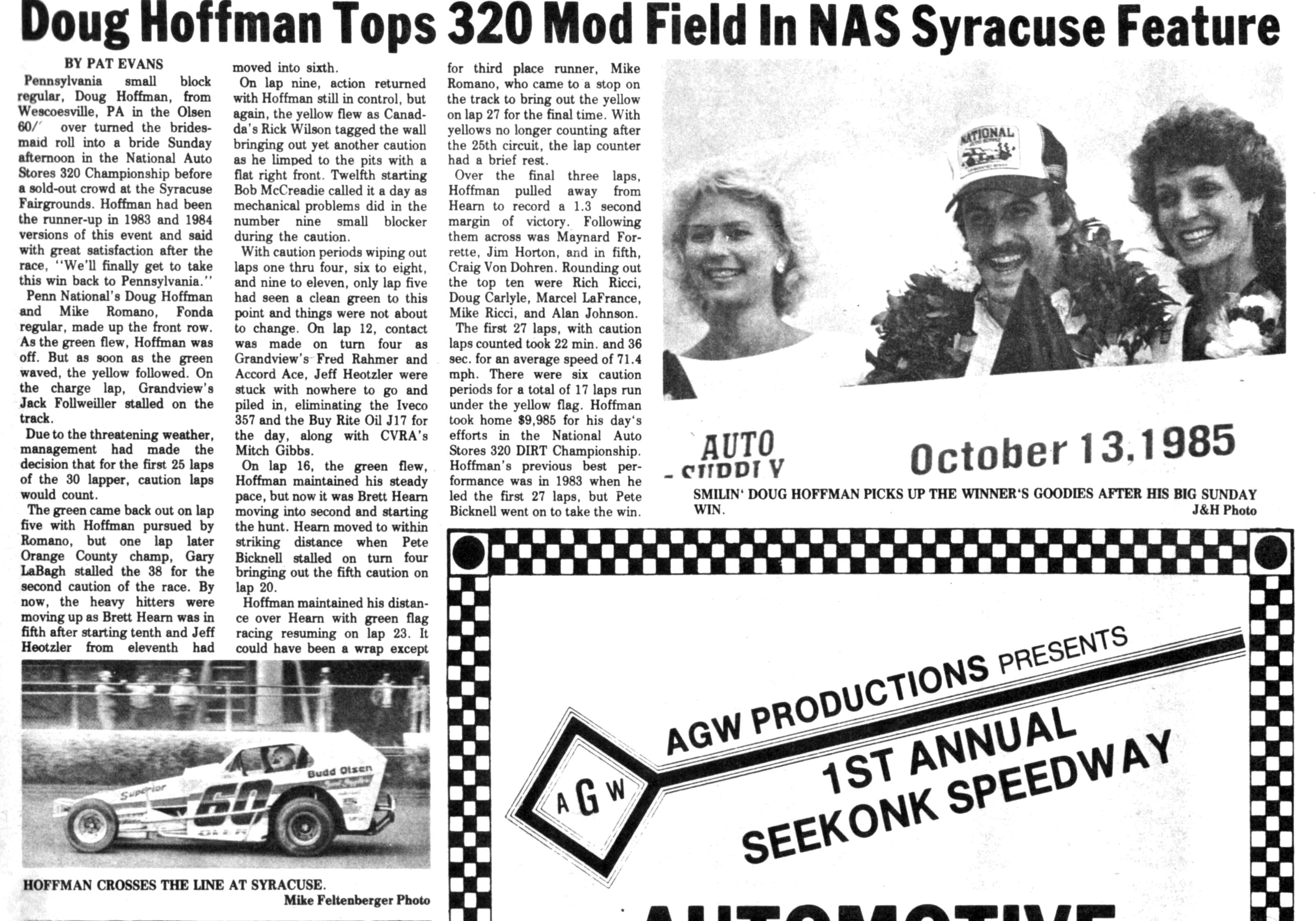 The 320 feature was Doug Hoffman's moment in the sun. I was inducted into Weedsport with Doug and I am still heartbroken at what happened with him.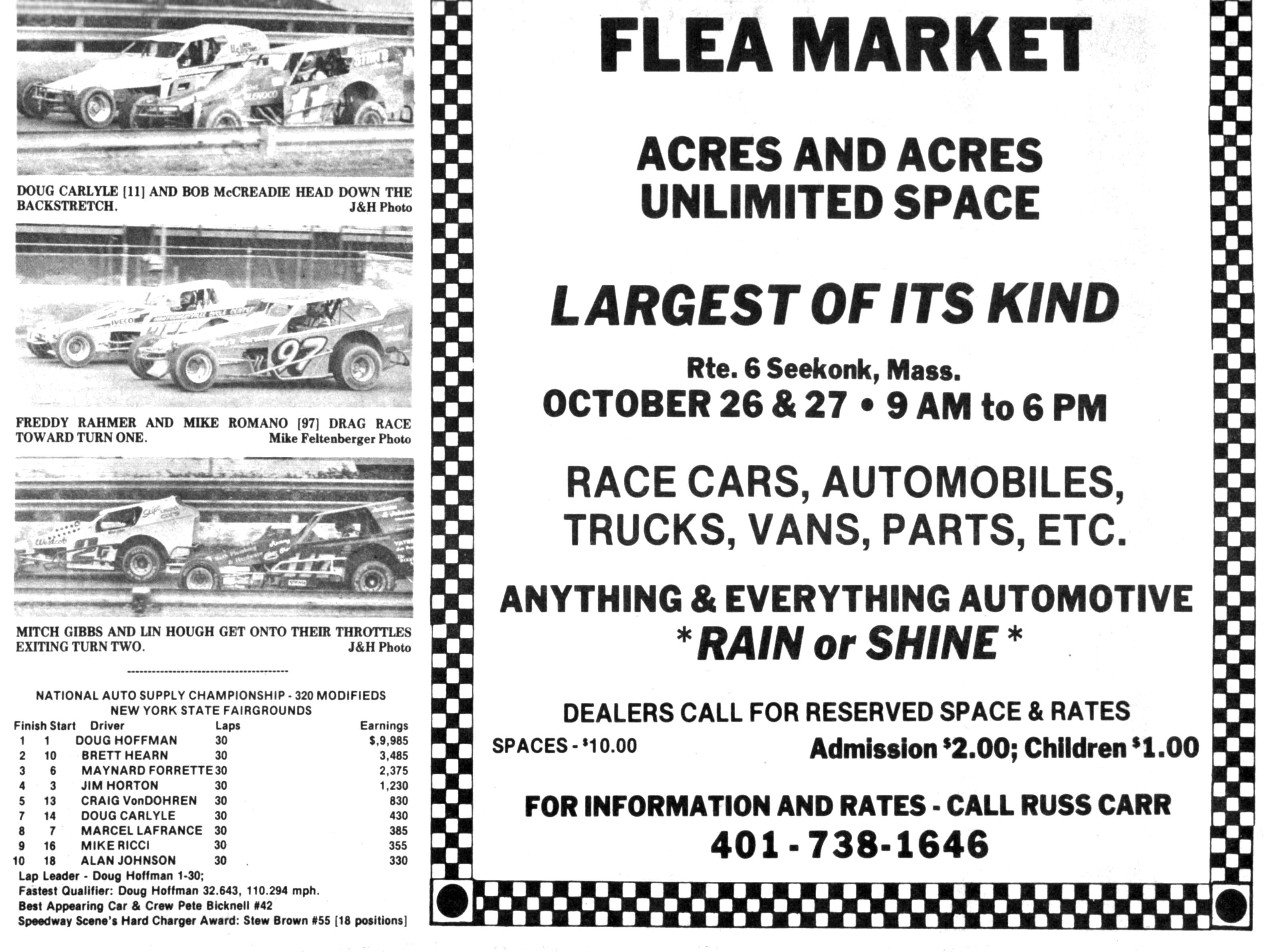 Hell, Hearn didn't need to win everything that week.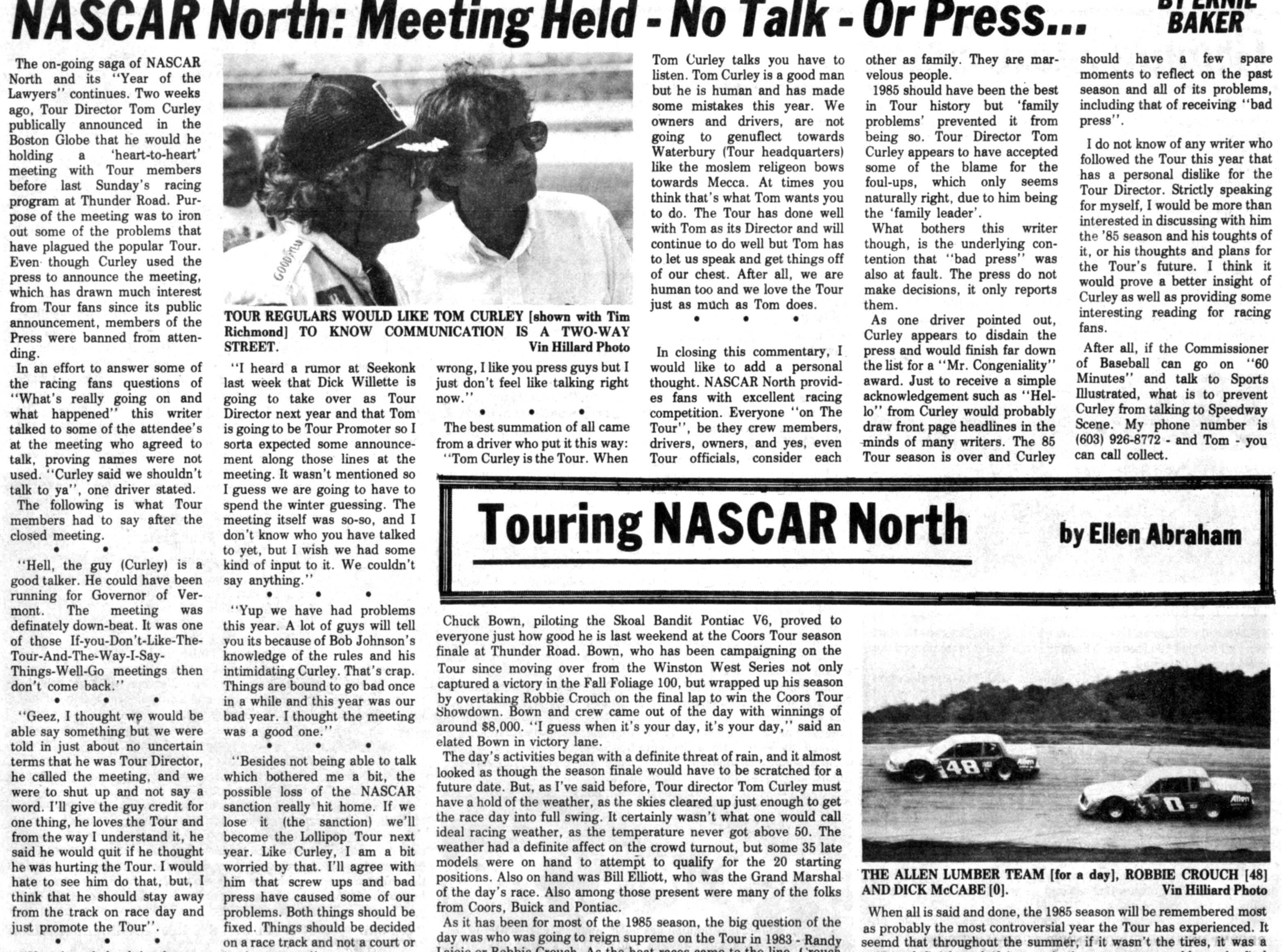 Meanwhile, the controversy with Curley and NASCAR boiled on.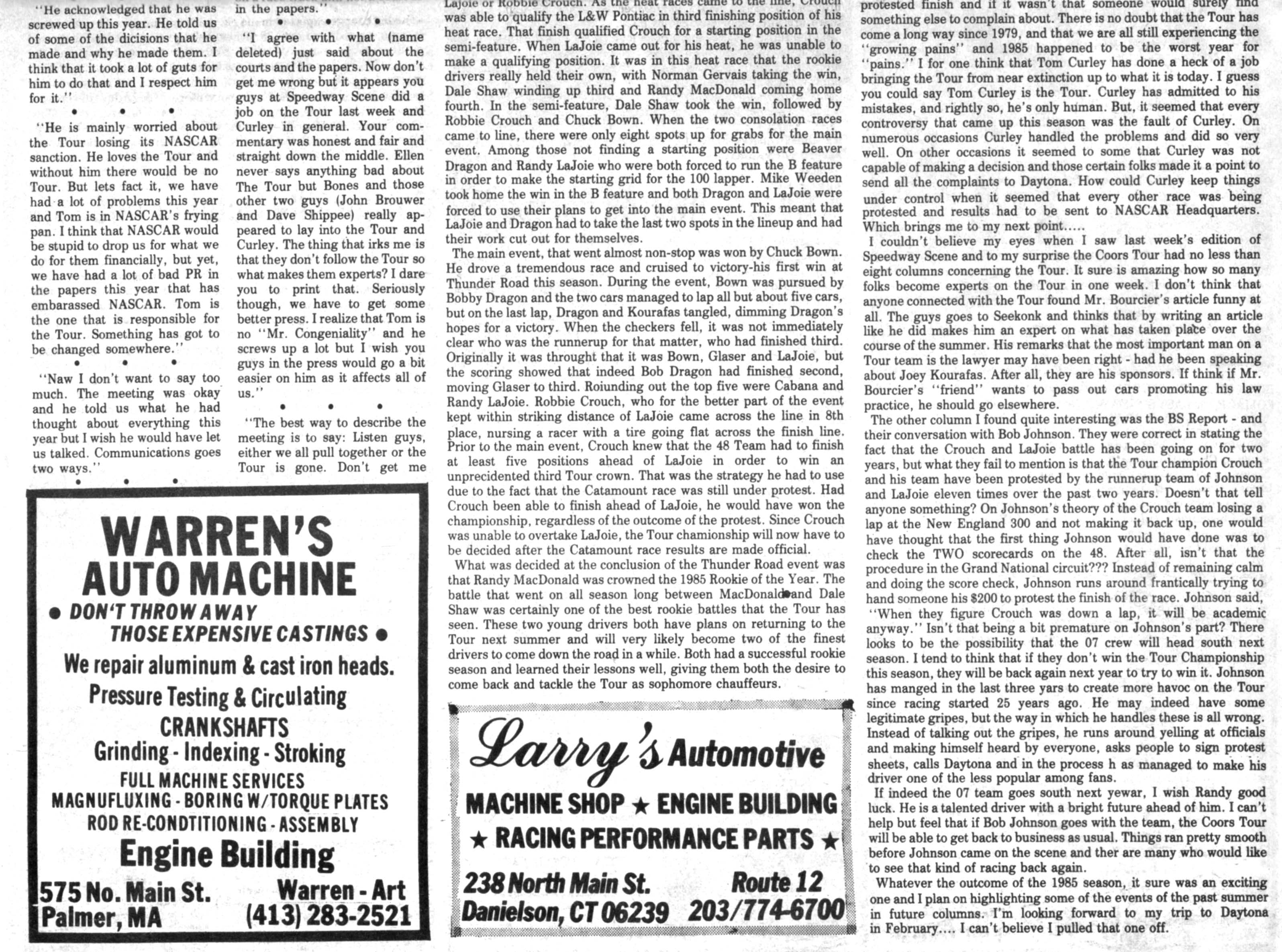 Meanwhile, the controversy with Curley and NASCAR boiled on.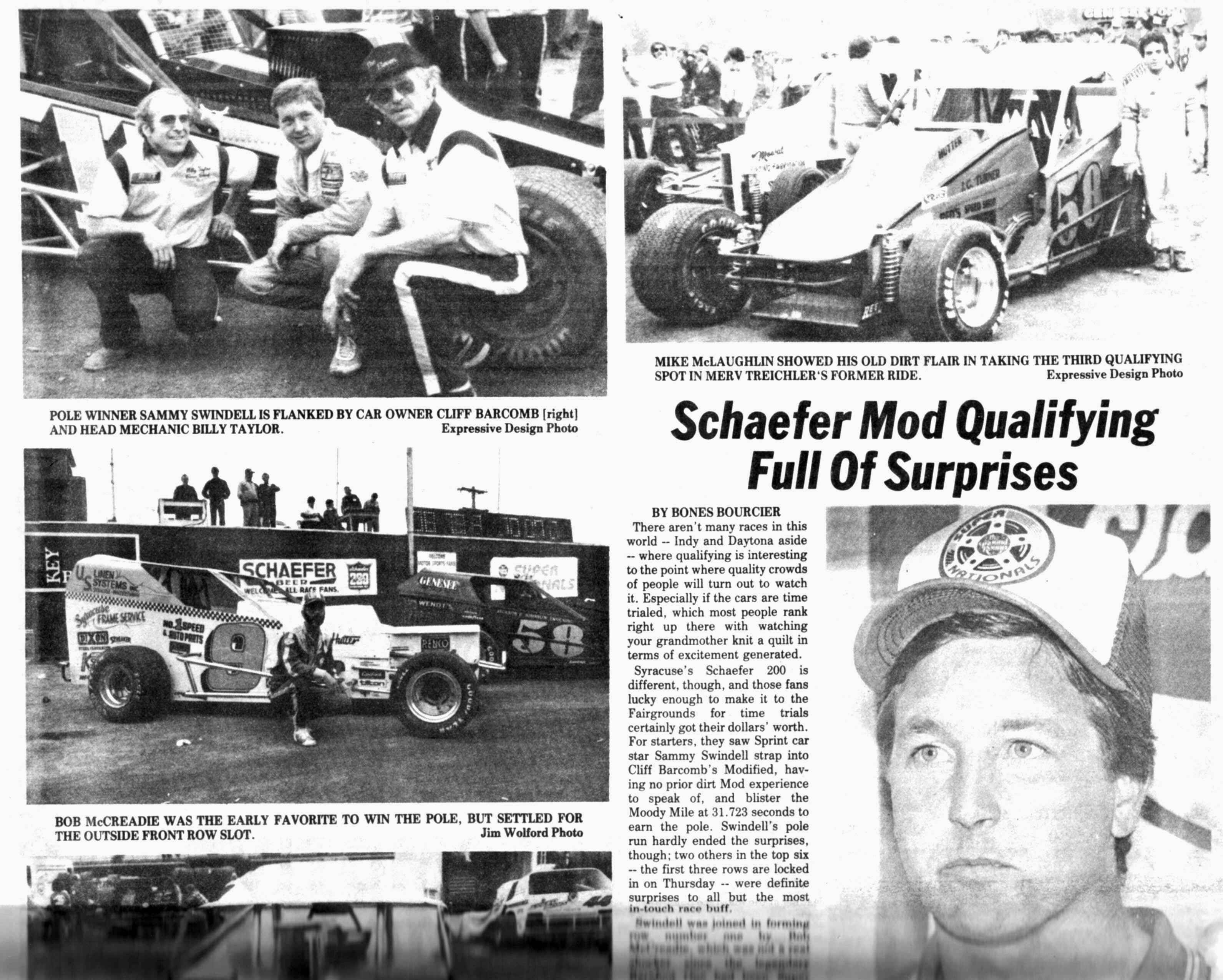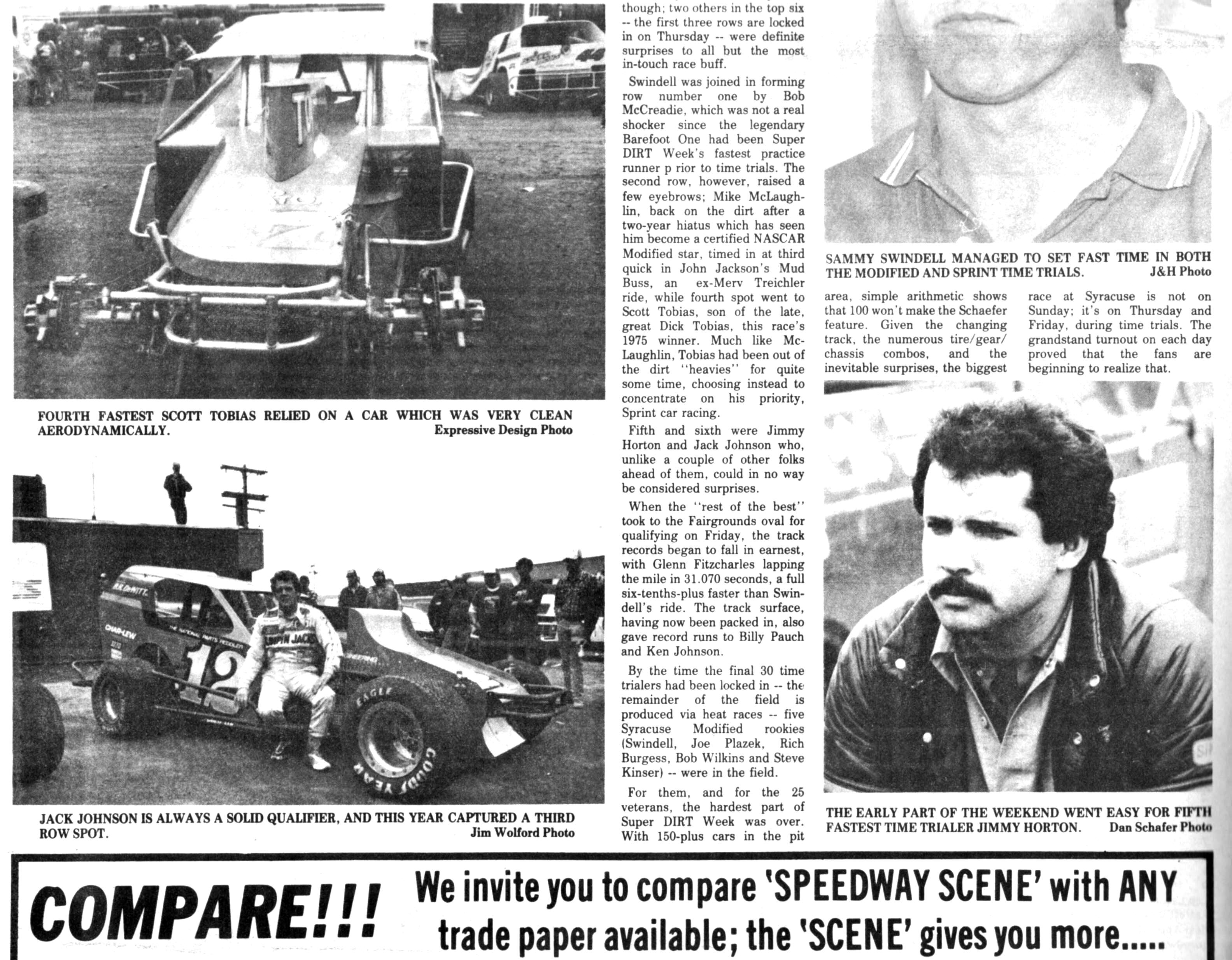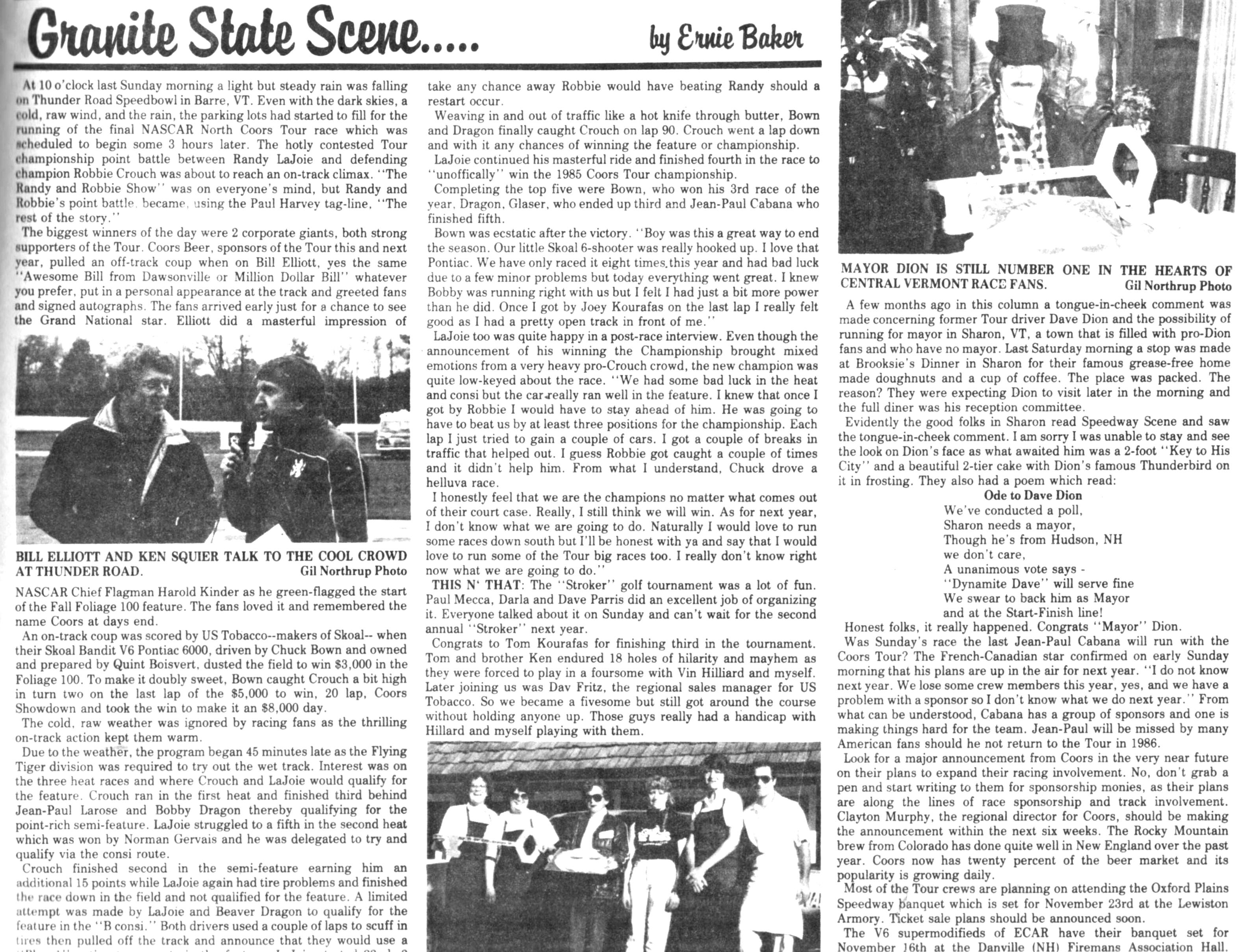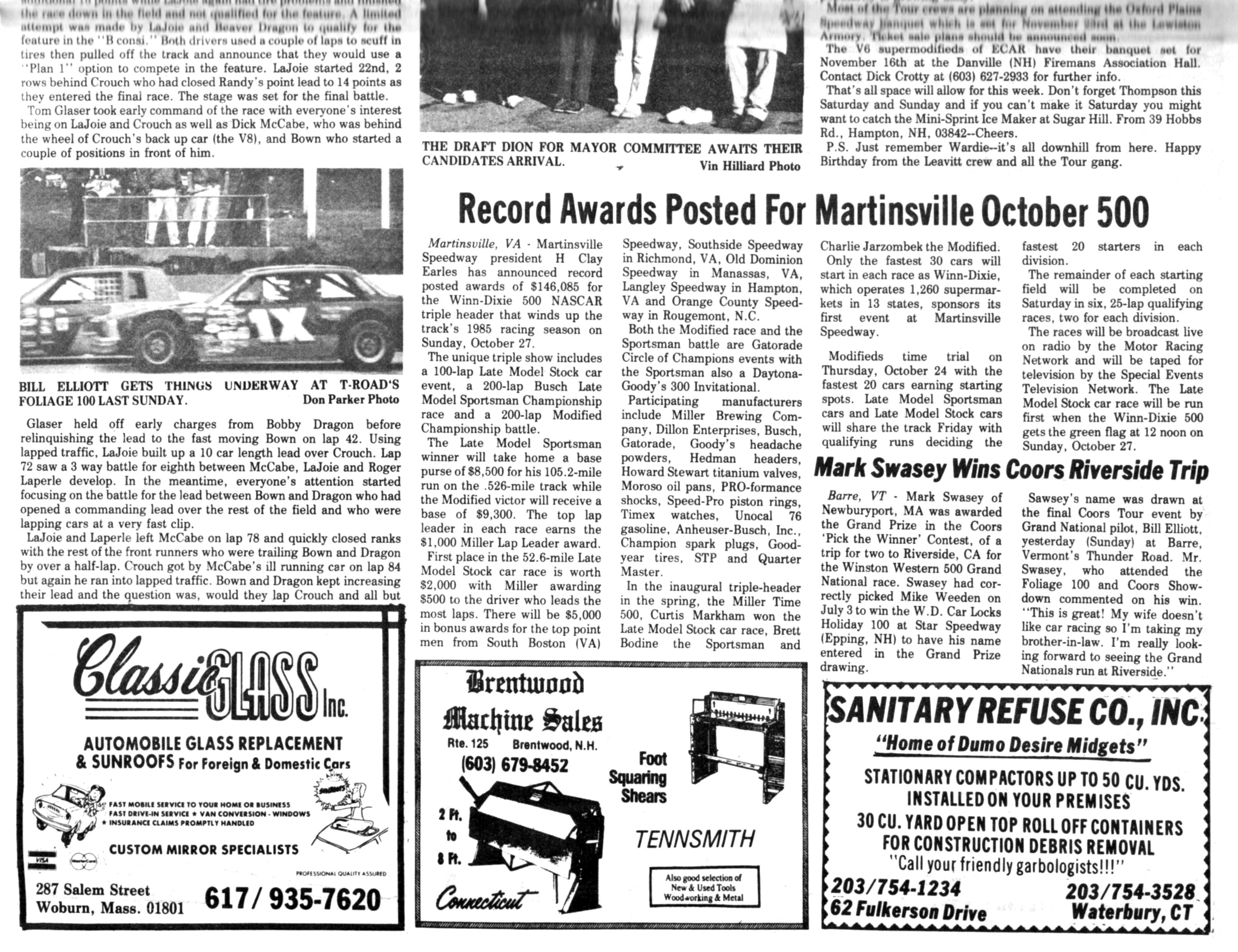 Lighter material from up North.
Pit stops at Syracuse were not exactly the stuff of the Rainbow Warriors in those days.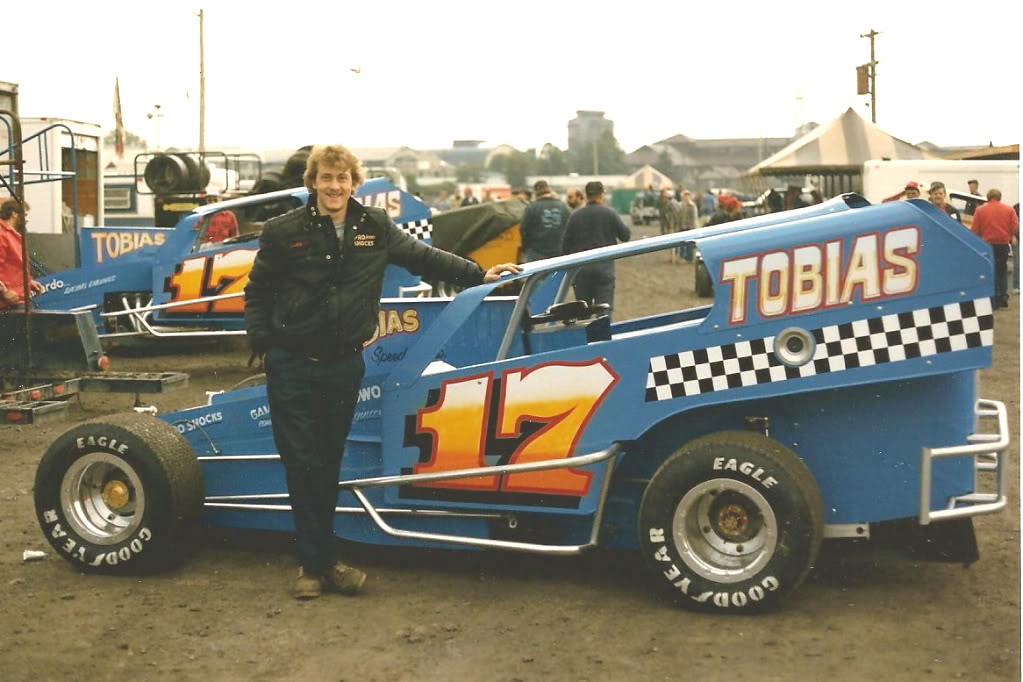 Lee Greenawalt Photo, Gater Racing News, via "Tamale Wagon"
Tobias was also represented among the Olsens, the Troyers, and the Show Cars. Here is Richie Tobias.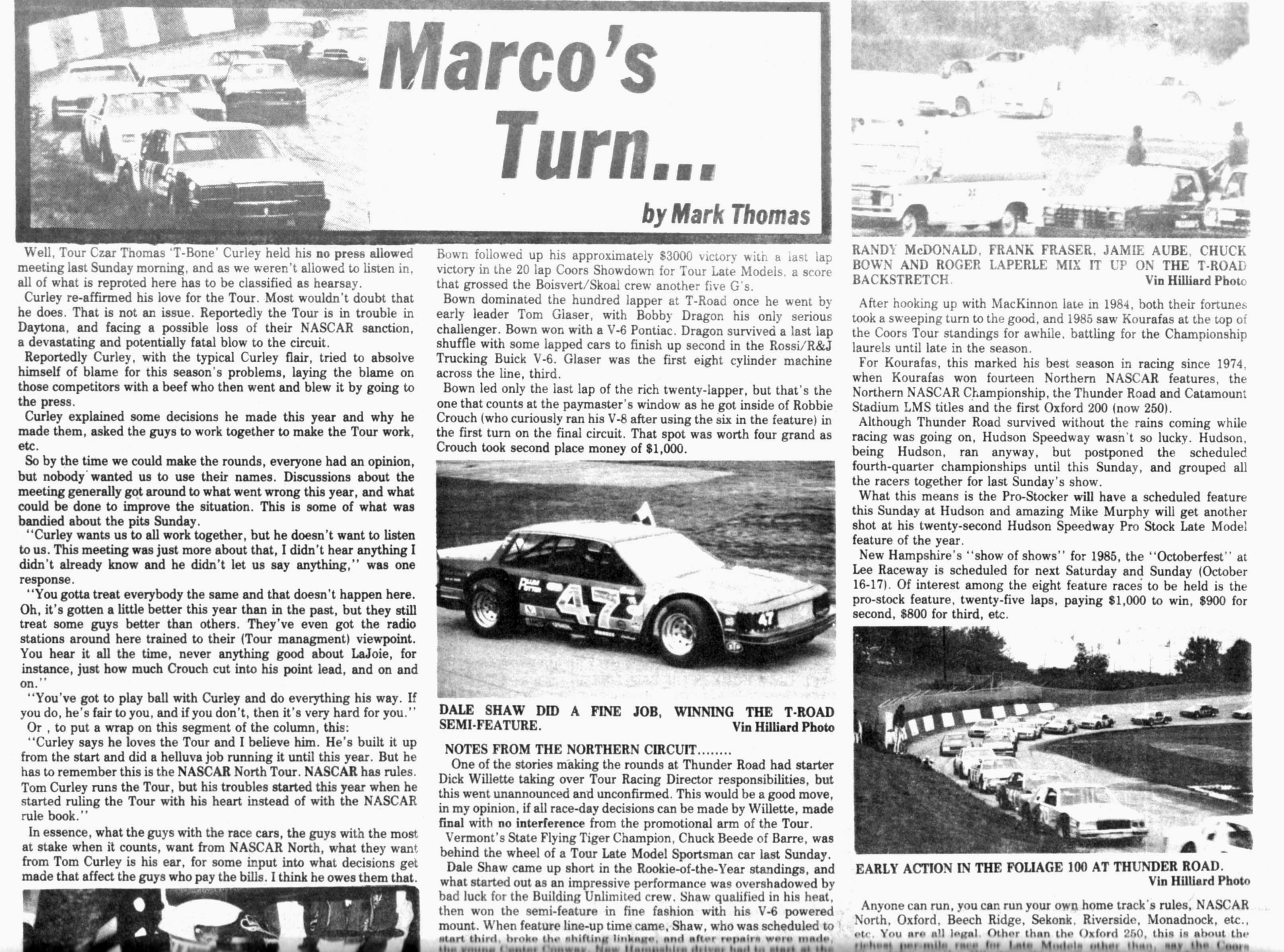 If you do not recognize the coilumnist, Mark went on to found "Racin' Paper", a racing newspaper that lasted until around 2010.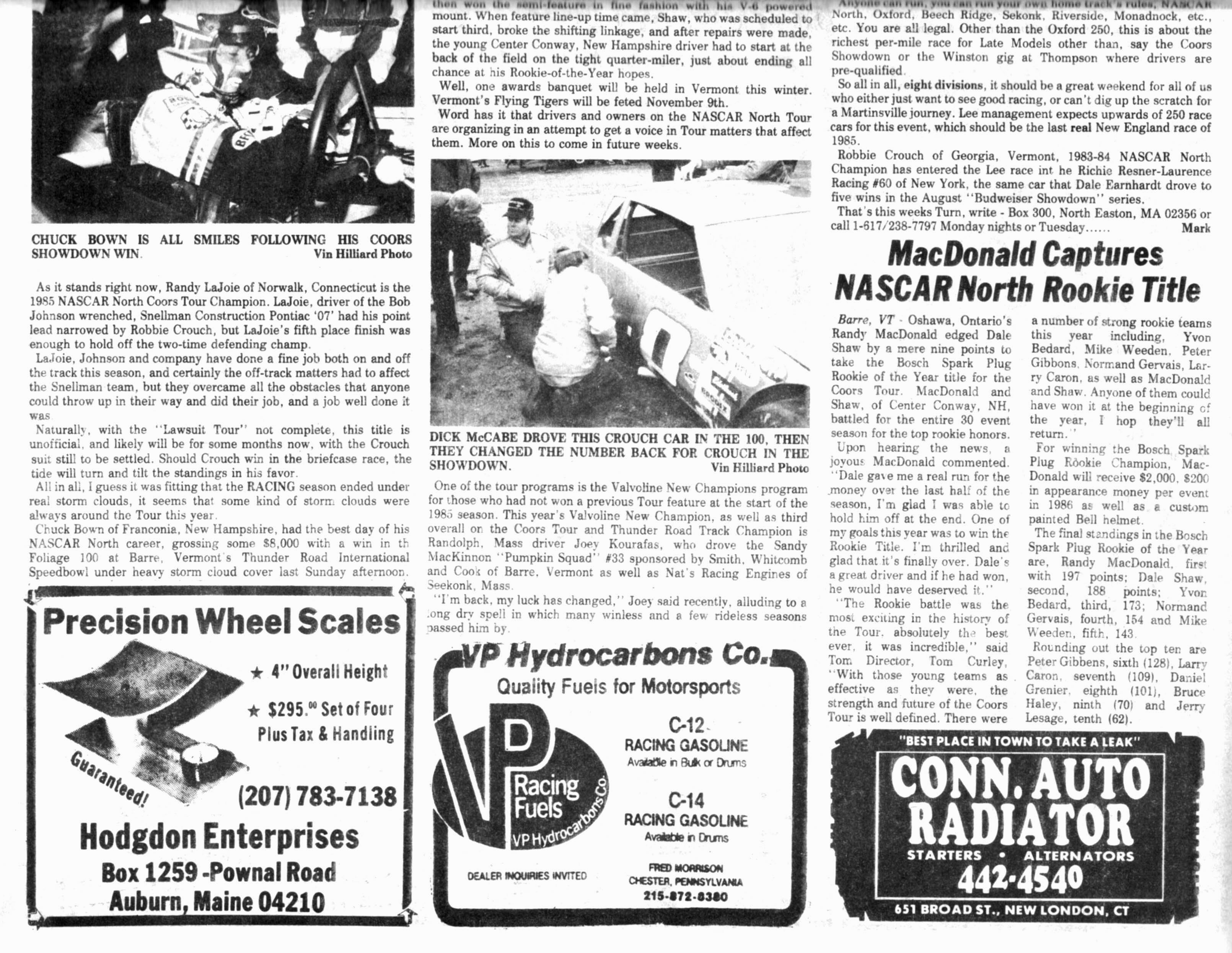 As Randy MacDonald got the hotly - contested rookie title, Dale Shaw went on to fame as a car b uilder and "Bullet" Bedard still races.
The Goal.Com Photo
Randy MacDonald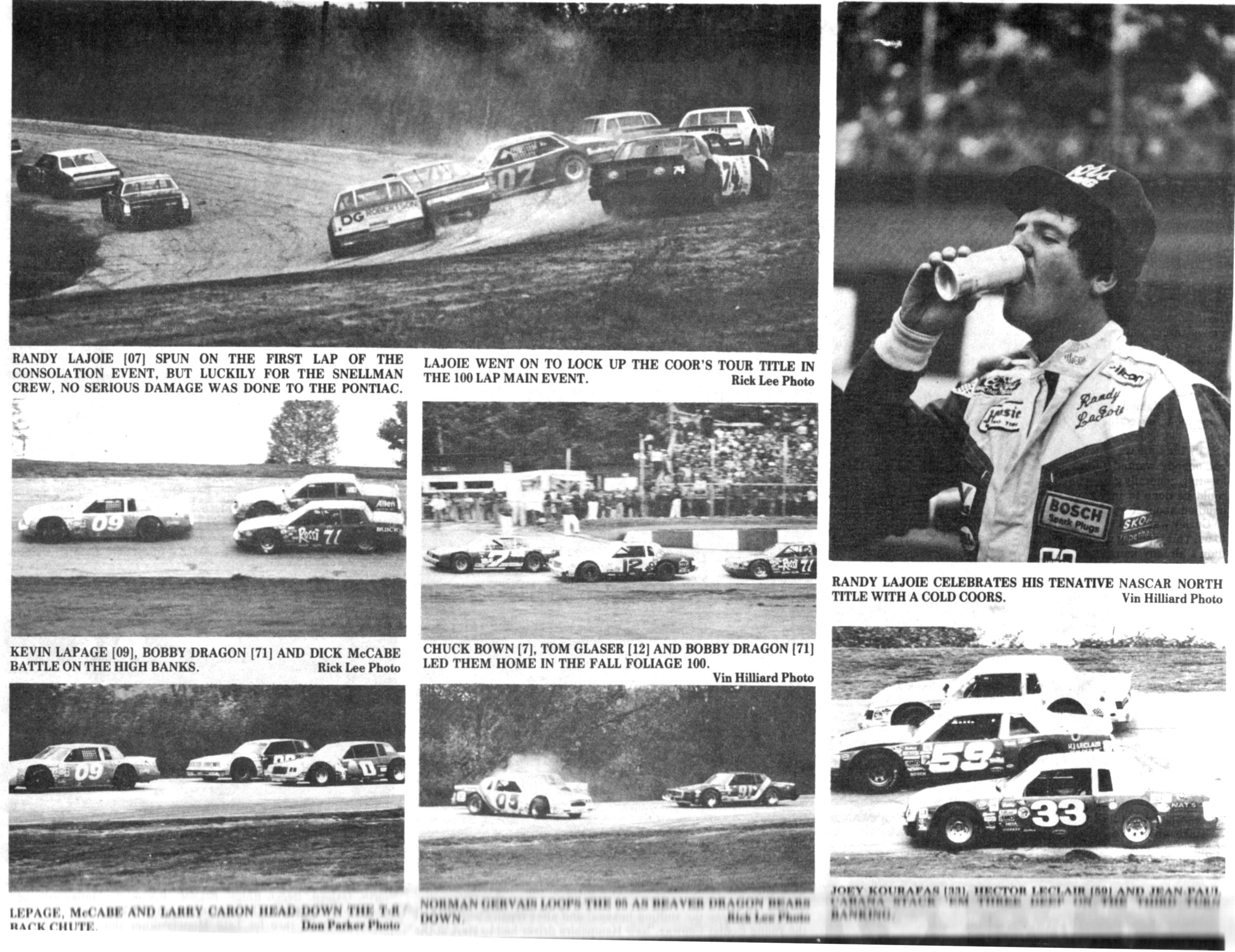 Notice the names involved in this race program in 1985: Randy LaJoie, Chuck Bown, and Kevin Lepage. Regionally speaking, the names were
very impressive, as well: the Dragon brothers, Dave Dion, Jean - Paul Cabana, Dick McCabe, and Robbie Crouch. Frankie Stoddard
was a crew chief that day, as was Bob Johnson. Steve Leavitt and Don Letarte were among those building chassis's.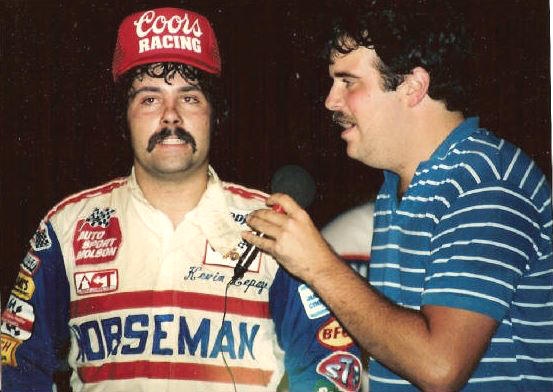 Courtesy of Mike Cain
Talk about names ? Kevin Lepage is interviewed by Dave Moody. Eventually Lepage would be replaced by Ricky Craven.
When the now - nationally prominent Moody was not announcing, nationally prominent Ken Squier was.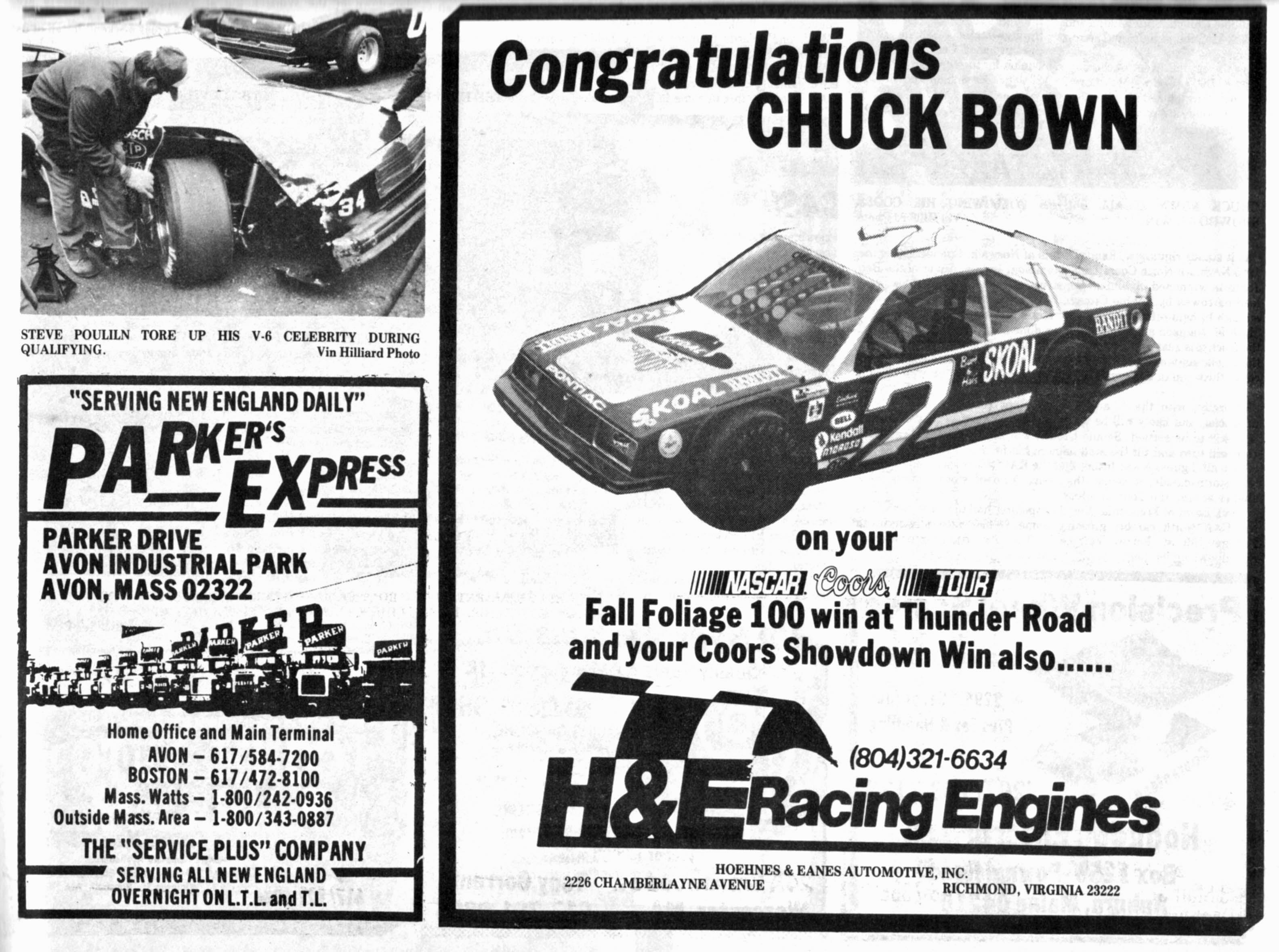 Chuck Bown's Quint Bosvert - owned Skoal cars were sponsored by Bert Reynolds and Hal Needham. Six bangers like this one and the
Poulin car pictured above were all the rage on the Tour in those days. They were expensive but potent little buggers.
Wes "Slugger" Moody, arguably the namesake for The Moody Mile [Syracuse] is shown talking to Bob McCreadie. Moody was
just coming off a year of promoting Airborne Park Speedway and was - much to the relief of thousands - no longer racing.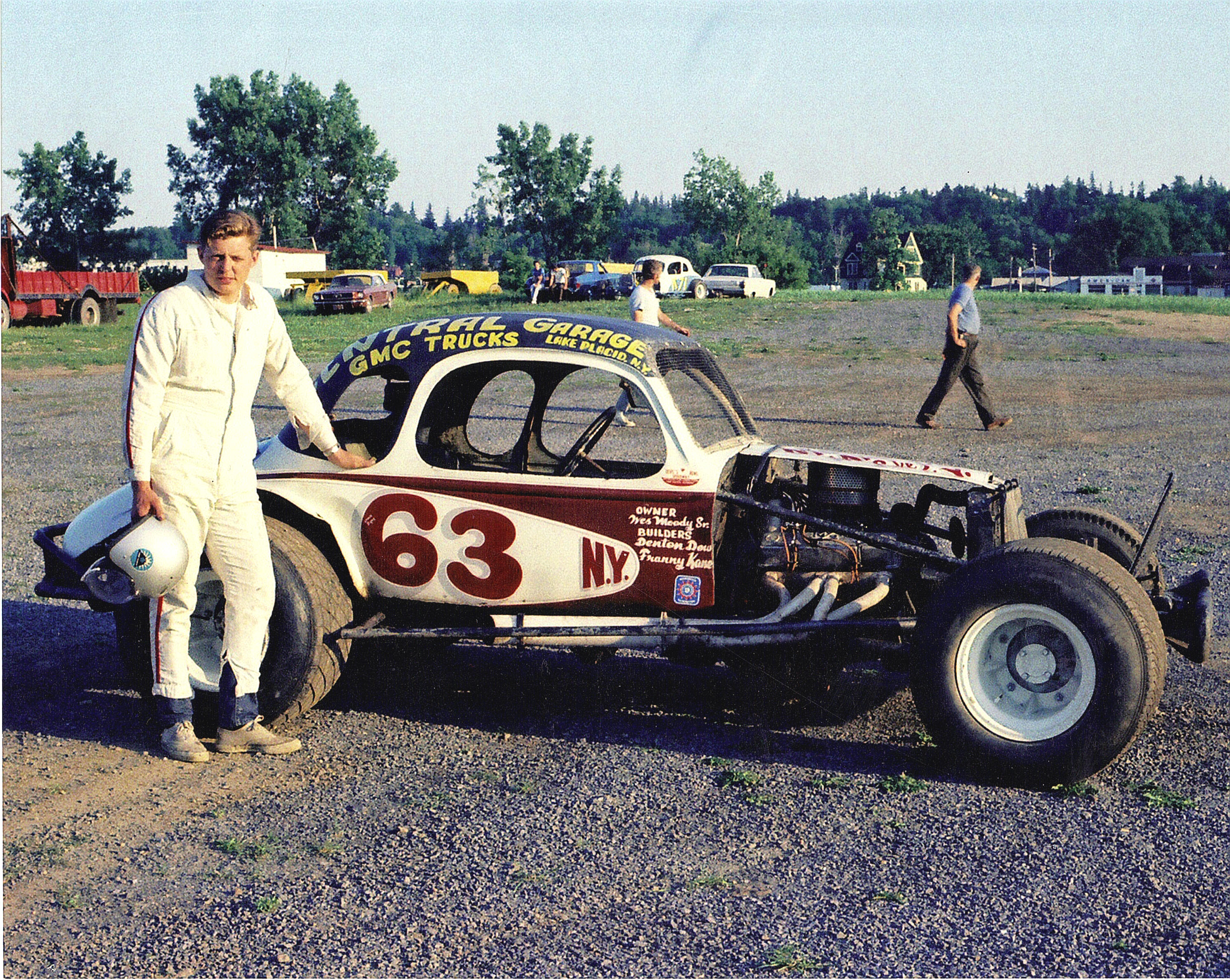 Moody Family Photo
Wes Moody was the first to do a lap at Syracuse averaging over 100 M.P.H. He claims he had "bent up" the car some time before that
and it handled better than it had at any time before. Given his incredible hi jinks, there are some who would rather come up with another reason
for the Moody Mile name.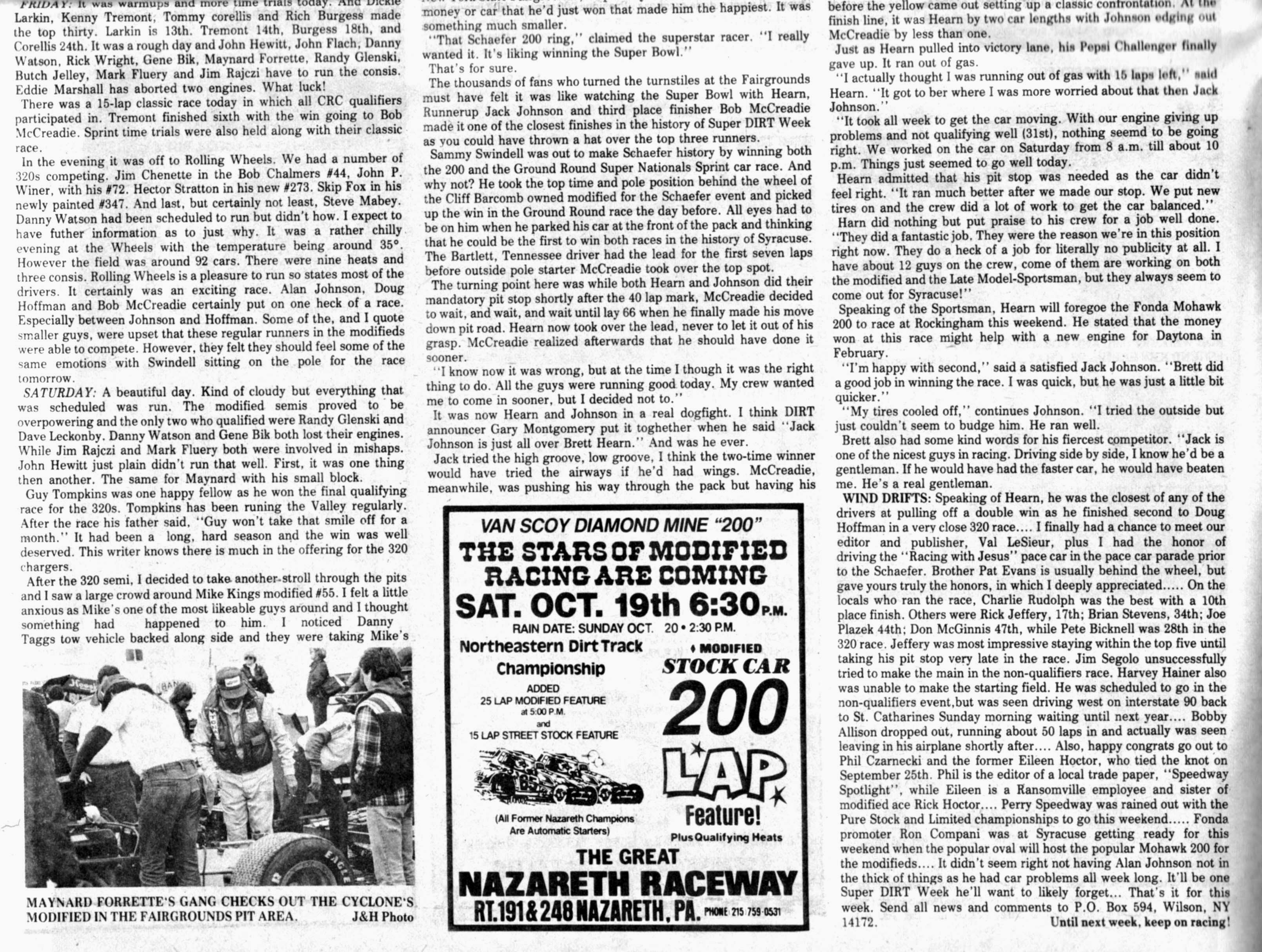 More Syracuse material.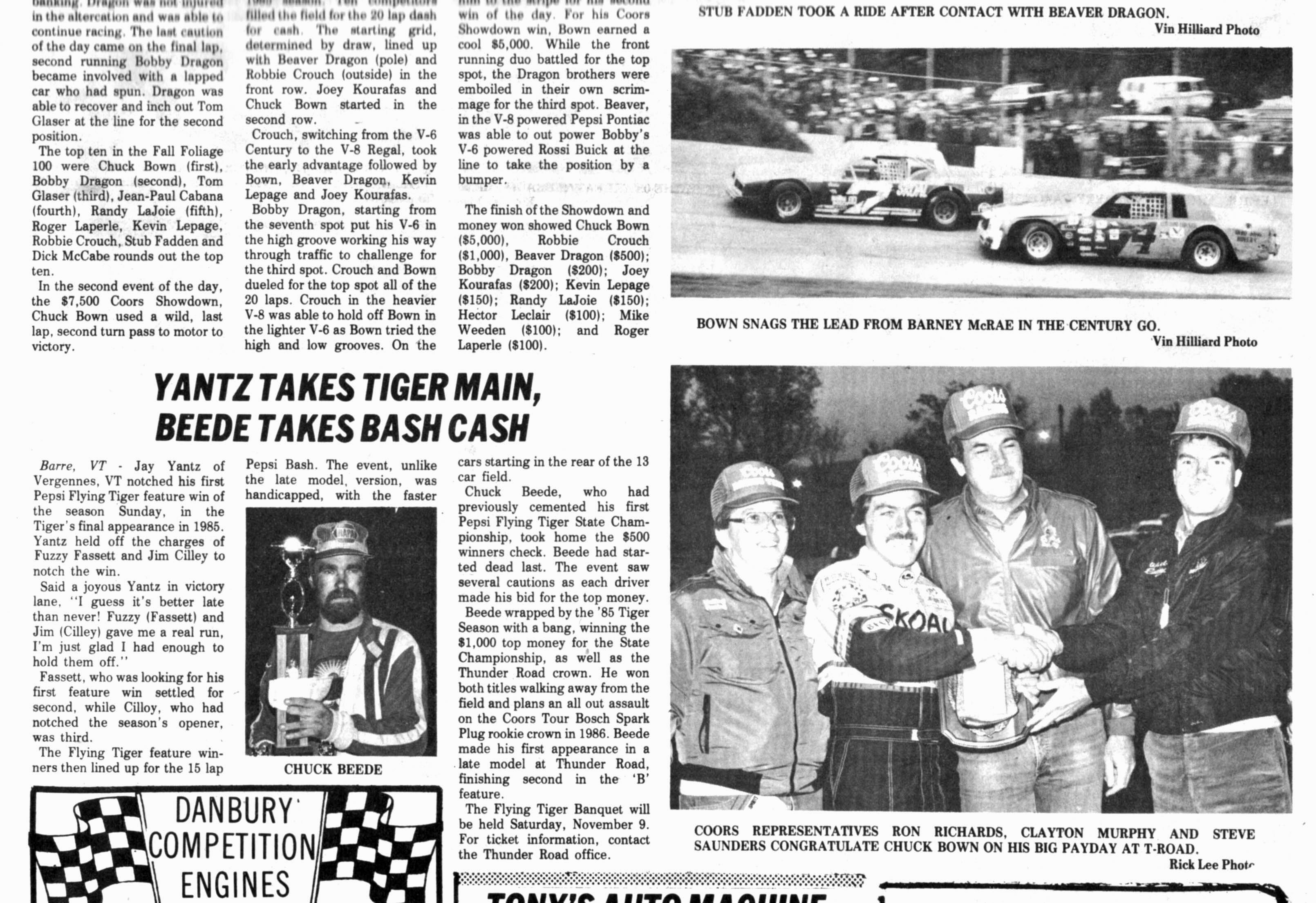 This was the time of what was called the "new Tigers". It progressed from a polyglot mixture of old street stocks, old Grand Americans, and
a number of cars imported from old divisons at other tracks to a comprehensive, effective class with cars being fabricated just for the purpose.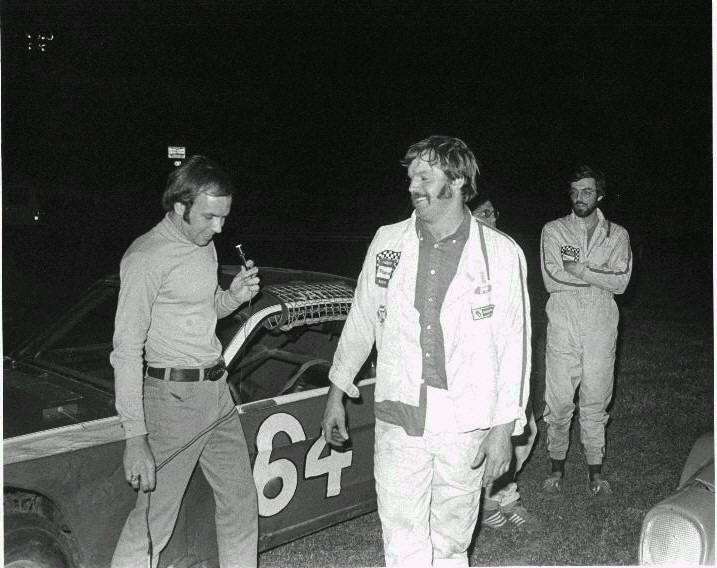 Courtesy of Henry Van Acker
Jay Yantz, in victory lane back in the old Grand American divison days at Catamount.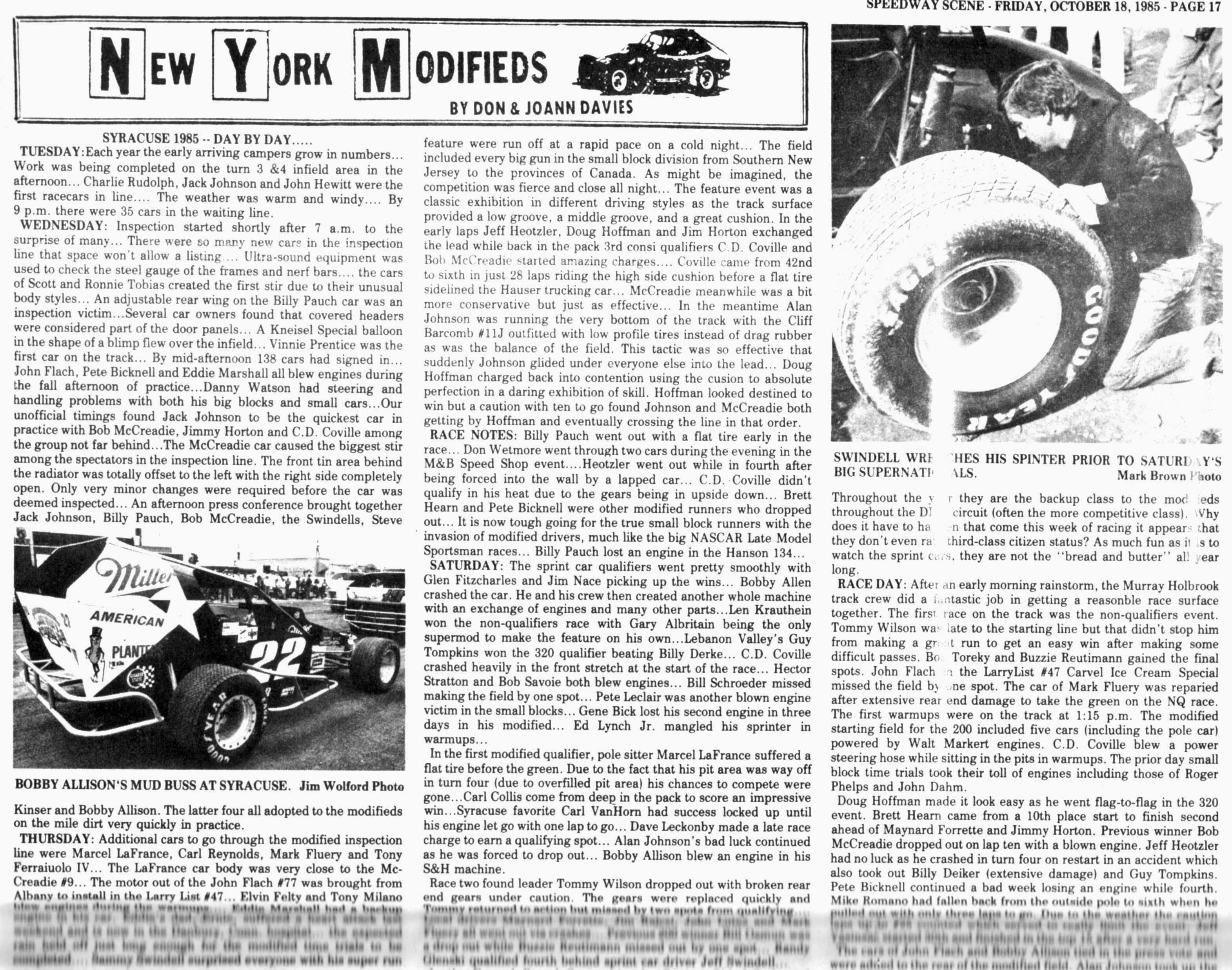 The Allison Mud Buss did not survive the Syracuse race. This past summer, Allison told mew he considered himself a "not particularly good dirt driver".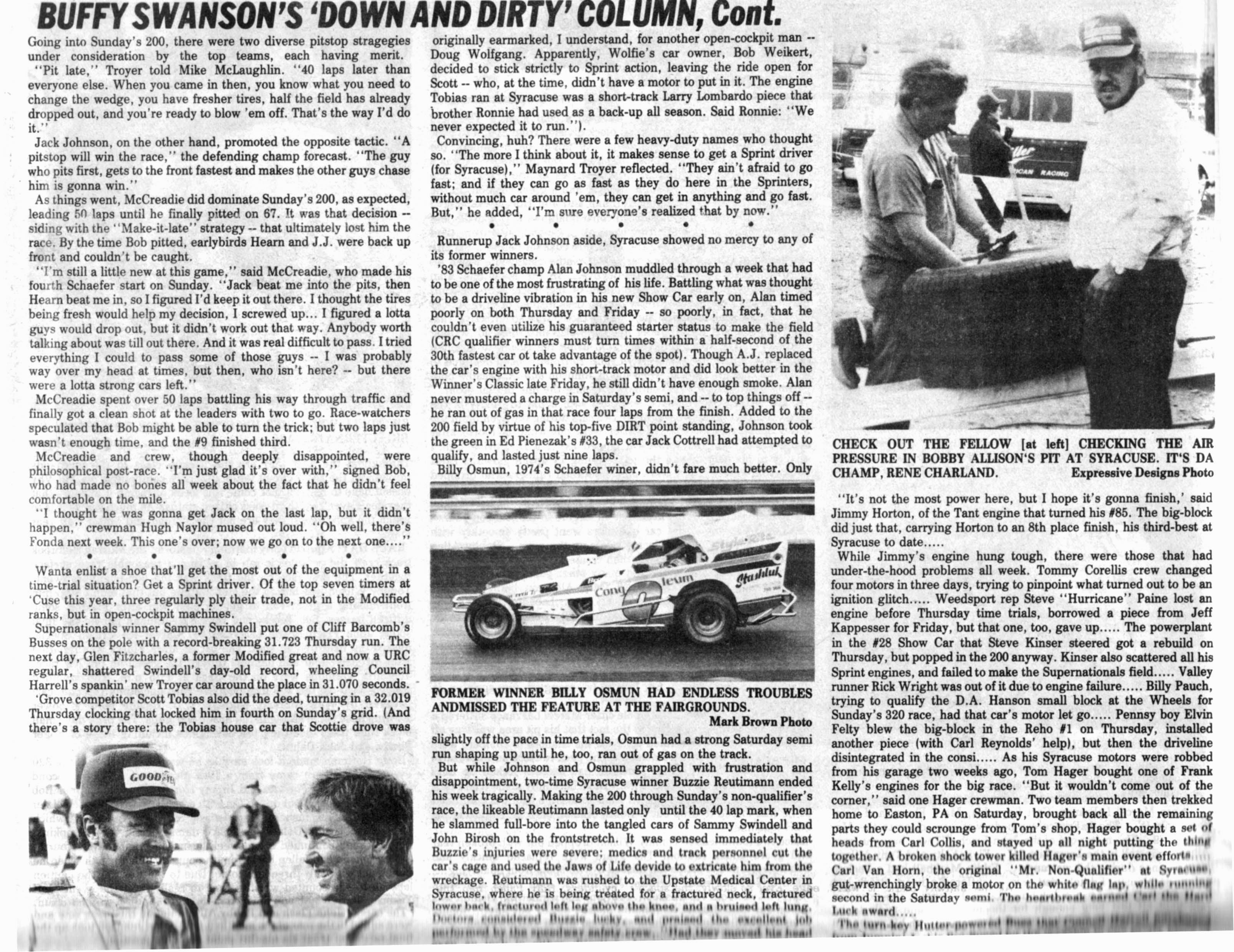 As I said before, Rene Charland hired himself out as support crew for Allison that week at Syracuse.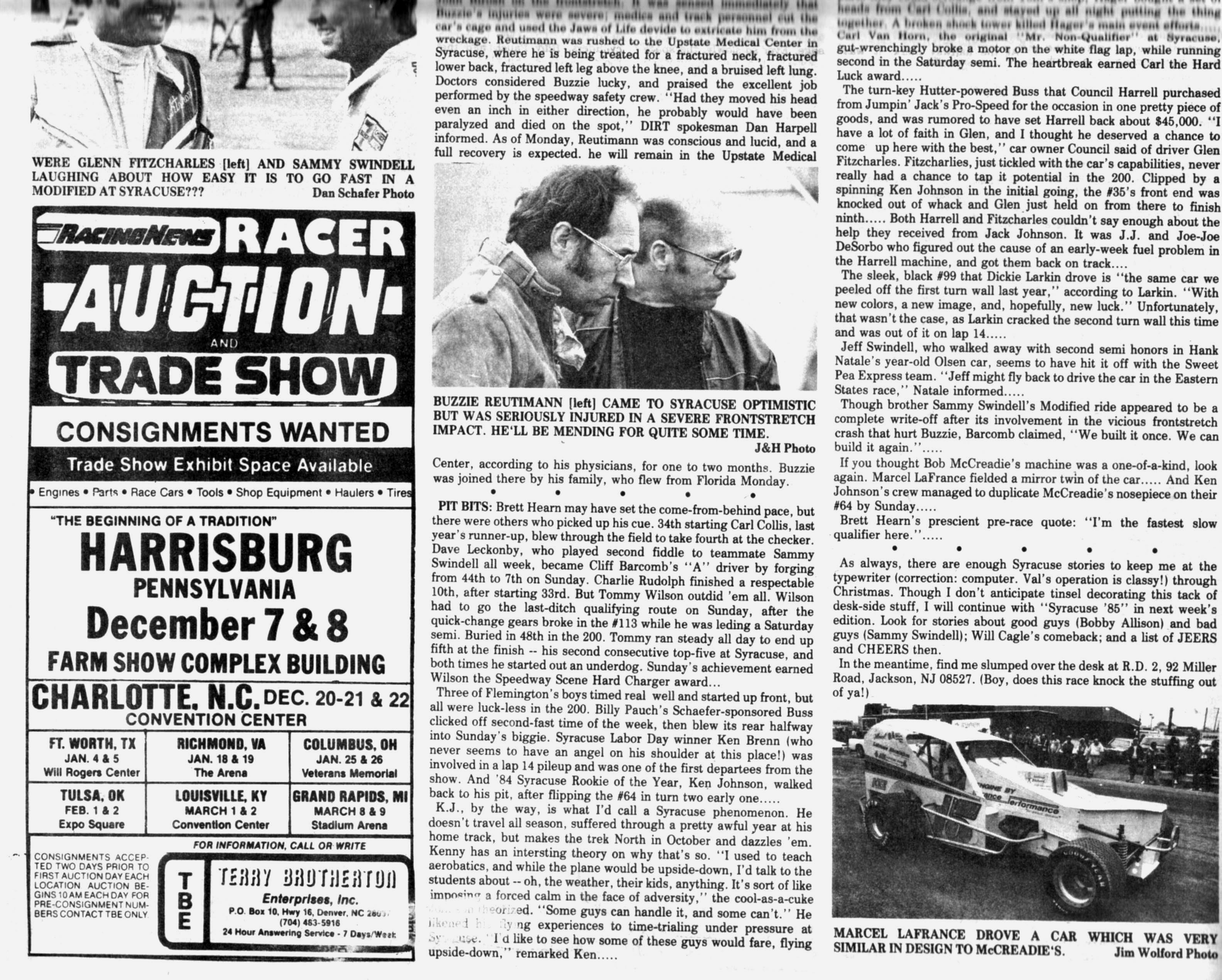 Compare the Marcel LaFrance car to the McCreadie car below.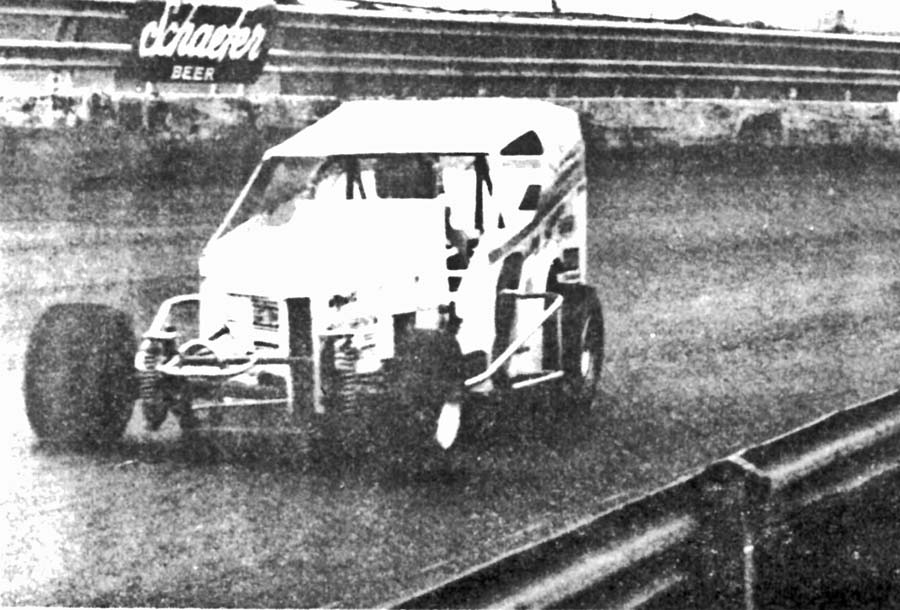 Dan Schaefer Photo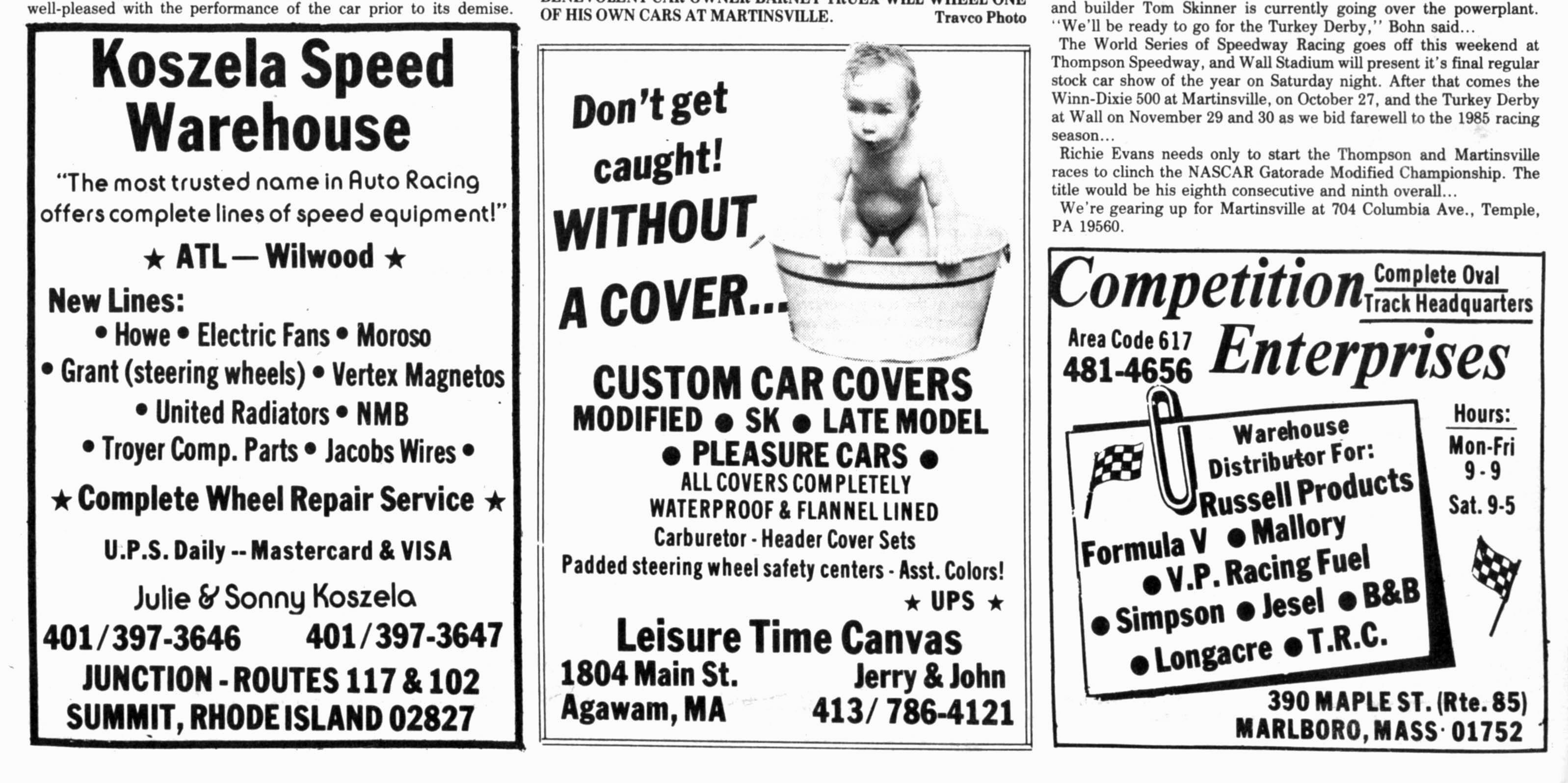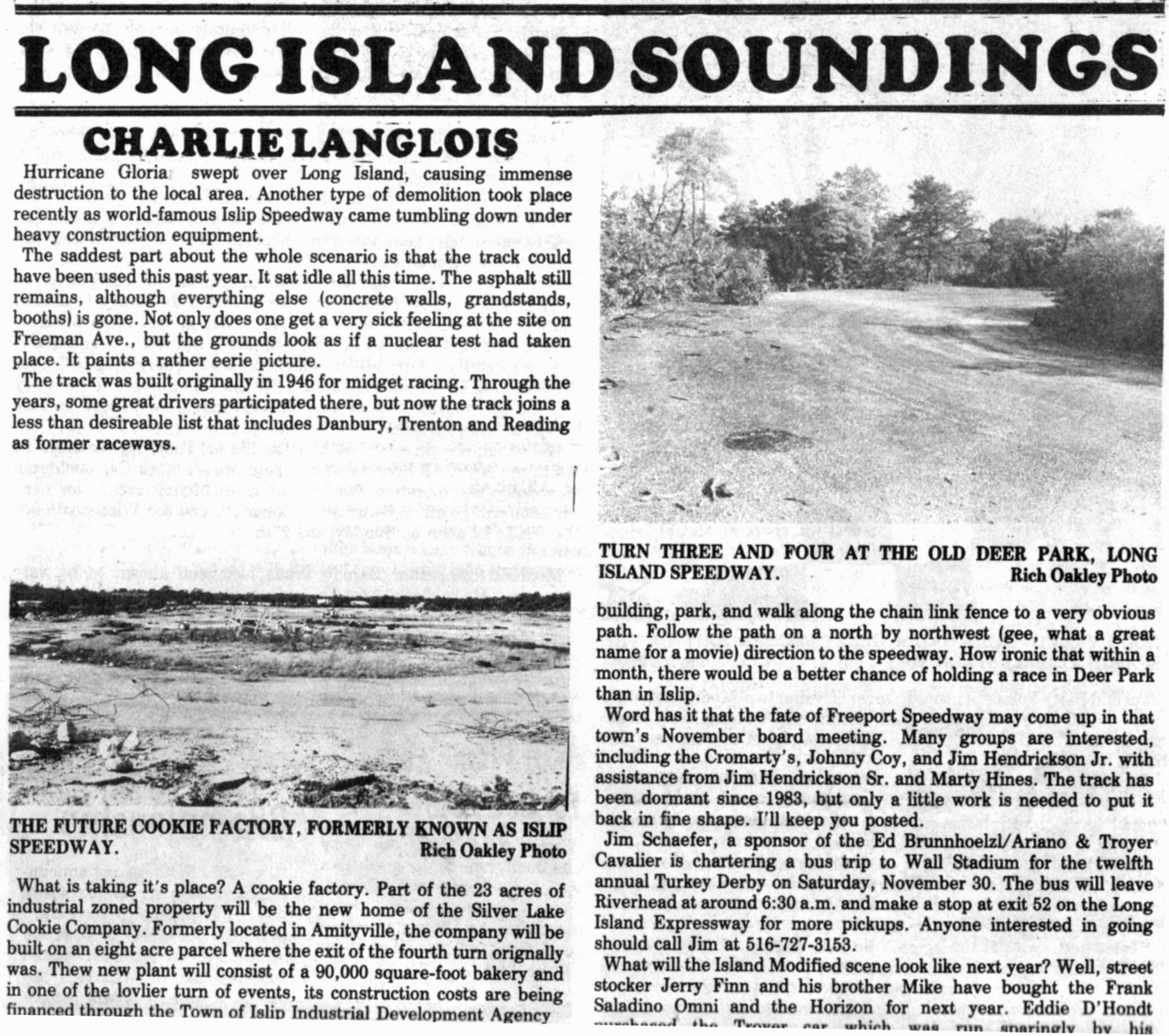 Some good stuff from Charlie Langlois and Rick Oakley. I had no idea Islip was gone that early on.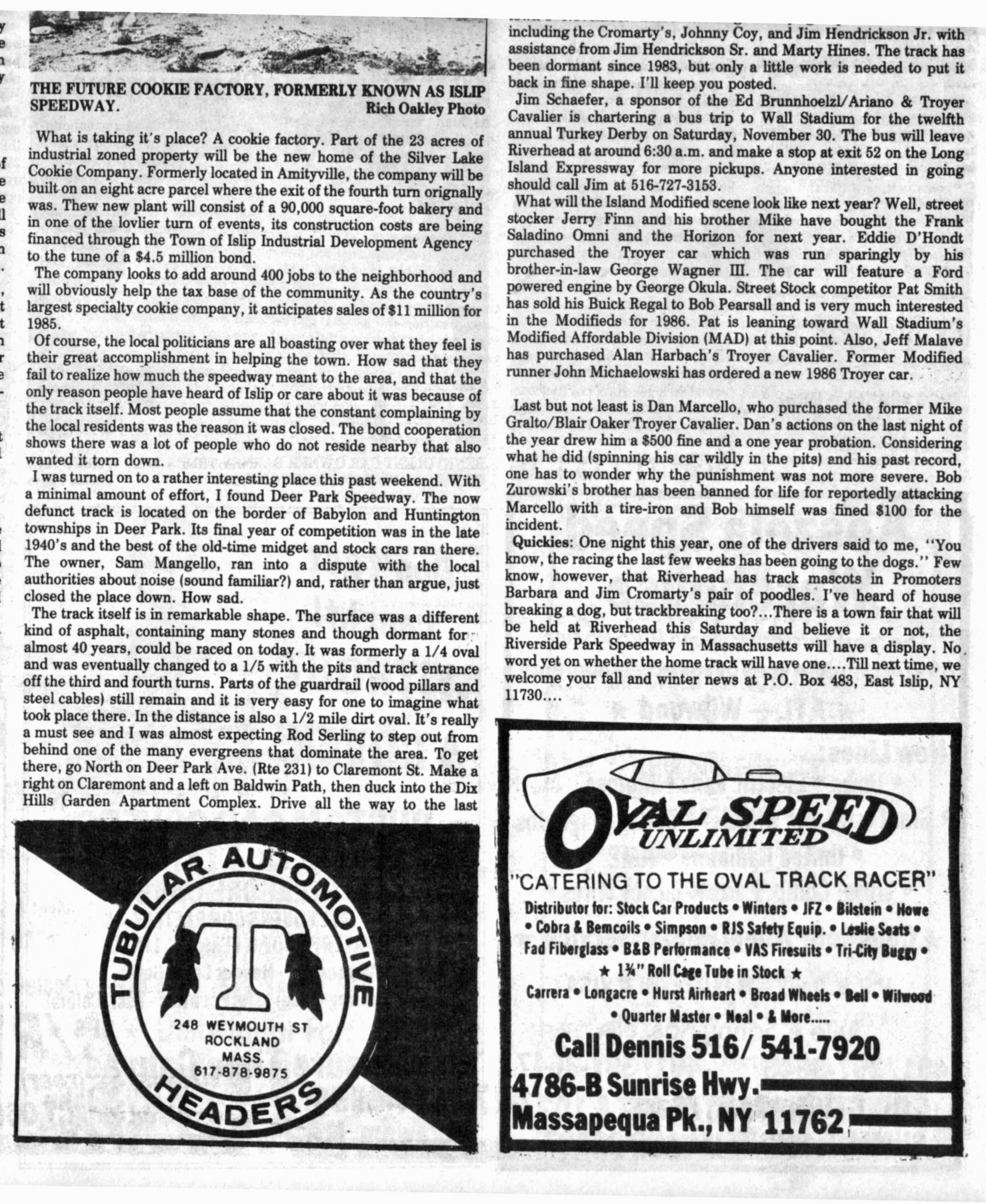 More from Charlie on Islip.

Return to the Main Page
Return to the Main News Page
Return to the All Links Page