THE BILL'S BACK IN TIME COLUMN PAGE
Copies of my column in Mark Thomas' "Racin' Paper"
BILL'S BACK IN TIME
By Bill Ladabouche
Site Column #42 from Column 57
THERE'S A TON OF GUYS OUT THERE
WITH INTERESTING STORIES TO TELL
There's hundreds of former stock car drivers, car owners, track officials, and other people who made the sport what it is today [I bet one of them even imagined an idea like crate motors] whose stories may never be heard. I got lucky recently when one of them was computer literate enough to have stumbled onto my website. As is so often the case with someone like that, it got all the old memories flowing and – along with them – the urge to tell stories.
Russ Blake arrived at Fairmont Speedway one day in May of 1964 with a beatup – looking five window Ford coupe crudely lettered #92. From the looks of the car, I assumed this was another of the many Lebanon Valley guys coming North for easy pickings on the less – technologically – advanced Fairmont competition. As a matter of fact, Russ just emailed me with the comment: "…..while i was running Fairmont. All i can say is these guy ran their asses off..skinny tires and all. Scary s—t!" I don't remember that he did much that day but – having not photographed him previously, I caught the car before they towed off back to Pittsfield, Massachusetts.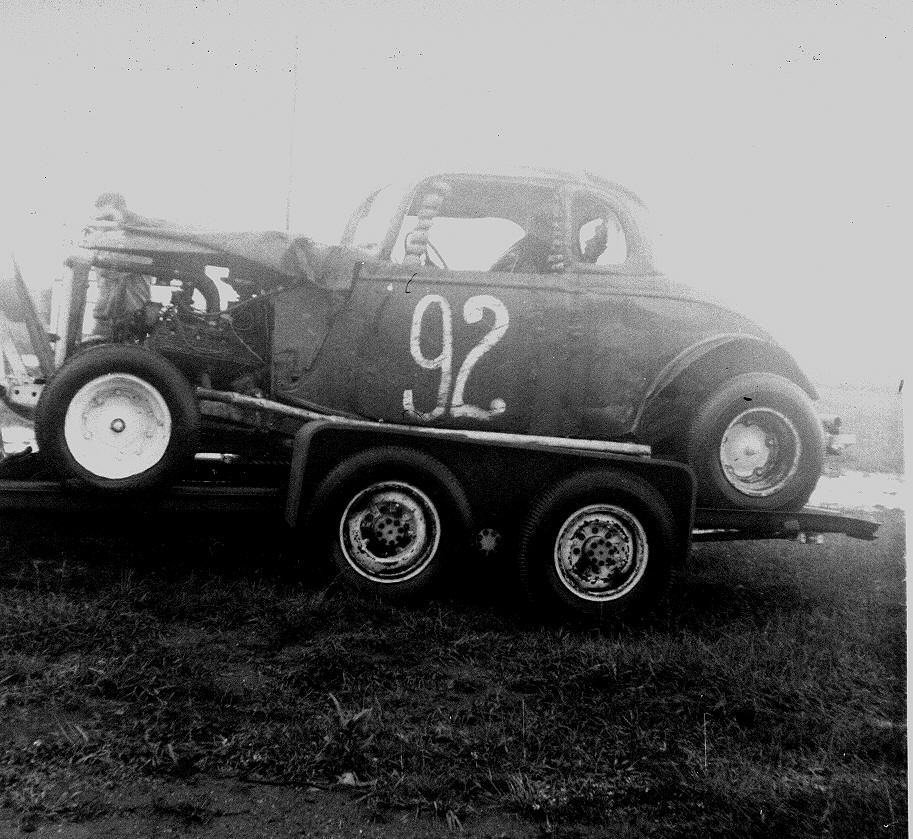 The Russ Blake car sits, waiting to be towed home, after a race at Fairmont. From the looks
of the photo, it is either late in the afternoon or threatening rain. [Ladabouche Photo]
I never thought much more about it, frankly, and a second picture I took was on another film and never came back to me until November of the same year. By then, that battered coupe was history. According to Russ, who has begun emailing me at a phrenetic pace, he destroyed the poor old thing in the Fall – at Fairmont – in 1964. I gave him the only photos he has of it; he has supplied me with unbelievably valuable and interesting information about people who moved about in that most unknown areas of racing then – those who didn't star at the showcase Fonda / Victoria circuit or at Lebanon Valley.
As it turned out, Russ' initial visit to Fairmont was his first experience on dirt, having had to find some place to run after the unexpected closure of the Pine Bowl in 1964. He tells me he won a whole two dollars for his participation in a heat. Russ goes on to lament how he had somewhat mastered the Fair Haven dirt by late in the season and was running third in a feature, behind eventual Vermont State Champion Rudy Charbonneau and behind Ted Brown when he wrecked the car.
"That was a bad one", Russ adds.
Russ would trailer up to Fairmont, although he lived nearer to the Valley because the level of competition in New Lebanon, NY was just too steep for his equipment [or most anyone still running the Pine Bowl in that era]. He would enlist help from some really interesting and possibly noteworthy friends from the northern Massachusetts Berkshire County region. For instance, he had help from Bo Green.
Bo Green sounds like just another grease – covered guy riding long miles to help get a stock car on the track at most any local bullring in the country at that time. Nobody on crews was exactly a graduate of RPI at that time like some guys are today. But Bo may be one of THE MOST noteworthy characters who has touched the history of Vermont racing. You see, Bo was a black man participating in stock car racing. I know of one other besides Wendell Scott – a Beech Ridge driver named Benny Myers. It is possible that Bo may have run before either of the others, making him a pioneer in the sport. Either way, he was definitely a trailblazer for his race in this sport.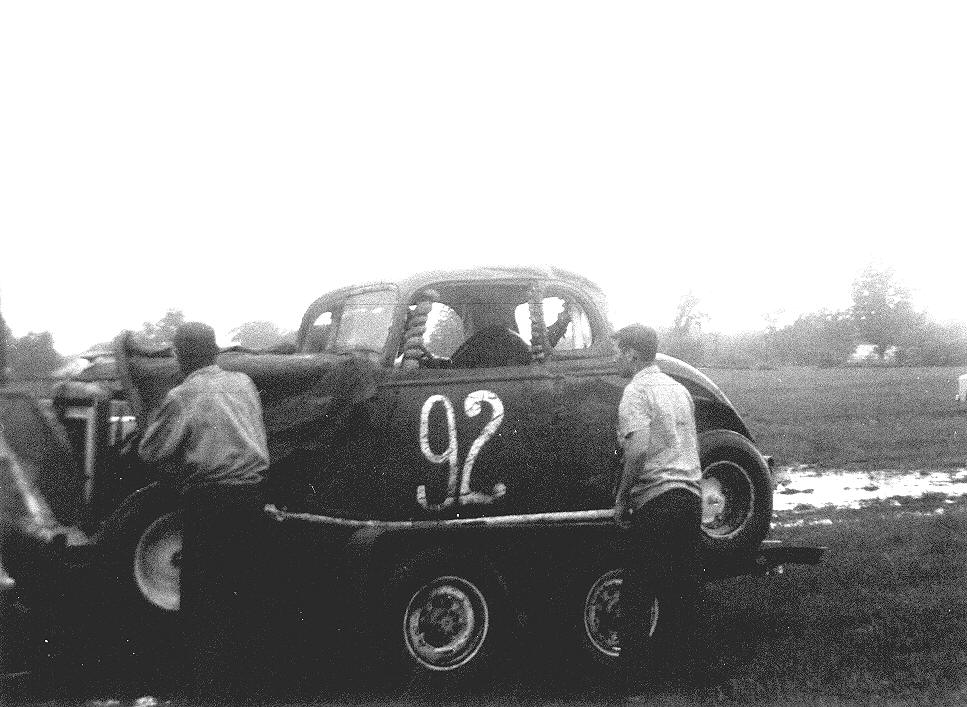 The Blake 92 is tended to by Bo Green [covering hood with tarp]] and Jumbo Williamson, who usually crewed for Dan Dudley's car at the Valley. The puddle and the cloudy quality of the shot indicate they may have been rained out. [Ladabouche Photo]
Bo drove cars himself, and had been running at area tracks, I would imagine, such as Rhythm Inn, Pine Bowl, and wherever else bad attitudes did not deter him. Having one eye did not seem to pose any particular problem for Green. Russ Blake's father worked with Bo, and they both worked with Henri Bouchard, a big name in local racing circles in the early days. As Blake puts it, naturally Bo would begin driving at certain tracks. The group from Pittsfield could go to Pine Bowl and then tow a very few miles to the paved Empire Speedway in Menands and do it all over again.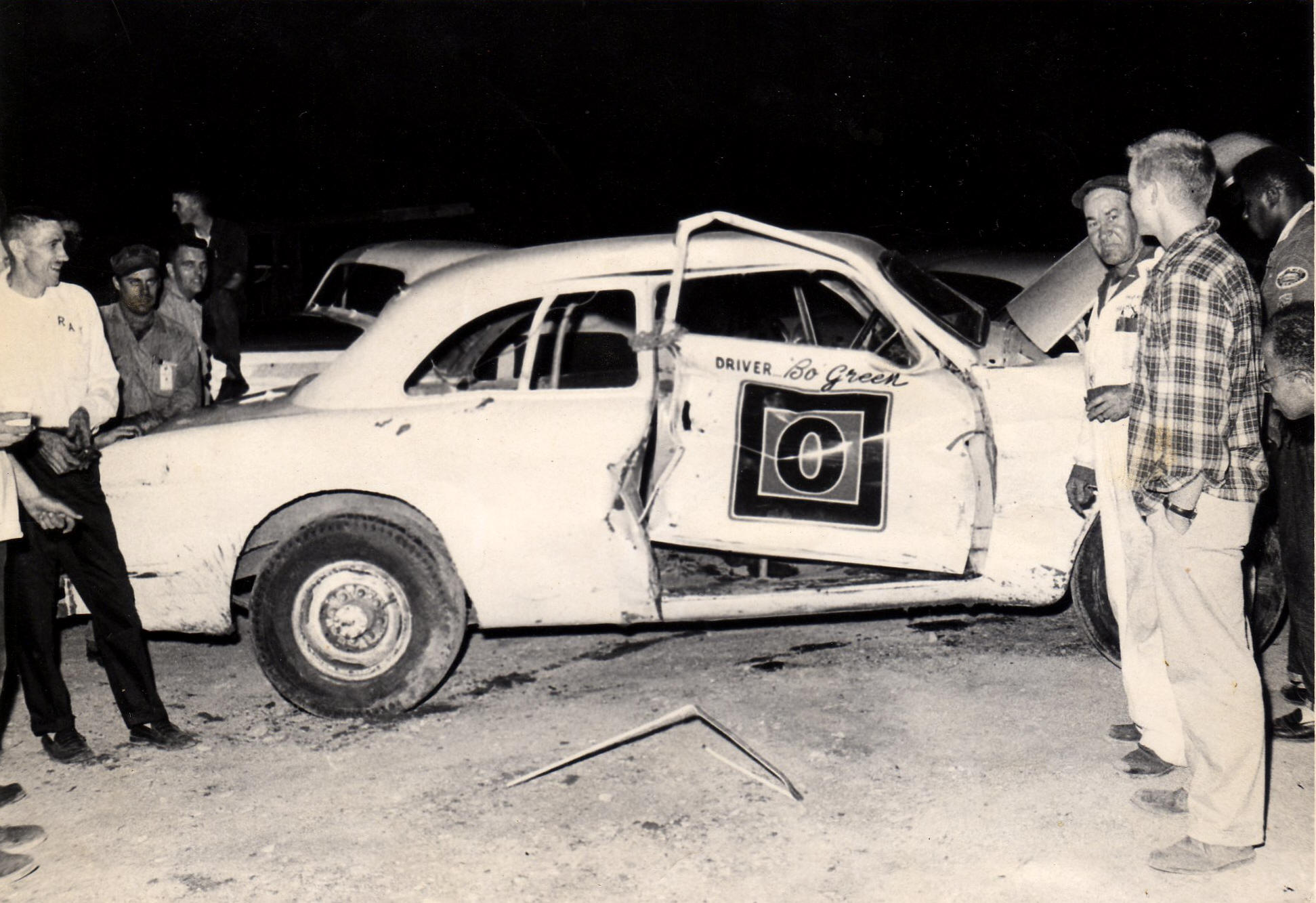 Here is a scrape that Bo Green has managed to get into, and there are a lot of interested spectators. Green is standing at the hood of the Ford, and – to the far left, is Ray Havey, owner of Bob Kudlate's car. Greens car looks professionally lettered, which is rare for the day. Don't you love the cloth holding the door ? It looks like Bob Whitbeck, legendary NY car owner and sometime track offical standing at right looking at the camera. [Ray Williams Photo from Russ Blake Collection]
In a photo of Bo's 1950 Ford, having wrecked somewhere, there is a considerable crown of people around, and I would like to think it is because they were concerned for him – like anyone else who might have wadded up their ride that day. According to Blake, Bo did not race at the Valley much because, for one thing it was not running much when Bo was at his best. Remember, it had a short 1955 season, and in 1956, it was closed to be re-configured. Bo's Ford housed a 300 cubic inch six cylinder engine built by Barney Davis, of Barney's Speed Shop in Pittsfield, Massachusetts. At one time, six local race cars came out of that shop. This was often the case in early racing because guys didn't have the facilities to build them at home, nor did their wives often know they were running them.
One of Bo Green's ideas lived on after his career was over. He referred to his car as the "square zero" because of the shape of the numeral that had been put on his car by whoever the sign painter was back in those days. Perhaps as a tribute, another square zero car came out at the Valley with Will Coville as the driver. While I don't know if Coville was related to C.D. Coville or his dad, I do know that the owner was Karl Hacker, son of Lebanon Valley veteran Lou Hacker. Hacker is one of the men in "the mystery photo", to which I refer in upcoming paragraphs.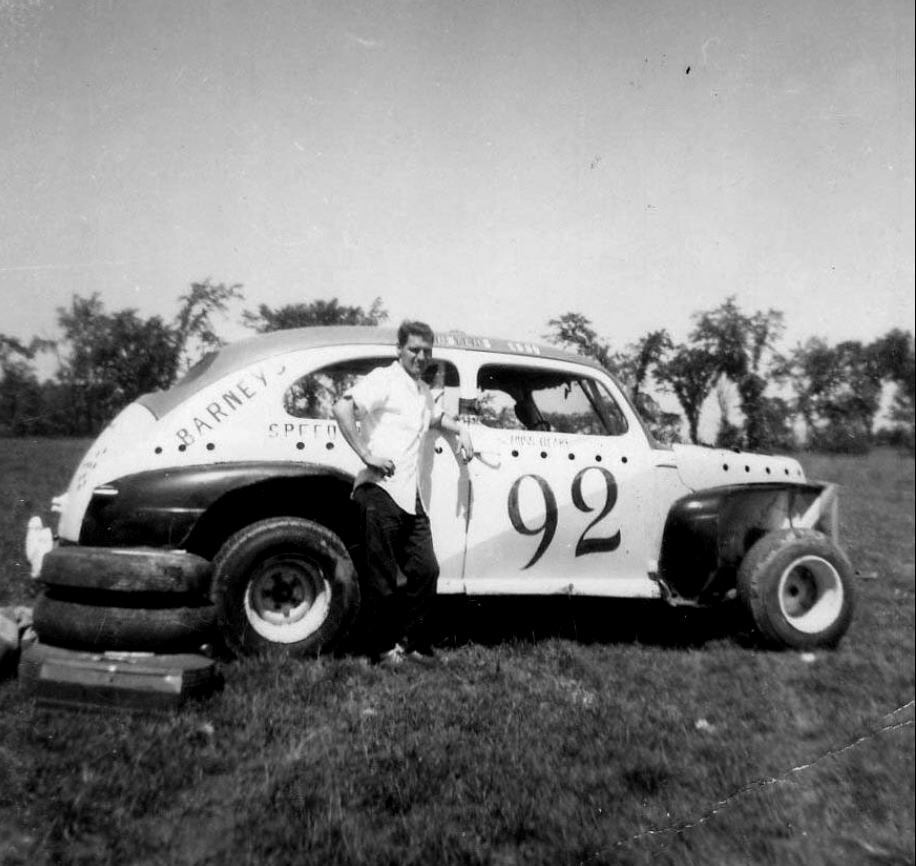 Courtesy of Russ Blake
Russ Blake visited Otter Creek Speedway one time.
That circle of men who raced together and traveled is well known by Russ, and there are a ton of stories about these guys just waiting to be told. Bob Kudlate is one of the man who raced against Green [and maybe a young Russ Blake, as well.] When I received a vintage photo that had been rescued from the Catamount Stadium tower before the local firemen were allowed to burn it for hose practice, I had quite a difficult time identifying anyone except for Jollie Ollie Palmer.
After putting the photo on my website [mistakenly assuming it was Whites Beach], I got a of help identifying everyone except one guy. We have learned that the guy on the right was a young Howie Westervelt, the man next to him was Lee Palmer [who discovered himself in the photo], then Ollie, then Lou Hacker, then this little guy who looked like Grouch Marx in a jockey's helmet, and then the aforementioned Henri Bouchard. Well, it turned out Kudlate was the Groucho guy.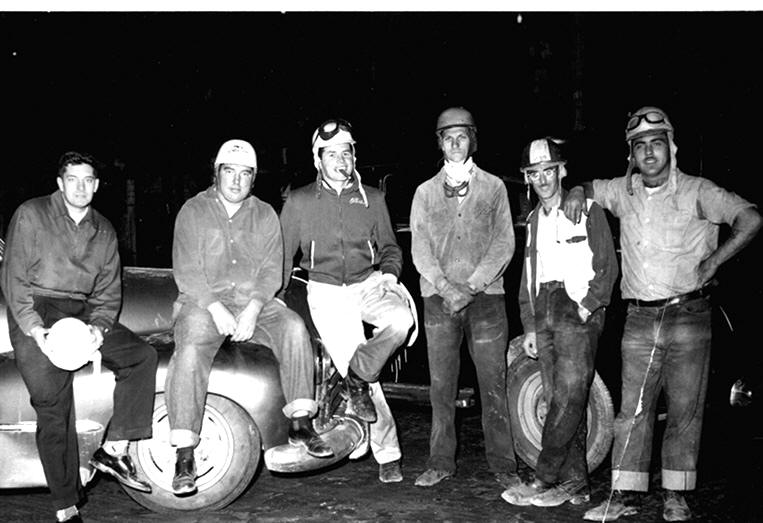 This photo has turned out to one of the crown jewels of my website's photo collection. Three of the guys are featured in Russ Blake's stories. Henri Bouchard is at far right, Radar Eyes Kudlate is to his left, and Lou Hacker is beside Kudlate. The others [from left] are: Howie Westervelt, Lou Palmer, and Ollie Palmer. [Irv Conron Photo Courtesy of Chris Companion].
What I came to find out was that Bob was a highly – respected local racer and that his Coke bottle thick glasses had gotten him some kidding from his buddies at times. Bob may have made it Whites Beach, but not that anyone has heard of yet. He did run the Valley – before they redid it around 1956 – and he apparently made a good accounting of himself. Bob is thought to have made it up to race at Fairmont a bit, too. He has been spoken of with great respect by both Blake and by Ken Tremont, Sr., who was the most help getting the six guys in the mystery photo identified.
Bob Kudlate has a car number based on a World War II fighter plane, like so many of the other stock
car drivers in the post- war 1950's racing scene. This was apparently at Route 66 Speedway,
a Harold Garstang track also once called the Hollywood Bowl. [Russ Blake Collection]
One of the men most instrumental in getting Russ involved in the sport of stock car racing was a third man in the photo – Henri Bouchard. Russ inisists that Henri was a very accomplished driver, who did not get much credit for "tons of" wins and championships in the 1950's era, at tracks where record keeping was not the best. He recalls being brought to a very early track in Bennington [not Stateline] where Bouchard competed with a yellow #J-4 sedan which he had nicknamed "Beetle Bomb", after the broken down race horse in Spike Jone's comical William Tell Overature" . Much like I was as a kid, Russ managed to remember scattered other details such as a black 1943 Ford coupe #P51, but nothing too comprehensive.
I would have to think this must have been what Alan Brown refers to as "the Griffin race track" in his history of American tracks book. Griffin was apparently the same guy as the proprietor of Griffin's Auto Parts, River Street, in Bennington. That could have been a salvage yard or a store. Griffin sometimes sponsored Don Rounds, when Rounds brought the 101 up to Stateline. The Griffin track supposedly featured those short-lived and highly-dangerous roadsters that ran –sometimes intermixed with stock cars, in the early '50's.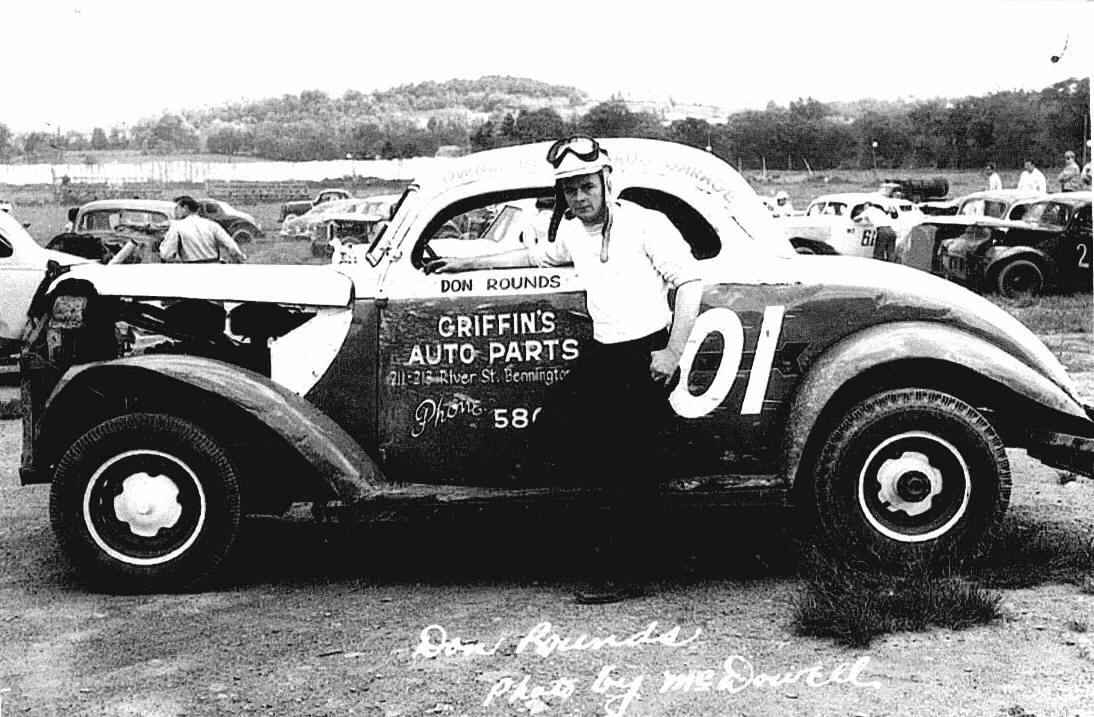 Don Rounds, here posing at Stateline, may have had various doors for his 101. Here
he features the Griffin ad – for Stateline, But, I have seen other shots of this era
in which the ad is not there. [McDowell Photo]
But, there was more to Henri Bouchard than just wins, championships, and hooking young kids on racing. He ran a junk yard in New Lebanon, New York. Blake says the yard was full of old stock cars and "we would get our racing parts from there and naturally Henry never charged us a dime." Bouchard also owned and operated the East Greenbush Speedbowl, located on Route 20, the same road as the Valley was located on.
I believe the East Greenbush track is now wiped out by a golf course. When Russ got a job at a Pittsfield sign company, they had a job erecting a sign for he Bouchard salvage yard, but, by that time, Henri's wife was running the operation.
Russ, himself got started racing with that #92 numeral. He later used 29 [which of course was 92 in reverse]. He points out that numbers meant something in those days. He went through the number 110, as well, and even used #47 when his son ran 44. It sounds like – while his career may not have been crammed with titles and wins – it was rich with good experiences and good acquaintances. Russ recalls being at the Valley when the wall there was boiler plate. He can actually identify the drivers in that 1960 promotional photo I have on the Lebanon Valley page of my site. He remembers almost everyone he crossed paths with along the way – from a relatively obscure Red McDonald, to a multi-race winner like Cecil Bosworth and a prominent car builder like Norm Scarborough [Vince Quenneville's cars].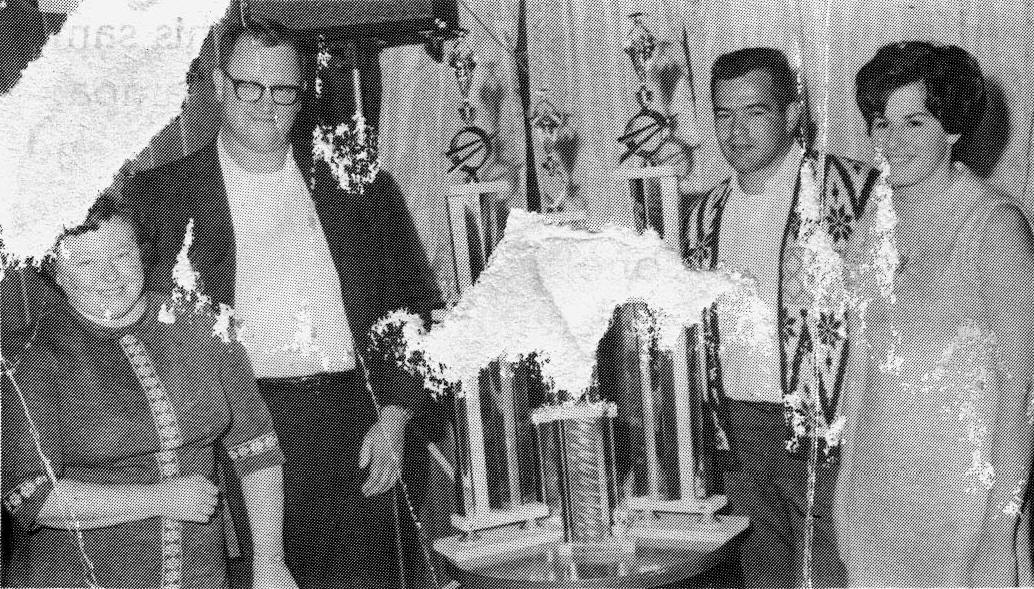 Vince and Norm Scarborough have received awards for the 1968 Devils Bowl Track
Championship from C.J. Richards. [Courtesy of Ed Fabian]
Russ's time at Fairmont was apparently limited, but he seemed to enjoy it. It propelled him to try more dirt at his nearby, beloved Lebanon Valley. He received some good advice on how to change from pavement to dirt from another Massachusetts guy, Cecil Bosworth, who hailed from Athol, Massachusetts. Bosworth, who drove for New Hampshire – based George Ingalls, was one of the most successful drivers in the brief history of Fairmont. At Fairmont, he also made friends with Norm Scarborough, who built some of the most successful cars to ever run at Fairmont and Devil's Bowl.
When Russ finally decided to tackle the high banks of the Valley, Scarborough had re-united with original driver Vince Quenneville, Sr. and was running the Valley, himself. Russ says the Vermont team would park next to him in the pits there. While Quenneville was a bit standoffish, the giant, intimidating Scarborough was not. Considered a curmudgeon by many who knew him, Norm was very congenial and funny with the Blake crew and they shared a lot of laughs.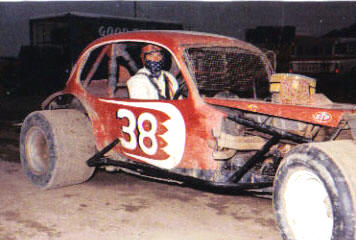 Vince Quenneville in what was likely his 1973 version of the Scarborough 38 – at the Valley. [Arnie Ainsworth Photo]
Russ relates one humorous little anecdote about the tow vehicle with Scarborough's #38 team. Russ noticed that the truck had a small phrase painted on the side: "Go get the truck". Apparently, tow vehicles were not allowed to be left in the pits because the pits were in the infield, and the larger trucks would obscure fan view of the backstretch. Also apparently, the Vermont team would often run into a jam and Norm would predictably say in his deadpan manner – "go get the truck". It became a joke between the two teams.
It was a lucky thing to have had Russ Blake come upon my website. I hope to hear a lot more from Russ and I also hope there are dozens of more "Russes" out, there, whose stories are waiting to be told.
Return to the Columns Link Page
Return to the Main News Page