BILL'S [Somewhat] WEEKLY COLUMN/BLOG PAGE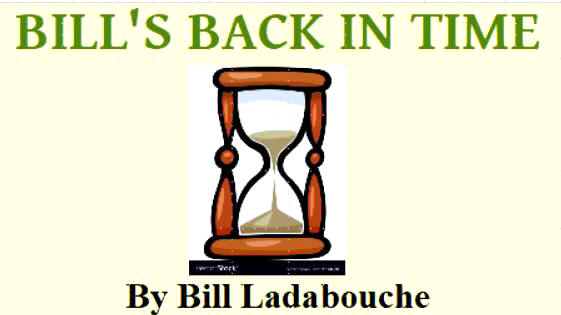 THERE ARE NICKNAMES AND THEN THERE ARE NICKNAMES
Participants in every sport have their nicknames. Those who do not suffer from reduced feelings of self worth have even been known to nickname themselves, if fans or sportswriters do not respond fast enough to give them monikers that appropriately define their great attributes. In racing, nicknames come in bunches, and a good percentage of those are of the trite, hackneyed variety.
It seems like every stock car driver named William has to be called Wild Bill. If there is a rather obvious nationality, they will likely be called be referred to as The Flying Frenchman, The Flying Finn, The Flying Dutchman, or whatever. Many Edwards end up as Steady Eddie or Fast Eddie. It seems like every race driver named Baker, for a while, had to be Cannonball Baker [after some driver of many decades past].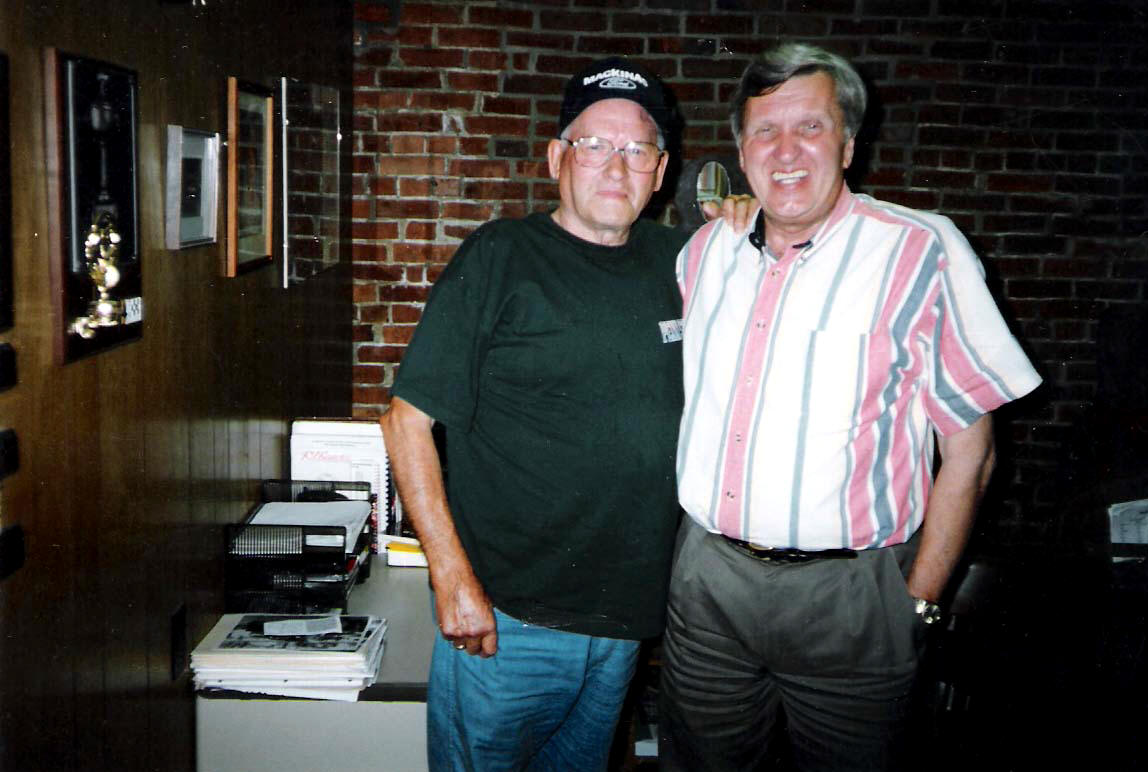 Courtesy of Bill Baker
Vermont's Harold "Cannonball" Baker", with the master of
nicknames, Ken Squier at a reunion. Below – The original
Cannon Baker, as a NASCAR official, stands at far right
as Johnny Mantz, winner of the first Southern 500, is interviewed.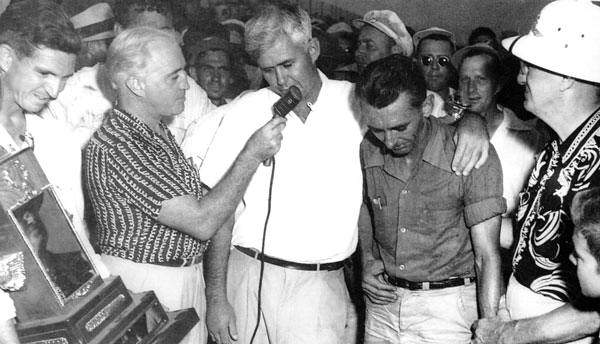 Tom Kirkland Photo via Lew Boyd
I would have loved to have a dollar for every driver whose day job got him the nickname: The Flying Milkman, The Flying Contractor, The Flying whatever. Then, of course, you get Speedy Thompson, what the hell can you find wrong with that other than lack of much imagination. I thought Glenn "Fireball" Roberts was a great idea until that name then was used about as many times as McDonald's used to fry a hamburger.
In a lot of sports, sportswriters [now called the media] would come up with most of the names. The Sultan of Swat, The Georgia Peach, the Splendid Splinter, etc. But, in stock car racing, it is usually a track announcer, and a few of them in my area were especially adept at that. In particular, nationally famous Ken Squier, who manned the mike at Thunder Road and Catamount Stadium, was a veritable fountain of original nicknames. Track announcers Uncle Art Stuarts at Lebanon Valley and Oxford Plains Speedway's Bob Walker were also quite productive.

From the Uncle Art Stuarts Book
Lebanon Valley announcer Uncle Art Stuarts, another
great nickname giver, Below – Bob Walker, one of the
memorable Oxford Plains announcers, wasn't bad at it, himself.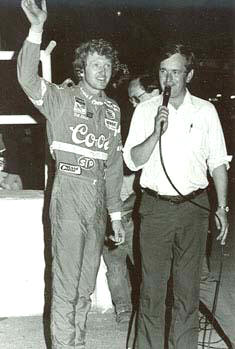 MVRCA Site Photo

Squier had so many nicknames dreamed up that I could not even hopre to cover them. Henry "The Frozen Logger" Montanden ranks near the top, as does Ronnie "The Bethlehem Bombshell" Marvin. The diminutive Montanden may have logged, but he never told us that he was ever frozen anywhere. The massive, intimidating Marvin, however, truly fit his nickname. He was from Bethlehem, NH and was very capable of exploding without a helluva lot of provocation.
Squier took the bucolic, low budget driver Chet Wood from Orange, VT and dubbed him Chester T. [for Tops] Wood. Chet was not Chester and his middle initial was not T., but nobody cared. The slender driver with the homemade haircuts would take ramshackle cars out of his dirt floor garage and embarrass much better financed teams. Then, as a sort of antithesis to Wood, Harold Hanaford got the moniker of "Hardluck" from Squier. Hana always said he didn't understand the nickname because se he thought he had pretty good luck and a nice career.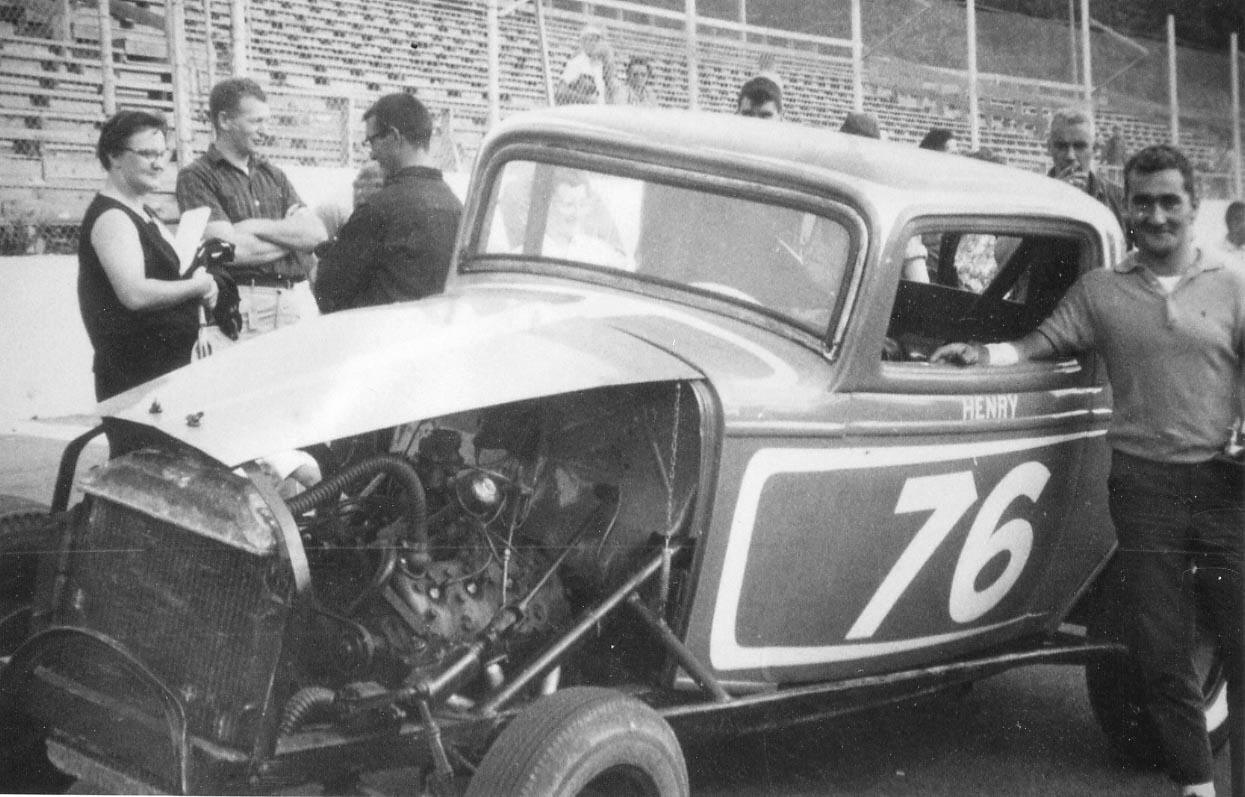 Courtesy of Ken Paulsen
Henry "The Frozen Logger" Montandon with his best – known
car at Northeastern Speedway around 1960. Below – Chester T. Wood
[actually Chet Wood] with one of his baling wire cars.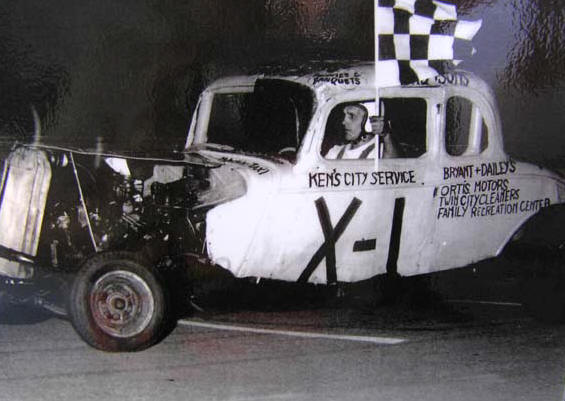 The announcer at the Valley, Uncle Art Stuarts, came up with the nickname Jackie "Whistlin" Wilson, after Wilson's car owner, Joe Lawrence put him in a fast sedan the motor of which emitted a strange whistling noise when it was at full song. Northeastern driver Bruce Taylor became "Gomer" somewhere along then line. I don't know if he went around yelling "Surprahz ! Surprahz ! Suprahz!", or if he even sounded like Jim Nabors' Gomer Pyle character; but the name stuck. I do know Gomer got surprised at Lakeville when he had one of the tracksmore spectacular flips.
Oxford Plains announcers such as Zeke Trask and Bob Walker always came up with great names. Walker was responsible for Ray "The Boulder" Stone, a fitting moniker for a plus – sized figure eight and charger driver from up there in West Paris, Maine. My particular favorite Walker nickname was for another figure eight and charger driver – Willie "The Perpetual Rookie" Glidden, from Readfield.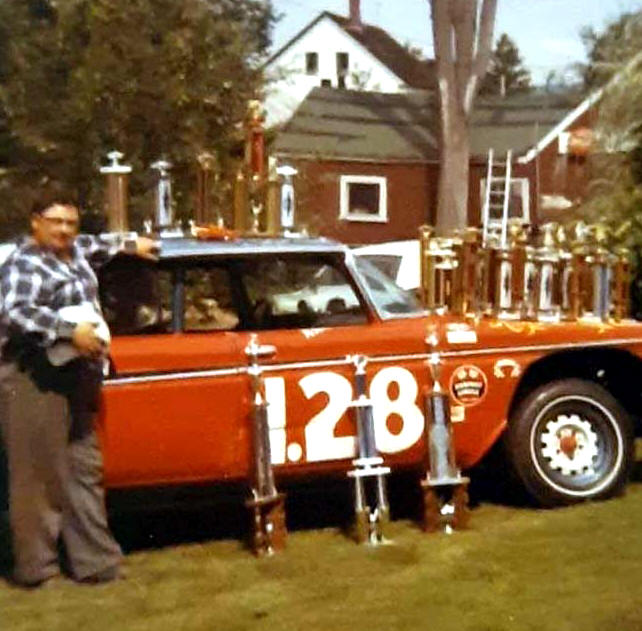 Courtesy of David Seeley
Ray The Boulder Stone with evidence he could drive like a fast
rolling stone. Below - Gomer Taylor at Lakeville getting high
up in the racing world.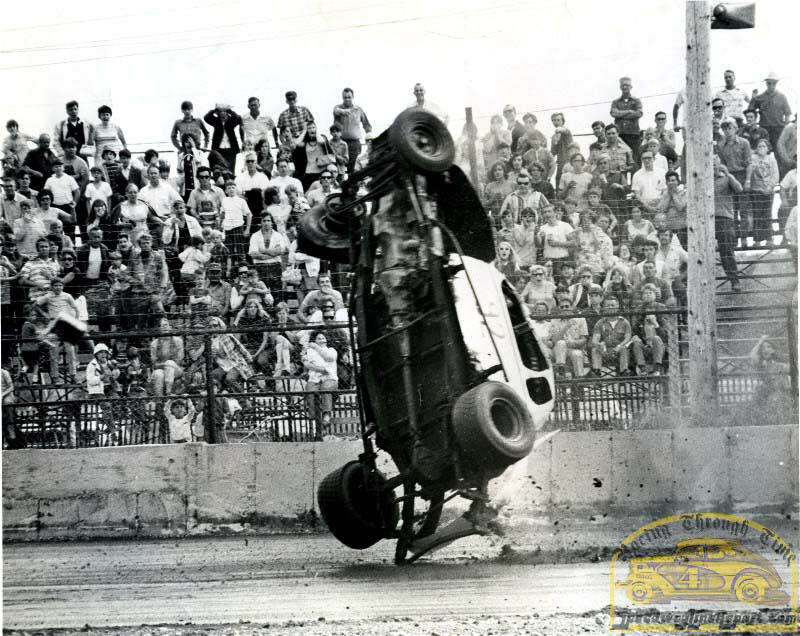 Via Dave Dykes
Devil's Bowl Speedway's Howard Cameron tried to spice up the track's new Dare Devil class with a few of his own. "Foolish Fred" Taylor [no relation to Gomer] and "Long Gone John" Wales were a couple of drivers whose popularity was probably boosted with those names. The other best Bowl nickname was that of Charlie "Ol' Reliable" Laduc; the origin of that name was as much a comment on Charlie's loyalty to the track as it was to his rather consistent performance.
Some of the great names that come to mind were pretty far out of my territory but nonetheless well conceived and fun to hear. Mike "Magic Shoes" McLaughlin's nickname was in direct contrast to fellow dirt trackers "Barefoot Bob" McCreadie and Mert "Socks" Hulbert. I'm not sure how Bob got his, but Hulbert did drive for a while with one shoe off for whatever reason. One of my all – time favorites is Davey "The Canadian Blast" Moore.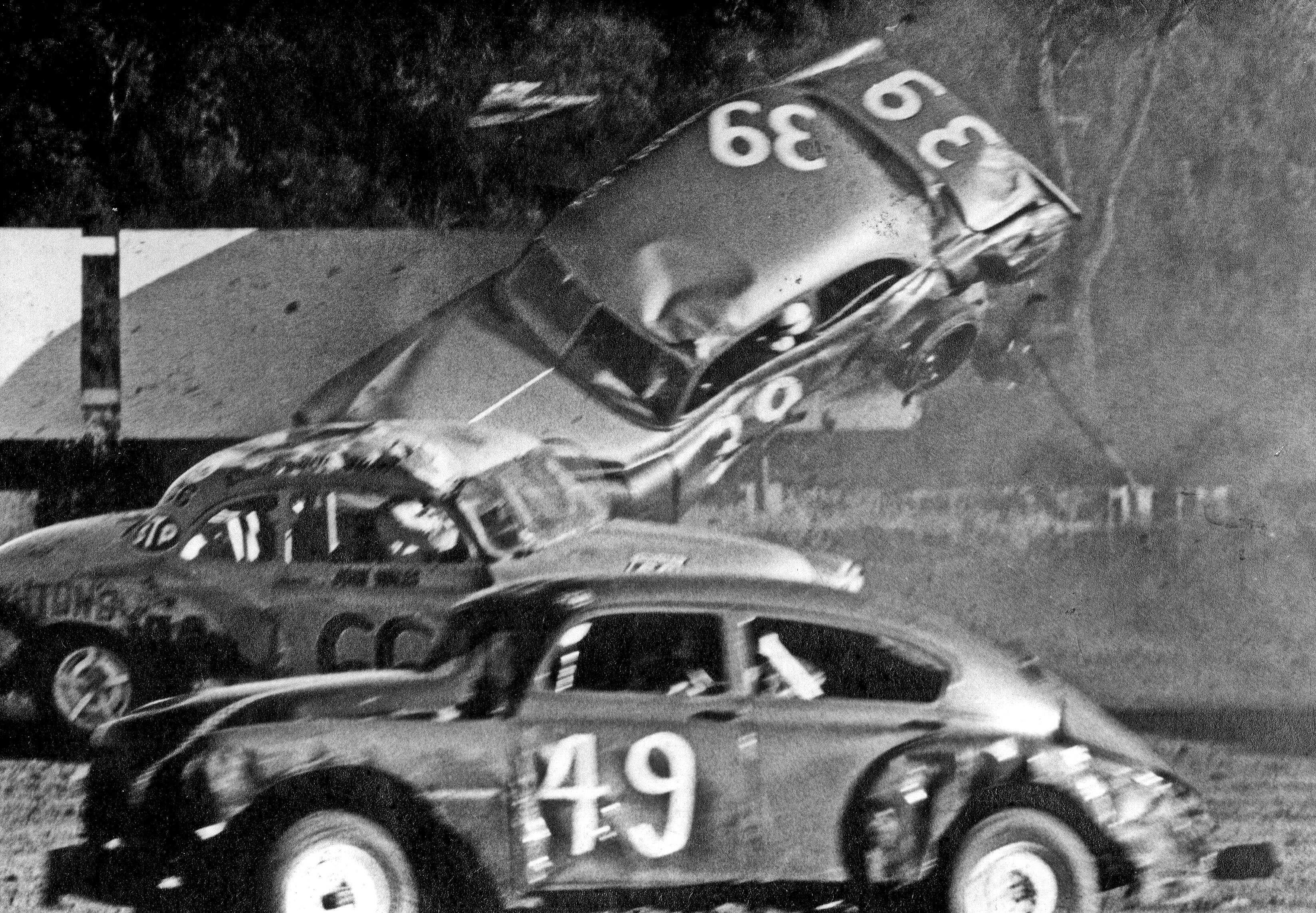 Bob Frazier Photo
"Long Gone John" Wales barely avoids getting landed upon
by the 39 of Howard Dikeman in Devil's Bowl Dare Devil action.
Below – Charlie "Ol' Reliable" Laduc.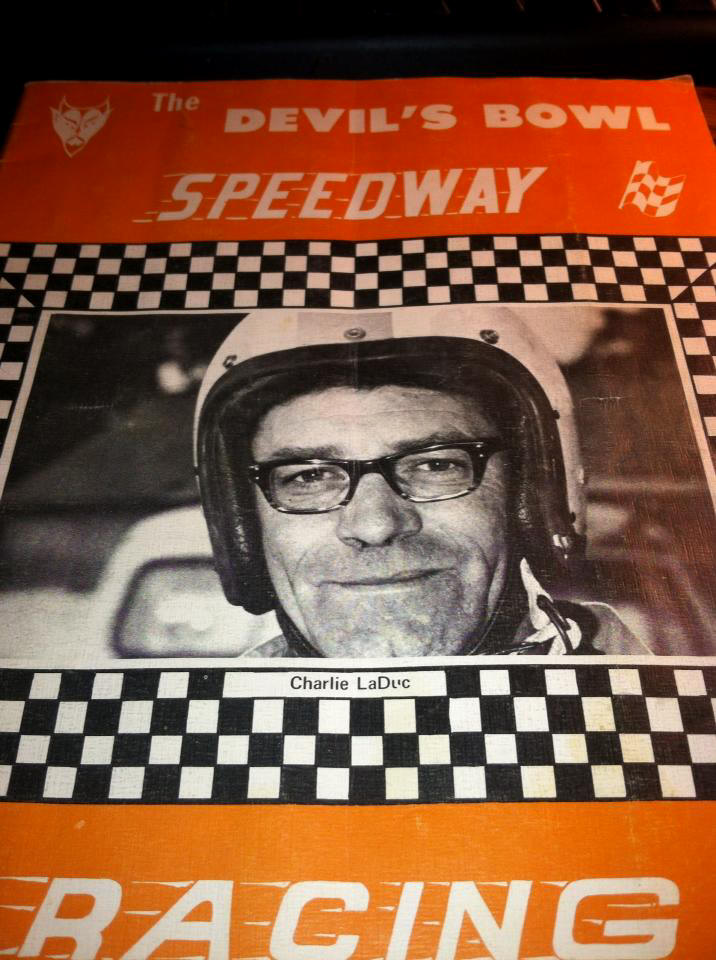 Bob Frazier Photo D Bowl Program via Brad Barrett
Legendary New York driver Steve Danish was so businesslike and dignified that his nickname would have to be, as well. His best known nickname was "The Cropseyville Courier", after the tiny town he based his racing and business out of . Jerry "The Catskill Comet" was another New Yorker who cashed in on where lived. But, given home towns, no nickname was better than Kezar Falls, Maine's Gardiner "The Geezer From Kezar" Leavitt. That was another of Ken Squier's beauties.
Pete Corey, the brilliant and mercurial modified builder and driver from Crescent, NY often enjoyed putting "The Crescent Hillbilly" on his yellow cars. Corey and fellow New York racing legend Ken Shoemaker had been good friends, even starting out sharing the same $35 race car, numbered 35 appropriately. The name came from one time when the pugnacious Shoemaker, angry at something Corey had done on the track referred to him as "that %$#@ Crescent Hillbilly". Corey liked it and held onto it .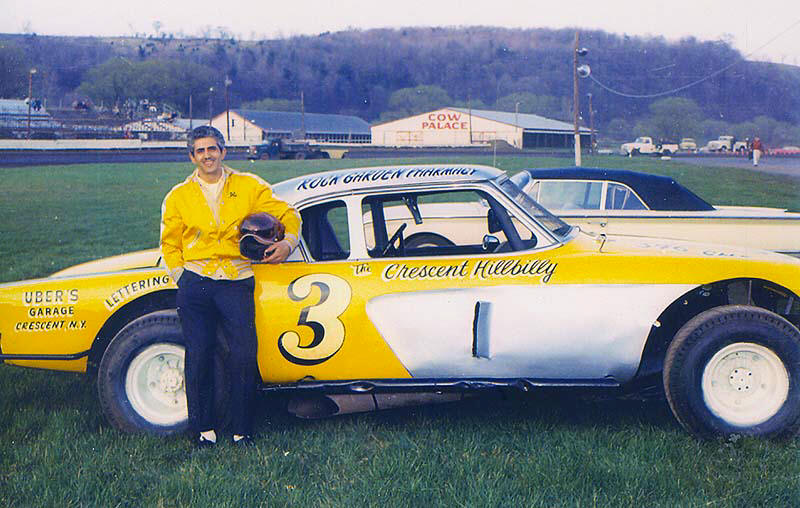 Russ Bergh Photo
Above – The "Crescent Hillbilly" lable made a big
Impression of many of Pete Corey fans. Below -
So much so that Bill Russell, with his Fonda
late model Studebaker, dubbed himself "The
Burtonville Hillbilly" in tribute.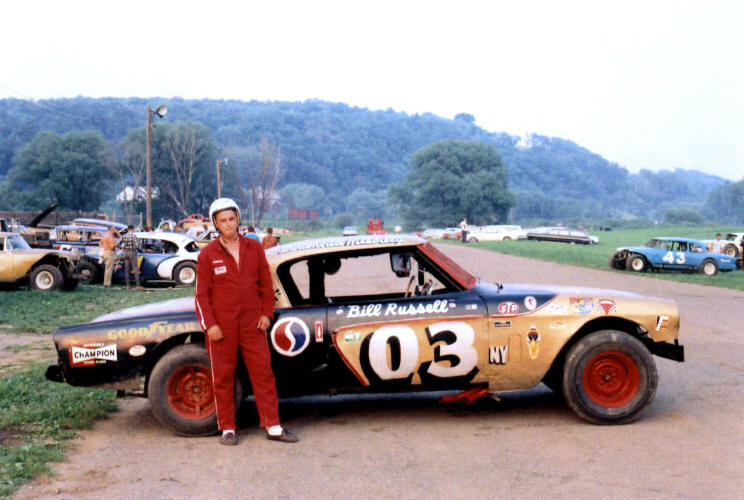 Russ Bergh Photo


Some of the names were undoubtedly earned. New Jersey's Elton Hildreth was right in on the ground floor of stock car racing, even having a Nash that he drove in the early NASCAR short track division. Primarily known for his #16J cars, Hildreth became "The Wild Man" in that tri - state racing region in which he raced. White Plains, NY's Ray Brown [one of two prominent racing Ray Browns] ended up with the nickname "Zero', mostly because he did run a car Zero and because he wore a Cromwell helmet for quite a while with a big 0 on it. Brown was, however, the furthest thing from a zero when it came to racing success.
It has often been said that Utica, NY driver Lou Lazarro got to start driving early because he was a big kid and because he was losing his hair at a younger age than most. I have heard his nickname both as "Monk" and The Monk", and it probably goes back to that hairline. There are those who argue [effectively] that Louie might have been the best stock car driver to come out of New York, so maybe he deserved a nickname that better gave his credit for that.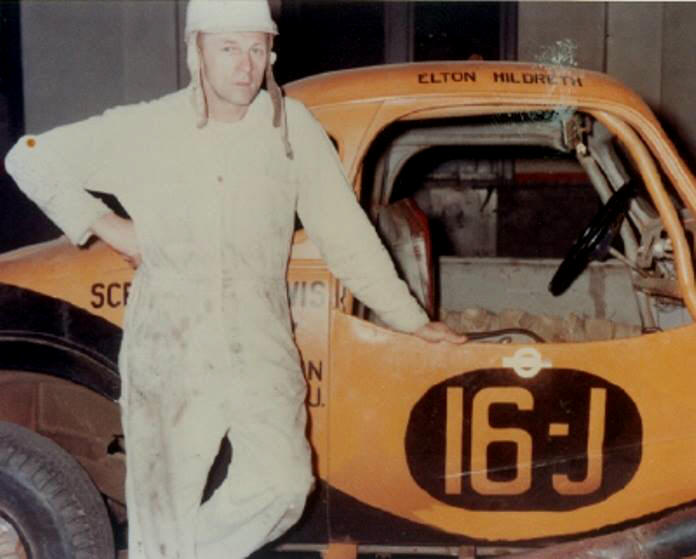 Via Edward B. Brown III
Above – The Wild Man, Elton Hildreth. Below -
Ray "Zero" Brown with the helmet that may
have named him.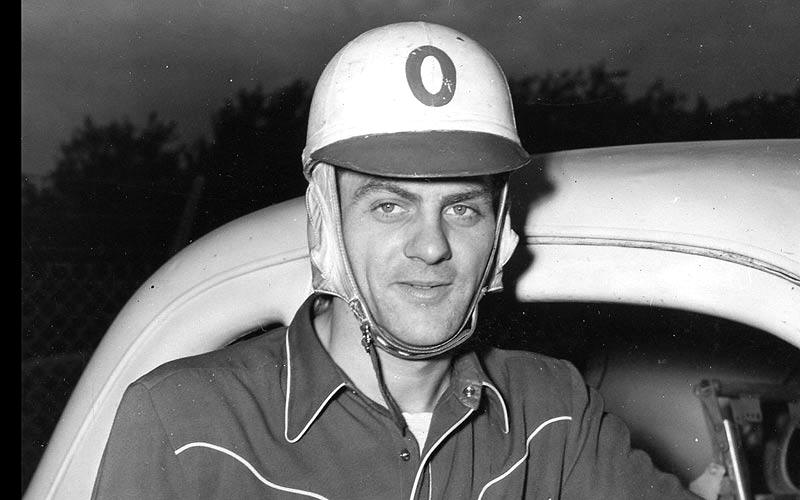 Ginny Ross Collection via Dick Hansen and Chas Hertica
You get the full gamut of racing nicknames from the obscure Ollie "Beatnik" Wescott, who raced around northern Vermont places like Malletts Bay Raceway and Otter Creek Speedway; to Herman "The Turtle" Beam, who made a good living running the inside of NASCAR Grand National tracks in the late 1950's and earlier 1960's. Ken Squier's creative name of Clem "Desperate" Despault was good, although the great announcer sometimes struggled in saying it at Catamount. Sometimes, it was right and sometimes, it came out as "DES – poo – wit".
You wonder how some of the names came about. "Punky" Caron was said to be actually a cop; "Mousey" Kempster was anything but; "Goober" Scheidel didn't look anything like Gomer Pyle's cousin; and God only knows where "Flookie" Buford came from. I do know this, the nicknames [which are rapidly disappearing as fast as the fun in racing] were one of the things that made stock car racing so much fun to be a fan for. We need more of Charlie "Choo Choo" Huff and Al "The Animal" Simoneau.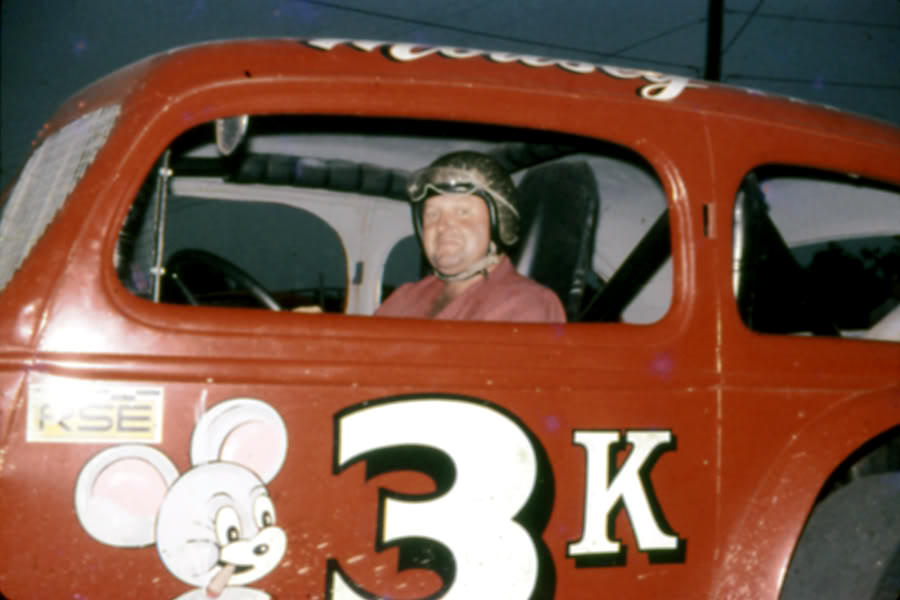 Len Calinoff Photo
Mousey Kempster played up the Mousey nickname but he
was one of the first League members of the All Star
Stock Car Racing League in 1967. Below – Al "The Animal"
Simoneau in one of his quieter moments.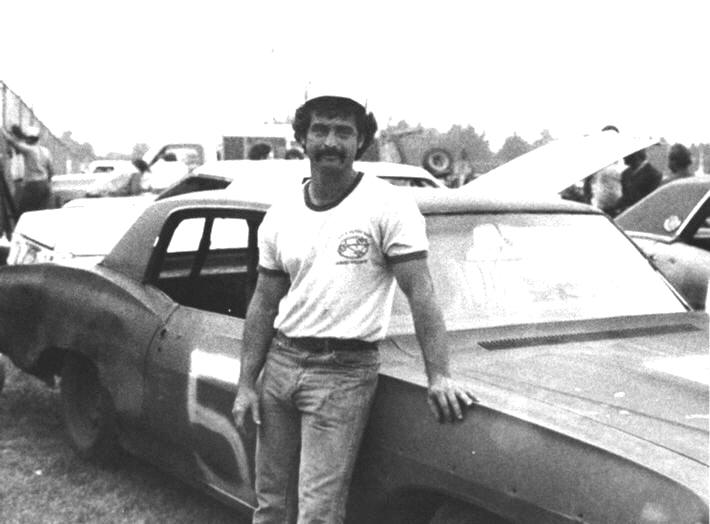 Ladabouche Collection
Please email me if you have any photos to lend me or information and corrections I could benefit from. Please do not submit anything you are not willing to allow me to use on my website - and thanks. Email is: wladabou@comcast.net . For those who still don't like computers - my regular address is: Bill Ladabouche, 23 York Street, Swanton, Vermont 05488.
AS ALWAYS, DON'T FORGET TO CHECK OUT MY WEBSITE
www.catamountstadium.com
Return to the Main Page
Return to the Main News Page
Return to the All Links Page
Return to the Weekly Blog Links Page