BILL'S [Somewhat] WEEKLY COLUMN/BLOG PAGE

BILL'S BACK IN TIME
By Bill Ladabouche
SMALL BITS OF MEMORIES AND AMAZING CARS
In the golden age of stock car racing, some cars barely lasted two weeks before being relegated to the junk pile behind the old gas station – and some just went on and on. One such miracle of longevity was a 1939 or 40 Ford coupe, built out of Argyle, New York, by a guy named Bob Hoffer. Hoffers's outfit went by the moniker of the Argyle Racing Team [for obvious reasons] and they showed up at C.J. Richards' newly – re – opened Fairmont Speedway in 1962 with this snazzy coupe, hauled by a matching pickup, and numbered X9.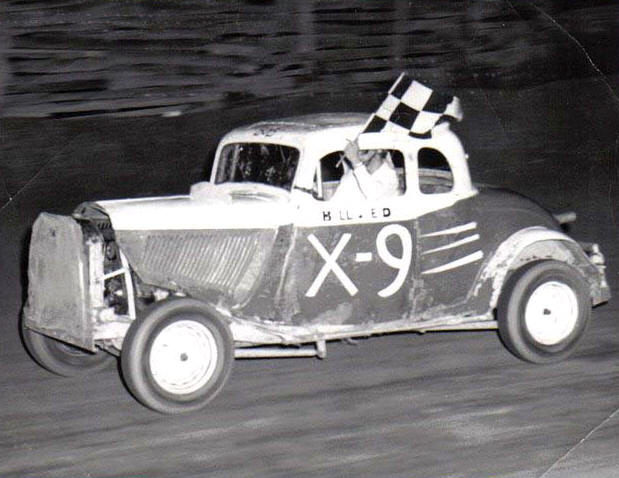 Hoffer Family Photo Courtesy of Ron Hoffer
Hoffer had been building stock cars with exaggerated exhausts for some time before
1962. This is supposedly State Line Speedway, in the 1950's.
What I did not know when this column was originally written is that Hoffer had been running for a number of years, most recently at the old fairgrounds in Warrensburgh on the Ashland Park Speedway. Hoffer's rig was a little unique, due to the two lengthy pipes protruding out the sides of the car and resting between trunk and rear fenders. Most everyone else's "headers" or exhaust pipes were located on the sides, just above the ground, often on rub rails.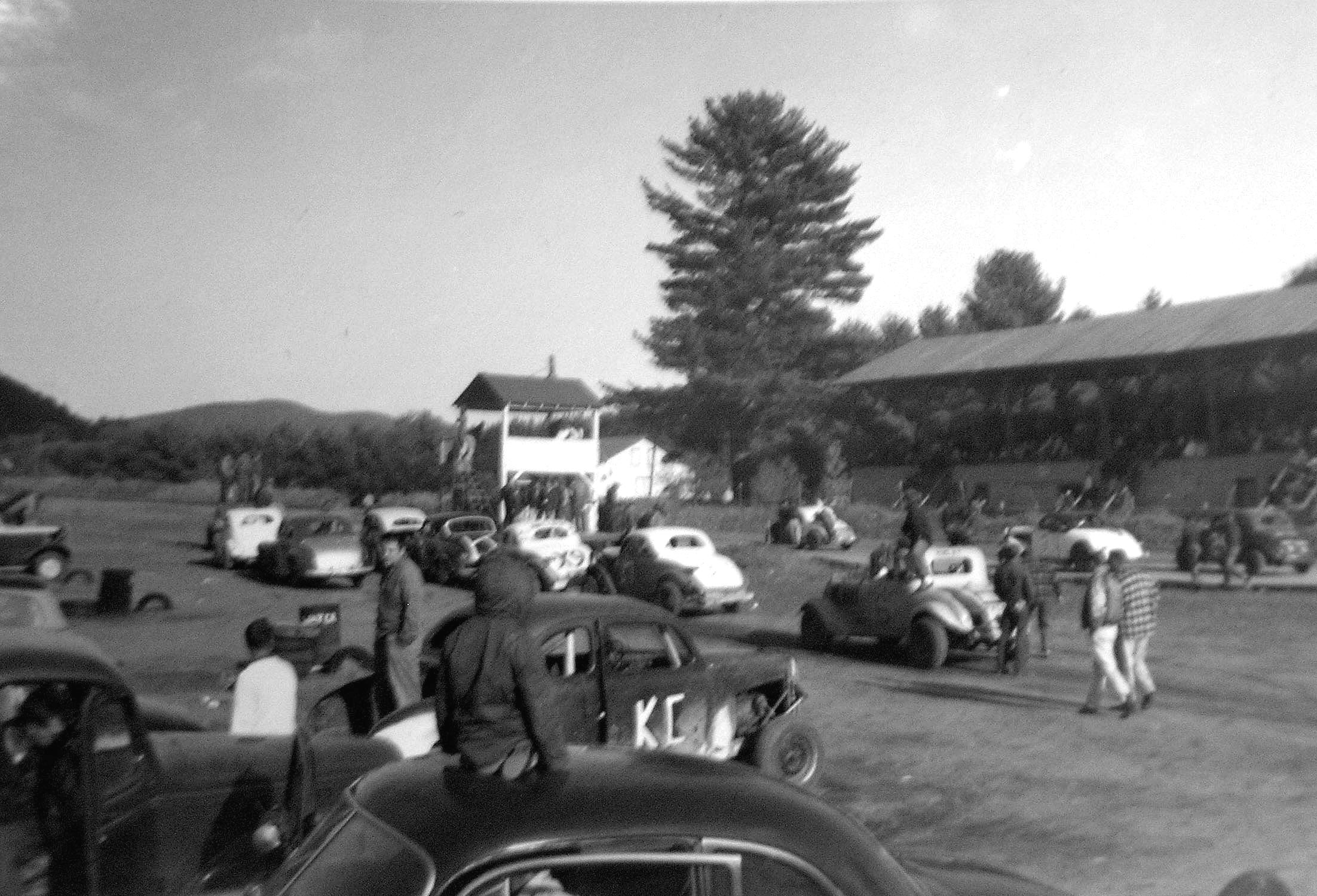 Courtesy of the Hackel Family
Hoffer's X9 can be seen in the middle of this pit lineup at Ashland Park, and another, similar car is right behind
him. Below – A Hoffer X9 sits in a tangle with the 1F, a car often seen in Ashland Park photos.
<![if !supportLineBreakNewLine]>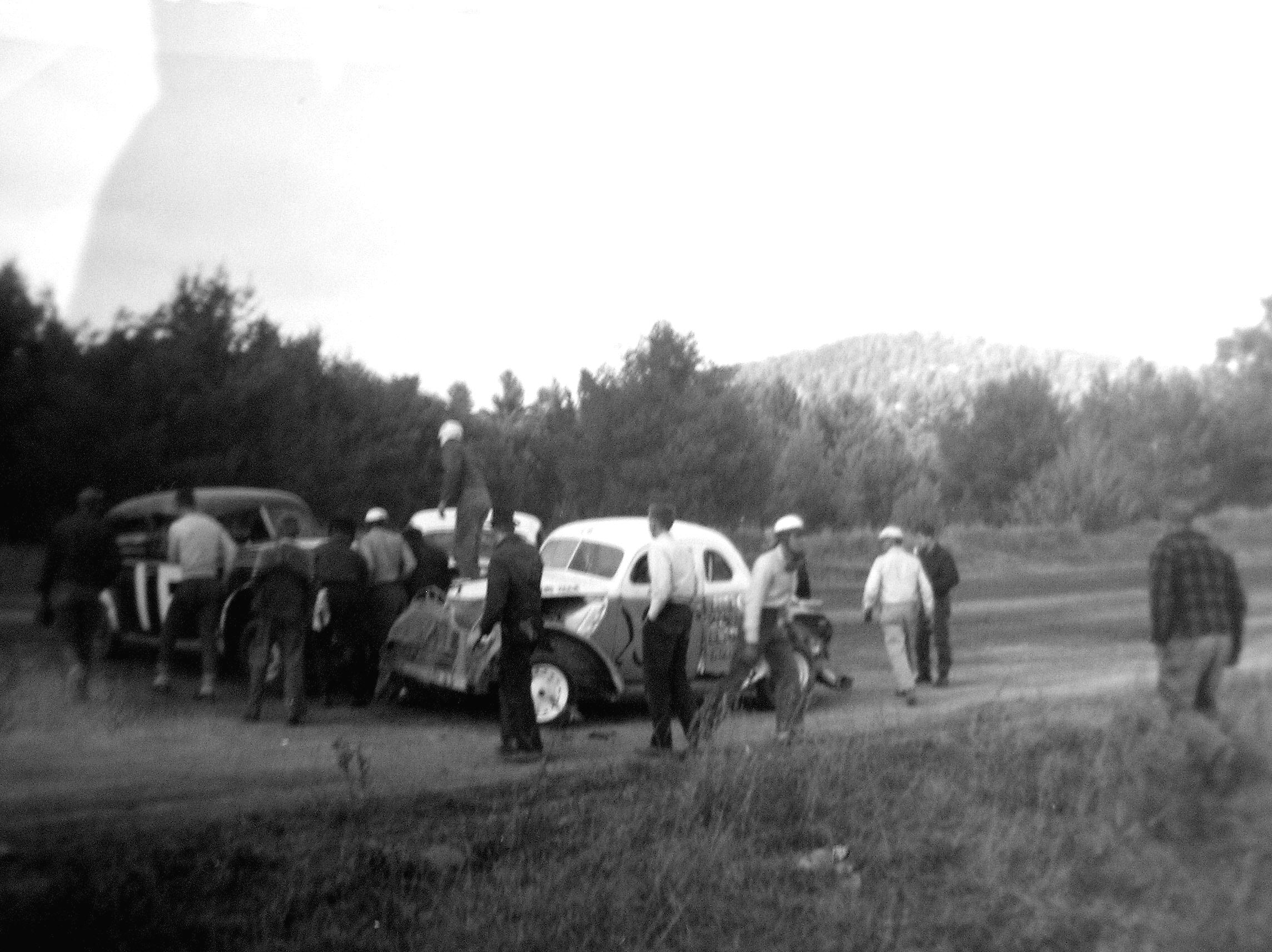 <![endif]> Courtesy of the Hackel Family

This was apparently not the first such X9 of this vintage. Not only are there shots of an extremely similar car, lined up with Hoffer at Warrensburgh, but the family has photos – as well – of older cars with similar exhaust extensions. At any rate, at Fairmont in 1962, the team arrived with the color – coordinated car and hauler, and team uniforms [something somewhat rare at that time].<![if !supportLineBreakNewLine]><![endif]>



Hoffer Family Photo Courtesy of Ron Hoffer
The color – coordinated Hoffer hauler truck, at home. Below – Bob, backing into his stall at
the Vermont fair. The truck is far right, obscured by oil smoke.
<![if !supportLineBreakNewLine]>
<![endif]>Ladabouche Photo
<![if !supportLineBreakNewLine]>
<![endif]>

The Argyle group had been racing at Schuylerville, at the Hudson River Speedway; at White's Beach Speedway in Ballston Lake; at Warrensburgh; and possibly as far south as Stateline Speedway – between Bennington, VT and Cambridge, NY. The photo of the Hoffer car shows Bob backing the car into a pit space at the 1962 Vermont State Fair race put on by C.J. Richards in September. The car appears to be belching a goodly amount of bluish oil smoke, and he is holding the driver's door open as he backs. The X9 never really achieved much success with the CVRA, but it looked good.

The next thing that happened with the car was sale to Irish Ed Kelley, from Granville, NY, who left the color scheme intact and simply changed the number to XK. Kelley had appeared at Fairmont, before this, with another XK car – with no success. He would keep the car only a brief while before, supposedly, Hoffer had it back. The following year, a modestly notorious car owner from Whiting, Vermont, showed up with the car, now painted an amateurish red, with the number 00 replacing Kelley's XK.

<![if !supportLineBreakNewLine]>

<![endif]> Ladabouche Photo
Irish Ed Kelley did little to change the Ford and did not keep it long. Below - Ed [near front of car] looks forlornly at his new 22 after he just rolled it.
<![if !supportLineBreakNewLine]>
<![endif]><![if !supportLineBreakNewLine]>
<![endif]>Ladabouche Photo

The car looked a lot less impressive, but it drove a whole lot more impressively than it ever had with either previous owner. With the future hall of famer, Vince Quenneville, Sr. behind the wheel, Norm Scarborough [a curmudgeonly mechanical genius of Addison County racing] had the car highly competitive, even among the fleet flathead Ford cutdowns invading from New Hampshire. While not qualifying for any charm schools, the hulking Scarborough could make most any car fly.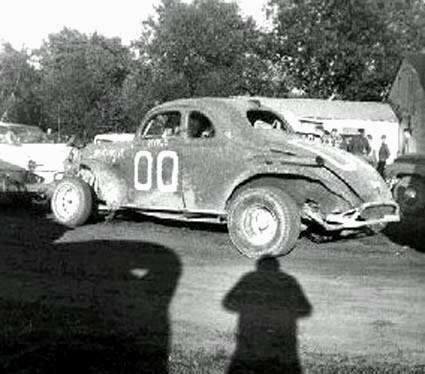 Ladabouche Photo
The car, at its most successful period, parked as Quenneville and Scarborough waited for the payoff,
which was done after the show in those days. That car paid off well for Vince and Norm.
Quenneville would, at the end of that 1963 season, hook up with his other highly – successful car owner, Gael Dundon of Orwell. Scarborough sold the car to the same person he had sold their previous car to – Art Visconti, a neighbor of Kelley's in Granville. [Ironically, the red – headed Visconti always looked Irish; and Irish Ed Kelley looked Italian]. Visconti proceeded to paint the car his familiar white and butterscotch color scheme and changed to number, minimally to 001. The under – financed was never one to have much success at CVRA tracks, but this may have been the best car he ever had in that organization.

Art had bigger and better ideas for the 1965 season [a season in which Fairmont was switching emphasis to the overhead V-8 sportsman car]. While the big old Ford may have held a small Chevy V-8 just fine, it was worn out and ended up down over some bank near Vergennes, VT – where Visconti had moved. The Hoffer X9 car is, mostly likely, either buried or crushed somewhere. Visconti's son, Mike, is not sure, and Art is off living in Las Vegas.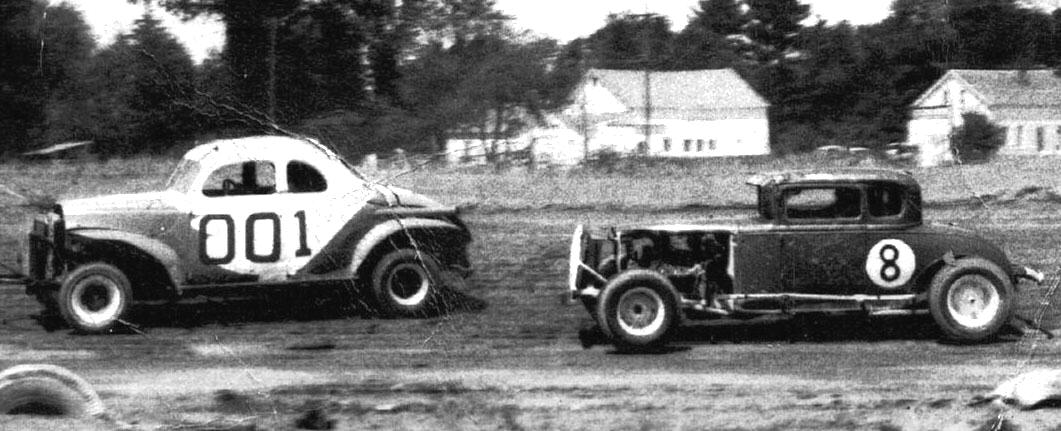 Ladabouche Collection
The Art Visconti version of the car, at speed in turn two at Fairmont, leading Little Joe D'Avignon's 8 Ball.
Below – Art had a better idea for 1965 [it wasn't] and the 40 Ford was scrapped.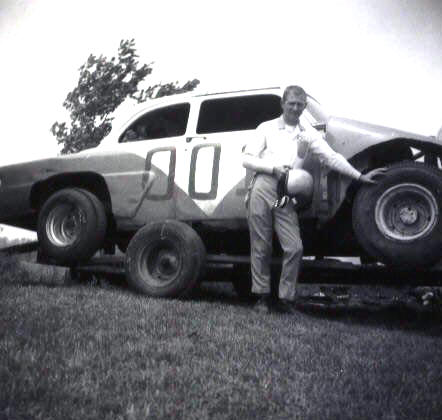 Courtesy of Art and Mike Visconti
The various drivers of that X9 have had varying degrees of success and outcomes in their lives and careers. Hoffer, whose son went on to try a little racing, was tragically killed in a traffic accident in Quebec, driving his beloved Thunderbird convertible. The Hoffers bought Bill Threw's 7A car and a former Rudy Charbonneau car; but neither one brought much luck. Quenneville went on to have one of the finest driving careers a Vermont driver has ever had before dying in a traffic accident while on the job as a truck driver. Kelley built a beautiful new '40 Ford for Fairmont and rolled it in its first race. Scarborough [mostly with Quenneville] won a title or two at Devil's Bowl.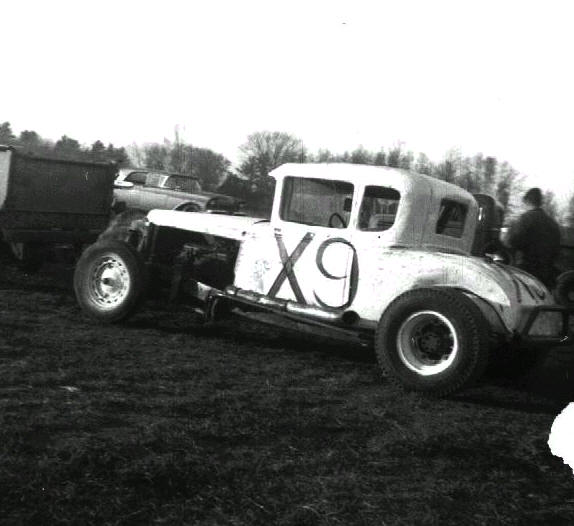 Ladabouche Photo
One of the Hoffer sons tried his hand at racing with this car, around 1964. This one lives on in some sand pit in Argyle.
With only photos, and my model car, left of the Bob Hoffer X9, we can only appreciate it in memories. If ever there was a car deserving of restoration the X9 would have been one of the first in line. It is an important part of that portion of Northeast stock car racing history centered around C.J. Richards and the Champlain Valley Racing Association.
Please email me if you have any photos to lend me or information and corrections I could benefit from. Please do not submit anything you are not willing to allow me to use on my website - and thanks. Email is: wladabou@comcast.net . For those who still don't like computers - my regular address is: Bill Ladabouche, 23 York Street, Swanton, Vermont 05488.
AS ALWAYS, DON'T FORGET TO CHECK OUT MY WEBSITE
www.catamountstadium.com
Return to the Main Page
Return to the Main News Page
Return to the All Links Page
Return to the Weekly Blog Links Page