BILL'S [Somewhat] WEEKLY COLUMN/BLOG PAGE

BILL'S BACK IN TIME
By Bill Ladabouche
OUTDOOR ROLLER DERBY ANYONE ?
I can still recall the days when the roller derby was still on television, albeit on low – traffic times like Saturday afternoons. Today, the money – thirsty networks would rather spend that time with the Miracle Mop or some other "paid programming" nobody wants to see.
Yup, those were the days of the San Francisco Bay Area Bombers, the Midwest Pioneers. The Northwest Cardinals, Ann Calvello's Jolters, and other derby teams. I would wait for familiar names like Charlie O'Connell, Francine Cocheux, Ann Calvello, "The Bald Eagle" Bob Heine, Pear Phillisey, and Joannie "The Roller Queen" Weston.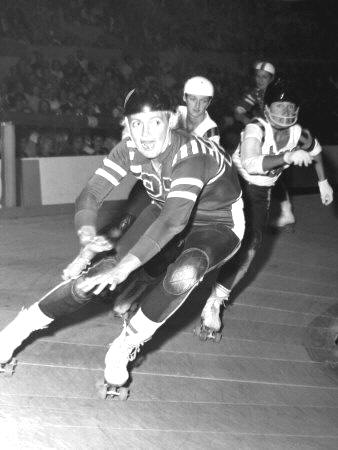 Ronnie Sterer Photoshelter.com
Joannie Weston and her mates on the San Francisco Bay Area Bombers, had nothing on Albert Kincaid,
Wes Menard, and Barb Bigelow, from Lamoille County racing of the early '50's.
When stock car racing was just being created after World War II, it quickly developed in some places – especially in southern New England and around the Capital District of New York. But, not everywhere saw that kind of quick technical improvement.
Apparently, watching that roller derby carnage on TV was not enough for some folks in the northern reaches of Vermont. When the stock car [or jalopy] racing bug hit there, the cars that came out were behemoth things – often sedans – and very often with the roll cages on the outside of the body. I used to think this might have been because it took less time and effort to not have to work inside the body; but, I am beginning to think part of the plan was to use that cage as a weapon.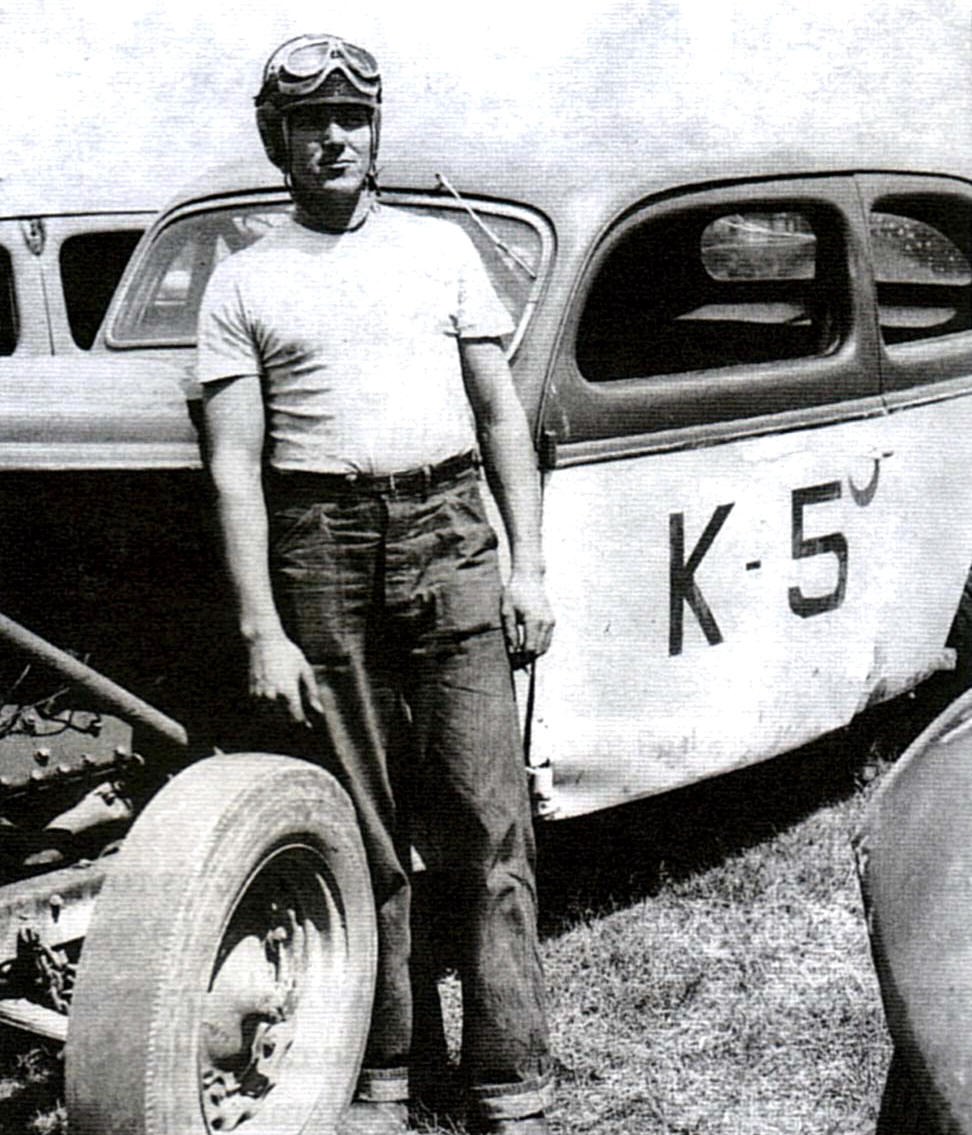 Courtesy of Hauver Family via Scott Wheeler
Sydney Carter was one of the truly origianl northern Vermont drivers, being one of those who began at Daggett's gravel pit in
Holland, Vermont. Below - A lineup at the Burke, VT fairgrounds track around 1950.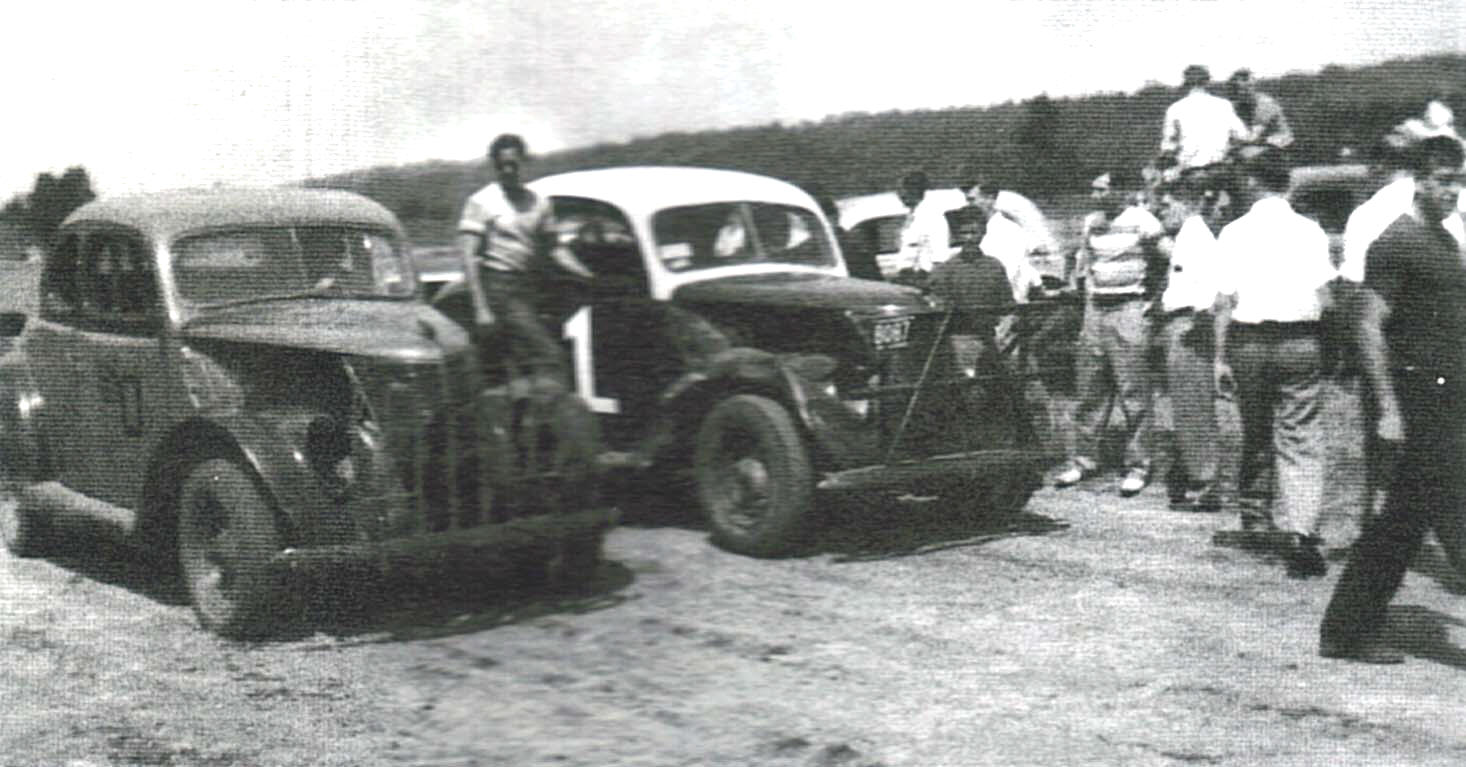 Courtesy of the Hauver family via Scott Wheeler

The very first roots of Canadian Border racing seemed to have been planted in such places as Holland, Vermont, Burke, Vermont, and in s few equally – small places in Quebec. According to an excellent piece done by Scott Wheeler in his newspaper out of Newport, VT, an informal oval of sorts was dug out at Bernard Daggett's sand pit in Holland. There, he, Bert Hauver, Sydney Carter, Russell Sykes, and others banged around in some primitive race cars until the spot became inadequate for the number of competitors [and perhaps the improvement in car performance].
The next venue was apparently an existing track, the fairgrounds at Burke. The group would soon grow enough to form the Border Racing Club and to move to another existing horse track – Veterans' Park, in Newport, VT. Veterans' Park was a much more sophisticated venue, with nice covered grandstands and a good track which, the park management protected jealously. The stockers would have to race on a smaller oval, inside the horse track's inner railings.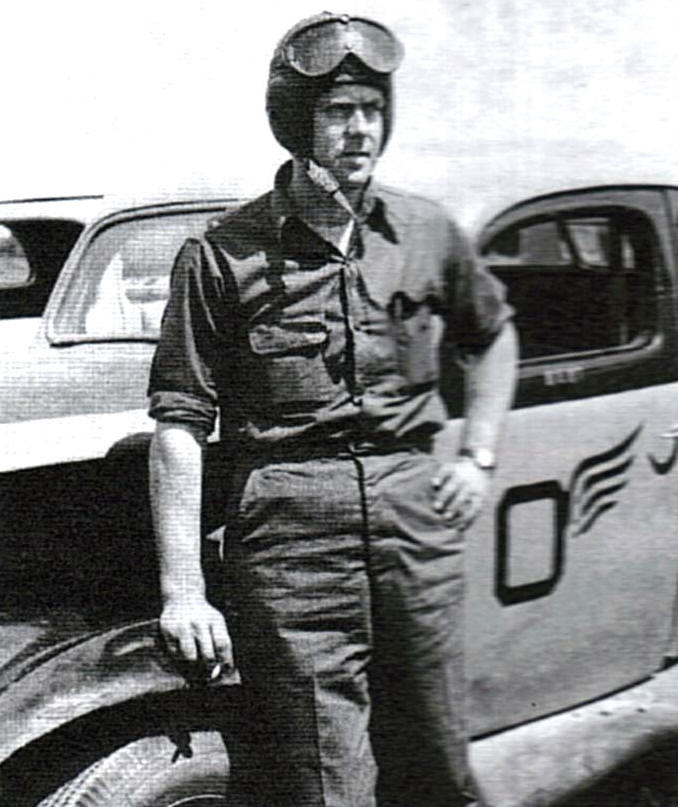 Courtesy of the Hauver Family via Scott Wheeler
Also seen in the photo directly above, Bert Hauver was another of the earliest Vermont stock car drivers. Below - Rough and
tumble action at Veterans' Park, Newport around 1950. One car nearly smashes onto the supposedly - protected horse track.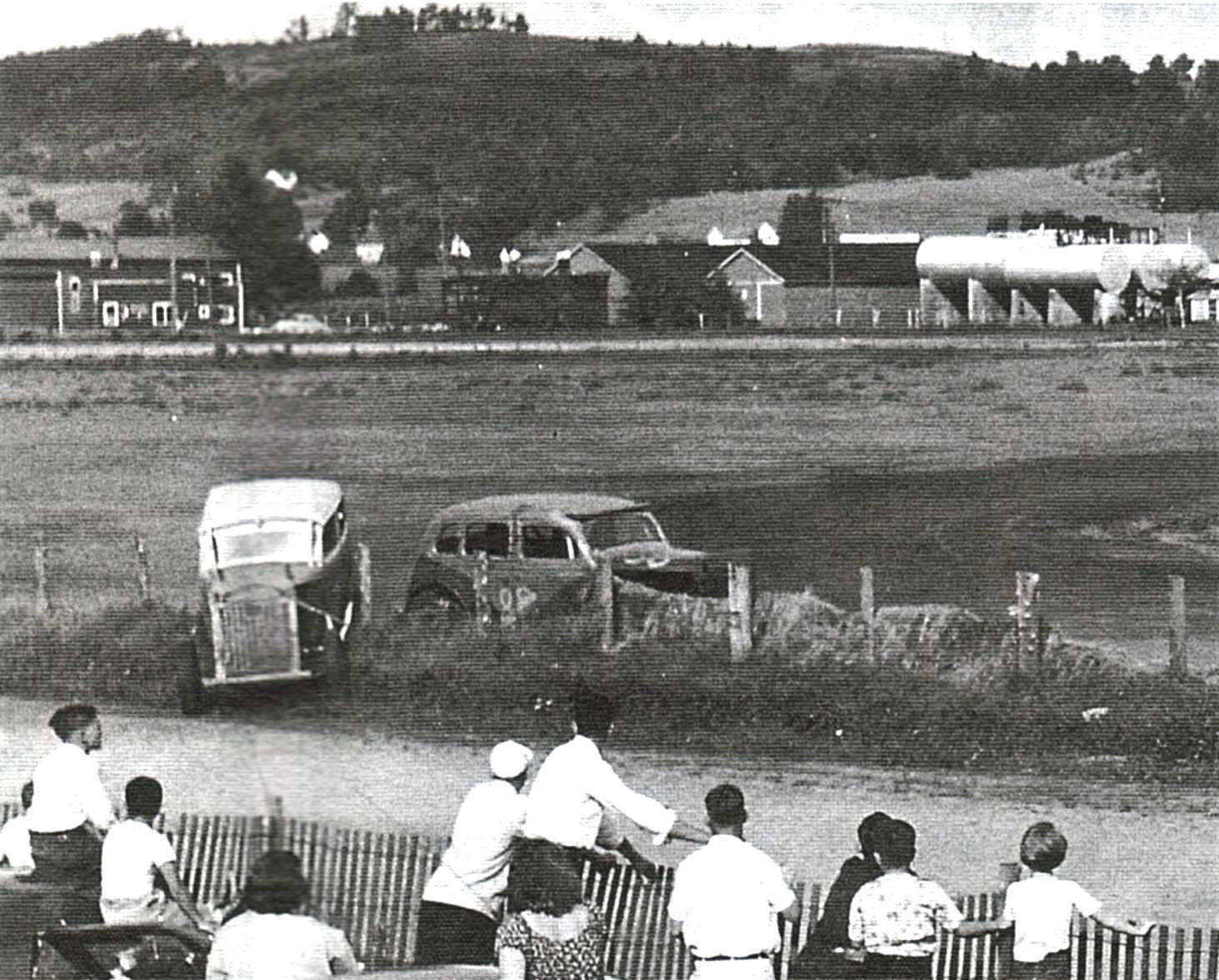 Courtesy of the Hauver Family via Scott Wheeler

Veterans' Park would see Hauver, Sykes, Carter, Daggett, and a host of others that included Aubrey Stoddard, Ken Hitchcock, Raymond Nadeau, Gordon Swett, and more. The cars were still largely large, exo-skeleton sedans and they lacked the development and sophistication of cars in other parts of the state. This may have been necessary, given the way racers conducted themselves.
Eventually, this racing spread to a number of other venues: Enosburgh Speedway, Enosburgh Falls, VT; Webster Flats, Lyndonville, VT, a track near Sheffield, VT; a track in Morrisville, VT; Devil's Bowl Speedway, Concord, VT [that's right folks]; and two tracks located in Sheldon, VT. These northern racers developed a full contact style of racing wherein knocking people out of the way or off the track was not anywhere near the affront it was further to the south.

Courtesy of Hauver Family via Scott Wheeler
As this poster attests, the women's racing was taken very seriously at track along the Canadian border. Below – Cars fly by on a track scratched out of a field at Webster's Flats, Lyndonville. No spectator protection of any kind in evidence.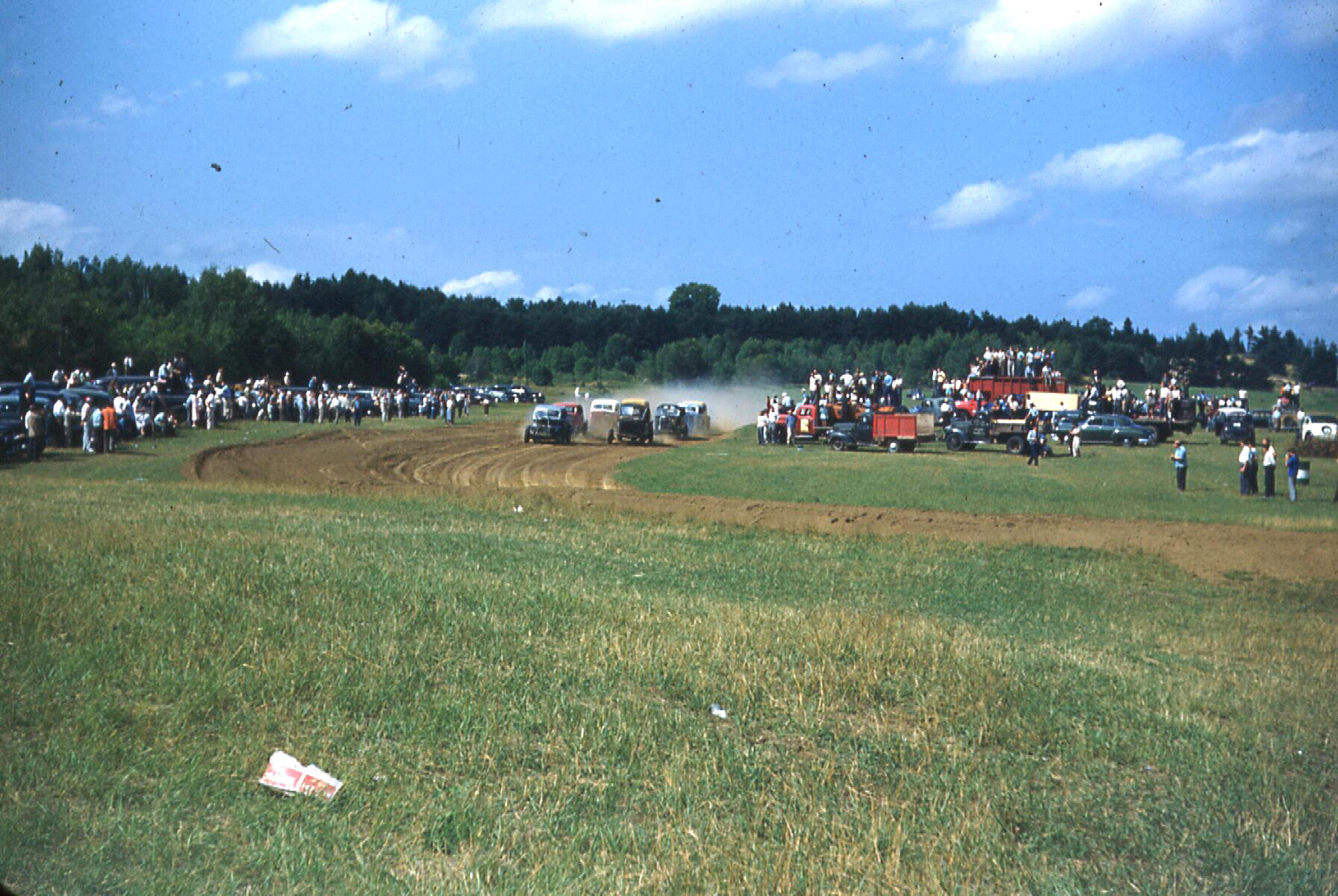 Courtesy of the Bigelow Family
Just like at other 1950's race tracks, the northern Vermont racing featured a lot of women's races [often referred to as Powder Puff racing]. But again, in stark contrast to their sisters to the south, these women drove nearly every race program, and they drove HARD. There was very likely no soft snickering as those women's races struggled slowly around the tracks; most of these women were drivers' wives, and they meant business.
The small core of drivers at each local track began to widen as they performed at each other's venue. There became a considerable group of these rough – riding drivers: from Newport – Albert Kincaid, Raymond Nadeau, Hauver, Wayne Leland and more; from Enosburgh – Harold "Cannonball" Baker, Basil Royer, Spencer Stanhope, and more; from Lyndonville – Jerry Bigelow, Perley Densmore, Hal Cleveland, Paul Barry, and more; and there were also drivers from Morrisville, Concord, and Sheffield, whose names did not make the local papers.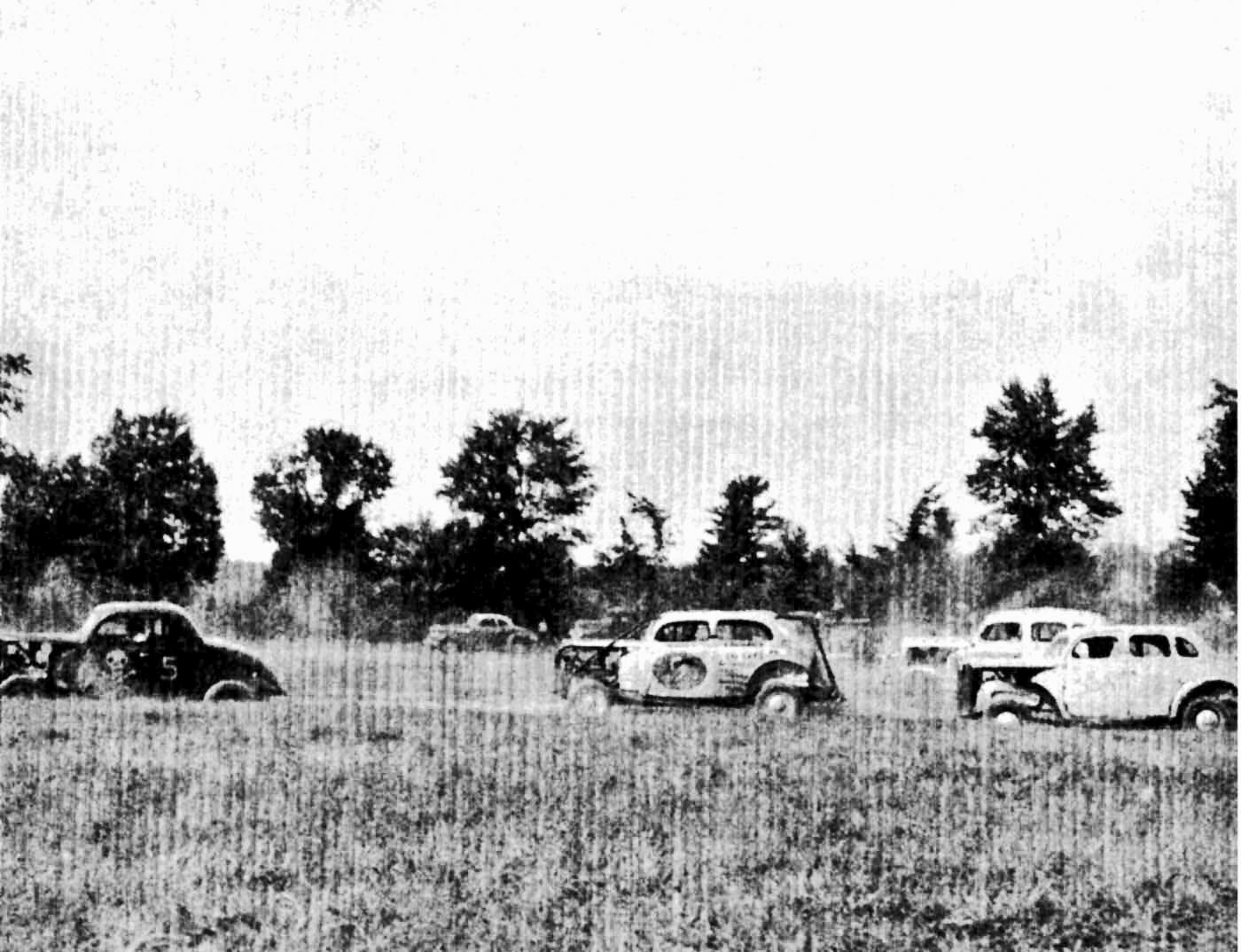 Courtesy of Bill Baker
Harold "Cannonball" Baker" [black #5] is trying to keep ahead of a pack of bigger sedans, including a car with a neat EveryReady Battery logo for a number 9. This is Enosburgh Speedway. Below- It looks like this is a shot of Baker, after the Hal Cleveland attack. Car owner Bob Collins is nearest the car.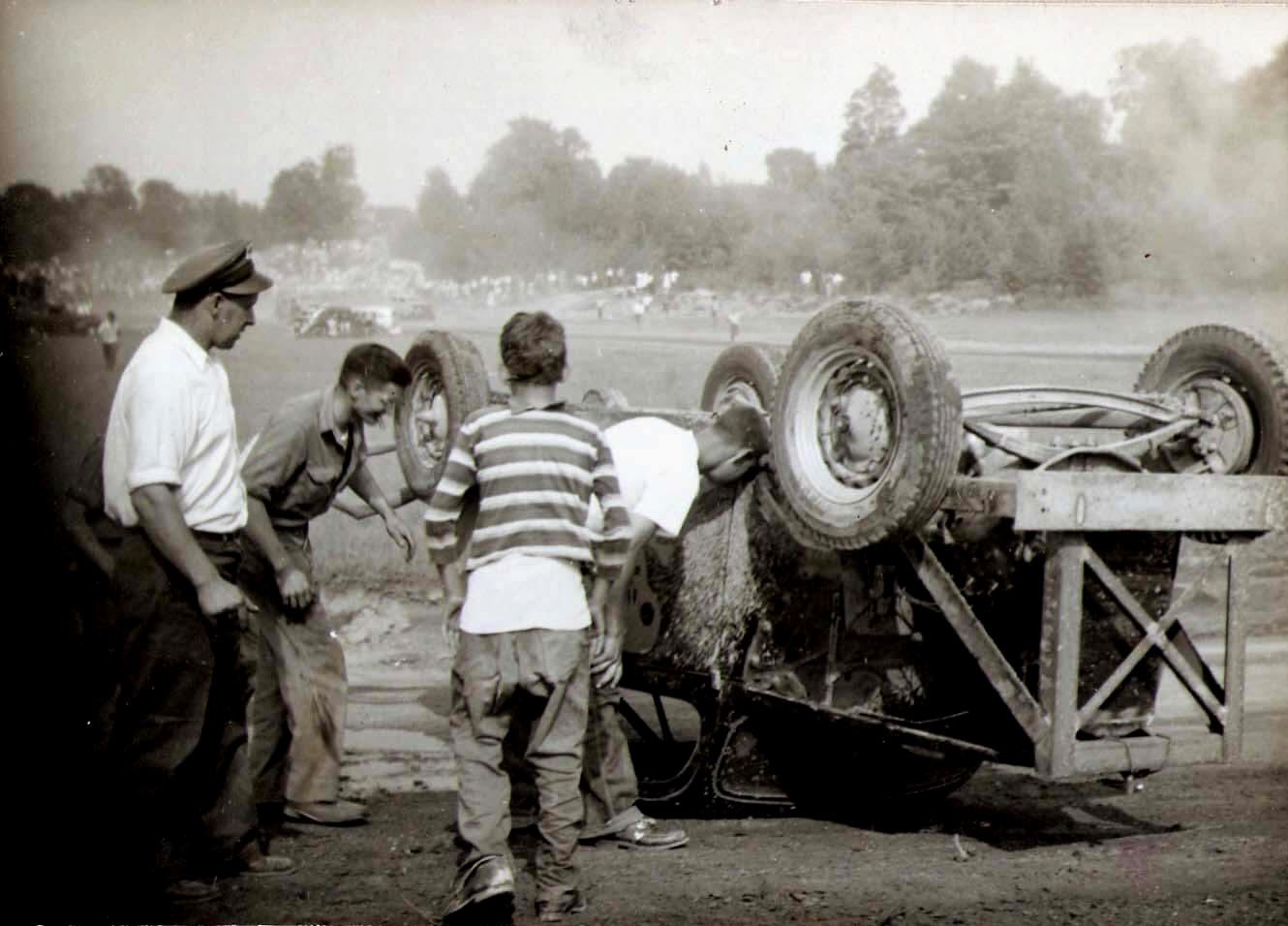 Courtesy of Bill Baker
One precious article about the small Enosburgh Speedway, on Davis Road south of Enosburgh Falls is the most written information I have to work with. That, coupled with a tale about Morrisville gives one a pretty good idea of how it used to be done. The article about a program at Enosburgh started out with the teaser "Flying cars and lost wheels kept over 1,000 fans on the edge of their seats at the Enosburgh Speedway Sunday evening."
One of the best lines in the article [probably written by a local reporter who knew nothing about racing as was usually the case] stated "Hal Cleveland managed to push Wayne Leland of Newport off the track, gaining third position." Apparently, you drove, less mindful of how you were handling than for what that guy behind you was up to. It describes how Pop Chaffee, from Montgomery Center, was crowded off a curve while trying to gain a position.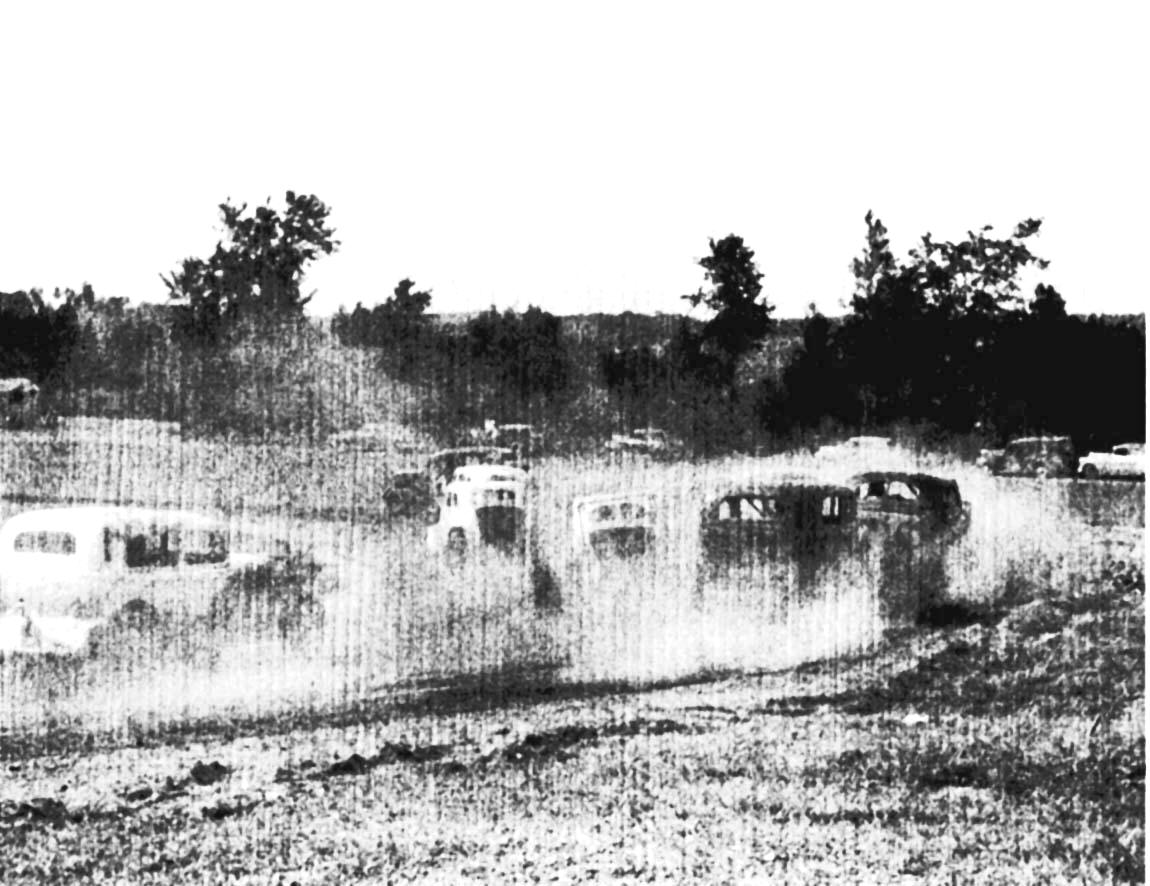 Courtesy of Bill Baker
A pack of behemoths lumber into the first turn at Enosburgh and "commence bangin" in a cloud of dust. Below – Compare those cars with this typical
Chittenden County car of Bob Bushey. Ironically, it was buitl by E.E. Bettis, for a driver right up in rough driving territory.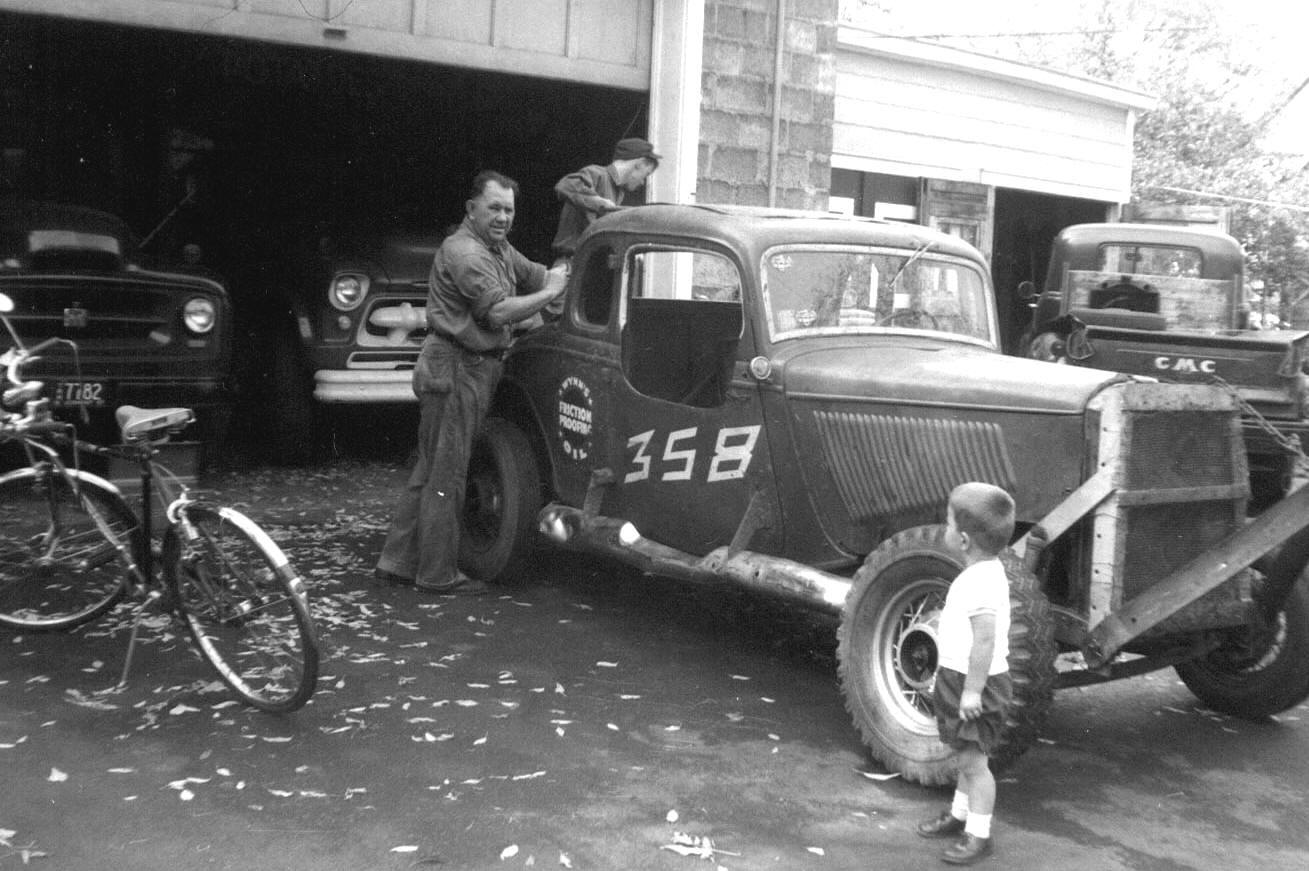 Courtesy of the Bob Bushey Family via Jack Anderson
The article goes on to mention how Harold "Cannonball" Baker [in this era every guy named Baker was called Cannonball after a nationally famous driver] was doing the best of anyone that afternoon and was headed to victory. The way it was written, Baker's black #5 was leading the free – for – all race [a race usually held after the feature] when he was clobbered so hard by Cleveland that his car went several feet in the air before going end for end.
Cleveland, for his trouble, was then pooned by Sterling Johnson, causing Cleveland to roll over. Johnson's car went airborne. If that were not enough, the melee caused something in the steering on the car of hometowner Freeman Ashton to break. The Ashton car then went on, out of control, hitting everything on the track before stopping up against something [apparently not the spectators, thankfully].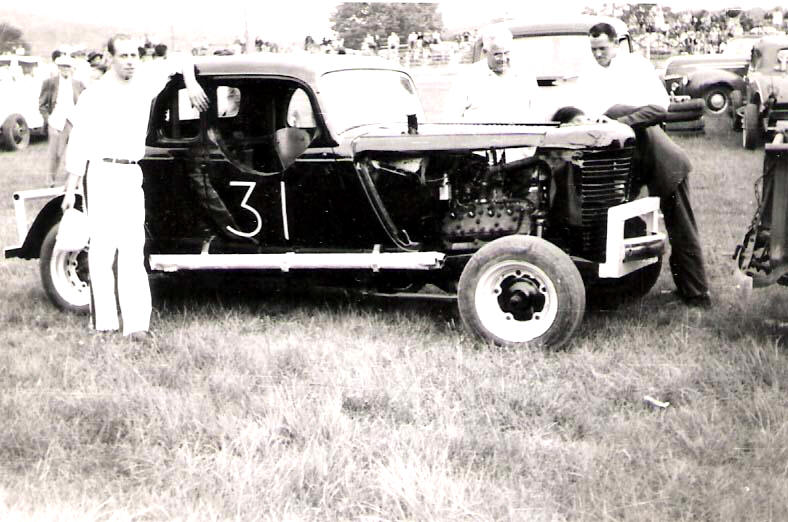 Courtesy of Bill Baker
While most northern drivers stuck to their bigger cars, Harold Baker learned and adapted to the changing technology.
Here, at right, he studies the car of Chittenden County star Gordy Owens at a track in Colchester.
Below – Some rougher action at Webster Flats draws spectators out onto the track.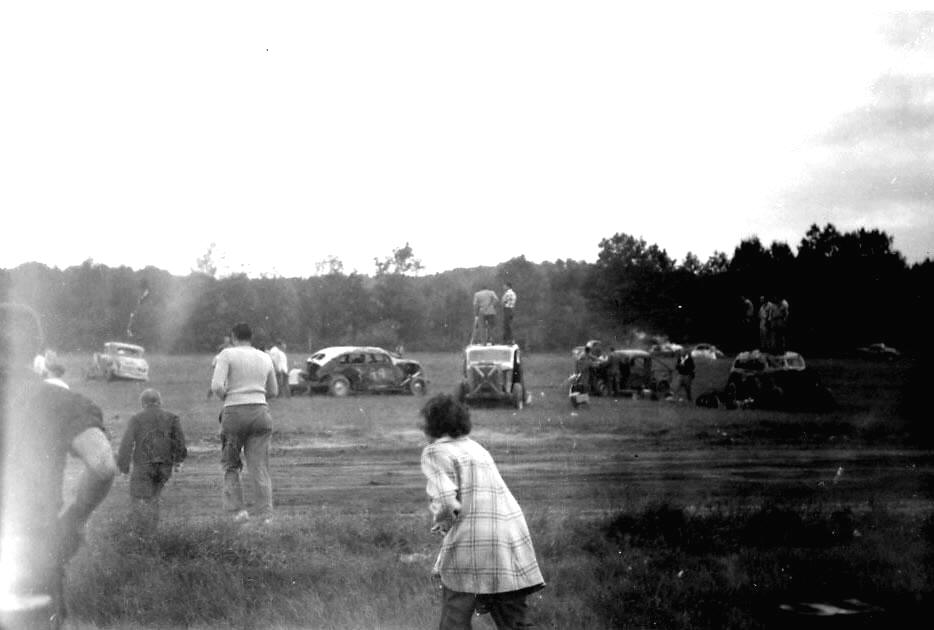 Courtesy of A and A Ward


The Enosburgh track was very short, with poorly – designed corners. This was fine for the lumbering, pushy behemoths that ran there locally; but, when lighter, faster cars arrived from further south, they were apt to fly off the corners into the woods, because they were faster and used to going much faster at their home tracks such as Colchester Raceway, Malletts Bay Raceway, and Dog River Speedway.
90 year – old Jackie Peterson, a former Vermont State Champion, as well as a veteran of sprint car racing, loves to tell of how he dealt with one of these brutes. He referred to a "Wild Wes" Menard [who happens to be a townsperson of mine] . Wes told me he had been coming to the Green Mountain Speedway in Sheldon by driving his Mercury sedan right up the main road.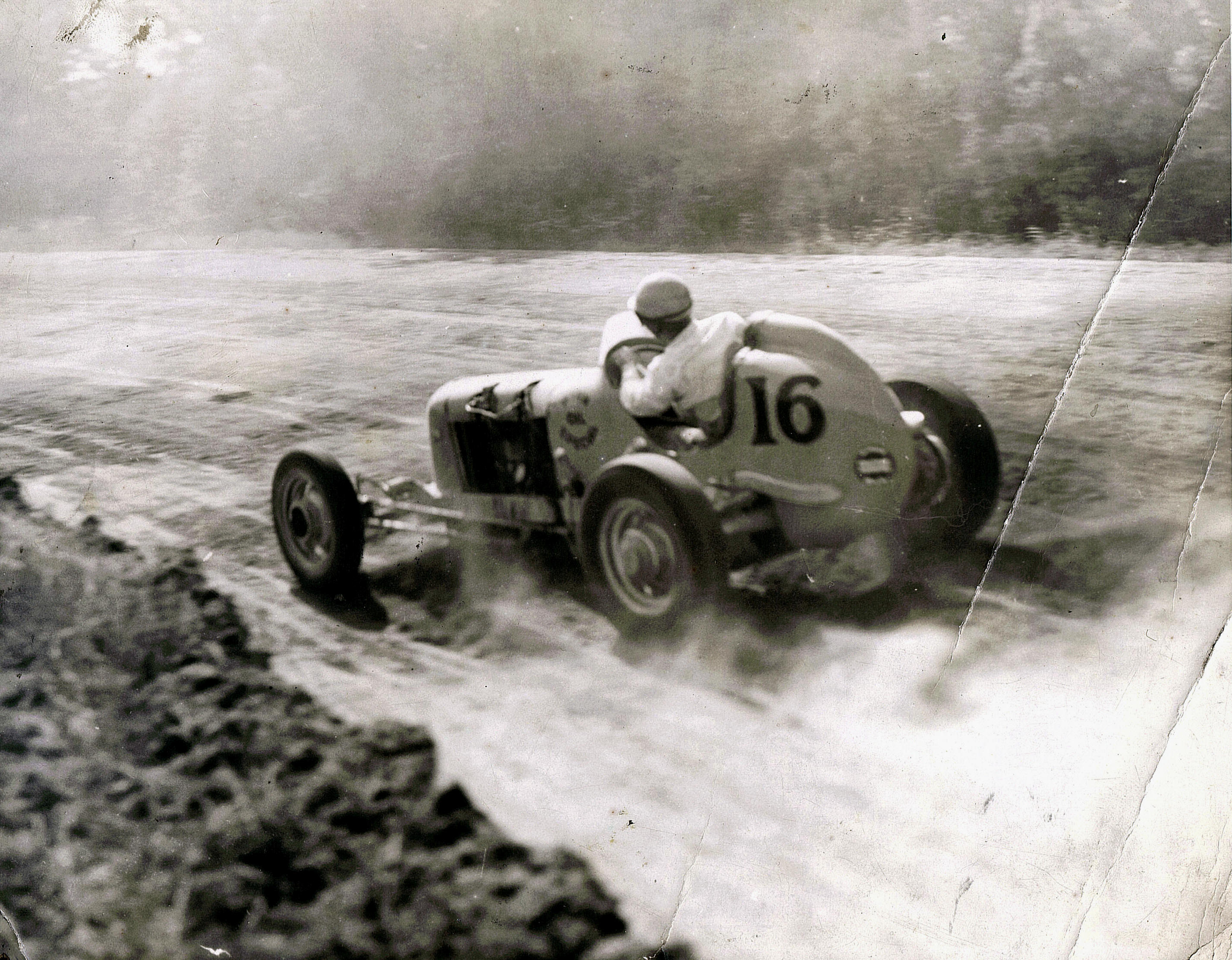 Williamson Photo Courtesy of Jack Peterson
Jackie Peterson plies a sprint car on the dusty oval at Green Mountain Speedway, on the Moore farm, in Sheldon, Vermont.
Below – Peterson's stock car was the typical light variety from Chittenden County.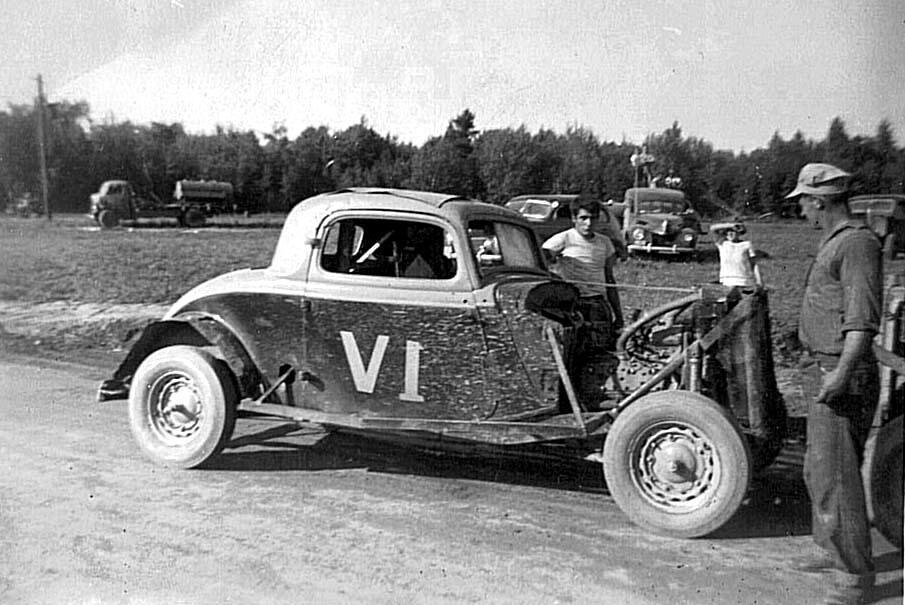 Courtesy of Jack Peterson

Peterson pointed out that Menard probably chose the Mercury because the standard flathead engine had fifteen more horsepower than the Ford most guys were using. It seems that, if you came up on Menard and went to pass. He would swerve over and place you over the bank or into the woods – whatever the case. So, Jackie came up on Menard, expecting the worst. When Wesley yanked on his wheel, Peterson hit the brakes. Menard went off the track himself, and ended up breaking an arm.
This mishap might be one of the reason s that Wes told me he raced only in 1950 before going off to join the army. Too bad, he also promoted the other Sheldon, VT track.
The confrontation with Peterson was inevitable, as the northern roughnecks were beginning to land at the same tracks as more lighter, faster, more developed stock cars from Chittenden County, Vermont – which , at one point, had six tracks going at once.

From the Peterson Collection
Jackie not only got one over on Wes, but he won a bet with Cannonball Baler at Sheldon and Harold is seen above, at the track in Sheldon,dancing in a grass skirt.
[It goes nice with the work boots] Below- As was true at Lyndonville, the crowd spills out onto the track at Morrisville after one of the frequent wrecks.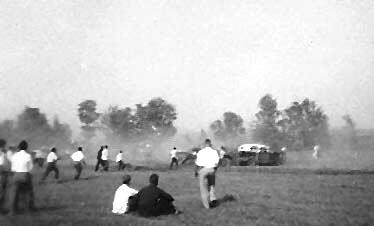 Courtesy of Charlie Smith

It all came to a head at the short – lived track in Morrisville. It seems that the drivers from Chittenden County had been coming north frequently, realizing the local arks could not handle as well or keep up with them. This wasn't going over well. While Baker, Basil Royer, and a few others had begun trying to improve their cars, most of the northerners just got really ticked off.
So it was that there was another Saturday afternoon race at the Morrisville track [which, if it had a name, no one knows what it was]. On those few afternoons, the fields roughly where the Bishop John A. Marshall school now sits were abuzz with the sound of revving motors and the cheers (and often jeers) of large crowds of spectators. Clarence "C. C." Miller, a local cattle dealer, owned the property and fashioned the track for racing enthusiasts from around north central Vermont. Howard Conley, of Barton, promoted the events. The presence and influence of Conley, no doubt attracted mainly drivers and cars from up in his territory – especially in the first weeks of the track.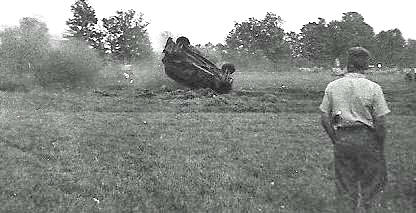 Courtesy of Charlie Smith
This onlooker appears unfazed as a car rolls towards him at the track at Morrisville in 1950. It must have occurred al lot there.
Below – Harold Baker and Ken Squier talk, 52 years after the Morrisville fiasco.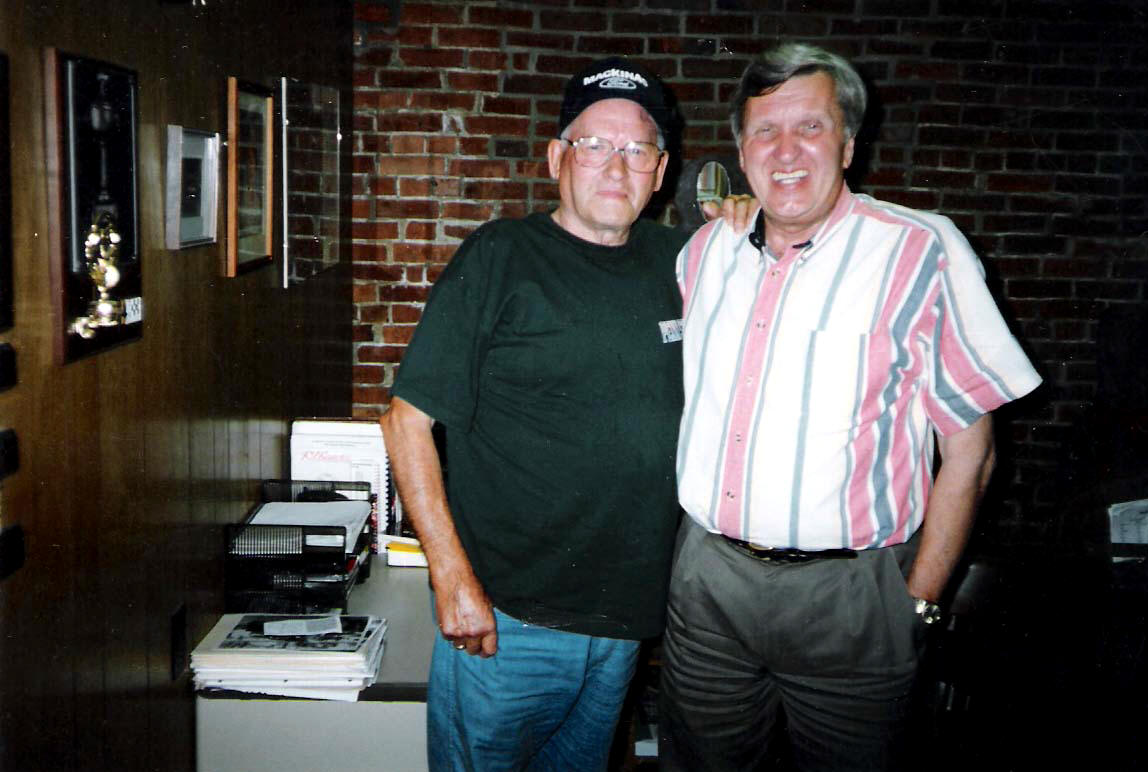 Courtesy of Bill Baker
The wild action was described by a young teenager who would bike down from Stowe. This is one of the places the nationally famous Ken Squier got his start – and, on one of the afternoons, he got his eyes plenty full. The layout was fairly simple as Squier recalls. A bulldozer stripped a circle of grass to create the oval. Turns three and four sat near the Laporte Road, turns one and two were down by the trees along Ryder Brook. The pit area was between the first and second turns and the trees. There were no grandstands for the many spectators who would turn out each week (about 300-400), but a chicken wire fence "protected" the fans from the cars. Racing back then was not very organized. That is, the rules were flexible. Races would start about noon and run until dark. The drivers would draw for starting positions. The race cars being driven were archaic compared to today's high-tech machines.
As was mentioned, there was a huge gulf in quality between the local cars and the invaders from the Burlington, Vt area. Over time, a small civil war began to develop, as the Chittenden County faction began feuding with the Northeast Kingdom faction. The feud escalated to the point where the Kingdom drivers brought in a "ringer" to help gain an advantage over the Chittenden County hotshoes. Henry Whipple, father of current racing journalist, Phil, has claimed to be the person who brought in this ringer. Albert "Killer" Kincaid came down from Newport in his car dubbed the "Lucky Old Son."

Courtesy of Charlie Smith
A woman involuntarily puts her hand to her mouth, no doubt in reaction to some kind of havoc on the track at Morrisville in 1950.
Below – Myron "Rollover Ronnie" Farnsworth was willing to roll his poor old #13 - but not BE rolled.
Here, he and twin brother Ira inspect damage to the Poor thing at home.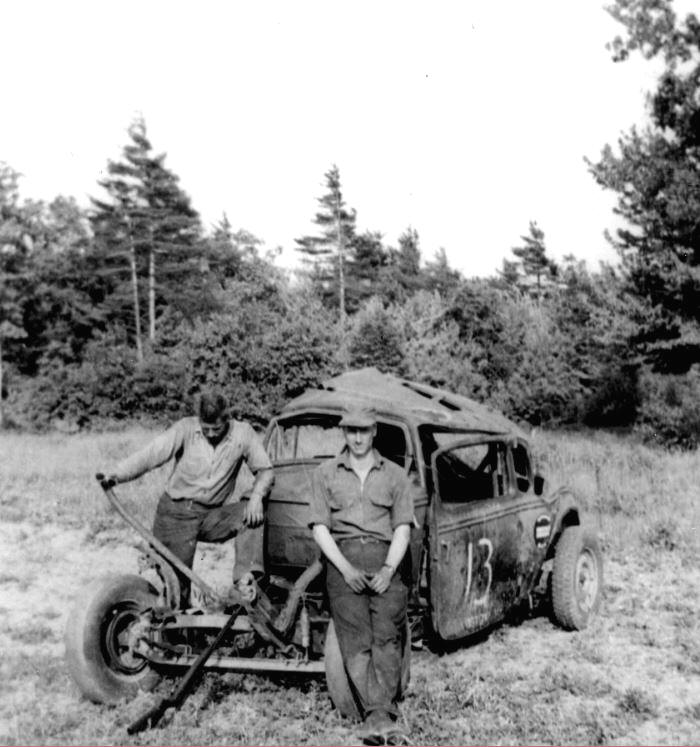 Courtesy of Linda Farnsworth Hedelund

In a story that sounds like something out of a B-movie, Kincaid came to town with the reputation of being a hit man who had raced the tracks of foreign lands (well, Quebec to be precise). Kincaid showed up one week and promptly began putting out the Burlington cars. Squier recollects he rolled about four cars, including that driven by the popular Ronny "Rollover" Farnsworth. Farnsworth, who would gladly roll his car over for an extra $15, did NOT like having it done TO him, however. Alton Hedges took to the track with a very nice – looking car that week, and he was the last to be done in by the Killer. Squier said that, as the race drew to a close, Kincaid realized he was not going to be well received in the pits; so he parked on the track near the flatbed used by Squier and the track officials.
He said Hedges came after Kincaid as he still sat in the car. Reaching into the car, Hedges began beating on Kincaid. Soon an all-out riot had started with most of the 400 or so people in attendance fighting. Squier and the track officials sought refuge under the flatbed and watched the donnybrook. The National Guard, which was holding their monthly training and drilling nearby, had to called out to put a stop to the fights. One of Squier's most vivid memories of the melee was of an older gentleman with a crutch. He just swung at away at anyone who came close to him! This incident served as the beginning of the end for Morrisville's little racetrack.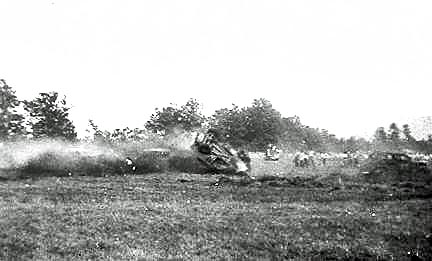 Courtesy of Charlie Smith
A car continues end – for -end action on the dusty Morrisville track. Below- A very similar – looking wreck at Veterans' Park – possibly from the same rough driving. Onlookers, including an off – duty sailor, are as unconcerned as at Lyndonville and Morrisville. He must have had a job cleaning that uniform
before returning to active duty !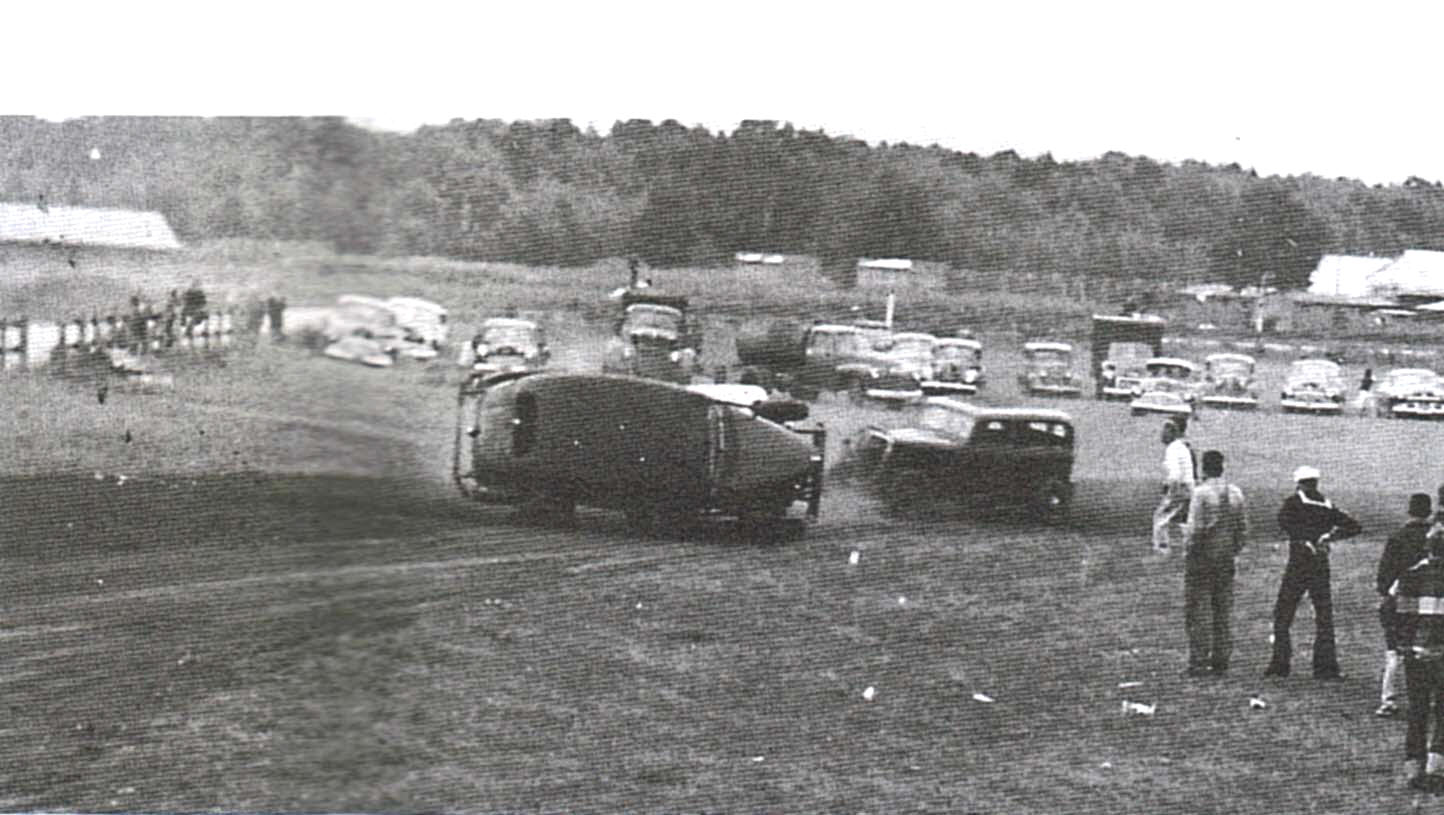 Courtesy of the Hauver Family

Ken Squier agrees that this incident spelled the end for the little track -and for racing in Lamoille County, in general. Racing began to evolve, and the drivers who evolved along with it survived into 1951 and 1952. The track in Lyndonville may have lasted the longest of the roughneck bullrings in the North. It would be supplanted by a track so organized and safety conscious that its site, today, bears a formal historical marker on Route 18 near Lower Waterford, Vermont. Northeastern Speedway, formed by organized committees in the St. Johnsbury, VT / Littleton, NH area, would begin a new era in stock car racing.
Even as racing had begun to evolve, the rough edges in that neck of the woods had not completely worn off. The aforementioned powder puff races were still a regular staple – now at the little dirt fifth mile at Northeastern. A few of the drivers were holdovers from the weekly racing back at Veterans' Park. In particular, Barbara [Mrs, Jerry] Bigelow took her driving very seriously and wasn't brooking any guff from some of those newcomers who had just shown up at the inception of the track. One scrape resulting in Bigelow dumping Mabel [Mrs. Perley] Densmore off the backstretch and damn nearly killing her. Perley's roll cage just collapsed and his wife spent a number of days in the hospital. The photo of the crash is on the blog just before this one.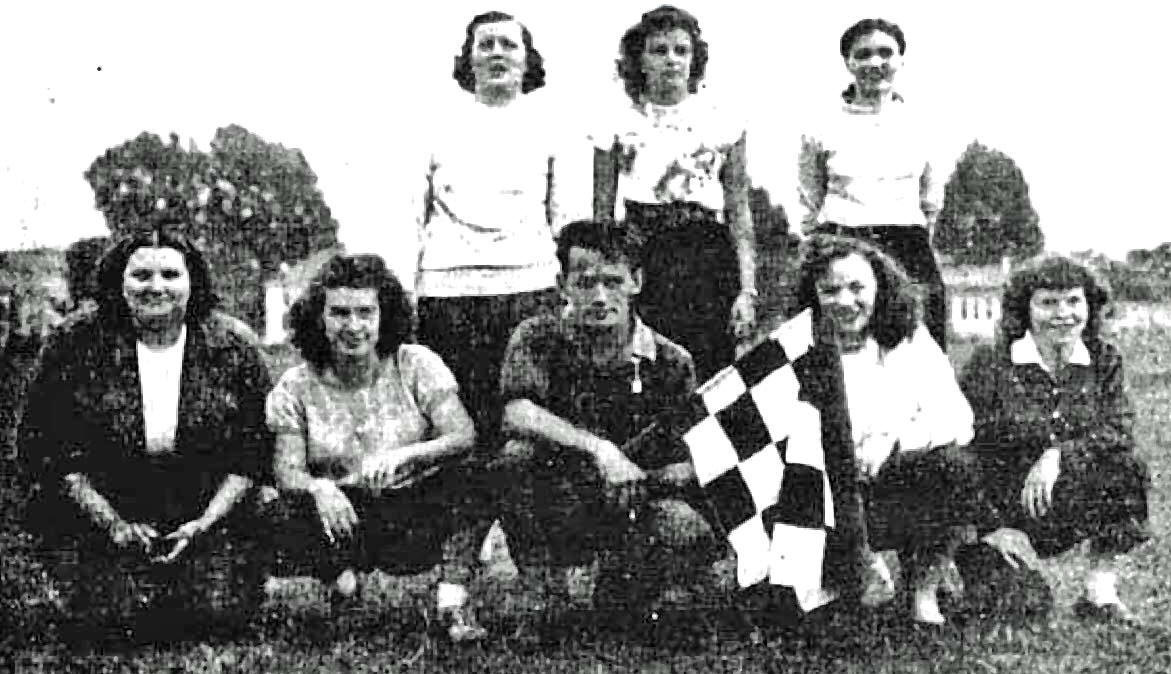 Courtesy of Ken Hitchcock via Scott Wheeler
This rough and ready – looking bunch of female racers made up weekly shows at Veterans' Park, Newport, along with their husbands
and brothers. Barb Bigelow is 2nd to left, front row. Below – Isabel Hauver was another of the original Border Racers from the old Newport track.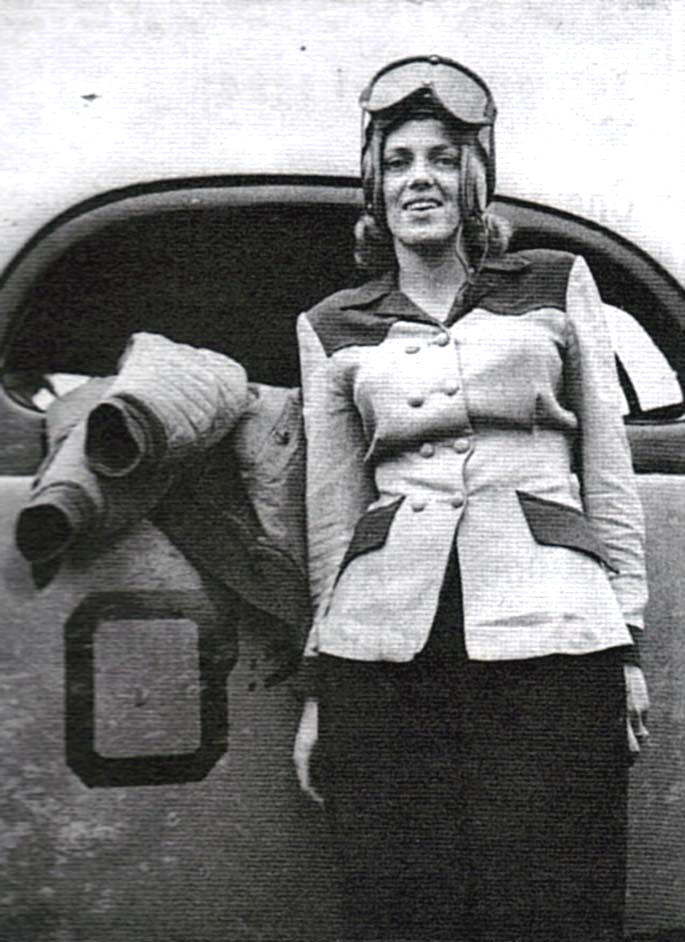 Courtesy of Al Hauver via Scott Wheeler
Courtesy of Al Hauver via Scott Wheeler Stock car racing, in general, suffered a real swoon in the middle 1950's – just before Northeastern's creation; and probably about 65% of the tracks that had sprung up all over Vermont closed by 1955. Tracks like Dog River Speedway, Northfield, VT; Stateline Speedway, North Bennington, VT; and Malletts Bay Raceway, in Colchester would see stock car racing improve. It would remain rough, by nature; but, nothing like the roller derby – like style that was seen in the north around 1950.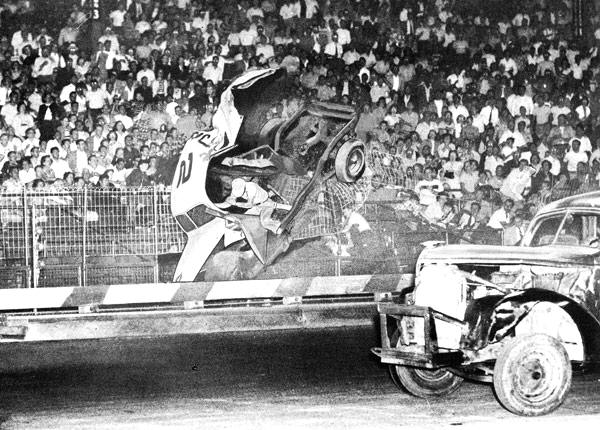 From Speed Age Magazine
Racing in the 1950's wasn't too safe anywhere. This is Ed Wolf at Roosevelt Stadium, Jersey City, NJ.
Please email me if you have any photos to lend me or information and corrections I could benefit from. Please do not submit anything you are not willing to allow me to use on my website - and thanks. Email is: wladabou@comcast.net . For those who still don't like computers - my regular address is: Bill Ladabouche, 23 York Street, Swanton, Vermont 05488.
AS ALWAYS, DON'T FORGET TO CHECK OUT MY WEBSITE
www.catamountstadium.com
Return to the Main Page
Return to the Main News Page
Return to the All Links Page
Return to the Weekly Blog Links Page