BILL'S [Somewhat] WEEKLY COLUMN/BLOG PAGE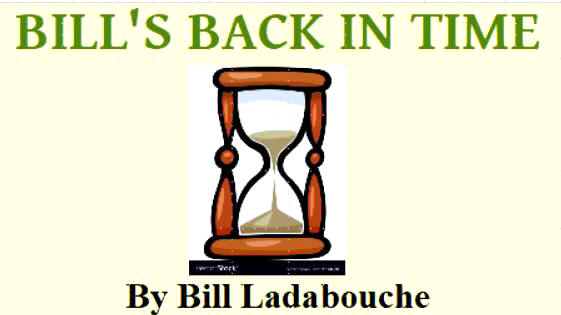 THE STORY BEHIND AND AFTER THE
MYSTERIOUS MEAHL VISIT OF 1962
I'm sure my readers are long since sick of hearing about how this Ken Meahl guy showed up at Otter Creek Speedway, one Autumn afternoon in 1962 and blew away the usual lions of the track such as Ken Shoemaker. Shoemaker's Chris Drellos - owned #111 has been remembered recently on the uniform shirts of hhis grandson, Demetrius Drellos, at Devil's Bowl this year. Another star who was left in the dust that day was Bill Wimble, 1960 and 1961 NASCAR National Sportsman Champion.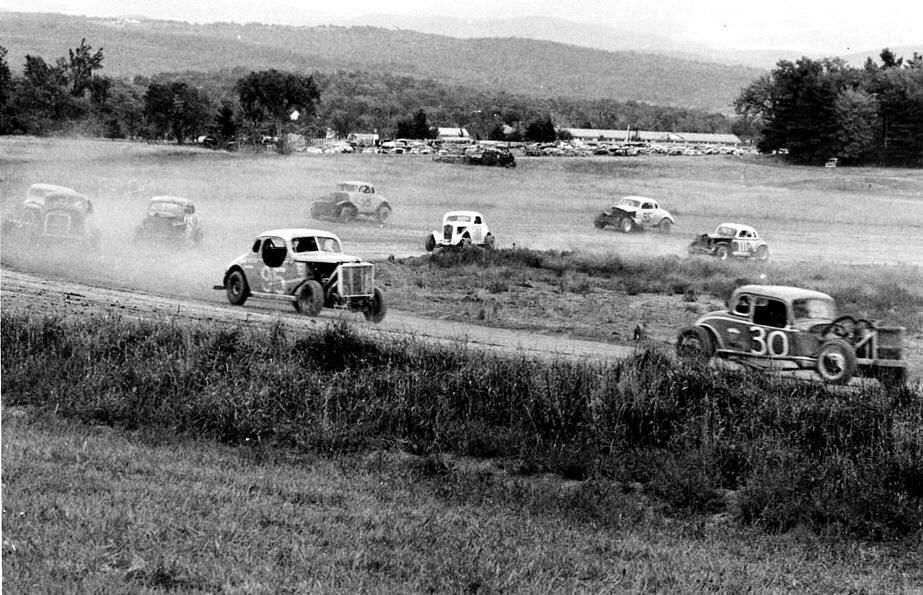 Bob Mackey Photo via John Rock
In this classic shot of a feature starting at Waltham, VT's Otter
Creek Speedway, I picked out Ken Meahl, full on the gas,
seen right above car 95. I'm actually surprised it did as well as it did,
seeming to lay over more than the sportsman cars of
Shoemaker [111], Blanchard [95], and Bruno [white].
The car had come in, nondescript, with gray primer and a number sort of shoe polished on the side. I am sure that the likes of Wimble, Shoemaker, and the other regular New York sportsman teams who used Otter Creek Speedway as easy pickings for national points knew exactly who that #38 team was; but they may have been a little incredulous that it had traveled all the way from near Buffalo to run at such an inauspicious track. Chances are, they had run Monroe County or some other track in New York and simply heard about the track in Vermont running on Sunday.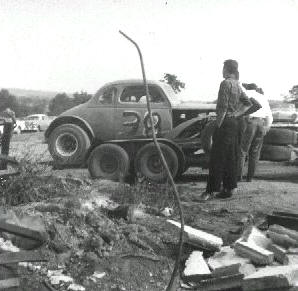 Ladabouche Photo
Cook and Meahl depart for a long ride back to Lockport after
their surprise win at Otter Creek Speedway late in 1962. Below -
This points standings from the NASCAR Record Book give
evidence to Meahl's one – visit, feature win. It also shows why
Shoemaker liked the track so much.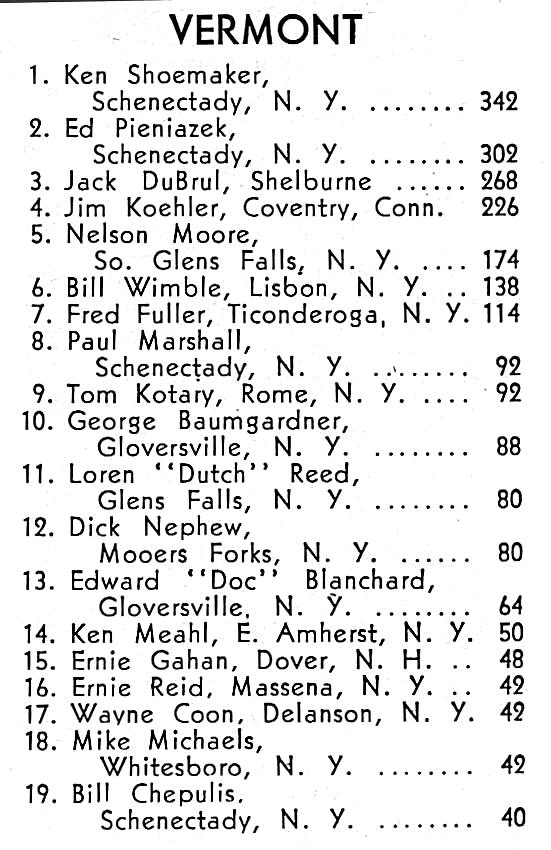 Thanks to Gary Nephew


A fellow historian, Chuck Pastor, kindly sent me an old article on Meahl as the focus with little emphasis on his soon – to – be – nationally famous car owner that day, the young Jerry Cook, from Lockport, NY. Cook, way too young to be driving stock cars yet, had taken on the veteran Meahl to pilot his #38's – and that had worked well.
According to the article, Meahl had been racing since 1948, starting out with those hairy, dangerous roadsters in places like Seneca Falls, NY, Hemlock, NY, and Palymra, NY – to name a few. Thankfully, unlike many others, he survived that and began running regular stock cars at the Civic Stadium in Buffalo by the early 1950's.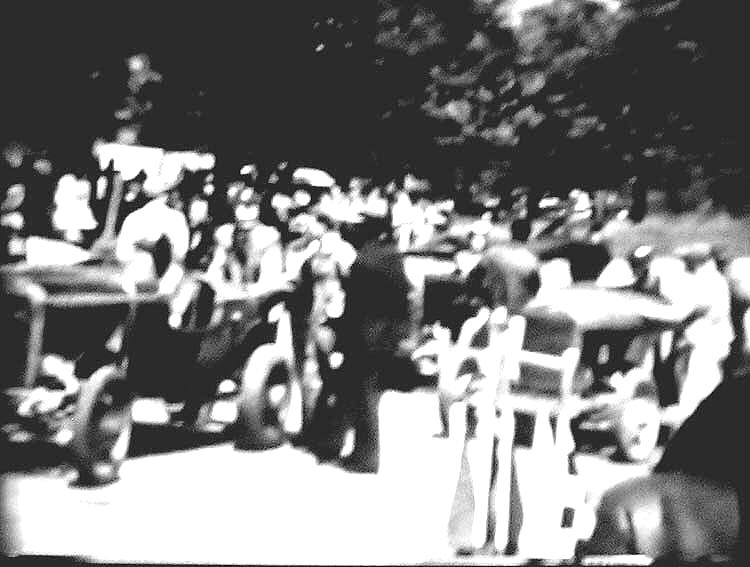 8MM Film Frame Courtesy of David Delange
Roadsters line up at the Seneca Falls tracks in the late 1940s'.
Below – This is said to be Ken Meahl, having won a
roadster race at Seneca Falls, NY.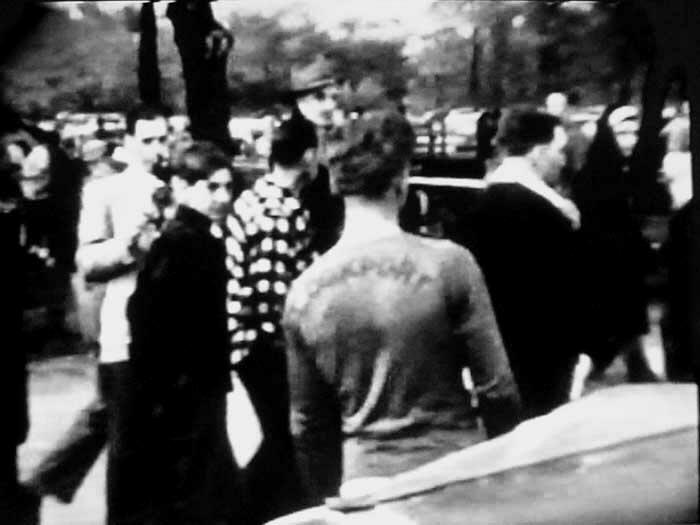 8MM Film Frame Courtesy of David Delange
Civic Stadium was good experience for any developing stock car driver, featuring top western NY drivers like Meahl, as well as a number of equally qualified Canadians. The unmistakable star of Civic, before it went over to professional football and the Buffalo Bills, was Benny Laloma and his 8 Ball. Meahl would go on to drive a car of his own, as well as a number of other rides before having to serve in the military [not a choice in those days].
Upon his discharge, Ken wanted to return to racing and there, ready to provide a good car, was this remarkable teenager from his hometown, Jerry Cook. Cook's father, Ronald was apparently employed at the same company as Alvin Meahl, Ken's father and the two set up as a team, running the Merrittville and Ransomville tracks. The following year [1959], they won a track title at Merrittville Speedway in Thorold, ON – a track that still runs today.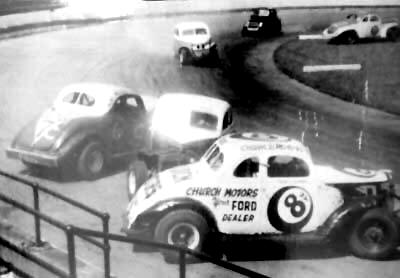 Source Unknown
It is likely that the car at far left is Meahl, caught up with a
crash that involves Civic Stadium star Benny Laloma.
Below – Another early Meahl stock car.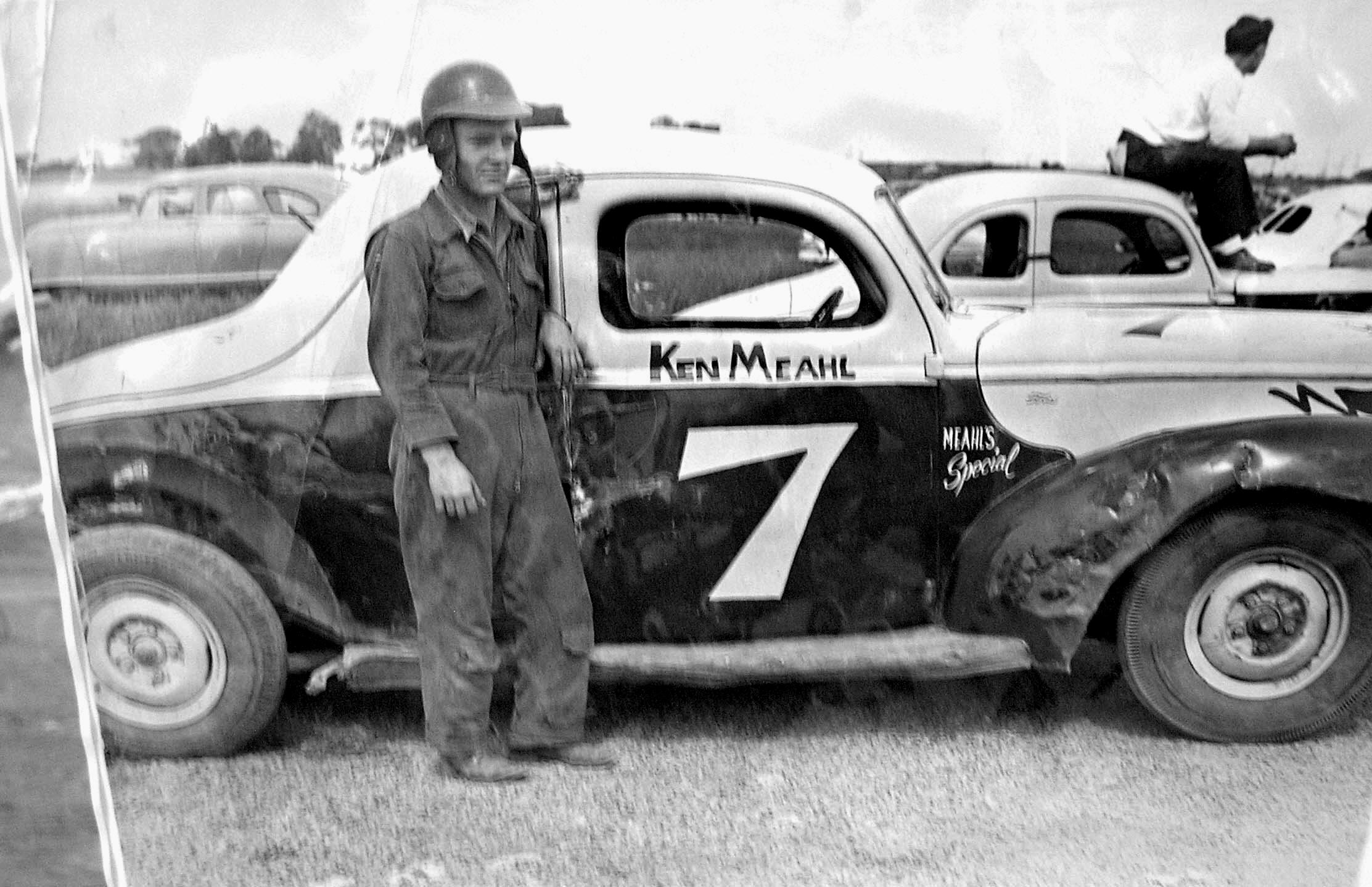 From the DIRT Hall of Fame
As the team began to get up a head of steam, they run a second Merrrittville title, as well as important races at Lancaster and Ransomville Speedways. So, in 1961, they joined NASCAR, now running at track like the Monroe County track near Rochester, as well as tracks closer to home. Meahl had some major accomplishments during this time, while also showing a propensity for horrendous crashes. For the 1962 season, Cook and Meahl managed an amazing sixth place finish in the NASCAR National Sportsman points, that being the first year of Rene Charland's four year run as champion.
To try to underscore how hard this was, Meahl finished sixth in the nation; he finished fifth in New York State. Wimble and Ed Ortiz were ahead of him in the national standings. That day he raced and won in Vermont, national 3rd place finisher Wimble was there, as were Dick Nephew [8th], Ernie Gahan [12th], Shomaker [13th], and Tom Kotary [15th]. Meahl was honored by being one of the few sportsman drivers to have his portrait in the NASCAR Media Record Book that year.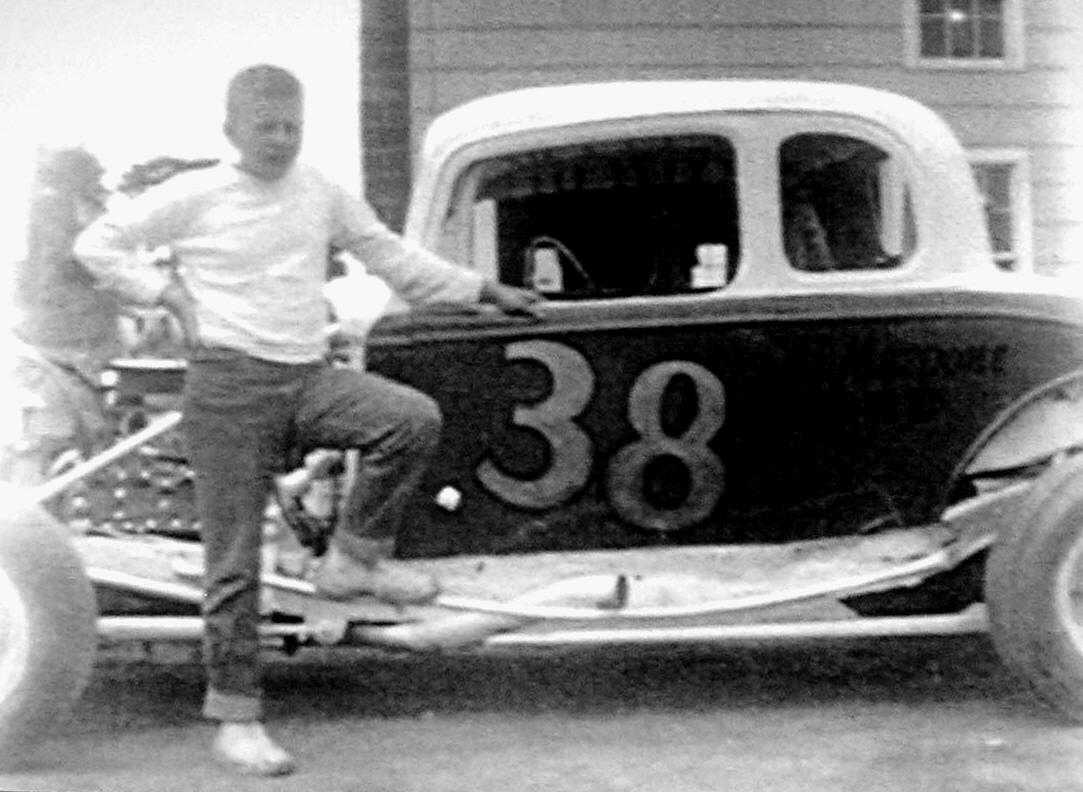 Courtesy of Either David Delange or Bill Farress
Ken, with one of the older Cook cars. Maybe the 1959 version.
Below – Jerry ,as a kid, building that particular car.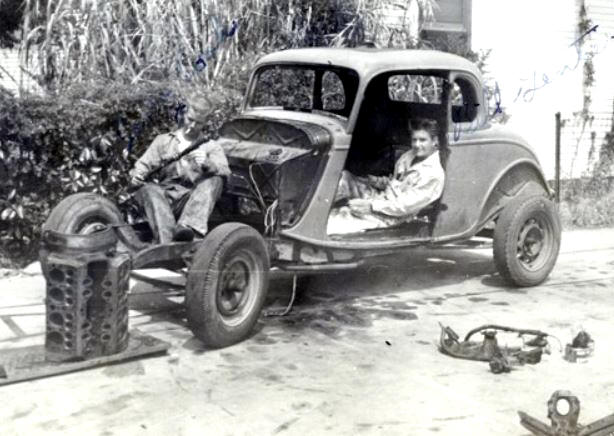 From Ted Bennett
That year, while running second at Syracuse [the Daytona 500 of dirt racing], he wrecked the car badly and survived a fire as well. The team rebuilt the car and went Down South to Virginia, where he had a similar wreck. After the second rebuild, the still – primered car was hauled to the rural track near Vergennes, VT, where, as it has been stated, he blew the field away.
Granted, there were never very many top sportsman cars at Otter Creek at a time. There were a number of journeyman teams which would come up from getting their butts whupped at Fonda and do well at Vergennes; but Shoemaker was the king of that track. Meahl would find out he was running in with a few New York teams, a few Vermont sportsman cars, and a lot of local hobby cars including the likes of future stars Ed Foley, Beaver Dragon, and others.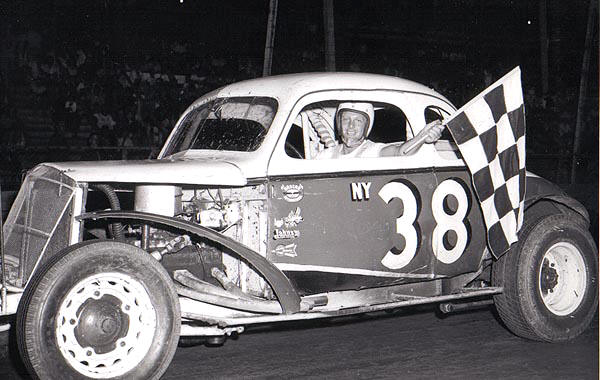 Courtesy of Jo Towns via Otto Graham
Ken, in the same car Cook would take over that same season.
Below - The team, that year, with Cook [left], Meahl, Greg Hare,
and Ronald Cook, Jerry's father.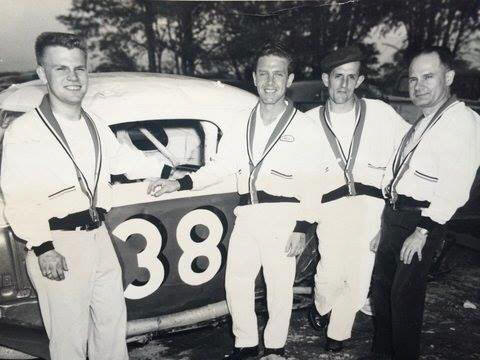 The following season, at some point, Jerry Cook began driving that same car. I shot a picture of the car entering Fonda that year, and I know he was listed as the driver, with Ronald Cook as owner. Apparently school was never a major thing in Cook's life; you don't run a full national championship points campaign all over the East and still worry much about the honor roll back in Lockport. Meahl, by now had gone over to the Red Snediker team out of Rochester, NY.
According to the article, the plain white #28 coupe had been constructed by Pete Tomaino, Dick Seger, and Danni Aloisio – team members. The car was one of those western New York rocket ships that probably had a B&M Motor. Bruce Fleishmann [B] and Milt Johnson [M] could build engines that absolutely raised hell with the other Empire State sportsman stars from places like Fonda and Airborne Park, who didn't have those motors. It might mentioned to those who are unfamiliar – Milt is dad to Danny and Alan Johnson.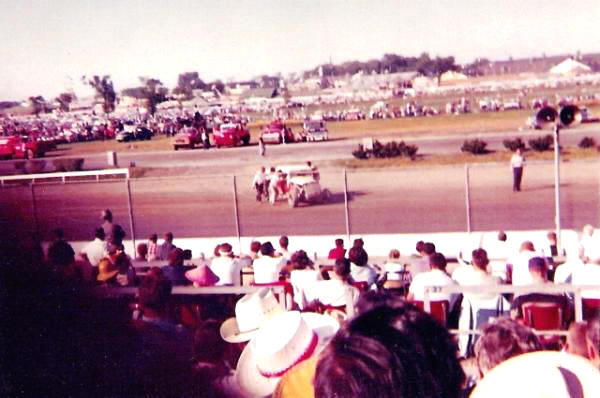 Courtesy of the Midstate Club
Pushing the early Cook car onto the grid at Syracuse. Below-
What was left of the car after Meahl crashed while in
second place – no small accomplishment.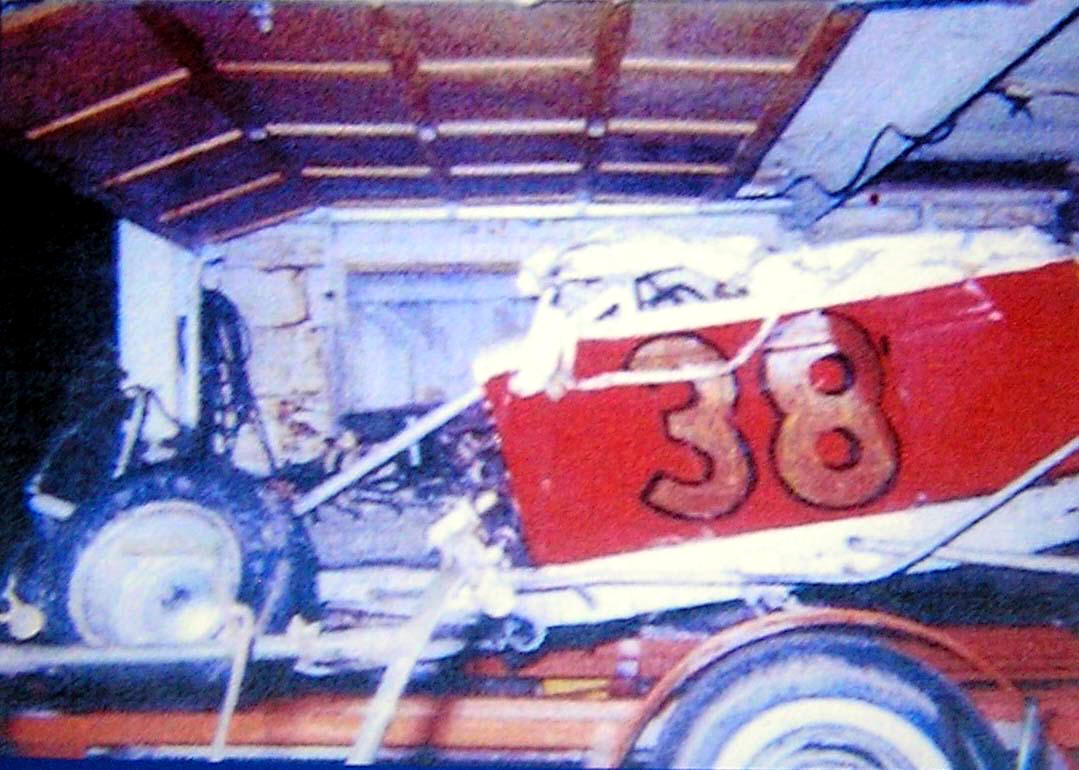 Courtesy of David Delange or Bill Farress
That 1963 season, Fonda Speedway would have a highly – touted long distance race, one which would see the legendary Steve Danish win partly by having his six cylinder motor having better mileage and by attrition. Shoemaker, the class of the field had a fire under refueling and others such as Wimble and Lazzaro had other types of misfortune. But their misfortunes paled in comparison to the Meahl / Snediker team.
Ken Meahl made the Fonda history book as having had one of the top worst crashes in the entire history of the venerable speedway. Meahl, driving the irregular and tricky half mile came out of four set up wrong and clipped the fence. He not only flipped and barrel rolled, but he achieved such a height that he may have disconnected wires going from the top of the grandstands to the old announcer's stand in the infield.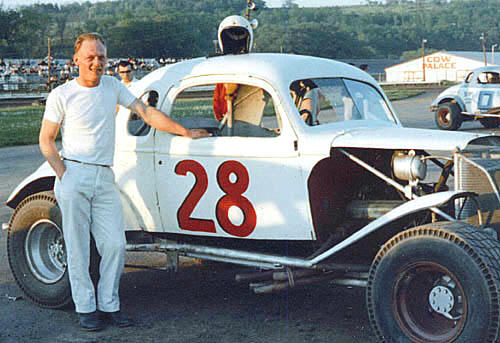 Courtesy of Bill Fifield
Ken Poses with the Red Snediker 28 at Fonda, perhaps at
the same program when he had the landmark flip. The Fonda
book claims he had flipped the Cook car similarly, also at
Fonda. Below – Meahl is led away from the Fonda crash.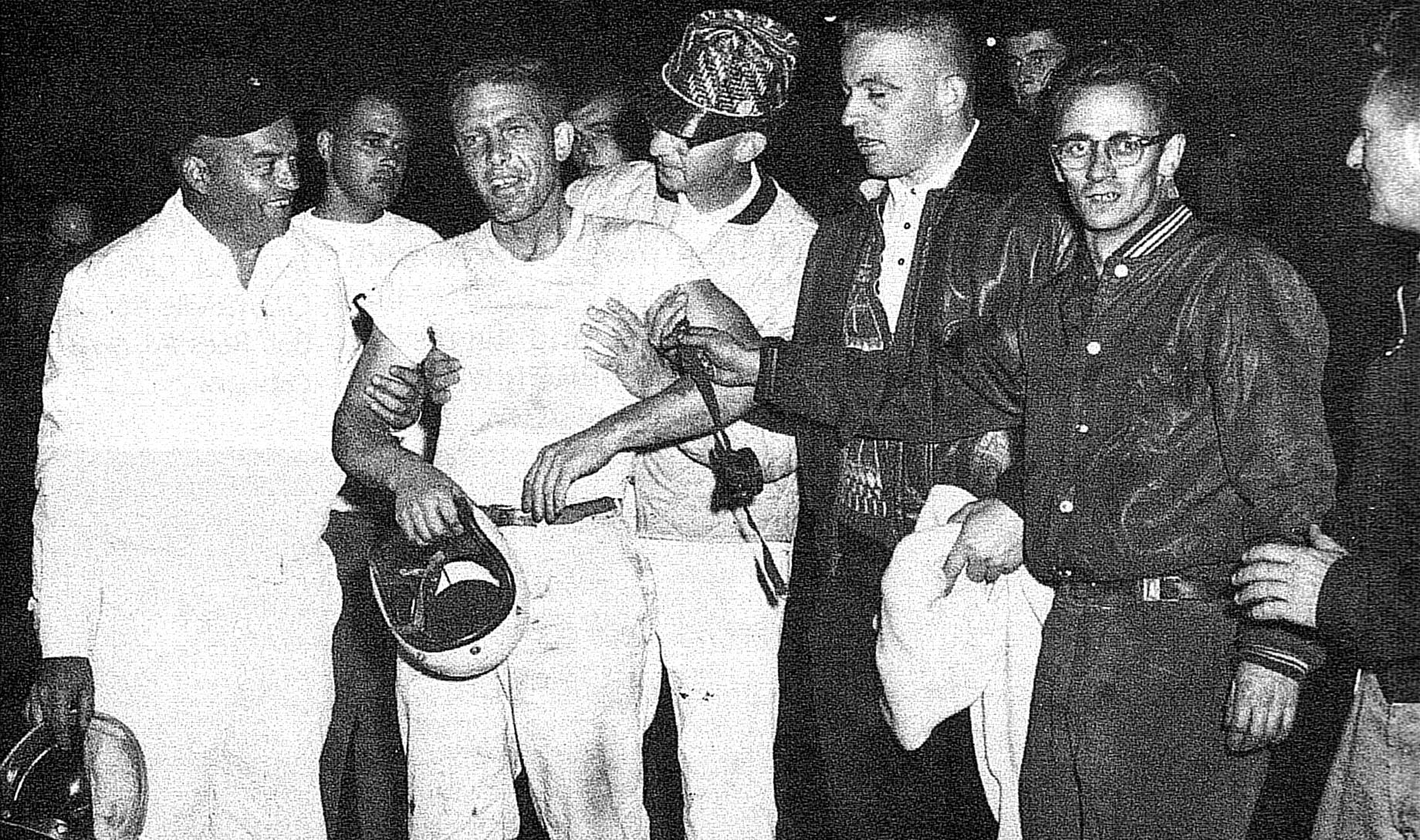 Ed Feuz Collection
The photo in the Fonda book shows Meahl, looking a little loopy, being helped away from the scene with this faroff smile on is face. I was there. It was the only time – ever- we had talked my aunt into attending the races anywhere. We didn't get home to Proctor, VT until four in the morning. She was definitely not impressed and never went again.
Meahl would race at least into the 1967 season. About the time the All Star Stock Car Racing League was about to shine new light and recognition on the sport, he was ready to get out. After the 1963 season, he had raced mostly in Western New York and – according to the article, was outstanding. But, in that last last, a lot of mechanical failure took the shine off what was getting to be a long career [nearly twenty seasons] and he retired.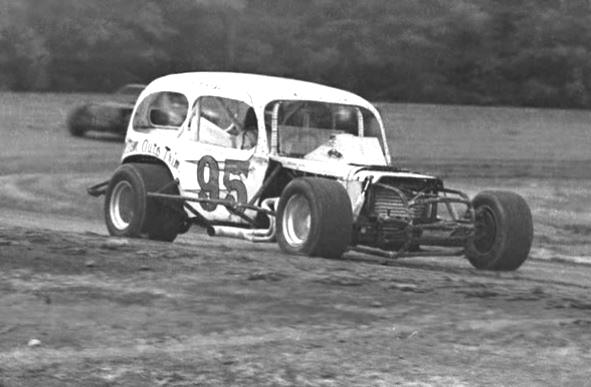 Courtesy of Jeff Scott
Ken, late in his career, wheeling Dominic Tantallo's sedan. Below -
The portrait in the 1962 NASCAR Record Book.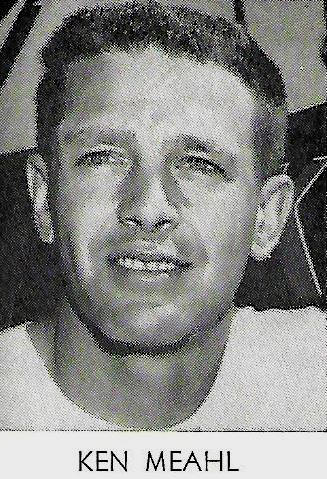 Courtesy of Gary Nephew
Finding information like that article from Chuck is what makes this work the fun that it is. There is, oftentimes, so much story beneath the surface.`
Please email me if you have any photos to lend me or information and corrections I could benefit from. Please do not submit anything you are not willing to allow me to use on my website - and thanks. Email is: wladabou@comcast.net . For those who still don't like computers - my regular address is: Bill Ladabouche, 23 YorkStreet,Swanton, Vermont 05488.
AS ALWAYS, DON'T FORGET TO CHECK OUT THE REST OF MY WEBSITE
www.catamountstadium.com
Return to the Main Page
Return to the Main News Page
Return to the All Links Page
Return to the Weekly Blog Links Page