THE BILL'S BACK IN TIME COLUMN PAGE
Copies of my column in Mark Thomas' "Racin' Paper"
BILL'S BACK IN TIME
By Bill Ladabouche
Site Column #47 from My Column 62
Ol' RELIABLE …. NEVER FORGOTTEN
The website for the Champlain Valley Racing Association recently featured a photo of Race Director Bruce Richards giving a lifetime Devils Bowl pass to Barbara LaDuc, of Orwell, Vermont. Nice gesture, with a long story behind it. The generation of Richards family running the CVRA has changed, as has the generation of LaDuc family racing there; but, the mutual regard has not changed. The LaDucs have been one of the most loyal families from the inception of the organization, and the CVRA has treated them accordingly.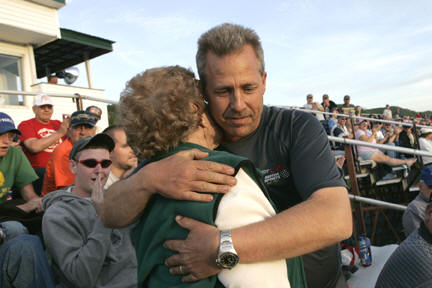 Barb LaDuc is hugged by CVRA Race Director Bruce Richards after she received a lifetime pass to Devils Bowl early in the 2008 season. [CVRA Site Photo]
Barbara and Charlie met at a dance in Orwell in 1952. Charlie grew up on the family farm in Orwell and Barb grew up on the Devoid Farm in Salisbury. After eleven years of farming and raising children, Barb and Charlie were reflecting on the races being shown at old Fairmont Speedway, in Fair Haven. Barb had seen races at places like Fairmont and Pico, and she was very enthusiastic about the idea of Charlie giving it a try in 1963.
Phil Russell, over in nearby Sudbury, was already making a name for himself with his yellow and black Hudson, numbered Checkmate. The LaDucs were not going to have any trouble getting help with the car, as both they and Russell knew men who would step in and crew. As it turned out, Charlie bought a completed 1950 Oldsmobile hobby division car from Russell, having formed a partnership with neighbor, Clayton Ryan. The idea was that the two would alternate weeks driving the car.
When it came time to number the car, Charlie happened to express to his mother that he had no idea what to use for a numeral. Mother LaDuc, a big television fan, suggested the number 54, in deference to the currently popular sitcom "Car 54, Where Are You" ? And so it was that the LaDuc family's traditional number was adopted. As the first season for the late model – bodied hobby cars at Fairmont was going along, Charlie was getting antsy. He had some success winning races that first year. The problem was, he felt he working too much and driving too little; so, he bought out the less – enthusiastic Ryan for an astronomical $25.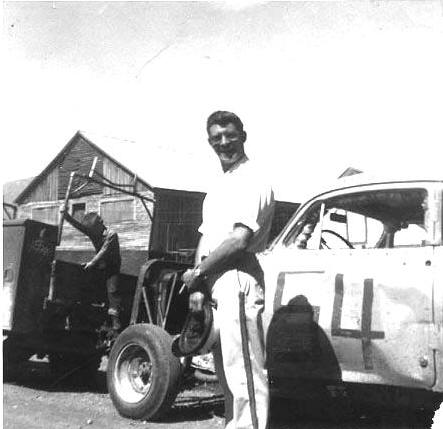 Charlie could be laughing at Tom's poor tow truck in this photo. [LaDucFamily Photo]
The car , in those days, was towed by Tom Williams' old truck. The truck had so little power that, when they returned home and faced the climb up Royce Hill Road, Charlie would have to get out, fire up the Oldsmobile, and push his tow truck up the hill to the farm. Now that must have been some sight for the neighbors.
Both Charlie, in the pits, and Barb, in the stands, became familiar sights with the "54" shirts she had fashioned. This was not the era for everyone to be running around in mass-produced, silk screen T-Shirts. Barb's creations were recognizable and popular among the many fans Charlie had won. By the end of the season, the car was a consistent performer in a rapidly – evolving division that would eventually produce some of racing's best drivers and car builders.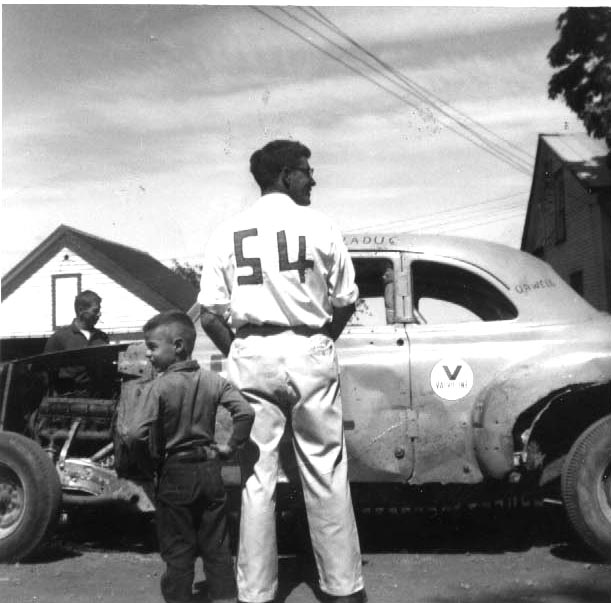 Charlie stands at the farm, waiting to go to the races at Fairmont on a Sunday afternoon. That might be son, Don and the crewman is probably Tom Williams. [LaDuc Family Photo]
That winter, the LaDucs, never ones to field junk, as Barb puts it, worked hard on the appearance of the car, while freshening up the running gear, as well. The result, in the Spring, was a far better – looking car 54, which would go on to win a number of features that year. It would have been interesting to see a confrontation between Charlie and the Unbeatable Lennie Wood, whose red and yellow 1955 Chevy completely dominated the class one year later, after Charlie had moved up to the sportsman ranks. Charlie won the Summer Championship title, as well as the division's most popular award.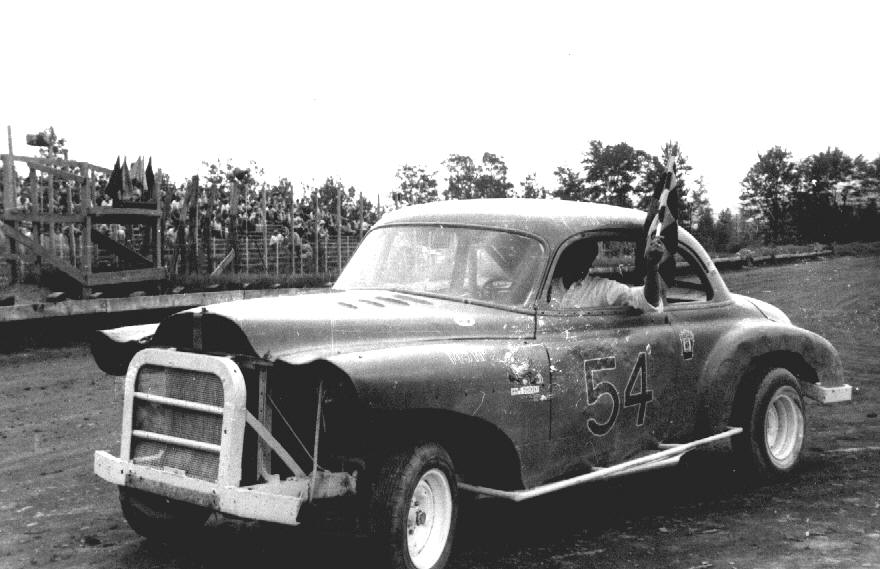 The 1964 version of the same car looked a lot better and performed better, too. Charlie, at Fairmont. [Courtesy of Chris Companion]
Somewhere during one of the two years in the hobby class, C.J. Richards had his final attempt at running stock cars at the Vermont State Fair in Rutland. These fair races had always had problems, the most recent being a late model Grand American race staged by the United Racing Club of Connecticut, during which an errant car went off the track and amputated a spectator's leg. So, it was with suspicion that Charlie's mother viewed his plans to compete in September at the fair. She told Charlie he would probably end up in the duck pond off the second turn. Back home after the races, Charlie took the time to call his mother and inform her that this exactly what he had ended up doing – right in the water after overturning. The experience netted him a purse of ten dollars.

This pileup happened in 1962, only minutes before a much bigger occurred on Turn Two. It wasn't like Charlie didn't know what he was getting himself into. [LaDuc Family Photo]
As one of the two or three best in the class, Charlie and Barb decided to move up to the sportsman division, as the lead class at Fairmont would be called in 1965. This was going to be a stiff task, as the track was going to be attracting the high-powered, well-handling types of V-8 coupes that ran at Fonda and Lebanon Valley. Could Charlie had seen into the future and known what was would be running at Fairmont that year, it would not have deterred him in the slightest.
Seeing as everyone in that region of Vermont who had anything to do with racing all knew each other, Charlie somehow hooked up with Ferrisburgh, Vermont's Dick Hawkins, who had raced a car at Otter Creek Speedway up in Waltham for a couple of seasons, without roaring success. Hawkins, operator of a successful garage in Ferrisburgh, had built himself a 1940 Ford coupe to run as a hobby at Otter Creek, having to share the track with NASCAR sportsman cars. So, it wasn't as if the car had not been put up against this challenge before.
The first year of Otter Creek, Hawkins ran to new car in primer, with a simple #17 on it. The following year, it blossomed out with green paint and an occasional hired driver, One of those, Malletts Bay and Airborne veteran Wayne Chandler, rolled the car in turn one at Otter Creek. After this, the car came with the trunk bobbed off and screen across the back, That is the car Charlie bought after it had sat in storage for two years.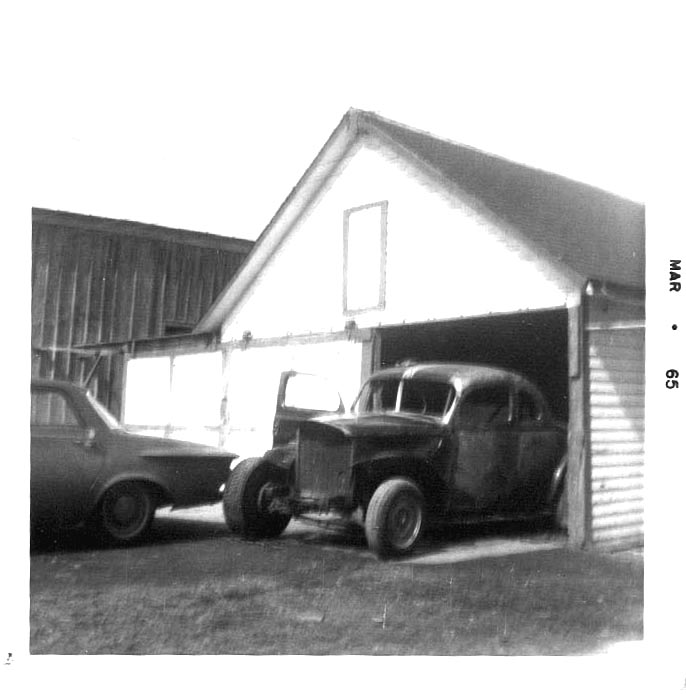 The Dick Hawkins Ford arrived at the LaDuc farm in March of 1965. [LaDuc Family Photo]
When the coupe hit the Fairmont track for practice in the spring of 1965, it was not yet painted brown, or did it sport the familiar #54, with a couple of checkered flags flanking the number.The first few weeks were run in black primer, but Charlie was in the game. He was facing a field of competitors that was eclectic, to say the least. The new – style sportsman coupes, like that of Vince Quenneville, were mixed in the traditional flathead coupes of drivers like Sonny Rabideau. At least, Charlie had come with the car type that was the future of the CVRA. Success did not come as fast as with the hobby, but he had a respectable season, and did receive the sportsmanship award again, at the banquet. His consistency had also landed him the top ten in points.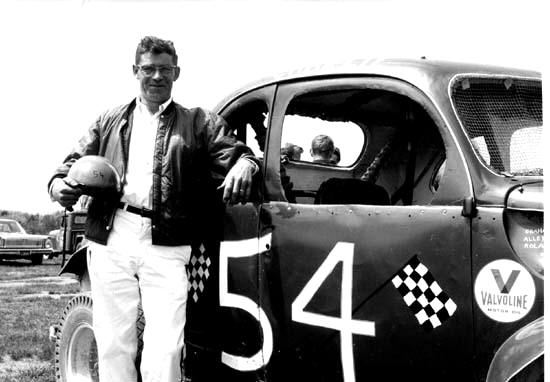 In this classic 1965 photo, Charlie proudly poses for Bob Frazier with his Sportsman coupe. [Bob Frazier Photo Courtesy of C.J. Richards]
1966, the final year of the Fairmont track, was much like the previous year – except the competition was even stiffer. Now, most of the old flathead teams were gone, but some of those little Ford coupes had V-8's stuffed in them now; and being so small, they made it very hard for the larger cars to catch at the beginning of a feature. Art Johnson, driving Curt Dragon's ancient silver #31, played the rabbit almost every Saturday night to a field of snarling sportsman coupes that included Charlie. During year, a number of Fairmont cars, including Vince Quenneville and Charlie, made the Saranac Lake Speedway a regular sport to run on Friday nights. The trips to Saranac Lake saw the wives riding in the back of the tow truck On rainy nights, the gentlemens' club in the cab of the truck was invaded.
Fairmont had operated under the cloud of constant complaints from the neighbors for five years, and it became clear to C.J.Richards that he had better move his operation to somewhere outside an established town. It was very unlikely he could secure permission from the town select board much longer and – besides – the track was running out of good clay.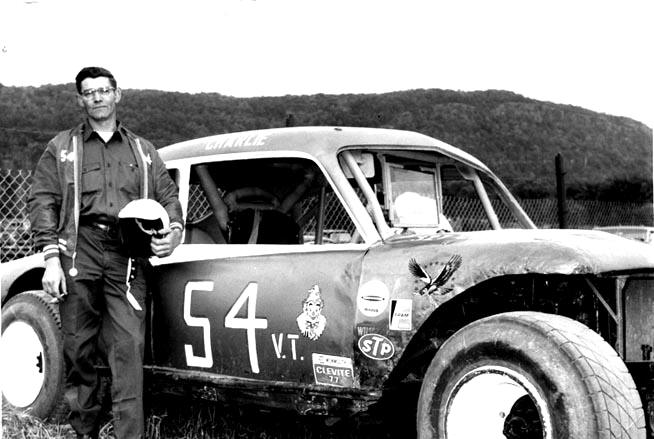 Charlie, with the ever – present cigarette, poses with the Henry J at Devils Bowl in 1967. [LaDuc FamilyPhoto]
CVRA moved up Route 22A to West Haven, onto some Richards family land, and Fairmont became Devils Bowl. The new track would be state of the art for that time period, and would probably require some stouter equipment. Barb is not sure where he ever dug it up, but Charlie came to have a Henry J. American's first compact car, the Kaiser car company had put out these little cars and named them after it founder, Henry J. Kaiser. The cars never panned out, but it left Charlie with the body of his most popular car ever [and, arguably the most popular car to ever run at Devils Bowl].
Again, despite an influx of new competition such as the Ken Tremont team from Lebanon Valley, Mert Hulbert, Wes Moody, and sometimes even Pete Corey, Charlie managed to guide the Henry J to a very respectable season, winning some races and finishing up there in the points again. No one can recall if he ran the Henry J one year or two, but no one can ever forget it. Charlie managed to finish sixth in points both at the Bowl and Saranac Lake that year.
Now Charlie went out and found what might have been the best car he ever ran at the Bowl – a 1934 five window coupe which arrived at the farm as "9VT". None of the LaDucs remembered where it came from. It could have been a car from the Claremont Speedway area or something someone was trying at Lebanon Valley. Much to his chagrin, CVRA had let someone else have the number 54, so Charlie was forced to use 24 for a season. Charlie was very quick with this car and he appeared in Victory Lane with more frequency than in recent years.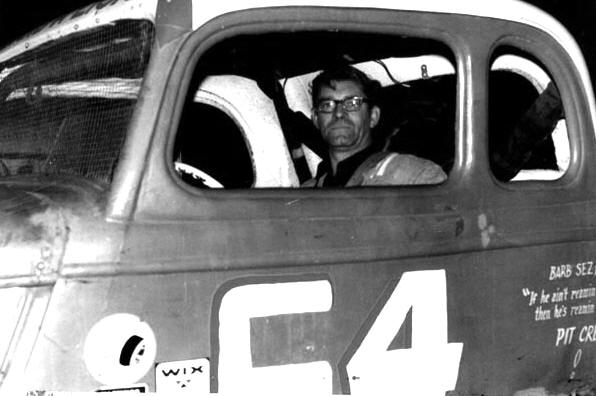 Charlie, with the highly – effective Ford he ran for several seasons. [LaDuc Family Photo]
Barb figures the five window coupe ran for a number of seasons before Devils Bowl was unexpectedly paved, and Charlie found himself in a bind. Did he start running dirt and more further- away venues, or go with what happening at Devils Bowl. By 1973, CVRA was hooked up with the Northern NASCAR circuit, and was a part of a beleaguering schedule that saw cars at Sanair on Wednesdays, sometimes Thunder Road on Thursday nights, Airborne on Friday nights, Catamount on Saturday nights, sometimes Thunder Road on Sunday afternoons, and Devils Bowl Sunday nights. Of course, dirt modifieds were out and NASCAR late model sportsman cars were in, so Charlie dutifully built a Chevelle. He would run most of the Catamount shows and the Devils Bowl shows. The rest were very seldom. Running on a smaller budget than most of his competition, Charlie and most of the Devils Bowl guys faced a double whammy: less motor and less pavement experience.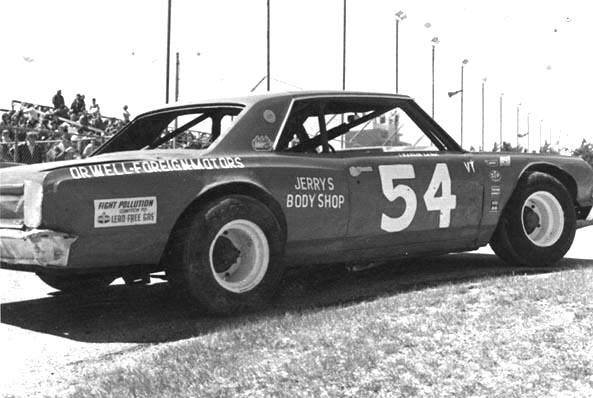 Charlie guides the Chevelle out, onto unfamiliar territory – the pavement at Catamount Stadium. Few fans there knew Charlie or could appreciate the struggle of an underfinanced dirt runner trying to survive on asphalt. The sponsor was Orwell Foreign Motors, and "foreign" is probably how he felt about blacktop racing. [LaDuc Family Photo]
Hauling with his popular fire engine red 1950 GMC truck, Charlie gave the whole tour thing a try, but he had woeful luck with engines, and the whole experience was beginning to wear hard on the LaDuc budget. Actually no one, including Vince Quenneville, Sr. and the big – spending Austin Dickerman had any luck. The CVRA contingent, which included Charlie LaDuc, Charlie Brown, Johnny Bruno, Quenneville, Bob Ellis [whose Ray Richards Cevelle was purchased from Dickerman after Austin had gotten it from Jack DuBrul ], Chet Doaner, and Donny Drown was pretty relieved when CVRA pulled out in 1974.
Upon his return to the friendlier confines of the unpaved Devils Bowl, Charlie got into the Gremlin body era, along with just about everyone else except Bear Ridge. Information on these years is scarcer and tends to run together; but, Barb is certain, however, that Charlie began making regular trips into Canada to race at Granby and Drummondville during the post – pavement era of his career. The LaDuc trophy room has one or two trophies and some Olympic – looking ribbons from that Canadian experience. By this time, Charlie had run loyally and successfully for so long with the CVRA that he had acquired the nickname Old Reliable. The name fit him in so many different ways – all pointing to the positive nature of his long career.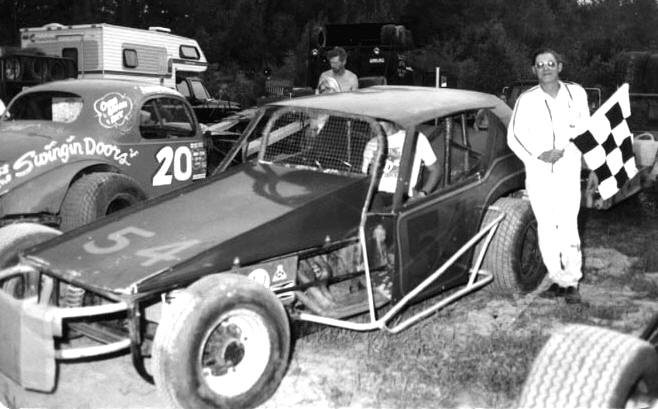 Charlie with one of the later Gremlin body cars at Devils Bowl.
Fellow low - budget racer Danny Bridges is at left. [LaDuc Family Photo]
Charlie continued to run, primarily at Devils Bowl, until his untimely death on the farm in August of 1985. He still was accomplishing feats right to the end. Sometime, in the 1980's, Devils Bowl decided to host one of the winged modified races that were so popular in that time. The teams would remove the roof off the modified and attach an inverted airplane-style wing to the cage. Charlie had to manufacture his own wing [ probably the only one to do so ], and he ran very well with it that night.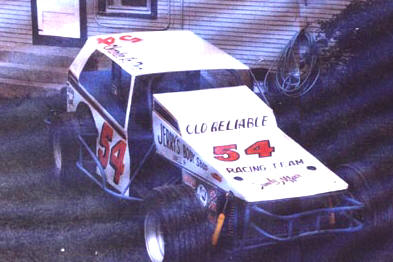 Charlie's last car sits on the lawn at the farm in 1985. The hood says it all. [LaDuc Family Photo]
His last car may have been his sharpest-looking ride. During that season, the bi9g, van-like bodies were really in full swing in dirt racing. Troyer Mud Busses, Olsen Eagles, and Dave Lape's Champ Cars joined Conley's Show Car as the chassis to buy. It is not clear what type of car Charlie had last, but it was very professional – looking and well – appearing. That pride holds over today in the person of his youngest son, Tim. Not only is Tim a top runner at Devils Bowl, but his cars are beautiful.
Barb LaDuc's room upstairs at the farm house began as a tribute to Charlie's career; but now, with all Tim has accomplished, there is probably more of Tim's mementos than his father's. Tim, of course, runs the number 54 – what else ? But I am not sure he's going to ever want the nickname Old Reliable. That's for Charlie.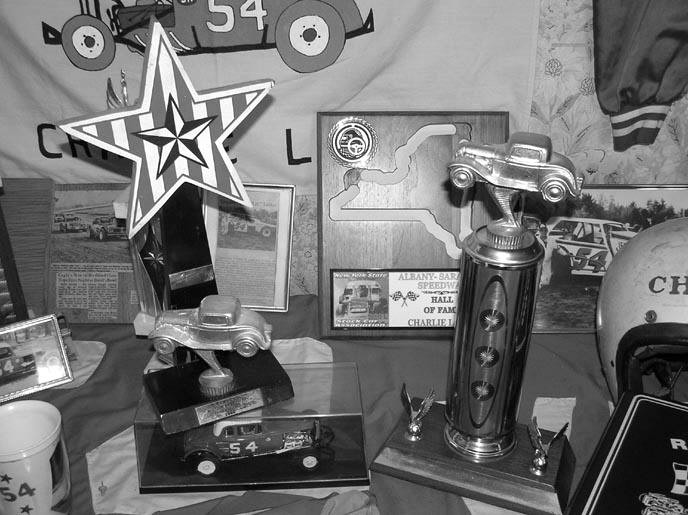 The Charlie section of Barb's little museum has his familiar helmet, trophies, and a couple of his racing jackets. Good stuff ! [Ladabouche Photo]
Return to the Columns Link Page
Return to the Main News Page